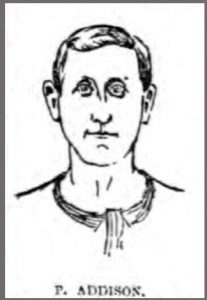 Looking back to the beginnings of the Scottish Cross-Country Championship from its origins in 1886 to 1900, the name Addison keeps popping up.
This is the story of a stalwart club runner who co-founded two of Edinburgh's seminal athletic clubs and still found the time to run his way into the Scottish athletics history books. Back then, the careers of amateur athletes were short-lived and rarely lasted longer than a few years. These were among the earliest sporting idealists, zeitgeist surfers seeking self-fulfilment rather than self-enrichment. They were typically dynamic young men around the age of twenty. This of course made them prime husband material. After entering the safe haven of the marriage, the young runner would be gently but firmly advised to retire and devote himself to other more pressing commitments like work and family. In any case, competitive athletics was considered a young man's game. Anyone over the age of 35 was a rare old bird whose efforts would elicit a mixture of concern and astonishment.
In comes Peter Addison, who was born at Aberlady in 1862 and made his debut with St. James F.C. in 1881. Reports describe him as the "little Edinburgh Harrier", so it may be assumed that he was rather diminutive. St. James F.C. was one of several harrier clubs operating in the Edinburgh area during the 1880s. This was before the formation, in 1885, of the Edinburgh Harriers, of which Addison was a founding member.
In 1889, feeling that there was room for another club in the city, Addison also co-founded the Edinburgh Northern Harriers.
Addison was the diametric opposite of a speed merchant. A habitual recipient of generous starts, he could do no better than 4:54 for the mile. But what he lacked in basic speed he made up for with sheer enthusiasm and work ethic.
I imagine he would have been an avid marathon runner had the event existed back then. The longest events at that time were the national cross-country championship and the 10 miles track championship, so there are no prizes for guessing what his preferences were.
When the going got tough, he nearly always came through. The name Addison graced every Scottish Cross-Country Championship from its inception in 1886 until 1899.
Scottish Cross-Country Championship
Date
Venue
Indiv placing
1886 27 Mar
Lanark Muir
10
1887 18 Mar
Hampden Park
DNF
1888 10 Mar
Hawkhill Recreation Grounds
?
1889 18 Mar
Hamilton Park
8
1890 8 Mar
Tynecastle
11
1891 14 Mar
Cathkin Park
6
1892 12 Mar
Tynecastle
10
1893 11 Mar
Hampden Park
26
1894 10 Mar
Musselburgh
21
1895 9 Mar
Hampden Park
11
1896 14 Mar
Inverleith Park
14
1897 6 Mar
Paisley. 14
1898 5 Mar
Musselburgh
35
1899 11 Mar
Hampden Park
35
As can be seen from the table above, his best individual result was a 6th place finish in 1891. Three times he was on the winning team: in 1886, 1891 and 1892. In addition to this, he won a runners-up medal on three occasions: in 1889, 1890 and 1897.
Addison divided his affections evenly between Edinburgh Harriers, whom he represented from 1886 to 1892, and Edinburgh Northern Harriers, whom he represented from 1893 to 1899.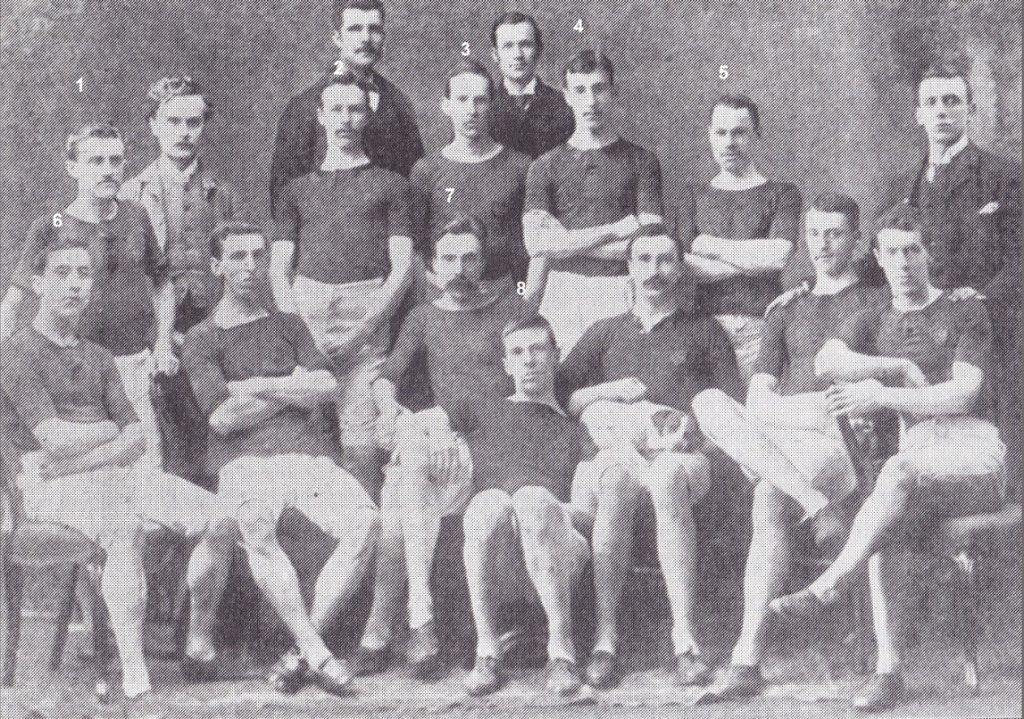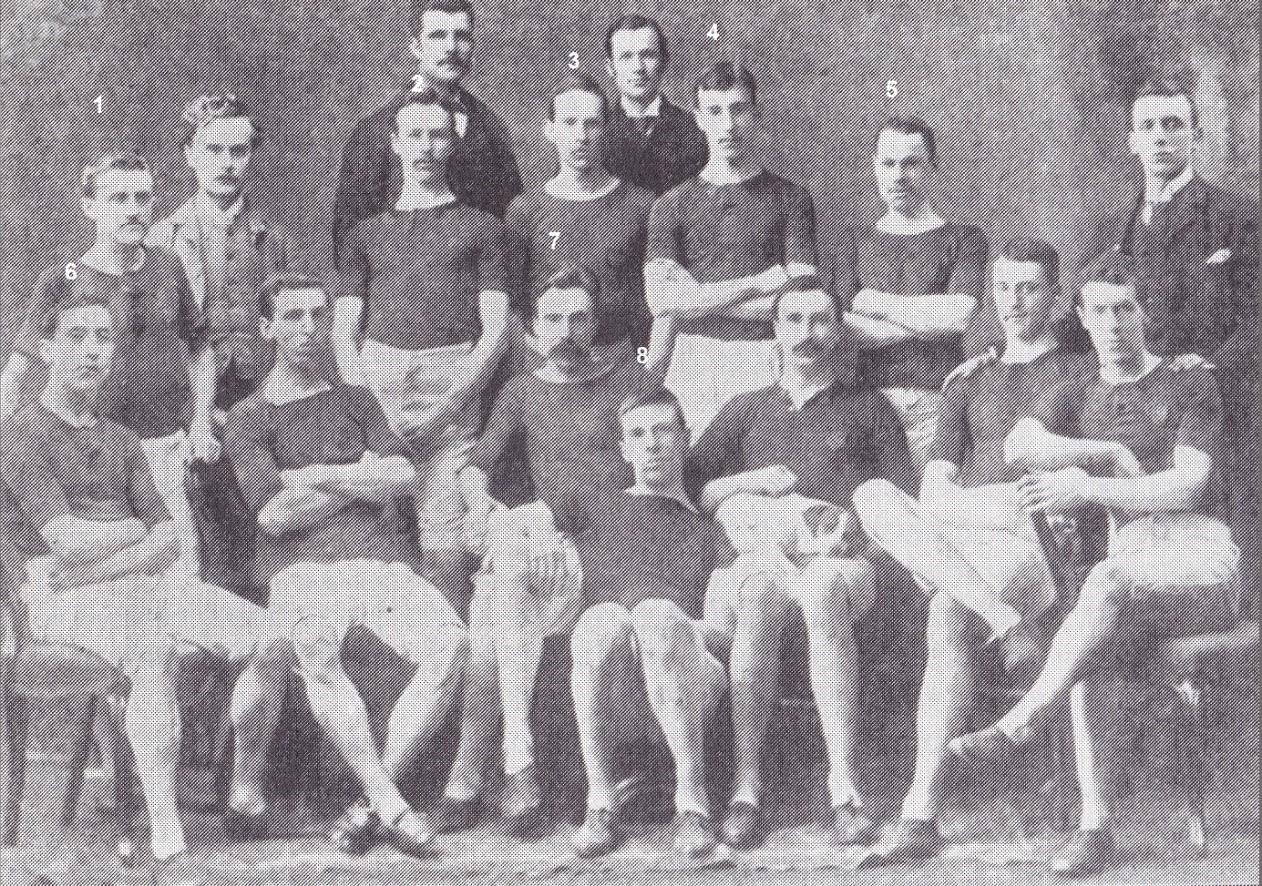 Edinburgh Harriers winning team in the inaugural Scottish Cross-Country Championship of 1886: 1 Tom Fraser, 2 David Colville Macmichael, 3 David Scott Duncan, 4 William Mabson Gabriel, 5 John William Lodowick Beck, 6 Peter Addison, 7 Robert Cochrane Buist, 8 John M. Bow
Even though cross-country was doubtless Addison's first love, he was more successful individually on the track. He competed in the Scottish 10-mile championship four times and each time he was in the top three, thrice receiving the coveted standard medal for a time under 57 minutes. The absolute unequivocal highlight of his running career was winning the 1892 national championship at the Powderhall Ground in 56:06.4. Of course, the absence of the holder Andrew Hannah also played a part in this, but as they say, you have to be in it to win it.
Scottish 10-Mile Track Championship
Date
Venue
Placing
Time
1888
7 Apr
Powderhall
3rd
56:59.6
1889
12 Apr
Hampden Park
3rd
56:55.8
1892
24 Mar
Powderhall
1st
56:06.4
1896
4 Apr
Powderhall
3rd
57:27.0
Addison was well liked for his pluck and spirit, as can be seen from this report on a meeting in Kilmarnock in 1897: "That old favourite, Peter Addison, the limit man in the mile and half-mile, was cheered loudly by the crowd to keep it up. Peter did his little best, and in the half-mile he had a good chance could he have sprinted."
His performances tapered off towards the end of his career and by the late 1890s he was to be found among the stragglers but no less popular for it. During the 1898 national championship at Musselburgh the greatest ovations were reserved for Jack Paterson, who was first, and Addison, who I believe was last. That tells you more about the man than a thousand words.
In 1900, at the age of 38, Addison met Isabella and, presumably on her gentle but firm advice, he decided to hang up his racing shoes. The following year weddings bells were ringing and the Scottish Referee reported: "The veteran Peter Addison is to be testimonialised this week on the occasion of his marriage. Unassuming to a degree, the ten miles ex-champion has made friends of all, and thoroughly deserves recognition at the close of a long and honourable career, and on such an auspicious occasion. It is a far cry back to 1881, but that is the year in which Addison made his debut as a member of the long defunct St. James F.C. He ran year in year out for twenty successive seasons, and was in his 31st year when he won the ten miles championship at Powderhall in 1892."
Addison lived in the Broughton district of Edinburgh and forged his trade as a blacksmith at a well-known printing firm on the north side of the town.
Following this retirement from competitive athletics, Addison continued to serve the Edinburgh Northern Harriers as a handicapper and starter for many years. His son Peter also competed for Edinburgh Northern Harriers in the 1920s and early 1930s. As one of the few surviving founding members, Addison was a guest of honour at the dinner to commemorate 50th anniversary of the Edinburgh Harriers.
Having led a healthy lifestyle, Addison lived to very respectable age of 84.