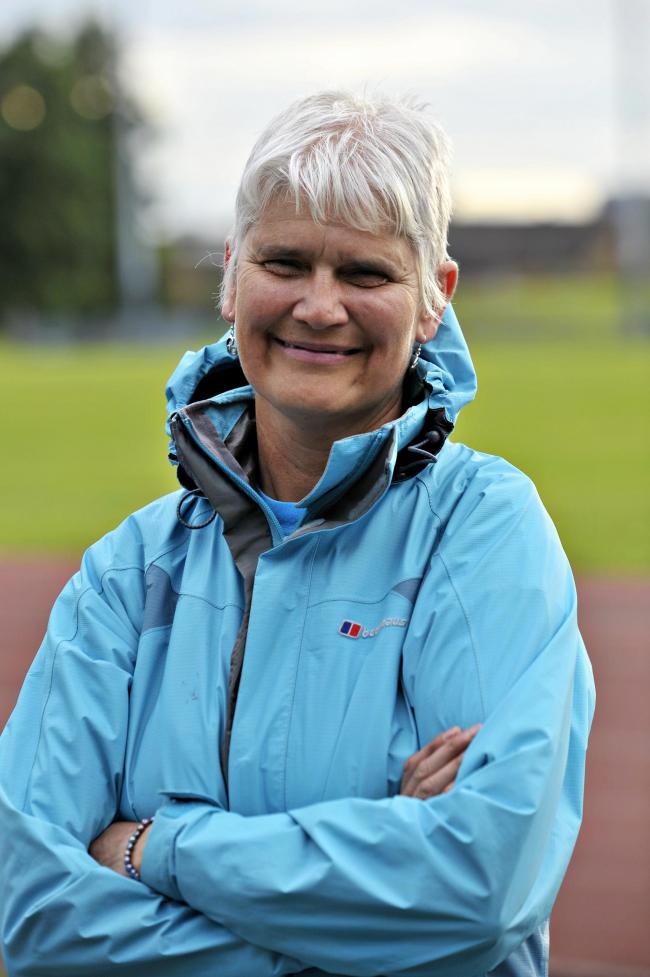 Like everyone else in Scottish athletics I was taken totally by surprise when I heard of Janice's death at the end of July this year (2019). I had known he since the early 1990's when I asked her if one of the athletes in myclub could join Red Star. Janice never turned anyone away and encouraged me to send the athlete along to the Red Star club. She went, she trained with both clubs and gained immensely. The girl in question had been very quiet and shy, almost an introvert, and hardly spoke to anyone. With Red Star she ran all over Scotland and the United Kingdom – then went further afield and raced in Greece, Spain, France and the Netherlands. The change wrought in her was amazing and the extent of the change was evidenced one night when I was leaving the Kelvin Hall. I met the athlete's employment adviser who stopped me and said that the girl, well a woman by this time, was not only speaking to her but phoning her at home and talking for ages. This was down to Red Star Athletics Club, set up by Janice. She later asked me to speak (along with Bill Scally and Willie Sharp) at a day in Crown Point. When Jimmy Sands needed a time to qualify for the paralympics, she asked if he could run with some of my athletes: we et it up and they paced him to the appropriate time. The work that she put in was repaid manyfold by the changes for the better in the athletes in the club. She was only 60 years old when she died and should have had many more years ahead of her.
There were obituaries and tributes aplenty paid to her in the Press and elsewhere and the following tribute is based on that from the 'Herald' of 8th August 2019.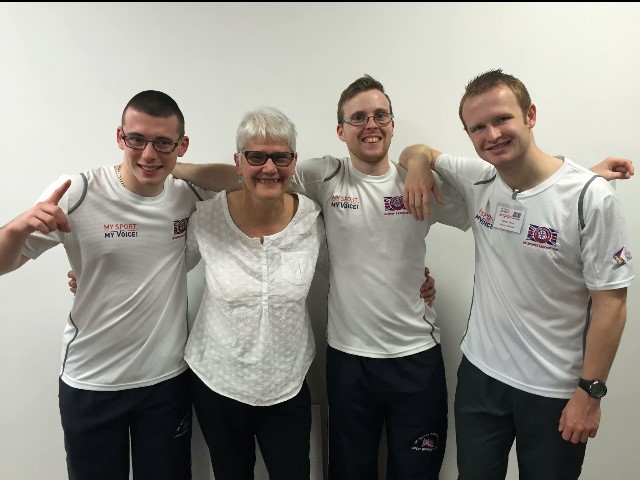 Janice with three of her athletes
Janice Eaglesham, MBE, who died suddenly aged 60 was one of the most influential individuals in disability sport in Scotland along with her husband Ian Mirfin. Janice, who initially planned to be a PE teacher but did not feel cut out for it, became involved in disability sport in 1983. She was already involved in the sport as an athlete with Edinburgh AC and nationally tanked for 1500m (5:01.4 1973), 3000m (11:47.4 1974), 400mH (70.2 1974) and again at 3000m in 1979 with a time of 11:44.8).
After that spell as an athlete , Janice's subsequent dedication to disability sports was decisive and life changing, not only for her but for hundreds of athletes and their parents and loved ones. This all started in 1977 as a guide runner to a visually-impaired athlete, and she was later a volunteer at the Special Olympics. Over the years she worked tirelessly to change attitudes and to change lives as a passionate athletics coach who fought hard for the inclusion of disabled people within sport. Her involvement with Scottish Disablility Sport started in 1985 and she was part of the organising committee for the Association's Silver Jubilee celebration sports in 1987.
In 1990 partially sighted athlete Sam Howie was interested in findoing out how he could get involved in athletics at a competitive level. He was put in touch with Janice who, together with Ian, began to organise training sessions after realising that no club or local authority offered this kind of support anywhere in Scotland. In December 1990, the Red Star Athletics Club was born, the first club of its kind for athletes with a disability. From the first informal meetings with just a handful of athletes grew an organisation recognised as the leading club in the UK for athletes with a disability and boasts an impressive Roll of Honour including Paralympic and World championship medallists.
In 2011 Janice and Ian were awarded the BBC Sports Unsung Hero gong at the BBC Sports Personality of the Year for their contribution to sport, joining the country's sporting elite at a glittering ceremony in Salford. Janice was typically modest about the achievement, but appreciated the award as recognition for the work of everyone involved, saying, "For every one person who gets an award like this, there are hundreds of others – coaches and helpers – who turn up, week in, week out."
In 2014 she was appointed Chairwoman of Scottish Disability Sport (SDS) leading the association through the development of its current strategic plan. She was involved in all aspects of SDS life and delivered education and training courses across Scotland. Janice was active at both a national and international level, opening up access to coaching and competition to hundreds of disabled athletes over the years and acting as team manager and head coach to Scottish squads competing on the world and European stage. She was heavily involved in RaceRunning, in which athletes use a running bike consisting of a three wheeled frame with a saddle and body support but no pedals, and promoting it as a competitive sport.
In 2016 the work of Janice and Ian was further recognised when they were both awarded MBE's in recognition of their services to disability sport . Janice was also board member and vice-chairwoman of the UK Sports Association for People with a Disability, and was active on working groups with both Scottish and UK Athletics.
Tracey McCillen, Chief Executive of the UK Sports Association for Ppeople with a Learning Disability, said she was an "athlteics coach, mentor, educator and guide", adding "Quietly and without presumption or expectation of acknowledgement, she did it all because she loved it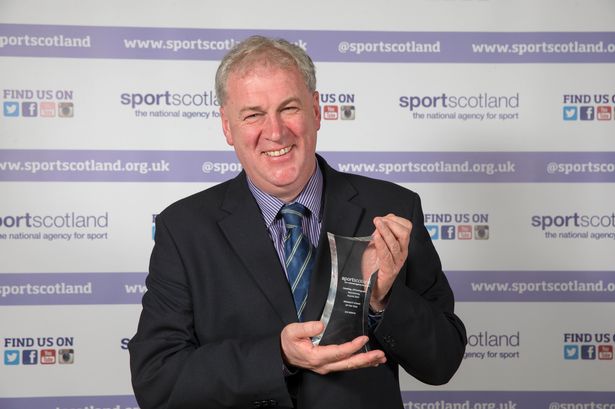 Given all her talents and dedication, Janice had the perfect partner in Ian Mirfin. Ian had come into the sport in the mid 1980's at the time of the 'running boom' and was a big, good natured, easy to like character. He was married to Janice for 33 years and they were a great double act. If anyone matched her dedication he did. He worked with athletes from all disciplines and built up a great expertise in wheel chair events. An excellent coach in his own right, Ian is currently Scottish Coaching's Event Lead for Paralympic athletes. The photograph above is of Ian when he received the Scottish Athletics Disability Coach of the Year in 2014
Part of the citation for the award read "Dedicated Ian was recognised for his tireless work with disabled athletes, and especially his success with a trio of female athletes over the past 12 months. Both Sammy Kinghorn and Meggan Dawson Farrell participated for Scotland in this year's Commonwealth Games while Shelby Watson is already enjoying success at junior level. Ian has been identified as a coach on the UK Sport para coach to Rio programme and was part of the Inspire Programme for Glasgow 2014. Although he works with beginners, Ian has been instrumental in producing the best crop of young wheelchair athletes Scotland has ever seen."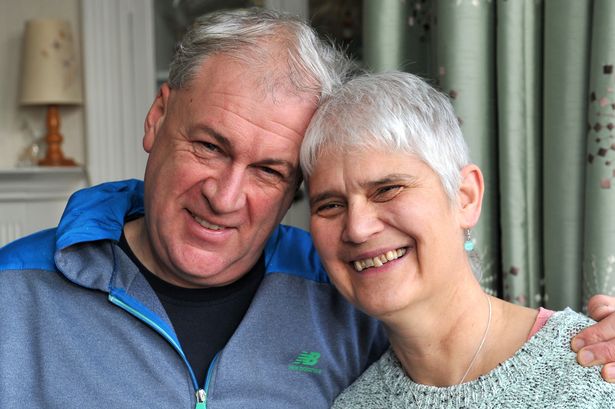 His double act with Janice however was something quite special and it was recognised several times including 2012 when they carried the Olympic torch through Rutherglen in Glasgow.