The following excellent account of Jamie McLeavy's career has been written by athletics historian and well known authority on the subject, Alex Wilson. He has also come up with all of the illustrations as well. Over to Alex.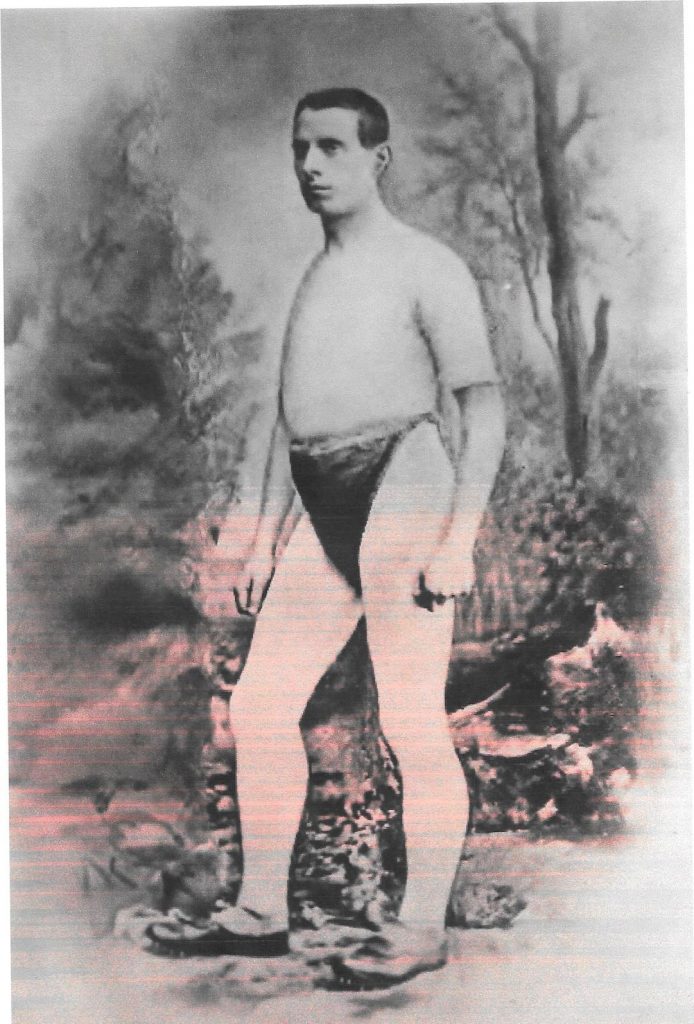 JAMES McLEAVY
Ask anyone in the Dumbartonshire town of Bonhill today to name their most famous athlete, chances are you'll they'll tell you it's Lachie Stewart, the Vale of Leven runner who became a household name in Scotland after winning the 10,000 metres at the 1970 Commonwealth Games. Chances, too, are that they'll never have heard of Jamie McLeavy. However, it's well worth taking a closer look at the life and career of this runner who in 1927 was described in The Old Vale and It's Memories as "a shining star, of whom the Vale might well be proud".
Jamie McLeavy was born on 26 October 1852 in Bonhill as the son of Irish immigrants.
When the Scottish census was taken in 1871, the McLeavy family were living on Dalmonach Road, and young James was employed as a printer at Dalmonach Printworks.
Textile finishing was the lifeblood of Bonhill and neighboring Alexandria, where most of the inhabitants earned their living by dyeing and printing fabrics.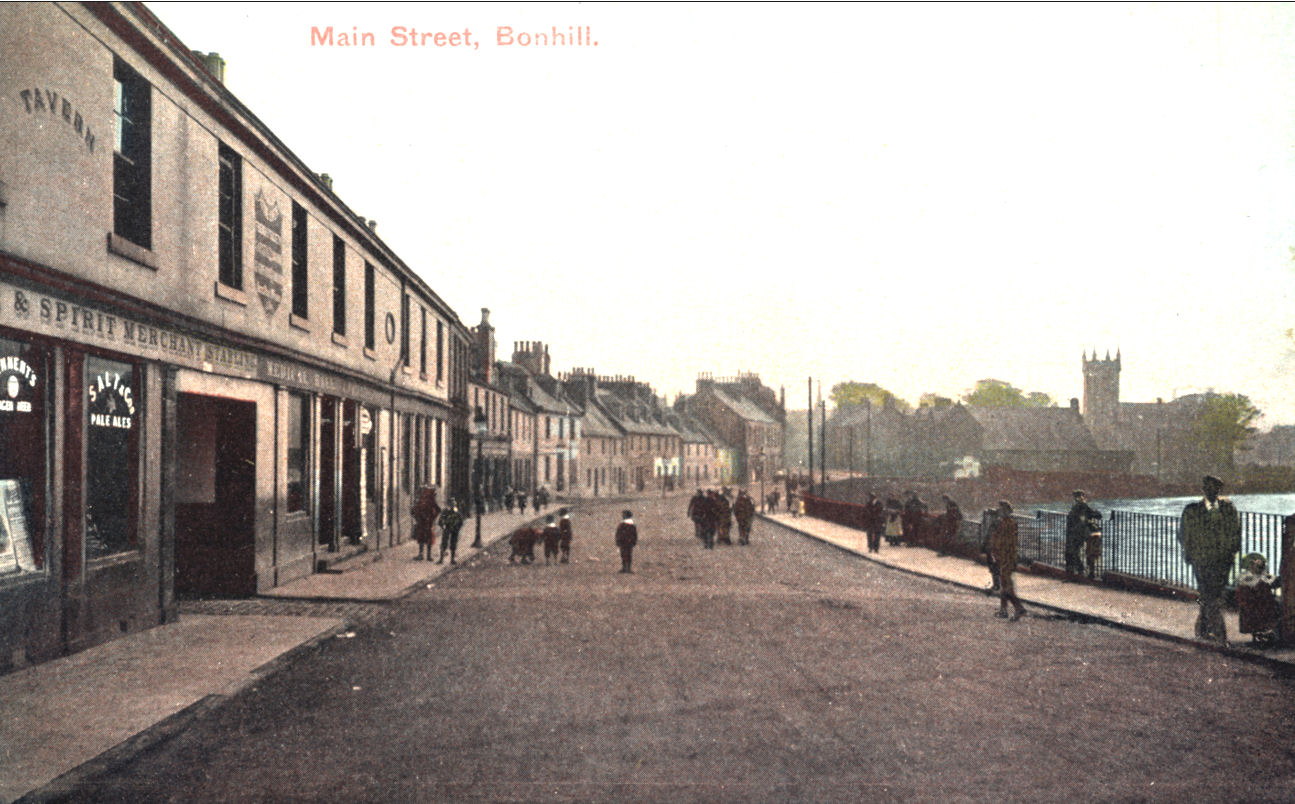 A street scene from Bonhill around 1900 (with thanks to http://www.valeofleven.org.uk)
In the 1860's more and more Highland Games meetings were popping up all over Scotland, giving sporting talent a never-before-hand chance to shine. Many talented sportsmen would have been unaware of their greatness had they not been given the opportunity to measure themselves against others. In 1866 talented local athletes from in and around Alexandria would have the chance to emerge from the shadows when the thriving local economy prompted local printworks owners to give their support to the first Vale of Leven National Games on Saturday, 15 September 1866. The highlight of the meeting was the appearance of the famous strongman Donald Dinnie, who hurled the 16-pound wooden-shafted Highland Hammer 93 ½ feet or 28.5 metres. The event was so well attended by the townspeople of Alexandria and Bonhill that it was almost a matter of course that it would become an annual fixture.
McLeavy made his first public appearance at the third annual Vale of Leven Games in 1868, when he won the boy's race.
The following year he won the U-19 300-yard race at the age of 16.
He was an inconspicuous youth, standing only 5"4' (1.62m) and weighing only 120lb (55kg), but he had already attracted the attention of investors looking to back a future champion.
Soon he would be competing further afield and rubbing shoulders with the crème de la crème of Scottish pedestrianism: the likes of Bob Hindle, William "Cutty" Smith, Willy Park and Bob McKinstray.
On 17 July 1869, he won the third prize in a half-mile handicap off before 85 yards at the recently opened Kelvinside Recreation Grounds.
On 6 November 1969 he finished third behind the famous ped Steve Ridley of Gateshead in a Mile Handicap off 75 yards in Edinburgh; in the athletic hall of the Royal Patent Gymnasium, which had been in operation since 1865.
His daily training on the roads around Bonhill should soon pay off. A year later, McLeavy had already developed into a winner. The race was a mile handicap at a meeting promoted by Bob Hindle at Greenhill Cricket Grounds, Paisley, on 29 October 1870. With a start of 60 yards, McLeavy, it is reported, "rapidly overhauled his men" and easily won the £3 first prize.
On May 18 1871 McLeavy scored his first big success in Edinburgh; in a 1 ½ mile handicap off 45 yards at the Powderhall Grounds, where he defeated, among others, such well-known men as Cutty Smith and Willy Park.
In the summer of 1871, he was in action at Highland Games meetings every weekend. It was hardly necessary to work full time anymore because he was raking in the money at the "gemmes" where he could make more by winning a single handicap race than he could earn slaving away for 60 hours a week at the printworks. In July alone he made appearances at Greenock, Campsie, Johnstone, Stirling and Kelso, typically competing in two or even three events per meeting. At the Johnstone Highland Games on 15th July, for example, he took third place in the 2 miles behind "Cutty" Smith before winning the 4 miles ahead of Willy Park and Smith.
Bob McKinstray having retired in 1870, McLeavy was considered a worthy successor to the former British Champion. To truly follow in the Ayrshireman's footsteps, however, he would have to go south of the border and take on England's finest on their home turf.
McLeavy made his first appearance in England on 18 November 1871 when he won the first prize of £8 and a beautiful trophy in a mile handicap off 75 yards at Royal Oak Park Grounds in Manchester. In doing so he beat Jim Nuttall and several other first-class runners.
It will be remembered that Bob McKinstray also made his English debut in Manchester in 1865, where he defeated a first-class field in a world record half-mile time of 1:56.5.
McLeavy first came before the London public at the Lillie Bridge Ground, West Brompton, on Boxing Day 1871, when, with a start of 300 yards, he handsomely won a four-mile handicap in 19:35.0, beating John Mellor, George Hazael and Billy Mills and netting himself £20.
He was only 18 years of age, a youth prodigy.
On 4 February 1872 he placed fourth in a 4-mile handicap off 100 yards at the Prince of Wales' Ground in Bow, London. Here he ran 420 yards short of 4 miles on heavy ground in 19:26.0.
On March 2nd, McLeavy returned to the Lillie Bridge Ground. The race was a 1000-yard handicap with £40 prize money for the winner. Even at this short distance, he had the speed to win comfortably in 2:17.4 off 35 yards and beat Billy Mills and Jim Nuttall, among others.
Four weeks later he visited Lillie Bridge again to compete in the Four Miles Championship for Tom Senn's Four Miles Challenge Cup, a beautiful silver trophy worth £120. The race attracted a large crowd of 4,000 spectators to the enclosure in West Brompton. This time it was of course a scratch race, but even without a handicap McLeavy made light work of the difficult conditions and won by almost 200 yards from George Hazael in 21:13.0. However, Hazael was dissatisfied with his defeat and was keen to make amends.
To take absolute possession of the challenge cup, McLeavy had to defend it against all-comers for 18 months: no easy task. If challenged, the holder had to meet his challenger within six weeks.
To put McLeavy's win at Lillie Bridge into perspective, George Hazael, whom he had easily defeated here, was already a three-time British 10-mile champion. Hazael won his first British 10-Mile Championship on 15 May 1869 in Manchester at 55:32.5. After losing his title following illness, he retained it on at Hackney Wick November 8, 1869 in 53:55.6. He won the championship again in Hackney Wick on 18 June 1870 and on 17 December 1870 made the challenge cup his absolute property in Manchester.
Like in the previous year McLeavy spent the summer racing weekly at Highland Games meetings. These races weren't timed and so numerous, it's not worth listing them. As was typical for a Scottish ped, the summer was dedicated to the "gemmes", so that the championship races took place in spring and autumn/winter.
McLeavy defended the Four Miles Championship for the first time in a match for 50 pounds against George Hazael at Lillie Bridge on 27 May 1872. The weather was good, the track was in fine condition, and the runners did not disappoint. Hazael threw everything at McLeavy and dashed through the first mile in 4:33. But it was not enough to shake off the young Scotsman who led in 9:31 with 2 miles – the fastest time ever run for two miles in London. Hazael was back in front at 3 miles in 14:45 but had no chance against McLeavy's finishing sprint and gave up 300 yards from the tape. McLeavy "cantered in" alone to the finish in a Scottish record time of 19:52.0 – the fastest seen in Britain since the titanic 10-mile battle between Bill Lang and John White at Hackney Wick in 1863.
After a summer of racing at Highland Games meetings McLeavy lost narrowly to George Hazael over 2 miles at Lillie Bridge on 12th August after giving the latter a 10-yard start. The times were decent enough: 9:39.5 for Hazael, 9:40.2 for McLeavy.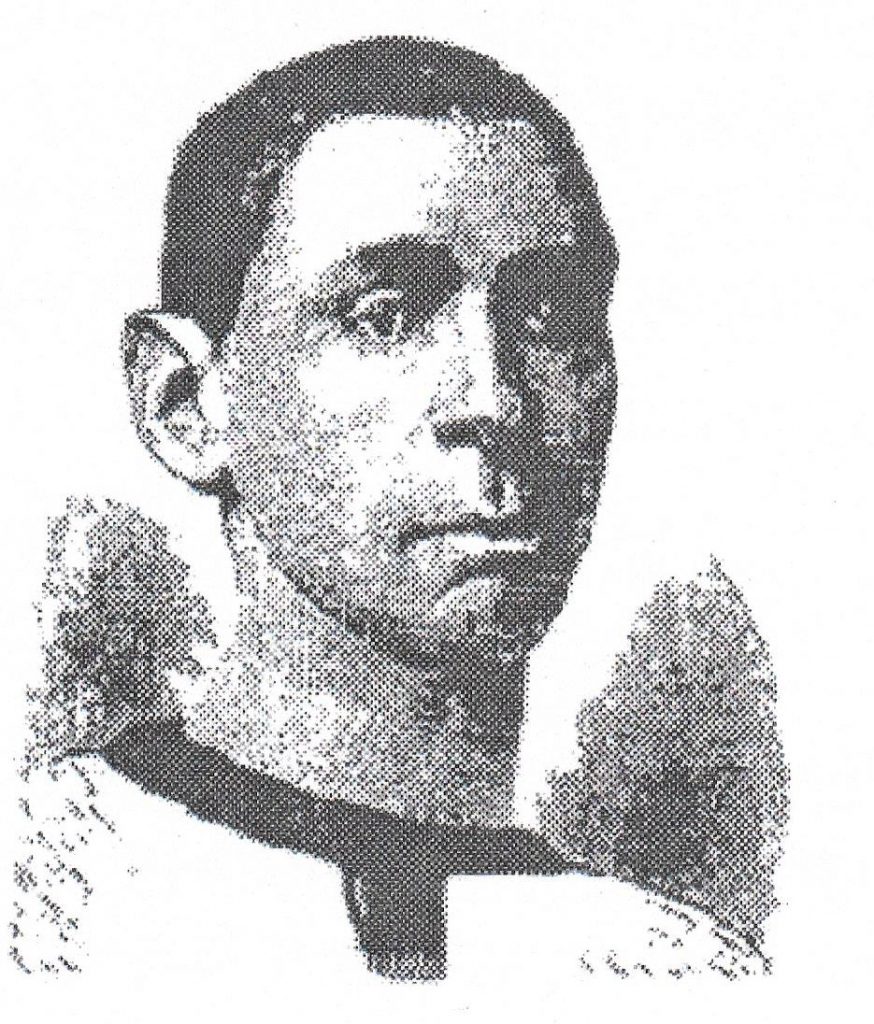 George Hazael
On 24th August McLeavy and Hazael met again and together with "Cutty" Smith and Billy Mills they fought out the Six Miles Championship for £50 and a silver cup at the Powderhall Grounds. McLeavy was once again in the ascendency, winning 350 yards from Smith in an excellent 31:28.0, while Hazael and Mills dropped out.
After again defeating Hazael over two miles at the Star Grounds in Fulham on 16th September, McLeavy concluded his 1872 season a fortnight later at Gateshead Borough Gardens where he was competing for Tom Senn's Mile Challenge Cup worth £50 and £35 in prize money. Despite the heavy conditions there were 4000 spectators present to watch one of the more interesting races to be decided in the north east. Among the 14 entries was local hero Steve Ridley, but he was ill and forced to scratch. McLeavy was now the favourite but found the finishing speed of Paisley's Bob Hindle too hot for his liking, Hindle winning by 6 yards from McLeavy in 4:31.5. McLeavy in turn finished a dozen yards ahead of another Paisley ped, "Cutty" Smith.
Bob Hindle, a cloth-lapper by trade, was generally regarded as a short-distance specialist, often competing in sprint handicaps at Highland Games meetings. However, he was no push-over at distances up to a mile and was particularly dangerous at the half-mile, where he had an official best of 1:58.0 but had covered the distance in 1:52 in a time trial on a straight road.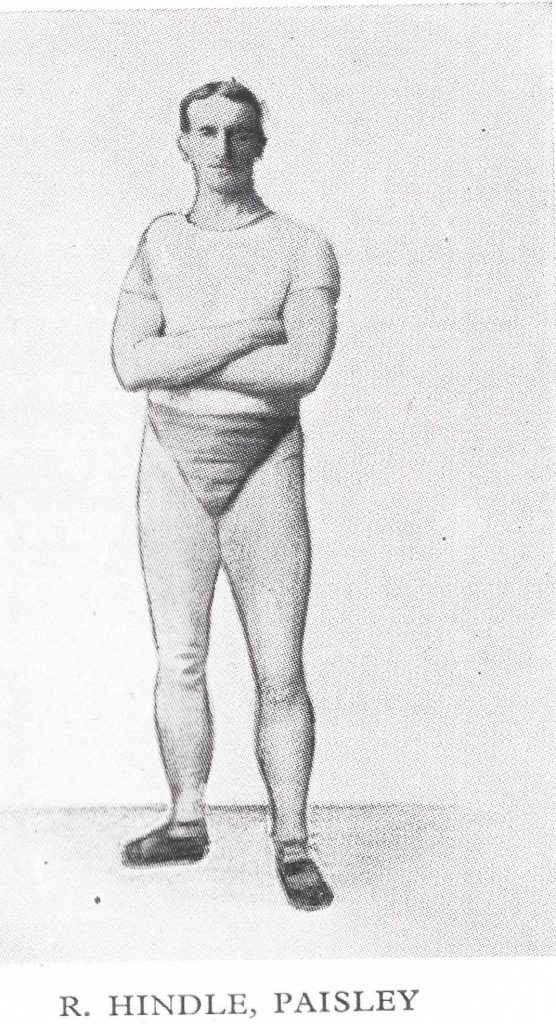 After a year-long ceasefire, Hazael challenged McLeavy again for the Four Miles Championship. A match for £25 a-side was arranged for 11 April 1873 at the Prince of Wales' Ground in Bow. The Sportsman reported that McLeavy had "taken his breathings with James Stewart, at the Rob Roy Tavern, Glasgow", and weighed 8st 9lb. The attendance of 2,000 was impressive for such a small ground, which had a 400-yard grass track that was not conducive to record times. Hazael did all he could to get rid of McLeavy, but the latter refused to be shaken off. After mile splits of 4:47, 9:55 and 15:13, Hazael, who was still leading, gave up in despair 700 yards from the finish and complained – albeit in vain – that McLeavy had fouled him. McLeavy meanwhile finished the race at his leisure in 20:59.0 and with this win made the Challenge Cup his absolute property. The Sterling silver challenge cup was an enormously valuable prize and McLeavy must already have been a wealthy young man. However, young also usually means inexperienced, and professional sport back then was a veritable shark pool.
On 11 October 1873 McLeavy returned to the Gateshead Borough Gardens to compete again for the Mile Challenge Cup. This time it was a three-way sweepstakes for £25 a-side, in which he faced local hero Steve Ridley and the holder, Bob Hindle. The 600-yard track was in good condition, and McLeavy rose to the occasion by delivering of the best performances of his career. After a ding-dong battle with Ridley on the last lap, McLeavy prevailed by three yards in a superb time of 4:21.0. Only Bob McKinstray among Scots had ever run the mile faster.
In the mile handicap at the 1874 New Year's Gala at Edinburgh's Powderhall Grounds, McLeavy proved that his mile performance at Gateshead was no flash in the pan by passing upwards of forty men to take third place from scratch in 4:26.8.
Unfortunately, after making such a promising start, 1874 was to be a quiet year for McLeavy. It was reported in The Sporting Life that he had inexplicably "lost all form".
It would be some time until his next race of any note, and it wasn't a bad comeback by any standard.
In August 1875 McLeavy lined up against George Hazael among others at Hackney Wick in a four-mile handicap race for a champion belt and £50 in prize money. Hazael took full advantage of a generous 50-yard start to win by 100 yards in 20:07.0. McLeavy produced a strong finish to beat H. Hescott (180y start) by 10 yards. His time of around 20:24 was well outside his best, but after such a long absence still a very respectable effort.
On September 4 McLeavy made his first appearance at Springfield Recreation Grounds, which had opened on London Road in early 1875 at the original site of Celtic Park.
As Scotland's largest port and most populous city, Glasgow was at the height of its commercial and industrial prosperity. Springfield was the third enclosure to open in the city after Stonefield Recreation Grounds in 1861 and Kelvinside Recreation Grounds in 1869.
The race in question was a mile handicap for a silver champion trophy worth 50 guineas. Champion belts and cups were notoriously hard to win outright. This particular trophy had to be held for nine months and won three times in succession, and the holder had to defend it every six weeks if challenged.
5,000 spectators found their way into the enclosure to watch the race. McLeavy, who started from scratch, was in a class of his own, but just failed to catch the leaders. Taking third in 4:25.6, he finished five yards behind the aspiring Alexander Clark from Glasgow and three yards behind Willy Park, both of whom had a 120-yard start.
After challenging Hazael to defend the four-mile champion belt, McLeavy met the Londoner at Springfield Recreation Grounds on 3rd October before a huge attendance of 20,000 spectators. However, McLeavy's many supporters would go home disappointed because their man suffered an "off" day and gave up at 3 ¼ miles when trailing Hazael by 50 yards.
What did the 1876 season hold in store?
McLeavy opened his account with a 3-mile match against Henry Hescott for £15 a side and, of course, a challenge belt. The match was decided at the Royal Oak Grounds on 22nd January. It was a handicap, Hescott having received a start of 195 yards. This turned out to be too much for McLeavy, who made up some ground, but could not catch Hescott and lost by about 60 yards in a mediocre time of 15:36.0.
Then, on 18 March, he met the much-improved Alex Clark over a mile for £50 at Springfield Recreation Grounds. As in Manchester, however, he was unable to make up the start he had given his opponent (30 yards) and lost by about a yard in 4:35.4. Clark, who was 23 and a butcher by trade, was of course happy to collect the stakes
Then, on 1st April, McLeavy launched an attempt on the professional mile world record at Lillie Bridge at the invitation of the Amateur Athletic Club. Bill Lang and William Richards jointly held the record after they had both run the distance in 4:17.25 at Manchester in 1865. McLeavy, by way of an inducement, was to receive £50 and half the gate money should he be successful. Depending on his finishing time, this amount decreased down to 10 shillings and quarter gate for a time of 4:25. He had his great rival George Hazael and his trainer, Jack Taylor from Glasgow, as pacemakers to help him. About 2,000 spectators were present. Paced quarters of 1:01 and 1:07 took him to half-way in 2:08, but a 1:11 third quarter ended all hopes of a record and slow fourth quarter of brought him home in 4:28.6 – a fast time by any standard, but well outside the record.
So far that season, McLeavy had been below par. It was therefore to show what he really had in him. On 10th June he renewed his rivalry with George Hazael in a three-mile match for £50 before a bumper crowd of 10,000 spectators at Shawfield Recreation Grounds, which had opened in 1875 on the south side of the Clyde near the old Rutherglen Bridge. McLeavy immediately took the lead and covered the first mile in 4:46.25 and the second mile in 9:44.5. Hazael stayed in his slipstream until a lap to go when he suddenly cracked and came to a standstill. McLeavy completed the distance at his leisure in 14:45.25, while Hazael was booed for his apparent failure to make a race of it. McLeavy's time was superb, but the manner in which he achieved it suggested he could have gone considerably faster had he been pushed all the way. Hazael, who had won a 10-mile race at Springfield Grounds in a sensationally fast 52:05.0 a month earlier, had been expected to provide McLeavy with a sterner challenge.
On 4th November, McLeavy took on Alex Clark again, but this time they were matched on level terms over a mile for £50 and the Championship of Britain. The match was contested under the scrutiny of between 3,000 and 4,000 spectators at Springfield Recreation Grounds. The report in the New York Clipper tells the tale of this exciting duel: "They went away at a terrific pace, McLeavy cutting out the work, and in this way they passed the referee for the first lap in 59 sec, Clark half a yard behind. Going down the backstretch, Clark went up to McLeavy's shoulder, and rattled the champion along at his best pace, offers of 6 to 4 now being made on Clark, who seemed able to leave the champion at any time, and, coming into the straight for the half-mile, the men passed the post for the second time abreast (time 2min. 7sec.). Going for the third lap, Clark went to the front, but McLeavy, with one of his grand rushes, repassed him, and held the lead once more until coming into the straight for home, when Clark, with a splendid sprint, raced alongside to within fifteen yards from the tape, where Clark was run to a standstill, being then two yards behind, McLeavy completing the distance in 4min. 25 ¼ sec."
McLeavy's winning time was the fastest that year in Britain and the second fastest mile ever witnessed in Scotland, just a shade slower than the 4:25.0 posted by Steve Ridley at Powderhall in 1870.
The following week, McLeavy returned to Springfield Recreation Grounds to defend the four-mile championship against James "Treacle" Sanderson, of Whitworth, for £50 and a silver cup worth 60 guineas. Sanderson, who in the 1860s had been one of Britain's leading distance runners with a two-mile best of 9:12.5. These records had been set many years previously, but he was still a force to be reckoned with. It was reported that McLeavy had been under the care of Bob Hindle. The conditions weren't great: the track had to be cleared of snow, and it was cold and windy. McLeavy set off at a fast pace, zipping through the first mile in 4:39, but this was no problem for the Whitworth veteran, who led at 2 miles in 9:45 and 3 miles in 15:02. However, McLeavy had the measure of Sanderson in the last mile and won easily in a superb time of 19:58.0. The Sporting Life commented, "Considering that the race was run in a snowstorm, with the wind blowing a perfect gale, it must be reckoned to quite equal to the best time on record."
After the victory over Sanderson, McLeavy simultaneously held all British championship titles from 1 to 4 miles inclusive.
On 18th November, McLeavy contested his third race in just as many weeks at Springfield Recreation Grounds. It was a match over 10 miles against Jim Bailey, an emerging force from Sittingbourne, whom McLeavy had given a start of 200 yards. This one did not go the full distance, though, as McLeavy caught his opponent at five miles and was awarded the win after covering six miles in 33 minutes exactly.
All augured well for his final engagement of 1876, a six-mile match against Hazael for the British Championship and £50 at Glasgow's latest enclosure, the Vale of Clyde Recreation Grounds on Govan Road on 23rd December. McLeavy, however, showed up in a bad way physically and had to give up at 4 ½ miles after throwing up, leaving Hazael to canter to victory in 31:44.0.
After forfeiting the 4-mile championship to Hazael on 3 February 1877, due to illness, McLeavy was soon back at full strength. He proved this at Shawfield Grounds on 10 March by defeating Hazael over 5 miles for £80 in 26:06.0.
On 30th June he again took on Cutty Smith over 10 miles for £60 and a champion belt at Shawfield. The ground was uneven after recent trotting races, so a fast time was out of the question. It came down to a sprint finish, which McLeavy won with 2 yards to spare in 56:10.0.
After his usual frenetic summer of racing at the Highland Games, McLeavy tackled Tranent's James Wood, a mile specialist, over a mile at Shawfield Grounds on September 30 1877.
McLeavy had been training under Davie Ferguson, of Pollockshaws, but had stopped training after the death of his father ten days earlier. Nonetheless, the 6,000 spectators were treated to a fine race which saw Wood emerge the winner by six yards in 4:30.0.
A week after losing to Wood, it was back to business as usual. McLeavy returned to Shawfield and contested another Championship of Britain match against George Hazael, the distance on this occasion being six miles for £100. A 10,000 strong crowd watched their man win by 200 yards from the bull-faced Englishman in 32:16.5.
Two weeks later, however, Hazael turned the tables on McLeavy in a six miler on a heavy grass track at Dundee, winning in a slow time of 35 minutes.
On 3rd November McLeavy met the up-and-coming Billy Cummings over 2 miles for £50 at Shawfield. He had conceded the 19-year-old from Paisley a start of 20 yards but had no trouble beating him in 10:07.0.
The following week, McLeavy returned to the same venue to defend his 10-mile title against Cutty Smith. Unfortunately, Smith fell ill with gastric fever and scratch, resulting in a walk over for McLeavy. To be eligible for the prize money, however, the rules required that he complete the distance or run until stopped by friends of his opponent. Seeing as nearly 1,000 persons had paid admission, he decided to try for a fast time against the clock. However, shortly after covering the first mile in 4:43, it began to pour down, ruling out all possibility of a fast time. Smith's backers were however satisfied and refrained from asking McLeavy to go the full distance.
On 17th November McLeavy got his chance to avenge his earlier defeat by James Wood, when they met over a mile for £75 at Springfield Recreation Grounds. It was by all accounts a great race and McLeavy had to pull out all the stops to win by a slight margin of 2 yards in a fine time of 4:28.75.
McLeavy's backers, after seeing that their man was in top form, quickly organized another race against George Hazael. This time it went over a distance of 10 miles (not McLeavy's best distance) and took place at Shawfield on 1st December. Despite receiving a start of 250 yards, McLeavy was unable to hold off Hazael, who caught and passed him on the last lap and won by 15 yards in 54:32.0.
The following weekend, at Campfield Running Ground in Falkirk, however, McLeavy was again able to savour the taste of victory by defeating Billy Cummings (30y start) in a close-run 2 miles from scratch in 9:52.0. For his efforts he collected £30 and a silver cup.
McLeavy concluded the year with two races at Shawfield Ground. On 29th December he engaged in a three-way mile race for £50 and a silver challenge cup. The race was so slow that the runners were booed out by the crowd of 1,000 spectators. Missiles were even thrown at them to make them go faster! It came down to a final sprint where he couldn't handle James Wood and Alex Clark and gave up on the home straight. The winning time, a slow 4:49.5. On New Year's Eve, he was unplaced in a five-way match over three quarters of a mile for £20 and a champion belt, 34-year-old Bob Hindle rolling back the years to win a good race in 3:22.5.
In early 1878 McLeavy's foot-racing career took a new direction when wealthy sporting patron Sir John Astley announced a six-day go-as-you-please race for a champion belt and cash prizes totalling a mouth-watering £750.
Six-day walking races had been in vogue for a while, but there had been mounting criticism of the farcical walking styles employed by some competitors. Astley, who had already sponsored several such contests, decided to resolve the knotty issue by allowing the competitors to walk or run as they pleased – hence the name "go as you please".
McLeavy had so far taken no interest in these contests but was powerless to resist the allure of big money. Despite his track pedigree, success was by no means guaranteed. Six-day races required both extraordinary mental tenacity and a high tolerance for pain and sleep deprivation.
As he had never raced beyond ten miles before, he knew he was entering unknown territory.
To prepare for upcoming contest, he undertook a rigorous regimen of daily training runs and walks during the cold winter months. On 9th March he pitted himself against Cutty Smith in an 8-hour go-as-you-please match for £50 at Shawfield Recreation Grounds. Walking throughout, he retired after completing 35 miles (56.3 km) in 6 hours 51 minutes 43 seconds (Smith was over four miles ahead at this point).
The big six-day race commenced on 18th March in the Islington Agricultural Hall, which was packed with spectators despite the ungodly hour of 1:03 am. McLeavy got off to a good start by covering 28.3 miles (45.5 km) in the first 4 ½ hours. He completed his first 50 miles (80.5 km) in just over 9 hours and had completed exactly 100 miles (160.9 km) at the expiration of 24 hours. He was unable to maintain this pace, however, and fell well behind the more experienced long-distance experts such as American Daniel O'Leary, who won 520.2 miles. After six days McLeavy finished 9th overall with 250.6 miles.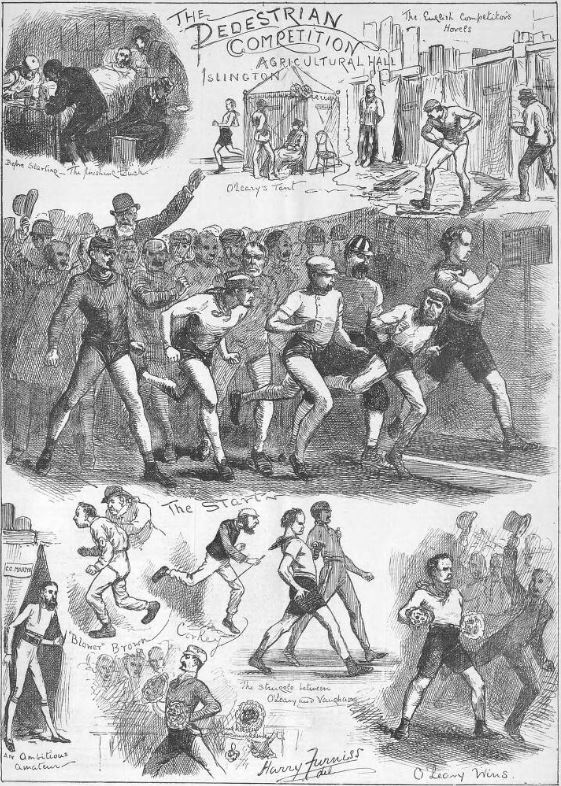 After recovering from the gruelling six-day race, McLeavy initially confined himself to the shorter distances again.
On 11 May 1878 he took on Cutty Smith and George Hazael in a championship race over 6 miles at Springfield Recreation Grounds but lacked sharpness and dropped out at 5 ¼ miles. Smith posted a fine time of 31:29.25 – one of a string of excellent performances by the Paisley man that year.
Then, on 1st June, McLeavy took on the much-improved Willie Cummings over 2 miles at the Springfield Recreation Grounds. The Paisley running sensation scorched to victory in a fabulous 9:20.5, McLeavy dropping out at 1 ¼ miles after finding the 4:35 opening mile too hot for his liking. Cummings was destined go onto even greater things. He would win the British Mile Championship in the Lillie Bridge as a rank outsider a month later and would finish the year as Britain's #1 miler after posting a 4:19.5 at Springfield Recreation Grounds on 5th October.
In 1878 Scottish professional runners were preeminent at nearly every distance from one to 10 miles. McLeavy had his hands full trying to assert himself against his fellow countrymen. There was no need to travel south to compete. The situation was quite the opposite in fact: his great rival George Hazael would make the long journey north to Scotland again and again in his quest for worthy opposition.
A week after losing to Cummings, McLeavy rediscovered his best form in a match against Cutty Smith for £50 and the British Six-mile Championship at Springfield Recreation Grounds. Despite subdued expectations of a good time due to the rainy conditions, McLeavy and Smith had a great duel, McLeavy winning by a narrow margin of only 2 yards in an excellent time of 31:34.5 minutes after mile splits of 4:47, 9:52, 15:10, 20:35 and 26:19.
McLeavy's 1878 summer schedule was again jam-packed with appearances at Highland Games meetings, including several performances of note. On 20th July he won, from scratch, a 10-mile race for a prize of 100 shillings at Barrack Park in Dundee in 54:57.0. On 3rd August he ran third in an hour race at Forfar behind Cutty Smith (10 ¾ miles) and David Livingstone. Then, two weeks later, he took second 30 yards behind Livingstone in a 4-mile flat race at Springfield Recreation Ground in 20:41. Livingstone, a coal miner born in Tranent in 1856, a rising force in Scottish pedestrianism. Earlier that year he had defeated Billy Cummings over a mile at Glasgow in 4:25.0.
On 23rd November, McLeavy, with the benefit of training at the Old Tree Grounds in Paisley under the supervision of Bob Hindle, defended his 6-mile title against Cutty Smith in 32:10.0 at Shawfield Recreation Grounds where soft ground and unfavourable weather militated against a faster time. Willie Cummings and George Hazael had also entered but failed to put in an appearance.
On 21st December McLeavy once again tool on Billy Cummings over 2 miles for £50 and the World Championship. Despite there being snow on the track, Cummings set a fast pace covering the first mile in 4:31. McLeavy held on for as long as he could but eventually had to let Cummings go, the Paisley man winning by 40 yards in 9:44.0.
During the early months of 1879, McLeavy turned his attention the ultra-long distances again. On 29th March he teamed up with Cutty Smith in a 24-hour walking match against well-known Edinburgh ped Peter McKellan for £25 a-side at Shawfield Grounds. Both Smith and McLeavy were to walk for 12 hours, while McKellan was tasked with doing the whole thing on his own. As good as McKellan was, the outcome was a bit of a foregone conclusion, McLeavy taking over from Smith with a comfortable lead which he never relinquished. Smith and McLeavy won by three miles, covering 55 miles and 53 miles respectively.
On 19th April McLeavy donned his running shoes again to compete in a 4-mile handicap at Shawfield Grounds. After months of long-distance training, however, he lacked his usual leg speed and wound up third in around 21:57 off scratch.
About a month later he departed for the USA, where long-distance running was in vogue and lucrative prizes beckoned.
He contested his first major race stateside on 13th June: a 150-mile match against Jeremiah Murphy of Chicago in the Chicago Exposition Building. However, his American rival was not quite up to the task, retiring after 88 miles. McLeavy was eventually declared the winner after completing 120 miles in 31 hrs. 45 min.
On 6th October of the same year, McLeavy took part in a big six-day race at New York's Madison Square Garden, where the competitors (the crème da la crème of the USA) were chasing a first prize was $5,000. After two days and 150 miles, however, the race was over for McLeavy after contracting a bad cold in the chilly and damp quarters that had been provided by the management.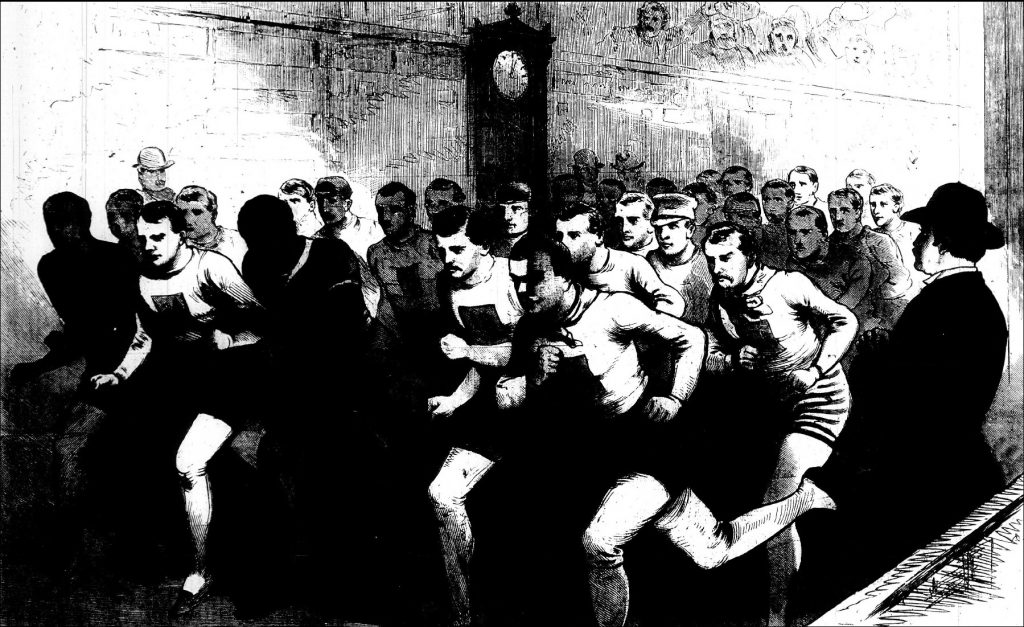 The six-day race at Madison Square Garden gets under way (National Police Gazette)
In late April 1880 McLeavy competed in a 72-hour walking match at Philadelphia but finished well down the order. Then on 7th June he ran 10 miles in Toronto against the Indian White Eagle and another two runners, winning in 59:30 and earning himself $40. On 4th September he teamed up with White Eagle and Charles Price for an unusual 30-mile race in Chicago; they were matched against a horse ridden by the celebrated pedestrian Daniel O'Leary. McLeavy was the first to run and completed his 10-mile stint in a rather slow 1:09:20. The race, the Chicago Tribune wrote, "afforded plenty of amusement to the crowd" but the runners had no chance against the horse which galloped home with almost 3 miles in hand.
It is difficult to quantify how many races McLeavy contested in the USA, as reports are few and far between. To keep his head above the water, however, he must have competed often and for at times trivial sums of money. On 1 October 1881, for instance, he defeated Charles Price in a 5-mile "exhibition run" on the fringes of a six-day race at the Aquarium in New York in a slow time of 35:30. McLeavy spent about three years in the United States but failed to achieve much in the way of success or make his fortune. The big money was in six-day races, but McLeavy, it appeared, was not particularly cut out for this type of contest.
Miserable inexpensive living conditions may have been responsible for the onset of tuberculosis which forced him to return home in 1882. After returning to Scotland he was reportedly in "enfeebled health". Back in those days, tuberculosis – or phthisis or consumption as it was known – was considered an incurable illness. The only hope of recovery was a protracted period of rest in a sanatorium with plenty of fresh air and wholesome food – luxuries which McLeavy could ill afford.
Despite his ill health, he continued to compete, albeit with diminishing returns. A six-day go-as-you-please race at Sheffield in December of 1882 he retired after covering only 14 miles. A four-mile race against Alex Clark for the Championship of Scotland at Bolton on 24 March 1883 ended in a disaster when McLeavy gave up after only two miles, already hopelessly beaten. Another match against Clark at the Recreation Grounds in Aberdeen on 21st April ended with McLeavy lapped twice.
No longer in a fit state to compete against top-notch opponents, McLeavy tried his hand at promoting meetings, but failed on account of his ill health. The last months of his life must have been horrific, a living hell, as the disease spread throughout his body, destroying his lungs and shutting down his immune system. In December of 1883 one of his feet had to be amputated after experiencing paralysis.
On 19 January 1884, McLeavy passed away at Glasgow Royal Infirmary at the age of 31.
His funeral was announced two days later, on the front page of the Glasgow Herald.
That was the rags-to-riches-to-rags life of Jamie McLeavy, a youth prodigy, who was fortunate enough to discover his talent for running at an early age and make his mark at a time when professional foot-racing was immensely popular in Scotland; a time before football came into the limelight; a time when people from modest backgrounds could aspire to fame and fortune; a time when 20,000 people would flock to a running ground just to see Jamie McLeavy in action.
Sadly, Jamie McLeavy was also a mere mortal and no match for one of the oldest and deadliest diseases known to mankind.