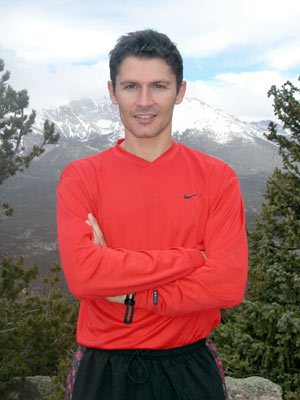 Justin Chaston: Steeplechaser
The range of athletes that Jim McLatchie has worked with or brought all the way through to international honours is very wide – we have already seen some of his work with mile and marathon runners as well as with cross-country champions. This section is on his work with steeplechasers. By far the best man he worked with in this event was Justin Chaston (pb 8:23.90). Chaston ran in three Olympic Games (1996, 2000 and 2004), World Championships (2004), Commonwealth Games (2004), Universiade (1995) and the World Cross in 1987. A remarkable record by any standards. The workoits that he did before the Olympics in 2004 are detailed here for you to see. When I contacted him he reckoned that Jim had kept more detail on him than he had recorded himself!
This is what Jim has to say about training good class steeplechasers.
STEEPLECHASE PROGRAM
Workouts described below are for steeplechasers with examples using 3K and 5K as the base for establishing workout times.
8 Weeks Build-Up (September – October)
1 Hour easy run
Hill work – short hills plenty of reps with short rest
10 x short loop (150M with 2 hills) 30 sec rest/ jog 5 min/ repeat
Build up to 8 x 450M with 90 sec rest
1 hour easy
Tempo Runs e.g.: 2 mile easy/ 1 – 5k pace/ 1 – 10k + 20 sec/mile/ 1 – 10k pace/ 1 – 5k/
Cool down. Note any combination to equal 8 miles of continuous running.
1 Hour easy
45 min easy
Long run start at 1 ¼ hours add 15 min every 2 weeks until 2 hours is reached
November – December
2 hours easy
Track work – Long repeats: 2 x mile 30 sec rest between/ jog 5 min/ 4 x 800 30 sec rest
4 (mile 1 MR 200 quick) 3 min between sets
2 x 3000M 4MR Try and do
3 x 2000M 3MR at today's
4 x 1500M 3 MR 5K pace
6 x 1000M 2 MR
1 hour easy with 2 x 5 min pick-ups during the run
10 mile Tempo run. Any combination of pace per mile to equal 10 miles
warm up/ 2 mile – 10k pace/ 1 mile 10k pace + 20 sec/ 1 mile – 5k pace
1 mile 10k pace + 20 sec/ 1 – 5k pace/ cool down
1 hour easy run
30 min easy if racing tomorrow else 45 min easy
Race or Hill/grass work – long reps e.g. 3 x mile 3 min rest/ or 6 x 800 3 min rest/
or mile: 2 x 800: mile 3 min rest between
January – February
2 hours easy
Track work – Variable repeats: 16 x 200 30 SR between/ Jog 5 min/ 800
or 10 x 300 30 SR between/ jog 5 min/ 800
or 6 x 400 30 SR between/ jog 5 min/ 800
or 2 ml/ 2 MR/ 2 x mile 1MR/ 4 x 800 30 SR
or 3 x 1000 30SR/J 400/ 2 x 1000 30SR/ j 400/ 1000
1 hour easy with 3 x 4 min pick ups during the run
10 mile Tempo run. Any combination of pace per mile to equal 10 miles
warm up/ 2 mile – 10k pace/ 1 mile 10k pace + 20 sec/ 1 mile – 5k pace
1 mile 10k pace + 20 sec/ 1 – 5k pace/ cool down
1 hour easy run
30 min easy if racing tomorrow else 45 min easy
Race or Hill/grass work over hurdles. E.g. 1000M 3MR/ 2 x 500 90SR/ 1000M
Or 3 x 1000M 3 MR
Or 500M 90SR/1000M 3MR/1000 3MR/500
March – April
Two hours easy.
Track work – Long repeats: 4 x mile 2MR
or
3000M/2 x 1000/ 2 x 600/ 3 MR between
or 2000/ 5MR/ 1000/ 3MR/ 500
or 4 x 800 2MR/ jog 5 min/ 4 x 800 1M
1 Hour easy with 4 x 3 min pick-ups during run
Track work- short reps 200:400:600:400:200 3MR between
Or 10 x 200 200 jog between
Or 2x(4 x 400 2 MR) 5 min between sets
Or 4 x 400 rest = 3M/2M/1M/ jog 5 min/repeat
1 hour easy run
30 min easy if racing tomorrow else 45 min easy
Race or Hurdle work on track. E.g. Water jump drills
Hurdle drills
Flexibility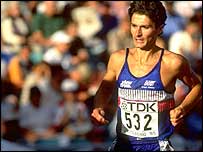 May – June
1 hours easy
Track work – emphasis on pace: 2 x mile 8 MR over hurdles
or 1600/1200/800/400 3MR over water
or 6x 800 3MR change up: 2 @ 2.12:2.04/2.10 no hurdles
1 hour easy.
Track work- variable reps 400:1200:400 4MR over hurdles no water
Or 1600:800:1600 4MR over hurdles every 2nd lap
Or 400/ 60SR/800/2MR/400? Jog 10M/ 400 fast. No hurdles
Or 1000/ 1MR/500 3MR/ 500/ 1MR/1000 over hurdles
1 hour easy run
30 min easy if racing tomorrow else 45 min easy
Race or Hurdle work on track. E.g. Water jump drills
Hurdle drills
Flexibility
10 Day – Pre Big Race
1 hour easy
1500M race
10 miles easy
1600:1200:800:400 3MR over water only (4.28/3.18/2.10/58)
1 hour easy run with a 5 min pick up in middle
400:1200:400 4MR over hurdles no water at race pace
1 hour easy
30 – 40 min easy with a few strides
Heats – 3000M S/C
Final – 3000M S/C