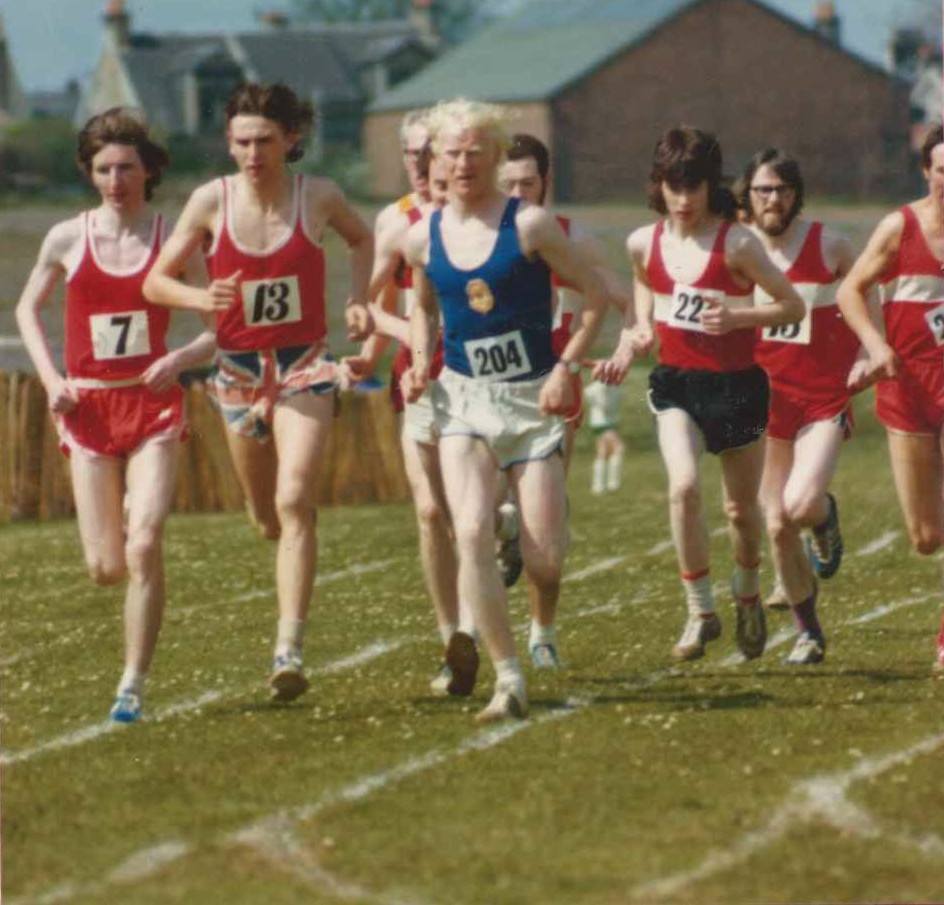 Dave, second from the right, running in some good company – John Graham and Bill Yate leading the field
PERSONAL BESTS
1500M 4.12 1977
3000M 8.55 1974 AND 1976
5000M 15.22 1974
10,000M 32.49 1977
10 MILES ROAD 52.03 1986
10 MILES TRACK 53.49 1973
MARATHON 2.44.59 1981
SCOTTISH INDIVIDUAL MEDALS WON
Year Age Group Event Medal Award
1989 M40 5,000M Gold
1994 M45 10,000M Bronze
2001 M50 10K Road Bronze
2010 M60 5K Road Bronze
2014 M65 5,000M Bronze
2015 M65 1,500M Indoors Gold
2015 M65 3,000M Indoors Gold
2016 M65 3,000M Indoors Gold
2017 M65 3,000M Indoors Gold
2019 M70 5K Road Gold
SCOTTISH TEAM MEDALS WON
1990 M40 Road Relay Silver
1991 M40 Road Relay Bronze
1997 M40 (M45 My Age) 10K Road Gold
2001 M40 (M50 My Age) 10K Road Silver
UK TEAM MEDALS WON
1999 M50 5k Road Bronze
2018 M65 Cross Country Gold
REPRESENTING SCOTTISH VETERAN HARRIERS IN THE INTERNATIONAL CROSS COUNTRY
1994 in the M45 Age Group
EDINBURGH TO GLASGOW ROAD RELAY
1972 Most Meritorious Performance
EDINBURGH TO GLASGOW APPEARANCES 7 APPEARANCES
YEAR LEG
1972 1
1973 6
1974 4
1975 4
1976 1
1977 7
1981 7
WEST DISTRICT TEAM MEDALS
1976 Cross Country Championships Bronze
1981 Cross Country Championships Silver
LANARKSHIRE INDIVIDUAL MEDALS WON
1973 Lanarkshire 10 Mile Road Race Silver
1974 Lanarkshire 10 Mile Road Race Silver
1975 Lanarkshire 10 Mile Road Race Bronze
1976 Lanarkshire 10 Mile Road Race Gold
1977 Lanarkshire 10 Mile Road Race Silver
LANARKSHIRE TEAM MEDALS WON
1972 Lanarkshire Road Relay Bronze
1985 Lanarkshire Road Relay Bronze
A COMMENTARY ON MY RUNNING CAREER
By David Cooney
I joined Cambuslang Harriers age 21 in January 1971 after having been spotted by Robert Anderson when out running with my younger brother Frank. I had no real background in running apart from playing non competitive football and regularly running from the house to catch a bus or a train.
The harriers were a small club then with former Scottish Marathon Champion Gordon Eadie and Robert Anderson being the 2 most prominent runners. Unfortunately they had been disqualified in the 1970 Edinburgh to Glasgow event for falling 30 minutes behind the leading club. The club's fortunes were at a low ebb with Robert valiantly trying to hold the club together.
I started training with the club and built up my experience by competing in a number of local Highland Games which were then popular. My first appearance on the track was at Airdrie Highland Games which always attracted a large audience. I lined up at the start with 37 other hopefuls and then it was hell for leather once the gun went. I could say I settled in at the back but it would be truer to say I was shunted to the back by the brisk pace of the field. I got into a rhythm and was pleased that I was not last. Later during the race a huge cheer went up as I was coming off the far side bend. I naively thought the cheers were for a popular local runner who was about to catch me up. Before I knew it 3 runners, 2 of them local, came flying by me – Ian McCafferty, Jim Brown and Ronnie MacDonald! I was being lapped by the elite of Scottish distance runners! Undaunted I kept to my pace and finished 31st out of 37 runners. Being a glutton for punishment I ran the 1,500m handicap 10 minutes later and finished 2nd last. I persevered with some other Highland Games running on either grass or ash tracks and was pleased to record 9.20 for a 3,000m in an inter club event with East Kilbride.
I gained further valuable experience by competing in the road and cross country relays and open races during the winter season of 1971-2 in events such as the McAndrew and Allan Scally Road Relays. These events attracted the top distance runners from the west, east, north and south of Scotland which helped to raise the standard of distance running and greatly fostered team spirit and competition. Unfortunately today with the proliferation of so many different races being held at the weekends top runners can easily avoid one another.
I was delighted to gain my first team medal success in January 1972 when I was the 2nd counter in the Cambuslang team which took the bronze medal in the East Kilbride 6 miles road race. I continued to improve my times during the summer of 1972 competing again in the Highland Games and in inter university competitions. My highlight that summer was taking 46 seconds off my 5,000m pb to record 15.52 on the Westerlands ash track. I also made my 10,000m track debut at Bellahouston clocking 33.12.
November 1972 saw Cambuslang along with other 19 clubs being invited to compete in the Edinburgh to Glasgow 8 man road relay which was the blue ribbon event of Scottish road relays. To be invited was a great honour for the participating clubs especially for Cambuslang considering their disastrous performance in 1970. This was to be one of the best days in my running career both personally and from a team point of view. Although ranked the slowest runner by time on the opening leg I finished strongly in 12th spot and the club ended up in that position to be awarded the most meritorious performance. Cambuslang had exorcised the ignominy of their 1970 performance.
Over the next few years I was pleased to help Cambuslang Harriers achieve team medals in various events such as double bronze medal in the prestigious Tom Scott 10 miles road race, double bronze in the Lanarkshire road relays, gold, silver and 2 bronze medals in the Clydebank to Helensburgh 16 mile road race, gold and silver medals in the Clydesdale 6, double gold in the Mamore 16 miles hill race, double gold in the Cathkin Braes hill race and also gold in the Neilston Pad along with team prizes in a number of Highland Games.
On a personal level I continued to improve my times and lowered my 3,000m track time down to 8.55, my 5,000m time to 15.22 and 10,000m to 32.49. I also ran 53.49 for 5th place in the Scottish 10 miles track championship at Meadowbank.
The midweek Lanarkshire 10 mile road race invariably held over undulating country roads became a favourite event for me in which I finished 2nd to Scottish internationalists Alan Partridge in 1973 and to fellow internationalist Alastair Macfarlane in 1974, 3rd in 1975 again behind Alastair and Davie Lang, first in 1976 ahead of Robert Anderson, Hugh Forgie and David Fairweather and 2nd in 1977 being sandwiched between clubmates Robert and Colin Feechan.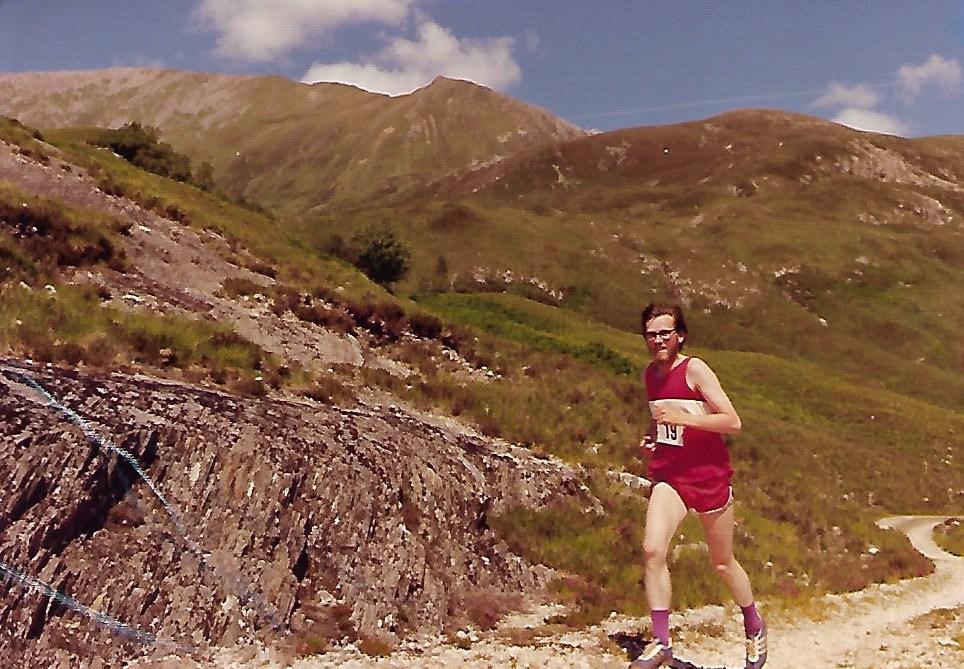 Mamore Hill Race 1975 – team victory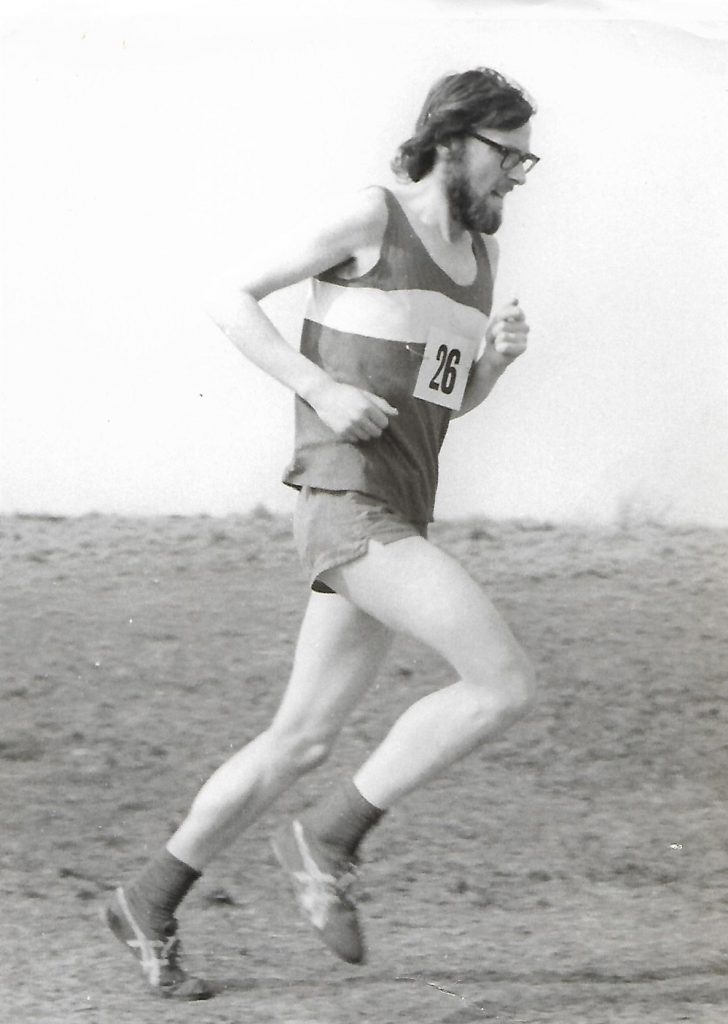 Cathkin Braes 1975 – team victory
1976 was another important landmark year in my running career and in Cambuslang's progression when I led the club, with back-up from Peter Preston and Robert Anderson, to its first ever podium place – 3rd- in the historic Nigel Barge road race. This was followed shortly by the club achieving its first ever senior team medal (bronze) in the West District cross country championships. On my least favoured surface I was the 6th counter behind Peter Preston, Robert Anderson, Gordon Eadie, Alec Gilmour and Robert Inglis. 5 years later the club went one better and lifted team silver thanks to the efforts of Rod Stone, Eddie Stewart, Peter Preston, Colin Feechan , Robert Anderson and myself.
With the emergence of such talented athletes as Rod Stone, Eddie Stewart and Alec Gilmour and David McShane, Jim Orr and Charlie Thomson in the junior pipe line, allied to the arrival of my first son and increased professional pressures, my contribution to team success naturally diminished but not so my celebration of their growing achievements. While continuing to run my energies were focussed more on team management in road, country and track competitions and on club management having taken up the post of club president in 1980. I occupied the post until 1986 when I stepped down when my 3rd son was born although I continued to serve on the committee. I resumed my post as president in 1992 for a further 27 years only to step down in September 2019. In total my presidency spanned 33 years. In addition, I post regular reports on the club website and in the local papers on the club's successes. Previously in the early to mid 80s I had been one of the Scottish correspondents for Athletics Weekly. This was an unpaid job albeit I received a free weekly magazine. While I am no longer president I am continuing on the committee and hope to contribute to any future club success in any way I can.
My contribution to team success kicked off again when I turned a vet 40. I was a member of our 8 man team which won silver and bronze in the Alloa to Bishopbriggs road relay in 1990 and 1991. I was also pleased to gain 2 Scottish vets 10K team medals, gold in 1997 and silver in 2001. On an individual basis I took the M40 5,000m gold medal in 1989, a bronze M45 10,000m track and a bronze M50 10K road medal. I also represented the Scottish vets as a M45 in the Cross Country International in 1994 and gained my first UK team medal as part of the M50 Cambuslang Road 5K bronze medallists in 1999.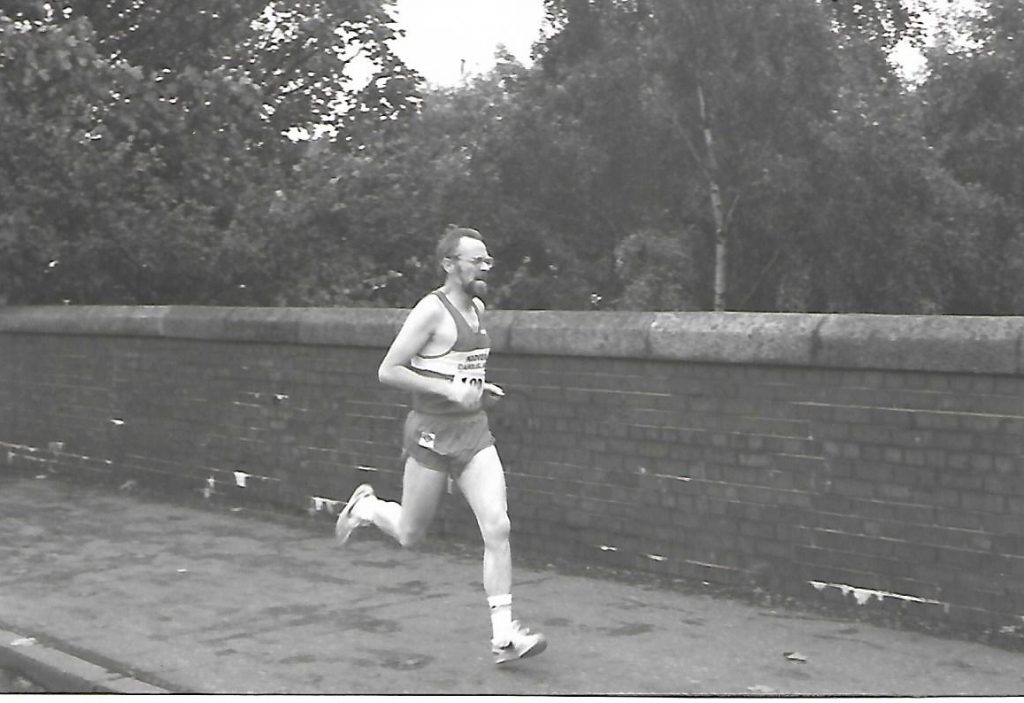 McAndrew Relay 1989 – winning M40 team
During my running career I had been mainly fortunate in avoiding any serious injuries until I turned 53 years of age. However, long before that I was involved in an accident which could have ended my running career or worse when I was hit from behind by a motor cycle in April 1981 during the Glen Nevis 10 mile road race. With only 1 and ½ miles to go I was lying a close 6th when the incident occurred. I was oblivious to what had happened. According to Lochaber's Ronnie Campbell, who witnessed the event unfold from behind, a young Lochaber motor cyclist in his eagerness to get back to the finish misjudged overtaking a car which he collided with. He and his bike bounced off the car and smashed into me propelling me high up in the air in summersault style before landing on my head and bouncing along the rough road surface. I must have lost consciousness for a few seconds and was unsure of what had happened until I heard someone groaning nearby. I was struggling to see as my glasses had been knocked off and then I saw this blurred image of someone pinned under his motor bike with the wheels still spinning. Not surprisingly I gave him a mouthful. While the young lad was waiting for an ambulance to come Ronnie kindly took me to A&E where I was examined and discharged despite the large Tom and Jerry like lump at the back of my head. Fortunately the point of impact had been my left buttock rather than my spine. The next morning I found it very difficult to get out of bed and came down the stairs on my bottom as my whole body had stiffened up as a result of the impact. Later that night when it got dark I went out for a one mile very slow hirple thinking that this would hasten my recovery. I persevered with this for the rest of the week. The following weekend I was called back into action much sooner than planned. when doing my team manager at a Scottish Athletics Track League meeting someone did not turn up and I duly stepped in as a replacement and surprised myself with a 16.12 5,000m performance so soon after the accident.
Going back to the theme of injuries I developed problems in my right knee in the late summer of 2002 which eased a little after some rest and physio. I was determined to appear in my 32nd consecutive McAndrew Relay and toed the line. However, 2/3rds of the way round my knee gave way but rather than drop out I hobbled on to the finish. I now found walking even difficult and had no chance of competing in what would have also been my 32nd consecutive Scally Relay. To cut a long story short I had keyhole surgery in that knee in May 2003 and then the other knee required the same treatment later in November. My sabbatical from competition was to last until I was 61 in 2010 when I finished 3rd M60 in the Scottish Vets 5K road champs at Clydebank. During the interim period I was only doing very light jogging while continuing my roles as team manager and as club president.
When turning M65 in 2014 I was 3rd in the Scottish 5,000m track championships and then the following year picked up double gold indoor medals over 1,500m and 3,000m in spite of suffering from shingles and repeated my 3,000m indoor success in 2016 and 2017. The icing on the cake as a M65 came in 2018 when Frank Hurley, Barnie Gough and I narrowly won the UK team gold just pipping Inverness by 3 seconds. I was still recovering from flu and had not run at all for 2 weeks and had only started some tentative jogging in the days before the race. I was still feeling weak but it was a case of finishing for the team on the very testing 2 lap Forres course. After coming off the hills for the second time I knew I would finish and was able to dig in for the final ½ mile on the short parkland grass.
I turned M70 in April of this year and had been training for the Scottish 5K road championship at Silverknowes, Edinburgh, in May. Unfortunately I suffered an ankle injury which greatly interrupted my build up. If I ran one day I had to take the next 3 to 4 days off to let the swelling go down. I had made up my mind not to run and on the Tuesday before the Friday race I phoned Adrian Stott to tell him I was withdrawing if he wished to re-allocate my number. The following day Scottish Athletics announced that there would be individual medals for the various masters age groups. I phoned Adrian again to ask if my number was still available and he said yes. I told him I would try a warm up and then hope to participate. On the night after a very limited warm up I lined up at the back of the field and started cautiously. My strapped-up ankle held up reasonably well until the 3K mark and thereafter it was just a matter of shuffling on one good leg to the line in a personal worst of 24.38. I did not know how I had fared in my category as the entry list had not indicated ages. However, I hoped I might have been in the first 3. The individual computer printout gave me first M70. My painful effort had been worthwhile. Shortly afterwards I discovered that I was the only M70! If I had known that I could have walked round and saved myself from aggravating my injury and which has resulted so far in a 5-month enforced rest from running.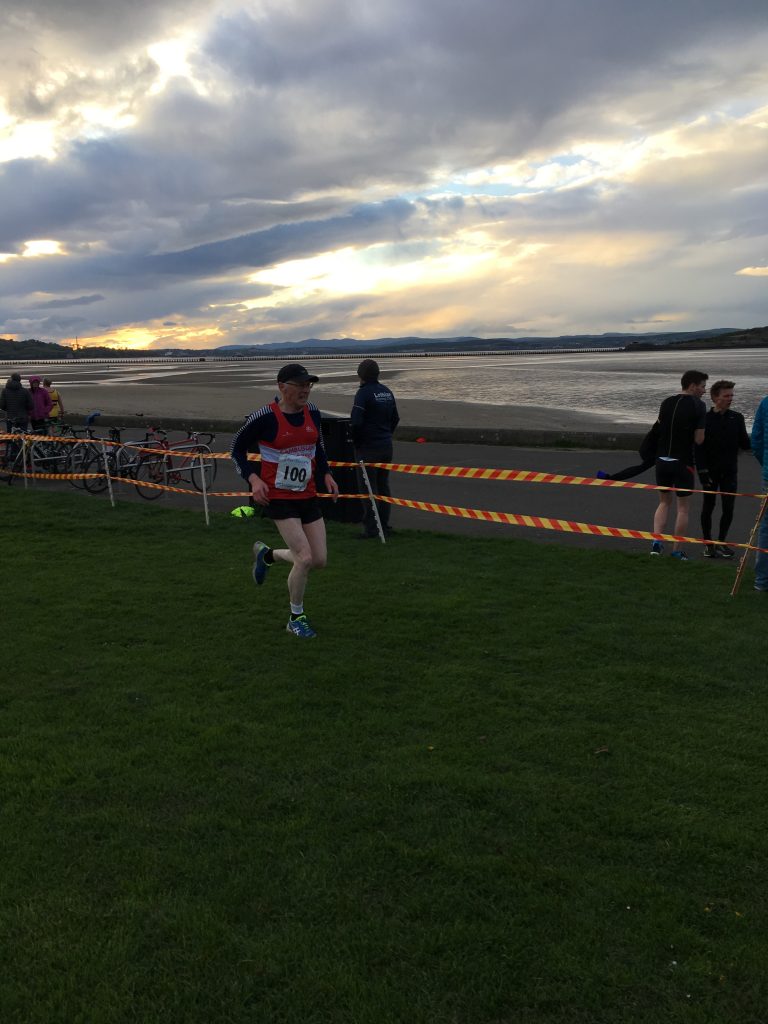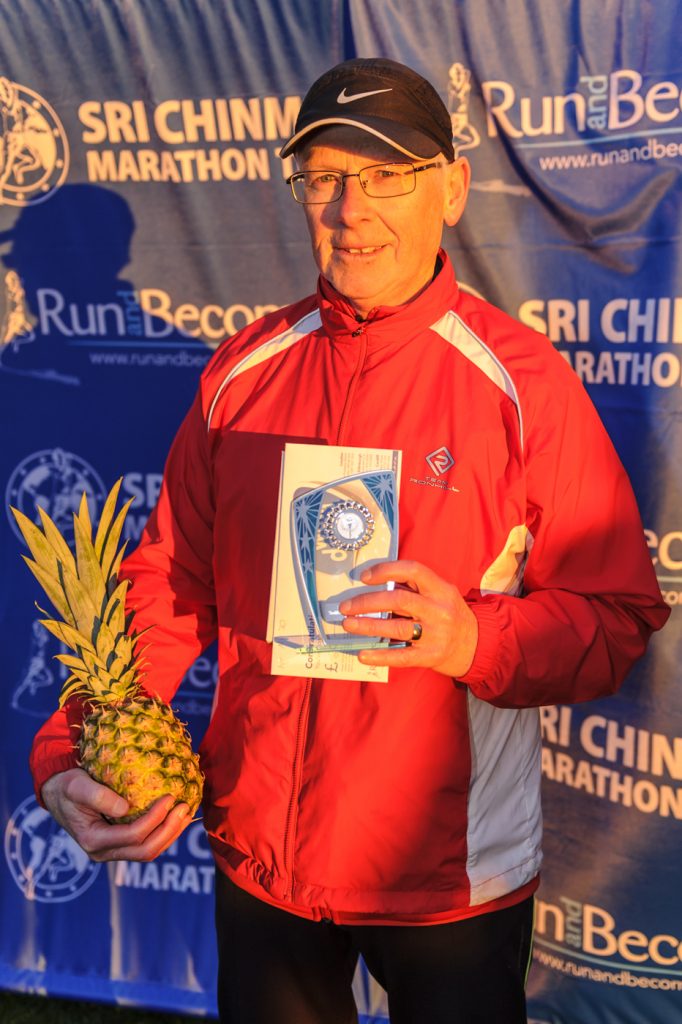 Presentation at Silverknowes in 2019 (Bobby Gavin's photograph)
(David also ran well in 1974-75, as several result sheets prove: well in front of old rival Brian McAusland in the Nigel Barge Memorial Trophy, who he also defeated in the Balloch to Clydebank; a second-class certificate (behind Brian) in the Tom Scott; and in 1975 a strong run in the Glasgow University 5, in front of young Fraser Clyne (Aberdeen University) and Martin Craven (ESH).)
Interview in 1986 Scottish Marathon Club Magazine, 1986