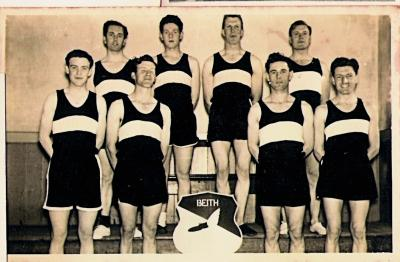 The shield in front of the club group above is of particular interest to us in the 21st century. Most clubs – not as many as formerly though – had their own crest and motto. Some had them on a shield or other wooden representation which was kept in the club head quarters, placed the window of supporters club buses on the way to big races (the National, the Edinburgh to Glasgow) and so on. If we take a closer look at the shield above –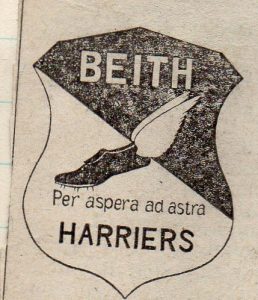 we see a winged foot, which needs no explanation. It was a symbol used by many athletic clubs such as the New York Irish who had it front and centre on their vest. Other clubs had their own crest – Shettleston Harriers had a torch, Clydesdale Harriers had a hunting horn and whip, Greenock Glenpark Harriers had a hare and so on. The Beith crest and text were devised by Dugald McCallum, the janitor at Dalry Primary School.
The Beith Harriers motto is also on the shield and is in Latin. Most mottos were in Latin – Clydesdale Harriers was Excelsior, Shettleston's 'Nihil Sine Labore' was also in Latin while the Glenpark motto was 'en avant' in French. The Beith slogan of "Per aspers ad astra" is usually translated as "Through hardship to the stars". It is a phrase and is used by many Universities, schools and organisations all round the world.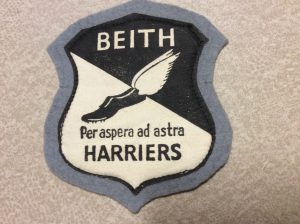 Some clubs had the crest on a cloth badge such as the one shown above which could be sewn on to a tracksuit, a training top or even on to a blazer. Many clubs had metal lapel pins made and sold, usually at a small profit for club funds, and Tom Cochrane's Beith pin is shown below.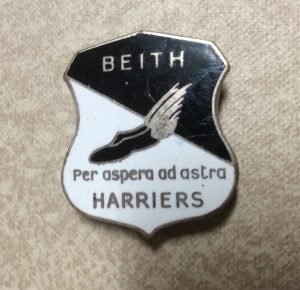 Beith had the club insignia on the metal badge, the track suit cloth version and the large solid shield for display purposes. Not all clubs had all three. And there was also a cloth badge like the one shown below – not as easily recognised as Beith Harriers but a good indication that the wearer was a proud club member.