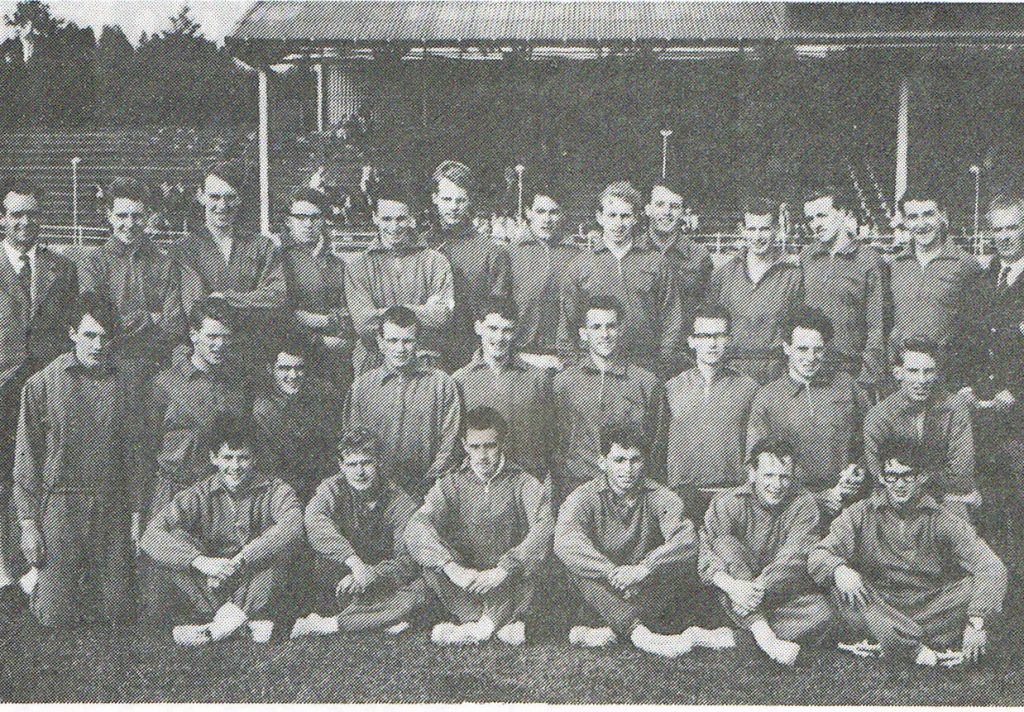 When you have been involved in athletics for as long as Sandy has, competed in, broadcast and written about and reported on as many meetings as he has, then you have invariably made many very good friends and acquaintances. In his chosen profession, there are many who do not register with the sportsmen they write about and many who are not very popular. We all have our own favourites. I have never ever heard any criticism of anything he has written and what follows are some remarks by his friends. Strangely enough for a former shot putter and basketball man, the first comments are from marathon champion Colin Youngson from Aberdeen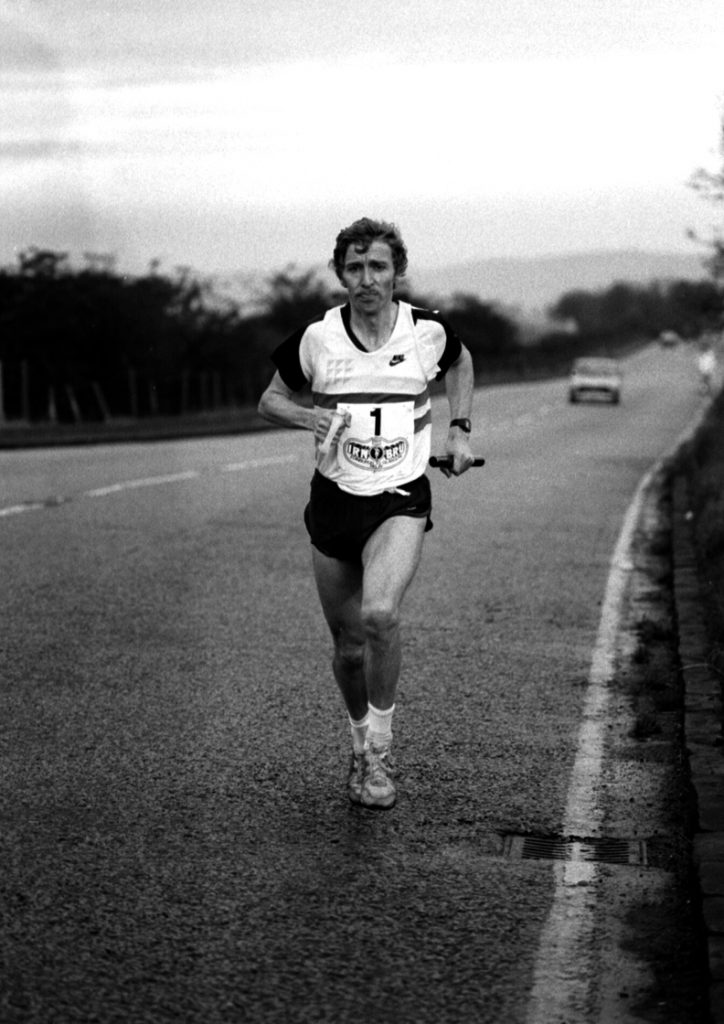 Sandy Sutherland has been the main athletics journalist in the East of Scotland for many decades, (while Fraser Clyne in Aberdeen. has concentrated successfully on the North-East). I must have met Sandy in the early 1970s and certainly by my peak year of 1975, when I was running for Edinburgh Southern Harriers, his articles in 'The Scotsman' were essential reading for anyone interested in every branch of Athletics: Track, Field, Road and Country.
Sandy's journalism was carefully researched, clearly written, encouraging and thoughtful. He commented in considerable detail on good quality performances and a 'name check' was always appreciated.
His enthusiasm, respect and good humour are evident in the first two paragraphs of his report on ESH demolishing the race record in the 1975 Edinburgh to Glasgow Road Relay.
ESH RUNNERS SWINGING IN THE RAIN
"The next time you look out of your window at the rain teeming down on a Saturday and think what a terrible day outdoor sportsmen are having, think again, for one – and perhaps slightly eccentric – sporting group appear to revel in the rain.
The best road runners in Scotland made a mockery of the weather – and the record book – in the annual Edinburgh to Glasgow 45 mile relay on Saturday with the winners, Edinburgh Southern, improving the record by two minutes 40 seconds and, for good measure, setting new record figures for four of the eight stages. It was Southern's third victory on the trot or, should one say, gallop."
Sandy is a gentle, polite, talkative and cheerful man – not a towering, threatening ex-heavy events fellow! His fascination with the sport is impressively wide-ranging.
In the late 1970s, he and his wife Liz (an excellent athlete herself) formed the Scottish International Athletes Club. As athletics moved hesitantly towards professionalism, they thought that we needed a voice in important discussions, rather than leaving it all to officials in the Scottish Amateur Athletic Association.
By 1980 the list of members was impressive, including most of the finest Scottish athletes. Olympian Don Macgregor was chairman, Liz Sutherland secretary, multi-eventer Stewart McCallum vice-chairman, and the committee included Adrian Weatherhead, Meg Ritchie and Allan Wells. Others included Cameron Sharp, John Robson, Nat Muir, John Graham, Allister Hutton, Jim Brown, Jim Dingwall and several field event stars like Chris Black and Gus MacKenzie. This organisation may not have lasted too long but the fact that it was formed at all emphasises how much the energetic and dedicated Sandy cared for the wellbeing of his beloved athletics and the competitors themselves.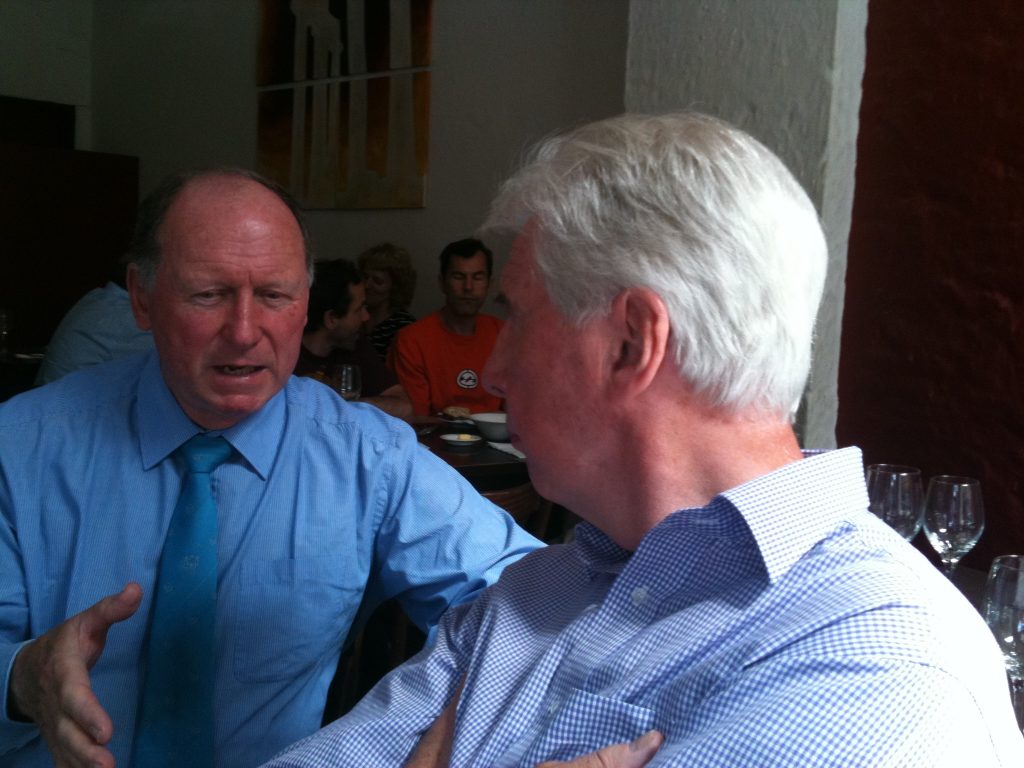 Sandy Robertson (left) with Jim Craig at the 50th anniversary reunion of 1961
Sandy Robertson was a member of the 1961 Schools team who went on, after his own very good career as an athlete, to become a top class coach, and was awarded the status of mastercoach in recognition of his abilities and successes in that field. Sandy writes:
1958 was a year of intense memories for me at the Scottish Schoolboys Championships at Goldenacre in Edinburgh. Competing for Wishaw High School, I ran the U15 220 yards, beating the championship best performances in heat [24.3], semi-final [24.2] and final [24.0] on the grass, only to be beaten in the final stride by the great Roger Hallett of Bo'ness Academy in 23.8 in a new Championship Best Performance – he also set a CBP in the long jump – in what was considered the race of the day.
But it wasn't the performance of the day! I had been looking forward to seeing if my second cousin, William Cowan of Newmains J.S., could win the U15 Shot, since he had a 44 feet throw to his credit going into the championships, beyond the Schools' record.
When the Shot warm-up throws began, there appeared to be a dispute. The thrower from Golspie HS was claiming that the shot circle, in those days a grass circle painted out in lime, was in too close proximity to the running track.
Having checked the distance from the circuit and compared it to the CBP, the officials dismissed the complaint. After a careful look around, the Golspie athlete lined up for his address, shifted across the circle with great speed, and promptly threw the shot high and long onto the middle lane of the grass track, a distance of 60 feet! We gasped!
The athlete with the prodigious throw was one Sandy Sutherland, coached at Golspie by Alex Dalrymple, in whose honour a SSAA trophy for best thrower is awarded annually, and no wonder.
Sandy was compact, broad shouldered and fast, and quite definitely the best technician on show, beating the CBP that day by a huge margin.
Closer inspection afterwards found him in a tracksuit with a strange motif on the front, a huge wildcat, and the words 'Touch not the cat but a glove', a clan motto.
With this throw and this accompanying narrative, he moved not only into the record books, but into a kind of legend.
Three years later, 1961, he and I were both selected to represent Scottish Schoolboys at Maindy Stadium in Cardiff in the first full schools international, he in Shot & Discus, and I in the 200 yards hurdles, my new event. We all met up in Edinburgh at the Rosehall Hotel in Dalkeith Road the day before travel.
Four of us shared a room, Sandy & I, and Roy McIntosh of Coatbridge H.S. [220 yards] and Norrie Foster of Uddingston G.S. [Pole Vault].
Cardiff was quite an experience for a first international, with the usual far too much standing around and walking to tire us out, hardly ideal preparation, but the visit to Epstein's Majestas at Llandaff Cathedral was mainly worth it.
We trained lightly on the track on that Friday afternoon until it was announced that there would be a trial for the 4 x 110 yards relay, surprising, in that we had two sprinters in the 100 & 220 yards. However, we dutifully went to our marks to win a place in the relay [I won the Ibrox Senior 100 yards a month later], and set off on the gun. The result for the first two was predictable, Roger Hallett [who won next day in 9.5, equalling the performance of the Olympic 100m bronze medallist and world 200m record holder at 20.5, Peter Radford, five minutes earlier in a demonstration race], and Hamish Robertson. I was third; Andy Leach, the other 200 yard hurdler was fourth, followed by Roy McIntosh, then Sandy Sutherland! More surprisingly, the trial stood for nothing, the four sprinters being eventually selected to run anyway!
Surprised as I was that a thrower could sprint [yes, innocence on my part], I never forgot it, and have ever since appreciated the athleticism and speed of throwers, coaching my West Calder H.S. pupil, Commonwealth athlete and World & European Junior Alison Grey to British and Scottish titles in Shot, Discus, and, unsurprisingly by then, a SSAA 80m Hurdle win, in which she defeated the outstanding Catherine Murphy, the World Schools silver medallist.
One of the abiding memories of Cardiff in 1961, apart from my 200H, Radford's demonstration run, Roger Hallett's astonishing response to it on the Maindy ash, and Epstein's sculpture, was a simple incident in a Cardiff street.
The four roommates, Sandy, Norrie, Roy and I were walking down a sloping street towards a busy intersection when we heard a woman scream from further up the hill. Hurtling towards us was a baby buggy with a child strapped in, heading for the main thoroughfare: the distraught mother had parked the buggy with the brake off outside a shop and had suddenly realised it was on the move; she had absolutely no chance of catching it – but we had.
Lightning was our middle names as we sprint-started after it and retrieved it just before the deadly junction; the upset mother could hardly thank us for fright and shock, but, being teenagers, we just shrugged it off, muttering 'You're welcome'. Nevertheless, we got the shock of our lives as well, and it sticks indelibly in the memory.
Yes, Sandy was as fast and agile as any sprinter, and was a regular Shot & Discus rep in Scottish teams in the sixties.
Fifty years on, he was a sentimental prime mover in marking the fiftieth anniversary of our Cardiff international debut with a reunion lunch which he organised in Edinburgh's Old Town in 2011.
What memories! Hugh Barrow [Mile] was there, Cochrane Stewart [440yards] and Jim Craig, the Celtic Lisbon Lion [Long Jump] and as many others as could attend: the chat was non-stop.
They were all delighted to hear that the 1961 match had been remembered in 2011, and that as a competitor in 1961, and as a SSAA team manager in 2011, I had been called out, and honoured, to present the hurdles medals.
Sandy keeps in touch with that 1961 team, and is always passionate about locating, meeting and talking to the annual winner of the SSAA's Bob Dalrymple Trophy.
Sandy and I featured in Scottish internationals and in the great Edinburgh Southern Harriers team of the late sixties & early seventies when the club joined the British League and rocketed from Division IV to Division I in three seasons. His throwing team mates were Stuart Togher [HT], who became the U.S. Olympic Hammer Coach, his protégé, Chris Black, Olympic Hammer finalist, and Chris' brother Alex [JT/ DT].Stuart's brother, Justin Togher, sprinted with Dave Combe, David Farrer & John Derrick in a formidable 4 x 100m team: the 4 x 400m set a Scottish club record in Manchester and won 3 Scottish titles in a row, usually Sandy Robertson, Allan Murray, David Walker and Ray Gordon; Ray was national 400m champion, David the national long jump record holder, Allan the national 400H champion, I was a 400mH internationalist and Decathlon Club winner. Apart from David, the jumps squad featured Duncan McKechnie, Scottish TJ champion, Alan Lorimer [Eric Liddell's double in 'Chariots of Fire'] and David Stevenson, Scottish PV record holder. On the track we had Craig Douglas, Scottish 800m champion, Ken Ballantyne, the Sward Mile winner, Gareth Bryan- Jones, Olympic steeplechaser, and Don McGregor & Fergus Murray, Olympic marathoners. Close on our heels were my protégé, Angus McKenzie [Britain's first 7 foot high jumper, GB 7.65m LJ, 110H European Junior bronze, 7202 Decathlete, Olympic Bobsleigh; Allister Hutton, London Marathon winner, Stewart McCallum, GB 400H and Decathlon, and Allan Wells, Olympic100m Champion, so when I left in 1972 for a three-year stint as Malawi National Athletics Coach, the club was in good hands. No wonder ESH stayed up top! You can follow Sandy online: he's passionate about a number of causes – the Art Gallery at the Botanic Gardens, Wild Life Preservation, continuation of the Mountain Weather Information Service, criticism of Russia's role in Syria and the security of child refugees, amongst many others. On reflection, he's always cared in general – and not just about his beloved athletics – because he's that kind of guy.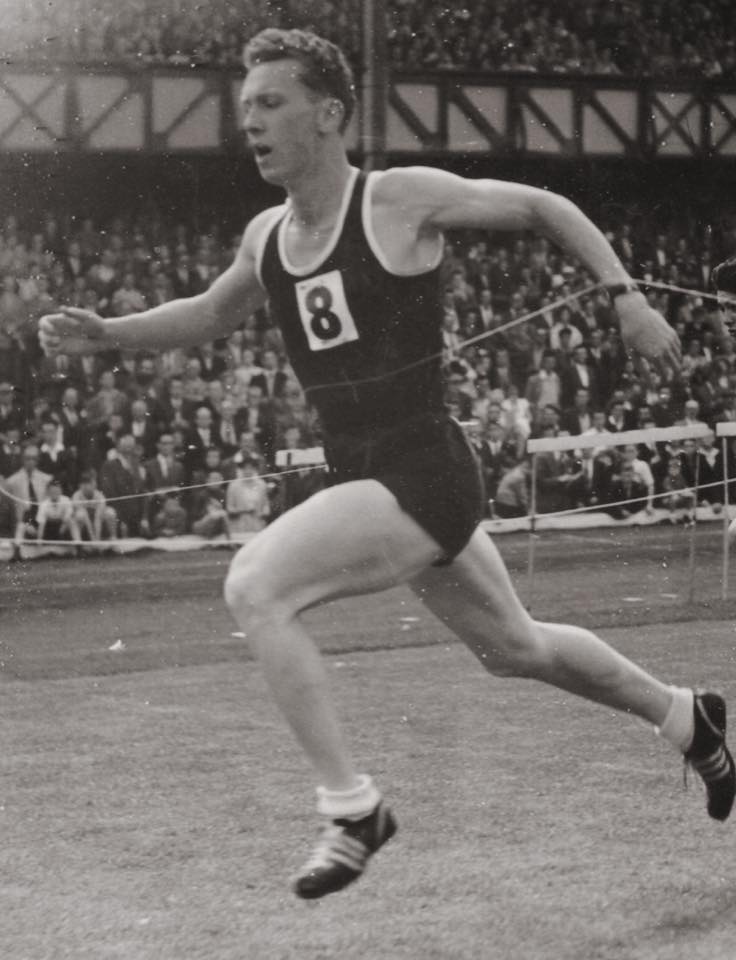 Sandy Robertson
Jack Davidson at one time shared a flat with Sandy and they became good friends. A very good hammer thrower (45 metres), shot putter (3rd in the SAAA championships) and discus thrower himself, he also has warm words for his long-time friend.
'Sandy is a very likeable, approachable and helpful individual. As a young 'wannabe' shot putter in the late 60's/early '70's he was generous to me with his time and advice which I appreciated a lot. He knew the event inside out and had considerable patience putting his point across. In my opinion Sandy has to be one of the best pound for pound Scottish putters and discus throwers. To have flirted with 50′ and 150′ at the time he did ,while I would guess weighing no more than 15 stones maximum, was a considerable achievement. It has also to be kept in mind that Sandy was 'as clean as a whistle',no question of ingestion of inappropriate substances. It has to be acknowledged,as am sure Sandy himself does, that it may be thought he he did not fulfil his exceptional youthful potential.That in large part is probably because he never 'bulked up' proportionately as an adult having in mind his build as a young athlete when he was probably more physically mature than some rivals. Another factor may have been his lifestyle not facilitating training and competing by which I mean his travelling in South Africa and thereafter on his return here working 'anti social' hours [from a training perspective] in newspapers etc.I also remember him saying that he felt his hand was a bit small to be totally comfortable in accomodating the 16 lb senior shot compared to the junior implement. Weights were part of his training routine but again I seem to remember he may have had a concern over his back which may have acted as a brake on his ambitions in the gym. As a competitor in my opinion he 'played to win' and always gave of his best. In brief a highly accomplished thrower and a credit to the sport.'
Laurie Bryce, member of the class of 61, SAAA champion 5 times in succession, took part in three Commonwealth Games and medalled in the AAA championships, remembers Sandy well and recalls a particularly interesting story. He says, " Sandy was at a special junior shot competition at Cowal Highland Games in 1960. Sandy beat my brother Hamish & me, even though he was 'officially' still in a lower age group (under 17)." He goes on to say that m"The last time I saw Sandy was at the 1961 Scottish Schools Team Reunion on 26th July 2011. As I remember, Sandy arranged this with Hugh Barrow – and we had a very good attendance. I have to add that Sandy was always a 'good sport' – whether beating his fellow Scots or finishing behind Alan Carter of England, who was the outstanding English junior shot putter of our time. As a journalist, I particularly appreciated his report on my own two sons' schoolboy performances – comparing Andrew to his uncle Hamish in the shot and Colin to his dad in the hammer."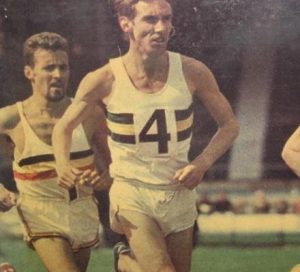 Another of the class of 61 to comment on Sandy is his friend Hugh Barrow, a wonderful miler who ran many times for Scotland, won Scottish and Scottish schools titles and was unlucky not to be the first Scot to break 4 minutes. He says of Sandy:
"When I arrived on the Scottish Schools in 1960 scene Sandy was the big star
Remember meeting up with him one summer when our family had a caravan holiday in Dornoch and he took me to the Glen Urquhart Highland Games. I was never quite sure if the meeting had a SAAA permit which could have been awkward had the authorities been around. Back then you had to be careful very careful"
(In a City of Edinburgh Basketball strip)