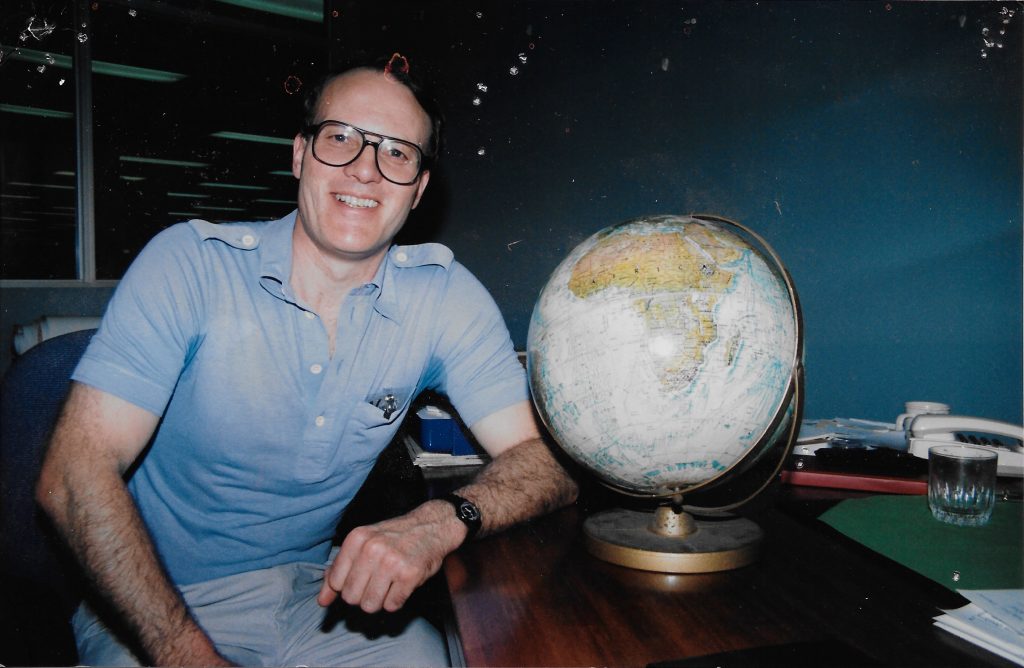 Sandy at 'The World' in Johannesburg in 1967
 On leaving University, Sandy worked for the UAU for a year and during that time he joined Wimbledon AC and then went out to South Africa in December 1966 to work for The World Publications from  March 1967 to June 1968.  While he was there he travelled round competing for various clubs until he competed for the Wanderers club in Johannesburg.  Why South Africa?  "I had an uncle in South Africa (my mother's brother) who had gone there in 1935 and had only once been back, and also cousins on my father's side one of whom,  Heather,  I still go out to stay with in Durban.   When she said "when are you coming out to see us?"   I was off – travelling in an old British Caledonian Airways charter which had to avoid many of the African countries because of the boycott – we landed in Angola  at an old tin shed with only whisky and coke for drinks and then on to Mozambique where I had to phone my cousin's Mum to get her to pay an extra ticket for me as the connecting flight to Durban didn't exist!
Six months later, having hitch-hiked round most of SA I found a job in Jo'burg as a sub-editor on The World a tabloid owned by the Argos group with an almost exclusively African or Black readership! Racy stuff, mostly non-political to avoid being accused of subversion by the Apartheid Govt – this was Dec 1966."
Coming back home he worked as a sports  to 
That's the outline, which alone is impressive enough, but when Sandy was asked how he got into journalism in the first place and what happened  between September 1970 when he left Scotsman piblications and January, 2000, when he started with The Sports Basket, he gave us an amazing story.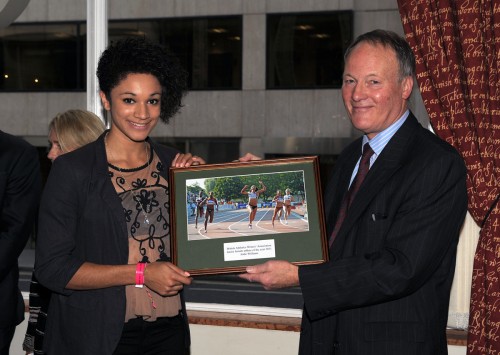 Sandy with Jody Williams
"To be honest I'm not really sure why or when I decided to take up journalism! Seemed like a good idea at the time? School magazine, an article in the GU Gilmorehill Guardian which got me in trouble with the powers-that-be? Not sure but when I decided to go travelling and head for South Africa in Dec 1966 after a penniless 18months in London I saw an advert in the Johannesburg Star for a sub-editor with The World, a tabloid owned by the Argos Group and based in Industria, an industrial estate in Joburg.
It turned out to be a wonderful, privileged opportunity. Only a handful of Whites, most of the reporters, machine operators etc were African. I lived in the YMCA in central Joburg and travelled to work on the train, white carriage portion of course! Nie blankes in a different part though we did get out on the same platform and worked together under the one roof!
My favourite headline from my time there was: "Fist feast forecast for Fight fans" – boxing, football and funerals were the big stories, the Morocco Swallows, the Orlando Pirates (BUCS) etc as directly attacking the apartheid government was unwise and would have got us closed down! After a while I stayed with cousins out in Krugersdorp and travelled in by train – they told me that they once had a call from the SA Police asking what I was doing there etc! 
Just a reminder but an unsettling one.
My main memories? A trip to Lesotho with a black reporter and black cameraman and a white news editor: we crossed the border and stopped at a roadside cafe, sitting together at table – whereupon the reporter said to me: "Do you not mind sitting beside me"? If a hole had opened in the ground I think I would have crawled into it – until then I don't think I had appreciated what the apartheid regime really did to people.
I also went to Welkom gold mine in the Orange Free State to watch an African hero Humphrey Khosi run an 800 metres in front of a crowd of 40,000 – 39,950 Africans and a handful of Whites including myself. He should have gone to the 1968 Mexico Olympics and was a potential finalist if not better but SA were banned and all races suffered in a sporting context, 10.00 100 metres sprinter Paul Nash being one of the Whites excluded.
To his credit Nash did not do a Zola Budd and head for Britain for whom he had some qualifications.
While the "World Owed Me A Living" (yes it really did!) I started writing some columns for the Sunday Tribune in Durban, under the name of David Wightman, the chief sub-editor of the World who now lives in Durban and edits a glossy coffee table business magazine in Umslanga.
(I have met him on Durban beach for a walk and breakfast the last twice I visited while staying with my second cousin Heather on the Berea!)
He soon decided that I should write the columns under my own name and my athletics writing career had begun! 
Humphrey Khosi and Paul Nash were just two of the athletes I reported on!
Returning to the UK in June 1968 I was interviewed for a sports desk job on the Daily Sketch which fortunately I turned down as it was to close three months later!
I then travelled to Edinburgh for a job interview with The Scotsman right in the middle of the Festival! The weather was good, the city was abuzz and I had no hesitation in accepting the job offer from Sports Editor Willie Kemp.
I was there just in time to start editing the copy coming in from the 1968 Olympics in Mexico City!
Though long jumper Bob Beamon was the sensation of the meeting, my personal favourite was David Hemery, an athlete I came to know well and respect in years to come.
Working most evenings, sometimes until 1am or even 2am, had its drawbacks and when Liz and I married in 1969, having first met at Fernieside at ESH training, it became even more trying; so when a chance came to move "downstairs" to work as a news sub with the Evening News I took it. That was good experience as the ability to write headlines and condense stories to fit available space was something I took into later life.
I had wanted to cover the track and field athletics for The Scotsman at the 1970 Commonwealth Games but my move off the sports desk certainly did not help that ambition.
I did end up covering the badminton events and had a press ticket for the athletics including the memorable 10,000 metres victory by Lachie Stewart on the opening day (I was sitting near Chris Brasher as he bellowed: "No you mustn't" when Lachie nipped past the great Ron Clark in the home straight to "steal" the gold medal that was supposed to go to the Australian.
I was also in the throbbing terracing crowd on the final day of athletics to see Ian Stewart hold off Ian McCafferty in the 5000 metres final. Truly earsplitting!
So I moved on, leaving the Evening News to join the Church of Scotland as a Publicity Liaison Officer, a vague title and an ill-defined job perhaps, but it did give me free weekends to develop my freelance sportswriting and soon I had regular by-lines in the Sunday Times, where the late sports editor John Lovesey greatly helped me, and Sunday Telegraph where Claude Neil (an anagram of my first two names Alec Lundie) had a free rein of subjects involving athletics and other Olympic sports!
The Scotsman, Glasgow Herald (as then!) , BBC Scotland for voice reports became regular gigs for championships and international matches and I took on for six months the job of press officer for the 1973 Europa Cup Finals to be held at Meadowbank where World records were set on the very first night.
By the time of the 1974 Commonwealth Games in Christchurch, NZ I had sufficient contacts and outlets to finance a freelance trip which included assisting David Coleman and Ron Pickering in the BBC commentary box.
Ironically Liz instead of competing in the hurdles for which she was selected was back home expecting our first child Joanna!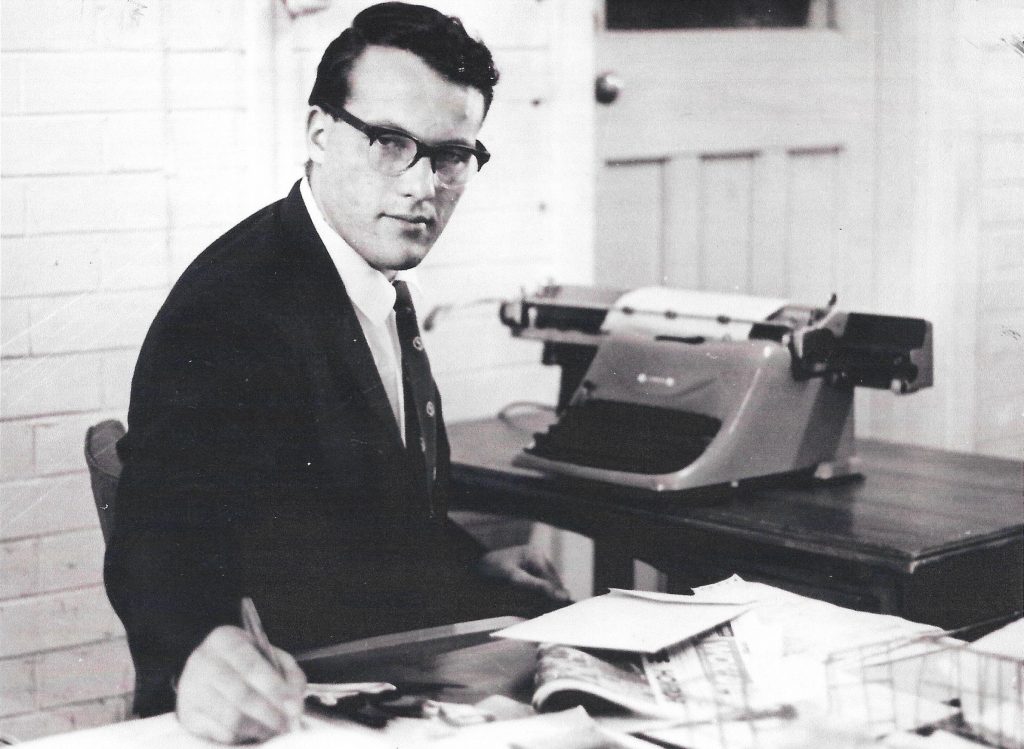 A more experienced journalist on a return visit to South Africa
Montreal 1976 Olympics came and went including my first Olympic basketball final and a triumphant swimming gold for David Wilkie in the 200m breast stroke. I shared the moment with long-time friend and colleague Doug Gillon and "Chiefie", the late Alex Cameron of Daily Record and STV fame with whom I was to share a room in LA at the 1984 Games! 
I shall never forget Alex burying his head in his hands as Wilkie trailed at the end of the first two lengths and sighing: "He's blown it", only for Doug to nudge his attention back to the pool where the intrepid Scot was powering through to victory!
Round about 1978 I had another piece of good fortune as after the death of Councillor Magnus Wiilliamson I fell heir to much of the work of his sports agency.
As a result Edinburgh Sports Reporting Services was formed to supply results and reports of anything that moved in a sporting fashion from athletics to tiddly winks.
As well as employing as many as a dozen stringers every weekend it was to provide a useful training ground for several now well-known journos including Scottish Sports Aid CEO Roddy MacKenzie. And Liz was IC of a team of results gatherers winkling out cricket score cards from obscure pubs such as the hole in the Wall and becoming an expert in the spelling of the names of Sri Lankan cricketers!
Returning to my personal career path:  Barcelona 1992, Sydney 2000 where I fell out off a plane into a taxi severely jet-lagged to catch Chris Hoy winning his first cycling gold in the Team Sprint then fell asleep in his press conference, and Athens 2004 all had their magic moments. But London 2012, where my daughter Joanna was the basketball tournament director, surpassed them all.
The stadium noise on Super Saturday when GB won three golds in quick succession surpassed anything I had experienced before.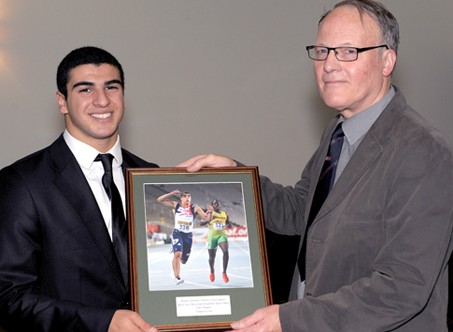 Sandy with Adam Gemili in2012
One thing that he didn't mention above was his post of PRO for the 1986 Commonwealth Games.   If ever there was a poisoned chalice …..  Take your pick of the problems:
*African nations boycott because of the cricket tour to South Africa,
*Margaret Thatcher on the advice of Malcolm Rifkind refusing to give any guarantees to the Games,
*the whole Robert Maxwell shenanigans that followed from that decision and of course as well as the political wranglings and headlines,
* there were problems with some of the athletes, notably the Daley Thomson/Colin Shields contretemps.
The Public Relations Officer did not have his problems to seek.
Sandy joined the National Union of Journalists when he started with The Scotsman in 1968 and is now a Life Member.   He still attends meetings of the Edinburgh Freelance Branch (he was formerly secretary and chairman).   He is also a member of the British Athletic Writers Association and was chairman for the period 2011 – 2013.   The presentation photographs on this page were made at the prestigious annual award ceremony at the Tower of London Restaurant in December 2012.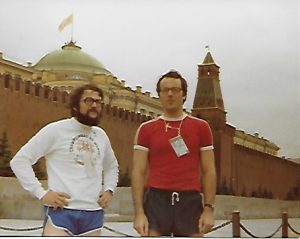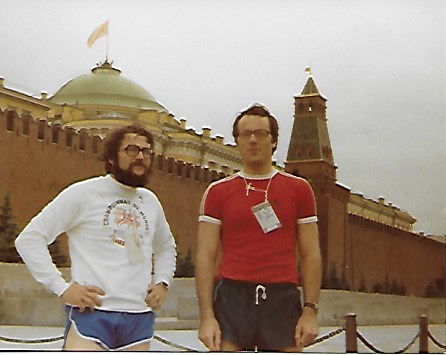 Sandy with fellow journalist Doug Gillon at the Kremlin in 1980
In the course of his career, he has covered seven Olympic Games and twelve Commonwealth Games.  In 2014 he and Doug Gillon notched up a Triple Scotch when they covered their third Commonwealth Games in Scotland.   When you add in his coverage of World and European Athletics, cross-country internationals and  championships.   In addition to his athletics, he has a major interest in basketball and has held senior positions on committees and with teams for many years.   In addition there are all the other sports – orienteering, hockey, etc – that he writes about less frequently but with no less authority.    From all these, an influenced in no small way by his own competitive experiences,  there is a wealth of experience that adds colour and insight to his coverage.
Finally, the last word must go to Sandy himself, in reply to the question "Where Are They Now?"
"We have 3 children, Joanna the eldest, captained Scotland and British Universities at basketball, went on to become the tournament director for the 2012 Olympic Tournament after working for the World governing body in Munich for 10 years.   She married an American Roger Baugh who was the 2012 Village IT manager and they now have 2 daughters so that is our Olympic Legacy! 
Catherine our second daughter is a GP on Arran, having served on 3 overseas tours with MSF, 2 in Africa and one in Pakistan, and Malcolm our youngest is in 3rd year Medicine at Aberdeen Univ having been a Rapid Response Paramedic after completing a Modern Languages degree at Edinburgh. He captained Scotland u-16 at basketball and also represented Scots Universities.
I play a lot of bad golf having recently been admitted to Kilspindie, near Gullane and Muirfield and am still a country member in Golspie where we retreat as often as possible.
I think Doug Gillon and I once halved on the last green in our one and only match which shows how bad we both are?!    Officially I have a handicap of 24…
The bunker at Golspie which I mutilated or desecrated with a 4k shot all those years ago eventually recovered till a bad winter storm three winters ago almost wiped it out altogether!
I am a notional fan of Inverness Caley due to my having been born in Inverness and a frustrated fan of Arsenal on Champions League nights!
I continue to write, report and broadcast about athletics and basketball!