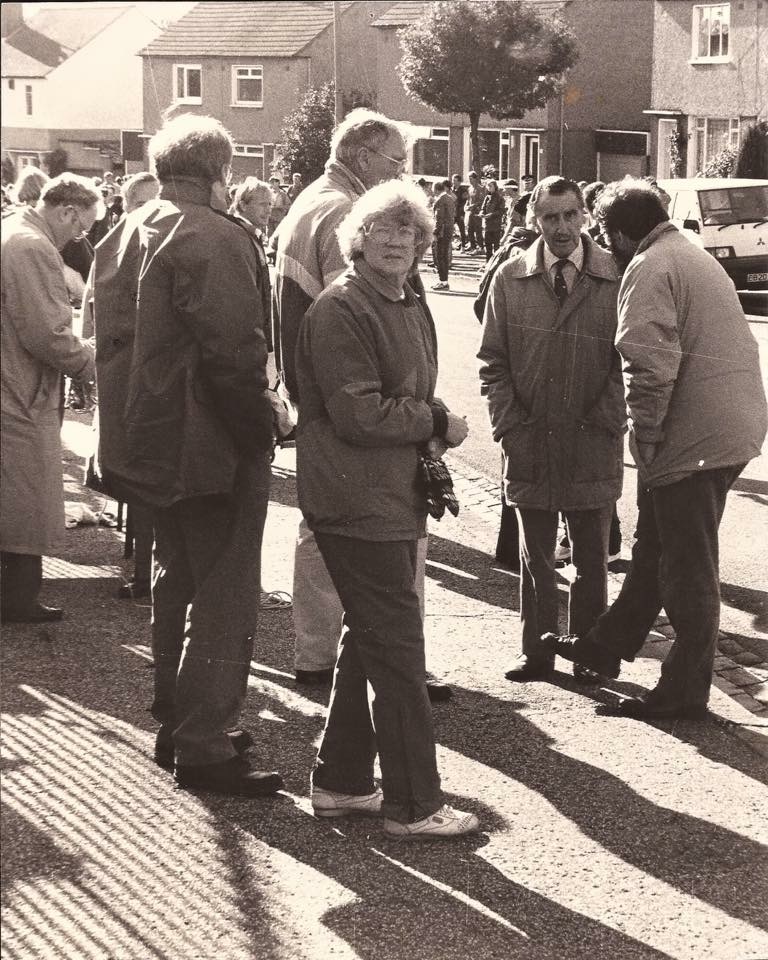 Doug interviewing Andy Forbes at the start of the McAndrew Relay. Surrounded by officials and former athletes Molly Wilmoth, Willie Laing and Brian Goodwin.
But however good he was as a runner, Doug is best known and respected throughout the sports community in Scotland as a top class journalist and reporter. He went to 12 successive Commonwealth Games, reported every Olympics from 1972 to 2012, and every World Athletics Championships from their inauguration in 1983 to 2009. Plus world championships in curling, world title fights in boxing, indeed, some 60 sports in nearly 50 countries.
When asked how he got into the sport his reply is "I was in a privileged position, very fortunate to be in the right place at the right time – starting in journalism at the Sunday Post in 1968, the year Bellahouston became Scotland's first custom-built sports centre, opening new opportunities for minority sport participation and public interest in it. And this coincided with hosting the 1970 CG in Edinburgh beginning to kindle the Scottish public's imagination."
That's all true but there is more to a 34 year career with many awards and accolades than luck. I could name several sports journalists who had all the luck and connections that could be wanted and who failed to stay the course, or even leave the starting blocks convincingly. When I came into the sport in 1957, George Dallas was writing the reports for the 'Glasgow Herald': he recorded the events and people in the sport faithfully every week. There were a couple of years when athletics was reported by 'Our Athletics Correspondent', before Ron Marshall who was correspondent for a time. Doug occupied the post for much, much longer than any of them. There are several pitfalls that can shorten a sports journalists career, and among those that Doug avoided are the following.
First, one famous TV reporter coming to Glasgow for the first Gaymer's 10K road race asked a runner, "How far is 10K in miles anyway?" Not Doug. He always did his homework. And for much more difficult aspects of the sort than that.
Second, there was the reporter who said that all cross-country races are the same, with the same team winning every week. A remark like that shows a disconnect from the sport and a lack of understanding of what it is about. He watched the races without seeing them.
Third, there was the chap who wrote at length that the 1500m distance would never be taken to by British athletes or spectators. They would be much more at home with an uncomplicated four laps, and perhaps the 1600m would be better suited to us.
So Doug's long career as a journalist was just "happy serendipity"? I don't think so. Let's look at how his interest in athletics developed and how the runner became a journalist. When asked Doug is quite straightforward . Colin has already quoted Doug on his family background and the sporting inspiration that that provided.
Doug went as a student to Heriot-Watt University and while there was editor of Omega, the student newspaper. He says hadn't a clue what he was doing, "but it confirmed that my initial dreams about journalism had been correct. I applied for a sports writing job but it was downhill in journalism from there! Deputy sports editor was the closest I got to becoming an editor again (at Sunday Post, and then Sunday Standard) before switching to writing full time. I enjoyed the creativity of page design and story and picture-evaluation, but I'd have hated the administration and bureaucracy of being sports ed, which is why I pursued reporting and covering events, having turned down an offer from Andrew Jaspan to become sports ed at Scotland on Sunday.
"I went for several interviews at the Sunday Post (some 80+ applicants). I'm convinced there was nothing to separate those on the short list, until I was asked what I knew about sports other than football. I guess I had a fair breath of knowledge and was able to answer some specific searching questions about Eric Liddell. That may have been what got me the job, for later I learned my interviewer was a huge Liddell fan, and had helped write a short book on him.
"This interviewer warned me that research is crucially important: for every reader, the newspaper reporter is "The Expert." That's a really scarey thought. An enormous responsibility if taken seriously. And a much more challenging ask in the era before the internet. Journalists today are overly-reliant on Wikipedia, over which there is no quality control or guarantee of factual accuracy.
"Another bit of early advice came in the nature of sports writing as expounded by my first sports editor, an outstanding mentor called Johnny Rankine. Like John Anderson, he had been brought up in the Gorbals. He was giving another young reporter a bit of a bollocking for something, and I recall rather timidly remonstrating with him: "but Mr Rankine, he's an awfully nice lad. I don't bloody want awfully nice lads, Dougie. I want cheeky young buggers that do their research and can write a bit." And very pointedly he nodded at the book of football scores and statistics which it was my job to keep up to date after every Scottish League match.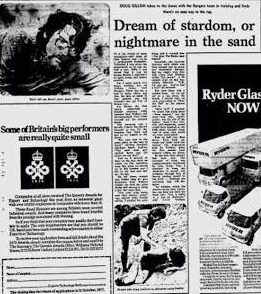 An early assignment involved training on the dunes at Gullane with Jock Wallace's Rangers team
When Doug started with the Sunday Post in 1968, the new phenomenon is Scottish sport was the first custom built sports centre in the country at Bellahouston and the ever alert Doug realised this would catch on. He persuaded the sports editor that the paper should reflect this changing culture. He agreed, and Doug's transition from football reporter to multi-sports writer was under way.
He says, "It was simply luck that I was in the right place at the right time. My good fortune continued with Edinburgh hosting the 1970 Commonwealth Games." The truth is that he spotted the significance of the new development before any of the other established or up-and-coming writers did and capitalised on it. This eye for what was important in a development or story was crucial to Doug's own development as a journalist and the growing recognition of this ability by his peers added to his reputation. He was kept grounded by his running mates and also by the sports editor who once told him "Dougie, even a blind pig turns up the odd truffle!"
Domestically Doug was at as many athletics events, winter and summer, as most athletes. Over the winter at the McAndrew relay, in the mud at Clydebank, on the road at Bishopbriggs, at the East Kilbride road race, as well as at championships all over the land. He would be seen talking to runners – and not only the winners – on the day during the race and be on the phone the night before the event too. He attended track and field events and was on first name terms with all the top athletes – and many of the also-rans as well. His international portfolio also grew.
When we look at the events covered, the totality is really mind boggling. International Games reported on include the following ~
1970: Commonwealth Games, Edinburgh
1971: European Championships, Helsinki;
1972: Olympic Games, Munich;
1974: Commonwealth Games, Christchurch; European Championships, Rome;
1976: Olympic Games, Montreal;
1978: Commonwealth Games, Edmonton; European Championships, Prague;
1980: Olympic Games, Moscow;
1982: Commonwealth Games, Brisbane; European Championships, Athens;
1983: World Championships, Helsinki;
1984: Olympic Games, Los Angeles;
1986: Commonwealth Games, Edinburgh; European Championships, Stuttgart;
1987: World Championships, Rome;
1988: Olympic Games, Seoul;
1989: Euro Indoors, The Hague
1990: Commonwealth Games, Auckland; European Championships, Split; Euro Indoors Glasgow
1991: World Championships, Tokyo; World Indoors, Seville
1992: Olympic Games, Barcelona; Euro Indoors, Genoa
1993: World Championships, Stuttgart;
1994: Commonwealth Games, Victoria; European Championships, Helsinki; Euro Indoors, Paris
1995: World Championships, Gothenburg;
1996: Olympic Games, Atlanta; Euro Indoors, Stockholm
1997 World Championships, Athens; World Indoors, Paris
1998: Commonwealth Games, Kuala Lumpur; European Championships, Budapest; Euro Indoors, Valencia
1999: World Championships, Seville; World Indoors, Maebashi (Japan)
2000: Olympic Games, Sydney; Euro Indoors, Ghent
2001: World Championships, Edmonton; World Indoors, Lisbon
2002: Commonwealth Games, Manchester; European Championships, Munich; Euro Indoors, Vienna
2003: World Championships, St Denis, France; World Indoors, Birmingham
2004: Olympic Games, Athens; World Indoors, Budapest
2005: World Championships, Helsinki; Euro Indoors, Madrid
2006: Commonwealth Games, Melbourne; European Championships, Gothenburg;
2007: World Championships, Osaka; Euro Indoors, Birmingham
2008: Olympic Games, Beijing; World Indoors, Valencia
2009: World Championships, Berlin;
2010: Commonwealth Games, Delhi; European Championships, Barcelona.
… and even after he retired the 'Herald' editorial team persuaded him to come back to cover the 2012 Olympics in London and 2014 Commonwealth Games in Glasgow! But that was only the track coverage (and with Doug we should probably add … 'so far!') Over the country he was equally active having covered the World Cross Championships in 1978, 80, 83, 87, 91, 92, 93, 95, 97, 98, 99, 00, 01, 02, 03, 05, 067 and 08 and the europeqan cross country championships in 1994, 95, 96, 97, 98, 03, 08, 09. Not content with that there were many European Cup and team championships and finals.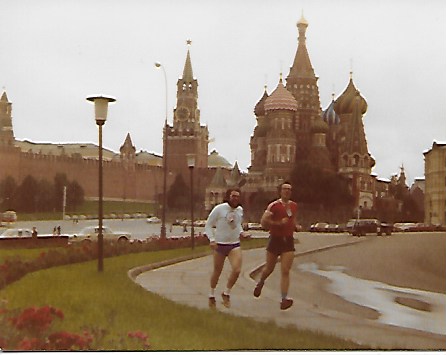 Running in the Kremlin with Sandy Sutherland, 1980
Of course at these events he was already on first name terms with all the Scottish athletes and officials as well as with British athletes from the other home countries. His enthusiasm seemed boundless. At the time of the Beijing Olympics, the Sports Journalists Association website reported on 8th August 2008, that Doug 'had clocked up a landmark 10th Olympics' adding that Neil Wilson of the Daily Mail was also attending his tenth. Alan Hubbard was also making it ten but his were not consecutive, his first being in 1964. It went on "Although a Track and Field specialist, the versatile Gillon has been busy filing around 2000 words a day of features and news reports."
If the coverage of these events looks like a doddle, then read here for Doug's account of covering the various Games and Championships in his own words. It is a bit of an eye opener.
No editor would underwrite the expenses to these of a journalist who did not deliver the goods. Doug earned every penny.
It wasn't just the locals in Scotland who appreciated Doug's work, he was well respected throughout the United Kingdom and even further afield. He was a working member of the Sports Journalists Association who held an annual award ceremony every year in London. Awards are given to print journalists in several categories as well as to radio and TV journalists. Among the recipients are such as Claire Balding, John Inverdale, Mike Atherton, and the awards are greatly prized. Doug has won several awards and in 2002 he won the double of Specialist Correspondent award and Regional Sportswriter award. In that year he also won the Scottish Disability Sports Special Award. A selection of his awards/trophies is below but it should be noted that there have also been a number of domestic awards which are also quite special. The SDS award in 2002 has already been noted but in 2006 he was awarded the City of Glasgow Special Award – the first time that it had been given to a Sports journalist and, in 2012 was recognised by Victoria Park and given Life Membership.
Some of the Awards
1990: Bank of Scotland Pres Awards: Commended
1999 BT Scotland Press and Broadcast awards – winner, and runner-up for the BT UK award
2002: Scottish Disability Sports Special Award (with John Beattie); Sports Journalists Association Regional Sportswriter Award
2006: (1) SJA Specialist Writer of the Year, and (2) Regional sportswriter of the year (first person outside Fleet Street to win the former): (3) City of Glasgow Lord Provost's Special Award – only time that a sports journalist was so recognised. (4) Scottish Curling journalist of the year (for discovering four Scots had won Olympic gold in 1924, and not just demonstration medals).
2012: Life Member VPAAC
2015: SJA Regional Writer Highly Commended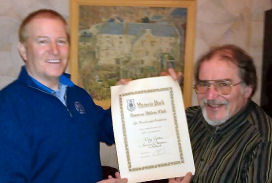 Doug receives Life membership Certificate from Victoria Park President
Doug also won his weight in whisky as best Scottish correspondent of the 1986 Commonwealth Games (15st 05lbs, after going on a fattening diet). This equated to 85 bottles. And as the sports editor of the winning journalist also won his weight in whisky, our man also won a few Brownie points!
Away from the awards scene but not a bit less noteworthy, Doug was the first Scot to be secretary, and then chair, of the British Athletics Writers' Association, (Sandy Sutherland has now also been chairman) and served on the Sports Council for Glasgow for many years.
*
When he announced his retirement from the sport in July 2010, the Sports Journalists Association commented on 9th July, 2010, that he would step down after the Scottish championships later that month and try to wean himself off his "addiction" to his work. He had been a fixture in sports press boxes since 1968, first covering the Commonwealth Games in 1970. He had covered every summer Olympics since 1972 where he was able to report on his friend and former training partner Frank Clement racing in the final of the 1500 metres. The article continues, "Fittingly therefore, when Clement was honoured at Glasgow City Chambers recently for organising major athletics events in the city, Gillon's life work as a journalist was also recognised by Lord Provost Bob Winter with a special award citing his coverage of Olympic and disability sport. Donald Cowey, the Herald's sports editor said, "Doug is justifiably one of the most respected sports journalists in Britain, and has been a credit to the Herald for over 30 years. In an award studded career which has included three SJA British Sports Journalism gongs, Gillon last year received a life time achievement prize at the Scottish Press Awards. On Wednesday night with UK Athletics staging its Super8 event in Glasgow, Ed Warner, UKA's chairman, made a special on the infield at Scotstoun saying"You have done outstanding coverage of our sport for a very long time. I know that people who read your work appreciate it." and Liz McColgan said – "A great loss to our sport as Dougie was an avid supporter. Doug was always so enthusiastic about performances, especially by a Scot. He would run every step of a race with you and then share the elation of a win. He is a great guy and a friend." At the same time Steven Downes, secretary of the SJA, after saying that Doug always went out of his way to be helpful to colleagues, was incredibly diligent in everything he researched, wrote with passion and great insight, always worked bloody hard – and was great fun, went on to tell a wee story that typified Doug's attitude. He said: "It was 1996, and after the Atlanta Olympics, two plane-loads of athletes and journos were flown out to Sarajevo for the first 'normal' sports event to be staged there after the civil war. In many respects it was absolutely terrifying – our rooms in the Holiday Inn on snipers alley still had huge shell holes in the walls, while the Kenyan distance runners had to be quietly warned not to run on the grass verges in case of land mines. …. Michael Johnson, probably the biggest star in track and field at that time opted not to go on the trip because his mother told him it was too dangerous. Flying in and out was a bit shaky and had to be done in daylight because there was no radar at the airport. But the airport was the only place where any of us could get a signal to send our copy. So after the meet we were all bussed in a rush to the airport where we immediately got on to copy and then hoped we could get out of Sarajevo before dark. A gaggle of journalists , Doug, Neil Wilson, Tom Knight, Ian Chadband, all queued up together for the flight. Primo Nebiolo, the head of world athletics, was there with his wife, Seb Coe was there, Charles Austin who still had his new Olympic high jump gold in his hand luggage and Jon Mayock.
Doug, being Doug, suddenly got an idea for another line of copy, or had maybe spoken to someone, maybe Coe and wanted to work the quote into his piece. Out came the laptop and he started tapping away again. With the light fading fast a senior RAF officer came forward and ordered – it was definitely an order – on to the waiting machine. We all got on board, took our seats and the looked around to see who was missing. When we looked out of the window, there was Doug walking slowly across the tarmac being hurried along by the RAF big-wig. His luggage slung over one shoulder, his laptop balanced on his arm and his mobile phone wedged up against his ear. He was still working hard on getting a last, better line into his story."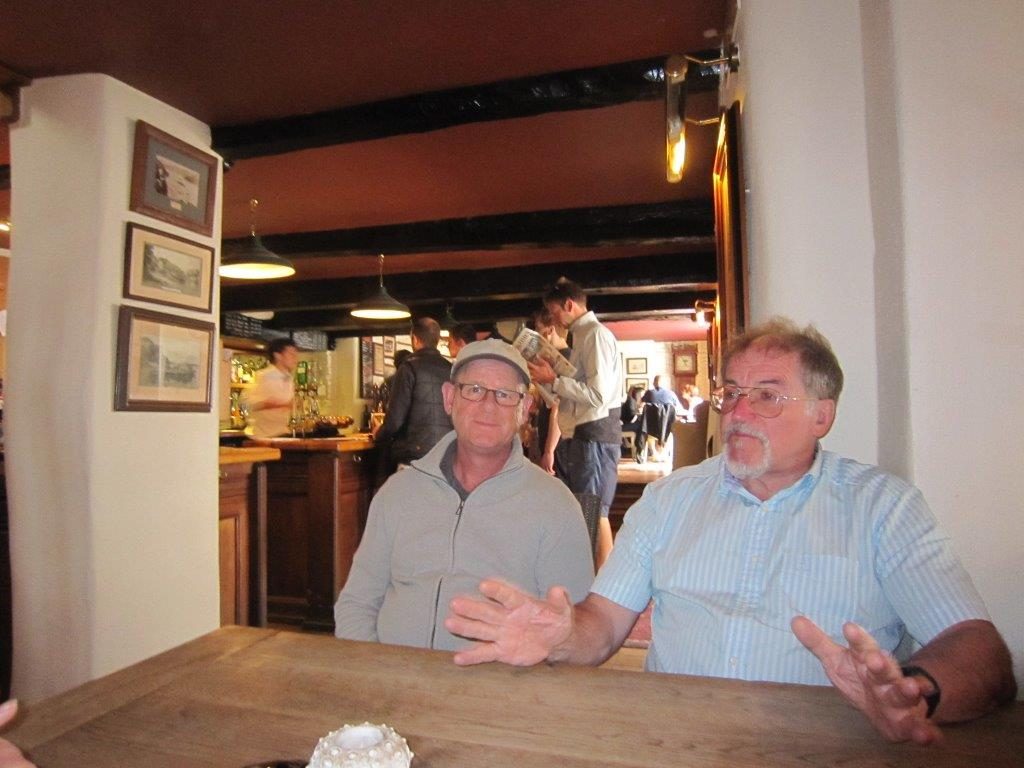 Doug with long-time friend and top class high jumper Ross Hepburn. (Ross was world age-group record holder, and still the youngest male to represent Britain as a senior at 15)
Further to the Frank Clement remarks, Doug had covered every summer Olympics since 1972 and four years later took pleasure in reporting on his friend and former training partner, Frank Clement's fifth place in the 1500m final, where he insists Clement would have medalled had he not been barged off the track on the final lap. It was a memorable race in more ways than one – on a wet day, Frank warmed up in the only unsheltered part of the arena, not the fastest on paper he planned, if he were with the leaders at 300m to go, he would make his move then. If you watch the video, you will see that just at that point he was shoved off the track and on to the grass. Watching it again, we have to agree with Doug's opinion. Again.
For the where are they now column, Doug replies when asked: "I now live in a Cornish fishing village, sing in a male voice choir and a folk and sea shanty group for which I write song lyrics, and with whom I drink Real Ale. We raise thousands for charity. The knees have gone, and now that I live on the shore of Plymouth Sound, amid stunning scenery for cliff top runs, I can't raise a trot.
And still write one sports column a week ….. "
His last column as a regular journalist was in the 'Herald' of 28th October, 2017, and in it he commented on the fundamental importance of belief, and quoted Walter Wintle's poem that golfer Arnold Palmer kept on his office wall. It reads
If you think you're beaten, you are,
If you think you dare not, you don't
If you'd like to win, but think you can't
It's almost certain you won't.
Life's battles don't always go to the stronger or faster man,
But sooner or later the man who wins,
Is the man who thinks he can.
He then finishes with the comment, "I believe the mind, not technological or physical advances, drives sporting improvement.
He always said he wrote for the love of it… Now read what his friends and colleagues have to say about the man at this link