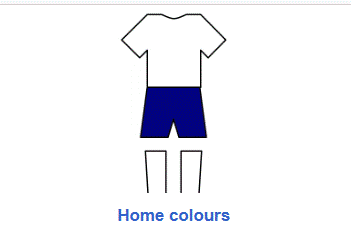 We note from the above extract from Hamish Telfer's History of Harrier Clubs Before 1900 that Alexandra Athletic Club was formed in either April or May 1873 and was the Harrier Section of a football club, a fact corroborated by the final column which describes it as a multi-sport club but essentially football. There were many such multi-sports clubs in Scotland at the time, and sportsmen were often members of many different sports clubs none of whom demended exclusivity of sporting activity from their members. eg Clydesdale Harriers had members who were also members of football, rugby, cycling, boxing, skating and other sports clubs. We also know that the Rangers FC had members who were originally members of rowing clubs and who took part in athletics events as well as being mainly football men. Such clubs also exist in the present century on the continent of Europe where teams that we recognise as football champions also have athletics and other sections as part of their community involvement. A far cry from the current crop of Scottish football clubs which seem to require that their members are exclusively football players.
As an example of a club exclusively of this period in the development of sport in Scotland, we can look at the Alexandra Athletic Club. We can start with an article from the North British Daily Mail of 27th May 1883 which read:
THE ALEXANDRA ATHLETIC CLUB
A club bearing this name has just been formed in the influential suburb of Dennistoun, for the cultivation of athletic and field sports, under the distinguished patronage of the Right Hon. the Earl of Glasgow; Robert Dalglish, Esq., M.P.; Colonel Buchanan of Drumpellier; and Major Clark, of Dennistoun. Jas. McCasland, Esq, of Gartcraig, is honorary president. The following are the members of committee:- Mr Wm. McElroy, captain; Mr Andrew P. Gray, vice-captain; Mr Chas. Maitland, president; Mr John T. McWhinnie, vice-president; Mr Wm. Dick, secretary; Mr Alex McK. Forrest, treasurer; Mr John Taylor, Mr E. McElroy, Mr Robert Edington, and Mr David Graham, Directors. The club consists of a number of gentlemen resident in and around the neighbourhood of Dennistoun who have leased a large piece of ground next to Alexandra Park; and the members intend, we understand, to practice a variety of athletic sports during the present summer, ample facilities being provided for the highly exhilarating game of football, which in the meantime seems to be the ruling pastime of the club. A house has been erected on the grounds of the club for the resort of the members during inclement weather, or when indoor amusements become preferable to those in the open air. And here the managing committee have provided everything that can contribute to the healthful recreation of members, such as foil fencing, basket sticks, dumb bells, &c. This new enterprise is worthy of all success. A club having for its object the cultivation of athletics is a very important desideratum in a city like Glasgow, and the beneficial results which accrue to the members, who are for the most part young men engaged in sedentary pursuits, cannot be over estimated. We are sure that the Alexandra Athletic Club will meet with every support from the young men resident in Dennistoun and the surrounding districts."
For 'a club that has just been formed' Alexandra AC had clearly been a long time in the making
It had purchased a piece of ground;
It had built a house on that ground;
It had bought sporting equipment;
Ample facilities were provided for football.
It had not all been plain sailing to get to that point however. Prior to the club being formed there was an article in the "North British Daily Mail" saying that the Parks Committee had declined a request by the club for a lease of part of Alexandra Park. An extract from that report reads as follows: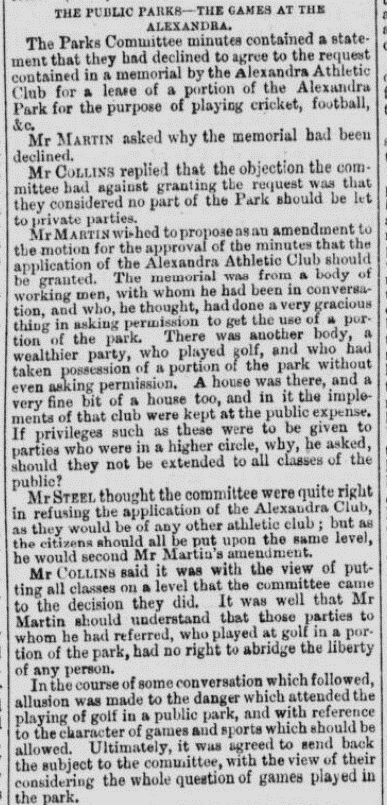 The article in Wikipedia on the club – however tells us that
"The football club was founded in 1873 as an all-round athletics club, with football as the "ruling pastime"; originally, the club's request to use part of Alexandra Park as a home ground was declined, despite the club being "a body of working men…who had done a very gracious thing in asking permission to get the use of a portion of the park". Within two months however the new club was given permission to lease part of the park for sporting activities; by this time the Earl of Glasgow and Robert Dalglish MP had agreed to become the club's patrons, and the club had an elite image, with amongst the best sporting facilities and equipment in Glasgow. "
It is noted purely as a football club, set up by a body of working men by Wiki but it had an elite image. There seems to be a wee bit of confusion there. Nevertheless, it was clearly a well-off group who had set it up – note the comment about the 'very fine bit of a house' and to the club as being 'parties who were in a higher circle'. But in respect of the range of sports to be covered was concerned, it was typical of its time. A pattern can sometimes be seen more clearly by looking at the extreme positions. Hamish Telfer writing of harrier clubs before 1900 had this to say of the scene generally as well as this club in particular:
"Harrier running (or paper-chasing) was also popular with football clubs who were also 'Athletic Clubs' in name (to be an Athletic Club perhaps made more of a statement than a Football Club). Alexandra AC was set up to 'practice athletic and field sports' but was principally a football club. This was no bunch of lads coming for a kick around. They had enough behind them to be able to lease land adjacent to Alexandra Park in Dennistoun (then a leafy suburb of Glasgow), and also erect a 'house' for members for inclement weather. It had the patronage of the Earl of Glasgow. By 1877 they were engaged in Hares and Hounds with a 5 mile run on July 9th. Queens Park Football Club were still sufficiently involved in Harrier activity to earn the nomenclature of 'Hampden Harriers' in 1880. By 1879 Edinburgh University were inviting footballers to run with them (27th December, 1879).
While at first glance, there may seem a 'head of steam' in interest for paper-chasing, which might have resulted in more clubs being formed, paper-chasing was still generally an adjunct activity or at best a section of an Athletics or football club. By 1881, hares and hounds activity as part of the Alexandra FC club had died out. Contemporary commentary recounts that 'Cross-country has never found favour north of the Tweed. It is essentially an amateur sport, and amateur athletes, until a very recent period, were a small minority of the population.' It goes on to confirm that it is essentially a winter activity only indulged in to keep in condition as it 'improves the wind.' "
The club did seem to have goals wider than the playing of football and they went ahead with their planned activities until there were advertisements at the end of August similar to the one below: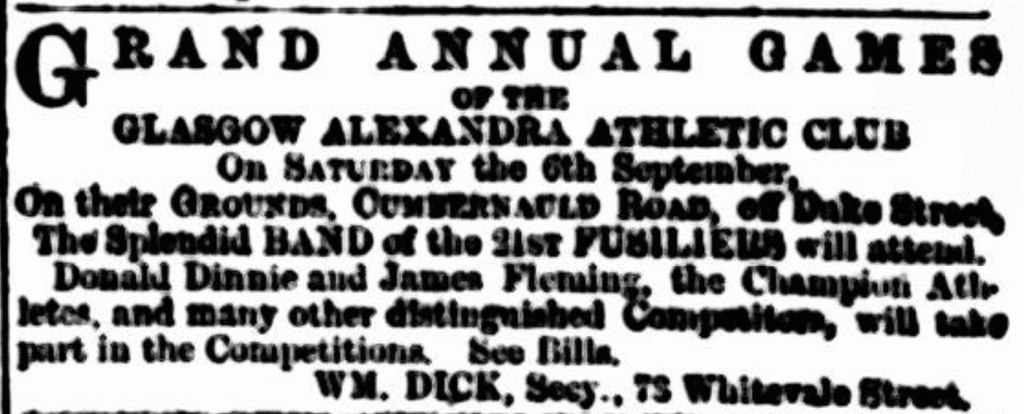 These Grand Annual Games did take place and the report in "The Glasgow Herald" on the following Monday (8th September) read as follows:
THE GLASGOW ALEXANDRA CLUB
This newly formed east end club held their first annual festival on Saturday, on their own ground, adjoining the Cumbernauld Road, and as a very attractive programme had been issued, which brought out Donald Dinnie, James Fleming, James McLevy, Robert Hindle and many other champion athletes, there was a large and fashionable attendance of spectators. The weather proved all that could be desired. The various events were well contested, more especially the racing in the open competition, which always resulted in close finishes. Wrestling – the last event of the day – was not settled, owing to a dispute in regard to rules, which caused the crowd to come inside the enclosure in such numbers that it was found impossible to get the ring cleared again. The splendid band of the 21st Fusiliers was present and tended to the enjoyment of the proceedings. Messrs GD Gordon, Alex Gow, and D Robertson of London, officiated as judges for piping and dancing; Corporal Robertson, 1st Dragoon Guards, for sword exercise; Mr P Hardy for wrestling; and Captain McElroy and Mr DD Graham for racing, ball putting and hammer throwing. The prize list was as under noted:-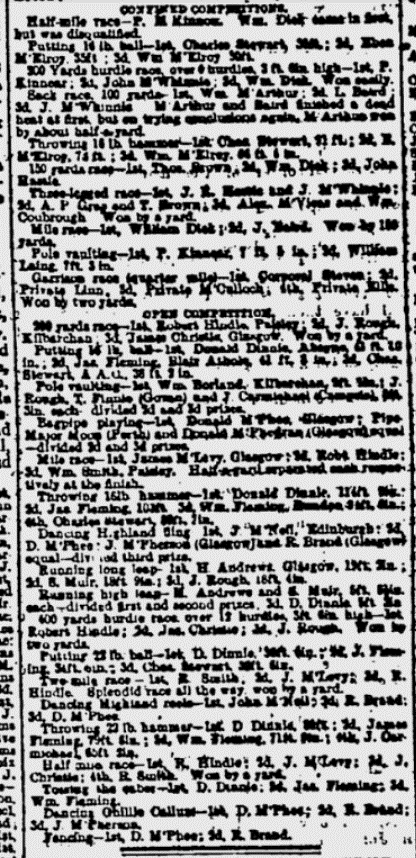 A fine cast indeed: Dinnie could fill an arena on his own with his talents as throws athlete, weight lifter and wrestler famous the world over, Hindle known all over Britain as a fine endurance athlete, read about McLeavy by clicking on his name and Fleming graced the field events spread throughout the afternoon. Already we have a multi sports club – football and cricket mentioned by the Councillors, all the athletics and cycling events at this particular meeting and then just one month later, the Alexandra club was spoken of in detail in connection with the new football season alongside such teams as Blythswood, Vale of Leven FC, Dumbarton, Callander, Kilmarnock and Renton in making preparation for the new season. The following report is from the 'Glasgow Herald' of 20th October, 1873: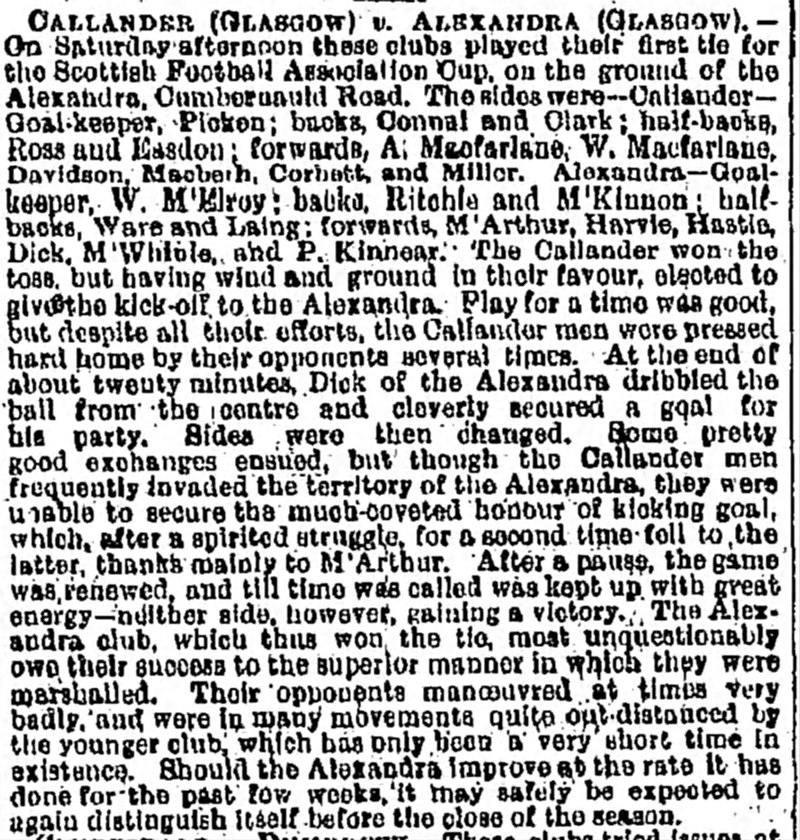 In December they had a match against Western FC 'on the ground of Alexandra Athletic, Kennyhill Park'. See report below. The standard that they reached in 1874 can be seem from three fixtures at the start of the year: 28th February: 2d Alexandra v 2nd Blythswood; March 14th: Blythswood v Alexandra; 11th April: Queen's Park v Alexandra (at Hampden) and on the same date, Alexandra v Queen's Park (at Kennyhill). Club colours are illustrated above but they changed over the years –
1873: blue & white guernsey, blue knickerbockers, red cap
1874: brown, blue, & white striped jersey, white knickerbockers, blue stockings, red cap
1876: white with blue Prince of Wales feathers
1877: white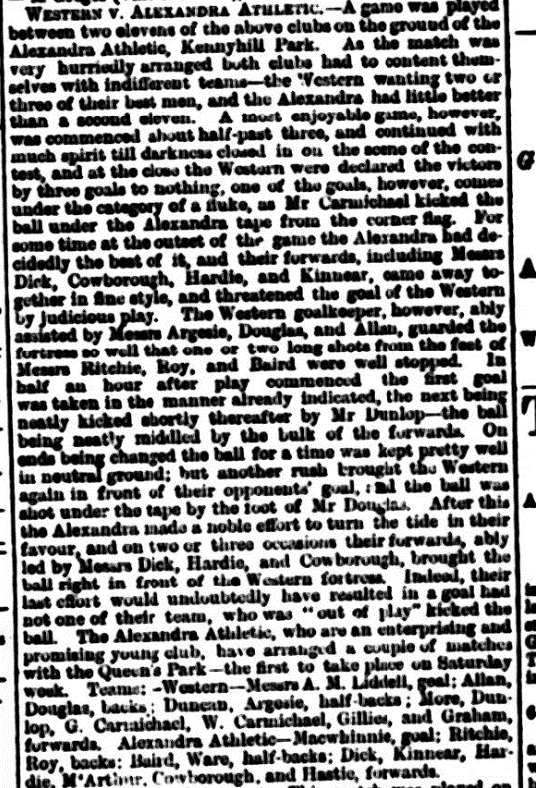 And so it went on over the winter.
That the club was still a multi-sports outfit was seen by a second athletic meeting held at their own ground on 2nd May, 1874. The report in "The Glasgow Herald" reads. "These Sports came off on Saturday in Kennyhill Park, Cumbernauld Road. The weather was favourable and the consequence was the turn-out of a large and fashionable company of between 2000 and 3000 persons. The programme comprised of 20 events and for each there were a great many entries. Several of the competitions such as the Sack and Pitcher and Water races afforded much amusement. The arrangements generally were faultless and reflected much credit on the officials. Messrs William McElroy and David Graham acted as judges, Mt Jas. McCasland as referee, Mr E. McElroy as starter, and Mr W. Dick as clerk of the course – all in a manner to give satisfaction to all."
The actual meeting highlights were summarised in the "North British Daily Mail" as follows.

The Wikipedia article concludes its account of the club by saying: The club does not seem to have survived the 1883-84 season; it protested to no avail after being knocked out of the Cup by Whitehill, and the final match being a 9-4 defeat at Arbroath, after the club was 4-1 up at half-time. On the club's demise, a number of its members and players joined Rangers; club secretary Walter Crichton took the same role at the Light Blues.
It would seem from that that the club had a relatively short life of approximately 10 years and its athletic involvement after 1874 will be concluded on the next page.