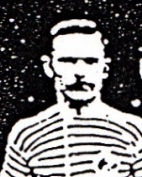 William S Legge
Cheshire Tally-ho and Clydesdale Harriers
In March 1886 WS Legge ran for Clydesdale Harriers in the first Scottish Cross-Country Championships but was not selected, only ran to 'make up numbers' and didn't properly finish the course coming in last of the 14 finishers. He is still recorded as the 6th counter for the Clydesdale team.
The archive searches are somewhat vague but he appears to have been born in Salford in January, 1860 to Alfred and Martha Legge. Alfred is listed as an author from Fakenham in Norfolk. They were resident in Barton Upon Irwell in 1871 and had 1 step daughter and 4 children including William and a servant. Martha was some 11 years older than Alfred. William was still living in Barton in 1881 with his parents aged 21 and is listed as a General Manger/Warehouseman. It is possible that his middle name was Stowell.
His athletic career appears to start around 1882/83 when he would have been 22/23 years old but It probably would have been earlier (further work needed here). He appeared for the Boxing Day run on 26th December 1883 with the Cheshire Tally-ho Hares and Hounds over a 16-mile course and ran 66th in the Northern Championships at Manchester Racecourse on 23rd February, 1884. He followed this up with 38th in the National at Sutton Coldfield as 3rd counter. Later in 1884 he was 3rd in the club steeple-chase handicap off 2mins on 29th November at Bowden. He served on the Cheshire Tally-ho Committee for the season 1884-1885.
He then disappears from view. It appears that he had moved to Scotland for a while, something noted in the Cheshire Tally-ho history of 1893 '… who had been residing in Glasgow where he had assisted in the formation of the Clydesdale Harriers, now the leading Scotch club …'. (p67). While there is as yet no evidence that he was one of the group who founded Clydesdale Harriers at their meeting in May of 1885, he did take part in their opening run on Saturday 24th October from the Black Bull, Milngavie. The course was over 12-13 miles over the estate of the Duke of Montrose with WS Legge acting as pace-maker. However, The Athletic News has the Clydesdale Harriers running at Shandon near Helensburgh on Saturday 17th October near to where the brothers Vallance used to reside but there is no mention of Legge on this run. Attention now turns to a run on the 21st November at Bridge of Weir by the Lanarkshire Bicycle Club Harriers section which was whipped by Legge over 8 miles. JF Fergus, Captain of the LBC Harriers acted as pace and in the run in over 1 mile, Legge won.
The first Clydesdale Harriers – Edinburgh Harriers inter-club run took place on 28th November at Coltbridge with 27 from EH and 8 from CH. The course was over 8-10 miles and Legge took part listed as one of the CH team. Legge also acted as pace for the pack at the CH meeting at Half-Way House, Ibrox on Saturday 26th December coming 3rd in the run in.
Legge then made it back to England to take part in a run on 2nd January, 1886 with his Cheshire club mates but is listed interestingly as a member of Clydesdale Harriers.
Entering 1886, CH ran in a snow storm on Saturday 16th January at Chryston with Legge acting as pace over 6 miles but there was a some issue of the paper becoming obscured in the snow and the pack being unable to follow the hares. There were two members of the Lanarkshire Bicycle Club Harriers (Fisken and Sanderson) also running. On 29th January at the inter club with Edinburgh Harriers and the Lanarkshire Bicycle Club Harriers, Legge was in the 'quick pack'. There was tea at the Langholm Hotel and arrangements were made for the National at Lanark Racecourse. Legge ran again on 13th February at Rutherglen with CH.
In The Athletic News on 9th March, Legge is not named in the Clydesdale Harriers team for the inaugural Scottish Cross-Country Championships. This may have been down to the fact that as an 'Anglo' and as a member of another club as well as the rules being somewhat vague, only Scots and 'first claim' members were eligible. After the postponement of the original date of the Championships on 13th March due to snow, it eventually took place in pouring rain on Saturday 27th March. It didn't go well. It was unfortunately rescheduled on the 27th against an International football match at Hampden and also against a backdrop of rumour and counter rumour of it having been postponed until 3rd April. This limited the potential to attract spectators. It didn't however fail to attract bookmakers (despite the later protestations of DS Duncan). The bookies however had a lean day as few spectators turned up. While Edinburgh Harriers turned up with 11 of those originally named, Clydesdale could not muster a team, with only 5 turning up out of the original 12 plus 3 reserves. This would have put paid to the team race. However, an 'elegant' solution was at hand in the shape of William S Legge. The Athletic News reported that Legge, who had only turned up to act as a judge, volunteered to run to make up the team for Clydesdale. One can only imagine the discussions that ensued while this was debated. But given that Edinburgh had a 'Anglo' in John WL Beck (who it must be remembered had competed only in August for Blackburn Harriers) and weighing up the potential for this 'scratch' team of Clydesdale to win the team race, Edinburgh clearly (graciously?) allowed Legge to run in order that Clydesdale could finish a team. Running attire was somehow cobbled together and Legge ran in order simply to finish, which he did in last place (14th). 3 failed to finish the course. Although ……. he didn't quite finish. When the last four 'entered the course for the home run, seeing that any effort on their part would not affect the result of the contest, did not finish but entered to the dressing rooms by the wrong course.' So, Clydesdale did not in fact finish a team but by general 'acclaim' Legge was allowed the accolade of counting team member and, one assumes, the runners up medal. There are at least 3 accounts of the race with The Glasgow Herald the most detailed, The Athletic News adding context and The Sporting Life adding some further detail (not all of it accurate). The teams dined afterwards.
It is not able to be determined for how long William Legge was in Scotland, but after the championships in March 1886 he seems to disappear until the cross country season of 1887-1888 when he was once again elected on to the committee of Cheshire Tally-ho Hares and Hounds and ran in a club race at Chelford near Alderley on 4th November, 1887. There were a few more runs including one at Norbury on 28th January. He ran in the club championships at Bowden on 4th February and finished 13th and then was selected for the Team for the National Championships on 3rd March at Manchester Racecourse. This was not to be sadly.
The Athletic News 13 March 1888
The very day that the Alderley and Wilmslow Advertiser announced the Cheshire Tally-ho Hares and Hounds team on the 2nd March for the race the next day, William Legge passed away in his 28th year.
By Hamish McD Telfer 19 Jan 2021