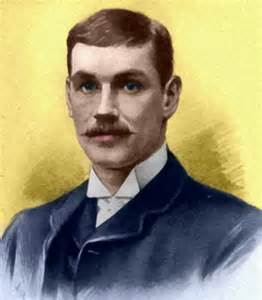 Tom Vallance was a sporting giant: Scottish long jump record holder, Rangers FC first captain and rower. Away from the sports field he was a first rate artist who had two paintings accepted for show by the RSA, he was also a prize winning breeder of dogs and birds. His story can be read at this link On this page we are looking at his athletics career – or what we can find of it.
Not only was he the Rangers first captain he was one of the founders of Clydesdale Harriers, Scotland's first open athletic club. .Born on 27th May, 1856, he was born in Succoth Farm, north of Helensburgh and the family moved to Helensburgh. By the time he joined Clydesdale Harriers he was living in Craigmaddie Terrace, Glasgow while brother Alex lived at Rose Street in Garnethill. By now Alex was competing and winning prizes mainly as a hurdler – he was SAAA hurdles champion in 1888 but Tom does not appear in the results columns at all. In season 1891-92 the brothers moved in together to a house at 26 Paisley Road in Glasgow – to be their address for the rest of the century. The family back in Dunbartonshire kept up the athletics tradition with first of all a young Thomas Vallance starting in Shandon then moving to Helensburgh and later an Adam Vallance competing from the Shandon farm address. All four were members of Clydesdale Harriers. Alex was a club member until his death in 1898.
As an athlete, Tom was a big man – 6′ 2″ at a time when the height of the average Glaswegian was 5′ 7″ – and this gave him a tremendous advantage in many events. We will come back to his build and strength later when we look at his activities in 1881.
XXX
The first competition to look at was when he competed on 24th August, 1878, at the Parkgrove FC Amateur Sports held at the club grounds, Trinidad Park in Copeland Road on the south side of Glasgow. The 'relevant parts of the 'Glasgow Herald' report reads:
"A novel feature of the gathering was a four a side football competition, the first ties of which were were played off on the Saturday previous. Six teams were left to struggle for first honour, and after the ties had been gone through the final contest lay between a team from the Rangers Football Club, consisting of WG Struthers, Moses McNeil, H McIntyre, and Alexander Vallance, and a team from the Parkgrove Football Club comprising A Watson, W Cooper, W Docherty and W Campbell. A somewhat unequal game took place between two teams , the representatives of the 'light and speedy' securing an easy victory by two goals, and, according to the rules of the four a side game, two touchdowns to nothing." (ie Rangers won). Meanwhile in the athletics competition Tom Vallance was very active. He won the Broad Jump with a clearance of 21' 1" and was second in the Final of the 120 yards hurdles after winning his Heat.
Two weeks later, on 7th September, 1878, at the Queens Park FC Sports, Tom won the 'Running Long Jump' with another 21'' + . He didn't seem to compete the following year but at the Queen's Park Sports on 4th September, 1880, he won the Broad Jump with a leap of 21' 3".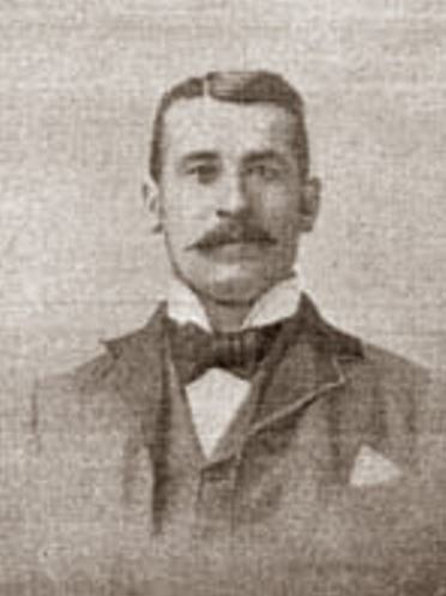 ALEX VALLANCE
1881 was his big year though. The first Rangers Sports were held on 20th August, 1881. Tom took part in and won four events:=
1. Devised by and won by T Vallance., the tug-of-war was different from the usual contest. Instead of teams facing each other and pulling one rope in opposite directions to force their opponents over the mark, the new method consists of two ropes of equal length with loops at either end and securely tied together in the centre. Four only compete at a time, each putting the fixed loop over his body and standing at opposite corners where flagstaffs are fixed in the ground about two yards behind. All pull in opposite directions, the first who seizes his flagstaff and drags it from the ground to win. The contest was most amusing. He had two rounds of this competition.
2. Broad Jump: Won by T Vallance, 21' 6" with brother Alex second having a best leap of 19′ 5″
3. Hurdle Race: Won by T Vallance, 18 seconds
4. Obstacle Race. Won by T Vallance. For the obstacle race (about 400 yards), 24 entered, who were set off in three heats and a final, and as the difficulties proved rather trying to the competitors, few completed the distance. At the start the men ran about thirty yards backwards, turned round and got over the first barrels by leap frog, the next were crept through, the hurdles were crawled under and leaped over as best they could, where fresh difficulties had to be overcome. The first of these consisted of poles placed at an angle and resting on the top of horizontal bar about 10 feet high, from which ropes were suspended, the poles were clambered up sailor fashion, the ground being reached by sliding down the ropes. Further on, young trees, divested of branches, and supported at either end by trusses about 2 feet high had to be walked along, and as they were placed at a distance from each other, and about 35 feet long, the vibration in the centre caused most of the competitors to lose their equilibrium when they had to try again or give up. The last obstacle was a horizontal bar over which the men had to throw a somersault. When this was reached the best gymnast both in the heats and the final, was 30 or 40 yards in front, when he had an easy finish. There were Heats and a Final in this event and he won his Heat as well as the Final.
This was a prodigious afternoon's work by any standards – two rounds of the obstacle race, two rounds of a strenuous tug o'war, two rounds of the hurdles and a long jump competition. He would have needed all his strength for such a feat. Had there been a multi events competition such as a pentathlon, heptathlon or decathlon, he would have been a fearsome opponent. Meanwhile, young brother Alex was third in the confined half mile – this was the longest distance that we have found for either brother.
Two short weeks after this demonstration performance, on 3rd September, 1881, he was back at the Queen's Park FC Sports which he seemed to like. Both brothers were in action that afternoon. In the 120 yards hurdles race, Alex was second in the first Heat and Tom was first in the second Heat. Into the Final with four runners, one fell and was out of things but Tom won the race in 21 seconds with Alex third. In the Broad Jump, Tom won with a leap of 21′ 11″, defeat in the Englishman Charles Cunliffe from St Helen's who had a 20′ 2″ clearance. This was Scottish record for the distance and it significance was later recognised by the SAAA: John Keddie in the Centenary History of the Scottish Amateur Athletic Association comments: "An International footballer, Tom Vallance (Rangers FC), had cleared 21′ 11″ (6m68) … a performance which, though ante-dating the SAAA, was passed as the initial Scottish record." The record stood until 27th June 1895 when Hugh Barr of Clydesdale Harriers did 22′ 01″. He was not finished for the afternoon though – he was also fourth in the high jump.
This seems to be the end of his competitive career. On 22nd February in 1882 he left Scotland for Calcutta to become involved in tea planting in Assam. He was back a year later after contracting black water fever. He was not the same man when he returned and his football was almost non existent.