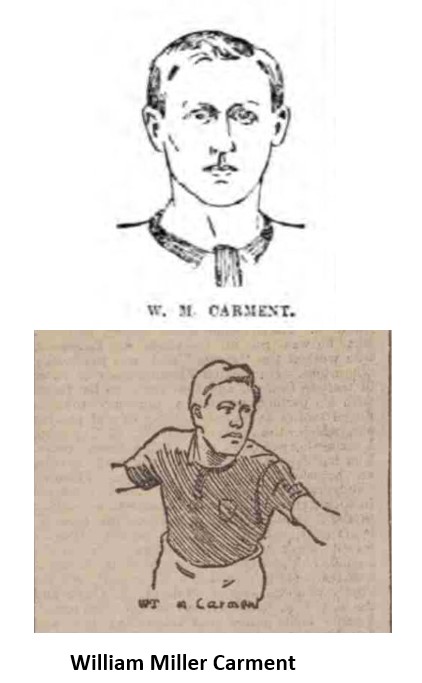 Edinburgh Harriers and Dollar Institution
Medallist Scottish Cross-Country Championships 1891, 1892, 1893
Secretary Edinburgh Harriers 1892-1897
Secretary Scottish Cross-Country Union 1892-1897
President Scottish Amateur Athletic Association 1910-1911
William Miller Carment (Bill) was born in India on 11th June 1868. The Carment family came from India to Dollar with their mother, who was widowed at some point after 1874. There were 9 children, who all attended Dollar Academy, the oldest starting in 1878. Bill's name appears in fees and marks books for Dollar Academy (at that time Dollar Institution). He seems to have started in 1879 and took the usual subjects, including Latin. Unfortunately, the registers for this period are not complete.
There is no record of Bill as a sportsman at school and it was too early for rugby and cricket photos and neither could his name be found in any early edition of the school magazine for 1881-3 (there were reports of rugby and cricket matches and results of athletic sports). He would have been around 14/15 years of age in 1883 so perhaps not of age for a senior team. In his writing in 1902 in the later school magazine, The Dollar Magazine (founded 1902), he refers to his schooldays:
"Paper-chasing was a great favourite with us during the winter months. I know of no form of athletic exercise where the weak and the strong meet on more even terms than in paper-chasing. When neither matches nor sides are on, this fills the void and in addition tends to lessen loafing and patronising of tuckshops, of which there is a great deal too much."
Although he claims never to have participated in school sports, he clearly enjoyed and took part in 'paper-chasing' which may have been something in which the boys indulged in their spare time with the tacit acceptance of the staff. This had left its mark as he joined Edinburgh Harriers in October 1888 age 20 as he worked and lived in Edinburgh prior to joining Edinburgh Harriers in 1888.
His occupation in the 1891 census is listed as Insurance Clerk (age 22) and his address is 24 Moston Terrace, Newington living with older brother David (aged 27 in 1891) and his mother (51) and 6 other siblings (Mary aged 25, Margaret 21, Joseph 20, Caroline 19, Andrew 18 and Jane 16) and one servant. It would appear therefore that William lived in Newington for his athletic career as a runner. He competed regularly, mainly in cross-country and was in the vanguard of the sport as clubs were formed. He was selected for and competed in five Scottish Cross-Country Championships for Edinburgh Harriers, achieving bronze in three successive years. His track record was less impressive except for his Ten Mile Championship run in 1892 placing second to Andrew Hannah who set a new Scottish record. He tended to compete 'locally' around Edinburgh rather than appear at sports meetings further afield such as Glasgow and Dundee. It was during season 1892-1893 that Bill Carment took on the dual role of Secretary of Edinburgh Harriers as well as Secretary and Treasurer of the Scottish Cross-Country Union in addition to his own running and his occupation working in insurance. This seemed to lead to health issue which came to the fore in early 1893. While there are conflicting reports of either 'over-work' or 'heart strain', the events of the 1893 Scottish Cross-Country Championship perhaps had a direct impact on him. The report of the race (below) indicates that may have been badly injured and yet still finished 3rd.
(Scottish Referee, 13 March,1893)
His name doesn't appear again until a press report in May, 1893 indicates that he had decided to take a break from running on medical grounds. He seemed to be able to step back until the following cross-country season of 1894 but then appeared to suffer one set back after another and in 1894/95 it was variously reported that he had a 'strained tendon', influenza and then a fall which broke a bone in his hand (he also fell in the Scottish Cross-Country Championships of 1890). He did try a comeback for the Championships of 1896 but in the event, Edinburgh only completed 5 men and he was not named in the team. This was a short (just over 5 years) but reasonably successful athletic career as a runner. By about 1893 'Bill' had developed an active interest as an athletics administrator and this seemed a suitable substitute for his running. He was evidently well thought of (and connected) and he served as both secretary (1892/93, 1894-97) of Edinburgh Harriers (still living at 24 Moston Terrace, Edinburgh) and also as committee member (1894/95), his tenure with roles with Edinburgh Harriers finishing in the autumn of 1897. He was also secretary and treasurer of the Scottish Cross-Country Union from 1892 until 1897 and acted as Clerk of Course for the Scottish Junior Cross-Country Championships in 1897. He did not stand for any position after 1897 but the Scottish Cross- Country Union held a testimonial for him after the Scottish Cross-Country Championships of March 1898 where he was presented with a 'presentational marble clock and side ornaments' at the official function at the West End Café, Edinburgh following the race.
In the period immediately after 1898 it is not clear what Bill Carment did in his athletic career. It is likely he maintained his interest and influence since in 1910-1911 he became President of the SAAA by then residing in Morningside. His involvement over the intervening period of 12 years is not clear however. He was also a keen former pupil and was elected President of the Dollar Academy Club in 1904.
Dollar Magazine 1910 pp40-41
WE have pleasure in noting W. M. Carment's promotion to the Presidency
of the Scottish Amateur Athletic Association. No more loyal F.P. exists
than " Bill" Carment, whose services to the School for many years, especially
in athletics and in the management of the Edinburgh Dollar Academy Club,
of which he is at present Secretary, have been as ungrudging as they have
been valuable and valued. The Evening Dispatch says :—
"There are few better known men in Edinburgh athletic circles than
Mr W. M. Carment, of Dollar Academy, who was on Wednesday elected
President of the Scottish Amateur Athletic Association. And he is popular
with all and highly respected. No one has an ill word to say of Mr Carment.
He has represented his old School on the Association Committee since 1902,
and all his days has been a keen follower of the running pastime. Though
there are no championships standing to his credit in the books of the S. A.A.A.
or N.C.C.U., he was, nevertheless, a very capable runner in his day, both on
the track and over country, and he was especially reliable in the latter respect.
For three years in succession in the early nineties, he ran third in the Scottish
Cross-Country Championship, and twice, in 1892 and 1893, he was club
champion of the Edinburgh Harriers. He was a miler of no mean ability.
On one occasion he was runner-up to Mr Andrew Hannah in the ten miles
flat championship, and in accepting office Mr Carment jocularly remarked
upon the fact that he was once more following in the footsteps of Mr Hannah,
though not then so far behind as he sometimes had been in years gone by.
Mr Carment was Secretary of the Cross-Country Union for a number of years,
and also of the Edinburgh Harriers' Club. He has served a good apprenticeship,
having done splendid service to athletics in an official capacity, and will
make an excellent President."
By 1901 (age 32) he had moved to 23 W. Maitland Street, Haymarket as a lodger with his younger brother Joseph. In 1910, William (age 41) married Mary Alice Pearce (age 44) on 25th March. Her address is given as Joppa Road, Portobello and she appears to have been an only child looking after her widowed father Joseph who was also an Insurance Clerk. She was originally from Hatch End in Middlesex. William's father is listed as a Civil Engineer on the marriage certificate. At the time of his marriage William had moved again and was living at 27 Thistlestone Road, Morningside. In the 1911 census he is listed as living at 169 Dalkeith Road, Edinburgh with Mary and occupation still as an Insurance Clerk.
William died on 28th October, 1923 from 'General Paralysis', likely a 'stroke', which he appeared to have had some 2.5 years before. They were still living in Dalkeith Road. Mary died some years later on 21st March, 1931 from a cerebral haemorrhage aged 64.
Bill's athletic career is summarised below.
Key achievements:
1891 Scottish Cross-Country Championships – 3rd individual and winning team (Edinburgh Harriers)
1891 Scottish Ten miles Track Championship -2nd
1892 Club Cross-Country Champion (Edinburgh Harriers)
1892 Scottish Cross-Country Championships – 3rd Individual and 2nd Team (Edinburgh Harriers)
1893 Club Cross-Country Champion (Edinburgh Harriers)
1893 Scottish Cross-Country Championships – 3rd Individual and 3rd team (Edinburgh Harriers)
1892- 1897 Secretary and Committee member of Edinburgh Harriers (except 1893-1894)
1892-1897 Secretary and Treasurer of the Scottish Cross- Country Union
1910-1911 President of the Scottish Amateur Athletic Association
Appendix 1 Cross-Country
Cross-Country Season 1888-1889
There is no clear record of William running over the country prior to 1888. While William may have joined Edinburgh Harriers in October, 1888, the first mention of WMC running comes on a run at Dalkeith on 10th November. He may well have appeared at the club 2 mile handicap on 24th November, but again there is no mention of him. WMC then runs from Granton over 8miles on Saturday 1st December acting as whip a fact that probably means that his credentials were established as a runner. Thereafter WMC appears in quick succession at Coltbridge on the 8th and at Musselburgh on the 15th with WMC in the fast pack in a 4 miles handicap with 2mins 45secs, coming 12th. There is no further mention of him until February 23rd 1889 although he may well have been in pack runs in the intervening 9 club runs and he may have been involved in the infamous 'cabbage field run' at Portobello on 2nd February. WMC ran in the club 10 mile championships (handicap) at Musselburgh on the 23rd coming 3rd and then again the week after at Craiglockhart with WMC running as pace over an 8 mile course.
William was then selected for the EH team for the Scottish Cross-Country Championships which was delayed until 23rd March and finished 19th, 7th counter for EH in a time of 60mins and 8secs just over 5 minutes behind the winner (McCann, CH). Edinburgh Harriers were 2nd Team. His season appears to have finished with this race. Some 7 runs with the club but possibly more.
Cross-Country Season 1889-1890
As with the previous season, there are incomplete records relating to Edinburgh Harriers in the press who were reliant on club secretaries sending information. There is no record of WMC at the AGM of Edinburgh Harriers on Monday 7th October, 1889 but in all likelihood he would have attended. Neither is there a record of him at the club run from Musselburgh on 26th October. WMC acted as hare at the novice prize event at Currie on 2nd November, the course being over 6mls. Thereafter there is no mention of him at any of the runs at Falkirk (9th), or on the 16th (no venue found); the Sheepshead, Duddingston on the 23rd; the run from Dalkeith on the 30th or a run from Pitt St Baths on 7th December (46 attended). It is unlikely he would have missed 5 consecutive runs, so the absence of his name perhaps indicates a lack of detailed information in reporting. For the club's 4 mile handicap at Musselburgh on 14th December he was given 1min 30secs and he came in 8th with a time of 23mins and 55 1/5secs but an actual time of 25mins and 25 1/5secs, a time which placed WMC in 4TH place overall.
The first runs of 1890 saw WMC run in the Loretto Cup meeting on 4th January but only in the 'other' race where he came in 3rd of 12 runners. There is no mention of him the following week (11th) at Eskbank with Dalkeith Harriers but he runs at Duddingston on 18th January in the club 5mls. Handicap which started using the 'yacht principle' (all at once). WMC came in 7th in 28mins but with his 1min 40secs handicap, his time was 26mins and 20secs. There is no mention of him on the 25th January at the inter-club; 1st February at Coltbridge (41 runners); 8th February at Musselburgh (first six named for the Scottish Championships named but not listed) or on 15th at the Sheepshead, Duddingston (thus again no name found for 4 runs). WMC appears again on 22nd February at the club's 10mile handicap at Musselburgh, coming 1st in the race (getting fastest time medal) and 2nd in the handicap. Better runners competing at the SHU championships that day! This result seems to have run him into selection for the team for the Nationals. WMC runs the following week (1stMarch) at Tynecastle before the Scottish Cross-Country Championships the following week 8th March) also at Tynecastle. WMC placed 14th coming in 8th Edinburgh Harrier (although he could have placed higher as he fell) with Edinburgh coming in 2nd team. In total, WMC put in at least 7 runs out of a total of 18 known runs but again, probably competed more often.
Cross-Country Season 1890-1891
No mention of WMC at the AGM of 7th October. 1st run was on 11th October from Portobello Pier (41 runners) in which WMC acted as whip and on the 18th from Musselburgh (Mrs Crosbie's Inn, Levenhall) (38 runners) but no mention of WMC at either. The run on the 25th from Currie and mentions WMC running strongly in the fast pack. The run on 1st November from Duddingston (Sheepshead) attracted 51 runners but no mention of WMC. There is no mention again of WMC at the interclub on 8th November from Logie Green which involved EH, Clydesdale Harr, Edinburgh Northern Harr and Edinburgh University Hares & Hounds, 107 runners. WMC is given a handicap of 60yds for the 2 mile handicap at Powderhall on the 15th but fails to end up in the top results. The EH then meet at Craiglockhart on the 22nd where WMC acted as whip and pace and came in 2nd in the run in. At Eskbank (Annfield Inn) on the 29th for an inter-club with Edinburgh Northern and Dalkeith in which WMC ran and placed 2nd. EH then ran at Duddingston on 6th December (50 runners) and then their annual 4 mile handicap from Musselburgh on the 13th in which WMC placed 16th off 20secs. His handicap time was 25mns 45secs and actual time 25mins 5secs. The club ran from Coltbridge (Clark's Inn) on the 20th but again no mention of WMC. The final run on the 27th was 'open' from Duddingston (Sheepshead Inn) 8 turned up. It is clear there is under reporting as given his handicap, WMC is clearly fit so must have been training and running relatively regularly to receive low handicaps (2 off scratch and 3 off 20secs). 5 runs in which he can be found out of 12 scheduled.
The second half of the season opened at Levenhall, Musselburgh on 3rd January. WMC acts as whip on the 10th at Dalkeith. At the club 5mls handicap on the 17th at Duddingston WMC is unplaced. Thereafter there is no mention of WMC that can be traced for the next 4 runs until 21st February at the club 10 mile handicap where WMC was off 1min 30secs indicating good fitness. He was unplaced. No mention in the following two runs and then he runs in the Scottish Cross-country Championships on 14th March at Cathkin Park. WMC runs exceptionally and comes in 3rd individual place, 2nd counter for Edinburgh who win the team championship. He was 45secs behind Hannah the winner. This appears to finish his season although there are two remaining Saturdays. It is unlikely that WMC only ran in 4 club and championship runs therefore the total runs for the cross-country season are an underestimation.
Cross-Country season 1891-1892
Of the 12 Saturday runs of the first half of this cross-country season, there is only one record of him running and that is the 17th October, 1891 at Levenhall, Musselburgh where he came in 1st out of 32 runners. He will have competed more often but may well have found himself 'handicapped out'. Out of potentially 13 runs for the second half of the season, WMC appears in reports of the 27th January at the Club 5mls handicap at Duddingston where he is 1st man in and is awarded the fastest time medal (doesn't appear in the handicap) and then only in the Scottish Cross-Country Championships at Tynecastle on 12th March where WMC places 3rd again, narrowly losing out on silver by 1 second. The Edinburgh Harriers Team come in second in the team race and WMC is 1st counting runner. By now with more clubs and more runners it is difficult to pick up individual detail of runners.
Cross-Country Season 1892-1893
In 13th outings up to the end of 1892, WMC is picked up in only 2 runs. The first is on 12th November at Powderhall at Edinburgh Harriers 2 miles handicap and WMC is off scratch and doesn't make the listings. The next run is on 26th November at an inter-club with Dalkeith Harriers and WMC acts as pace and whip. In the second half of the season form January to March he runs on the first two outings of the year at Eskbank at New Year coming 2nd and then the following week at Edinburgh Harriers 5 mile handicap on the 14th where WMC led at half way but came in unplaced. WMC then ran on 11th February at Duddingston over 7mls followed by the Edinburgh Harriers Club 10mls cross-country handicap at Musselburgh. WMC came in 1st on actual time winning the fastest time medal for a second time 58mins 46secs. His next outing at the Scottish Cross-Country Championships on 11th March was something of an ordeal. WMC, for the 3rd successive year, placed 3rd and 1st counter for the 3rd placed Edinburgh team but at some cost.
Appendix 2 Track
Track Season 1889
WMC raced infrequently over the season and it is likely that even though he may have raced more then the detail below, his performances were relatively modest. Immediately following the end of the cross-country season WMC raced at an Edinburgh Harriers evening meeting on Monday 8th April in a 2 mile Novice Handicap off 30yds coming 3rd (1st and 2nd were off scratch). May was productive. He ran at Watson's College Sports on 4th May over 880yds off 32yds but did not finish probably due to 'Carment cut out the running at a fast pace for 600yds at a great pace'. On 11th May at Stewarts's College Sports WMC again dropped out in a One Mile Open Handicap (off 120yds). 10 started but only 2 finished. The same again on 18th May at The Edinburgh Harriers Sports at Powderhall in a One Mile Open Handicap. 'Carment cut out the running at a fast pace for half a mile' off 125yds. The 3 non finishes may have contributed to his absence in June but on 4th July at the Royal High School Cricket Club Sports at Holyrood Cricket Field, WMC placed 2nd off 95 yards in a One Mile Open Handicap. WMC followed this up with 3rd at the St Bernard's Sports on 13th July placing 3rd off 115yds after a 'game struggle for 3rd'. He disappears from reporting for the remainder of the season. It may well be that competed elsewhere as 3 finishes out of 6 races seems paltry.
Track Season 1890
There was significant under reporting for WMC this year but it may be that he competed sparingly as in the previous year. It seems that he stayed 'local' to Edinburgh. WMC came 2nd in the Edinburgh Harriers Sports in the One Mile Handicap on 17th May (off 80yds – 4mins 29secs) and then WMC was 1st at the Stewarts College Sports on 23rd May in the One Mile handicap off 50yds in 4mind 48secs
Track Season 1891
WMC started his track season on 2nd April, 1891 by placing 2nd in the Scottish Ten Mile Track Championship at Hampden Park. Hannah set a new Scottish record of 54mins and 18 4/5ths to Carment's 58mins 12 4/5ths. After this date, while he may well have competed in annual sports, there is not further mention of him which probably supports the notion that he wasn't really a track athlete.
Track Season 1892
Just 2 outings are recorded. One on 14th May at Stewarts College Sports where WMC runs off scratch in the One Mile handicap and comes 4th. The second is on 14th June at Edinburgh Harriers Sports with WMC running in a 3 mile Invitation Scratch race coming 3rd. There will have been more but reporting is minimal.
he help and assistance of the Archivist for Dollar Academy, Janet Carolan is gratefully acknowledged.
HMcDT9/2/2021