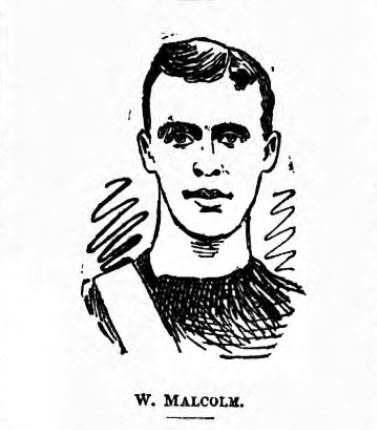 Picture from Alex Wilson
In the quest for the two minute half mile, Malcolm was a key figire. Mitchell had brought the record to 2:00.4 and Mlcolm took it a fifth of a second nearer with his pb of 2:00.2. Unfortunately he died very young just when he was in his prime as a racer. The following obituary appeared in the Glasgow Herald on 29th April, 1895:
"Athletics are considerably poorer by the death of Walter Malcolm of Greenock Morton FC. When he was but 19 years of age he won the Clydesdale Harriers Mile Novice handicap and three years later was the half-mile champion of Scotland. Such rapid progress has few parallels even in these days of athletic phenomenons. Though he often figured in 220 and 440 distances, it was in longer distances that he excelled and has left his mark in the records of Scottish pedestrianism. He holds the native records for the half mile and the 1000 yards. His time for the latter is 2 min 31 sec. Both Rodger and Mitchell once or twice attempted last year to reduce it but failed. Whether Malcolm indulged too much in athletic exercise we do not care to say, but it is noteworthy that just as he was at his height, he contracted an illness which developed to such an extent that he was compelled to give up the idea of ever running again. It was thought with care he might recover, but this was not to be and he died at the age of 34. He wore his honours most unobtrusively, and his whole bearing on the track and off it was in consonance with his chivalry which is naturally associated with amateurism. He was widely popular among all connected with athletics."
Walter Malcolm first appears as a Clydesdale Harrier in season 1890/91 when he won two first prizes, two seconds and two thirds. This was the first year that there was a Greenock Section as opposed to a more general Renfrewshire Section, and he was appointed the Local Captain of the club. It was fitting there for that he won his first race of the year in the Greenock Morton Sports on 25th April when took the half-mile handicap. Nearer the SAAA Championships, on 23rd May in the West of Scotland Harriers Sports at Hampden, he won the half mile (13 yards) in 2:02.6. The second placed man was off a mark of 46 and Malcolm 'won by a breast', ie on the tape! Two weeks later, June 6th, he was not quite sharp enough from 10 yards to catch JB Morrison of Edinburgh (18 yards) and finished second, beaten by a yard. Then came the big one: the SAAA championship held at Hampden on 20th June. He was unfortunate to come up against Robert Mitchell of Clydesdale Harriers who had won the title in each of the previous two years and was going for the treble. Given that Malcolm, although very talented, was a comparative novice, he was beaten by Mitchell who 'won well' in 2:00.4 which was a Scottish record – one which Malcolm was destined to break two years later. A fortnight later, on July 4th, at the Clydesdale Harriers Sports, Malcolm was second again – this time to a Dunfermline Football Club man, JG Mackie off 46 yards. There was another second in a handicap sports when he competed at Kilmarnock on 25th July off 5 yards and just could not catch Alex Mitchell of Clydesdale who was running from a mark of 46 yards. He did not appear the Rangers Sports at the start of August, nor at the Celtic Sports on 8th August – reason? The Greenock Morton Sports were held on the latter date and he was very busy there. He ran in the heat (1st) and final (unplaced) in the 100 yards, was third in the 440 yards running from Scratch, third in the Mile (Scratch) and there was no half-mile on the programme. He had started the season running as a Clydesdale Harrier and changed to running under the Morton name from the Scottish championships. It was not unusual for athletes or other sportsmen to have several clubs: no sport demanded exclusivity at that time and it was possible, as, for example, John Blane was for a time to be listed as CH, AFC and KC for Clydesdale Harriers, Ayr FC and Kilmarnock Cycling Club.
In season 1891/92 he had improved competitively insofar as he won five first prizes, six seconds and four thirds over the summer 1892 season: he did not ever appear in the cross-country results and probably spent the winter playing for Greenock Morton FC. As in 1891, his first meeting was on 30th April and was the Morton FC Sports. He ran in their colours. In the 440 yards open, he won his heat in 56.4 sec, but was unplaced in the Final. On 21st May, at the Abercorn FC Sports in Paisley, he was back racing the quarter nile distance and finished third . The Queen's Park Sports on 3rd June were interesting. The final of the half-mile was won by R Mitchell, running from scratch under the St Mirren banner, with Malcolm, also from scratch, and J Ball of West of Scotland tie-ing for second. The places were decided then by the toss of a coin which placed Ball second and Malcolm third. They were only two yards behind Mitchell. Then in the SAAA Championships held at Dundee Mitchell again won the half mile, making it four in a row, with Malcolm second. The winning time was 2:05.8. Malcolm's big moment of the season came however on 2nd July in the Clydesdale Harriers Sports when he was second in the 880 yards, running from scratch in 2:00.2 for a new Scottish record. The winner was running from 36 yards. Mitchell and Malcolm came head to head over 880 yards again on 30th July in the St Mirren Sports at Paisley. There wre 40 men started in the race with both Malcolm and Mitchell starting from scratch. Itr didn't take them long to get into the crowd (Glasgow Herald description) in front of them, 'but it was absolutely impossible to get through them.' The winning time was 1:59.2, neither was in the first three who started respectively from 55, 45 and 38 yards marks. In the Rangers Sports on 5th August, Malcolm won his Heat of the 440 yards but was unplaced in the Final. On 20th August the Morton Sports were held at Greenock and this time the only race that Malcolm ran in was the 880 – Mitchell was absent. Of the 17 entrants, there were only nine starters and Malcolm was quickly in among them: the race was really between him and JJ Watson, of Ayr FC (18 yards), and Watson won by a few yards from Malcolm and Jack Wright, Clydesdale Harriers off 22 yards. Winning time: 2:02.4.
The following year, 1892/93, Walter Malcolm won the same total number of prizes as in the previous summer (15) but were notably upgraded to six firsts, seven seconds and two thirds. The season started at the Morton Sports on 29th April with a double victory: he won the 880 yards handicap 2:06.4 and went on to win his Heat and the final of the 440 yards in 54.8 (Heat time 55 seconds). A month later at the Abercorn FC Sports in Paisley on 20th May, he won both Heat and Final of the 440 yards off 8 yards in 51 seconds. XX At the West of Scotland Sports at what must have been his favourite track (Hampden) on Monday, 12th June, Malcolm broke the national 1000 yards record with a time of 2:21.o. He now held two Scottish records as he headed into the SAAA Championships. They were held at Hampden on 17th June Malcolm fulfilled expectations when he won in 2:01.8 after trailing Hindle of St Mirren FC until 50 yards from the tape to win his first national title. Finally, in the Morton Sports at Cappielow, Greenock, on 12th August he ran in the 600 yards scratch invitation race and finished second to J Rodger of Maybole FC – a very quick 440/880 runner who had never got the beating of Malcolm in any half mile race.
He raced in summer 1894 and was awarded a Clydesdale Harriers gold badge for a good performance but his racing career was basically finished by then and he died early in 1895. He had been an excellent athlete and had played his part in hacking the 880 yards time down to the two minute barrier.