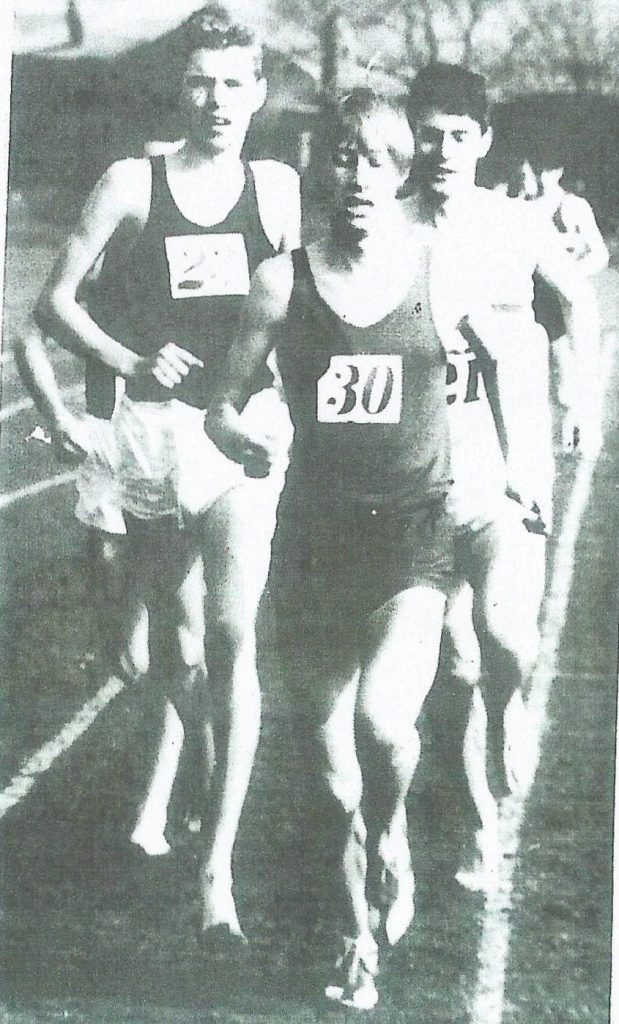 Edinburgh University Sports, 1965: Alistair Blamire (30) and Fergus Murray immediately behind.
Between them these runners could cover at least 880y, Mile, Three Miles, Six Miles, Steeplechase
Because of the fact that that the university year ends in June, and because of the importance of end of year and degree examnination work, their ahletics season actually starts in early April although interest in the wider community in their sports tends to begin in May with events such as the annual Glasgow v St Andrews v Queen's University, Belfast and the Appleton Trophy contest between Glasgow and Edinburgh Universities. For instance the 1965 programme looked a bit like the one below. Not all University events are included but the length of their season and the ratcheting up of the intensity and importance can maybe be seen.
April 17th: Shettleston (103) v St Andrews (95)
April 21st: GU Track and Field Trials – all events for men except 3 and 6; for women 100, 220, 440, 80m hurdles, high, long, javelin
(The death of Sir Edward Appleton, Principal and Vice Chancellor at Edinburgh, one of the world's most distinguished scientists suddenly at home: 72.)
April 24th Aberdeen v Glasgow; Edinburgh v Strathclyde and Queen's
May 1st: Queen's v Glasgow v St Andrews; Strathclyde v St Modans v Aberdeen v Glasgow seconds
May 5th: Bellahouston v St Andrews
May 8th: GU Championships; Octavians v St Andrews
May 15th: UAU Championships; Strathclyde v Newcastle v Aberdeen v Glasgow; St Andrews v VP v Ayr Seaf
May 22nd: Appleton Trophy
May 29th: District Champs
June 5th: Scottish University Championships
June 12th SAAA Decathlon Champs (N Foster); Lanarkshre Police Sports
June 19th: SAAA Relays held at the Scottish Schools Championships
June 26th: SAAA Champs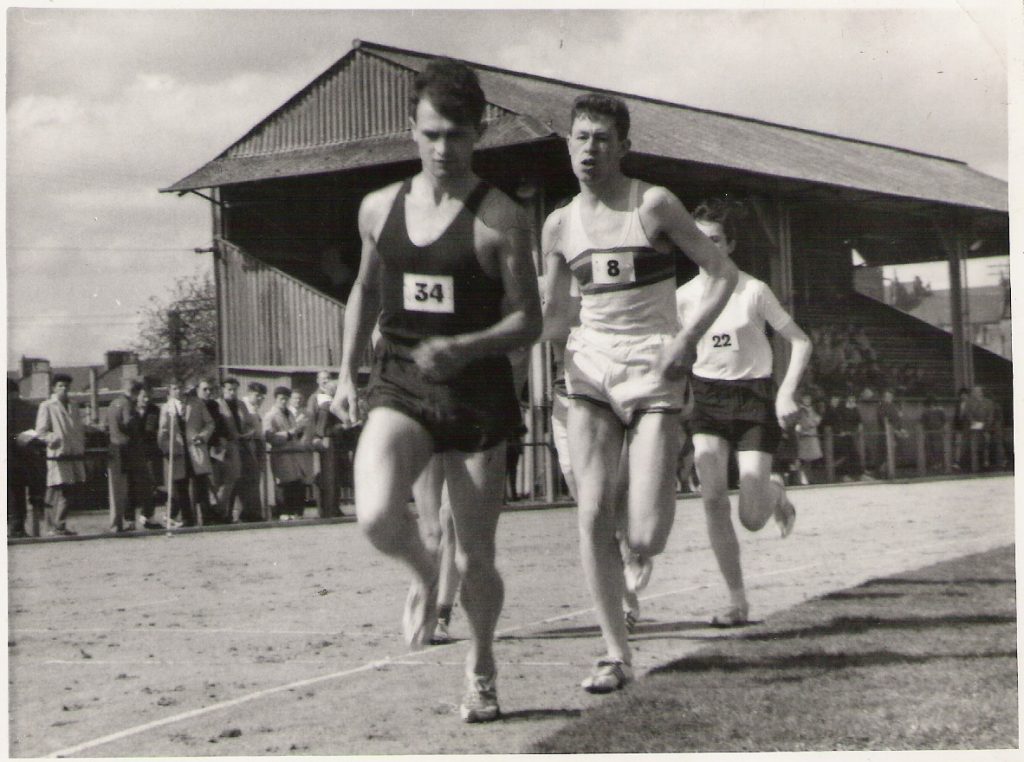 Allan Faulds, Glasgow, leading the field at Westerlands
We can't cover them all here but we can start at the very beginning with the Shettleston v St Andrews at Barrachnie on 17th April where Shettleston won a close fought contest by 103 points to 95. A University man was the key factor in Shettleston's victory – Norrie Foster, who would be competing for Glasgow University that season won four events – 120 yards hurdles in 16.4, 440y hurdles in 61.7, the long jump with 21'9″ and the pole vault with 13'9″. Winners for St Andrews who would figure in university athletics included J Tretheway won the 220 yards, D Dempsey who won the 440 yards, MF Davies who won the 880 yards, M Snow won the javelin, H Cameron the hammer, C Kelk the triple jump and the university won both relays. It was a men only competition and had the match been held at St Andrews, that might have been the difference between success and failure. Minor places count in these competitions.
Foster featured again in the Glasgow University trials on 23rd April at a windy Westerlands when most of the known names were in action. Winners of the A races, there were A and B races in the sprints) are below but note the first real appearance of Brian Scobie in the half-mile where his time was felt to be a very good one in the gusty, windy conditions.
100 yards: WM Campbell 10.1; 220 yards: WM Campbell 22 seconds; 440 yards: Barclay Kennedy 51.2; 880 yards: BWM Scobie 1:56.4; Three Miles: J Bogan 14:57.8; 1500m steeplechase: R Baillie 4:39.4; High Jump: B Jackson 5'4″; long jump: G McInroy 20′ 3″; Triple jump: A Wellins 38′ 4″; Pole Vault: N Foster 12′ 6″; Shot Putt: AL Sutherland47′ 10″; Discus: AL Sutherland 122′ 5″; Javelin: B Seton 149′ 6″.
In the Glasgow v Aberdeen on 24th April , Glasgow's winners were Campbell (100, 220y), Mayberry (440y), Scobie (880y), Baillie (3 Miles), GL Brown (120 and 440 y hurdles), A Jackson and AL Sutherland (Shot); Aberdeen's top men were W Ewing (Mile), I Grant (long jump), Bernie Nottage (triple jump), DH Taylor (discus), A Fowlie (javelin) and G Wilkie (Hammer). Final score: Glasgow 59 points, Aberdeen 4 .
Cherryvale Park in Belfast was he venue on 1st May for the annual triangular match between Queen's College, Glasgow University and St Andrews University. Glasgow with 83 beat Queen's with 67 and St Andrews with 23 points and in the women's match, Queen's had 42 1/2 points, Glasgow 34 1/2 and St Andrews 20. The Glasgow Herald report read: "The contest, which was to have been held on a new all-weather track was transferred to a grass track of doubtful maintenance, because the new one was not ready for use. Offsetting the poor ground conditions for some was the decision to run the 100 yards and the 120 yards hurdles on the back straight with the help of the wind. None of the others was able to benefit in any way and not unnaturally times throughout the day were slow. After allowing lesser mortals in the 880 to act as hares and, what was more important, as windbreakers for him, BWM Scobie (Glasgow) broke away with half a lap to go and won in 2 min 1.2 sec, a time that on any other day but Saturday he would have readily scorned. Queen's, perhaps more knowledgeable of the peculiarities of the field and certainly better equipped as a team than they were at Westerlands last year, won the high jump, triple jump, discus and javelin, and St Andrews, faced with the prospect of another obscure year in athletics were able only to win the mile." A bit harsh on St Andrews who had been producing very good athletes all through their history but, not surprisingly given the relative size of the establishment, were short of numbers. As of course was Aberdeen who also produced good athletes every year. It was not an accident that the two biggest universities, Glasgow and Edinburgh, turned out winning teams on a regular basis. On this occasion, the double winners were Campbell (G 100 and 220y), Brown (G 120yH and 440yH), Corkey (Q W100y and 220y) and F Fernie (G WHJ and WShot).
On the same day, Strathclyde took on Aberdeen University, St Modans and Glasgow University second team. Strathclyde won most points (48) from St Modans (32), Aberdeen (14) and Glasgow seconds (6).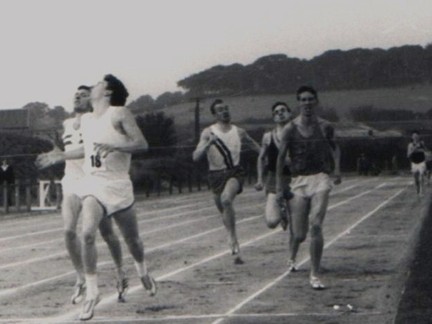 Brian Scobie winning an invitation 880 yards race at Westerlands
The Glasgow University championships were again held in dreadful weather with wind and rain and, maybe related to this, small numbers of competitors. This was most evident in the triple jump where Norrie Foster was the only competitor and 'won' with a single jump. There were only two competitors in the 880 yards, three miles, 440y hurdles, long jump and steeplechase. The 120y hurdles was cancelled because there was only one runner. The Biles Cup went to RD Baillie who won the Three Miles in 14:37.8. The administrators on the day were again creative with the sprinters allowing them to run with the wind and the 100 was won by WM Campbell in 9.4 seconds. Foster won all four jumps and the hammer, and was second in shot and discus. Sutherland won both shot and discus. In the women's events, JP Murray won 100 yards, 80m hurdles and long jump and J Semple won discus and javelin. And at Nethercraigs, Bellahouston beat St Andrews 133 to 68.
On 14/5th May the first major championships of the season took place at Wyncote Sports Ground in Liverpool. The Scots did well – two gold medals on the Friday night and then four gold, three silver and three bronze on the Saturday indicated that university athletics north of the border were in good fettle. WM Campbell won the 100y on Friday night and the 220 on Saturday, LM Bryce won the hammer, Miss EK Patrick (St A) won the 80m hurdles and the long jump, GL Brown won the 440 yards hurdles on the Friday evening and was second in the 120y hurdles on Saturday in 15.2 seconds, AB Kennedy of Glasgow was second in the 440y and W Ewing of Aberdeen was third in the Mile in 4:10.3. Back at home there was a four cornered match between Strathclyde, Newcastle, Aberdeen and St Andrews which was won by Newcastle from Aberdeen, Glasgow and Strathclyde.
The Appleton Trophy was always well contested and on 22nd May at Craiglockhart Edinburgh won: by 83 to 51 in the men's contest and in the women;s contest Glasgow won by 42 to 35. Norrie Foster was top man for Glasgow ith wins in the 440 yards,long jump and pole vault. For Edinburgh Fergus Murray won the mile and was first equal in the three miles – an event in which he coulkd easily have been first. In the women's contest, Miss A Dixon won Long Jump, shot putt and discus and Miss P Kerr won both 100 and 220 yards. In the men's events E Osbourne won both 100 and 220 hurdles for Edinburgh before B Kennedy won the 440 for Glasgow. J Steels took the 880 yards for Glasgow and Hugh Stevenson won the 120 yards for Edinburgh. In the field events AL Sutherland (G) won both shot and discus, Santini (G) won the triple jump and LM Bryce won the Edinburgh title.
In June 1965 at the Scottish Universities championships, Foster won no fewer than four events, establishing himself as the top universities multi-eventer. Other winners included Hugh Stevenson (120y hurdles,), M Sinclair (E 880y from Scobie), Fergus Murray (Mile and Three Miles).
Later in June, at the Scottish Schools Championhips, Glasgow University won the SAAA Senior relay titles over the 4 x 110 yards (McGeoch, Murdoch, Foster and Campbell) and 4 x 440 yards (Foster, Scobie, Kennedy, Campbell) distances. The latter was won in very controversial circumstances when after overcoming an eight or nine yards deficit on Campbell, Ross Billson of Ayr Seaforth fell through the tape at the same time as the University man. Not all were happy with the judges decision but it stood.
Billson gained some compensation on 26th June in the SAAA Championships proper when he won the 440 yards in 49 seconds after Campbell had withdrawn because of a knee injury. Campbell had however won the 100 yards and 220 yards in 9.5 and 22.7 seconds. E Osbourne of Edinburgh University was second in the 100 making it a university 1-2. GL Brown (G) was third in the sprint hurdles, Foster (G) won the pole vault, in which C Balchin (E) was third, and was third in the long jump, AL Sutherland (G) was second to D Edmunds (Strathclyde) in the shot putt and L Bryce (E) won the hammer with F Scott (E) third. Among the Junior winners, JRA Blamire (E) won the Mile, H Stevenson won the 120y hurdles and was third in the high jump and R Morrison*S) was second in the hammer. An interesting extra was the Scottish Schools 1500m steeplechase held on the same day where D Gillon of George Watson's won from J Fairgrieve of Currie Secondary in 4:25.7.
That effectively ended the Universities season although their members continued to compete as individuals – some in the university colours, many for their own 'home' club – several of whom gained international honours before term started again in October.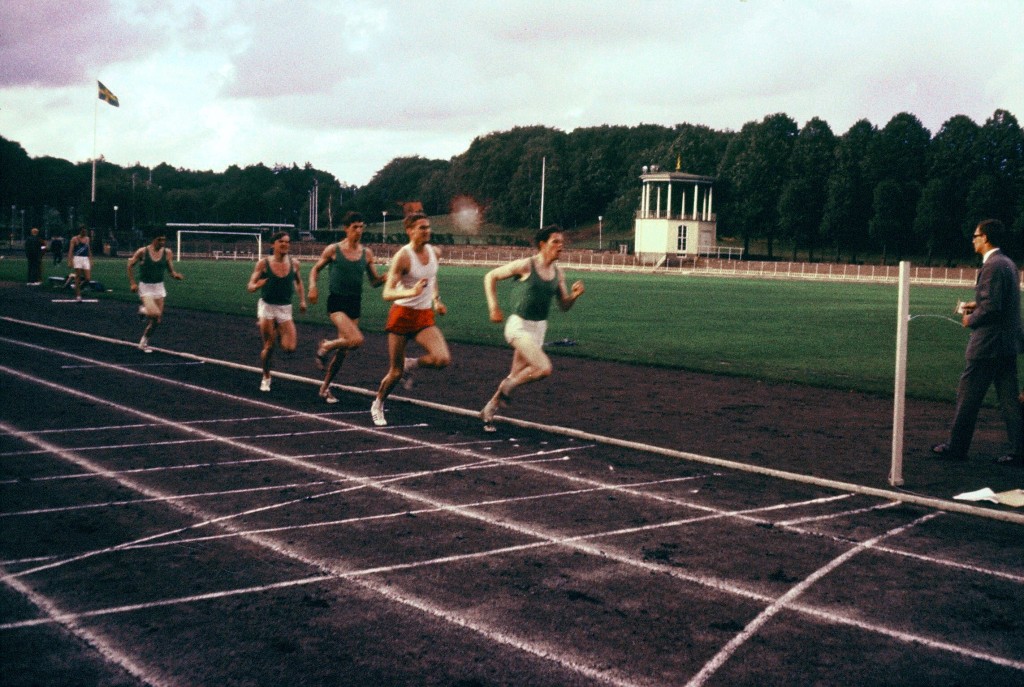 Summer 1966 started as in previous years with all the April fixtures and trials, and all five were in action on 22nd April. The annual Glasgow v St Andrews v Queen's was held at St Andrews, and Aberdeen v Edinburgh had been enlarged to include Strathclyde in Aberdeen. Edinburgh (90) defeated the others, St Andrews were on 75 and Strathclyde 15. Aberdeen's Bernie Nottage won both sprints plus the triple jump and J Dixon won the 440 yards but in the middle distance events, it was Edinburgh students who shone with C Elson winning the Mile and A Blamire the Three Miles. Edinburgh went on to win the 120y hurdles, 440y hurdles, high jump, long jump, pole vault and all the throws events thanks to LM Bryce and P Eddy. The 'Herald' described the women's performances as moderate but nevertheless K Goodfellow of Edinburgh won the 100 yards (12.2), 220 yards (30.3) and long jump (14′ 3″).
In the match at St Andrews, Queen's won (86) from Glasgow (54) and St Andrews (45). Queen's won largely because of the wonderful multi eventer and pole vaulter Mike Bull (who won long jump, shot putt and pole vault) and J Kilpatrick (100 and 220 yards). Glasgow had three double winners in Dick Hodelet who won both 440 yards and the half mile, RD Baillie who had the difficult double of Mile and Three Miles and GL Brown who won both hurdles races. Other Scottish victors were R Souter (G) in the high jump, C Durant (St A) javelin and H Cameron (St A) hammer.
The following week, DM Edmunds, competing for Strathclyde against St Andrews set a new record for the St Andrews ground in the shot putt with 49′ 3 1/2″. He also won the discus with 136; 9 1/2″. G Muir (S) won 100y, 220y, long jump and triple jump setting a ground record for the long jump of 23′ 5 1/4″ The home team won by 67 to 49 in the men's match and 44 to 23 in the women's. There was another new university competing against Glasgow and Aberdeen at Westerlands – Heriot-Watt was the second newcomer to the ranks of Scottish universities. They finished third (26 points), behind Aberdeen (76) with Glasgow winners (89). Where WM Campbell was the sprint winner in previous years, this time round it was Bernie Nottage of Aberdeen who took the 100 and 220 yards. Campbell was meanwhile competing for Grascube Harriers against Pitreavie and Dumbarton in a League fixture. The other double winner was Dick Hodelet (G) in the 440 and 880 yards events. Glasgow's women beat Aberdeen by 63 to 36 with no representation from Heriot-Watt.
14th May was a packed day of athletics for Scottish universities' athletes ancient and modern. Edinburgh had the university's centenary sports day, Glasgow had their own championships, the two new teams (Strathclyde and Heriot-Watt) faced off against each other at Redford and St Andrews hosted Aberdeen with the women's teams including Dunfermline College of Physical Education to make it a triangular contest. The Athletics Weekly report on the centennial games read:
"This being their centenary meeting, Edinburgh University included seven invitation events in the programme, all of which produced fine performances. Howard Payne added one inch to his Scottish all-comers record in the hammer with Lawrie Bryce a good second. Dave Stevenson's pole vault clearance was the best in Britain to this date.
100y: E Osborne 19.5; 220y: N Patrick 23.7; 440/880y: M Sinclair 52.9/1:52.3; Mile: AF Murray 4:22.4; 120y hurdles/220y hurdles/440y hurdles: H Stevenson 16.3/26.9/62.1; High Jump: K Chubb 5′ 8″; Pole Vault: P Balchin 13m; long jump: D Seale 20.3; triple jump: G Kerr 42′ 7″; Shot/Hammer: L Bryce 40'3″/184′ 11″; Discus/Javelin: P Eddy 118'10″/159′ 4″.
Women: K Goodfellow 199y/220y 12.5/27.9; 440y: M Redhead 66.4; Discus/Javelin: E Shedden 82′ 3 3/4″/100 – 1/2″
Invitation Events: 100y WM Campbell (Garscube H) 10.3 ; 880y: C Douglas (Teviotdale) 1:56.9; Mile I McCafferty 4:15; PV: D Stevenson (ESH) 15.0; Shot Putt: D Edmunds (Strathclyde) 47′ 8 1/2″; Hammer: H Payne 200′ 4″; Scots Hammer: I McPherson (Pit) 123′ 2″.
10 Miles Road Race: AH Brown (MYMCA) 50:04 (in front of A Wight (EU) 50:14, D Macgregor 50:34, Alex Brown 51:00 and G Bryan-Jones (EU-J) 51:07.
In Glasgow there were four wins for Dick Hodelet (220y, 440y, 880y and Mile), three for Norrie Foster (discus, shot putt and hammer plus second in the javelin) and two for GL Brown in the hurdles races. Hodelet won the Biles Cup for his 880 yards win in 1:53.5 which took 2.8 seconds of JR Boyd's time of 1957. Other winners included J Hickey, a very talented Irishman no studying at Glasgow, in the Three Miles in 14:48.9, Jim Bogan won the Steeplechase in a new record of 9:59.4 – Ray Baillie was second in both of those races, Robin Souter in the high jump and B Quinn in the 100 yards. Miss P Fernie set a new record in the shot putt of 32′ 1 3/4″and also won high jump, javelin and discus.
At Redford Barracks, Heriot-Watt beat Strathclyde by 98 1//2 points to 82 1/2. Adrian Weatherhead had a treble when he won the 880, Mile and javelin and I Dobson also won three events – both hurdles races along with the pole vault. The Edinburgh University centennial had several invitation events and two of Strathclyde's men – D Edmunds and Gordon Muir – were competing at both events since the grounds ere so close. Edmunds won the shot and discus and Muir the 100y and long jump. In the Aberdeen v St Andrews, Aberdeen won 72 – 45 for the men and DCPE won the women's with 69 points to St Andrews 29 and Aberdeen's 18.
Two very good new names among the distance runners now in the frame – sub-four miler Weatherhead for Heriot-Watt and Irish international Hickey for Glasgow.
The British Universities Sports Federation held their championships on 21st May and Lawrie Bryce (E) retained his title with a throw of 179′ 3″ and another Edinburgh competitor, PT Scott, was third. In the long jump HC Robertson (G) was second 23'8″. Dick Hodelet had a real go at winning the half-mile by breaking away from Dave Cropper halfway down the back straight but was caught almost on the line to finish second in 1:54.8 – only one fifth of a second separated them. Bernie Nottage of Aberdeen had two third places – the 100 yards and the 220 yards. RL Brown injured his instep in an early heat and could only finish third in he final. Robin Souter (G) was fourthin the high jump having cleared 6 feet.
The District championships were held on the last Saturday in May as usual and, as usual, there were many University medal winners. In the West the winning students were Hodelet in the half mile in 1:52.2, HC Robertson in the long jump with Foster second and the triple jump, D Edmunds in the shot and AL Sutherland in the discus. In Edinburgh the East District title winners were Nottage in the 100 (9.8) and 220 (22.1), AF Murray (three miles), W Ewing (A) steeplechase, and LM Bryce in the hammer.
The peak of Scottish Universities athletics is the Scottish Universities championships and they were held on 4th May at Craiglockhart. Top man was Aberdeen's medical student from the Bahamas Bernie Nottage who won the 100 yards in 9.9 and 220 in 22.2. Other doubles were from HC Robertson (G) in long and triple jumps and DM Edmunds in shot and discus. There were three best championship performances – by Edmunds in the shot (49'5″), LM Bryce (E) hammer (183′ 6″) and Miss J Goodall (A) in the 880 yards (2:28.0). The men's team trophy (the Rosebery Cup) went to Edinburgh (63 points to Aberdeen's 44), the women's contest was won by Edinburgh (40) from Aberdeen (29) and the contest between Edinburgh and Glasgow, combined men's and women's teams, for the Appleton Trophy which hadbeen included here, was won by Edinburgh, 103 points to 70.
Aberdeen had six first places – Bernie Nottage in both sprints, John Dixon in the 440, Bill Ewing in the Mile, Doug Fowlie in the javelin and the 4 x 110 yards relay. Other winners were Sinclair (E) from Weatherhead (HW) in the 880, Murray from DG Bryan-Jones (both Edinburgh) in the three miles, Stevenson (E) from Foster (G) in the 120y hurdles, Foster from Stevenson in the 440y hurdles, Souter (G) high jump and Balchin (E) pole vault. Women's winners were K Goodfellow (E) 100 and 220y, A Barron (A) 440y, A Dixon (E) 80m hurdles, P Fernie (G) high jump, R Mawer (St A) long jump, E Taylor (A) discus, E Sheddon (E) javelin and Glasgow won the relay.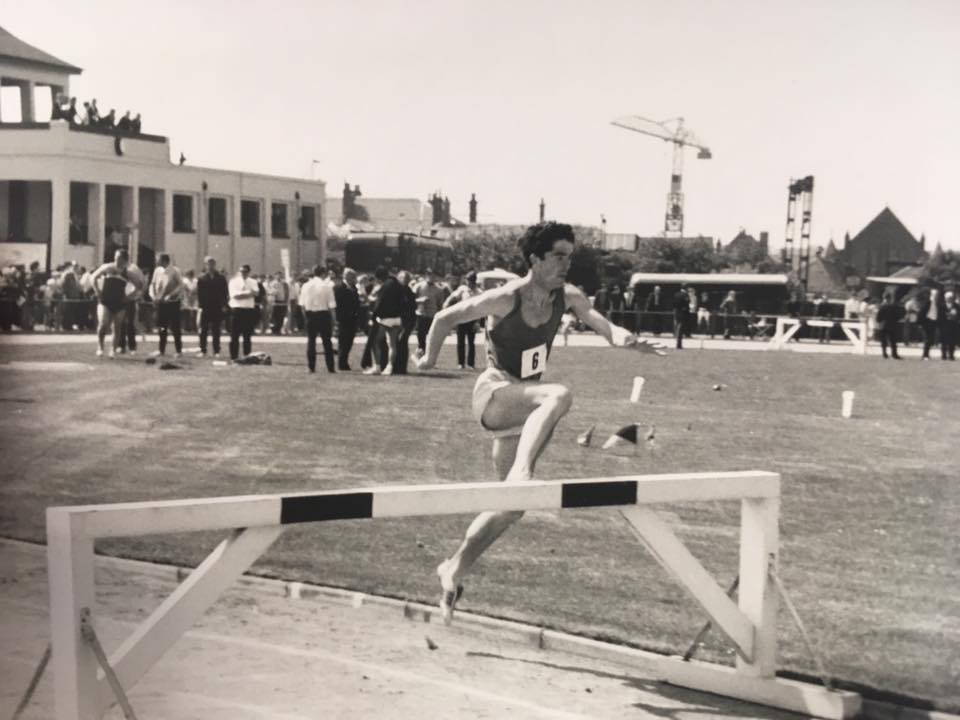 Gareth Bryan Jones, Westerlands, 1968, BUSF Championships
There had been several changes in student athletics since 1964 that were important in themselves and for what the promised for the future. It is more than just the arrival of more talented athletes such as Gareth Bryan-Jones and Bernie Nottage at Aberdeen. The Universities Championships and the Atalanta Club were limited to the four 'ancient' universities but in 1964 Glasgow's Royal College of Science and Technology (the 'Tech') became Strathclyde University and in 1965 began to compete against the 'Big Four' as an equal. In 1966 Heriot-Watt University appeared on the scene and with athletes like Adrian Weatherhead and Martin Sinclair had a strong men's team. The four had become the six. And it would not stop there – there would be more and more universities appear on the scene from the South-West to the Highlands and Islands. Stirling, Paisley, Glasgow Caledonian and many more would enter the stage. And the Atalanta Club disappeared to become simply a Scottish Universities team. In 1966 the Appleton Trophy meeting which had been an annual fixture in its own right between Glasgow and Edinburgh Universities, was contained within the Scottish Universities Championships. It returned to its former status in 1967 but the pressure on inter-university fixtures with more universities and a limited time span was increasing. The university major fixtures at the start of 1967 were as follows.
22nd April: Glasgow v St Andrews, Westerlands; Edinburgh v Strathclyde v Dundee Hawkhill
29th April: Appleton Trophy, Craiglockhart, Edinburgh v Glasgow; St Andrews v Heriot-Watt v Strathclyde.
5th May: Edinburgh v Glasgow v Aberdeen v Leeds v Durham v Carnegie v Sheffield at Durham; Heriot-Watt Championships; Aberdeen University v Glasgow v Jordanhill College.
13th May: Glasgow University men's championship; Edinburgh University championships.
20th May: Edinburgh University v Edinburgh Southern Harriers v Octavians
27th May: District Championships
3rd June: Scottish Universities Championships, Westerlands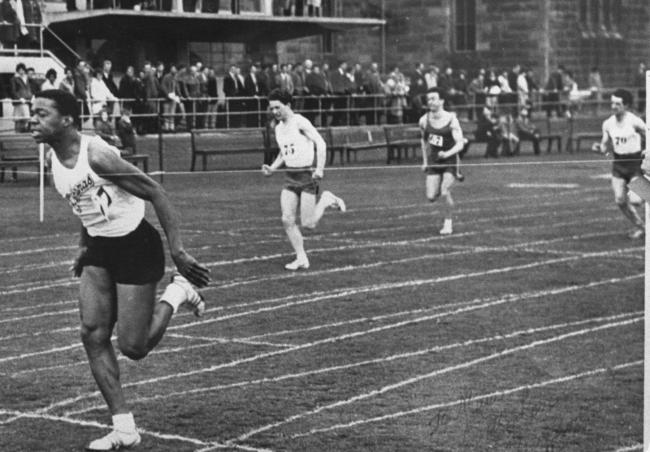 Bernie Nottage
Bernie Nottage was a Bahamian international sprinter and politician who died earlier this year (28 June 2017) at the age of 71. He was a medical student at Aberdeen University and won Scottish and British Universities titles in their colours. In three consecutive years, 1966/67/68, he won both 100 yards and 220 yards at the SAAA Championships – this at a time when 'Ming' Campbell, Les Piggott and Don Halliday were sprinting well. Only three men had achieved the feat – Campbell, Willie Jack and Alf Downer. He ran for Bahamas in the Pan American Games in 1967 (sixth in 200m final) and in the Mexico Olympics (1968) in the 100m, 200m and relay where he was part of the team that set a new national record. I quote from the obituary in the Scotsland in June:
Bernie's medical studies were his priority, although he did find time to enjoy a social life and at one point sang in a band. A smart dresser, it was always known that Bernie was at the track when his expensive suit could be seen hanging up in the changing room at a time when others could not aspire to such tailoring. A well-built, powerful athlete, he was a formidable presence on tracks here and elsewhere. Les Piggot, who competed in the 1968 and 1972 Olympics, enjoyed a number of duels with him. He commented: "In the best possible sense, he was a bit of a thorn in the flesh for us Scottish sprinters! He had bags of natural ability and a wonderful rhythm to his running. A smashing guy who was also very humble." Prior to coming to Aberdeen Bernie had competed for the Bahamas in the 1962 Central American and Caribbean Games, in the sprint relay in a team which set a new national record, but it was really only after coming to Scotland that his athletic career began to fulfil its early potential. One of his inspirations was his country's greatest ever sprinter, Tom Robinson, a Commonwealth Games gold and silver medallist with whom he ran in the national relay team at the Mexico Olympics and whose supremacy he sought to challenge. While at Aberdeen Bernie also represented Scotland in four internationals between 1966 and '69, notching a sprint double in the first against Wales and Midland Counties at Birmingham and contributing to a sprint relay success in 1968 at Grangemouth against England,Wales and Northern Ireland with teammates Ian Turnbull, "Ming" Campbell and Les Piggot. His early interest in politics, popularity and sporting stature led to Bernie being elected President of Aberdeen University Sports Union, a role he carried out with distinction. "
[Read more at: https://www.scotsman.com/news/obituaries/obituary-bernard-j-nottage-bahamian-international-sprinter-and-politician-1-4508147} ]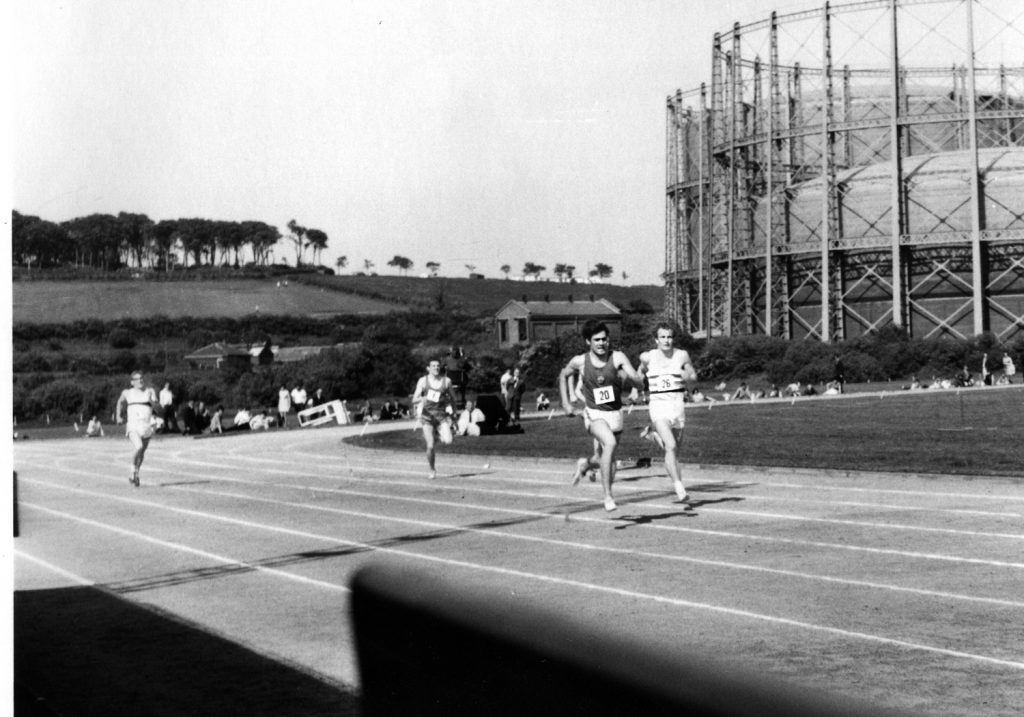 HC Robertson was the star of the Glasgow v St Andrews match at Westerlands on 22nd April when he won four events – long jump, triple jump, 120 yards hurdles and 440 yards hurdles. Glasgow won the men's match by 104 to 73 and the women's by 76 to 43. Other winners included D Walker (G) 100 yards, K Clark (G) 220 yards, 440 yards J Gilligan (G), W McDonald (G) 880 yards, J Bogan (G) Mile, R Heron (St A) three miles, A Jackson (G) high jump, AG Pollock (G) pole vault, G Newsom (St A)) shot putt and javelin, A Fraser (G) discus and S Cameron (St A) hammer. St Andrews won the 4 x 110 yards relay. For the women GW Adams won no fewer than three events – 100y, 220y and 440y – A Ainslie (St A) won the 880y, N Barron (G) the 80m hurdles, F Fernie (G) the high jump and shot putt, L Monteforte (G) long jump, J Paris (G) Javelin, A Dale (St A) discus, and the relay was won by Glasgow.
A very good start to the season for Glasgow on a Saturday when none of the other Universities were in action.
The Appleton Trophy contest between the combined men's and women's teams at Craiglockhart on 29th April resulted in a convincing win for Edinburgh by 109 points to 82. In 1967 however, Aberdeen was included in a separate three way contest with the resultant score being Edinburgh 76, Aberdeen 66 and Glasgow 43. These places were neatly reversed when Glasgow (39) was first, Aberdeen (36) second and Edinburgh (33) third. The results were:
100y 1. B Nottage (A) 10.4 100y (women): 1. W Adam (G) 12.5
220y: 1. B Nottage (A) 22.5 100y (women) 1. W Adam (G) 27.8
440y: 1. I Hathorn (E) 57.2 440y (women) 1. A Barron (A) 65.6
880y 1. M Sinclair (E) 1:57.9 880y (Women)
80m hurdles: 1. M Fleming (E) 14.3
120y hurdles: 1. GL Brown (G) 15.9
440y hurdles: 1. GL Brown (G) 57.3
high jump: 1. G Balfour (E) 5′ 10″ high jump (women) 1. F Fernie (G) 4′ 8″
long jump: 1. HC Robertson (G) 21′ 6 1/2″ long jump (women) S McRoberts (E) 15′ 8 1/2″
triple jump: 1. HC Robertson (G) 43′ 1″
pole vault: 1. S Seale (E) 12′ 6″
shot putt: 1. D Clarke (A) 40'7″ shot putt (women): 1. E Taylor (A) 35′ 6″
discus: 1. D Clarke (A) 115′ 7″ discus (women): 1. E Taylor (A) 96′ 10″
javelin: 1. DG Fowlie (A) 179 4 1/2″ javelin (women): 1. W Paton (A) 90′ 7″
hammer: 1. PJ Scott (E) 157′ 7 1/2″
Relay: 1. Aberdeen relay (women) 1. Glasgow
Results were shown in detail to show the improvement in the Aberdeen scores with 6 first places of 14 events in the men's match compared with 5 for Edinburgh and 4 for Glasgow they had a higher proportion than at any time in recent years. Maybe the students national championship would be tighter this year.
A new name for Scottish university athletics followers appeared on 6th May. The Rowland Shield was contested by Edinburgh, Strathclyde, Aberdeen, Glasgow, Durham, Carnegie and Sheffield at Durham and the teams finished in the above order. Only five of the individual events were won by students from south of the border – and one of these was MR Lindsay, the Scottish international shot putter, who won two of the five. The Scots victors were as follows.
B Nottage 100yds/220yds 10.2/22.7 seconds; GL Brown (G) 120yds hurdles/ 440 yrds hurdles 15.8/55.8; G Bryan-Jones (E) steeplechase 9:13.4; high jump G Balfour (E) 5;11″; HC Robertson (G) long jump/triple jump 23′ 3 1/4″/44′ 10 1/2″'; S Seale pole vault 12′ 6″; javelin D Fowlie (A) 186' 4″; hammer LM Bryce (S) 186'0″.
At home Aberdeen beat Glasgow and Jordanhill TC 63 to 58 to 56. And in Edinburgh Doug Gillon won four events at the Heriot-Watt championships – he won the 880 (2:06.1), Mile (5:12.3), Three Miles (16:20 and 440 yards hurdles (61.3).
GL Brown had been competing at a very high level for several years and on 13th May, 1967, he won the Biles Trophy for the best performance at Glasgow University's Sports. The closed championships at the various universities were always a good indicator of how they were liable to perform in the Scottish universities later in the month. Brown won both hurdles events, the 120y in 15.3 and the 440 in 56.4 and he was unlucky not to win the 100y sprint where he was second. A feature of this race was that HC Robertson, better known as a jumper, won in 10.4 seconds which, when added to the triple jump, gave him a double. GL Brown won his events, Jim Bogan won both Mile and 3000m steeplechase events and on the women's side of the meeting, CF Fermie won four events (high jump/ discus/javelin/shot putt) and W Adam three (100/220/440).
In Edinburgh first year student Miss M Fleming won four events (100, 220, 440, 80m hurdles) and two men each won three events – Hugh Stevenson took all three hurdles races and SD Seale won pole vault, long jump and discus. Edinburgh was the only university to hold a 220 yards hurdles race – one of the very few clubs university or not to hold such an event. Stevenson won that one along with the more usual 120 yards and 440 yards hurdles.
A new name appeared in the West District championships on 27th May: John Myatt who was studying at Strathclyde and finished third in the mile behind Ian McCafferty and Lachie Stewart. HC Robertson won both jumps-for-distance, GL Brown won the hurdles events, D Edmunds won shot and discus and LM Bryce, now at Strathclyde University, won the Hammer. Meanwhile in the East Nottage won the 100 yards in a record equalling 9.8 seconds but dramatically lowered the 220 time from 22.1 to 21.7 seconds. His team mate at Aberdeen, I Turnbull was third in the 100 yards. Martin Sinclair (E) won the 880 yards with JA Macfie (E) third, winning time 1:53.8. Gareth Bryan-Jones won the Three Miles from Ian Young (both EUAC) in 13:58. W Allan and A Blamire (both EUAC) were second and third behind a very good steeplechase win for W Ewing in 9:06.2. G Balfour (E) won the high jump, P Gammell (E) was second in the long jump and in third place in that event was S Rogers of Dundee University – the first appearance that we have so far of anyone from the very new Dundee University winning a medal in one of the main championships. In the pole vault, Balchin and Seale (both EUAC) were second and third to erstwhile team mate DD Stevenson, Fowlie of Aberdeen University won the javelin, Wilkie of Aberdeen was second in the hammer and Don Clark, also Aberdeen, was second in the discus.
The University championships which had been exclusive to the four ancients, now included Strathclyde, Heriot-Watt and Dundee with others lurking on the sidelines about to come on to he pitch seeking some of the action. Winners on 3rd June when they were held at Westerlands were as follows.
100y/220y: B Nottage (A) 10.1/22.8 440y: G Miller (S) 49.9 880y: M Sinclair (E) 1:58.6
Mile: AT Weatherhead (HW) 4:14,7; Three Miles: I Young (E) 14:16 Steeplechase: GB Jones (E) 9:17.8
120y hurdles: R Davidson (E) 15.8; 440y hurdles: H Stevenson (E) 57.2
high jump: R Souter (G) 5'10"; long jump: H Robertson (G) 23′ 0 1/4″; triple jump: H Robertson (G)
javelin: S Seale 181′; discus: D Edmunds (S) 139′ 7″; shot: Edmunds 49′ 8″; hammer: Edmunds 143′ 9″
pole vault: S Seale (E) 13;
Women: 100y W Adam (G) 12.1; 220y: G VD Lippe 27,5 440y: A Barron (A) 60,8; 880y Barron 2:28.9
80m hurdles M Fleming (E) 13.4; high jump: S Dennler (E) 5;2″; long jump: L Monteforte 15′ 10 1/2″
Discus: E Taylor (A) 107 5 1/2″ shot putt: E Taylor 57.6″javelin: E Shedden (E) 115′ 2″
The contending universities' championship was won by Edinburgh from Glasgow with the others being Aberdeen, St Andrews. The quality was excellent. eg in the mile there were Weatherhead, Dave Logue, John Myatt, in the three miles A Blamire and John Myatt finished second and third behind Ian Young while in the steeplechase Willie Allan and Jim Bogan were behind Gareth Bryan Jones.
As usual the season continued with members of the various university teams continuing to compete and excel, 1967 had been a good year for student athletics – many records being broken by women as well as by men, many new faces appearing that would soon be senior Scottish and British internationalists and at least two Olympians. There were also more new universities – Dundee being the latest to joining what had formerly been a pretty exclusive club along with Heriot-Watt and Strathclyde. The two teacher training colleges at Jordanhill and the Dunfermline Training College in Edinburgh for women – were also taking the varsity teams athletically. What would 1968 bring?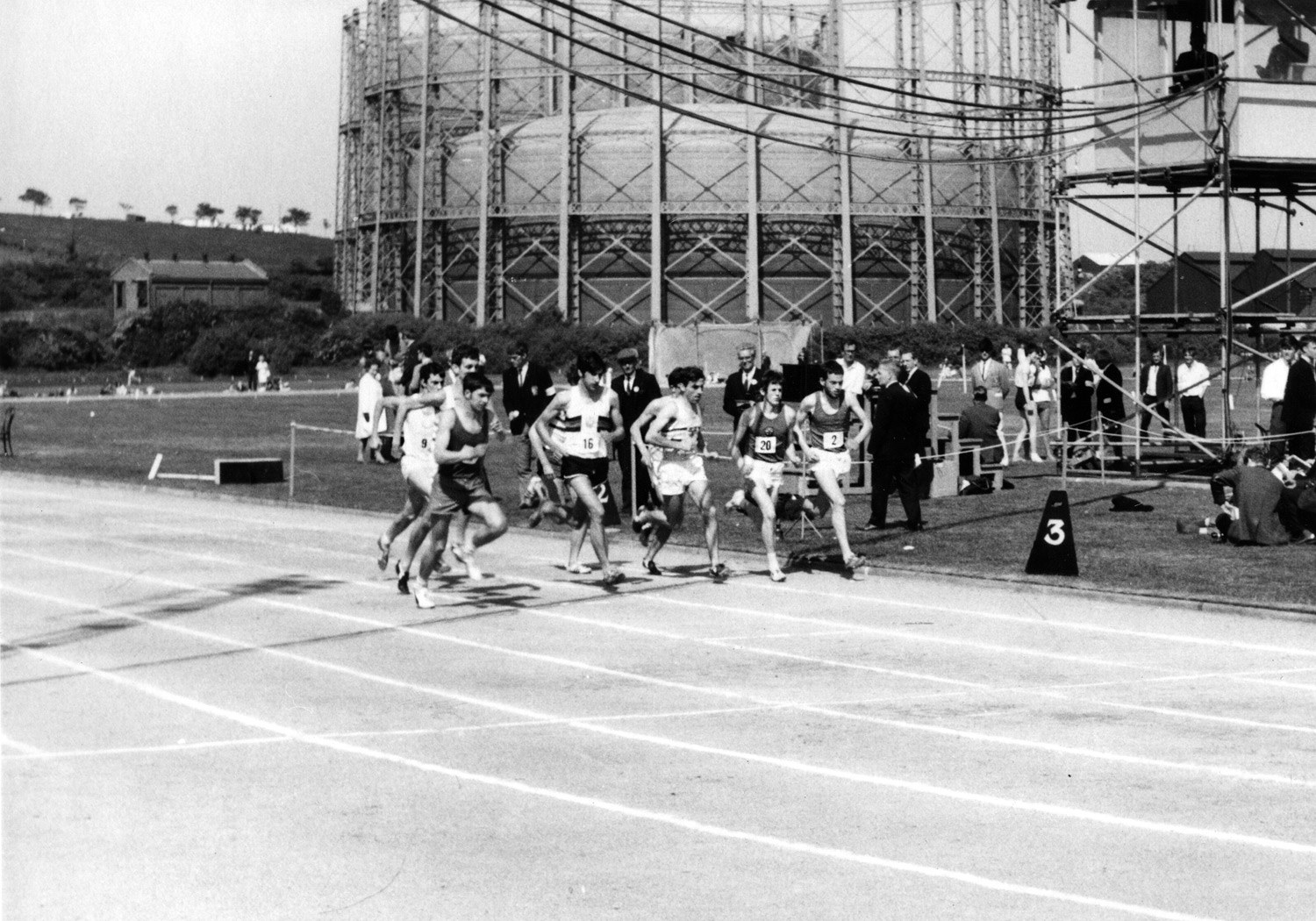 British Union of Students Federations (BUSF) Championships at Westerlands in June 1968
Note the television gantry and power cables above the track for nationwide coverage
Glasgow University was the first to actually publish its fixture list for the new 1968 season. As it appeared in the 'Glasgow Herald' of 15th April, it read as follows.
April

17th
: Team Trials at Westerlands;
19th/22nd
: Irish tour – Queen's Belfast; Unversity College, Dublin;
24th
: Trials, Westerlands;
27th:
Edinburgh, Westerlands; 2nd team, Edinburgh
May

1st:
1st team v Heriot-Watt; Strathclyde, Westerlands;
3rd/4th:
1st Team, Durham Trophy, Durham; 4th: 2nd team v Aberdeen, Westerlands;
8th:
1st team v Victoria Park, Bellahouston, at Scotstoun; 2nd Team v Jordanhill, Jordanhill;
11th:
Glasgow University championships, Westerlands;
15th:
Women's Meeting, Westerlands;
18th:
1st team v Aberdeen and Dundee, Aberdeen;
22nd:
1st Team v Edinburgh Southern, Westerlands:
25th:
Western District Championships;
29th:
1st team v Jordanhill and Strathclyde, Jordanhill;
31st – 1st

June

:
Scottish University Championships, St Andrews.
June 12th: 1st team v Strathclyde and Queen's Belfast, Nethercraigs; 14th/15th: BUSF Championships, Westerlands; 18th: 1st team v Glasgow Schools, Westerlands; 21st/22nd: Scottish championships, Grangemouth; 24th: 1st team v Trinity College, Dublin, Westerlands.
That is the length of the Universities athletics season as defined by the club fixture list. Note the new teams on the schedule from 1965 – and we now have actual head-to-heads with Dundee, Jordanhill TC and Trinity College from Dublin appears twice in the season instead of once. And where is St Andrews in the list? Of course matches with Jordanhill (at Jordanhill) and Strathclyde University (Nethercraigs) the matches were pretty well home meetings and as well as saving on travelling time and expenses, a full turn out of selected athletes was pretty well guaranteed.
While Glasgow was on its Irish trip, Edinburgh University was defeating Aberdeen (86 – 85) and Heriot-Watt (91-88) at Saughton as part of the new Scottish Universities League. Note how close the scores are – one point and three points by the strongest team in student athletics. The only double winners were from Aberdeen Bernie Nottage (sprints) and I Grant (both jumps for distance).
The next week, Glasgow and Edinburgh came head to head yet again in the annual battle for the Appleton Trophy, amnd again Edinburgh came out on top winning the men's contest 98 – 85 and the women's 60 – 57. I O'Muircheartaigh (Morarity) won two events – the 440 in 49.5 seconds, and the 220 in 22.6 seconds. For ERdinburgh Gareth Bryan-Jones won the three miles in 13:44.6. Other winners of note were Jack Macfie in the 880 for Glasgow in 1:56, Alistair Blamire (Edinburgh) the mile in 4:18.1, HC Robertson of Glasgow won the long and triple jumps and one of the new faces to win was Bill Gentleman in the hammer for Edinburgh. Top women were W Adams of Glasgow who won 100, 220 and 440 yards, A Saddler of Edinburgh who took both discus and shot.
The same middle distance men all performed well in the Rowland Cup match at Durham on 4th May with Macfie, winning the half-mile in 1:54.2, Blamire the three miles in 13:58.6 and Bryan-Jones the steeplechase in 8:53. The result was a win for Edinburgh with Leeds Carnegie second, Glasgow third, and Strathclyde fourth. Edinburgh's women were second to Durham, beaten 60 – 57. Doug Edmunds (S) won the discus and was second in hammer and shot.
Back at home on 11th May, the Biles Trophy at Glasgow University Sports was won by high jumper Robin Souter who added an inch to the existing record when he cleared 6′ 1″. O'Muircheartaigh won both sprints. The last Saturday in May was always the District Championships and on `8th May, the only University athletes to win titles were throwers from Strathclyde University. DM Edmunds won the shot putt and discus throw and LM Bryce won the hammer. Other university men to win medals were O'Muircheartaigh second in the 220, R Cassie (G) was second in the 440y hurdles and R Souter was second in the high jump. Title winners in the East championships were IW Turnbull (A) ho won both sprints beating Bernie Nottage in the 100, G Bryan-Jones who won both three miles and steeplechase in 14:00.8 and 9:09.2, Balfour (E) won the high jump from team mate R Bruynooghe and Heriot Watt's D Cunningham, and J Fowlie (A) won the javelin from JA McKenzie (A) and R Burnett (H-W). Other placed athletes were JMM Dixon (A) second in the 440, JA Macfie (E) second in the 880, I Hathorn third in the 880, D Logue (E) third in the mile, A Blamire (E) second in the three miles, I Young (E) third in the three miles, RA Davidson (E) third in the 120y hurdles, AG Webb (E) third in the 440y hurdles, S Seale (E) second in the pole vault, T Tangen (H-W) second in long jump, JW Keddie (H-W) third in triple jump, P Myklatun (H-W) third in shot, Fowlie (A) second in the discus, T Beare (D) third in the discus, RT Cross (H-W) third in the hammer, and JA McKenzie (A) second in the javelin. Many, many more students in the medals in the East than in the West. Harder to win in the West – or better styudent athletes in the East? The championships would sort that one out.
The University championships took place on 1st June at St Andrews and there were seven universities competing. It was one of the rare occasions when the field events eclipsed the track events in excitement and maybe even in standard of performance. There is no more dramatic event than the javelin and this time David Birkmyre of Strathclyde set a new championship best performance of 210′ 3 1/2″. His second best throw of 207′ 8″ indicated that this was no fluke. The record had previously belonged to Fowlie of Aberdeen who threw 199′ 7″ which would have been a championship best performance in its own right. Stewart Seale of Edinburgh not only produced a personal best in the pole vault but a championship best of 14′ 3 1/4″. DM Edmunds of Strathclyde won the shot and discus and LM Bryce won the hammer.
On the track, Bernie Nottage won the sprint double and Gareth Bryan-Jones won the Mile in a ground record of 4:13.5 and Alistair Blamire won the three miles in 14:16.8 which equalled the championship record. The other events were won by I O'Muircheartaigh (G 440y), Jack Macfie (E 880), RA Davidson (E 120y hurdles), A Webb (E 440y hurdles), A Balfour (E) high jump, T Tangen (H-W long jump) and I Grant (A triple jump). Edinburgh won 78 events, Aberdeen won 3 plus the relay, Strathclyde won 4, Heriot-Watt 1, Glasgow won 0, St Andrews won 0, Dundee won 0. [Note that the day after these championships, Gareth Bryan-Jones running for ESH set the fastest steeplechase time in GB so far in 1960 when he ran 8:40.6: 4 seconds inside the Olympic qualifying standard.
In the women's events, W Adams (G ) 10n the 100 y, M Campbell (A) won the 220y, A Barron (A) won the 440y, M Ainlsie (St A) won the 880y, J Dry (E) won the 80m hurdles, E Duke (D) won the 100m hurdles, C Howarth (E) won the high jump, K Rennie (G) won the long jump, E Taylor (A) won the shot, A Dale (St A) won the discus and A Sadler (E) won the javelin. Edinburgh won 3 events, Aberdeen won 3, Glasgow won 2, St Andrews 2, Dundee won 1, Strathclyde and Heriot-Watt won medals but none were gold ones.
The report by Willie Diverty in Athletics Weeekly read:
"Championship bests in pole vault, hammer and javelin and was equalled in the 3 miles.
Bernie Nottage gained revenge on clubmate Ian Turnbull for a recently inflicted repeat and was the only treble winner of the day with individual first and a share in Aberdeen's relay victory. Doug Edmunds won shot and discuss, the only field events double.
100: B Nottage 10.0, I Turnbull 10.1; 220: B Nottage 22.2 Turnbull 22.6; 440 I Moriarty (G) 50.6, John Dixon (A) 51.2; 880 Jack McFie (E) 1.58.2, G Grant (HW) 1.58.3; Mile: G Bryan-Jones (E) 4.13.4, J Myatt (Strath) 4.17.3; 3M: A Blamire (E) 13.55.0, J Wight (E) 14.16.8; 120H: R Davidson (E) 15.4; 440H: A Webb (E) 57.0; 4×110: Aberdeen 43.8; HJ: G Balfour (E) 5'10''; LJ: T Haugen (HW) 22ft quarter inch; T.J: I Grant (A) 44 ft one inch; PV: S Seale (E) 14 ft three quarters inch; SP: D Edmunds (S) 50ft 3 and a half inches, L Bryce (S) 47.10; DT Edmunds 138' 5''; HT L Bryce 184'9''; JT D Birkmyre (S) 210'3'';
Teams: Edinburgh 102; Aberdeen 93; Strathclyde 62, Heriot-Watt, St Andrews, Dundee, Glasgow.
Women: 100 W Adam (G) 11.9; 220 M Campbell (A) 27.3; 440 A Barren (S) 63.2; 880 M Ainslie (A) 2.29.6; 80mH J Dry (E) 13.2; 100mH E Duke (D) 17.2; 4×110 Aberdeen 54.3; HJ C Howarth (E) 4'5''; LJ C Rennie (G) 16'; SP E Taylor (A) 32'11''; DT A Dale (St A) 112'2''; JT A Saddler (E) 113'4'';
Teams: Edinburgh 82, Aberdeen 62, St Andrews 49. G, D "
The Edinburgh team was triumphant again and the university athletic season was over and although the individuals continued to compete, some in club colours and others in university strips, it had already been a good season with several more talents coming through to replace those who had moved on.
There was however on really big university championships to come in 1968 – the British Universities Sports Federation (BUSF) championships were coming to Glasgow and they took place at Westerlands on June 14th/15th. The Scottish winners were: I (A) Turnbull (100/220), A Blamire (E – 6 Miles), G Bryan-Jones (E – Steeplechase), S Seale (E – PV), DM Edmunds (S – SP). Women: W Adams (G – 100/220). Ron Marshall in the 'Glasgow Herald' covered it at some length and the following are extracts from his commentary: "In the hammer, LM Bryce, the holder, suffered one of his rare defeats from a British opponent when B Williams (Salford)threw 198 feet 1 inch. Bryce, recently speaking out about the frustration of being stuck in the 190 foot range againburied the hammer to that mark. This was 20 feet further than the next athlete, but second places to him are value-less. A Edwards (Loughborough) sent the javelin to a championship and ground record of 238 feet 9 1/2 inches , only 11 1/2 feet short of the all-comers record. D Birkmyre, Scotland's top student thrower, fell well below his best , which would have given him second place, and his farthest throw landed below the 200 foot mark. This pushed him into fifth position. On the track, IW Turnbull (A) and Miss W Adam (G) completed their sprint doubles in imperial fashion. Turnbull, not the most elegant sprinter in the country, shot his way up the 100 straight for a 9.8 victory, giving notice of a strong challenge this Saturday in the national championships. Miss Adam can generate more miles an hour than her short frame suggests. She leaned into the 220 bend like an expert and came into the straight knowing the race was hers. Her time, 25.5, would have been a ground record but for the wind assistance.
A Blamire covered 24 hot, dusty laps at creditable speed for an easy win in the six miles. "
The other Scots to win medals on Saturday were I O'Muircheartaigh (G) third in the 440 yards, G Grant (H-W) second in the 880, R Davidson (E) third in the 120y hurdles, T Tangen (H-W) second in the long jmp, A Forster (G) third in the long jump, DM Edmunds (S), first in shot putt, H Smith (E) second in the shot, S Seale (E) first pole vault; WOMEN: M Ainslie (St A) third 880, J Dry (E) second 80m hurdles, A Duke (A) third in 80m hurdles, E Taylor (A) second shot, E Shedden (E) third shot, E Dole (St A) second discus, and C Howarth (E) third equal in high jump.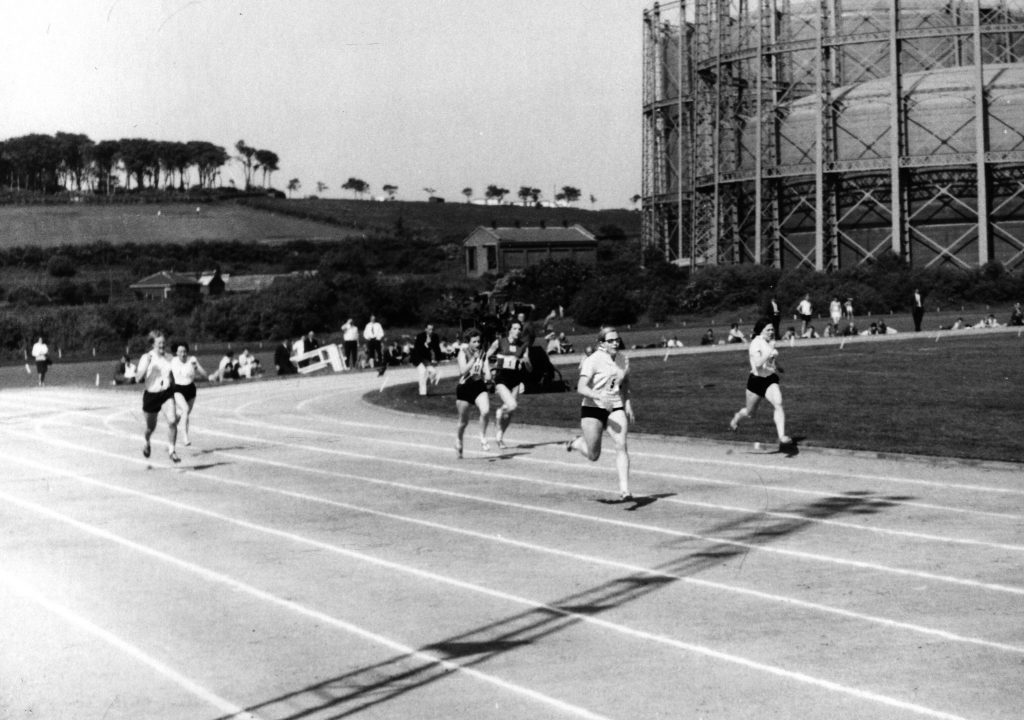 BUSF Women's 220 yards, Westerlands, 1968
1969 started with Heriot-Watt defeating Glasgow and Aberdeen in Glasgow (121 points to 113 and 110 respectively. Iggy O'Muircheartaigh (G) won the 100y, 220y and the 440y and Douglas Fowlie (A) won the javelin. In the women's match Aberdeen beat Glasgow 95 to 44. The season was underway and Glasgow went on to face Edinburgh in the Appleton Trophy in Edinburgh the following Saturday.
That Glasgow won the Appleton Trophy was largely due to the women's section. Edinburgh's men won by 101 to 84 but their women lost by 30 points (75 to 45). Edinburgh was weak in the shorter events – Glasgow winning 100m (McCrorie), 220m and 400m (both O'Muircheartaigh) plus relay. and Edinburgh taking 800m (Macfie), 1500m and 5000m (both Blamire). Edinburgh won both hurdles races (Webb and Davidson) and all four throws (Davidson shot, Scott hammer and Burnett javelin.) Glasgow won three of the jumps (Forster long and triple jump and Black high ump) and Seale won the pole vault for Edinburgh. Glasgow won 7 events and Edinburgh 10: it was the minor places that won the men's match for them In the women's events, Wendy Adam (G) won 100m, 200m and 400m, H Morton (G) won the 800m and B Twiss (G) won the 100m hurdles. Glasgow also won the relay to give them a clean sweep of the women's running events. In addition for Glasgow K Rennie won the long jump, S Robb the discus and G Ritchie the javelin. The only event that Edinburgh won was the shot putt by V McLaren. A very competitive match and one that boded well for the coming season.
The rivalry continued the following week at Durham in the Rowlands Trophy match on 10th May. The report on the match read: "Edinbvurgh retained the Rowlands Trophy on Saturday after a hard fight with Glasgow in the inter-university match organised by Durham University. A Blamire was outstanding for Edinburgh, winniong the 5000m and 3000m steeplechase and R Davidson and A Webb gave them the 110 and 4oom hurdles respectively. Ignaid O'Muircheartaigh won the 400 metres and anchored the Glasgow team to victory in the 4 x 400 metres relay. Allan Fraser won the long and triple jumps for Glasgow. Ian Turnbull (Aberdeen) scored two splendid wins in the 100 and 200 metres. Durham won the women's match for the Wimpenny Trophy with 59 points to Glasgow's 48. Miss Winnie Adams, Glasgow, was the outstanding woman competitor, winning the 200 and 400 metres."
And that was it: no times or distances, no results – not even a list of winners. But it was like the old days with Edinburgh and Glasgow battling it out.
On to the 17th May and it was universities championships day. The headline at Glasgow's sports was "Three Wins for Irish Sprinter" tells the tale. Iggy won all three sprints in respectable times – 10.8, 22.3 and 50.2. Respectable enough to win him the Biles Trophy for the most meritorious performance of the championships. There was no 800 metres because there were not enough athletes forward for it – not a good sign. He wasn't the only 'treble' winner – A Halkerston won shot (32'8″), discus (105′ 5 3/4″) and Hammer (137′ 10″), and S McCallum won 400m hurdles (57.3), pole vault (10′ 6″) and javelin (137′ 10″) – and, yes, hammer and javelin were given the same distance. Four titles were won by athletes who were also members of Springburn Harriers – R Beaney won the 1500m and the 5000m, K Lunn won the steeplechase and R Souter won the high jump. Top women were K Rennie who won the 100, 200 and long jump, G Ritchie who won shot, discus and javelin.
In Edinburgh, the Donovan Cup was shared between hurdler R Davidson and distance runner A Blamire. Davidson was first in four events (100m, 200m, 110m hurdles and 200m hurdles) and second in two others, while Blamire's time in the 5000m of 14:23.6 was relatively the best performance of the afternoon. AG Webb won two races – the 400m and the 400m hurdles and J Davidson won the long jump and the shot putt. Other winners included J Macfie in the 800m, D Logue in the 1500m, G Balfour won the high jump, HM Burnett won the pole vault and JN Burnett won the javelin.
In the women's events, M Ferrie won three events (100m, 200m and long jump), M Fleming also won three (400m,100m hurdles and javelin), and P Burke won two (high jump and discus) and theshot putt was won by S Burke. Edinburgh had trophies for best performance and these were won by the two men mentioned and Morag Ferrie. Edinburgh alone among the universities had additional trophies for 'best style' at the meeting and PJ Scott (winner of the hammer) won the Fahmy Cup for best style, and M Ferrie won the Haultain Trophy for best style in the women's events. and Heriot-Watt.
On 24th May at Peffermill, Edinburgh University took on Edinburgh Southern Harriers and lost 101 to 84. A rare setback but the following weekend was that of the District championships. In the west the university men who won their events were S McCallum who won the pole vault with a height of 11′ 6″ , Doug Edmunds in the discus, and Laurie Bryce in the hammer. In the East, Nottage won the 100m, Turnbull (A) the 220, Martin Sinclair (H-W) the 800m, I Dobson the pole vault, and D Fowlie (A) the javelin. The result of the intrer-club held in conjunction with the meeting resulted in a win for Edinburgh Southern from Edinburgh University and Heriot-Watt.
The universities championships for 1969 were held at Westerlands and the report from the 'Glasgow Herald' read: "R Bruynooghe (E) and Laurie Bryce (Strathclyde) were the two leading field events competitors In the Scottish Universities championships at Westerlands on Saturday. Bruynooghe clipped two and a quarter inches off the university high jump record wth a clearance of 6′ 3″. Bryce who hopes to beat the all-comers record of 200′ 4″ set by Howard Payne at Craiglockhart three years ago, broke the Scottish universities record of 195′ 5″ which was his own best performance set two years ago, with a throw of 200′ 0 1/2″. RA Davidson (E) who won the 110 metres hurdles in 15.6 sec, and A Webb the 400m hurdles winner in 55.4 gave Edinburgh further points which enabled them to retain the Rosebery Trophy . M Sinclair, also Edinburgh, won the best race of the day, the 800m, in 1:55.1 holding off his team-mate Jack Macfie in a tight finish. Winifred Adams (G), had easy wins in the 100m and 400m for women, and she would also have taken the 200m title but a pulled muscle forced her to pull out six yards from the finish."
For the record the 200m was won by K Rennie (G) who also had seconds in the 100m and the long jump. M Ainslie (E) won the 800m and was second in the 400m. Glasgow won the women's competition from St Andrews (96 to 42).
Another season of universities athletics had drawn to a close and the closing five years of the decade had seen superb athletes like Berni Nottage, 'Ming' Campbell, Fergus Murray, Gareth Bryan-Jones, Alistair Blamire, Bill Ewing, David Stevenson, HC Robertson, Sandy Sutherland, Doug Edmunds, Laurie Bryce, Norman Foster all competing. If university athletics was not all about competing, it nevertheless posted some excellent results from international athletes on an annual basis.
.