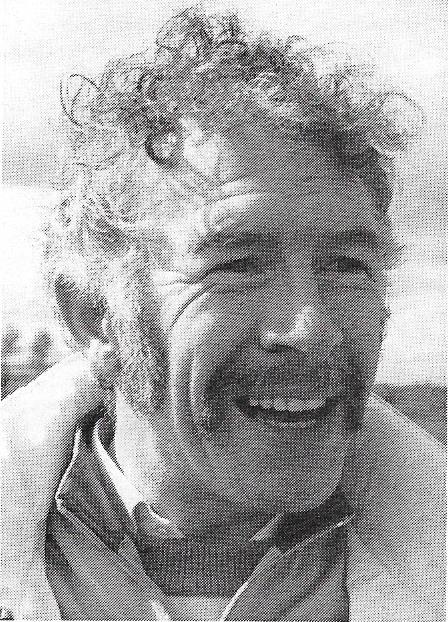 Tommy, having been encouraged by Jimmy Love at Bellshill YMCA to get involved in coaching, did just that. The first step on the road to becoming a coach at that time was to go to the SAAA Assistant Club Coaching Course which was over two weekends at Inverclyde Sports Centre on the Clyde Coast at Largs. Coaching qualifications at that time were on three levels: Assistant Club Coach, Club Coach and Senior Coach. The first of these covered all events and like every coaching course was conducted by a range of coaches, It was partly theory and partly practical in nature. Among those attending the course were Ian Robertson and Eddie Taylor who would also become excellent coaches in their own right, coach British as well as Scottish international athletes and become part of the structure of the sport nationally. On the staff side, dispensing the knowledge, were ex-National Coach Tony Chapman with Frank Dick, Sandy Robertson and Sean Kyle from Ireland. Sandy Robertson was a top class coach who would become a major influence on Tommy and he encouraged Tommy to come back and go through the Assistant Club Coach Course for a second time because the information gained was so valuable and could not be totally assimilated in one go-through. To this day Tommy believes that he learned a lot all the way through his coaching career "listening carefully to knowledgeable people."
Back in Bellshill he was coaching at the YMCA – Tuesdays at the YMCA and Thursdays at Bellshill Academy. There was a team of excellent coaches, not all SAAA qualified, but all very good at what they did. Men like Willie McWhinnie who worked with 9-11 and 11-13 year olds, Jim McDaid, ex pro footballer who gave the boys a wee game after every session. Gradually a network of local schools was established to feed children into the club. Jimmy Graham who was a Primary School teacher and a cross-country enthusiast from Lawmuir Primary School. guided many fine youngsters from a deprived area into the club. Tommy noted that "Jimmy was fiercely competitive and his team wore T shirts – "You're running behind a Lawmuir runner." Brilliant psychology. " Christine McAllister who had brought her daughter to the club and stayed and became the club treasurer and with her local knowledge ensured that the focus at the club was always on the children. Tommy himself worked with all age groups and remembers two young runners in particular: Michael Hendry and David Watson. They finished second and third in the 1972 Senior Boys National Cross-country championship at Edinburgh three and four second respectively behind the winner Mark Watt. He said there was a procession of talent emerging: athletes like Billy Thomas, gold ar 13-15 499m, Pat Mooty, SAAA silver in 2000m steeplechase abd, like many more, became the best that they could be. Tommy describes the YMCA at that time as a holistic club, a club that looks after all aspects of the athlete's life, not concentrating only on the sporting activities.
Among the other athletes that Tommy worked with at this time, top middle distance runner Roy Baillie was one who came to the club at the age of 17 from BB Cross-Country running. In his first season with the club he ran 800m in 2:08. Roy ran for Bellshill YMCA and later for Clyde Valley AC. Born in December 1953, by the age of 19 he was running 400m in 51.2 to be ranked 26th in Scotland. In the course of his running career he had personal best times of 50.0 (400m), 1:1:51.1 (800m) and 3:56.2 for 1500m. He also won 4 medals in the SAAA championships. Tommy learned a lot from working with Roy – he had the theory but he honed his understanding of what produced results at 800m working with an honest athlete who also helped the club out on all fronts including fund raising, taking the younger runners on the pretraining warm up run.
The club at this time trained from the YMCA Centre over three basic trails of 1.5, 2.5 and 4 miles and the 4 miles circuit was still being used by Tom McKean and Yvonne Murray when they were among the very best in the world. They also trained on the Newarthill (ash) track of 325 yards, ie 5 laps to the mile. There were also two ash football fields which were end to end rather than the usual layout of pitches side by side. This meant that longer repetitions could be done with long straights available to the coaches for activities such as fartlek sessions and other training practices. Of course they also ran cross-country in winter and this was where Hendry and Watson trained. Not having a standard 400 metres track did not stop their progress – their use of the environment and its possibilities was key to the development of the club.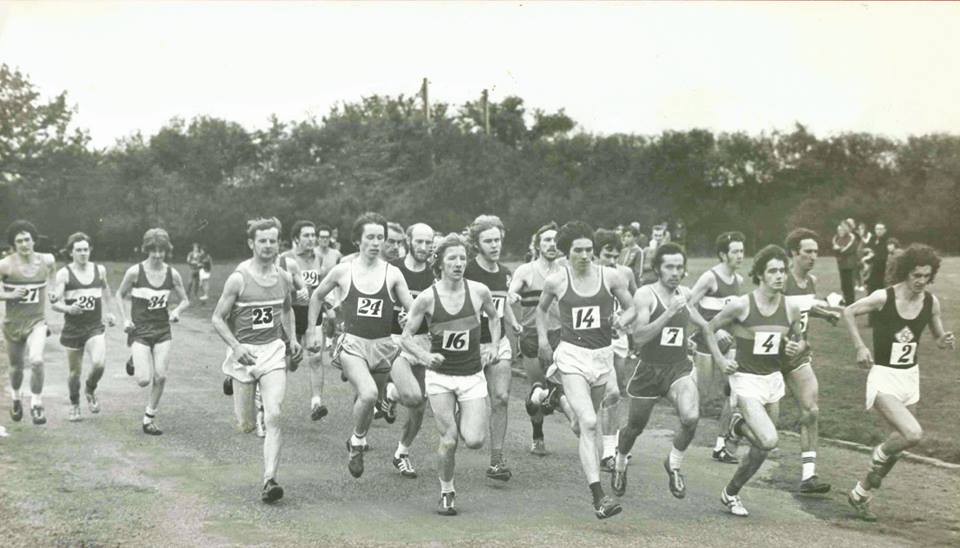 Roy Baillie, 14, at the start of the Lanarkshire Cross-Country Championship
Another of Tommy's proteges at this time was Ian Callander – another who would be a medallist in SAAA championships. A very good 100m/200m runner. Three years younger than Baillie, 10.9 (100m), 22..3 (200m) and 49.9 (400m). His father was the local Police Chief Inspector who helped get the YMCA club the use of the police recreation hut. This became the weight training and speedball facility. Having got it, Tommy and his teamhad to beg or make weights equipment and was now forced into learning about strength and conditioning. His weight training Bible was Ron Pickering's AAA's booklet on Weight Training. He still recommends this publication as probably the best single source of information on the topic.
The Bellshill YMCA people enjoyed developing their club – not having a long tradition as so many other clubs did, they did not have the historical inspiration – but nor did they have the historical baggage that so often goes with it. They could develop the club as the needs arose and as the athletes required. The community helped the athletes because there was no pressure and no demands placed on them. The development of the athlete as a person was the key. Tommy's coaching focus at this point was on the sprints as he recognised that to produce top level performers, he had to learn more about sprinting and the development of speed in endurance runners. He started to produce a series of age group champions in the sprints, athletes like Ian Callander, who later went to Edinburgh University where he trained with Bill Walker and added the 400m to his range of events, there was Mark Sherry who went to Loughborough and trained there with John Anderson. Sherry, like Callander, was a product of Bellshill Academy.
As the club developed so did his own coaching. Greedy for knowledge and any information that would help. The Track and Sports Centre at Coatbridge had opened by now and in addition to being another training facility it was where Tommy could watch other coaches in action, analyisng what they were doing and incorporating what he felt was appropriate into his own work. Sprint Coach Jimmy Campbell was one of these working with the McMeekin twins doing high intensity track work and circuit training he became a lifelong mentor for Tommy. He remembers learning about long intervals by watching Brian McAusland and his group over a complete winter – stop watch in pocket of course. He was greatly influenced by Bill Walker who thought very similarly to Tommy and had speed at the heart of his training regime, and of course Frank Dick who had a massive influence on the young coach Boyle throughout his career. Tommy was interested at that time in Speed and Short Endurance and he learned some of the practicalities from Bill and from Frank Dick. Then there was the whole area of Training Theory. Frank had just translated the German stuff into Training Theory papers which coaches could understand. "Gold dust," says Tommy. From Sandy Robertson he learned more about holistic training: the belief that all the parts of the athlete's life are inter connected and can only really be developed as parts of the whole lifestyle. These beliefs were what Bellshill YMCA and its coaches were trying to do and the information fed in from the community – eg by Christine McAllister and other members of the team – were important factors in this. The holistic approach to training can be studied in any of the books on Mastery Coaching which are easily available for those interested.
In 1976, while all this was going on at one level, he was still involved with the intensely practical work at Bellshill where one of the talents was Morag Todd. Morag was a very good sprinter indeed who had career bests of 7.6 (60m), 12.1 (100m), 24.8 (200m), and as a competitor she won five medals at SAAA Championships both indoors and out. Frank Rafferty (bests of 10.8 and 22.0) who was later to be head of the Glasgow School of Sport coaching team, was another running for the club at that time. It was at this point in his coaching career that Tommy's life was about to change. The club organised races for the local schools and some good athletes were recruited from them. A group of six or eight came along together and one of the group was Tom McKean.
By now Tommy was working in such a way that his charges tended to progress year on year, a steady incremental progress that is always better than a progression that goes in fits and starts – a big jump one year, then no improvement for a couple of years, then (maybe) another jump. Look at Baillie's progress over three years in Clyde Valley AAC as an example:
| Year | 400m | 800m |
| --- | --- | --- |
| 1973 | 51.2 | |
| 1974 | 51.1 | 1:53.4 |
| 1975 | 50.7 | 1:52.4 |
| 1976 | 50.0 | 1:51.1 |
Tommy talks of his start in coaching and says, "The first 10 years of my coaching career were spent working in the club situation doing all of the tasks which virtually every other coach does at some stage i.e. organising, training, raising funds, creating school feeder structures, administration, attending coaching courses. My involvement in coach education gradually increased until eventually as Group Organiser for Sprints attending National Event Squads and Council of Coaches I found myself well and truly hooked on the athletics treadmill. The knowledge gained during that period has proved to be a valuable asset which I could not have gained in any other way."
The Scottish coaching pyramid at the point consisted of a national coach, group coaches for sprints, endurance events, jumps and throws, and event coaches responsible to the group coaches. eg endurance events had event coaches for 800 & 1500m, 5000 & 10000m, steeplechase, marathon. Each group – sprints, endurance, etc – had an group organiser who dealt with whatever he and the group coach agreed on. It was not at the level of event or group coach but it gave the coach access to information, other coaches and activities at national level.
The connection with Bellshill Academy has been mentioned already. The club also had links with Cardinal Newman High School where the head of PE, Phil McMahon, was a real enthusiast, a friend of the club and one who sent many young boys along to the club. One of these was Tom McKean who was one of six or eight who came to train with the club at their Tuesday and Thursday sessions. He was not the fastest of the group at the time and ran cross-country for the school. As a 17 year old he just made it into the Scottish Schools training squad where he was told by the coach in charge that he was not fast enough. This of course had the effect of incentivising the athlete and his coach to prove him wrong. At this point Tommy was asked by Frank Dick to be the administrative officer for national event coach Bill Walker which gave him contact and a chance to observe such as Allan Wells, Drew McMaster and Cameron Sharp in action. He was then asked to do some lecturing and this forced him into researching and writing some short papers. He was also involved in a Scottish Schools residential course at Cramond where he was able to conduct a statistical evaluation of the physical and functional measure of the group.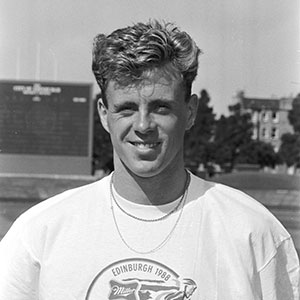 Tommy says of young Tom: "He, like many endurance athletes, was recruited to the club via the feeder cross-country races which we organise for the schools. One of a group who were motivated enough by the team competitions and varied training to come back, the first hurdle had been crossed. Although not the best, Tommy was in the cross-country team and managed to win a few medals thus retaining his interest. I remember he finished 3rd in the Scottish Cross-Country Championships at Glenrothes on six inches of snow, moving from 60th to 3rd in the last 800 metres, and I had to carry him back to the changing rooms. Yes, he was different – but he was growing like a weed and must not be forced – only to wilt at a later date."
The run at Glenrothes over a tough, rolling, golf course trail covered with snow was quite remarkable – Tom was in the Junior Boys race and his time was 12:15 – only three seconds behind's Kilbarchan's Robert Hawkins and six behind Springburn runner Stuart McPherson. Just as athletes need to progress towards fulfilling their abilities and ambitions, so must coaches. Given what we already know about him, Tommy Boyle was always going to progress as a coach: Tom McKean probably accelerated that progress. The next step in his development as a coach was the narrowing of his focus to coaching at the expense of administration and other activities within the club.
"I was forced in 1980 to take a very serious look at my commitment to athletics as we were expecting a family. I asked myself a question which we repeatedly ask our athletes – "What do you want from athletics?" Answer – "to coach athletes." Solution simple – remove everything which was not directly related to coaching." The result was that, after a transitional period, I ended up coaching a small group of athletes three times a week, thus allowing for a more balanced lifestyle and one where I was once more able to enjoy the challenge of athletes.
"The next stage was to critically assess the efficiency and effectiveness of my coaching and to ensure that what little time I had was managed in a professional manner."
Tommy had now been coaching for some time and was in the position that he had a top class, really top class athlete and had shed all activities extraneous to the actual coaching. He also, via his appointment as coaching administrator, had access to information and people who could be useful. However, you couldn't divorce what Tommy from his upbringing and the vision he had of how "Sport was the greatest vehicle there is to develop Character Building Life Lessons" which when delivered over a prolonged period "would help every child to become the very best they could be in sport and life" : this is the golden thread underpinning Tommy's philosophy towards coaching, and therefore we need to ensure that the thread runs through each part, but manifests itself in different ways . To get more schools more parent more business aware of the power of sport -however this meant that Tommy had then to be ruthless in the pursuit of excellence with his athletes ,with the big prize in mind .
It is interesting to note that he tells us that he had no desire to pursue performance coaching in the longer term as so many do and are hooked on the treadmill . Although Tommy stepped back from the admin stuff in the club in the short term, he always had one eye on how to use the success which would come in the best way possible to help young people in his community and then as we will see in Scotland !
This was Part Two of Tommy's Profile. Part One can be seen at Tommy Boyle: The Background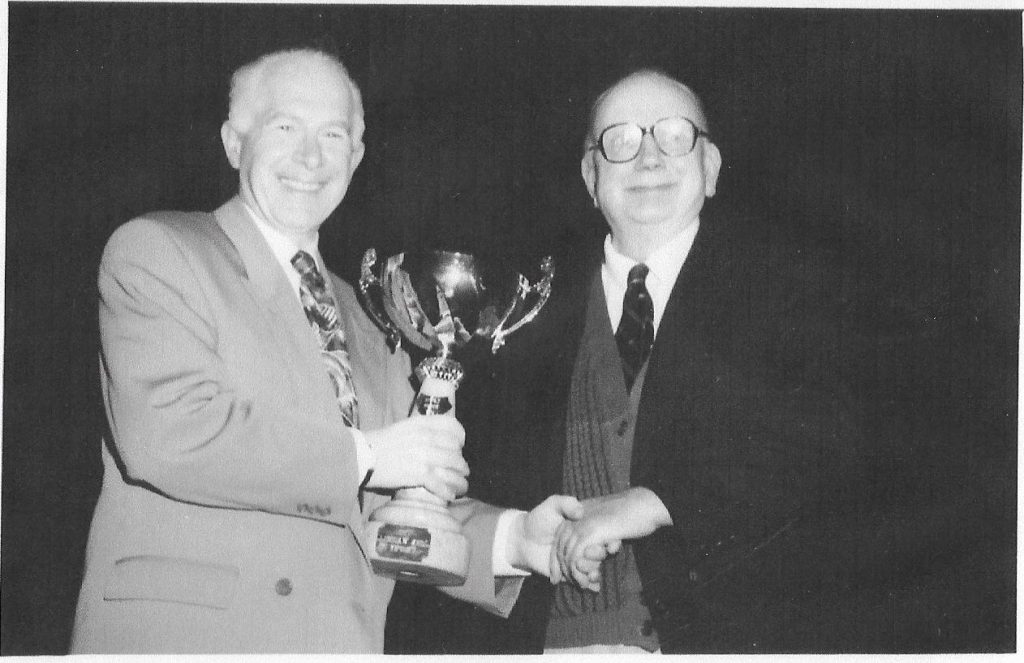 Tommy presents Bellshill YMCA's John Waddell with Lifetime Achievement Award