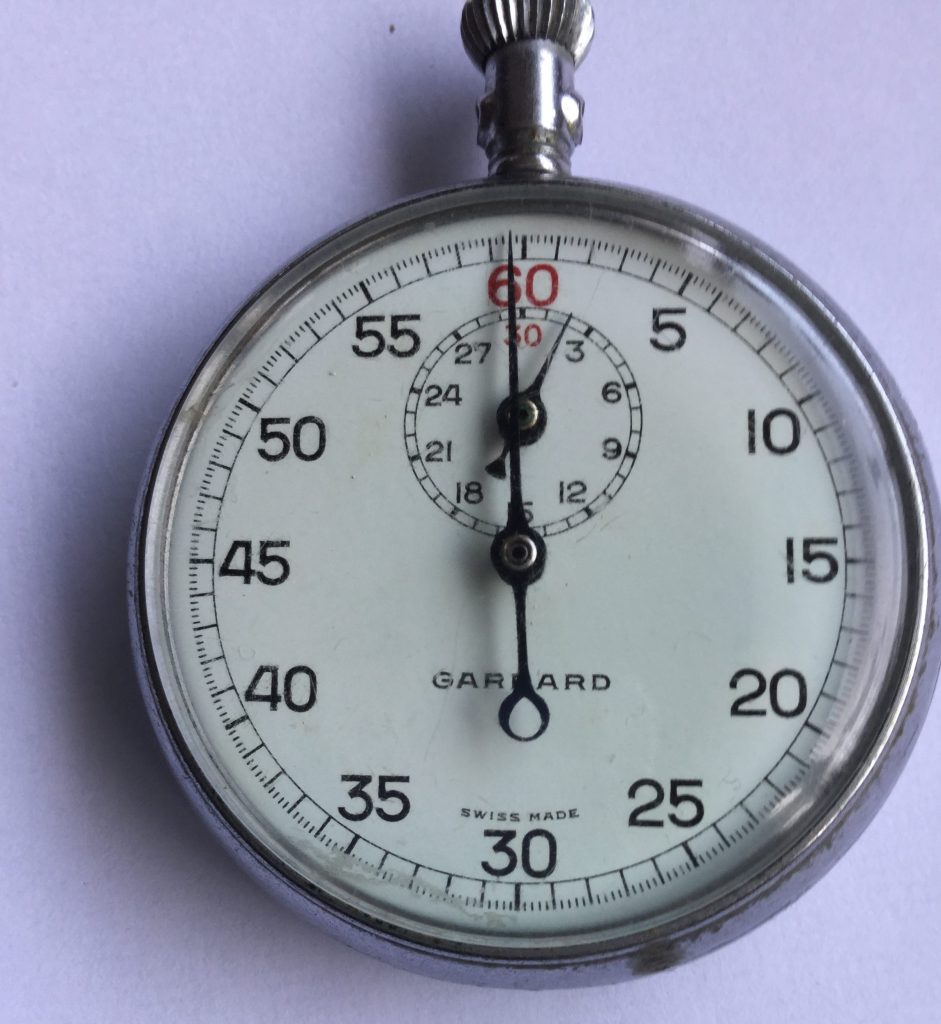 The race to become the first Scottish amateur to run the half mile (804.67 metres) in under 2 minutes began in earnest on June 26, 1867. The occasion was the second annual sports of the Edinburgh University Athletic Club, founded in 1866. The venue was Greenhill Park, Edinburgh, where a quarter-mile grass track had been – we will assume correctly – marked off with small red flags. On the first day of the two-day event, a large and fashionable assemblage witnessed a sensation when 20-year-old law student William Kinross Gair scorched to victory in the half mile in a sensational time of 2:01.0. For good measure, Gair also turned out the following day and took the quarter mile in 53.25 sec. A gifted all-round athlete who also excelled at cricket and golf, Gair probably achieved these performances with only a modest amount of training. On graduation, he became the Procurator Fiscal for East Stirlingshire and held this post continuously until three years before his death in 1932.
Incidentally, the University of Edinburgh Athletics Club was not only in the vanguard of Scottish amateur athletics in the 1860s, but also, it would appear, the first sporting organisation in Scotland to use a stopwatch to record performances. The stopwatch in question would probably have been the Benson's Chronograph, developed in 1861 by the royal watchmaker James William Benson of London. Advertised as "an invention for the timing to the fraction of a second and for the registration of minute observations", the early models had an accuracy of a quarter of a second and retailed at £42 in silver and £52 10s in gold. These were exorbitantly expensive timepieces. To put it into a proper perspective, in 1867 a Benson's Chronograph would have set you back twice as much as the average worker earned in a year. Only wealthy individuals or affluent organisations like Edinburgh University A.C. could afford themselves the luxury.
It was not until the 7th edition of the Edinburgh University Athletic Club Sports at Greenhill Park that another amateur would come close to Gair's mark. On June 19, 1872, after seeing off the persistent challenges of Edinburgh medical student Reginald Mapleton, 18-year-old David Henry Watson of the Glasgow Academical Athletic Club passed the finishing post in a superb time of 2:01.75. Watson later took up a career as a stockbroker at the Glasgow Stock Exchange and was capped three times for the Scottish rugby team. In 1877 he delivered the decisive pass that enabled Malcolm Cross to drop the winning goal for Scotland against England on the playing fields at Raeburn Place.
https://www.nationalgalleries.org/art-and-artists/95796/scotland-rugby-team-1877
We will have to turn the clock forward another eight years to the 14th edition of the Edinburgh University Athletic Club Sports on July 9, 1880 until another amateur athlete comes within a sniff of the two-minute mark again. Here on the grounds of the Royal High School in Corstorphine, 22-year-old Alexander Stephen Paterson (E.U.A.C.) was credited a good time of 2:03.8 when finishing third from scratch in the handicap race.
The following year, Paterson passed up the opportunity to defend his half-mile title at the E.U.A.C. Sports, making way for 20-year-old Malcolm Tod (Edinburgh Wanderers' F.C.) who won from scratch in a lifetime best of 2:03.5. Both Paterson and Tod quit athletics at the end of that season and, like many Scots of that era, set their sights on the colonies, the former eventually settling in New Zealand and the latter emigrating to Canada. Paterson was a founding member of the Scottish Amateur Athletic Association in 1883 and served as Hon. Treasurer and Hon. Secretary of the new federation until 1885. A barrister by profession, he emigrated to Wellington in 1888, where he passed the English bar and practiced law until his health broke down a year before his early death in 1898. Having been a popular figure in his native Edinburgh, he had been poised to stand for the New Zealand parliament.
By now, the pattern was becoming a familiar one: young, mostly middle to upper class student-athletes would appear like comets out of nowhere and light up the tracks with their dazzling performances before disappearing without a trace. The reason may be found in societal norms around social standing among the educated elite and the role of sport as a rite of passage on the road to graduation and a career in the making. After the public schools and universities had paved the way and codified key aspects of amateur athletics, the first clubs began to emerge outside of academia contributing to the groundswell that would eventually lead to the formation of the Scottish Amateur Athletic Association in 1883.
The fastest Scottish amateur half miler in 1882 was the 20-year-old Douglas R. McCulloch, of Helensburgh Athletic Club, who on 27 May covered the distance at Kennyhill Park, Glasgow, in 2:03.5.
15 years after William Gair had brushed with the 2-minute mark, the race to become the first Scot to go sub 2 was still wide open.
One of the highlights of the inaugural S.A.A.A. championships at Powderhall Grounds on June 23, 1883 was the half mile race in which the Scoto-Canadian Tom Moffatt (Montreal A.C.) triumphed by 20 yards from Tom Ireland (E.U.A.C.) in a Scottish record time of 2:00.75. Moffatt, who was born in Whitehill near Edinburgh in 1859, ran with a long, graceful stride and a handkerchief covering his head, drawing comparisons to his great American contemporary Lon Myers. He spent the summer of 1883 touring Scotland before returning to Canada, where he won the first Canadian half mile championship at Montreal in 2:07.5 on 6 October. On September 27, 1884, he defended his Canadian title over the half mile at Montreal in 2:05.8 and also won the quarter mile in 52.5. To cash in on his fame, he subsequently turned professional.
Alas, the ensuing years brought no further progress towards the grail of the sub-2-minute half mile which shimmered tantalisingly on the horizon like an untouchable desert mirage.
The fastest Scottish amateur over the half mile in 1884 was Telfer Ritchie (St George F.C.), who covered the distance in 2:02.4 minutes when he won the S.A.A.A. championship at Powderhall Grounds on 28 June. Ritchie made a valiant effort to defend his S.A.A.A. title on 27 June 1885 at Westmarch Ground, Paisley, but could do no better than 3rd place. Victory went to James Logan (Vale of Leven F.C.), who won by a foot from Reginald "Reggie" Morrison (E.U.A.C.) in a Scottish best for that year of 2:03.6. Though being of Australian birth, Morrison was selected and played for Scotland at rugby in their matches against England, Ireland and Wales in 1886. He also held the post of S.A.A.A. Hon. Treasurer in 1885-86, but he eventually gravitated back Down Under and became a medical practitioner in Melbourne.
In 1886 James Logan was again the fastest Scot over the half mile courtesy of a fine 2:01.8 at Hampden Park on 21 August. Three years after the formation of the S.A.A.A., more and more working-class amateurs, of which Logan was exemplary, were now coming to the fore. Logan, born at Bonhill in 1863, was employed as a printfield worker, dyeing and printing calico fabrics for a living. Telfer Ritchie, having joined Watson's College A.C. and Edinburgh Harriers, rediscovered his best form after a year in the doldrums and posted several good times that year: a 2:02.0 at Powderhall Grounds on 17 July, a 2:02.3 behind James Logan at Hampden Park on 21 August and a 2:02.6 at Kinning Park on 14 August. The four-time S.A.A.A. champion over the mile, David Scott Duncan (Edinburgh Harriers), also showed a good turn of speed over the "half" when he clocked a 2:03.5 at Hampden Park on 21 August. Duncan really needs no introduction here, and his invaluable contribution to Scottish amateur athletics is amply documented elsewhere. However, none of the above-mentioned featured in the S.A.A.A. half-mile championship, which was decided at Powderhall Grounds on 21 June, the 18-year-old Watsonian Simon Henderson winning easily ahead of two other lesser-knowns in a modest 2:04.8.
There was little for Scots to celebrate in 1887 either. John Braid, a teacher at Stanley House, the former public school in Bridge of Allan, provided the outstanding performance of the year when he won the S.A.A.A. championship at Hampden Park on 23 June in 2:02.4. However, there was at least some quality in depth, with Stephen Nobbs (Royal High School F.C.) finishing second in 2:03.2.
Fast times over the half mile were again in short supply in 1888. There was, however, a solitary ray of hope when Alex Marshall (Dumbarton A.F.C. & Clydesdale Harriers) romped to victory in the S.A.A.A. half-mile championship at Powderhall Grounds on 23 June in 2:02.6. David Macmichael (Edinburgh Harriers) produced a similarly good performance at Powderhall Grounds on 19 May, when he won the half-mile handicap from 10 yards in 2:01.4. It was clear, however, that Scotland desperately needed an injection of fresh blood in this event.
As if on cue, a new star emerged in 1889: Robert "Bob" Mitchell. Born in Paisley in 1870, Mitchell joined St. Mirren F.C. (and also, subsequently, Clydesdale Harriers) in 1888 and trained at Westmarch Ground under the watchful eye of the former professional champion, and latterly "Saints" trainer and groundsman, Bob Hindle. Mitchell had an easy, graceful running style but he also possessed frightening raw speed (he could sprint the 100 yards in under 11 seconds) allied to solid endurance, both of which Hindle was careful to cultivate. After running 2:01.5 off 10 yards at Kilmarnock on 4 May and 2:02.2 at Hampden Park on 30 May, Mitchell stormed to victory in the Scottish half mile championship on 22 June 1889, again at Hampden Park, in a near-record time of 2:01.0. Waiting until the home straight before unleashing his finishing sprint, he won easily by 10 yards from John Wright (Dalmuir Thistle F.C. & Clydesdale Harriers), with Alex Marshall, the holder, third in about 2:05.0. Mitchell concluded the 1889 season by setting a Scottish 600 yard record of 1:15.6 at Ibrox Park on 3 August and posting a 2:02.2 for the half mile at Paisley on 10 August. There was no doubt that he was capable of going sub 2 in the right conditions, and under more auspicious circumstances he might in fact have achieved it during his rookie year – but, alas, he didn't. The Glasgow Herald in its June 23, 1889 edition reported a rumour that he had done 1 min 59 sec in practice. Old-school peds like Bob Hindle were hard taskmasters who ascribed to rigorous training and all-out time trials, but a rumour was a rumour, regardless of its credibility.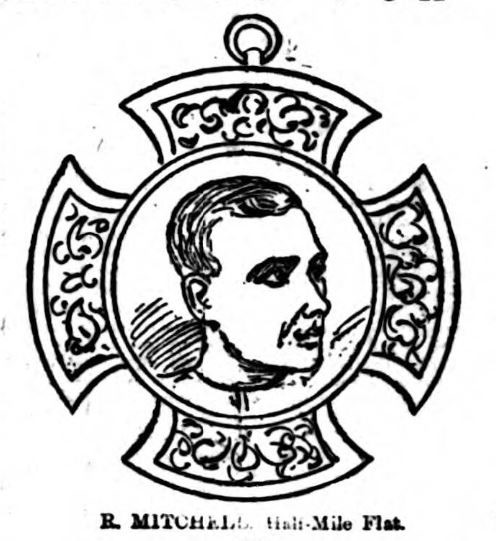 After comfortably defending his Scottish Half mile Championship at Powderhall Grounds on June 23, 1890 in 2:03.2, Mitchell turned his attention to breaking Tom Moffatt's Scottish half mile record of 2:00.75 and, specifically, or more importantly, to becoming the first Scottish amateur to officially beat 2 minutes. At the St. Mirren Sports on Westmarch on 19 July he took advantage of perfect weather to win the half-mile handicap by 4 yards from his training partner John Hindle (37y). He succeeded in lowering the Scottish record to 2:00.4, making him the first Scottish amateur to intrinsically beat 2 minutes for 800 metres, but failed to achieve what was probably his real goal. A week later, in any case, he was back at Westmarch with the declared intention of trying to break the record again. Unfortunately, he was facing an unwieldy field of 26 participants and sub-optimal conditions. The actual time of the race was 1:59.2, and Mitchell, who was 4th, was credited with doing it in a fraction over 2 minutes. This time, however, varies with different accounts from 2:00.4 to 2:00.8, so he could not be credited with equalling the record. After two near misses, Mitchell made no further serious attempts at the sub-2-minute half mile over the remainder of the season. Meanwhile, over in Dundee, Charles Niven Cation (Hawkhill Harriers) put in a flawless performance on 19 July when he won the scratch handicap race at a Bon Accord meeting in 2:01.8. However, Cation was another of those highly promising athletes who materialised like a genie out of a bottle and then vanished into thin air.
On June 20, 1892, Bob Mitchell secured his third S.A.A.A. half mile title in a row at Hampden Park with a time of 2:03.6. On this occasion, however, he was pushed all the way by Walter Malcolm (Morton F.C. & Clydesdale Harriers), who finished just 3 yards behind. While Mitchell failed to get beyond 2:03.4 for the 880 that year (at Ibrox Park on 25 July), Malcolm emerged from the Paisley man's shadow, graduating to scratch and inching ever closer to that elusive sub-2-minute clocking in the weeks following the national championships. At the St. Mirren F.C. Sports at Westmarch on 25 July he won the quarter off 10 yards in 51.2, running on to complete the full 440 in 53.0 seconds. Then he took second place in the half-mile handicap in 2:00.6 off 5 yards (which equates to 800 metres). On 15 August he went one better when he ran second in the half-mile handicap at the Morton F.C. Sports at Cappielow Park in his native Greenock in 2:01.0. A ship draughtsman by trade, Malcolm trained under the direction of John Ferguson on the cinder track at Cappielow Park. Like his great adversary from the Paisley school, he was a stylist with an impressive turn of speed. With Mitchell looking to win his fourth S.A.A.A. title and Malcolm determined to strip him of his crown, the next season promised to be exciting. And, of course, the question of who would be the first Scottish amateur to beat the 2-minute barrier was still on the table. Mitchell or Malcolm? Gentlemen place your bets!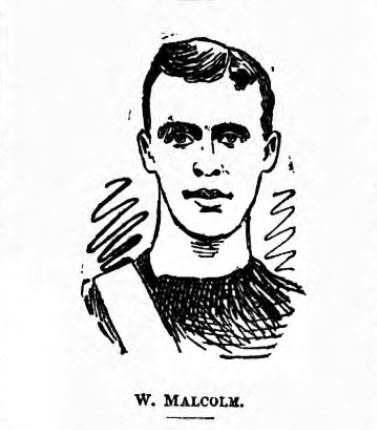 When Walter Malcolm and Bob Mitchell crossed swords again at Hampden Park on 4 June 1892, the Paisley man won without turning a hair in 2:01.6. In fact, Mitchell could not resist casting a mocking glance back to the Greenockian, who finished 3 yards behind in 2:02.0. At the S.A.A.A. championships in Dundee on 25 June, Mitchell again came out of top, scoring his fourth successive victory, albeit minus the gamesmanship this time, for he had to pull out all the stops to win by half a yard from Malcolm in 2:05.8. A week later at the Clydesdale Harriers Sports at Hampden Park on 2 July, it was Walter Malcolm's turn to make a serious attempt on the half-mile record. Regrettably, he was running in the absence of Mitchell, who had inexplicably declined the invitation. In this race, unusually, the winner's time was not taken because all the watches were on Marshall! And he didn't disappoint when he sprinted across the finishing line in 2:00.2, a new Scottish record by a fifth of a second, missing the 2-minute mark by a hair's breadth. As neither Marshall nor Mitchell were able to make any further gains that season, the "jackpot" rolled over to 1893.
In 1893 the signs were set for a breakthrough in the matter of the sub-2-minute half mile, but would it come to pass? One real breakthrough worth mentioning that year was that of John Hindle, Bob Mitchell's training partner. Hindle, a scourer and finisher in the Paisley cloth industry, had improved steadily under his father's guidance and joined the top echelon of Scottish half milers. Mitchell was out due to injury and had to forgo the S.A.A.A. championships at Hampden Park on 17 June. Even in Mitchell's absence, though, the race for the half mile championship was a memorable one, Walter Malcolm (2:01.8) winning by a yard from John Hindle (2:02.0), who in turn was a yard ahead of the talented young Watsonian Andrew Muir (2:02.2). Malcolm and Hindle two also had a great race over 1000 yards at the West of Scotland Harriers Sports at Hampden Park on 12 June, where both competed from scratch in the half-mile handicap as part of an arranged attempt on the 1000 yards record. After both men passed through the half mile just behind the placed runners in 2 min 2 sec, Malcolm got away from Hindle over the last 120 yards and won by 4 yards in a new Scottish record of 2:21.0. Surprisingly, the 2-minute bastion managed to withstand all assaults once again. In fact, the fastest time by a Scot that year was not credited to Malcolm, but to Hindle, who was timed at 2:01.2 at Ibrox Park on 8 July.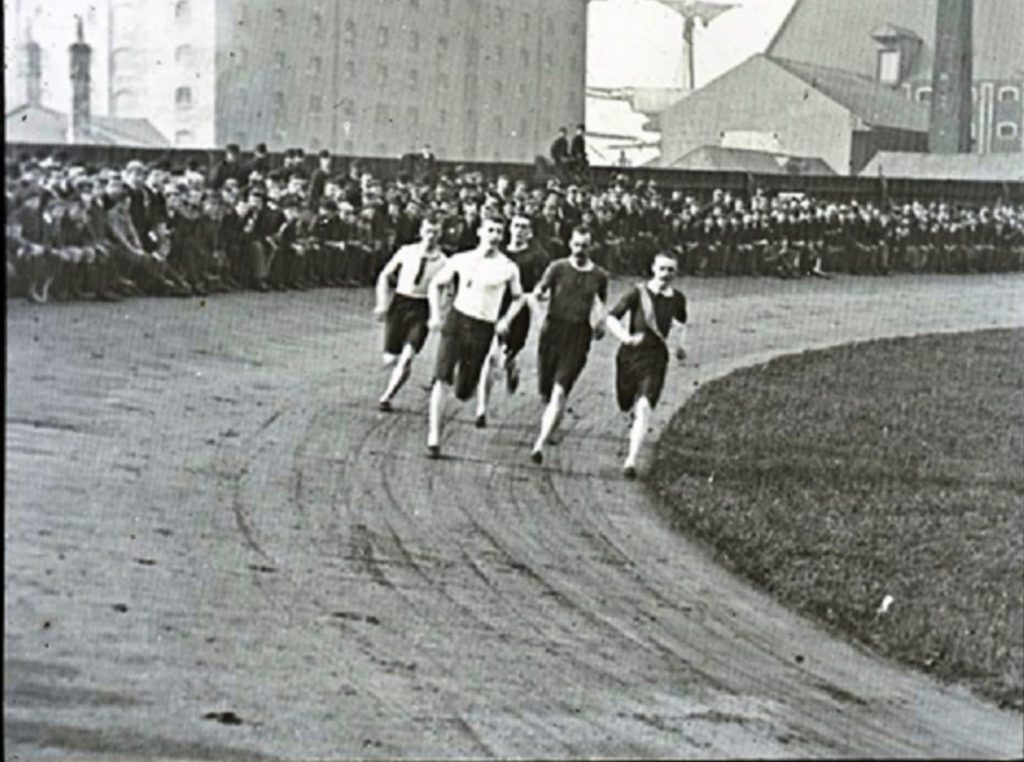 This lantern slide image dating from 1893 shows a 600-yard scratch race at Cappielow Park, Greenock, featuring (from left to right) Tom Robertson (Clydesdale H.), James Rodger (Carrick H.), John Hindle (St. Mirren AC), Robert Mitchell (St. Mirren AC) and Walter Malcolm (Morton F.C.). © McLean Museum and Art Gallery, Greenock.
A shift in the balance of power occurred in 1894, when Walter Malcolm made his exit and John Hindle fell away after promising so much. Meanwhile, Bob Mitchell returned from injury and James Rodger came to the fore as a half-miler. At the S.A.A.A. Championships at Powderhall Grounds on 23 June Mitchell secured a record 5th win in a slow race devoid of his toughest opponents. Despite that, he could not get near 2 minutes for the half mile, his best effort that year being a 2:01.6 at Ibrox Park on 30 June. The fastest Scot over 880 yards in 1894 was in fact James Rodger (Carrick Harriers), who just missed the national record when he clocked 2:00.4 at Underwood Park, Paisley, on 21 July. Rodger, a watchmaker from Maybole, was a two-time winner of the S.A.A.A. mile championship. Another bright spot was the rapid rise of Robert Langlands (Clydesdale Harriers), who won the half-mile handicap at Hampden Park on 9 June in 2:01.0 off 20 yards and saw his starting allowance slashed.
You may be asking what happened to Walter Malcolm? After the 1893 track season he sustained what only was described as a "career-ending injury". However, things would go from bad to worse for Malcolm. On 23 April 1895 he died of phthisis pulmonalis after suffering a ruptured blood vessel. He was only 24 years of age.
The 1895 season marked a changing of the guard in the half mile as Robert Mitchell finally lost his stranglehold on the event. It also saw the secession of the western clubs from the S.A.A.A. and the formation of the S.A.A.U., which, in turn, meant that there was now not one, but two, national championship meetings. From the outset it was clear that Robert Langlands would go on to great things that year when he ran the half mile in 2:00.8 off 12 yards at Partick on 20 April. Robert Langlands was born at Govan on 27 April 1870 and worked as a surveyor for Lloyds of London. He was one of four brothers from Dumbarton whose father was Postmaster in Dumbarton. Unlike the rangy Bob Mitchell, he ran with a short, choppy stride but nevertheless he was able to cover the ground very quickly. On 1 June he improved to 2 minutes dead off 10 yards at Alexandria. While Langlands was making all the news, James Rodger made his season's debut at the annual sports of the Victoria Bicycle Club at Underwood Park, Paisley, on 4 June. And what a debut it was! Having only recently recovered from injuries sustained in an accident, he won half mile flat race from scratch in a magnificent 2:00.0 – a new Scottish record. However, it would appear Rodgers' performance was a footnote lost in the white noise of the ongoing dispute between the east and west, and it was never recognised as a Scottish record even though the result was published in miscellaneous newspapers. That notwithstanding, the sub-2-minute half mile was now so close you could almost touch it.
At the S.A.A.U. Championships at Ibrox Park on 22 June, there was unfortunately no showdown between Langlands and Rodger over the half mile as Rodger opted to run the quarter mile, winning in 54.4 sec. There were only two competitors in the half-mile championship – the two Bobs, Langlands and defending champion Mitchell. This, according to Scottish Referee, is how the race went: "Attended by the Paisley master — Mitchell — Langlands set off on a race which nobody but those in the innermost "know" could have thought him capable. The pupil of Danny Friel made all the running, and this to such purpose that he ran Mitchell to a standstill and got home alone in the phenomenal and record time of 1 min 59 3-5 secs. This is a new Scottish native record, and it was made in such circumstances as to warrant us expecting even better things from Langlands. To beat Mitchell's record of 2 mins 2 secs, to rub out Malcolm's of 2 mins 0 1-5 secs, and to get within measurable distance of Bredin's 1 min 58 secs, stamps Langlands' performance as one of the most wonderful in the history of Scottish athletics."
So that was it. 28 years – and countless failed attempts – after William Kinross Gair had come within a second of breaking 2 minutes, a Scottish amateur had finally done it. After Langlands had shown the way, another two Scottish athletes would emulate the feat by the end of the century: Willie Robertson (1:59.8 in 1898) and Hugh Welsh (1:59.4 in 1899). Even half a century later, a sub-2-minute half mile on cinders was still considered a quality performance. Today in fact, it's a time many club runners still aspire to over the shorter 800 metre distance, and that's on synthetic tracks. In 2019, 80 Scots bettered 2 minutes for the 800 metres, but only 65 managed the time required to beat 2 minutes for the half mile (1:59.2).
At the end of the memorable 1895 season, Langlands hung up his spikes for good, having achieved his lifetime goals of winning a Scottish title and setting a Scottish record. Work commitments brought his career to an early end.
One unfortunate figure in this story, James Rodger, managed to get his name into the record books after all when he lowered the Scottish 1000 yards record to 2:20.2 at Ibrox Park on 3 August 1895. However, there was to be no happy ending for Rodger for both he and Mitchell were suspended from the S.A.A.A. in 1898 for betting. One is only left to wonder if they had perhaps once betted on themselves to go sub 2 when they were in their prime.