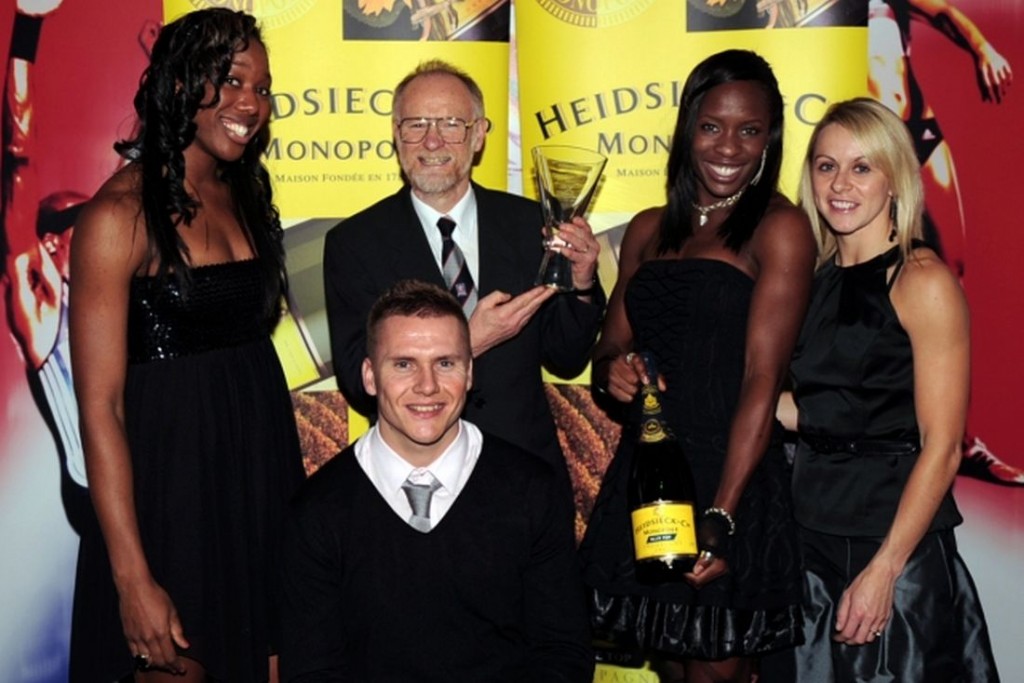 Alex Jackson
Alex Jackson, runner, oficial, administrator, Life Member of Scottish athletics, British athletics official of the year in 2008 and much more besides says:
"Dave Lothian was a name that came to my notice in the early 1980s when I became secretary of the East District Cross Country League. He was a prominent member of the strong Falkirk Victoria Harriers team which dominated in East Cross Country at that time. An East League meeting at Hawick around that time sticks in my mind when the Senior points totals at the meeting were 1st Falkirk VH "A" ,2nd Falkirk VH "B", this with 6 to count.
In more recent times its been working with Dave as one of the principal course setters at the National Cross Country at Callender Park. The National has been there since 2006,a significant element of the success of the National at this venue is down to Dave and his team at Falkirk Victoria for being host club "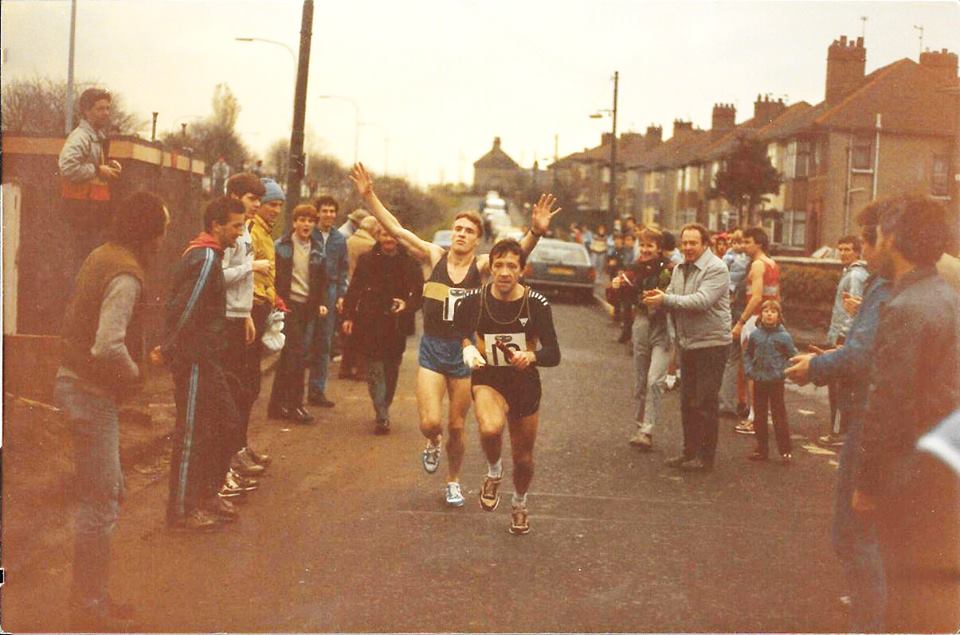 Stuart Easton takes the baton for Falkirk Victoria in the Edinburgh to Glasgow Relay
A former team mate of David's and a top flight runner in his own right, Stuart Easton has this to say:
During the 70s if my fading memory serves me well, David and I found ourselves racing each other on the track over 800m on numerous occasions……for me that was a sprint but for David it was an endurance event without doubt. On those occasions I knew I had to be on good form to have a chance of getting ahead of him. We got on well as athletes and members of Falkirk Victoria Harriers so it probably wasn't surprising that in 1979 we decided to set up a Specialist Running Gear Business based in Stirling…..Runsport. At that time it was really difficult for athletes to find anywhere to buy good quality shoes and all the other stuff and we were the first retailers in Scotland to pursue this line.
To make it work we decided to offer a mobile shop service at events throughout the length and breadth of the country and David spent many Saturdays out and about flogging his wares from the Runsport Caravan and various Games Brolly Tents. We attended cross-country, athletics and orienteering races all over Scotland.
During those years David suffered horrible weather and awkward customers with a smile, never seeming to let anything "phase him". Well at least that was the case until the day he was towing the Runsport Caravan on the motorway, heading I think for Cumbernauld. The poor wee caravan was on its last legs and just after he had joined the motorway, one of its wheels decided to part company with the rest of the caravan and the whole thing flipped onto its side, lifting the back of the van which David was driving, several feet into the air.
To summarise David as a colleague, friend and work-mate, I can honestly say that you would be hard-pushed to find someone more easy-going, honest, hard-working and reliable than David.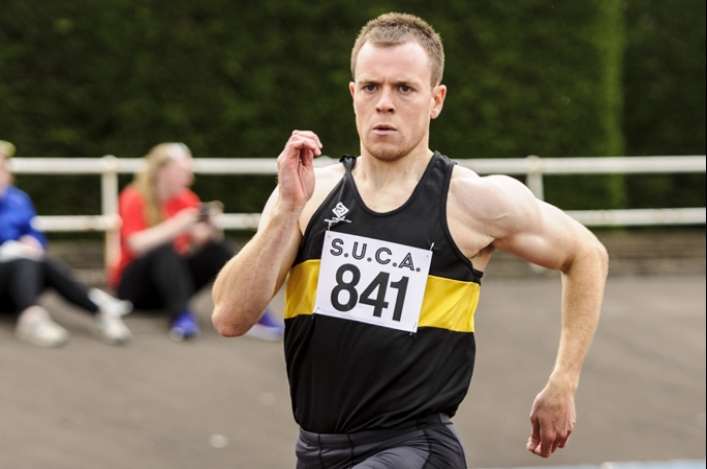 Grant Plenderleith
Grant Plenderleith, one of David's athletes pays him this compliment:
"David was the man who pioneered and finalised my change in sporting direction when I returned to athletics from a lengthy period playing professional football.
David was my fathers P.E teacher back in his teaching days so the family connection was already established.
Through diligent planning of training sessions and knowing when enough is enough, David has helped me reached heights in my athletics career so far that I wouldn't have ever thought would be possible…and there is still more to come. He has a wealth of knowledge and experience in the sport with a willingness learn and engage in discussions with other coaches in the international field to expand his own memory bank of the sport. Without his drive and willingness for me to succeed in the sport, I would not be in the fortunate position I am in today with my recognitions and accolades.
We have established a balanced approach to the way we both tackle training blocks and competition phases to get the best out of every opportunity that is delivered. The mindset that David has installed in me is "always be ready, and the opportunities will follow".
David's character is always admired and valued by all his athletes and fellow coaches at both club and international level. This shows the type of man he really is, a gentleman would be more accurate."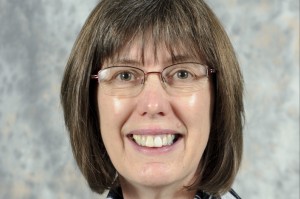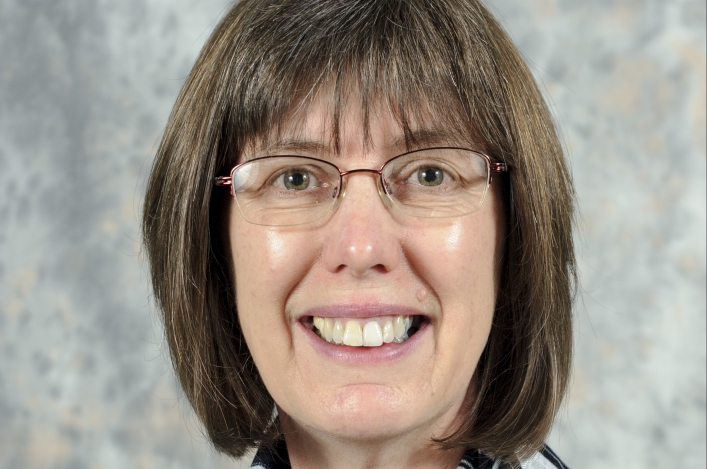 Leslie Roy quotes from the citation when David was nominated for Honorary Life Membership of Scottish athletics in 2017:
David has served athletics in Scotland for over 40 years, a measure of his interest and dedication to the sport.
As a promising young middle distance athlete, David was originally a member of Forth Valley Athletics Club. University years as a P E student at Jordanhill saw David join Shettleston Harriers. Upon graduating as a PE teacher David joined Falkirk Victoria Harriers (FVH) and became fully immersed in the club as an athlete; the Men's team Captain organising very successful teams in track, road and cross country competitions; coach and committee member.
As a talented athlete David was also a great team man, being a counter in several of the clubs National Cross Country medal winning teams of the late 70's and early 1980's. Cross Country relay medals were also won during this period and on the roads David managed the FVH team through an amazing period of success for a provincial club in the annual Edinburgh to Glasgow road relay which included two wins. Like many athletes David moved up the distances he competed in throughout his time as an athlete, running the inaugural London marathon in 1981 and returning a further nine years in a row. As team Captain David has competed in every track and field event for the Club in Scottish Athletics League matches, on top of the years of dedication in selecting teams for, and attending, events the length and breadth of the country and abroad; 12 months of every year.
Whilst still competing at the high level, David began coaching at FVH almost immediately upon joining. As a predominately middle to long distance running club at this time with few field event coaches, David worked at hard identifying athletes and then coaching them in a number of disciplines such as hurdles, sprints, high and long jumps and throws to strengthen FVH teams in track and field competitions. Many of these athletes were pupils from his schools where David set up training groups to encourage youngsters to become involved in our sport and join an athletics club. Several of these athletes went on to win national and Schools medals and gain representative honours. Now retired, David is still heavily involved in coaching, presently seven days a week concentrating mainly on sprints, middle distances and cross country.
Aside from competing and coaching David has been heavily involved in the organisational side of the club serving as a committee member for over 40 years, 20 of them as club president and maintains a continual involvement today as honorary President. David was instrumental in FVH becoming involved in organisation and administration of the annual Round the Houses 10km years more and. In the late 70's and 80's the club hosted a few national and district cross country championships, as well as regular East Cross Country League matches which David helped with. Since 2000 the club has been involved in hosting either an International or National Cross Country event at Calendar Park and David has been involved / assisted at them all. This hasn't just been the on the day work, but also the hours of behind the scenes work planning, attending meetings, getting helpers and volunteers to turn up, etc. In recent years, David has been involved in the design of the course, with his input required in the minor revisions with were required from year to year. Following the change in race distances for this years championships, David made a large contribution to the redesign and measuring of the course. The incremental changes required many hours of work on the venue in liaison with all contributing partners over many months to result in a course and venue which ensured another successful championship with record breaking participation, not forgetting the challenges on the day caused by the weather.
On a wider front beyond FVH, David has for many years served as a Committee member of the Scottish Schools Athletics Association (SSAA) including, again, a period as the President. This service to our sport exceeds 30 years and has included convening, organising and officiating at all of the various SSAA championships, be it cross country, road or track(indoors and out). David has also for many years been a team manager on the international trips attended by literally hundreds of athletes, many of whom had their first experience of international competition and competing for Scotland before going on to even greater achievements, aided by the experienced gained on these trips.