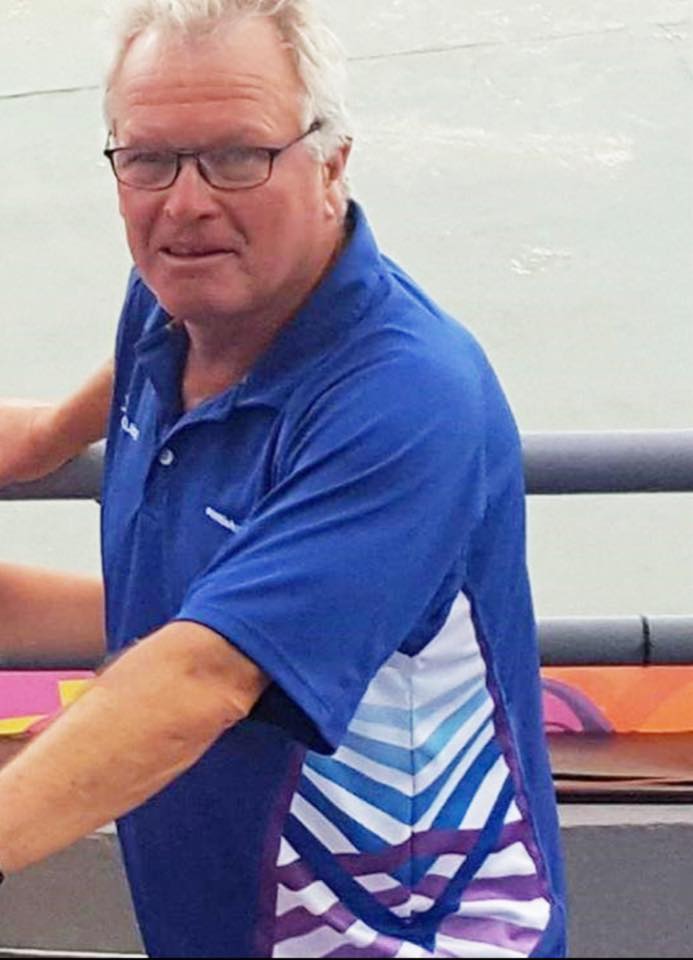 Scottish athletics has had many very good athletes who went on to become coaches and/or administrators. David Lothian is one of the very best. He has been top class runner with very good times at distance from 100 metres to the marathon, he has run in medal winning teams with many of Scotland's best ever athletes such as Lachie Stewart, Lawrie Spence, Nat Muir, Jim Dingwall, and Willie Day. as a coach he has worked with athletes of all standards from club runners to senior international standard, as an administrator he has worked on national events on the track and over the country and has worked as an official at individual events. He is also a man who is a good club servant – he does what his club needs him to do, and then does a wee bit more. As a role model for the sport, you would go a long way to find a better. We asked him to complete the questionnaire to start the profile on his beginnings in the sport and career as an athlete and the replies are below.
*
Name: David Robert Lothian
Date of Birth: 08-09-1954
Occupation: Retired Principal Teacher Physical Education
Clubs: Forth Valley Athletic Club, Shettleston Harriers, Falkirk Victoria Harriers
Personal best times:
100m. 11.30 sec, 200m. 23.00 sec, 400m 50.00 s 4 x 400m. Split 48.50
800m: 1min 55sec, 1000m : 2min. 30sec ( ash, ) 1500m. 4mins exactly, 3000m 8min 27sec.
10km.: 30min 30sec ; half marathon 69 mins. Marathon: 2hrs. 26min 42 sec.
Introduction to sport: In my early teens Norrie Foster moved from Glasgow to Falkirk. He lived a couple of doors away from me and at this time he was a GB Internationalist. I had been doing a little cross-country at Graeme High School and took an interest in athletics. Norrie was a definite inspiration. I joined Forth Valley Athletic Club and gradually became very involved in the sport doing high jump and a variety of other events but eventually specialised in short middle distance under the guidance of Bob Campbell who was my coach up until I enrolled at Jordanhill College. Main influences in my earlier days were Norrie Foster, then within a club Bob Campbell who had a very good group of Scottish Junior Internationalists over middle distance including David Clarkson and Andrew Gillespie plus others. I moved to Shettleston when I enrolled at Jordanhill College due to my link with Norrie Foster. I remained there until finishing college.

Development: My great love in the sport was 800
metres. In which I achieved a Scottish Schools vest when the international age group was 17-19yrs. However all practical work at College doing PE resulted in increased physical development. I also incurred a long term ( to this day) foot injury that made it difficult and painful to wear spikes thus the increases in distance over the years.
What did I get out of the sport: A life long love of the sport an experience of all distances being able to run until I was 42 years of age completed the first ten London Marathons ( I was told I was the only Scot to do so) Life long friendships with Jim Dingwall and Willie Day plus many others with whom I spent many hours running and enjoying a beer. The social aspect was as important as the running.
Another big plus was experiencing the influence that Davy Wilson had in making Falkirk Victoria Harriers successful during my running days.
Finally from a very early stage ( after College) the desire to coach which I have been involved in for more than forty years across the whole spectrum of events, being able to pass on my love of the sport. Took ten years partly ( did club coaching in a variety of events where the club had gaps) out of the sport to coach National League and International basketball but had to get back to my love of all athletics
Best ever performance: Tried hard but couldn't make such a decision think the early injury stopped me achieving the level I would have liked to achieve at 800 metres. I suppose possibly first London Marathon 2.26 not too bad for a big guy.
Personal goals are well in the past my peak without a doubt in athletics has been the success I have enjoyed with Grant Plenderleith and the other champions and internationals I have coached.
*
Just read these answers again and note some of the comments that could have been elaborated. The one that jumps out at me was the one about having run in the first ten London Marathons. London Marathon entries are hard to get unless you are running really well – to get ten in a row is a testament to his ability, his consistency and the fact that there was no 'off-year'. While looking at the marathon, the first one on 29th March, 1981, remained his personal best but in the annual ranking lists for that year, he was 18 seconds behind Evan Cameron, 11 seconds up on Doug Gunstone and 24 up on Graham Milne. He also appeared in the event listings for the distance in several years, with the first being in 1978 when his time of 2:35:45 saw him Scot for the distance. It should be remembered that this was a fabulous time for road running in Scotland with 52 men in 2:30 or faster in 1981 and 62 in 1982.
We can also look at his running in the Edinburgh to Glasgow for Shettleston where he won two medals in his first two relays. It was never easy to get into the Shettleston eight, nor were there any 'easy' stages to run, but he did make the team and running on stages seven (through the busy roads into Glasgow's east end) and three (undulating countryside) he held his place well. In the first race the team started with Lachie Stewart on the first stage and Nat Muir on the second, and David took over from Lawrie Spence and handed over to Stuart Easton. After finishing at Jordanhill, he moved clubs to Falkirk Victoria Harriers and represented their team five times on stages 1, 3, 4, 7 and 8, in company with such as Jim Dingwall and Willie Day.
On the track, he mentioned his 1:55. In 1974 he was timed at 1:55.3 on 8th June at Meadowbank behind Shettleston team mate Stuart Easton (1:55.1) in a Scottish League Meeting. It was good enough to put him 19th in the Scottish rankings for the year. It also ranked him above Craig Douglas, Willie Sheridan and Jim Dingwall. He ran 1:55.7 a year later to be again ranked 19th in Scotland. He was also ranked in the steeplechase in 1979 with the good time of 9:54.2
David also raced, like all good middle distance men, over the country. He ran in League, District and National championships for his clubs, winning a bronze medal at national when he finished sixty fifth and last scoring runner for Shettleston in 1977/78. After graduation he moved back home and joined Falkirk Victoria Harriers and turned out for them in District and National Championships in every season from 1919/80 to 1985/86. David was a very good runner and he ran all over the country in all the classic races – from the McAndrew Relays on the first Saturday in October right through to the National Championships at the start of March – and was a consistent and valued team member.
There is however more to David than this: many would have been content with that competitive record to call it quits and walk away and retired to gentle hill walking. Others would have put something back into the sport by doing some coaching, others would have done a bit of officiating or administration or even team managing. David was not content with any one of the above – he has been a club committee member, a team manager, and official, an administrator, a coach and he also filled all of these positions at national level as well as being a key member of the Scottish Schools Athletic Association. He has now been a Committee Member for 40 years + and has spent 20 of his first 40 years as club president. David was asked how he got involved in these various aspects of the sport and he is quoted in detail below.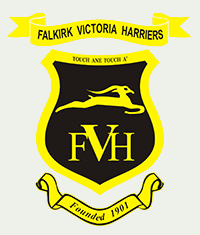 Like many David started his administration career at club level. Wherever you find Falkirk Victoria Harriers you will find Davie. I have met him at Scottish Athletics Annual General Meetings, League General Meetings, District and National Championships, cross-country races, road races and track meetings. He is always a positive voice too – we have all attended meetings where there is always somebody who complains about the treasurer's report, the Chairman's opening remarks, the timing of the meeting and that is all they do at meetings, they complain. There are others who go and never say a word – as one former President of the SAAA said, "They're like apologies for someone who couldn't come.". Davie represented the club on track and field as well as cross-country committees Davie was never like that and we can comment more on that when we look at his time as track team manager. When asked about that and his position in the club he replied:
"I'm not really a paper person thus the main position I held within Falkirk Victoria Harriers, committee wise was as Club President which I think I held for around fifteen years probably the only person that would give you a more accurate answer is another very good friend Andy Ronald, and in a sneaky moment when for personal reasons I was unable to attend the annual general meeting I was "elevated " to Honorary Life President. In other words not allowed to escape!"
He is reluctant to speak about attending these saying only that he did his bit at something that was not his scene but often it was necessary for the club's benefit. It should be noted that some of the meetings he attended lasted until almost midnight and he wasn't the only one there, but he was prepared to sit them out until a decision was reached.
The Scottish Men's Track League has fluctuated in standard over the decades that it has been in existence. It was perhaps at its very strongest in the 1980's and 90's with George Duncan as Secretary. George was a really hard worker and his tenure was accompanied by many very good and very active club team managers: Claude Jones at Edinburgh AC, Bill Scally at Shettleston, Colin Baillie at Inverness and several more. At one point there were five divisions with eight teams in four of them and six in the other. The first Division had all internationally recognised events on the programme and from 1987 there was a 10,000 metres at every second fixture. The Falkirk team started in the League, as far as memory serves, in 1986 after a qualifying match for entry to the second Division of two. The club really started to motor however when Davie became team manager. He recalls these days as follows:

"This particular position I held at a period of time when Falkirk were a force in middle and distance running, however several people in the club had a desire to see the club establish a place in the greater picture of athletics as a whole, as many athletes including myself we're doing events we really shouldn't have been doing for example I can honestly say that I at one time or another did every event in the Mens League, and great friends of mine Jim Dingwall and Willie Day as a partnership were witnessed throwing a hammer the day after completing a marathon!!. This had to change and did for a long period of time when a group of young guys all Scottish junior international athletes who were abandoned to South of the border came under my eye when one of them made contact as a result of being born in the Falkirk area to join the club. His name was Chris Edgar and he was ranked 7th Junior in Europe in the hammer. What a plus this was for the club and Scottish Athletics because Chris was friendly with this other collection of young Scott's two of whom went on to complete in two Commonwealth Games for Scotland, Ian Park, hammer, Jamie Quarry, Decathlon and although they didn't quite receive the same recognition two outstanding athletes who also did multi events Alex Greig and William Wyllie, these guys could not do enough for the club despite there many commitments down South. This combined with some home based athletes such as the aforementioned Roddy Slater and David Clelland made my team captaincy a delightful time. And this was exciting for all as Falkirk were up at the top end of a strong Scottish Men's League that had greater stature than today in my opinion as it drew in many Scottish International athletes."
The team certainly prospered but it was not universally accepted without argument. This is where the comments above about Davie's positivity at committee meetings comes into its own. There was always debate, at times quite acrimonious, about the use of second-claim athletes. Some years clubs were allowed to use only two second claim athletes, in other years four were allowed. But Davie's teams at times had three Anglos competing for them – good guys all, the officials all liked them (maybe Jamie Quarry in particular) and they got on well with other athletes. The situation was further complicated by the fact that whereas most clubs that had a second claim sprinter, or hurdler, the Falkirk Anglos were multi event guys. Quarry, Wylie and others could do four, five or even six events each – and often they were hard-to-fill events such as hammer, pole vault or high hurdles. Then Davie and Douglas Gillespie came up with the expression that none of the others had heard at any time in their life. The expression was 'first claim in Scotland'. They contended that since Dave Edgar did not have a Scottish club, then Falkirk Victoria Harriers was their Scottish club. This was debated at great length and when it looked as though the other side was going to win, Davie and Douglas pointed out that clubs like Birchfield, Sale and the rest were not affiliated to the SAAA! Therefore the athletes were only affiliated in Scotland through the Falkirk club. They had won their point. The combination of Davie and Douglas had worked well for the benefit of the club and the vote in their favour had the majority. The team managed by Davie Lothian was one of the best in the land.
*
Development towards Schools involvement:
The Scottish Schools Athletic Association has been a well supported, well organised and highly respected organisation for as long as I've been involved in the sport. There have been some very good people in the various offices: Linda trotter was a superb hard working secretary for a long time; Jim Burns and John McGhee were legendary figures at all the big meetings. And they were big meetings: the numbers in the schools cross-country championships were always bigger than any other event or championship for these age groups, schools support the track and field championships every June to the extent that it has to be a two day event. The SSAA Indoor championships have many entries from lots of schools taking place in a small indoor arena with races, throws and jumps going on all at the same time. Organisation of a high level is vital. And these are only some of the high school events – no mention has been made of primary schools championships or secondary schools relays. Each one is a very demanding event for the people involved. David is right in the middle of all of them: if you want to speak to him, don't think you will see him at the championships. He's far too busy. How did he get roped in for this one? He says:
"While at Jordanhill College on the athletics front I took up the mantle of team manager in which I involved us as a team in the British Colleges Championships, which were mainly the competitive arena for the ten or so specialist PE colleges in Britain. We had a fairly successful time just behind a couple of the big guns. Also arranged local competition with Glasgow University where at the time one of the main persons was Frank Dick,who thought I would go on to make my career in athletics rather than teaching. I have no regrets going with the teaching.
On finishing at college I decided to attend the annual general meeting of the SSAA – I can remember sitting there feeling a little intimidated as at that time back in 1976/77 everything was very formal and stuffy. You were not made immediately welcome as we make young attendees feel these days.
In my home area I was heavily involved with putting on the annual athletics events so I suppose one of my first roles was attending meetings as the rep for Stirlingshire at the time. But as time moved along I became a regular team manager for the SIAB cross country and on occasions the track and field, so you could probably say I have been involved for 40+ years. As well as team manager's duties I have also had lengthy periods of time as convener for road relays both Primary and Secondary, the latter now being run as road race championships. I started both of these events at their inception back in the early 1980's, I think under the guidance of a recently departed gentleman John McGhee.
One of my biggest tasks in recent years has been to be course designer and clerk of course for Secondary and Primary Cross-Country Championships plus coming up for my fourth SIAB International cross-country event to be at Calendar Park in Falkirk. Officiating wise I do the Schools events in a variety of roles: sometimes announcer, others marksman and a variety of other tasks.
A high point in my time involved with the Schools was my two year stint as Association President, not everyone's cup of tea but I was fair proud to hold the position.
So I am now an Honorary life Vice President.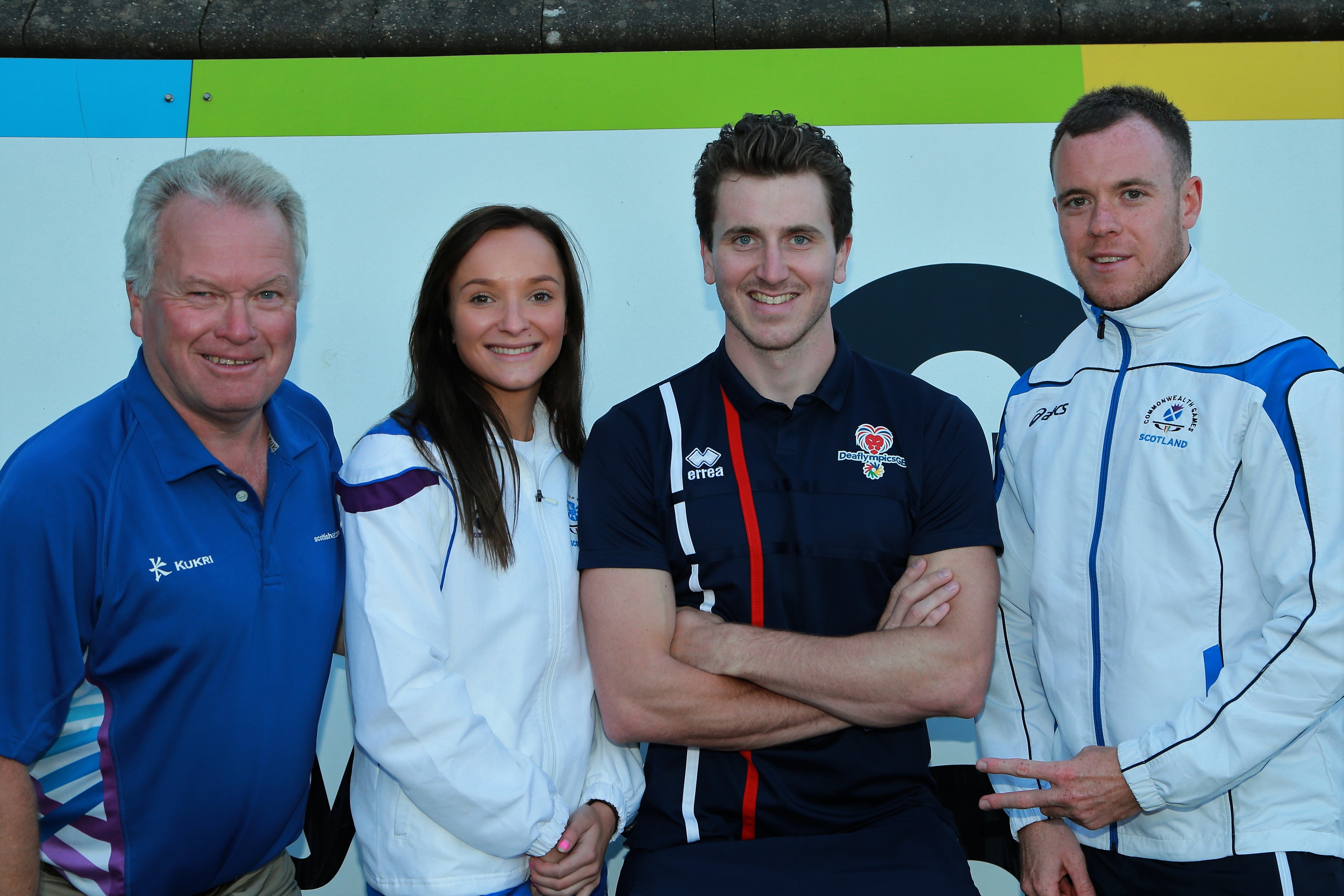 David on the left with Olivia Vareille, Mitchell Graham and Grant Plenderleith
A role that David obviously relishes is that of coach in the club and he describes his involvement in this aspect of athletics, and how it came about, as follows.
I left college in 1976 and decided very early on that I would get involved with Falkirk Victoria Harriers: the initial intention was to focus on my own running despite the aforementioned problems with my heel, In October of that year I began my first teaching post at Camelon High School in Falkirk this position lasted for sixteen years firstly as a teacher then principal teacher. As I settled into the job I started to find pupils who displayed some talent for the sport and eventually Willie Day and myself decided to set up training sessions in the school a couple of evenings per week. This continued for many years. From the school training sessions certain pupils decided that they would like to take the sport further, thus they became involved with coaching that Willie and myself were doing for the club. Initially it was a variety of events and over the years can probably say there was very little that I hadn't tackled, even had a go with Pole Vault! As you can see however my early coaching was very much grass roots and during that time at Camelon did have a pupil, Bobby Baird who was an under 20 International at shot,discus and high jump. Outside the school I coached David Clelland and partially coached Roddy Slater both very good under 20 International sprinters, however as with many others the younger age groups were as far as they went due to a variety of circumstances. So around the club I had become very involved in coaching with what I would describe myself as falling into the ' jack of all trades' situation. Very much a case if the club had a lack of coaching in any discipline I would attempt to cater for that, and also did sessions to pass on basic knowledge to other coaches
For the greatest part of my coaching career I had attended coaching delivery sessions from time to time, but really just used my Physical Education teaching qualification and knowledge that I had picked up over the years from athletes and coaches working at a high level in a variety of events, . I had no formal coaching qualifications until forced to comply when the goalposts were changed and a teaching qualification ceased to be adequate in U.K. Athletics.
So having had to move on I now have up to the Events Coach qualification, endurance. I suppose due to lack of qualifications I wasn't invited to coach at Schools or National coaching sessions, until this year I did the SSAA coaching day 300/400m coaching group ( at 64 years of age) enjoyed it tremendously.
Reflecting back again it was during my ten years of serious basketball coaching that I still did the bulk of my fill-in for the clubs needs coaching rather than have a long term commitment to a group. This period of time was during my second teaching post at Denny High School. I spent 18 years there up until I retired At Denny I had a number of athletes who made it into Scottish Schools teams along with others I coached from other local schools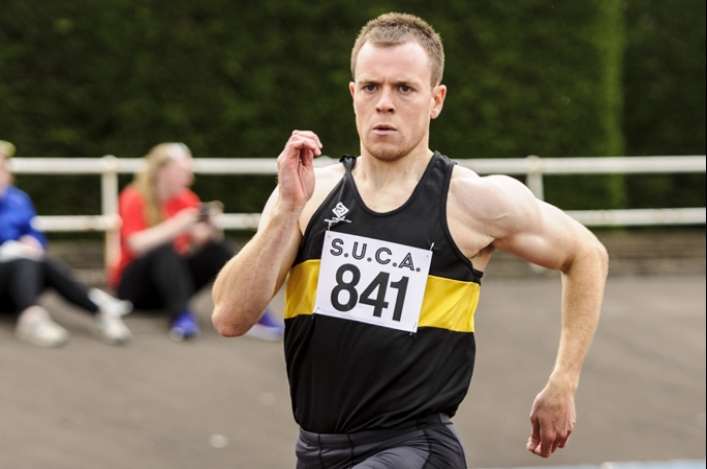 Grant Plenderleith
To bring you into my more recent years, that is from my retirement at 55 to the present day: this period of time has had the advantage of not being shared by so many other sports and interests and has allowed me to work with some very good athletes both on long sprints and short middle distance. I suppose without doing any injustice to others a high point has been working for approximately six years with Grant Plenderleith who has had a Commonwealth Games (Glasgow) and a World Championships Indoor final (4 x 400m. ) as well as a variety of titles and medals at Scottish and British level to his name and is a pleasure to work with. The others are many:
*Gary Smith 800 metres senior age group
*Olivia Varille 400/800 metres U17 , Commonwealth Youth Games (Bahamas),
*Mitchell Graham Deaf Lympics (Turkey)I had the pleasure of going to watch them both back to back it was some trip.
I currently have working with me a number of 18 year olds who have competed for SSAA. Lewis Pentecost, Ben Grant, Fergus Rule, and a few more seasoned athletes who do a significant part of their training with me in Jade and Taylor Nimmo. But just as important to me are many others who work hard and might just have their time to come
Then not to forget the Masters we have the ever present Andy Ronald and Craig Johnstone. So I enjoy it all."
A look at how the athletes mentioned above have progressed:, Grant's athletics cv includes Commonwealth Games in 2014 in the 4 x 400m team which finished 5th in the final; At GB level he was 3rd in the indoor 200m in 2017:in the Scottish championships, he was 1st in the indoor 200m in 2016, 1st 400m in 2015, 2nd 400m in 2017; 1st i200 in 2014, 1st i200 in 2015 and 3rd i60 in 2017. Gary won the Scottish indoor 800m in 2008 and was third in the same event the following year, With times of 49.49 for 400m, and 1:50 for 800 he is clearly an athlete with talent. Olivia has pb's of 26.2 (200m), 40.62 (300m), 56.45 for 400m, 2:09.5 (800m) and 4:45.47 for 1500m and ran for Team Scotland in the Bahamas in 2017. That is a very wide range and at 19 she clearly has a future in the sport. For more about Olivia, have a look at https://www.teamscotland.scot/athlete/olivia-vareille/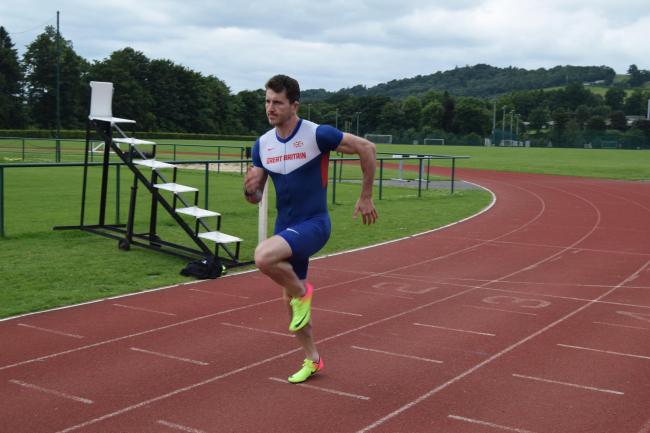 Mitchell Graham
The first person that I ever heard use the phrase "You do what your club needs .you to do" was Eddie Taylor of Shettleston. Davie is the living embodiment of that dictum. He actually uses almost the exact phrase when talking about his coaching where he started as a 'jack-of-all-trades' and has progressed to his present level of specialism.
"Out of all the involvement I have had, there has been a lot of pleasure, stress at times but I'm still there doing it so I must be enjoying it!
I'm not a qualified official having fought off the pressure constantly from the start team to get involved, there ain't no spaces left in my athletics life I have to have some personal time for some beer"
and then he remembers yet another aspect of his athletcs and says: "I did have one other interesting addition to my athletics career so far. I was a founding partner of Runsport alongside major partner Stuart Easton. This happened in my mid twenties and had me at that time working seven days a week and still doing all the rest.So although most have been already mentioned my current status is
*Life President of Falkirk Victoria Harriers
*Honorary Life Vice President of SSAA
*2017. Honorary Life Member of Scottish Athletics.
*All of which I am very proud to be"
If you want a job done, ask a busy man: Davie is the living proof of that. For what others think about David, have a look
at this link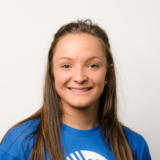 Olivia Vareille