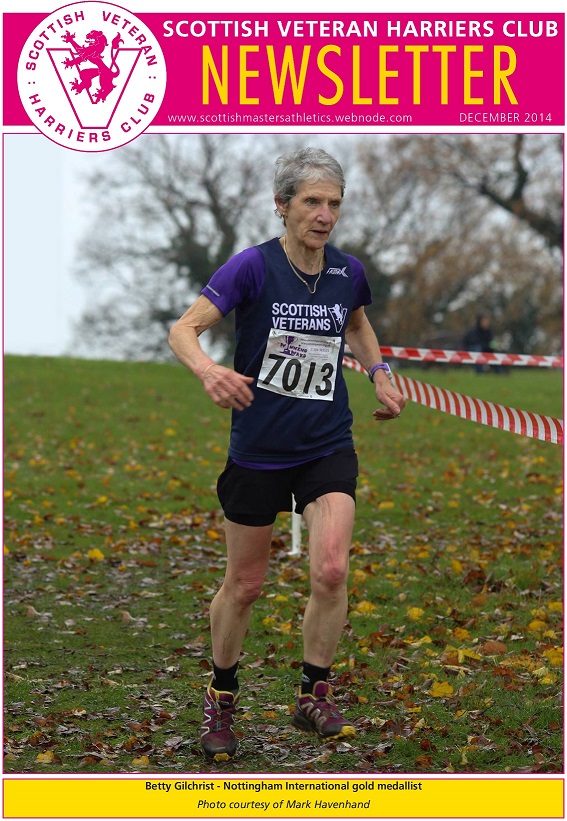 MEMBERSHIP NOTES 27th NOVEMBER 2014
MEMBERS
Welcome to the 7 new and 3 reinstated members who have joined or re-joined since 19th August 2014. 2 members have resigned and 53 have not renewed their subs.
I regret to announce the death of George Mitchell, and send our condolences to his family.
We have 481 members paid up to 27Nov 2014. For those who have not already paid or set up standing orders, subscription renewals are now due for 2014/15. As of 27Nov, subject to checking our next Bank Statement, we have 246 paid up members, including 130 who have standing orders payable in Nov
Any member not wishing to renew their membership should send me a resignation letter by post or email.
NEWSLETTER The electronic version of the Newsletter is now the preferred option. Any member who would rather receive a printed Newsletter must contact David Fairweather (djf@ dfairweather.plus.com), if they have not already done so. Please inform David if you add or change your email address.
Please send photos, news, letters, articles, etc for the next issue To: COLIN YOUNGSON TOMLOAN, SANQUHAR ROAD, FORRES, IV36 1DG e-mail: cjyoungson@btinternet.com Tel: 01309 672398
SVHC EVENTS
Stewards/marshals are required for club races. The club appreciate all members & friends who volunteer to act as stewards/marshals. If you are not competing just turn up and introduce yourselves to the organisers. Thanks to all those who have already helped out.
STANDING ORDERS
Thank you to the members who have set up standing orders for membership subscriptions. Please remember to update the amount payable, & keep me informed if your membership details change (especially email addresses). If any other member wishes to set up a standing order please contact me.
Please ensure, if possible, that the next payment date is set for 10Nov2015, and annually thereafter.
CLUB VESTS
SVHC running vests can be purchased from Molly Wilmoth for £17 (Tel: 0141 7764941).
NEW MEMBERS
CHRS SURN JOINED NO. TOWN
Yvonne Crilly 14-Nov-14 2224 Deans
Gerrard Farrell 17-Sep-14 2219 Glasgow
Gary Hester 11-Oct-14 2220 Duke Street
Dean Kane 22-Aug-14 2218 Culloden Moor
James MacGregor 12-Nov-14 2223 Inverurie
Colin Stewart 11-Nov-14 2221 Halfway
Steven Worsley 12-Nov-14 2222 Inverness
Alex Chalmers 06-Oct-14 1860 Bearsden
Hugh Rankin 01-Nov-14 1027 Hurlford
Stephen Wylie 10-Nov-14 2002 Blantyre
David Fairweather Membership Secretary
SCOTTISH VETERAN HARRIERS RUN and BECOME RACE SERIES 2014/15
It may have seemed like something of a marathon in itself to some people but the 2013/2014 version of the SVHC/RUN and BECOME RACE SERIES finally came to an end with the Neil McCover Half Marathon at Kirkintilloch on 5th October.
After 13 races spread over 11 months the Jackie Gourlay Trophy for the winner of the Men's event goes this year to Frank Hurley who produced probably his best run of the season in the final race to pip Colin Feechan by a single point, as the long time leader John Gilhooly slipped back in the later stages. Willie Jarvie, Bobby Young and Andy Law made up the top five, covered by only 5 points.
The Dale Greig Trophy which goes to the winning woman was retained by Phyllis Hands, winner by a massive 14 points with Pamela McCrossan, Ada Stewart, Frances Maxwell and Shirley MacNab taking the minor prizes.
The best performance over the series came from Hilary McGrath with 9.4 points at the SAL 3000 metre track championship while Fiona Matheson and Paul Thompson (twice) registered 9.3.
The series continues to be very popular and carries an extensive prize list.
There are some changes to the 2014 /2015 Series as we extend it to take in 16 races but retaining the number of scoring events at 8. The demise of the Lochaber Marathon is a great pity but we have included the Moray Marathon, and there are some totally new races to the Series.
The full list is –
19/10/2014 SVHC 10K Track Champ Coatbridge
06/05/2015 Snowball Race 4.8 miles Coatbridge
26/10/2014 Ruby's Race 5K Kilmarnock
30/05/2015 Bathgate Hill Race Bathgate
14/12/2014 SVHC Xmas Handicap Clydebank
03/06/2015 Corstorphine 5 miles Road Race Edinburgh
22/02/2015 SAL Cross Country Champs Falkirk
–/06/2015 SAL Masters Track & Field Champs
01//03/2015 Lasswade 10 miles Road Race Lasswade
24/06/2015 SVHC 5K Champs Clydebank
22/03/2015 Lost Trails Race Falkland
16/08/2015 SVHC Glasgow 800 10k Champs Cartha
05/04/2015 Tom Scott 10 mile road race Motherwell
–/09/2015 Moray Marathon Elgin
03/05/2015 SVHC Walter Ross 10K RR Cartha
–/10/2015 SVHC Half Marathon Champs Kirkintilloch
Alastair Macfarlane
OBITUARY: GEORGE MITCHELL
Sadly, George Mitchell died of cancer on 1th September 2014, less than two months short of his 69th birthday.
George (Inverness Harriers and SVHC) was an invaluable member of the Scottish team in the annual British and Irish Masters Cross Country International. Between his M55 debut in Cardiff (2003) and Belfast (2012), when he was in the M65 age group, he never missed a race: ten in succession, a tremendous record and a testament to George's consistency and ability to peak for each year's most important fixture.
George watched the Glasgow Marathon in 1983 and, at 37, was inspired to take part the following year. His training was typically dedicated and meticulous and he made an impressive marathon debut in a good time under the three hour barrier.
After that, he was frequently successful in 10k contests and the North District Cross Country League (three M50 Supervet titles).
He first won a Scottish Masters CC Championship medal (M50 bronze) in 1996. His initial gold medal triumph (M55) was at Forres in 2003, when he stayed not far behind Colin Youngson until three hundred metres from the finish, before launching a tremendous sprint, to which his shocked rival (who had foolishly assumed he was well clear) could not respond. It has to be admitted that Youngson was a bad loser and moaned loudly to anyone within earshot. However, once he had eventually calmed down, the guilty Aberdonian made several humble apologies to George, who was magnanimous enough to accept them. Justifiably, George liked to tease Colin about the incident.
Although Youngson gained revenge in the 2004 championship at Cupar, when George Mitchell was third, this was the last time that Colin managed to finish in front of his rival, team-mate and now friend, who was truly a cross country specialist.
In George's age groups, the only Scot who had much success against him was Archie Duncan of Pitreavie AAC.
Overall, between 1996 and 2013, George Mitchell won four titles [M55 (2003), M60 (2006 and 2009) and M65 (2012)] plus five silver and three bronze medals.
George's record in the International was perhaps even more impressive, considering that he was racing against the best from the four home countries, plus Eire. In ten races, he was first Scot to finish seven times, and won eight team medals (four silver and four bronze).
Between 2006 and 2009, he finished fourth three times and fifth once, agonisingly close to securing an individual award in this most prestigious event. Then, having turned 65, he finally won bronze at Glasgow in 2010, defeating England's redoubtable athlete, Martin Ford. In 2012 at Belfast, George ended up third once again, 25 seconds in front of Colin (7th place), who was proud to have been that close to his leader and, along with Stewart McCrae and Hamish Cameron, to be in the Scottish M65 team that came second to the Auld Enemy but in front of the other three nations.
When George emailed the selectors to state that he was not fit enough to run the International in 2013, he wrote "First one missed in ten years. I cannot complain."
George was a friendly, popular, respected man with a dry wit. One story involves a training companion and close rival who intended to race against George in a long road race. Before the start George gave him some friendly advice about sensible tactics. Then Coach Mitchell wrote on the race number pinned to his own back: "If your name is Danny, and you're close enough to read this, you're going too fast"!
Another anecdote is that, when George won the Scottish Masters M65 title, he claimed to be 'the fastest pensioner in Scotland'!
He trained hard and cleverly, peaked well, was tactically brilliant and could endure a lot of discomfort in races before producing a very fast finish.
In addition, he contributed greatly to Inverness Harriers: committee work, advising and inspiring younger team-mates, and helping to organise training and races, including marking out the course.
He held age-group Parkrun records in both Inverness and Aberdeen.
Before a North District CC League race at Elgin back in 2010, George was chatting to Colin when a younger runner looked at the two white-haired ageing runners and laughingly exclaimed "Jack and Victor!" He referred to the two pensioner friends from the great Scottish television comedy series "Still Game". Colin (a year or so younger) used to think that he was the one who ought to be compared to Greg Hemphill's junior character. However, George Mitchell was in so many ways a genuine victor and will be remembered and missed very much by many who were privileged to know him. We send sincere condolences to his family.
QUESTIONNAIRE: BRIAN GARDNER
Brian Gardner responded to the questionnaire with typical thoughtfulness. Although injury has now forced him to retire from running, he has found another outlet for his unquenched desire to train and race.
As you will read below, despite numerous operations, he has achieved a great deal during his athletic career. Successes he chose not to mention include: Scottish Masters CC titles at M45 and M50; Scottish Masters track wins at 1500, 3000 and 5000; International CC bronze medals in M50 and M55 to go with his M45 triumph; and first places in BMAF M45 10,000m and M50 ten miles. Before all that, he won the British Masters Modern Triathlon (swimming, running and shooting)! For many years he was an invaluable part of the Scottish Masters team in the annual 5 Nations International Cross Country. At Falkirk in 2001, along with Keith Varney, Gerry Gaffney, Archie Jenkins and Nicol Maltman, he was part of the M45 team that won gold medals. In this fixture Brian also contributed to four team silver medals and one bronze in three different age groups. We wish him the very best of luck in his new sport.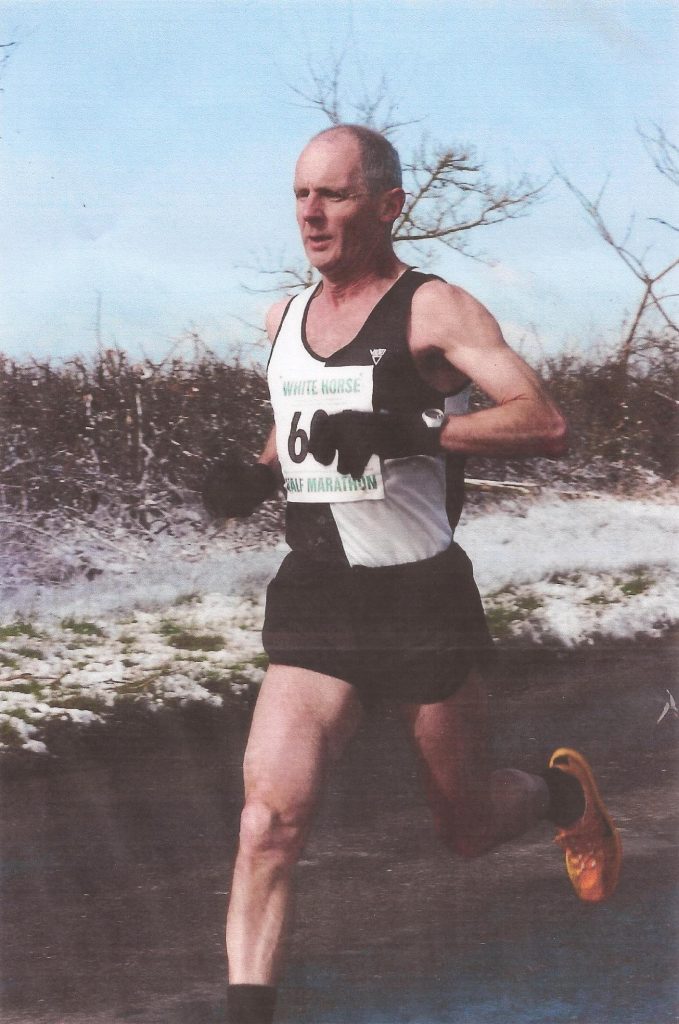 CLUBs Swindon Harriers and SVHC
DATE OF BIRTH 25/03/56
OCCUPATION Active Lifestyles Team Leader, South Gloucestershire Council
HOW DID YOU GET INVOLVED IN THE SPORT I always liked running around as a child but when I was invited to trial for my primary school's area sports team, I was too shy to join in! It wasn't until I ran cross country for my Boys' Brigade team that I finally plucked up the courage to join Airdrie Harriers just before my 17th birthday.
HAS ANY INDIVIDUAL OR GROUP HAD A MARKED INFLUENCE ON YOUR ATTITUDE OR INDIVIDUAL PERFORMANCE? In my last year at Airdrie Academy, my PE teacher, Bobby MacLean, a former Shettleston Harrier, coached me and helped me believe in myself.
When I left school, Airdrie Harriers amalgamated with others to form Clyde Valley and I joined Tommy Boyle's group. Under Tommy's coaching my 800m time came down to 1:57 and I won my only senior Scottish Championship medals: silver and bronze at 4x400m – by age 20, when I left Scotland to study and work in England and became a cross-country specialist.
I've been self-coached ever since, although I've been influenced by club stalwarts and leaders such as: the late Keith Scott ("You'll never run faster until you run faster") of Newbury; Pete Molloy (a World Champion who cited me as an influence in his recent comeback); Howard Moscrop (another World Champion, who also took Swindon into the British League) at Swindon; and SVHC's Archie Jenkins (always up for it), Colin Youngson (always eloquent) and Davie Fairweather (always there).
WHAT EXACTLY DO YOU GET OUT OF THE SPORT? In my job I should say health, wellbeing and an active lifestyle but it's none of those! It's planning and training to the best of your ability – given your limitations – to race as well as you possibly can in the most important competitions. It's that proud feeling when you go into work on a Monday knowing that you ran a good race at the weekend, and you keep that feeling to yourself because it's special to you.
WHAT DO YOU CONSIDER TO BE YOUR BEST EVER PERFORMANCE OR PERFORMANCES? Only one contender: winning the 'home' international cross country (M45) at Croydon in 2004.
The build up to the race couldn't have been better for me: I was winning cross country races outright and setting lifetime pbs on the road. I had planned and trained to the best of my ability and this was the most important race. Although I'd never finished higher than 12th overall before, I knew that if I concentrated and held my nerve, this could be my time.
We were held up in the sleet at the start while the organisers found a 1st aider (!) It was difficult to keep warm but I made a cautious start and then threaded my way through the field. With about a mile to go, I knew I was the leading M45 and first Scot overall but England's Jon Cordingley was trying to get past me. I surged to hold him off several times until I sprinted clear in the home straight. Crossing that finish line was the proudest moment of my life. And it was only after finishing that I learned that I was 5th overall; I had no idea that I'd moved so far up. The support from team mates was heart warming. I'd planned and trained for that win and finally ran as well as I possibly could.
YOUR WORST? Too many contenders! For every performance I was proud of there were at least twice as many that were a disappointment; sometimes because of injury or surgery but mostly because I ran like a donkey.
WHAT UNFULFILLED AMBITIONS DO YOU HAVE? I never won a World Championship. But I didn't win many national titles, either, so maybe I had ideas above my station.
The same season that I won the 'home' international I went on to win a poorly supported European Cross Country Championship in Sweden. I felt that I was on a roll and really wanted to try and win something at the next level.
I didn't run overseas again until 2008, when I was 5th (M50) in the World Cross Country Championships in France. That's the closest I got.
And I suppose that your last pbs are all unfulfilled ambitions: for instance, in 1984 my 5,000m time came down from 15:09 to 14:58 to 14:53 to 14:44 and I was dreaming about how much more I could improve. But I missed the next four seasons and never ran any quicker.
Track pbs: 1:57 (800m), 3:57 (1500m), 8:28 (3,000m), 14:44 (5,000m), 30:58 (10,000m) – all age 28
Road pbs: 15:52 (5K – age 48), 25:43 (5M – age 48), 32:51 (10K – age 44), 72:01 (HM – age 48) and then there was a doubtful 50:45 for the Tom Scott '10', aged 23, on the old Law to Motherwell course, back in the day when road race measurements were more creative. In the tea bar after the race that day I overheard this comment: "They keep saying that the course must be short but every time it's measured it comes out as a good, solid nine and a three quarters."
OTHER LEISURE ACTIVITIES? Swimming; Game of Thrones; walking the dogs (two Springer Spaniels); English Literature; big Rugby League fan; occasional gigs e.g. My Ruin, Wednesday 13, Queens of the Stone Age; lifelong supporter of Airdrieonians…
WHAT DOES RUNNING BRING YOU THAT YOU WOULD NOT HAVE WANTED TO MISS? Team mates, exploring the countryside and mainly the training and competition.
I've had to miss a lot of that over the years, having had ten operations. The latest was in May, 2014 and that was the third in just over a year. I've had more comebacks than Frank Sinatra but this time – for the sake of the future health of my joints – I'm finally calling it a day… permanently.
However, I have found a new sport: open water swimming! Just six weeks after handing back my leg brace and crutches and buying my first wet suit, I swam my first race in a lake. And did okay! So, I still have team mates, exploring the countryside, training and competition. And I've made another comeback, with a difference! There is life after running!
CAN YOU GIVE SOME DETAILS OF YOUR TRAINING? During the cross country season I followed a staple diet of cross country reps, steady runs and a long run on Sundays.
The training was always progressive e.g. adding a rep or reducing the recovery and working towards a peak for the major championships. The track season was similar except the reps would be shorter and at 3-5 different paces e.g. 800m/1500m/3,000m. These sessions were usually on grass rather than on the track. At various times of the year I'd run hill reps, build-ups and differential runs.
During the past twenty-five years or so, I incorporated cycling and swimming, as I could no longer sustain relatively high mileage.
Much of my running has been on the Wiltshire Downs.
There are two training runs I remember most of all. One day, I was on top of Cherhill hill in dazzling sunshine, looking down on a blanket of fluffy clouds with the odd tree or church spire poking up here and there. And I thought: all the non-runners are down there in the fog; you have to run up here under your own steam to See the Light.
Another day, on another hill, I came across a group of people flying model aeroplanes and I asked them: "Spot of flying? Me, too!"
These days I swim 10km per week in five sessions made up of various sets, mostly in a pool but also in a lake.
I also do five or six core stability sessions of around twenty minutes each; these were originally rehabilitation exercises and have developed into an almost daily habit. I wear a pedometer twice a week – once during the week and one day at the weekend – and make sure I walk at least 10,000 steps on each of those days. And I have one rest day per week.
Now that I've had a taste of open water competition, I'll be getting some coaching in the pool this winter with a view to maintaining good health and tackling a full season next summer. I might come back home to swim a race in a loch. Wish me luck!
QUESTIONNAIRE: ANNE DOCHERTY
NAME Anne Docherty
CLUBs Forres Harriers and SVHC
DATE OF BIRTH 11 March 1945
OCCUPATION Retired College Lecturer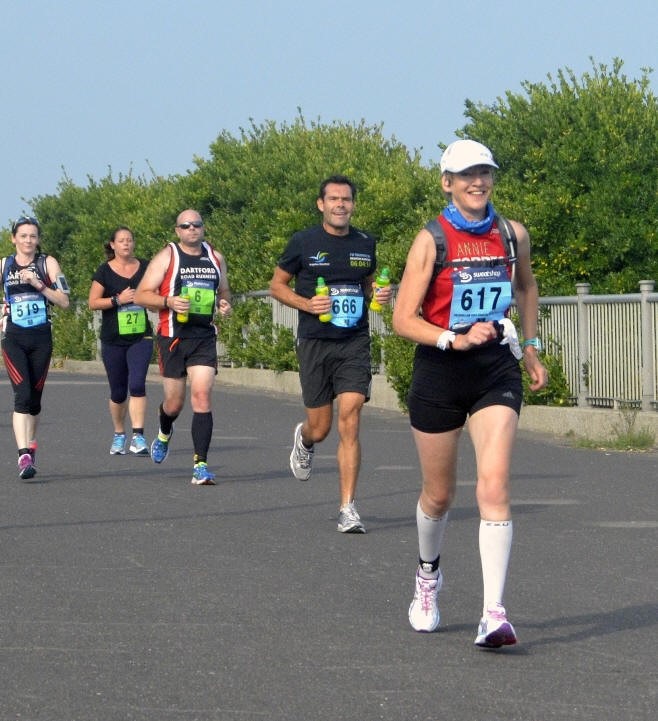 HOW DID YOU GET INVOLVED IN THE SPORT? I had never been a runner – just couldn't do it. But I have always been a swimmer of sorts. My husband and I used to regularly walk in the hills and had quite a few Munros under our belts. However, he broke his ankle and it never repaired very well, also he now has 2 new hips, so our hill walking days sadly are over.
I tried the gym for a while, but I am never happy being inside.
With great fear and trepidation one day I stood at the front door, clad in my hill walking gear with old trainers on – heart beating rapidly before I had even started – and I set off for a trial "run" in the woods behind our house. Once out of sight of any one I found I could sort of gently run. I decided that as I was nearly 60 (10 years ago) and retired from lecturing, this could be my challenge, and started to "run" about 3 times a week for about 30 minutes around what is now my "cosy woodland route". Two neighbours whom I did not know very well, Fran and Jackie, eventually persuaded me to join the Forres Harriers, running slowly and patiently with me.
HAS ANY INDIVIDUAL OR GROUP HAD A MARKED INFLUENCE ON YOUR ATTITUDE OR INDIVIDUAL PERFORMANCE? I could not run to the extent that I do without the support of my husband – who is always there to encourage me. Also my family and grandchildren. There is nothing more thrilling than hearing them call "Come on Nanna", waving their home made banners. Also of course my two friends and neighbours, as above, who are great supporters. However, without the support and friendship of my fellow Forres Harriers and Club Captain Susan, I would be just another old grannie! I am certain that I would not have achieved so much without belonging to the Harriers.
WHAT EXACTLY DO YOU GET OUT OF THE SPORT? An opportunity to get out into the fresh air and explore new places. I am now very brave, and have discovered all kinds of exciting places when running in unfamiliar areas on my own. I also get a feeling of freedom, a sense of identity and fitness.
WHAT DO YOU CONSIDER TO BE YOUR BEST EVER PERFORMANCE OR PERFORMANCES? Probably winning the Loch Ness Baxters 10K for F60+ this year. It was my pb and just felt good all the way – topped by a most unexpected win on a perfect day. Also I am very pleased with my recent performance in the Speyside Duathlon, which was just about my toughest challenge so far! Winning this year's BMAF 65 Ladies Cross Country was just amazing as I am not at all a confident Cross Country runner as I fall over a lot!
YOUR WORST? I always do my best, and therefore don't ever feel I have a "worst" experience even if times are slow.
WHAT UNFULFILLED AMBITIONS DO YOU HAVE? None. I just take each day/challenge as it comes.
OTHER LEISURE ACTIVITIES? Swimming and cycling. Triathlon. Quilting. Walking. WHAT DOES RUNNING BRING YOU THAT YOU WOULD NOT HAVE WANTED TO MISS? The friendship of fellow runners. A sense of fitness which without running would have been difficult to achieve. Exploring both local and new areas. I am never afraid to stop to enjoy the view or experience!
CAN YOU GIVE SOME DETAILS OF YOUR TRAINING? It depends on what I am training for. I always run about 5 days a week. For a marathon up to about 50 miles a week – including one day hills and one day speed. I always follow a training plan as much as I can.
If I am also training for a triathlon I include swimming and cycling as well, fitting everything in as much as possible. I do find that when I fit in swimming and cycling with marathon training, I feel on top form.
I am doing that just now. I hope to run in the Thanet Marathon , my 16th marathon, near Margate in September, and the week after that to take part in the Grantown on Spey triathlon.
When I am not training for a marathon, I probably run about 30 miles a week.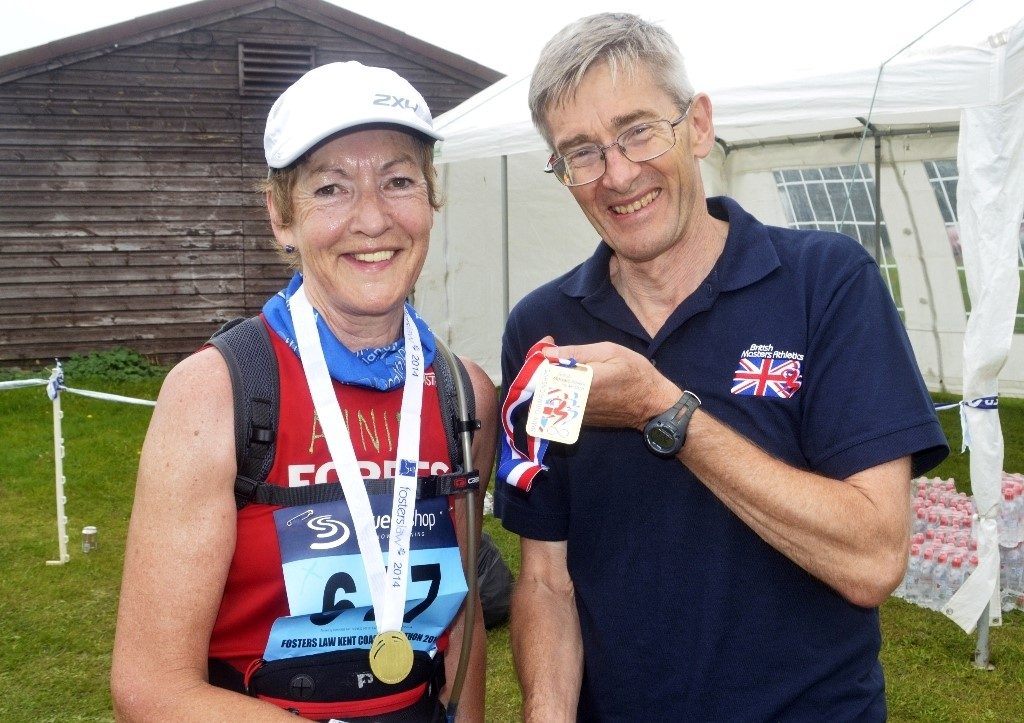 Anne after the race receiving her British Masters Marathon gold medal
(Shortly after completing this questionnaire, Anne reported as follows. "Have had a great two weeks! Won the W65 gold medal in the BMAF Marathon Championships and was also first W60 in the Thanet Marathon. It was really hot and hilly – probably the hardest marathon I have run, as I just wasn't expecting such testing conditions. But very well organised and a lovely atmosphere. In the Grantown Triathlon I was first Female over 65, and knocked over two minutes off my previous best – that was the fourth time I have done it. Again I found it hard and hadn't realised that I had done much better than before.")
Many congratulations, Anne!
CONGRATULATIONS TO JOHN AND JOASIA
At Hampden on the 22nd of November, Scottish Athletics staged the annual awards event. John Thomson of Fife AC won the 'Masters Athlete of the Year', from the other nominees – Jo Butterfield, Hayley Haining and Joasia Zakrzewski.
John Thomson has had a great deal of success in 2014. As well as winning M55 Scottish and British Masters titles at Indoor 800m and 1500m, he finished second in the World Masters Indoor 1500m in Budapest. Then In August he became European Masters Outdoor 1500m Champion in Izmir, Turkey. In the 800m, outdoors John is ranked fourth in Europe and indoors first. In the 1500m outdoors he is ranked third in the World (first in Europe), and indoors second in the World (first in Europe).
As well as representing Scotland in the Glasgow Commonwealth Games Marathon, Joasia Zakrzewski has run brilliantly in the ultra-distances. In November she tackled two races in Doha. First, she won a silver medal in the IAU 50km World Trophy and then, only three weeks later, finished third in the IAU 100km World Championship. Along with winner Ellie Greenwood and fourth-placer Jo Meek, Joasia won team gold for GB. To cap it all, Joasia became World Masters 100km Champion too.
COMMITTEE CHANGES
New SVHC President Campbell Joss writes: "If you look at the list of committee members in this newsletter, you may notice a number of changes.
After eight years serving as your president, Alastair Macfarlane is retiring from this position, but will not be lost to the committee as he takes over as general secretary. Alastair has undertaken an immense amount of work for the club during this period which I hope members have appreciated.
In taking over as president I shall have a hard act to follow. Andy Law is taking over as treasurer and this is always a challenging task in keeping our books in order. Andy has been on the committee for the last two years so he has a good idea of the work involved.
There are three new members of the committee. Margaret Daly has been a loyal supporter and helper during many SVHC events and will bring to the table this experience and that of her position on the Track and Cross Country Commission with Scottish Athletics.
Bobby Young has been an outstandingly successful veteran athlete for three decades, with so many international appearances.
Ken Moncrieff's main interest is in track and field, especially in multi-events.
I hope to attend most of the events organised by SVHC and shall always be happy to speak to anyone about any issue affecting Masters Athletics.
Although we have over 450 members, this only represents about 10% of Scottish Athletics registered athletes over the age of 35. In addition, there are of course many unregistered.
The committee will continue to look at ways to develop better contacts with Scottish Athletics and better recognition of our organisation.
FAVOURITE RACE MEMORY (by Mel Edwards)
AAA Marathon and Olympic trial.
27 July 1968 One of the toughest, but most satisfying races of my distance running career was the !968 Olympic trial marathon, held in Cwmbran near Newport in Wales.
I had won my first marathon (Harlow, 2.18.24) the previous October, and finished second in the Poly (Windsor to Chiswick) 6 weeks prior to the Trial. That was in 2.19.32 and I was 4 minutes 17 secs behind Kenji Kimihara of Japan, who was to take the silver medal a few months later at the Olympics.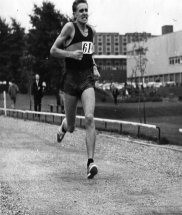 Mel winning in Harlow in 1967 in 2:18:25 – his first marathon.
I was working in Southampton at the time and took the train to Newport the previous evening then stayed in a guest house with Alastair Wood and Jim Alder.
At 8 am on the morning of the race I went for a 20 minute run with Alastair and had to hold him back because as usual before a big race the adrenaline was flowing through him!
The course was a hilly 3 lapper and the temperature 22 degrees. The temptation to stop at 2 laps was so great that of the 91 starters, 42 dropped out.
Come the start we had to do 2 laps of the running track and I took the lead.
Just before we left the stadium Ron Hill, Ron Grove and Jim Hogan went past, and a second group formed behind them including Jim Alder, Bill Adcocks and myself. However those two, Tim Johnston and John Linaker pulled away.
The group passed Brian Kilby at 4 miles and I was feeling good and running with John Newsome, Tony Moore, Martin Craven, Eric Austin and Colin Kirkham.
At 7 Miles John came right back.
At 10 miles I (unusually) took a drink, dropping about 30 metres behind Martin, Eric and Colin. However, I felt refreshed after the drink and soon caught them.
Moore was in front at this stage and Kilby came up strongly at 12 miles and passed me. I was hanging on for a bit here but got over it and started to do some pushing. We caught Moore at 17 miles, and Colin and I began to draw away a bit from the rest.
At this point we were in 7th place, and heard Jim Hogan had dropped out. Could there be a chance of making the team with various permutations possible up front with the 10,000m places?
As we passed the stadium at 2 laps, with about 8 miles to go, I drew away from Colin but my legs began to go. Kilby was in sight up front but I wasn't going strongly enough to try to aim for him. It was a struggle from here on, but it came and went a bit. Coming up to 20 miles Ron Grove was slowing and I began to go a bit better.
At 21 miles I got a rhythm going, but the strength had gone.
At 23 miles my constant training partner Alastair passed. Now we are speaking about the middle of the Welsh countryside, clearly no spectators, not even any sheep in the fields. And he passed without saying a word!! I thought, "You ***." Now in 7th place. He didn't get more than 30 metres ahead.
I perked up from 23-24 miles and thought I could get him at 24 but I was slowly failing, and at 25 (2.13.30) I took a quick drink and then began to die.
However, my last mile and 385 yards in 7.38 wasn't too bad considering that the winner (in 2.15.26) Tim Johnston took 7.06.
Round the track to the end and stopped, absolutely done. 7th. (2.21.09).
After a minute or so I went over to Alistair who had finished 6th, 40 seconds ahead of me, and was speaking to a group.
I said "Well done, but you might have said something when you passed".
The never-to-be-forgotten response…"Listen, Edwards. If anybody from Aberdeen was going to make the Olympics it was going to be ME, not YOU". And he walked away, the adrenaline still flowing through his veins despite the 26 miles.
One of the group said to me in astonishment, "Who's that??" I replied, "A friend?"
I am indebted to Alastair (who passed away a few days short of his 70th birthday in 2003) for his companionship and advice over the years during some cruel training sessions (including 60 x 200 metres).
He lost count during the session and I had to make him do the exact 60. After he said, "Your problem Edwards is that you're too rigid. What would it have mattered if we'd done 59?"
I replied, "That's not the point." He said, "Then what is the point?" I replied, "The point is you can't count!" Being a highly intelligent individual, that grated and he didn't speak to me for a week after! He was a tough cookie and was fastest in the world in 1966.
We finished 1968 ranked 6th and 7th. So, no Olympics. During the Games I was fitter than ever before and doing 115-120 miles a week. I recall a colleague saying to me during a session in Aberdeen, "Right time but wrong place!" Happy days. We are so fortunate to be runners.
GREAT SCOTTISH VETERAN RUNNERS – DAVID MORRISON
(This profile is by Brian McAusland and borrowed, with his permission, from the Veteran section of his excellent website: scottishdistancerunninghistory.co.uk)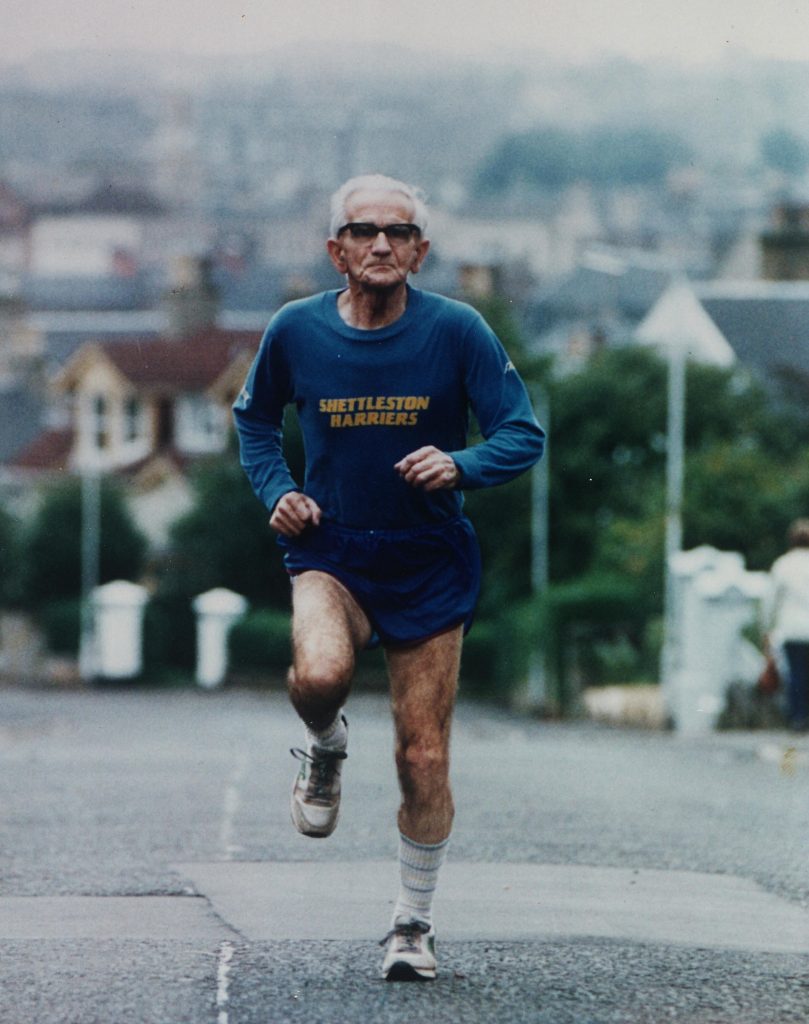 I was lucky enough to know the original Three Amigos – John Emmet Farrell, Gordon Porteous and David Morrison. They were great characters, genuine role models and wonderful examples of health and fitness in old age.
I first really met David Morrison when I was convener of the SAAA Decathlon Championship at Coatbridge in the mid-70's. When setting up the organising committee I was strongly advised to ask him to be the Field Events Referee. He had the advantage of living just along the road at Airdrie but that was not why he was recommended: he was a very good, experienced official with a personality that enabled him to get on well with the athletes as well as with the other officials.
He filled the same post when I convened the next two decathlons at Grangemouth and then again in Coatbridge.
We will come back to his officiating but it is as a veteran runner that we will start the profile of this remarkable man.
David was born in Hamilton, his father a miner, on 19th December 1913 and left school at 14. He owned a newsagent's and later a hardware store in the Alexandra Parade in Glasgow. He held other jobs – a production engineer and locksmith who helped the police out when they had difficulty getting into safes.
When David joined Shettleston Harriers in 1933 he thought he was a long jumper but soon discovered that he most enjoyed running.
The Shettleston Harriers official centenary history – 'One Hundred Years of Shettleston Harriers: An East End Odyssey – says: 'In 1933 19 year old Davie Morrison lived in Shettleston Road and was a member of the Physical Culture Club in Fenella Street. Two of his pals at the club. Jimmy Allan and John Broadfoot, were in the Harriers and it was they who persuaded him to sign on at Gartocher Road.'
One of the Shettleston seniors at the time was Jimmy Flockhart who was the 1937 international cross-country champion and he proved a real inspiration to young David.
His first National medal was won in the 1936 National Novice Championships over the Hamilton Racecourse trail. Unfortunately, he lost the medal in the tram on the way home: he may have lost the medal, but he didn't lose the pride in the achievement of leading the team home in 14th place.
A year later he made the club team for the National Championship which won silver.
After this race, Jimmy Flockhart gave him one of his own gold medals saying that he had run poorly and that the David's team medal should have been for first place not second. That was his last national medal until he started running as a veteran athlete.
In 1955 he went to work in Kuwait as a radio engineer and became fluent in Arabic. While there he won the Al Madi Magwa road race when the temperature was over 100 degrees.
He gave up competing for 19 years only coming back as a runner in 1974 at the age of 61. That was the start of a long international career that took him all over the world and won him many medals at championships from national to world level.
Just how good was he as a veteran? I was given a booklet of World Masters Track & Field Records from 1990, produced in America, which gave the world record for every age in every event. Only two Scots appeared and David was there no fewer than six times. They are in the table below.
(Note: The listed times for 3 and 6 miles are the actual times for 5000m and 10000m and should be noted as about 30 and 60 seconds faster respectively.)
Event Age Time Date
3000m 68 11:25 27/6/82
3 Miles 75 20:36.0M 9/9/89
5000m 75 20:36.0 9/9/89
6 Miles 75 42:03.4M 9/9/89
10,000m 75 42:03.4 9/9/89 73 42:52.4 29/11/87
His better known friends John Emmet Farrell, Andy Forbes and Gordon Porteous do not feature in this booklet.
They were part of a very well known group of veterans who trained often together and raced together and travelled the world together. They called themselves 'the geriatric rat pack' and the tale is told of one of them falling in a track race – the others stopped and then they all started again in the positions they had when the stumble occurred!
His best race was the one that appears four times in the table above. At Coatbridge on 9th September 1989 in a 10,000m race he set the world over 75 best as well as setting a world best at 5000m en route.
A wonderful run but Doug Gillon, writing in the 'Herald' said that although this was his finest moment, "he was perhaps proudest when called on two years ago last month to present his club with the Scottish six-stage relay trophy in their centenary year. He applauded with a justifiably moist eye as they won, then handed over the silverware wearing his Shettleston track suit and a ski hat from circa 1950, knitted in their distinctive blue and gold."
The reference to Shettleston Harriers is significant. Having joined the club in 1933, he was still a club member when he died in 2006. He was one of a generation of men across the sport who believed in 'one man, one club'.
Loyalty mattered a great deal to all of them and Shettleston was blessed with a fine group of such men – David, Eddie Taylor, Willie Laing and others all started out as runners but believing that you do what your club needs you to do, they all turned their hand to coaching field events, to administration and to officiating.
At the events mentioned above, David educated me in the ways of the decathlon. Two examples. First, I had been warned not to let the first day run on too long – the previous year it had gone on until after 7:00 pm and everyone was exhausted before the second day.
So I pushed the athletes along from one event to the next until David came along and said quietly, away from everybody else, that 'we' were maybe rushing things and that the athletes needed some time between the individual competitions. I had forgotten about the needs of the athletes!
Second, There were two pools for the high jump and for the pole vault. David took one look and said firmly that one landing area for the pole vault was unsatisfactory: there was no cover mat on the beds and any limb going between them could be really badly injured. The stewards setting the equipment out should have known that but I should have known to look.
He had been the chief field event judge at the excellent 1970 Commonwealth Games and would go on to hold the same position at the 1986 Commonwealth Games.
He judged and refereed at national and district championships, and even on the Highland Games circuit. Having started as a long jumper and having coached all the throws – hammer, discus and shot in particular- he was in an excellent position to officiate.
As an administrator and club official he was Honorary President of the Scottish Veteran Harriers Club from 1993 – 2006 having held various other posts including secretary, at Shettleston he was Treasurer from 1970 – 73, and from 1978 – 81. He was also President from 1949 – 51 and Honorary President in 2006.
His sterling service to the sport was recognised by Scottish Athletics who made him an Honorary Life Member.
Among his other excellent races two in particular should be noted. In the Dundee Marathon at the age of 71 in 1985 he recorded a marvellous time of 3:21 but expressed himself mildly disappointed because the world record was held by his pal Gordon Porteous with 3:06!
Then in 1991 in the Kelvin Hall, he broke the World Indoor 3000m record (you can add that to the six in the table above, compiled in 1990!) The report in the 'Scotsman' read, "No one present that March day in Glasgow will forget the slight figure in glasses comfortably reeling off 15 laps of the 200 metre track, nor the frantic support yelled by everyone as the possibility of a new world record grew into a probability then an actuality."
Some more of David's highlights: Scottish Championships • 1938 Second Team, National Cross Country • 1981 1st M60 Cross-Country • 1987 1st M70 Cross-Country • 1989 1st M75 Cross-Country British Championships • 1985 1st M70 10K 41:04 (Record) • 1989 1st M85 800m track World Championships • 1980 Glasgow 1st M65 10K road • 1985 Lytham St Anne's 1st M70 10K road, 2nd 25K road • 1986 Vancouver 2nd M70 10K road • 1987 Melbourne 2nd M70, 1500 (5:36.10), 10000 track (42:52.38), 3rd 800 track (2:47.31)
His Personal Best performances were
Event Time Year
400m 115.13 1999 400m 85.0 1989
800m 2:47. 1987
1500m 5:36.10 1987
5000m 20:36.0 1989
10,000m 41:07 1985
TJ 5.98m 1989
As an indicator of how his performances compare competitively, the Power of 10 Rankings for David on the All-Time List are as follows: • 400m V85 2nd, V75 25th; • 800m V85 2nd, V75 2nd, V80i 9th; V80 18th; • 1500m V85 2nd, V75 4th, V70 13th; • 5000m V75 4th • 10000m V70 5th, V75 3rd • TJ 15th
Note that these are all time rankings as listed at 25/7/13. In 2003 he completed the Great Scottish Run 10K despite having had a kidney and part of his liver removed.
In Shettleston's Centenary Year of 2004 he completed his final race, the club Christmas Handicap. As he made his way round the course, he was accompanied by Norrie Foster and Eddie Coyle, two athletes that he had coached in the 1980's.
He died on 16th May 2006 aged 92
Doug Gillon again, "his children, including St Andrews' computing professor Ron Morrison, gave him a personal computer for his 70th birthday. He defied family predictions, took night classes and mastered the new technology. He was secretary of the Scottish Veteran Harriers and put all their files and records on his database. …
Professor Morrison and his sister Jean discussed how their father would like to go. "So we've dressed him in his Shettleston vest and Scotland tracksuit. There might be a race where he's going…" He is survived by daughter Jean and sons Ron and David."
[Roger Robinson is, in the editor's opinion, the finest writer about running. He is a close friend of Aberdeen's Mel Edwards, who he met at Cambridge University back in the 1960s. Roger ran the World Cross Country Championships for England and subsequently New Zealand, where he went to work as a university lecturer in English (and eventually as a professor). He was a world champion veteran athlete and now has homes in New York and Wellington, NZ. Many thanks to him for kindly allowing us to reprint this article from his column in the American edition of Runners World/Running Times. Google 'Roger Robinson running' and you should find a wealth of fascinating and thought-provoking articles.]
A Racehorse, a Rock Band, a Mountain and an Asteroid: Runners' names in popular culture
Here's a Holiday season quiz for snowed-in runners:
Which famous runners have a racehorse named after them?
Identify a mountain, a rock, and a rock band named after runners. And a cookie, a doll, a pub, a post office, and an asteroid?
Which runners have had songs written for them?
Which runners have had their face on banknotes or coins?
Which runners have become proverbial in their home countries?
I started to explore the internet for runners whose names have gone out into the world beyond running. Then I had the inspired idea of sending Christmas greetings to some wise men, a selection of my most learned international running friends, to ask if they knew of things in their own countries – horses, streets, parks – named after famous runners.
Not things within the sport, I said, not apparel lines, or races (the Zatopek 10,000m in Melbourne, the Gary Bjorklund Half-Marathon, Grete's Great Gallop), not track meets (Prefontaine Classic, Harry Jerome, Ivo van Damme) not tracks, stadia and running trails (Lovelock Track, Stade Alain Mimoun, Pre's Trail), but things outside running's own culture.
For runners to be honored in that way might show what kind of impact our sport has on society at large. How are we valued? Do our heroes cut it in the wider world? I had opened up a treasure house. Has no one thought of this before?
In the festive spirit, here are some celebrations of great runners that I collected, to put under your tree. They are mainly from the English-speaking world, but there are dozens of Stades Alain Mimoun around France, and I haven't started on Scandinavia, Africa, or Asia.
OK, the quiz.
Which famous runners have a racehorse named after them? Racehorse: Millie Sampson (NZ marathon runner who broke the women's world record with 3.19.33 in 1964), and several decades ago, Brasher, a steeplechaser in Britain named after Chris Brasher, 3000m steeplechase gold medalist in the 1956 Olympics.
Identify a mountain, a rock, and a rock band named after runners. Mount Terry Fox is in the Canadian Rockies, named after the young man who lost one leg to cancer, and inspired the nation by his attempt to run across Canada for cancer research. Pre's Rock is at the spot near Eugene where Steve Prefontaine died in a car crash in 1975. Rosa Mota was a 1990s London rock band. Was one of the band a marathon fan? Or did they simply like the sound of the name of the Portuguese 1988 Olympic champion? Describing one of her races, I once wrote simply, "Rosa motored."
And a cookie, a doll, a pub, a post office, and an asteroid? Ron Clarke cookies were a non-cholesterol health cookie produced in Australia, named for the 1960s multiple record breaker, who often confesses to being addicted to sweet foods as well as world records. The Flo Jo fashion doll, wearing flashy purple one-leg tights, was produced in 1989, after Florence Griffiths Joyner became famous for her outfits as Olympic 100/200m gold medallist. The Lovelock Sports Bar is in Wellington, New Zealand, named for the light-stepping winner of the 1936 Olympic 1500m in a world record. The oldest pub named for a runner is The Only Running Footman in Mayfair, London, where the gentry's running messengers used to gather in the early 1700s. The Jesse C. Owens Post Office is on Woodland Avenue, Cleveland, OH, one of many memorials to the great 1930s sprinter worldwide. And not just worldwide. Asteroid 6758 Jesseowens was discovered and named in 1980. Beat that, Usain.
Which runners have had songs written for them? The first commercial song for a runner (leaving out ancient Greek odes) was Dorando, in which a stageItalian barber laments that he gambled his whole business on Dorando Pietri's indoor marathon against Tom Longboat at Madison Square Garden in December 1908. "Dorando, he's a-drop! Goodbye, poor old barber's shop!" The composer was a young immigrant musician from Russia who soon after took the name Irving Berlin. A reggae song was written to celebrate Jamaican sprinter Don Quarrie, by Joe Gibbs, performed by The Guerillas. And Rod Stewart wrote and sang "Never give up on a dream" for Terry Fox.
Which runners have had their face on banknotes or coins? Paavo Nurmi is on a Finnish banknote, and Terry Fox on a Canadian dollar coin.
Which runners have become proverbial in their home countries?
Sayings: In Greece, you still hear parents say "Egine Louis!" ("Go like Louis!") to encourage children, and the phrase has wider meaning as "take off" or "succeed," as Spiridon Louis did, in winning the first Olympic marathon in 1896. The Greek economy sure needs to go like Louis.
In Jamaica, Don Quarrie is still in common conversational use as the paragon of speed ("I run for the bus like Don Quarrie, man!"). It will be interesting to see if Usain Bolt displaces him.
It took decades for small boys in England to shout something at runners other than "Up two-threefour, come on, Roger Bannister!"
In parts of Kenya, "Run like Tegla!" is a common encouragement, especially among women, after Tegla Loroupe, who won the New York City Marathon in 1994 and 1995.
In matters like naming, there's the official and the unofficial. I'll offer a sampling of both.
High Schools are perhaps the blue-ribbon evidence of official endorsement. 1960s sprinter Wilma Rudolph and Jesse Owens have schools named after them in Germany, there's a Don Quarrie High School in Kingston, Jamaica, and a Bill Crothers Secondary School in Markham, Ontario – though Crothers doubly qualifies, as chair of the York Region School Board as well as Olympic 800m silver medalist in 1984.
Parks named for runners include Glenn Cunningham Park in Elkhart, Kansas (1930s world mile record breaker); Donovan Bailey Park, Oakville, Ontario (Olympic 100m gold, 1996); Edwin Flack Reserve, Berwick, Victoria, Australia (Olympic 800/1500m gold, 1896); and Porritt Park in Christchurch, New Zealand (Arthur Porritt, Olympic 100m bronze, behind Harold Abrahams, as in Chariots of Fire). Paula Radcliffe has her own bridge, in her home town of Bedford, England; Aussie miler Merv Lincoln goes one better with a causeway, linking Victoria with New South Wales, from Wodonga to Albury; Eric Liddell of Chariots of Fire fame, Olympic 400m gold medallist in 1924, has a community centre in Edinburgh; Wilma Rudolph has a residence center at Tennessee State University; Roger Bannister recently acquired a lecture theatre in St Mary's Hospital, where he was a medical student at the time of the first four-minute mile in 1954; and Steve Prefontaine has a gallery within the Coos Bay, Oregon, Art Museum. Jim Thorpe, the 1912 Olympic decathlon champion and sprinter, has a whole town named for him in Pennsylvania, a complicated story that is currently a matter of some dispute. Tom Longboat, to break my own rule about keeping outside our sport, has a highly active club named after him in Toronto, the Longboat Roadrunners. And there's a Lydiard Athletic Club, not in New Zealand, but Johannesburg, South Africa, promoting the great coach's methods.
Streets, like stamps, make almost too big a subject for this preliminary global jog. But here goes. Additions welcome. Don't beat on me about omissions. This is just to get the discussion going. In USA, Derek Adkins Lane, W.Hempstead, NY (400m hurdles gold medalist, 1996); Jesse Owens Way, Cleveland, OH; Prefontaine Drive, Coos Bay; Ted Corbitt Way, and Fred Lebow Way, New York City; Wilma Rudolph Way on US Route 79, Clarksville, TN. In England, Paula Radcliffe Way, Bedford; Bannister Close, Oxford. (There are three other Bannister Closes in England, but I don't know for sure that they're named after the miler.) In Australia, Melbourne alone has (Raelene) Boyle Crescent, (Ron) Clarke Court, (Betty) Cuthbert Court, (Ralph) Doubell Close, (Debbie) Flintoff Court, (Pam) Kilborn Court, (John) Landy Court, and (Shirley) Strickland Drive. In Canada, Longboat Avenue in Toronto (for Tom, the 1907 Boston winner and later professional marathon star), and Terry Fox Way in Vancouver. In New Zealand, John Walker Drive in Auckland. (Another John Walker Drive, in Scotland, is I suspect named after the Scotch whisky, not the Kiwi miler.) The Christchurch suburb of Dallington, sadly damaged in the 2011 earthquake, has a whole cluster of athlete streets, all near Porritt Park: Halberg Street, Landy Street, Lovelock Street, Porritt Place, Snell Place. How Aussie John Landy snuck in there is a bit of a mystery. Maybe some city councillor thought he was a Kiwi. Or confused him with Arthur Lydiard. Or perhaps it was the usual generous sporting harmony between the two countries. And in Kuopio, Finland, there's a street named after Hannes Kolehmainen, Olympic 5000/10,000m/crosscountry champion, 1912.
But let's end with the informal. I have over the years named cats as Bannister, Yifter, Ngugi and Pawla. When I told Sir Roger Bannister that I had named my cat after him, he seemed much less impressed than I thought he should be. In the 1980s a Kiwi woman marathoner had a pet sheep named Grete, after her heroine Grete Waitz, and I still wear the hat she knitted from Grete's wool. The original Grete was much amused. Another friend had a tortoise called Bikila. But he was a 1960s British Olympic marathon runner who hoped the name-magic might slow Abebe Bikila down.
Oh, and in rural New Paltz, New York, our graceful resident does are Lornah and Linet (Kiplagat and Masai) and the speedy chipmunk who races with such zest across the drive is Usain.
British & Irish Masters Cross Country International Sat 22nd November 2014, Wollaton Park, Nottingham – Reporter David Fairweather
This was the first year with W70 & M75 teams, which made the organisation even more complicated.
We started selecting our team in mid-September, and had our usual problems with call-offs, including two in the week before the event. Unfortunately, Ada was taken ill, and she also was unable to travel to the event. We all appreciate the hard work she had put in to get the Women's team organised. We still managed to field complete teams apart from W55, W65 and W70. 5 genuine M35 runners were recruited this year, with just 1 M40 runner needed to complete the team. There was good representation from all parts of Scotland, plus a few England domiciles.
We had booked a 51-seater Park's coach, and at first it looked like we wouldn't have enough seats, until a few runners decided to make their own way to Nottingham.
We had arranged to meet the coach in Glasgow at 11am, to make it easier for runners to get there in time, but Ian Leggett and Stan MacKenzie both had last-minute train cancellations. Stan was decanted onto a coach from Inverness to Stirling, where he then managed to get a train to Glasgow. He did well to join us by 11:30.
We made good time to Gretna, where we picked up 3 more runners, and had 1 more stop near Wetherby before reaching the Holiday Inn, Nottingham about 6:30pm.
The team managers had their usual 9pm Friday meeting, and I must thank Hazel, Lynne & Theresa for dealing with distribution of numbers and Function tickets while we were away.
Our coach driver was able to take most of the team to Wollaton Park, and we got assembled in good time on the steps of Wollaton Hall for the photo-shoot.
Once again we were blessed with good weather; it was very mild, calm, and almost remained dry. The course was more testing than last year, but was ideal for runners and spectators.
In Race 1 Megan Wright & Fiona Matheson came up the hill on the 1st of 3 laps in good positions, closely followed by Hilary McGrath & Beryl Junnier. Martin McEvilly ROI & Martin Ford ENG were also well up the field. Fiona was being challenged by Clare Elms ENG as the race progressed, and was just pipped on the line. She was closely followed by Melissa Wylie, who had moved up to 4th W45, & Megan 7th W40. Hilary McGrath (5) and Beryl Junnier (9) helped to win W50 silver medals, while Gillian Sangster (13) & Lindsey Currie (15) helped secure bronze W40 medals.
Meanwhile Isobel Burnett finished 8th W55; Jane Waterhouse finished 5th W60, and with support from Liz Bowers (6) and Hazel Bradley (9) won another team silver.
Then Betty Gilchrist W70 came through with a commanding lead of 1:37 over Brigid Quinn NI, and in front of all 3 Scottish W65 runners.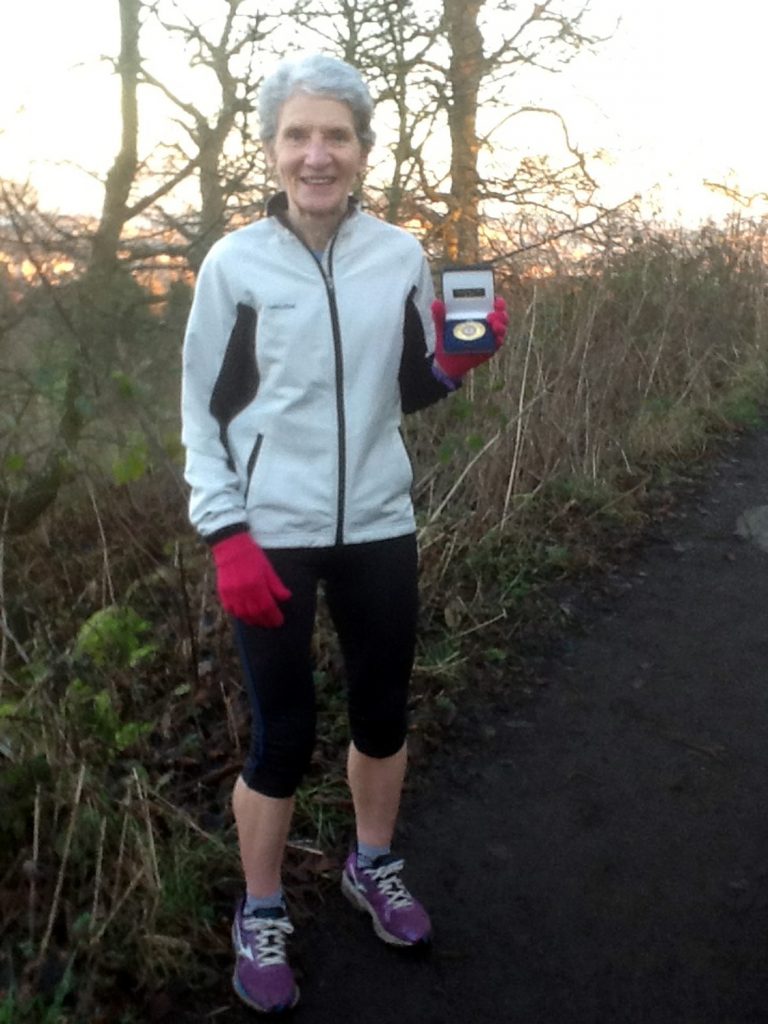 Betty with her gold medal
Alex Sutherland (6) was the first M65 Scot to finish, followed by Robert Marshall (12), who finished 2 sec in front of Bobby Young, who improved 1 place on last year to win M70 silver. Pete Cartwright 5th M70 and Gibson Fleming (11) ensured that their team won silver medals. Les Nicol was 3rd M75, and led 80 years young Walter McCaskey (6), and Bill Murray (13) to team bronze medals.
In Race 2, Stan MacKenzie (8), Chris Upson (11), Peter Buchanan (15) & new recruit Ted Gourley (21) led our M50 team to bronze medals. Paul Thompson & Colin Feechan worked well together, finishing 5th & 6th M55, and also won team bronze with Willie Jarvie (12). Frank Hurley & Andy McLinden came in just behind Willie to win individual silver & bronze M60 medals, with Tony Martin (8) securing team gold for Scotland.
In Race 3, Robert Gilroy had a cracking run, finishing 2nd M35. With support from Martin Williams (9), Graeme Murdoch (17) and Andrew Harkins (19) they won team bronze. Stephen Allan (16) and Ian Johnston (15) were our highest placed M40 & M50 runners.
Overall, Scotland won 1 gold, 4 silver, and 2 bronze individual medals, and 1 gold, 3 silver and 5 bronze team medals, our best result since 2011.
RESULTS
Race 1: 6km for Women (all age groups) and M65+,
W35: 4 SCOTLAND, 5 Claire Thompson 23:24, 11 Fiona Dalgleish 23:30, 14 Lindsay McMahon 23:42, 16 Claire McArthur 24:04.
W40: 3 SCOTLAND, 7 Megan Wright 22:37, 13 Gillian Sangster 23:07, 15 Lindsey Currie 23:30, 17 Jennifer Forbes 24:07.
W45: 4 SCOTLAND, 4 Melissa Wylie 22:33, 12 Mary McCutcheon 24:24, 17 Sonia Armitage 25:19, 20 Barbara Knox 29:45.
W50: 2 SCOTLAND, 2 Fiona Matheson 22:21, 5 Hilary McGrath 23:45, 9 Beryl Junnier 24:03, 10 Rhona Anderson 24:23.
W55: 4 SCOTLAND, 8 Isobel Burnett 25:12 11 Phyllis O'Brien 26:02, 17 Jan Fellowes 28:07.
W60: 2 SCOTLAND, 5 Jane Waterhouse 26:58, 6 Liz Bowers 27:11, 9 Hazel Bradley 28:03, 11 Linden Nicholson 29:12.
W65: 4 SCOTLAND, 13 Anne Docherty 32:12, 14 Ann Bath 32:53, 15 Sheila Fleming 34:20 W70: 1 Betty Gilchrist 30:49
M65: 4 SCOTLAND, 6 Alex Sutherland 24:23, 12 Robert Marshall 25:13, 15 Stewart McCrae 26:02, 20 Hamish Cameron 28:45
M70: 2 SCOTLAND, 2 Robert Young 25:15, 5 Pete Cartwright 25:49, 11 Gibson Fleming 27:37. 17 Watson Jones 30:00.
M75: 3 SCOTLAND, 3 Les Nicol 28:21, 6 Walter McCaskey 29:57, 13 Bill Murray 33:38. 14 Ian Leggett 34:06.
Race 2: 8km for M50, M55 & M60:
M50: 3 SCOTLAND, 8 Stan MacKenzie 27:52, 11 Chris Upson 28:13, 15 Peter Buchanan 28:37, 21 Ted Gourley 29:09, 22 Michael McLoone 29:23, 26 Neil Robbins 29:48.
M55: 3 SCOTLAND, 5 Paul Thompson 28:40, 6 Colin Feechan 28:42, 12 Willie Jarvie 29:18, 15 Ian Stewart 29:47.
M60: 1 SCOTLAND, 2 Frank Hurley 29:21, 3 Andy McLinden 29:40, 8 Tony Martin 29:56, 12 Douglas Cowie 31:27.
Race 3: 8km for M35, M40 & M45:
M35: 3 SCOTLAND, 2 Robert Gilroy 25:08, 9 Martin Williams 25:44, 17 Graeme Murdoch 26:45 19 Andrew Harkins 27:11, 20 Gordon Barrie (M40) 27:28, 27 Darran Muir 29:23.
M40: 4 SCOTLAND, 16 Stephen Allan 27:17, 17 Chris Greenhalgh 27:20. 19 Stephen Campbell 27:44, 21 Greig Glendinning 28:15, 23 Cris Walsh 28:33, 24 Russell Whittington 28:46.
M45: 5 SCOTLAND, 15 Ian Johnston 27:45, 17 David Gardiner 27:54, 23 Alex Chalmers 28:32, 25 Scott Martin 28:48, 26 Paul Carroll 28:49, 27 Kenny MacPherson 29:08.
With racing over, it was time to enjoy the Dinner Dance and medal presentations at the Nottingham Trent Conference Centre. Unfortunately, there was a split level layout, which affected the acoustics, and it was very difficult to follow the medal presentations.
The dancing was also spoilt by the bad acoustics, so most of us were happy to catch our coach back at 11:30.
Our coach driver, Walter, gave us excellent service throughout the weekend, and we got back to Glasgow about 5:30pm on Sunday evening.
Next year's race is Sat 14th November 2015 at Santry Demesne, Dublin. The race was held there in 2005 and 2010, and was notable for the proximity of the course to the accommodation at the Crowne Plaza Hotel.
ALLOA TO BISHOPBRIGGS 8-STAGE ROAD RELAY
The Scottish Veteran Harriers Club (and in particular the irrepressible Danny Wilmoth) organised the Alloa to Bishopbriggs in late March between 1984 and 1991. The route changed in 1992 to Alloa to Twechar. In 1993 the event was taken onto traffic-free roads at Torrance. Eventually the SVHC relay became a six-stage affair which is now held in Strathclyde Park.
However, the original Alloa to Bishopbriggs (or to Twechar) was undoubtedly considered better than the comparatively tame six-stager. A to B was the Vet equivalent of the legendary Edinburgh to Glasgow Road Relay (which also featured 8-man teams). The E to G invited around 20 teams; but the A to B allowed free entry and could cater for up to 50! So many runners on narrower roads with closer traffic whizzing past!
To participate in the Alloa to Bishopbriggs 8-Stage Road Relay was a real adventure: dramatic, scary, and (at the front) extremely competitive, yet probably more fun than the E to G, since there was less pressure to succeed. A wide age-range produced widely-varying speed and fitness. But what an experience for all! N.B. A minor miracle: absolutely no injuries were caused by motor vehicles!
FIRST THREE CLUBS TO FINISH
1st 2nd 3rd
1984 Shettleston H. Clyde Valley A.C. Bellahouston H. 3.45.30 3.51.50 3.53.32
1985 Shettleston H. Bellahouston H. Victoria Park A.A.C. 3.47.07 3.48.21 3.48.36
1986 Bellahouston H. Shettleston H. Victoria Park A.A.C. 3.59.14 4.00.02 4.00.58
1987 Shettleston H. Bellahouston H. Pitreavie A.A.C. 3.46.35 3.48.12 3.48.33
1988 Cambuslang H. Shettleston H. Victoria Park A.A.C. 3.49.30 3.53.17 3.54.50 1989 Cambuslang H. Fife A.A.C. Livingston A.A.C. 3.54.44 3.58.50 4.00.46
1990 Fife A.A.C. Cambuslang H. Aberdeen A.A.C. (46 secs down) (another 8 secs down)
1991 Aberdeen A.A.C. Fife A.A.C. Cambuslang H. 3.29.29 3.34.53 3.36.43
1992 Aberdeen A.A.C Fife A.A.C. Cambuslang H. (Twechar) 3.21.39 3.26.43 3.27.15
As can be seen the results above, big clubs from the West of Scotland dominated until a few from the East (or indeed North-East) began to make an impact.
However once the race shifted to Torrance on closed roads, and then became only Six-Stage, Cambuslang regained superiority (although Metro Aberdeen R.C. came second a couple of times).
I only have two results sheets. In 1989, the fastest stage times were set by: Brian Carty (Shettleston); Stuart Asher (Fife); Tony Ross (Fife); Ian Seggie (Livingston); Peter Marshall (Haddington); Ian Briggs (Livingston); Ian Leggett (Livingston); and Ian Stark (Springburn).
The 1990 information sheet sets out the route from Alloa to Bishopbriggs.
START Alloa Municipal Building 10.30 a.m.
1ST CHANGE Fergait Petrol Station on the A977 5 miles
2ND CHANGE The "P" Parking Place on the straight between South Kersie and Dunmore 5 miles
3RD CHANGE Left turn before Caledonian Cattle Market on the A91 By-Pass 5.2 miles
4TH CHANGE A872 just beyond Easterton Service Station at the Parking Bay 5.2 miles
5TH CHANGE Domestic Appliance Premises, Banknock 5 miles
6TH CHANGE Industrial Estate Cash & Carry, Kilsyth 5.2 miles
7TH CHANGE Industrial Estate, Kilsyth Road, Kirkintilloch 4.7 miles
FINISH Alongside the Forth & Clyde Canal opposite Bishopbriggs Sports Centre 4.7 miles
TOTAL: 40 MILES THE ROUTE: A907 out of Alloa, turn right onto A977, turn right on A88 across Kincardine Bridge, turn right onto A905, via Airth, Dunmore, turn left (South) on A91 Coupar-Stirling By-Pass, continue on the A872, turn right on the A803, via Kilsyth, Kirkintilloch, crossing to the West side of the road to the last changeover at Industrial Estate, Kirkintilloch, continue on the West side of the A803 and turn onto the Forth & Clyde Canal footway at the "Stables Inn" (next to the Glasgow Bridge), thence along the footway to the finish. Follow that (and signpost the junctions) if you can!
The Alloa to Twechar route was as follows.
1st Leg Alloa District Offices to behind Fersait Petrol Station, Kincardine 5 miles
2nd Leg Kincardine to Dunmore Road Sign 5 miles
3rd Leg Dunmore to Fallin 4.5 miles
4th Leg Fallin to one mile beyond Bannockburn Hospital on A( at Airth/Falkirk Junction) 4.5 miles
5th Leg To Commercial Public House Car Park, Larbert 5 miles
6th Leg Larbert to Denny Loanhead Railway Inn 5.5 miles
7th Leg To Lennox Colzium Entrance at Kilsyth 5.5 miles
8th Leg Colzium to Twechar 4.6 miles
TOTAL: 39.6 MILES
The programme for this 1992 race added: "All runners must obey instructions regarding running on the correct side of road – otherwise their team will be disqualified."
But were you meant to run on the right, facing oncoming traffic, or on the left, in the direction that traffic was moving? Or did it vary? My own memory is of daring manoeuvres made in the heat of competitive zeal and flat-out effort. Maybe drivers simply avoided such obvious lunatics!
ABERDEEN AAC MEMORIES
In 1990 we sent down a decent squad, but perhaps not all of the first team. (After all, AAAC had won team gold medals in the Scottish Veterans Cross-Country Championships three years in succession – 1988-90.)
At the end of Stage One, Graham Milne came in third; Jim Morrison, Francis Duguid, Ben Preece and Davie Grubb maintained our position; with the fastest time on the stage, I moved up to second; and then Ken Hogg and Rod McFarquhar finished a highly respectable third, less than a minute off victory.
My diary notes: "Next year we'll bring the FIRST team! Apart from running, I drove three different cars! The whole relay was flat-out into a headwind and definitely hilly. Good enough performance but hard. Enjoyed last leg spectator jog, the Stables Bar and peanuts. A decent trip. On the way back we passed the sign for Gleneagles and I promised that if we won the relay next year, I would stand everyone a drink at the posh 5 star hotel."
After the 1991 A-B, I wrote the following race report – and 'poem' for the club magazine!
Aberdeen Veterans had a golden day at this event. The First Team broke the course record by 16 minutes 1 second, beating Fife (last year's winners) by more than five minutes.
Our Second Team also broke the old record and finished seventh of the 42 teams entered. Every Aberdeen runner went well. Perhaps a particular hero was Bill Adams, who not only gave us an excellent start but also endured a tortuous and lengthy itinerary to get from Shetland to the race and home again in 36 hours. George Sim was speedy and stylish in breaking Fife hearts and also the Stage Six record (by 54 seconds). And Francis Duguid was the star on the same stage for the Second Team. A day to remember!
(First Team was: Bill Adams, Colin Youngson, Charlie Noble, Eddie Butler, Dave Armitage, George Sim, Mel Edwards and Rod McFarquhar.
Second Team was: Ian Fraser, Ken Hogg, Bill Scullion, Ewen Rennie, Davie Grubb, Francis Duguid, George Swanson and Jim Morrison.)
THE BALLAD OF BISHOPBRIGGS
'Twas 6 a.m. on Sunday morn when Aberdeen set out
with sixteen eager veterans all keen to run no doubt
from Alloa to Bishopbriggs an eight-man relay race
– an early start and long-round trip was what we had to face.
Yet all arrived and on Stage One Macgregor starred for Fife
while Aberdeen's Bill Adams clung to third for his dear life.
Our Postie Bill's a Viking brave – real tough if middling old
– he runs his round on winged feet and wins medals of gold!
Then Captain Colin took the lead but couldn't get away
from Stuart Asher – left the rest behind at least, they say.
When Noble, Charlie tried to stick with flying Graham, Tom
– he ran so fast, that Charlie moaned, "That guy went like a bomb!"
Now relay four is mountainous, just right for Hillman Ed
who overtook the Fifer and once more our heroes led!
"We're pretty sure that Eddie B was fastest," Dons' fans yelp
– "He must have raced much faster than a chap called Smith from H.E.L.P.!"
Next gritty Dave, the orienteer, took over on fifth stage
– he sprinted hard up all the hills – Fife thought him underage.
George Sim ignored his hangover – gave Fife the coup de grace
– he chopped the Stage Six record. Macgregor gasped, "He's class!"
With total dedication the enthusiastic Mel
picked up th'invisible baton and then belted off like, well …..
He handed on to Roddy who, with supercool control,
just eased his way to victory And we achieved our goal.
The relay record was destroyed – no wonder that we smile
– without exaggeration we had won it by a mile!
First Team were Scottish Champions! Team B were 7th and
Ian, Ken, Bill, Ewen, Davie, Francis, George and Jim all joined
The record-smashing band.
The Captain of the Second Team Was dauntless Davie Grubb
Who led the celebrations in Gleneagles Hotel 'pub'!
[I remember that, after the race, when our cars drew up outside Gleneagles, we were all suddenly aware that our garb could hardly be described as formal evening dress.
The other fifteen, many of them my senior, pushed me (as captain) to the front, to ask the 'superior' doorman if we would be allowed to buy some alcoholic refreshment.
He indicated politely that the so-called 'American Bar' would be the only appropriate venue for customers such as ourselves, said they did not serve draught ale (too common?), but permitted us to purchase sixteen bottles of the most expensive beer we had ever bought.
(Mel split the round with me; then others bought a second one. So much for Aberdonian meanness.)
This venture added class and amusement to a great day.]
In 1992, the Alloa to Twechar was also an exciting contest between Fife and Aberdeen. The former held a narrow lead on Aberdeen for the first five legs.
Then, on Stage Six, George Sim did it again, I extended the lead on the next leg and Francie Duguid brought us home 5.04 clear of Fife.
There were two sets of the results. The second (correct?) version noted fastest stage times from: Charlie MacDougall (Calderglen), Cameron Spence (Spango), Tom Graham (Fife) and Graham Milne (equal), Tony Martin (Fife), Ian Burke (Bellahouston), Jim Dingwall (Falkirk, probably the best run of the day), me (only 13 seconds better than Falkirk's Dougie McKenzie) and Bobby Young (Clydesdale).
Our First Team was: Bill Adams, Eddie Butler, Graham Milne, Charlie Noble, Ben Preece, George Sim, Colin Youngson and Francis Duguid.
The Second Team achieved a most meritorious sixth from 47 teams. They were: Chris Simpson, Ken Hogg, Davie Grubb, A. McDonald, Kerr Walker, Ewen Rennie, John Ballantine and Mel Edwards.
We reckoned that, if we had shifted a first team runner to the second team and vice versa, we might have finished first and second – but such brinkmanship had to be resisted, since it might also have left us second and third.
A peak performance, one of the last for AAAC veterans and we celebrated this time in Twechar's own Quarry Inn, which dispensed Maclay's marvellous 60 and 70 shilling real ales.
(Sadly, both pub and brewery are no more.)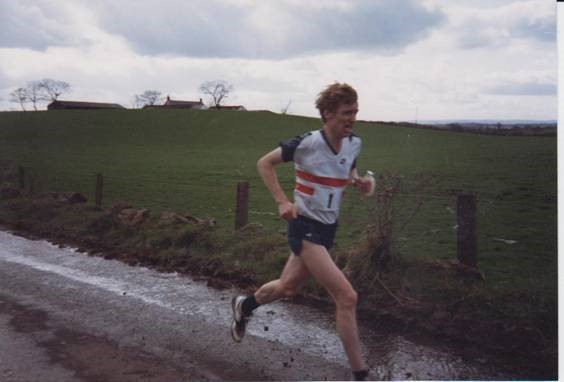 (The photo shows a tired man, who went too fast for the first twenty minutes, bashing away as hard as he can on Stage Seven in 1992.)
OFFICE BEARERS SEASON 2014-2015
Honorary President: ROBERT DONALD
President: CAMPBELL JOSS 25 Speirs Road Bearsden, G61 2LX Tel: 0141 9420731 cdjoss2@gmail.com
Immediate Past President: ALASTAIR MACFARLANE
Vice-President: ADA STEWART 30 Earlsburn Road, Lenzie, G66 5PF Tel: 0141 578 0526 stewart2@ntlworld.com
Honorary Secretary: ALASTAIR MACFARLANE 7 Andrew Avenue, Lenzie, G66 5HF Tel: 0141 5781611 almacrun@btinternet.com
Honorary Treasurer: ANDY LAW Euphian, Kilduskland Road Ardrishaig, Argyll PA30 8EH Tel. 01546 605336 Lawchgair@aol.com
Membership Secretary: DAVID FAIRWEATHER 12 Powburn Crescent Uddingston, G71 7SS Tel: 01698 810575 djf@dfairweather.plus.com
Handicapper: PETER RUDZINSKI 106 Braes Avenue Clydebank. G81 1DP Tel.0141 5623416 p.rudzinski@ntlworld.com
Committee Members:
JOHN BELL Flat 3/1, 57 Clouston Street Glasgow G20 8QW Tel. 0141 9466949
MARGARET DALY 24 Strowan Crescent Sandyhills Glasgow G32 9DW Tel. 0141 573 6572
WILLIE DRYSDALE 6 Kintyre Wynd Carluke, ML8 5RW Tel: 01555 771 448
PHYLLIS HANDS 39 Albany Drive Lanark ML11 9AF Tel. 01698 252498
STEWART McCRAE 17 Woodburn Way, Balloch Cumbernauld G68 9BJ Tel: 01236 728783
KEN MONCRIEFF 25 Princes Street Stirling FK8 1HQ Tel. 01786 474978
JOHN SOFTLEY 6 Cathkinview Road, Mount Florida Glasgow G42 8EH Tel. 0141 5701896
PAUL THOMPSON Whitecroft, 5 Gareloch Brae, Shandon, Helensburgh G84 8PJ Tel. 01436 821707
ROBERT YOUNG 4 St Mary's Road, Bishopbriggs Glasgow G64 2EH Tel. 0141 5633714
BMAF Delegates Alastair Macfarlane Ada Stewart
SAL West District Delegate Willie Drysdale
SAL Delegate at AGM Ken Moncrieff
Website Ada Stewart
Auditor George Inglis
FIXTURES
December 2014
Sun 14th SVHC Xmas Handicap 2:00pm. Abbotsford Parish Church, near Playdrome, Clydebank. G81 1PA
January 2015
Sat 3rd National Masters 3000m Championships Emirates Arena. Glasgow entry on-line SAL website
Sun 25th SVHC Relays Strathclyde Park 11.00 am
Sat 31st SAL Masters Cross Country Championships Kilmarnock entry via 1st claim club or SAL website
Sat 31st National Masters Indoor Track and Field Championships Emirates Arena, Glasgow entry on-line SAL website
February 2015
Sun 15th British Masters Indoor Pentathlon/ South of England/EVAC/VAC – Lee Valley
Sun 22nd Scottish National XC Championships Callendar Park, Falkirk entry via 1st claim club or SAL
March 2015
Sun 1st Lasswade 10mile Road Race Whitehill Welfare FC, Rosewell Entrycentral.com
Sat/Sun 7th/8th British Masters Main Indoors and Winter Throws – Lee Valley
Sun 8th BMAF 10 Mile Champs, Sidcup
Sat 14th BMAF Cross-Country Championships – Ruthin, North Wales
Sat/Sun 14th/15th National Indoor Combined Events Championships Emirates Arena, Glasgow entry on-line SAL website
Sun 22nd Lost Trails 8km race Village Hall, Back Wynd, Falkland, Fife
Mon 23rd –Sat 28th European Veterans Indoor Championships with outdoor events – Torun, Poland
April 2015
Sun 5th Tom Scott 10mile Road Race Strathclyde Park
May 2015
Sun 3rd SVHC Walter Ross 10K RR Cartha Rugby Club, 13:30
Wed 6th Snowball Race 4.8 miles Coatbridge Outdoor Sports Centre, 19:30
Sat 16th BMAF Road Relay Champs Sutton Park,Birmingham
Sat 30th Cairnpapple Hill Race, Meadow Park, Bathgate
June 2015
Wed 3rd Corstorphine 5 miles Road Race 7:30 pm. Turnhouse Rd, Edinburgh
Sat 14th BMAF 5K Champs. Horwich
Wed 24th SVHC 5K Champs Playdrome, Clydebank, 19:30