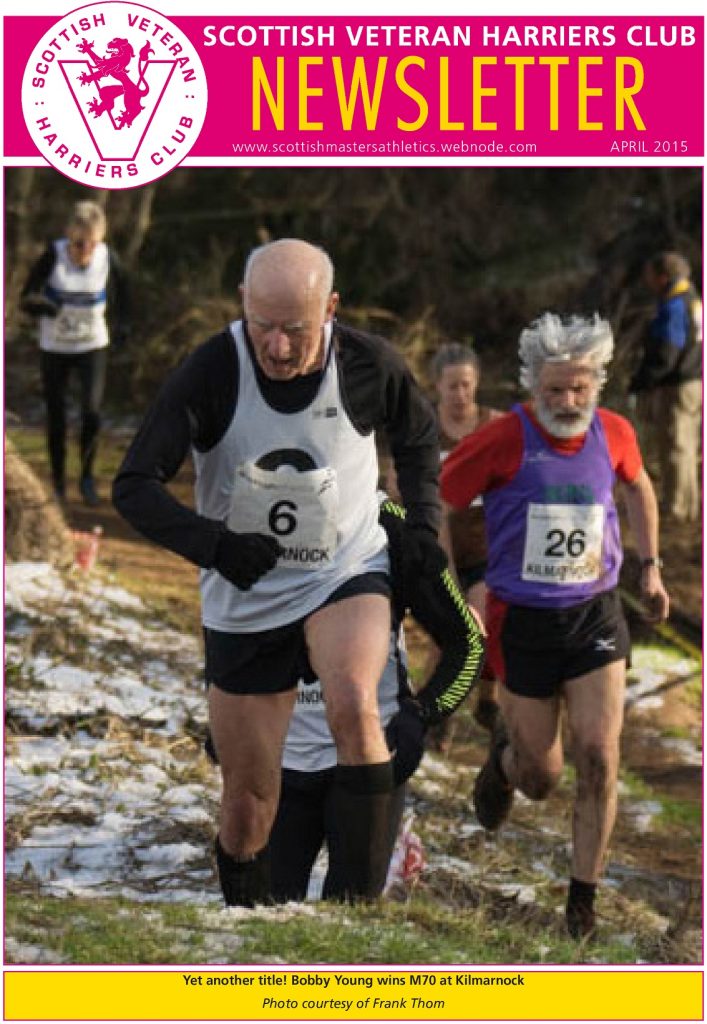 MEMBERSHIP NOTES 10th March, 2015
MEMBERS
Welcome to the 18 new and 2 reinstated members who have joined or re-joined since 27th November 2014. 6 members have resigned and 63 have not renewed their subs. As of 10th March 2015, we have 431 paid up members . For those who have not already paid or set up standing orders, subscription renewals are now overdue for 2014/15.
Any member not wishing to renew their membership should send me a resignation letter by post or email.
NEWSLETTER The electronic version of the Newsletter is now the preferred option. Any member who would rather receive a printed Newsletter must contact David Fairweather (djf@ dfairweather.plus.com), if they have not already done so. Please inform David if you add or change your email address.
Please send photos, news, letters, articles, etc for the next issue To: COLIN YOUNGSON TOMLOAN, SANQUHAR ROAD, FORRES, IV36 1DG e-mail: cjyoungson@btinternet.com Tel: 01309 672398
SVHC EVENTS
Stewards/marshals are required for club races. The club appreciate all members & friends who volunteer to act as stewards/marshals. If you are not competing just turn up and introduce yourselves to the organisers. Thanks to all those who have already helped out.
STANDING ORDERS
Thank you to the members who have set up standing orders for membership subscriptions. Please remember to update the amount payable, & keep me informed if your membership details change (especially email addresses). If any other member wishes to set up a standing order please contact me.
Please ensure, if possible, that the next payment date is set for 10Nov2015, and annually thereafter.
CLUB VESTS
Molly Wilmoth is no longer selling SVHC running vests. The Club would like to express their appreciation to Molly for her assistance. Andy Law has offered to take over this task. Vests can be purchased from Andy for £17 (Tel: 01546 605336. or email lawchgair@aol.com)
NEW MEMBERS
NAME JOINED NUMBER TOWN
Andrew Campbell 07-Jan-15 2236 Barrhead
Kenneth Campbell 10-Jan-15 2237 Campbeltown
Vincent Carroll 03-Dec-14 2227 Cumbernauld
Lorna Coyle 05-Jan-15 2233 Gourock
Brian Graham 01-Jan-15 2232 Paisley
David Henderson 12-Jan-15 2238 Gourock
Elaine Hogg 03-Dec-14 2225 Moodiesburn
David Hogg 03-Dec-14 2226 Moodiesburn
Lorna Mahoney 16-Dec-14 2229 Balloch
Marc Malone 17-Dec-14 2231 Edinburgh
Derek Martin 26-Jan-15 2239 Craigmarloch
Graham McCabe 07-Jan-15 2235 Craigmarloch
Wayne McIntosh 26-Jan-15 2241 Kelso
Robert McLennan 26-Jan-15 2240 Glasgow
John Mill 16-Dec-14 2230 City Quay
Morag Taggart 06-Jan-15 2234 Broughty Ferry
David Tamburini 16-Feb-15 2242 Gourock
Anthony Weir 06-Dec-14 2228 Edinburgh
John Sinclair 05-Dec-14 1996 Falkirk
Joasia Zakrzewski 13-Feb-15 2045 Dumfries
David Fairweather Membership Secretary
SCOTTISH VETERAN HARRIERS RUN and BECOME RACE SERIES 2014/15
The Run and Become Race Series is now well under way with 5 of the events completed at the time of writing.
Current leader in the women's event is Ada Stewart with 21.1 points followed by Shirley MacNab,17.7 and Betty Gilchrist, 16.3.
Leading in the men's competition is Andy McLinden 34.2, with Colin Feechan second on 25.4 and Willie Jarvie, 24.6.
For those who are new to this competition, each runner's best 8 performances from 16 selected races are involved with age grading utilised to allocate points won. For those who complete more than the required 8 races an additional 1 point is awarded.. Over £600 worth of prizes are available along with trophies and competition is always keen. check the SVHC website for regular updates.
The remaining races are: –
22/03/2015 Lost Trails Race Falkland
11/07/2015 SAL Masters Track & Field Champs Grangemouth
05/04/2015 Tom Scott 10 mile road race Motherwell
24/06/2015 SVHC 5K Champs Clydebank
03/05/2015 SVHC Walter Ross 10K RR Cartha
16/08/2015 SVHC Glasgow 800 10k Champs Cartha
Alastair Macfarlane
CHARLES HAMILTON SORLEY (1895-2015) SCOTLAND'S TRAGIC POET AND RUNNER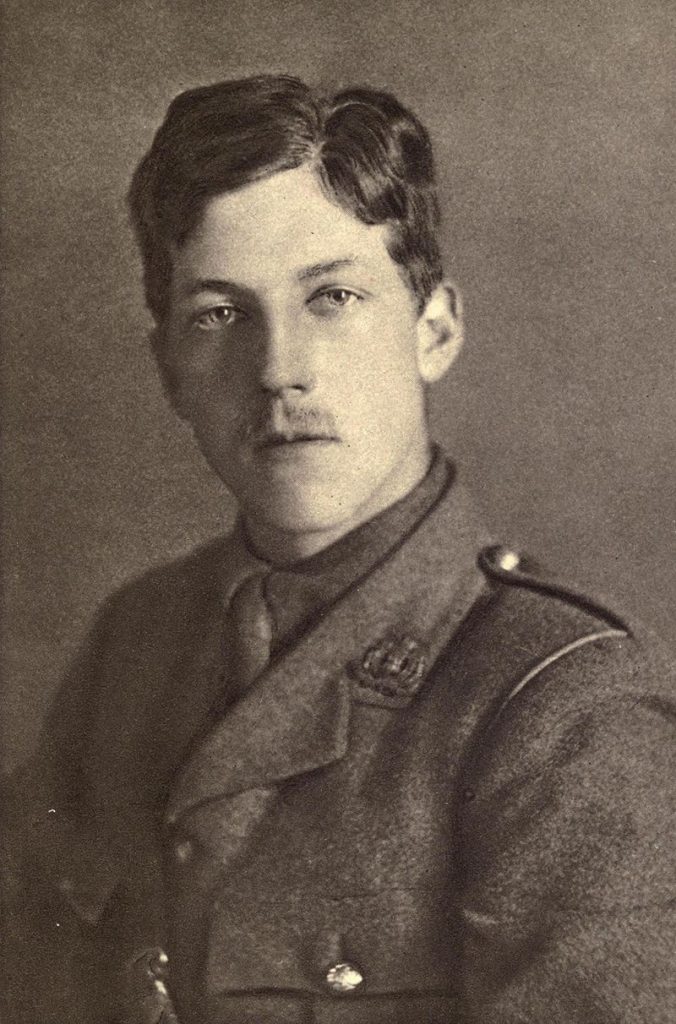 At the battle of Loos on the 13th of October 1915, Captain Charles Hamilton Sorley, only twenty years old, was killed in action. As the centenary of his death approaches, and because there has been a great deal of media commemoration of the war, it seems appropriate to celebrate the achievements of his short life.
He is generally considered to have been an English War poet; but in fact he was born in Aberdeen, became an enthusiastic cross-country runner and, had he been spared, might even have qualified to run for Scotland in the International Championships.
Charles was the son of the Professor of Moral Philosophy at Aberdeen University and seems to have moved south at the age of five. He won a scholarship to Marlborough College, which he attended between 1908 and 1913.
Roger Robinson wrote movingly about Sorley in his highly-recommended book "Running in Literature" and adapted those comments in "The Poetry of Running", which was published in Runner's World magazine in January 2004.
With Roger's permission, I intend to quote extensively from his critical essay on Sorley's very well known poem:
"The Song of the Ungirt Runners".
We swing ungirded hips
And lighten'd are our eyes,
The rain is on our lips,
We do not run for prize
We know not whom we trust
Nor whitherward we fare,
But we run because we must
Through the great wide air.
The waters of the seas
Are troubled as by storm.
The tempest strips the trees
And does not leave them warm.
Does the tearing tempest pause?
Do the tree-tops ask it why?
So we run without a cause
'Neath the big bare sky.
The rain is on our lips,
We do not run for prize.
But the storm the water whips
And the wave howls to the skies.
The winds arise and strike it
And scatter it like sand,
And we run because we like it
Through the broad bright land.
"During his high-school years, Charles Sorley loved to walk and run on the hills around the town, and as an aspiring young poet he wrote several poems, impressive for such a young writer, about these outings. The weather in the poems is often wet and windy, because on these days regular sports like rugby were cancelled, and to Sorley's delight the students were sent out on cross-country runs that they called "sweats"."
"When World War One was declared only a few months after he left school, Sorley volunteered for training as a junior officer. "The Song of the Ungirt Runners" was written during this period of training early in 1915.
When he reached the front line later that year, he had time only to write a few powerful poems that angrily condemn the slaughter of the trenches.
"Ungirt Runners" is not a war poem in this direct way, yet it is full of the tumult of catastrophe, the storm, and the tearing tempest of that time. With its images of troubled, stormy nature and disoriented, distrustful humans, it catches perfectly the sense of anxiety, doubt and doom suffered by that unlucky generation of young men who came to adulthood between the sinking of the Titanic in 1912 and marching up the line to death in the trenches after 1914."
"Yet through the storm and howling waves and troubled weather, the swinging rhythm of the runners pulses onward. They run forward through the tearing tempest lightly, determinedly, and almost joyfully, without purpose other than the compulsion to run. The opening of the movie Chariots of Fire, with the athletes loping along the seashore in wind and spray, was perhaps inspired by Sorley's words. The poem affirms that running is an act of nature, and like other acts of nature it needs no motive or explanation."
"It is, for a soldier, a poem defiant of authority and reward. They do not run for cause or prize, in a war not their making, but to find freedom, contact with nature, release from that world of strife and loss, and some personal pleasure in a time of imposed control.
And why 'ungirt'? The British army then wore coarse heavy khaki, encumbered with belts and cross straps, and bound their legs in tight wrap-around 'putees'. Runners hate such cumbersome binding. Sorley wrote from the front a few weeks later to his old school principal: "O for a pair of shorts and my long loose coloured jersey… once again." The poem expresses the defiant joy of moving 'ungirt', free, instead of marching all day in uniform and in step to someone else's shouted commands.
The repeated 'We' also expresses a human bond among the runners at a deeper level than the world of cause and prizes can forge. The troops in training were encouraged to play sports, with running especially important. Sorley, with his background as a good schoolboy runner, helped train the men of his Suffolk Regiment, mostly farm workers. He prepared them especially for the divisional cross country championship in Kent against other regiments. The favourites were a formidable Royal Fusiliers team that contained (Sorley wrote in a letter) several experienced runners ("exharriers").
There were 400 starters and 12 teams. Afterwards the young officer/coach reported with glee that "on a heavy course over the rich Kentish soil…..The Suffolks came in an easy first. This has been one of many triumphs."
It's good to know that a poem that has been taken to be about runners in a remote and idealised world in fact derived from real training for a particular race, when his guys got up and beat the favourites. It is no stretch of the imagination that a 19-year-old who loved running so much, and who was well liked by his men, would run with them in training instead of just holding the watch. The poem's "We" surely includes the poet. It expresses a group unity more fundamental than the military separation between lieutenant and infantrymen.
So "The Song of the Ungirt Runners" is both timeless and very much of its time – as the best poems are. It affirms the elemental, its runners swinging through a nature of primordial power, yet it also reflects on its moment in history. Its condemnation is implied, not spelled out. But imagine writing of men who were about to be ordered to march into the dark pit of the trench that: "We run because we like it / Through the broad bright land."
Charles Sorley was killed by a sniper's bullet a few weeks after arriving at the front in France. In his pack was found the draft of a poem that has become his most famous, beginning with the lines: "When you see millions of the mouthless dead / Across your dreams in pale battalions go….."
Within days of writing these lines, this talented young poet was himself among the mouthless dead. It is some consolation that he found pleasure in his last months by running and had time to put that pleasure into life-affirming words that still retain their resonant simplicity."
Roger Robinson concludes his excellent article by saying "there is a crossing of two foot-tracks high on the Marlborough Downs, about three miles from the town and the College. It is a spot mentioned in one of Sorley's poems, and thanks to one of the school's English teachers, is now marked by a memorial stone, inscribed with the initials "C.H.S." and the dates of his short life. One September I ran there, with my wife and two English running friends, Bruce and Sue Tulloh. After quietly paying our respects, we ran together back across the Downs to the Tullohs' home, not for cause or prize, but running because we like it, through the broad bright land."
QUESTIONNAIRE: DOUG COWIE
(Doug Cowie continues to enjoy a long and successful running career. Nowadays, due to dedicated and varied cross-training, all-round he is the fittest over-60 that the editor knows! At Forres Harriers, he is an inspiration. This profile was written before the 2014 British and Irish Masters Cross Country International at Nottingham, when Doug, along with Frank Hurley, Andy McLinden and Tony Martin, won thoroughly deserved team gold.)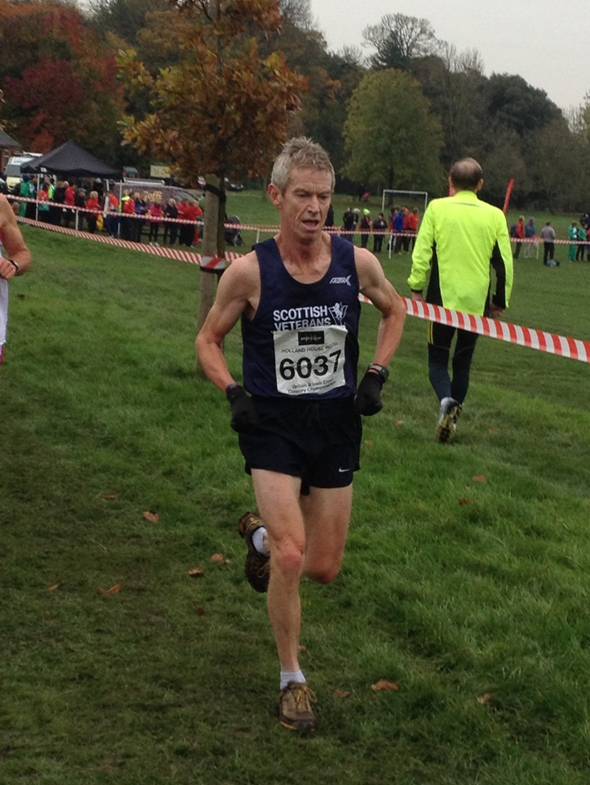 NAME Douglas Cowie
CLUBs Forres Harriers/SVHC
DATE OF BIRTH 16/02/1953
OCCUPATION Leisure Supervisor
HOW DID YOU GET INVOLVED IN THE SPORT? A friend and ex- RAF runner David Parsons who is still competing for Oxford City converted me from football to running in 1971.
HAS ANY INDIVIDUAL OR GROUP HAD A MARKED INFLUENCE ON YOUR ATTITUDE OR INDIVIDUAL PERFORMANCE? Bob Wallis, my coach for nine years. He was also coach to Steve Jones and a host of other RAF and club runners. Without his guidance especially in the early days I am sure I would not have achieved as much as I have. Donald Macgregor, Gerry Stevens (Reading AC) and Mick Woods (AFD) were all major influences at different stages of my running career.
Being involved with the RAF CX team through the 70/80s was an honour and a privilege for the 'mere mortal'. During that period I was lining up in races with the best runners in the country never mind the RAF. There was Wild, Goater and Crabb from England, Jones, Jenkins and Hackney from Wales, Dion McNeilly was a regular with Northern Ireland and from Scotland there was Gordon and Steve Rimmer and Colin Donnelly.
WHAT EXACTLY DO YOU GET OUT OF THE SPORT? Personal satisfaction of achieving goals set. Health and Social benefits.
WHAT DO YOU CONSIDER TO BE YOUR BEST EVER PERFORMANCE OR PERFORMANCES? Winning the RAF Germany XC Championships when I wasn't even considered a top 5 finisher. Winning a European Masters Half Marathon silver medal and receiving it from Mrs Zatopek. Winning SVHC XC Championship in my home town. Winning European Duathlon gold medal in 2011.
YOUR WORST? 2ATAF XC Championships 1980. We were competing against the Belgian, German, Dutch and American Air Forces, I was expected to be first scorer for the RAF but had a disaster and finished 9th scorer out of 9!
WHAT UNFULFILLED AMBITIONS DO YOU HAVE? Steve Prefontaine was my first running hero and I would like to visit Coos Bay, Oregon.
OTHER LEISURE ACTIVITIES? I cycle quite a lot, swim twice a week and enjoy walking with my wife.
WHAT DOES RUNNING BRING YOU THAT YOU WOULD NOT HAVE WANTED TO MISS? Through running I have had the good fortune to have travelled the world. In 2004 I was an escort runner when the Olympic Flame went on its global relay. In 2007 I took part in a similar event travelling to 42 cities in Brazil prior to the start of the Pan-Am Games and in 2012 I was involved with the Olympic Torch relay.
CAN YOU GIVE SOME DETAILS OF YOUR TRAINING? For 30 years I ran an average of 80mpw, as did most decent club runners of that era but now my training is geared to staying fit and healthy.
Sunday Easy 3 hour cycle or 60-75 minute easy running. Monday 2 hour cycle with a bit more effort. Tuesday Early morning swim and Harrier session in the evening. Wednesday Easy 2 hour cycle/ Water Pilates. Thursday Harrier session. Friday Early morning swim/Thighs Bums 'n Tums exercise class. Saturday Running or cycling efforts. That's the gist of it.
As the winter approaches I will do less cycling and more jogging. The best thing I have done in recent years is to cross train, supplement running with swimming and cycling – exercising but recovering at the same time. Pilates and core strength workouts have also proved beneficial.
My Favourite Race. My first serious race was a Services XC league race in November 1971. From that day many races have been run, over many different surfaces and over many different distances. Although I specialised in the marathon XC was always my favourite discipline and my favourite race was the RAF XC championships. I was always taught it was not how you performed in December or January that mattered, more importantly how you performed in the Championships in February. I first contested the RAFs in 1971 finishing in 235th position. The following year I was 68th then 32nd. I did it 21 times, my best position being 13th. That day I was 8 seconds off 8th place with the top 8 being current internationals. My final appearance came when aged 41 when I finished in 25th place.
Marathon Memories My first attempt could have been my last. 1974 Inverness to Forres, got knocked down after 9 miles and woke up in hospital with the doctor sewing my arm up.
Next attempt – 1975, 2.40, was a member of the RAF Kinloss team that won the RAF Team Championship.
1981, Boston! A must for any marathon runner. 7000 runners all had to qualify unlike the London marathon which has turned into the biggest 'Fun Run' in the world. I did 2.31 for 372nd place and my friend who did 2.39 was 960th!
1983, RAF Championships, 1st in 2.23, a breakthrough after running 2.30/2.31 five times.
1985, Paris 2.21.14 my pb. 1985,
Aberdeen, 2.26 – represented the 'Rest of the World'!
1986, Aberdeen, my first Scottish selection.
1987/88, Marine Corp Marathon, Washington DC. 14,000 runners both years and I finished 8th and 9th in 2.27 both years and at the 20 mile mark there was a pipe band playing Scotland the Brave – both years!
1988, GB vest, Singapore. Did 2.30 but considering the heat and humidity was pleased to finish 30th out of 3000+.
2001, Moray marathon, Scottish Masters Champion.
2003, Chicago. My 50th marathon in my 50th year. Did 2.47 which was good enough for an age group silver.
50 marathons of which 34 were run overseas. A pb of 2.21 and a slowest time of 2.47 and 19 times below 2.30.
Favourites; Swinderby 1983 – RAF Champion.
Boston – an unforgettable experience. Marine Corp Washington DC – very well organised and the best road surface, they call it the marathon of the monuments. Singapore – first GB vest. Race was a week or so before Christmas – magical. Frankfurt Marathon – I've always said you can't beat German organisation. 14,000 runners all got hot showers, 14,000 runners and their families all got hot food! Chicago – my last. It was preceded by a week in Boulder Colorado staying with Steve Jones and while there I met former Olympic champion Frank Shorter and former World champion Mark Platjes. The race itself had probably the best atmosphere of them all.
SANDRA BRANNEY ON TRAINING
Sandra winning the World Masters W50 10,000m in Riccione, Italy
(Sandra Branney is extremely modest about her many achievements over the years. However, the editor feels that he must add the following brief but very impressive summary. She took up serious distance running aged 31 in the 1985 Glasgow Marathon, recording 2.45. Thereafter she won Senior Scottish titles on indoor and outdoor track, road and over the country, as well as enjoying team wins with City of Glasgow AC. Sandra was victorious at all distances from 1500m to the marathon (personal best 2.35.03 at London 1989). She was the 1988 UK 10 miles champion and ran for GB in the 1987 World Cup marathon. Her success in Masters Athletics has been amazing: Scottish CC champion at W35 and W40; British, European and World titles from 1500m to 10,000m. Her best run might well be the W55 3000m World Record (10.13.8) which was rated on the age-graded tables as 103.2%!)
When Colin asked me to write an article about my training, I had a look back through my old training diaries to see if I could find anything significant. They go back to 1986 so there was a lot to go through but what I did notice was that for 1989 and 2009 I had a full set of times from 1500 to 10000 and with the 20 year interval, thought I could do a comparison to see if I could find anything interesting. One thing I did notice was that my training was very similar although in 2009 being 20 years older, I was obviously running a bit slower.
In 1989, the year I was 35, over the Winter I was training for the London Marathon. My mileage averaged about 65-70 miles a week. I could never ever manage any more than that. It was made up of a long run (about 20 miles), two interval sessions of a set of road miles and a shorter track session typically 400s or 300s. The rest of my training was made up of steady runs mainly between home and work. I tried also to fit in two short sessions in the weights room and one swim. In the Summer I cut down to about 50 miles, basically the same but with two track sessions.
In 2009, the year I was 55, over the Winter, my training was much the same as 1989 but a much lower mileage of around 50 miles per week. The Summer was almost identical to 1989 in terms of mileage and content.
In 2009 my sessions were a bit different from those in 1989 because I was training with a different group so can't do a comparison but from looking at the data, in 1989 I was running 400m sessions at about 73 seconds but by 2009 I had slowed to 78 seconds.
For both years, I had times for 1500m, 3000m, 5000m, and 10000m and I thought I would take a more detailed look. The chart shows a comparison of my average lap times for each. (This compared her lap speed – over 1500m, 3000m, 5000m and 10,000m – at age 35 compared to age 55. 1500m increased from 73 seconds to 79; 3000m from 76 to 82; 5000m from 77 to 85; and 10,000m from 80 to 89.)
Given that I had a five second fall-off in my 400m rep time, these results are probably consistent with this. I never had the real speed needed for 1500 so the six second difference in both 1500 and 3000 times isn't unexpected. What I think my 10,000 times do show is that in 2009, I didn't quite have the endurance that I had in 1989 when I had come off a Winter of marathon training.
I then thought it might be interesting look up the age grade of my best times from 1989 and 2009 and plotted the following graph
From this graph my (1500m, 3000m, 5000m and 10,000m) age-graded performance over the 20 years has increased from about 90% to 100%.
Without data from other athletes, it is difficult to give a reason for this but my own interpretation would be that very few athletes who were competing in the late 80s were still competing 20 years later. I can't think of anyone who was ahead of me in the UK rankings in 1989 who ran against me in a Masters event in 2009 so if this effect was repeated globally this would give a reasonable explanation.
Further to this, my 1989 5000m (16.08) was at the time a UK W35 Masters record. This lasted until 2006 when it was broken by Kate Ramsey (16.04). It has since been totally re-written and now stands at 15.02 to Jo Pavey.
The former Irish Olympian, Monica Joyce has an unratified W50 5000m time of 16.19 with the ratified world record being held by another former Olympian Gitte Karlshoj at 16.51. Looking through the WMA records, there are some former world class athletes who were still able to produce quite outstanding performances well into their 40s and 50s. It makes me think that if more world class athletes were able to train at a reasonable level into their 50s, the records could fall quite dramatically. I slowed by about 9% in these twenty years. Jo Pavey at 35 ran 15.02 and up to now she isn't showing any signs of slowing. However if she did slow at a similar or more likely a slower rate than I did, at 55 an estimate of what she could run for 5000m is around 16.10 which is substantially faster than the current W55 record of 17.52. The challenge though is to keep injury free so as to maintain a good level of training.
TO PROFESSIONALISM AND BACK
By Alastair Macfarlane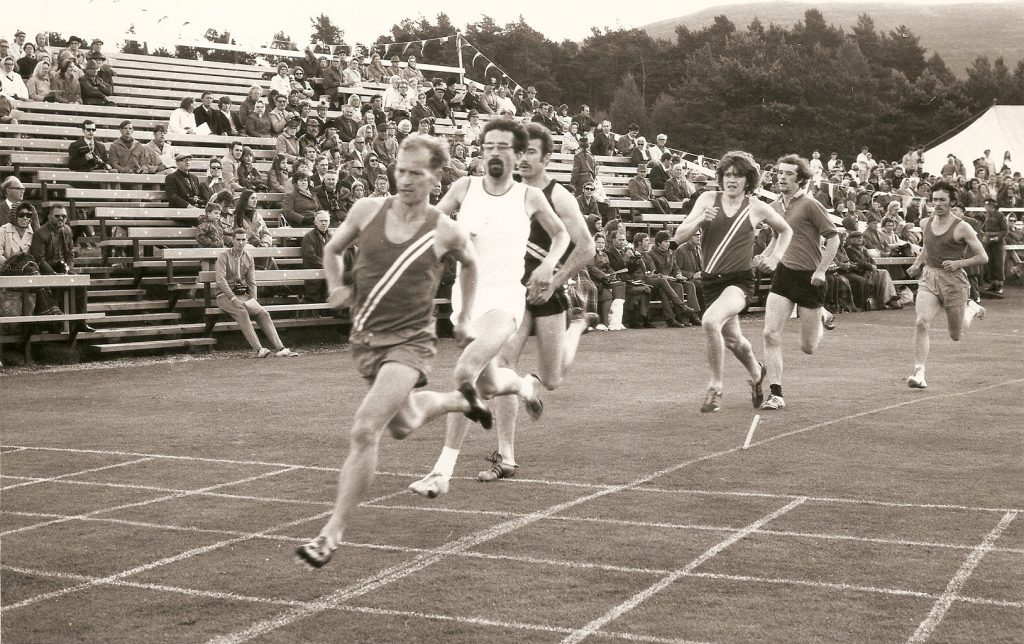 White-vested Alastair Macfarlane poised to overtake and hopefully surge to victory at the 1968 Braemar Highland Games. After regaining amateur status he had a long and distinguished road running career, representing Scotland and becoming Scottish Marathon Champion in 1979, by recording 2.18.03. Our Past President continues to do a tremendous amount for SVHC.
The editor, obviously pretty desperate for some words to fill an empty page, has looked in my direction to ask me to reflect on the early days of my running career, especially during a period that couldn't happen today.
I started running at school in Stirling and was soon invited to join the local club, St Modans AAC, a club no longer in existence but nevertheless a club of some standing in the sixties and early seventies. Club colleagues during my period in membership included Mike Ryan who was to go on and win Olympic and Commonwealth medals in the marathon while representing New Zealand, George McLachlan, a GB decathlon international and Scottish Steeplechase champion Charlie Meldrum.
The adventure began at Hamilton Racecourse, the venue for the National Cross Country Championships in 1963. In dreadful, frozen underfoot conditions I picked up a National silver medal in my very first race. Okay it was a team medal and I was fourth counter in a race won by future Commonwealth silver medallist Ian McCafferty, but I wonder how many people can say they won a National medal in their first race.
Over the next couple of years as I moved into my late teens, being the weakest in my age group, and not making much progress I became a bit disillusioned. Sensing this, a chap called Willie Scott who trained with the club but was a professional runner took me under his wing and advised me to become a professional.
Many people in the sport today won't understand what this meant in the sixties. Unlike today there was a clear distinction between the amateur and professional codes. There was a huge and thriving circuit of Games, mostly in Fife, the Borders and the Lake District where money prizes were on offer.
Anyone who took part in any these of these meetings was deemed by the Scottish Amateur Athletic Association, the then governing body of the sport in Scotland, and the IAAF, to be a professional and not allowed to be a member of a club in SAAA membership.
And this exclusion even extended to those who had earned money from other sporting pursuits; many people will have heard of John Tarrant, 'the Ghost Runner' who had earned a few pounds in a boxing booth. Rangers' players Willie Johnston and Sandy Jardine were decent sprinters on the pro circuit while Hibs and Stirling Albion winger George McNeill was possibly the fastest man ever produced by Scotland. All of these athletes were denied the opportunity to compete in amateur athletics and in McNeill's case to represent his country.
However, having decided to start competing on the professional circuit I was in for a bit of a culture shock. Highland and Border Games were mostly track and field competitions and perhaps 90% were held on a handicap basis. Handicap running produces a mind-set in some people where they will try less than their best in the smaller events in an attempt to build a good handicap then having built a good handicap will pounce to win a big money race. So deceiving the handicapper in order to build a better handicap almost becomes a sport in itself. In addition betting was not only allowed but was a major part of meetings. Although many meetings offered big money prizes, especially in the sprints, the real money was to be made from the bookies.
As a naive 19 year old newcomer to all this, I certainly found it a new world. My amateur club background along with my natural competitive spirit meant that I went into every race trying to do my best regardless of any future loss of handicap.
There wasn't a lot of money at stake in my early days; in my first race at Blackford Highland Games I finished third in the mile to win £2 and a couple of weeks later at Pitlessie, I took home 12/6 (62.5p) for third in the half mile. (Note the pre metric race distances).
After a couple of seasons of doing reasonably well and picking up some prize money, but much more importantly, picking up valuable experience in how to race on the track, I started to make a bigger impact in 1968, going to some of the biggest meetings at places like Hawick, Jedburgh, Peebles and Selkirk and winning.
A new face appearing on the scene that year was GB International Alan Simpson, Britain's top miler who had finished 4th in the 1964 Olympic 1500metres and was silver medallist behind Kenya's Kip Keino in the 1966 Commonwealth Games. We became friends, trained together and stayed at each other's house. Another 'name' to show up was former world mile record holder Derek Ibbotson but by this time he was well past his best and was never a serious threat in races.
But the highlight of the pro runner's season is undoubtedly the New Year Gala, nowadays held at Musselburgh Racecourse but in my time still held at the charismatic Powderhall Stadium in Edinburgh. This is the big one; the meeting for which most runners try to preserve a decent handicap, because of the big prizes on offer.
Having had a good season during the previous summer I was back marker in the mile at the New Year meeting of 1969. Having only just qualified for the final after finishing a distant 2nd in the heat, I managed to get up in the last few strides to win and take the £80 first prize.
That effectively was the end of my career as a professional runner, the next couple of years taken up with getting married and moving house a couple of times.
I had never lost touch with the amateur club scene and started training with Springburn Harriers, whose club Coach was Eddie Sinclair, a former Scottish 3 mile Champion, against whom I had raced on the pro circuit, and decided to see how far I could go in the sport by attempting to be re-instated as an amateur. This had been achieved only once previously to my knowledge, by John Robson, later to become a star at 1500 metres on the International stage.
However, for me that proved to be no easy task. My applications for reinstatement were rejected on two occasions and it was only after two years of trying that I was given the green light and I was officially an amateur again. How times have changed over the last 40 years with people now able to make fortunes from the sport!
I was reinstated initially as a 'National' amateur, meaning I was unable to compete in International competition, a condition somehow overlooked when, having reached a decent standard, I was selected to represent Scotland in an International marathon in Tullamore, Ireland.
I suppose this indicates that incompetence from our governing body is not a new phenomenon! However, after I had pointed out their error the SAAA made application to the IAAF on my behalf and I was reinstated internationally and went on to represent Scotland a few times.
My time as a professional runner brought few regrets and many happy memories; I had the pleasure of competing at the same time as and seeing at close quarters people like George McNeill, Stuart Hogg, later to become a fitness coach to some of the country's top football teams, the multi-talented John Freebairn, for many years for many years a member of the SVHC committee, and John Steede, still a member of SVHC and in his day an awesome sight as he hit top speed!
After reinstatement a whole new chapter opened up for me as I turned from track racing to the roads and competed against some of the best endurance runners Scotland has produced, people like the late Jim Dingwall, our Newsletter editor Colin Youngson and Olympian Donald Macgregor, but that's maybe a story for another day.
GREAT IRISH/SCOTTISH VETERANS: CHARLIE McALINDEN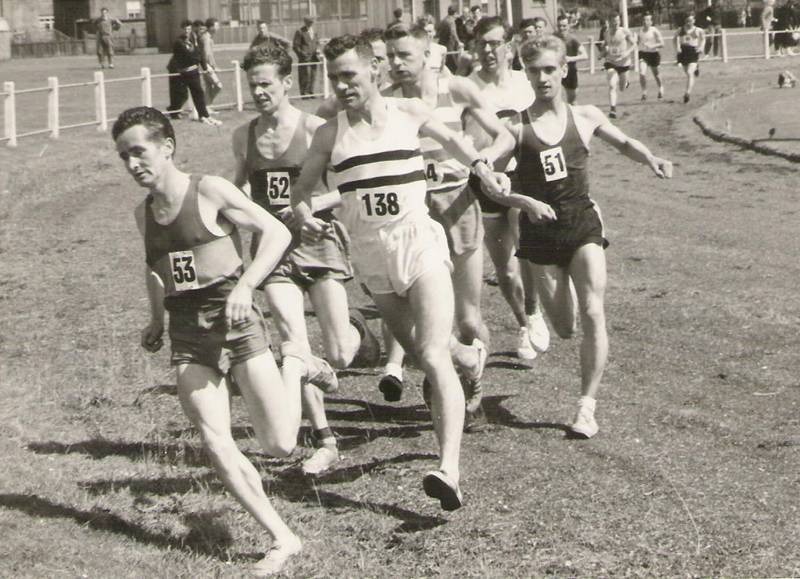 Dirrans Sports, early 1960's. Hugh Mitchell (53), Charlie McAlinden (138), Pat McAtier (52), Bobby Calderwood (-4) and Davie Simpson (51)
Charles McAlinden was born on the 31st of October 1932. By 1956 he had become Irish half-mile champion; and in 1959 appeared in the Scottish Athletics Yearbook with one mile in 4.20.3. His club was Babcock & Wilcox, Paisley.
For the earlier part of his running career, Charlie concentrated on shorter track races, and avoided running three and six mile events. However, he was encouraged by Harry Fenion, the 1957 Scottish Marathon Champion, to try the 26 mile classic distance.
In both 1964 and 1965 Charlie finished third in the Scottish Marathon, improving from 2.39.22 to 2.25.45 when finishing a meritorious fifth in the AAA Marathon at Port Talbot, when Bill Adcocks was the winner, followed by Brian Kilby, Juan Taylor and Alastair Wood.
Consequently, when he lined up for the 1966 Scottish Marathon, Charlie McAlinden had hopes of running fast enough to be selected by Ireland to compete in that year's European Championships. Certainly, he was a much-improved athlete and, on form, was capable of a very good run. However, it would not be easy.
The course was an undulating out and back route: from Westerlands in Glasgow, out to Vale of Leven and back. The weather was sunny and hot. Gordon Eadie of Cambuslang, the 1960 winner, was also competing, along with his clubmate Andy Fleming. Newcomers included Donald Ritchie (Aberdeen AAC) who was attempting his second marathon and only beginning his illustrious distance running career (especially as a world-class exponent of ultramarathon racing). Another novice that day was Jack MacLean (Bellahouston Harriers), who took part in sixteen Scottish Marathon Championships in succession, starting with this one!
After a few miles, the leaders began to stretch the field as they maintained a good pace. Hugh Mitchell (Shettleston) had been told before the race that sub 2.25 would be considered for the Scottish team in the 1966 Jamaica Commonwealth Games Marathon, so he moved ahead, accompanied by Charlie McAlinden. Further back, Gordon Eadie was running in a group containing Donald Ritchie.
There was little change in the positions as Singers Industrial Estate, the half-way point, was reached. The runners completed a circuit of the grounds before returning to the roads. After keeping up 2.23 pace to twenty miles, Hugh Mitchell had to drop back, leaving Charlie on his own and feeling 'hunted'.
An extra problem he had to deal with was that he did not drink at all on this especially hot day. His friend Tony McManus was meant to hand him a special drink at twenty miles, but the officials of that era followed very strict rules about water stations, and Charlie had to carry on without refreshment. At 24 miles, Hugh Mitchell dropped out.
Gordon made an effort to close the gap on the leader and chased hard through 20 and 23 miles. He moved into second behind Charlie McAlinden. However, the strain of racing fast in hot conditions was forcing some runners to give up, and even the leaders were slowing down.
Gordon could not manage to take the lead from a struggling Charlie, who found some strength in the last two miles to move away and win the battle in 2.26.31. Gordon Eadie finished in 2.28.19 and Andy Fleming, his Cambuslang clubmate and advisor, came third in 2.32.47.
The 1966 European Marathon in Budapest was indeed won by an Irish athlete – Jim Hogan, running for Britain! Although the Irish selectors sent home-based athletes to the European Championships, and ignored Glasgow domiciled Charlie McAlinden, he did not give up.
After he turned 40 years of age and became a veteran, he had a great deal of success, racing for Paisley Harriers and winning Scottish titles at 5000m, 10,000m, ten miles and marathon. In addition, although in the 1973 Scottish Veterans Cross-Country Championship he finished second, behind the great Bill Stoddart, Charlie went on to win that prestigious title three years in succession (1974-1976).
In 1974 the World Veterans Marathon Championship was held on the outskirts of Paris near Versailles, on a very awkward course, involving a network of cross-country paths. The clear winner (and first home for the Scottish team) was Alastair Wood (Aberdeen AAC), who reckoned that he did well to record 2.28.40. When a vehicle carrying the film crew got too close to the irritable leader, Alastair remembered that he waved vigorously and yelled, "Allez! Allez!" to make them retreat to a reasonable distance!
Wood was supported by his Scottish team-mates: Charlie McAlinden, who must have been pleased to finish well up in ninth position; and another Aberdeen runner, Charlie Greenlees. The Scottish team finished first and won World Veteran Championship gold medals.
Charlie McAlinden returned to the Scottish marathon rankings in 1980 (2.32.25), 1981 (2.33.59) and, at nearly fifty years of age, in 1982 (2.34.15). Nowadays, these would still be considered very impressive Masters times.
After retirement, Charlie retired to Aviemore, and enjoyed hillwalking.
(This profile is reprinted with the kind permission of Brian McAusland from the 'Veterans' section of scottishdistancerunninghistory.co.uk)
A FAVOURITE RACE MEMORY: GLASGOW MARATHON 1983
By Colin Youngson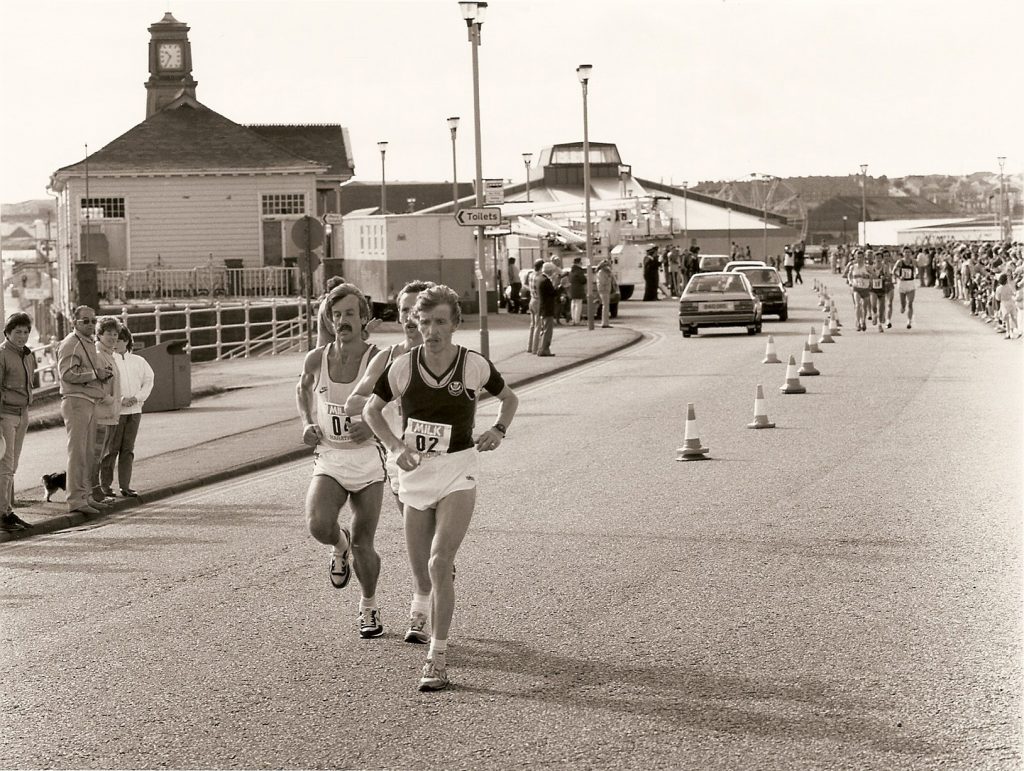 (Colin leading in the 1985 Aberdeen International Marathon. He finished second to Englishman Dave Catlow (number 04).)
[I had reached my marathon peak back in 1975 (2.16.50) so, when I was picked for a three-man Scottish team to take part in the Home Countries International contest during the 1983 Glasgow Marathon, at the age of 35 I did not feel too optimistic. The following account was written shortly after the event.]
Pre-race nerves had been worse than usual: swallowing regularly to check if I had a sore throat; worrying instead of sleeping; wobbly ankles; hot flushes. (Some symptoms must have been because I was half-a-stone overweight after doing 'the diet' – it can't all have been because of old age.)
However, once I settled into the plush Skean Dhu Hotel, just off Sauchiehall Street, and met my old rivals in the Welsh and Northern Irish teams, I started feeling calmer.
The Scottish team manager, John Fairgrieve, was very helpful, let me avoid the pasta party and half the civic reception, organised breakfast for 6 a.m., convinced me I'd better stick to just one pint, and packed me off to bed!
Up at 5.30 a.m. on 11th September 1983, I sorted out my gear, shoved down a white bread marmalade sandwich, then went down for cornflakes, tea and some more toast and jam.
Then back to bed for an hour's doze, interrupted by some steady drinking (glucose drink) and five visits to the loo.
At 8 a.m., racing shoes and vest etc safely in the kitbag, I took a seat in the 'invited athletes' bus. The Southern Irish were last out. An hour before the start we arrived at the council offices, fifty yards from the first rows of runners. A 'jobsworth' janitor wasn't keen to let twenty skinny characters in tracksuits into his domain, but was eventually convinced that we were genuine.
Jimmy Savile warmed up smoking a cigar – and chatting up everyone – male and female.
After drinking my black coffee (no sugar), I jogged round the block, trying some strides when no one was looking, halting only for stretching, digestion control and shoe-tightening exercises. The sight of Jim Brown and George Braidwood already in the front rank of 'ordinary plebs' didn't make the 'stars' feel too confident when we lined up with five minutes to go.
The gun was inaudible, but with a nervous rush I avoided being crushed underfoot by 9600 pairs of shoes and quickly settled down behind the 200 metres specialists.
The next three miles, at a nice steady pace, involved a fair amount of manoeuvring at the front. Several runners (including me) were anxious to wave at their mums (the whole race was televised and I still have the VHS tape!) However as soon as we hit Byres Road, and a headwind, I hid in the pack, just before Brendan Foster, during his commentary, uttered the opinion that only foolish inexperienced athletes were leading so soon.
A group of 18 stuck together and negotiated the twisting, undulating course – sometimes moving uncomfortably fast, sometimes coming to a virtual halt on windwept sections. My left hamstring started cramping up in the chilly air, after only eight miles, and I thought I was in for a bad race, but a few 'stretching' motions (on the run) seemed to settle it down.
Some of my opponents tired themselves by putting in a fast burst at every drink station – they seemed to have a desperate thirst for such a cool day. The drinks attendants were so inexperienced that each station turned into a cursing, shoving, rugby scrum of heaving bodies and flying elbows and cups. I plodded up the middle of the road and saved my energy.
Over the Clyde and onto the cobbles, into the second half of the race. Just before Bellahouston Park, Andy Daly and Peter Fleming surged ahead to greet the local fans. I hung on through the hilly little park, cutting corners like mad. The bunch was down to nine as we passed the exit gates.
Then Peter Fleming made his break, and the struggle to the finish really began. George Braidwood, who had been second in the National Cross-Country Championships in February, was the last to drop, but he paid for his effort, losing eight places.
Unfortunately I lacked the speed to hold on to my wonderfully talented young team-mate, but stuck in behind the nearest shelter (a big Englishman) down the wind tunnel of Barrhead Road, and waited until after the tiring paths of Pollok Estate, before making one last effort to break clear of gritty Andy Daly and become the second counter in the Scottish team.
About the 25 mile mark, fighting on grimly, my dazed brain noticed a procession of lightly-clad individuals almost jogging on the spot across the other side of the road. They were heading in the opposite direction from me, and I wondered vaguely what they were doing – until I realised they were also striving to complete the Glasgow Marathon and were twelve miles behind.
Over the cobbles, past the blare of a pipe band, and into Glasgow Green with half a mile to go. I knew that a wee Welshman was closing like a rocket, but managed to raise a last canter to make it to the line in fourth place, two seconds in front of him.
The next five minutes weren't much fun, but I was on the road to recovery after a cup of water.
Scotland had defeated England (a rare, treasured victory), Wales, Eire and Northern Ireland, so I was left knackered but satisfied that I had run a sensible race, as hard as I could on the day. This event was the first time that the SAAA had obtained kit sponsorship, which allowed each athlete to receive and keep a tracksuit as well as a Scottish vest. After a shower, I donned my new Scotland top and, a happy man, went down to the bar for a slow, reflective pint.
1 Peter Fleming (Scotland/Bellahouston H) 2.17.48
2 Bill Domoney (England) 2.18.16
3 Dic Evans (Wales) 2.18.26
4 Colin Youngson (Scotland/Aberdeen AAC) 2.19.18
5 Mick Crowell (Wales) 2.19.20
6 Andy Daly (Scotland/Bellahouston H) 2.19.30
7 Donald Macgregor (Fife AC – First Veteran) 2.19.34
8 Malcolm McBride (Northern Ireland) 2.19.50
9600 started. 9000 finished.
SCOTTISH MASTERS INDOOR ATHLETICS CHAMPIONSHIPS REPORT
2015 has not started well, as far as the organisation of Scottish Masters Championships is concerned. Not only did the main Indoor event take place on the same day as the Cross Country (scottishathletics did apologise), but also the 3000 metres races took place along with a separate meeting on 3rd January. One can only hope that the Summer Track and Field on 7th June at Kilmarnock (again?) will not produce more justified complaints from Masters athletes. Maybe it is time to revert to SVHC organisation, albeit with inferior medals?
The main Indoor Championships were on 31st January at the Emirates Arena, Glasgow. Since this is the Scottish Veteran Harriers Newsletter, I will concentrate on middle distance races. Full results are available on the scottishathletics website.
The 800m produced a close battle between two W50 runners, when Yvonne Crilly (Lothian) narrowly defeated Sonia Armitage (Aberdeen AAC). The winner's time was 2.31.71.
The fastest time produced by the men was 2.7.02 by Stephen Allen (Law). The indefatigable M55 John Thomson (Fife AC) was well clear in 2.17.52 (and also won the 400m). Alastair Dunlop (M60, Stornoway) recorded a fine 2.26.58.
In the 1500m, Sonia Armitage (W50, 5.18.28) pipped Catherine Ferry (W40, Edinburgh AC, 5.18.94).
Guy Bracken (M50, North Shields), who had won his 800m in 2.10.59) also finished first, with the fastest Masters time of the day (4.16.38), in the longer race.
Gordon Barrie (Dundee Hawkhill) won M40; Stephen Allen M45; Stephen Smith (Preston H) M55; and Ian Johnstone (Inverness H) M60.
Pete Cartwright (Clydesdale H) succeeded in doing his usual M70 800m/1500m double.
The 3000m winners included familiar names from the main meeting: Guy Bracken M50 was fastest with an excellent 9.06.15; Robert Gilroy (Ronhill Cambuslang H) first M35; Gordon Barrie M40; Stephen Allen M45; John Thomson M55 (not far in front of rapid age-group rivals Rob McLennan (Garscube) and Stephen Smith); Ian Johnstone M60; and David Cooney (RCH) M65. Pete Cartwright defeated his M70 friend and clubmate Bobby Young.
SCOTTISH MASTERS CROSS COUNTRY CHAMPIONSHIPS REPORT
This event took place at Kilmarnock on 31st January. Unlike in Hawick last year, the weather was mainly sunny and the course featured a range of surfaces including mud, sand, gravel, ice and snow.
The overall winners, both well clear, were Lesley Chisholm (W40, Garscube H) and Keith Hood (M40, Corstorphine AAC).
Betty Gilchrist (Ferranti AAC), last year's W65 champion, this time won the over-70 title, to add to her outstanding first place in last November's British and Irish CC International.
The W60 winner was Ann White of Garscube Harriers; W55 Phyllis O'Brien (Hunter's Bogtrotters); W50 Rhona Anderson (Dunbar AC) after a close battle with Hazel Dean (Central AC) and Mary Western (Carnegie H). The W45 victor, also far in front of age-group rivals and third overall, was Melissa Wylie (Dumbarton AAC).
As has been reported, Lesley Chisholm won W40 gold, with previous W35 title winner Jennifer MacLean (Edinburgh AC) second.
Gala Harriers won team gold, with HBT second and EAC third.
Walter McCaskey (EAC), previously age-group winner in M65, M70 (four times) and M75 (thrice) won M80 this time, in front of his M75 rival Les Nicol (Metro Aberdeen RC), who picked up his own third title.
M70 winner was the redoubtable Bobby Young (Clydesdale H), who has in the past finished first M55, M60 (twice) and M65. [There is little doubt that Bobby has won more Scottish Masters titles, (on indoor and outdoor track, road and cross country) than any other SVHC runner in the club's history.]
There was an exciting battle for M65 gold this time, with Alex Sutherland (Highland Hillrunners – the winner in 2013) repeating the feat, but only four seconds in front of Andy Rennie (Irvine AC) who landed M60 gold back in 2011.
The main men's race featured a very clear M60 win for Tony Martin (Fife AC). M55 champion was Ed Stewart (RCH), in front of clubmate and previous winner Colin Feechan. Ed has previously won M40, M45 and two M50 titles.
Chris Upson (RCH) was first M50, twenty seconds clear of Duncan Macfadyen (Inverclyde AC). David Millar of Irvine Running Club was well ahead of age-group rivals to win the M45 category. And second to M40 champion Keith Hood was that most consistent of athletes, Kerry-Liam Wilson (RCH), who has previously won gold medals at M35 and M40 four times – roll on the M45 age-group later this year!
Unsurprisingly, Ronhill Cambuslang Harriers won both the M40 and M50 team races, the former in front of Corstorphine AAC and Greenock Glenpark Harriers.
Masters 35-39 Age Grouping
In 2013 Scottish Athletics decided to change road and cross-country events by dropping the 35-39 age group.
Although there was some consultation with clubs they did not contact SVHC at the time for our views. This situation creates various anomalies such as being out of line with IAAF rules and 35-39 masters being able to compete in the BMAF Cross-Country Championships but not in the Scottish Masters.
However, they could compete on the same day this season in the indoor championships as these still include this age group.
It is also unhelpful to our International team as athletes in this age group cannot compete in their own national event.
Alastair Macfarlane and myself met with two member of the Road and Cross-Country Commission last year and, leaving aside all the details of this meeting, it was made clear that Scottish Athletics would only reconsider this matter if it was shown that there was large support to reverse this decision.
As a starting point the views of members are sought and the committee can decide if it is worthwhile pursuing this matter. You are therefore urged to make your opinion known either by emailing myself or posting a comment on our facebook page. Unless there is a sizeable response it is unlikely much can be done to remedy this situation. Campbell Joss cdjoss@tishcali.co.uk
OFFICE BEARERS SEASON 2014-2015
Honorary President: Robert Donald
President: CAMPBELL JOSS 25 Speirs Road Bearsden, G61 2LX Tel: 0141 9420731 cdjoss2@gmail.com
Immediate Past President: ALASTAIR MACFARLANE
Vice-President: ADA STEWART 30 Earlsburn Road, Lenzie, G66 5PF Tel: 0141 578 0526 stewart2@ntlworld.com
Honorary Secretary: ALASTAIR MACFARLANE 7 Andrew Avenue, Lenzie, G66 5HF Tel: 0141 5781611 almacrun@btinternet.com
Honorary Treasurer: ANDY LAW Euphian, Kilduskland Road Ardrishaig, Argyll PA30 8EH Tel. 01546 605336 Lawchgair@aol.com
Membership Secretary: DAVID FAIRWEATHER 12 Powburn Crescent Uddingston, G71 7SS Tel: 01698 810575 djf@dfairweather.plus.com
Handicapper: PETER RUDZINSKI 106 Braes Avenue Clydebank. G81 1DP Tel.0141 5623416 p.rudzinski@ntlworld.com
Committee Members:
JOHN BELL Flat 3/1, 57 Clouston Street Glasgow G20 8QW Tel. 0141 9466949
MARGARET DALY 24 Strowan Crescent Sandyhills Glasgow G32 9DW Tel. 0141 573 6572
WILLIE DRYSDALE 6 Kintyre Wynd Carluke, ML8 5RW Tel: 01555 771 448
PHYLLIS HANDS 39 Albany Drive Lanark ML11 9AF Tel. 01698 252498
STEWART McCRAE 17 Woodburn Way, Balloch Cumbernauld G68 9BJ Tel: 01236 728783
KEN MONCRIEFF 25 Princes Street Stirling FK8 1HQ Tel. 01786 474978
JOHN SOFTLEY 6 Cathkinview Road, Mount Florida Glasgow G42 8EH Tel. 0141 5701896
PAUL THOMPSON Whitecroft, 5 Gareloch Brae, Shandon, Helensburgh G84 8PJ Tel. 01436 821707
ROBERT YOUNG 4 St Mary's Road, Bishopbriggs Glasgow G64 2EH Tel. 0141 5633714
BMAF Delegates Alastair Macfarlane Ada Stewart
SAL West District Delegate Willie Drysdale
SAL Delegate at AGM Ken Moncrieff
Website Ada Stewart
Auditor George Inglis
FIXTURES
March 2015
Sun 22nd Lost Trails 8km race Village Hall, Back Wynd, Falkland, Fife
Mon 23rd –Sat 28th European Veterans Indoor Championships with outdoor events – Torun, Poland
April 2015
Sun 5th Tom Scott 10mile Road Race Strathclyde Park
Sun 26th BMAF 20km Road Walk Championships Downham Market, Norfolk
May 2015
Sun 3rd SVHC Walter Ross 10K RR Cartha Rugby Club, 13:30
Wed 6th Snowball Race 4.8 miles Coatbridge Outdoor Sports Centre, 19:30
Sat 16th BMAF Road Relay Champs Sutton Park,Birmingham
Fri 15th – Sun 17th European Non-Stadia Championships – Grossetto, Italy
Sat 30th Cairnpapple Hill Race, Meadow Park, Bathgate
June 2015
Wed 3rd Corstorphine 5 miles Road Race 7:30 pm. Turnhouse Rd, Edinburgh
Sat 14th BMAF 5K Champs. Horwich
Sat 21st British Masters Outdoor Pentathlon Championships /One Hour Races – Horspath,Oxford
Wed 24th SVHC 5K Champs Playdrome, Clydebank, 19:30
July 2015
Sun 5th BMAF Multi terrain Championships – Bewl Water,East Sussex
Sat 11th Scottish National Masters Championships Grangemouth Stadium
Sun 19th EAMA Outdoor Track & Field Inter Area Challenge – Solihull
Sat/Sun 25th/26th British Masters Main Outdoor Championships Alexander Stadium, Birmingham
Sun 26th BMAF 10km Road Race Championships – Magor, South Wales
August 2015
Tues 4th – Sun 16th World Masters Track & Field Championships – Lyon, France Sun 16th SVHC Glasgow 800 10k Champs Cartha Rugby Club, 13:30
September 2015
Sun 6th BMAF Half Marathon Championships – Oxborough, Norfolk
TBC Moray Marathon, Elgin
Sat/Sun 19th/20th British Masters Decathlon/Hept./Throws Pentathlon/ 10K Track + Walks Champs
October 2015
Sun 4th Neil McCover Memorial Half Marathon Inc. SVHC Champs Kirkintilloch
Sun 18th SVHC Track 10K 1pm. AGM 2pm. Outdoor Sports Centre, Coatbridge November 2015
Sun 1st BMAF Marathon Championships – Newcastle
Sat 14th British & Irish Masters Cross Country Champs Santry, Dublin.