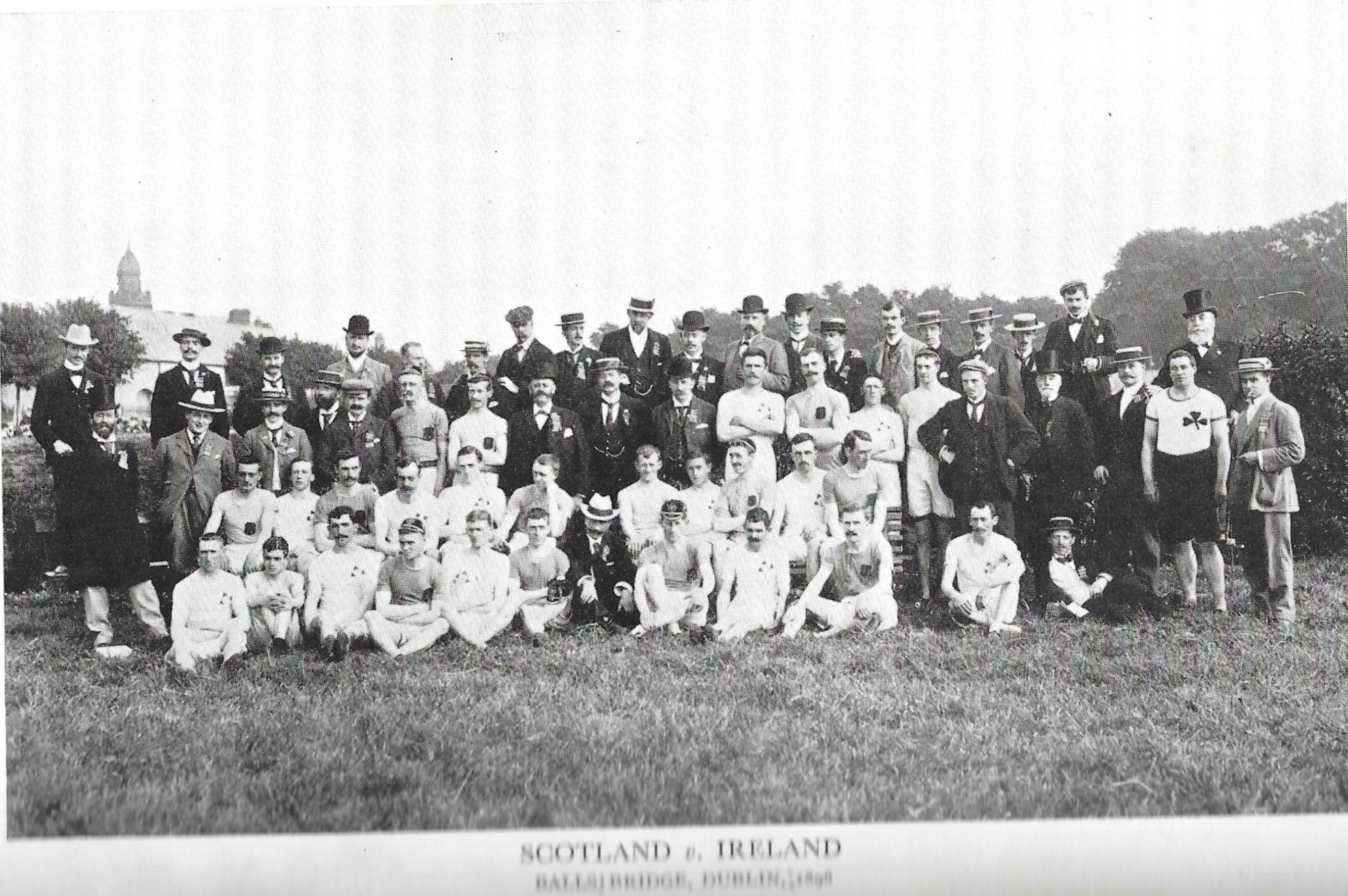 With two matches held and, despite some marvellous performances by Scots athletes, two matches lost, the third in the series was held on Saturday 17th July, 1897 at Powderhall in Edinburgh. There were some changes to the original selections for both teams before the match which was not without incident as was noted in the following report from the Dublin Daily Express.
"IRELAND v SCOTLAND
IRELAND VICTORIOUS
Two Scotch Records Broken.
The third annual contest between the representatives of Ireland and Scotland was decided at Powderhall Grounds, Edinburgh, on Saturday and resulted in a very meritorious victory for the Irishmen by seven events to four. Both teams suffered from absentees, and although the Irishmen were certainly not the least affected in this respect, they were expected to win. The day was beautifully fine, while the track was in grand order, and everything favoured a close contest and good performances. The start was fixed for a quarter past three, but it was a quarter of an hour later when the proceedings commenced, the attendance then being of fair proportions. The first event was the half-mile which, as expected, fell to Dickinson, though a hundred yards from home it seemed doubtful if he could get up. He did so, however, taking the inside, which was the cause of some jostling, which however, had no effect on the result. Then came the shot, which in the absence of Horgan, fell to McIntosh of Scotland, the score then being one even each. An unusual and rather unpleasant incident occurred in the 100 yards. Newburn beat the pistol by a good three yards, and never being approached, won easily by about 4 yards in 10 2-5th seconds. The crowd immediately started booing, and the Irishmen at once consented to run the race again. They did so to their cost; for the second time the two Scotchmen finished first and second. The quarter mile proved a second victory for Dickinson who came home with a grand spurt. The hurdle race was a chapter of accidents, for all the combatants came to grief at one time or another, and in the end Timms, contrary to expectation secured the event for the Scots. This rendered the result very doubtful; but in the later events the Irishmen performed splendidly, and won, as already stated. Two Scottish records were broken. In throwing the hammer Kiely beat the Scotch record by 19′ 10″ doing 137′ 1″; and in the long jump Newburn beat the previous record made by Kiely a couple of years ago by half an inch with a distance of 22′ 3″. The Irishmen were subsequently entertained at dinner, and were generally most hospitably entertained."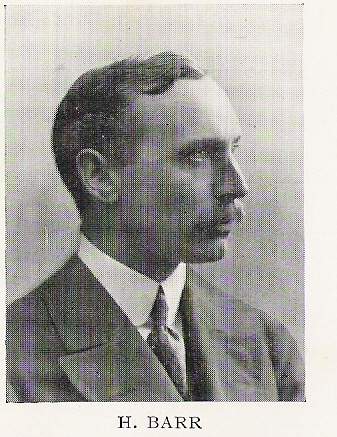 Results:
100 yards: 1. H Barr (S) 10.2; 2. FW Sime (S); 220 yards: H Barr (S) 23.2 seconds; 2. FW Sime (S)
440 yards: 1. CH Dickenson (I) 52.2 seconds: 2. J Donaldson (S); 880 yards: 1. CH Dickenson (I) 2:02.6; 2. MCC Seton (S)
Mile: 1. JE Finnegan (I) 4:31.4; 2. W Robertson (S). Four Miles: 1. M O'Neill (I) 20:37.2; 2. J Paterson (S)
120 yards hurdles: 1. AB Timms (S) 19.4; 2. P Harding (I)
High Jump: 1. TE Wood (I) 5′ 10″; 2. P Leahy (I); Broad Jump: 1. WJM Newburn (I) 22′ 3″; 2. H Barr (S)
Putting the Weight: 1. JD McIntosh (S) 42′ 9″; 2. MN McInnes (S); Throwing the Hammer: 1. TF Kiely (I) 137′ 1″; 2. JD McIntosh (S)
IRELAND 7 EVENTS; SCOTLAND 4 EVENTS
1898 in Ireland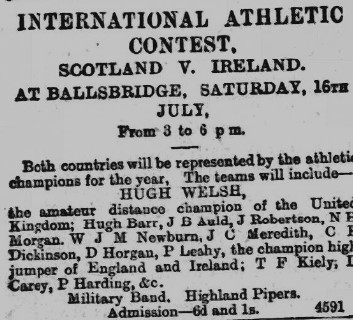 Into 1898 and the international was back in Ireland, at Balls Bridge once again, on 16th July. As in 1896, it was previewed in many Irish papers – the Irish Independent, Irish Times, the Dublin Daily Express and many others carried the story. You will note in the advertisement above that the top name was a Scotsman although the Irish high jumper is also effectively the British champion. Weather wise it was a good day for the event and it is interesting to look at some of the comments about the entertainment before the first race – the half-mile – was run.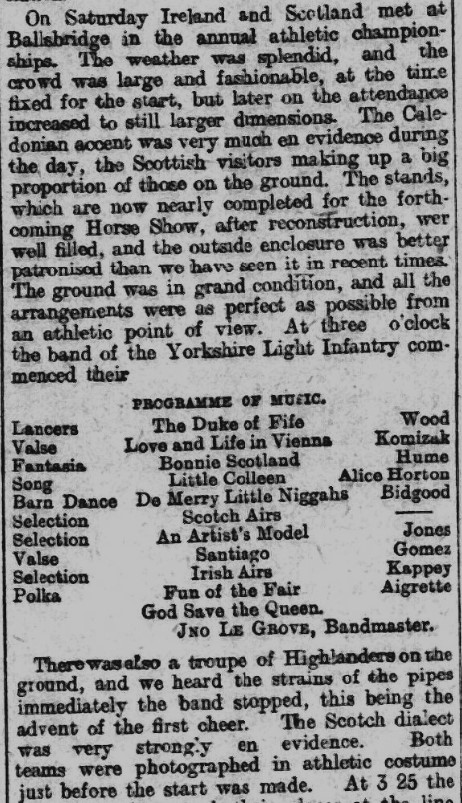 The only illustration in the Irish Independent report on the match was that of Welsh which is reproduced below. Welsh was now a magnificent middle distance athlete and probably the best track man in the team with only Hugh Barr challenging him.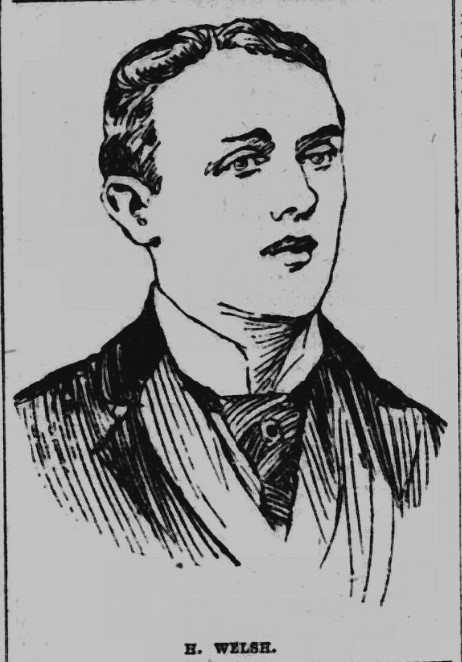 Results:
100 yards: 1. ND M0rgan (I) 10.5 sec; 2. H Barr (S); 220 yards: 1. JC Meredith (I) 23.4 sec; 2. JB Auld (S)
440 yards: JC Meredith (I) 51.2 sec; 2. J Donaldson (S); 880 yards: 1. H Welsh (S) 2:04; 2. CH Dickenson (I)
Mile: 1. H Welsh (S) 4:21.4; 2. C 20:19.4R Faussett (I); Four Miles: 1. M O'Neill; (I) 20:19.4; HA Munro (S)
120 yards hurdles: 1. TF Kiely (I) 16.5 seconds; 2. D Carey (I).
High Jump: 1. P Leahy (I) 6′ 0″; 2. JB Milne (S); Broad Jump: 1. WJM Newburn (I) 24′ 0 1/2″; 2. H Barr (S)
Putting the Weight: 1. D Horgan (I) 45′ 5″; 2. JD McIntosh (S); Throwing the Hammer: 1. TF Kiely 146′ 10″; D Horgan (I)
IRELAND 9 EVENTS, SCOTLAND 2 EVENTS
It was now four matches and the Scots had not yet won even one despite being on the wrong end of some very close finishes but that situation was about to change. The next meeting was to be at Powderhall on 15th July 1899 when a very different result was to be seen.