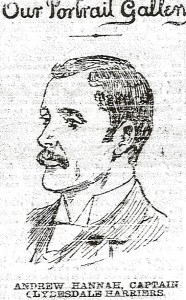 The SAAA Championships were first held in 1883 and after three years the Ten Miles track race was added.   It was never held on the same day, or even on the same weekend, as the championships proper but the winners all received the same medals and status as the rest did.    It appeared on the schedule before there was a 220 yards championship – or a three miles or a discus or a javelin come to that.   Down through the years until it finally came to a halt in 1974 it was won by top distance men, be they track, road or cross-country specialists.
The first 10 miles championship was won by 26 year old AP Findlay of Clydesdale Harriers on 28th June at Powderhall Grounds in Edinburgh.   This was two days after the championship itself, also held at Powderhall.   He was the only finisher in the race and his time was 55:16.8.   Earlier that year he had won the first ever Scottish Cross-Country Championship at Lanark Race course.   George Dallas in his chapter on cross-country development in the 'Fifty Years of Athletics' describes the race thus: "The first Cross-Country Championship was held on Lanark Racecourse.   It was a challenge match between the CH and the EH.   The venue was unsuitable for the CH and out of fourteen nominations, only four contested the race.   The EH had seven men forward.   AP Findlay (by far the oldest runner in the field) won from DS Duncan , who was at that time considered the best long distance runner in Scotland.   Findlay was a stone mason to trade and a very hardy athlete.   When the news reached Ayr (his home town)  preparations were made to greet him on the arrival of the train at 9:12 pmn.   He did not turn up and a still larger crowd met the 11:20 pm train,but again there was no Findlay.   At 7:30 on the Sunday morning, he arrived at Ayr, footsore and weary, having walked from Barrhead to Kilmarnock to catch the mail train for Ayr.   He had no special preparation for the race, which had been arranged only three weeks before it was run."    The tale is worth repeating because it illustrates the calibre of man that Findlay was – won the track race three years in succession.   The times in succeeding years were 55:21.6 in 1887 and 55:33 in 1888.    Christened Archibald Peter, he was a bachelor all his days and died in 1905 aged 45.
In 1887, the event was part of a second day's athletics by the SAAA and with about 'only 1000' spectators present, four men contested the race: AP Findlay (noted as Ayr FC although he ran cross-country as Clydesdale Harriers), WM Jack (EH and WCAC), J McWilliam (Kilmarnock Harriers) and W Henderson (Clydesdale Harriers).   Findlay went into the lead at the start and won by half a lap from Henderson with the other dropping out.   1888 was the first year that the race took place in April – 7th April – and it was to stay on a weekday in April, well away from the championships.   Findlay had won the Scottish cross-country championships again that year with a display of strength and stamina which must have daunted the opposition for some time to come.   Held in Ayr, his home territory, Findlay went off the trail at the start and was accused of deliberately leading the field astray.   The runners are said to have covered approximately 16 miles that day with some having to have their shoes cut from their feet in the main street in Ayr and others coming back in cabs.    A couple of months later he won the ten miles from DS Duncan and P Addison.    His hat-trick of wins would be equalled by his club-mate Andrew Hannah over the next three years.
Hannah's first victory was on 12th April, 1889, at Hampden Park in Glasgow.   Hannah would go on to be one of the finest distance runner his country produced, winning 5 cross-country championships, 6 track ten miles titles, 4 four mile titles and 1 one mile as well as setting numerous records.   His victory in 1889 was timed at 55:30.4 and clubmate Charles Pennycook (Clydesdale Harriers and Arthurlie FC) was second.   Later in the season at the SAAA Championships on 22nd June, Hannah was second to JW McWilliam in the four miles where the winner set a new Scottish record with Hannah taking more than three seconds from his own best.   In 1890, Hannah went one better and won the four miles as well as the ten.   His time in the latter was 55:39.4 to win from TIS Hunter (EH).   A year later, 2nd April, 1891, at Hampden Park, he won in anew Championship Best Performance and Scottish Record time of 54:18.4 from WM Carment.      It was his third consecutive victory and unfortunately he missed the event in 1892.
Hannah was back in 1893 however and won again in 55:12.6 from SJ Cornish (Edinburgh Harriers) and J Walker (Clydesdale Harriers) at Hampden Park on 27th March.   Five runners started this time but only three finished the race which Hannah won by two laps.     His fifth win was in 1894 at Powderhall on 2nd April where again there was a championship best performance and a new Scottish record of 54:02.6.   Only three ran: Hunter and Cornish of Edinburgh Harriers being the opposition.   Cornish was again second, some 460 yards behind Hannah.   Hunter dropped  out in the ninth lap.   Hannah's sixth 10 miles title, which completed a second hat-trick, was won in 53:26 – another best championship performance and another Scottish record.   This was on 12th April at Hampden Park and he had taken 36.4 seconds from the previous record.   W Robertson (Clydesdale Harriers) and A McCallum (Partick Harriers) were second and third and both inside standard time for the distance.   He defeated Robertson the following year for a version of the Scottish title in 54:56.8 – 'a version' because at this point there was a split between the SAAA and Clydesdale Harriers who formed the Scottish Amateur Athletic Union and the two bodies held competing championships for the next two years before reconciliation.   RA Hay had won the SAAA 10 miles track title in 1896 in 55:56.6.
While he was doing so well on the track, Hannah won the Scottish cross-country title – in 1890.1891, 1893, 1894 and 1896.   A remarkable athlete who remained in the sport as an official and administrator being one of the time keepers at the London Olympics in 1906.
The title in 1897 went to W Robertson (Clydesdale Harriers) when he was the only runner to complete the event – his time of 56:19 was almost a minute and a half slower than Hannah's last race at the distance and almost three minutes behind his Scottish record.   Robertson won the event again the following year (9th April, 1898, at Powderhall) from DM Cameron and AR Blewes in 55: 10.8.
In 1899 at Hampden Park in Glasgow, the title was won by WM Badenoch – it was another race where no other competitor finished.   His time was 58:04.2, which was the slowest time on record.   In 1900, it was J Paterson who won from David W Mill and JJ McCaffrey in 57:32.2.   It was one of the best and closest races of the series with Gibb (of Watsonians) winning by four yards from Mill (Clydesdale Harriers) and McCafferty.   Earlier in the year Paterson had won the national cross-country title for the third time and Mill was to take it from him in 1901 and retain it in 1902.