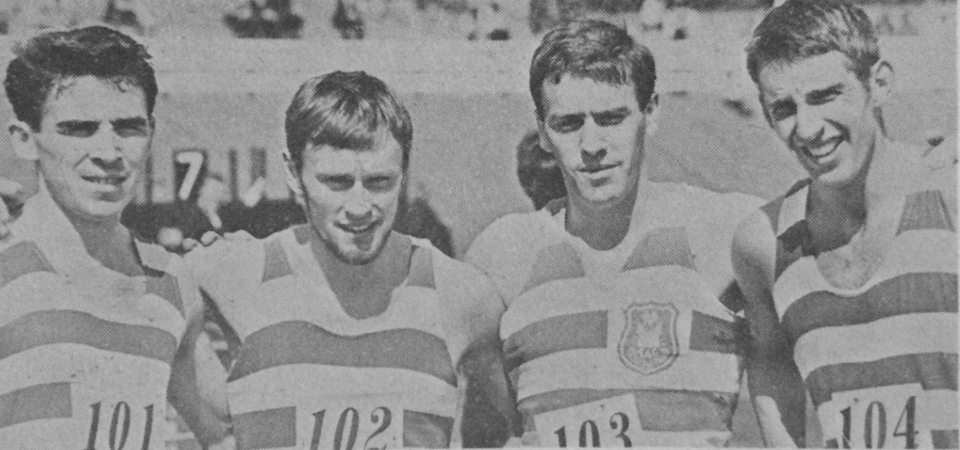 The Mile Medley Relay had been contested as an official SAAA championship since 1919 but with the coming of the Empire and Commonwealth Games to Edinburgh in 1970, all track measurements were changed to metric from imperial. It was now a 1600m medley relay and the distances were now 800m, 200m, 200m and 400m. The first winning time would therefore be a new record. Victoria Park had had a very good record in all relays over the years since their formation in 1930 but this team performance in 1969 must go down as one of their best ever. I quote from the Glasgow Herald of 26th May that year. The headline read "Victoria Park set formidable target."
"The winning team on Saturday in the Scottish 1600m medley relay championship had things going for them. They knew that, no matter where the watches stopped at the finish, they would be creating a new Scottish national and all-comers record. The meeting was the Glasgow championships at Scotstoun Showground, and the first time the race was being run over the metric distances instead of the former mile medley. But Victoria Park were not content just to get their names first in the new record book. They made sure a formidable target would be set. Their quartet – Hugh Barrow, Robert Lawrie, Gordon Millar and Andrew Wood – covered the distance in 3 minutes 23.7 seconds, not only better relatively than the existing national mile medley record but more important, improving on the all-comers time of 3:25.9 that was set up in 1952 by a celebrated Jamaican team which included three of their four Olympic 4 x 400m gold medallists in Helsinki that year including Arthur Wint, Herb McKenley and George Rhoden.
Mike McLean, the Scottish 880 yards champion gave Bellahouston a tremendous start over the 800 metres leg, leading Barrow to the change over by about half-a-dozen yards in what was officially timed at 1 min 50.3 sec. The two sprint legs that followed kept Bellahouston still in the lead by all of 15 yards and this gave Victoria Park's last man, Andrew Wood a chance to show just why he is Scotland's national 440 yards champion. He chased Ronnie Wallace of Bellahouston at incredible speed down the back straight, passed him coming out of the crown of the second bend and positively streaked up the home straight for a great victory. His time was variously taken as something between 47 and 48 seconds but, as the athlete himself said, these times are so approximate in relays that you can't be too specific about their validity."
Although the Scots athletics public still loved relays, there were not as many on the programmes for the various sports meetings still in existence. This was maybe because it was a bit difficult to organise the change-overs what with boxes to be accurately marked out and officials/judges in sufficient numbers to be found, maybe also because many of the tracks used for the sports meetings and gatherings still extant were short and it would be really difficult to have two take over zones in the same place! Mainly of course the big show piece meetings at Ibrox, Hampden and Parkhead had ceased and the effect that that had on the whole athletics season, not just the relays, was massive.
One of the gatherings still held on a 400 metre track was at Dunoon where the District relays had been held over a number of years incorporated into their annual Cowal Highland Games. And so it was that on 29th August 1970, in Dunoon, Victoria Park retained the relay title after a thrilling race against Bellahouston Harriers. The team was depleted by the absence of Barrow, Lawrie and Millar but the replacements were David McMeekin on the 800m leg (a GB internationalist), Iggy O Muircheaetaig (an Irish international 200 and 400m runner), and Gordon Muir (a top class runner in his own right). Add them to Andrew Wood and you had a very strong squad indeed. They won in a time of 3:27.4 to Bellahouston's 3:28.4.
The race was won in 1971 by Bellahouston Harriers in a time of 3:34.0, but that heralded three years when there was no national medley relay championship held at all. That's right – no championship in 1972 or 1973 or 1974. A bit of a disgrace. Maybe because a meeting was abandoned or cancelled one year it would be possible to accept a 'no event held' but for it to happen three years in succession reflects poorly on the governing body at the time. The attitude to the trophy seems to reflect a growing impatience on the part of the SAAA championship organisers at the time to cater on championship day for any track race that did not simply require a starter, judges and officials. It was not held at a specific time of the year, not that the two reported on above were at opposite ends of the competition season. There was of course no regular venue – after many years at an unlined track in Shotts, it was at Scotstoun in May then Dunoon in August. Had they been seeking a venue accessible to all clubs, then the Argyll peninsula would not have been high on their agenda. It appeared that anyone bidding for it, or even prepared to host it, would get it on their programme.
That was about to change though. Probably because the 1969 event had been so successful, the event was awarded to the Glasgow Sports Promotion Council to hold it at their Glasgow Championships and Highland Gathering at Scotstoun in May. A good track, a decent crowd guaranteed, and easy of access from anywhere in the country. The first of these was in 1975.
or cancelled in