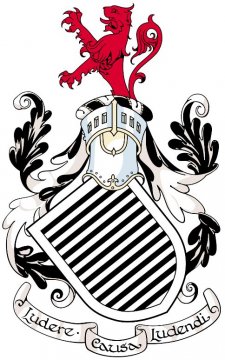 The sports of 1876 were held on 9th September and the report in the Scotsman read as follows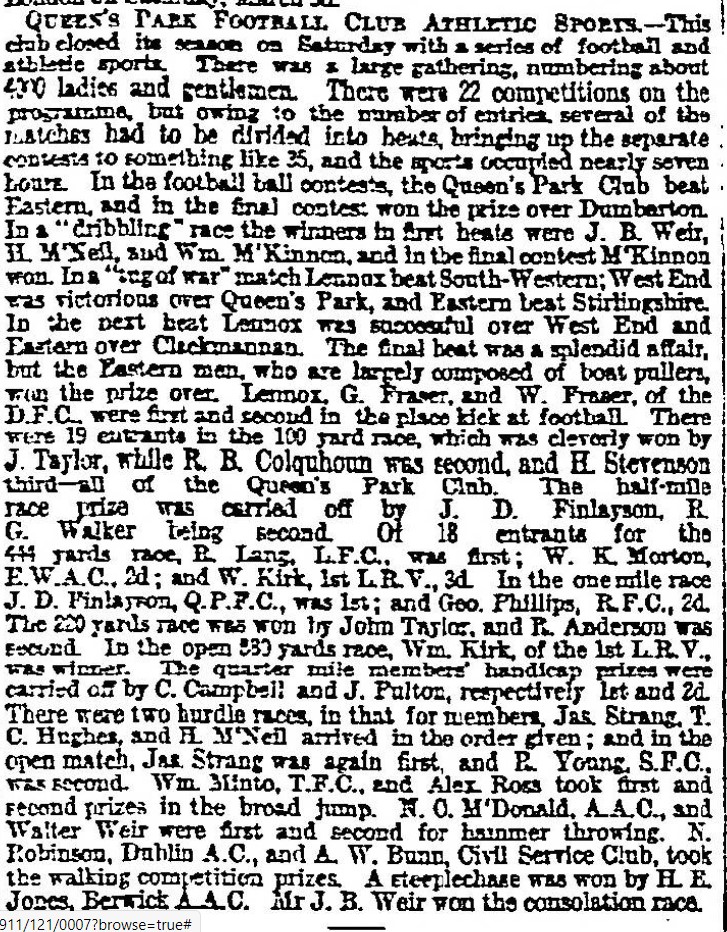 The first amateur athletic club of any size was Clydesdale Harriers, established in 1885, and in 1877 most of the competitors were either members of football clubs, of other sporting clubs or individuals. The QPFC Sports were held before 4,000 'Ladies and Gentlemen' and incorporating a steeplechase indicated that it was no ordinary meeting – for a start the steeplechase was a difficult event to organise and supervise but it was undeniably a good meeting.
*
The second Saturday in September, 8th, was the date in 1877 for the sports and the 'Glasgow Herald' started its report –
"On Saturday the annual amateur sports of the Queen's Park Football Club were held under the most favourable circumstances of weather and in presence of a very large assemblage of spectators. The events passed of without a hitch and in all cases the entries were good and the contests close. The feature of the day was the form displayed by the competitors hailing from London."
As might have been expected, the football clubs from Glasgow and the West of Scotland provided many of the individuals and they turned out teams in the four a side (won by Third Lanark RV) and tug of war (won by Clyde FC). The meeting was the end of the athletics season and the report concluded with the remarks that 'now that the season has been opened, the favourite winter pastime of football will be maintained in all its former vigour and we believe that matches have been fixed, or in course of arrangement, with Oxford University, Cambridge University, Wanderers, Nottinghamshire and Old Wykehamist Football Clubs. '
*
In 1878 the sports were held on the first Saturday in September, the 7th, and were described by the reporter as 'a popular festival'. All the usual runners were here including JA Crerar of Third Lanark, Finlayson and Harvie of Queen's Park and Tom Vallance won the long jump. The football was won by Third Lanark (Kennedy, Lang, Hunter, Fraser) over Rangers. Unfortunately the report was a bit blurred but it is legible so it will be reproduced here, partly so that the tale of the professional who won his race and then disqualified himself.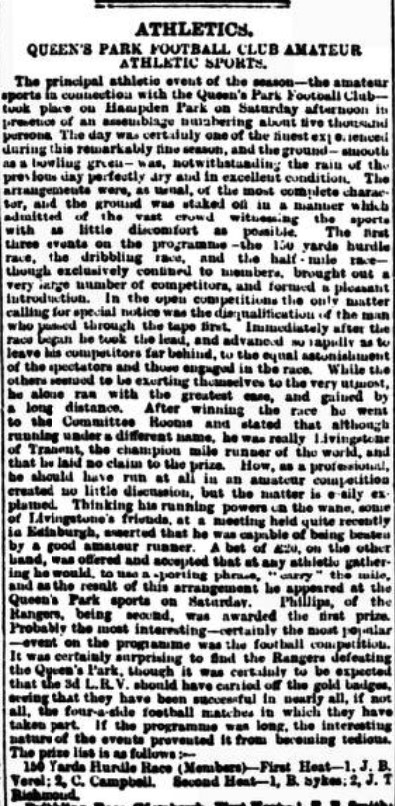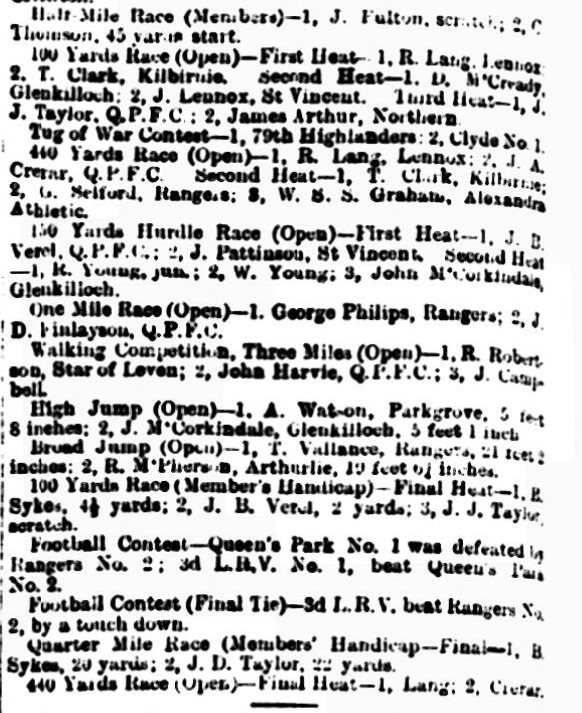 *