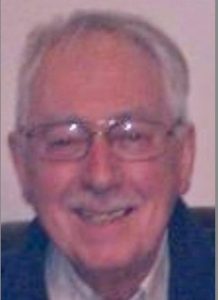 John, from Rosyth in West Fife, came into the sport as a runner and competitor on the professional games circuit. Many from Fife ran as professionals – partly because of the county's traditional circuit which was as well established as the Border Games and the Highland Games but possibly also because of the difficulties of linking up with any amateur club. It may simply be that there were a number of pro schools in his area and he went along with some of his pals.. Whatever the reason, John was a well-known athlete on the professional circuit where he won a number of prizes and has been described as a formidable competitor. The photograph below shows him running in a handicap event at Braemar with other competitors such as Alastair Macfarlane from Bannockburn and the Murray brothers from Kilmarnock. He competed throughout the 1960's and his career as a runner gradually moved into one as a coach.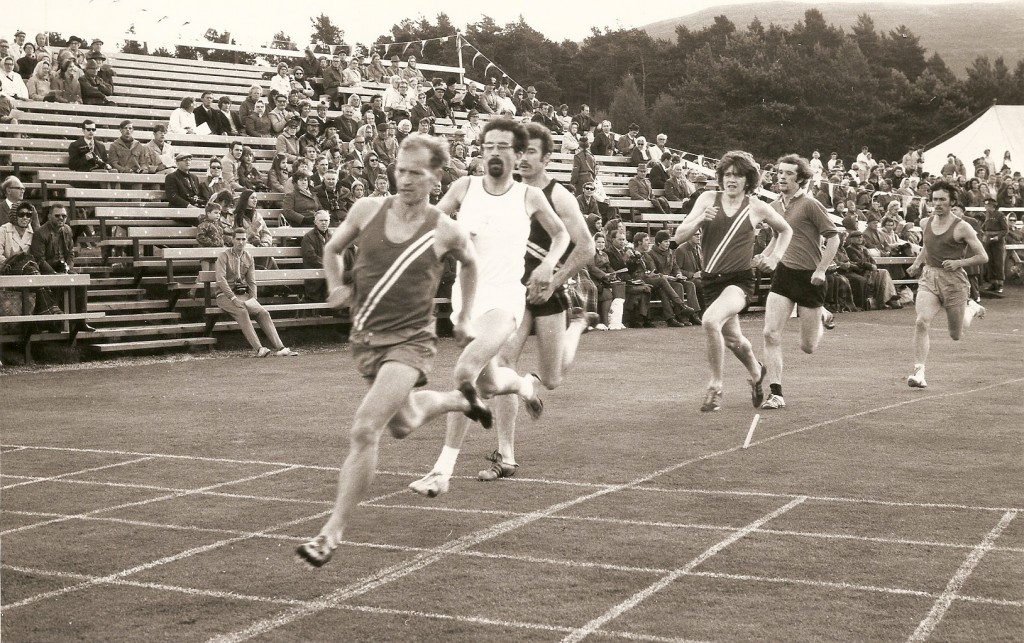 Braemar handicap mile: John is on the right
.Like many ex-professionals, he went in to coaching with an amateur club. In his case this was with Pitreavie AAC where he started coaching in the early/mid-70's. He initially assisted other coaches but soon found his own coaching niche in middle/long distance and cross country and continued coaching in these events for the next 50yrs , even when latterly , he was not in the best of health. He coached countless numbers of youngsters, many of them going on to win Championship medals at Scottish and British Championships. One of them is below with a proud John in the middle of the back row.. Among his most successful athletes were
Clark Murphy, who represented Great Britain on the track and cross-country ;
John Newson; who went on to win 9 medals in Scottish championships with 3 different clubs
Emily Nicholson who was part of the GB Junior team at the World Mountain Running Champs in Bulgaria in Sept 2016 , finishing 33rd.
Her sister , Zoe Nicholson represented Scot in the International Youth Cup , again for Mountain Running in Italy in both 2017 & 2018 ( at Lanzada)
Kathryn Pennel; ranked 14 times at distances between 800m and 3000m
Siobhan Coleman; aan outstanding distance runner for Pitreavie and Villanova University, USA
Ben Potrykus, who was twice placed third in Scottish championships and ran for Pitreavie and Bradley University, USA
Justly proud of Clark Murphy's selection as the first home Scot to run for Britin in the re-vamped World Cross eligibility rules, he is quoted in the following cutting.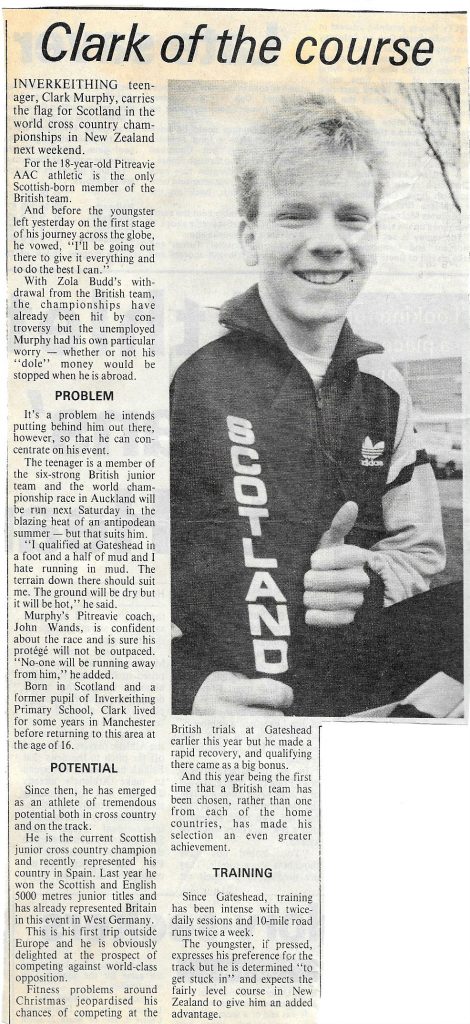 A very good club coach but more than that – John became Scottish Staff Coach for 5000m and 10,000m in the 1990s. This involved working with the Scottish squad at training days and in competition, filling a similar role with the Development squad (ie U17 and U20 athletes) and in coach education. I remember that on one warm weather training camp in Portugal, John noticed Steve Ovett's coach, Harry Wilson, at a nearby table in the cafeteria. He approached him, introduced himself and asked Harry if he would talk to the members of the Scottisg endurance squad. Harry obliged and the squad benefited from the session the following afternoon. The full complement of coaches for the national squad at the time included Brian McAusland (Group Coach), Mike Johnston (800/1500), John Wands. (5000/10000m), Gordon Crawford (steeplechase), and John Graham (Marathon). Not bad company to be in.
He coached countless numbers of youngsters, many of them going on to win Championship medals at Scottish and British Championships. One such team is below with a proud John in the middle of the back row..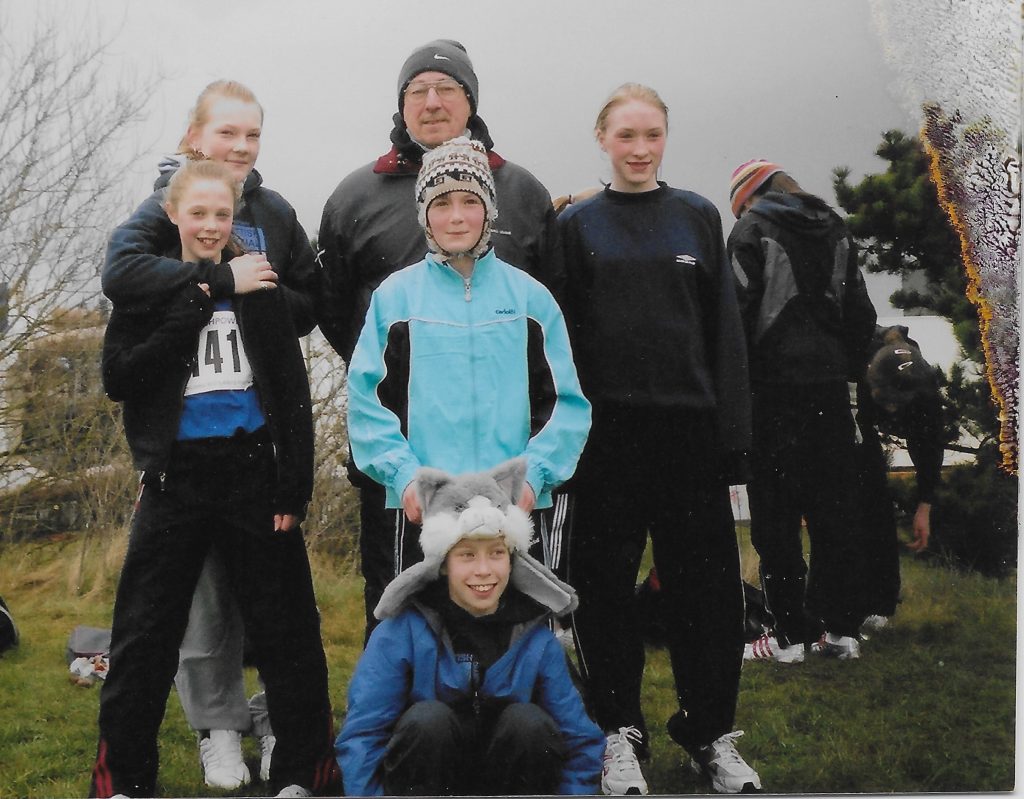 He was listed in the Pitreavie AAC Coaching set up as a Performance Coach working with two Development Coaches in Euan Miller and Bill Lindsay who were Assistant Coaches. His involvement did not stop there however. He had grown to love the Highland Games and Gatherings all over the land and was involved in the main as an announcer, and as an announcer he was one of those who knew the events, who knew the competitors and had enough knowledge the traditions of the various meetings to be able to fill in the blanks in the programmes – and even the 'down time' between events. The talent did not go unnoticed and he developed the role into being a commentator at Scottish championships in arenas across the country, such as the Emirates indoor arena in Glasgow.
As an indication of the esteem in which he was held, he was elected a Life Member of Pitreavie in 2003. Knowing John, though, despite all the various things he was involved in, he was happiest among his athletes and mixing with the competitors. At Pitreavie, the comment of another club member was simply:
"He'll be sadly missed around the place as he's always been there, seemed to never be a club training night that he wasn't there."