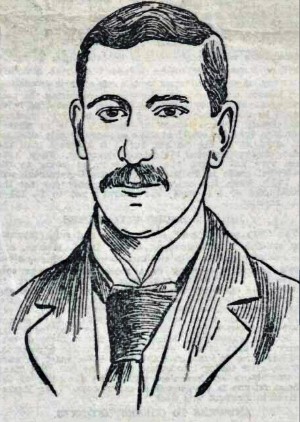 By the standards of the day, Jack Paterson was a latecomer to amateur athletics. Born at Musselburgh on 22 May 1873 to Alison and William Paterson, a grocer and spirit merchant, both his grandfather, Willie Currie, and his elder sibling, also Willie, were noted golfers. Proving that the apple never falls far from the tree, young Jack was drawn to the venerable Musselburgh Links like a moth to a flame. Eventually he would play alongside David Duncan, a fellow townsman of Musselburgh and amateur golfer, and the first Scottish amateur one-mile champion and holder of the Scottish mile record. Paterson was also, among others, a contemporary of David Jamieson, a doyen of Scottish athletics journalism whose seminal history of Scottish professional athletics, Powderhall and Pedestrianism, hit the shelves in 1943.
Paterson was educated at Edinburgh's prestigious George Watson's College, where academic and physical education traditionally went hand in hand. In 1857 William Turner, of the University of Edinburgh, postulated in An Atlas of Human Anatomy, that "it would greatly tend to prevent sickness, and to promote soundness of body and mind, were the elements of Physiology, in its application to the preservation of health, made part of general education." In a world in which survival of the fittest was the mantra of the day, the public-school philosophy reflected this opinion. George Watson's College had various sports clubs, one of the oldest being the Watson's College Athletic Club. However, it was through the Watsonian Cross-Country Club, formed in 1893, that Paterson discovered and nurtured his gift for running. During his time at George Watson's he had mostly played golf and taken no interest in the annual athletic sports. Former pupils of George Watson's being known as Watsonians and eligible to compete for the school after graduation, Paterson was a mainstay of the Watsonian Golf Club and winner in 1895 of their scratch gold medal. However, as snowbound winters were not conducive to playing golf, Paterson laid down his clubs during the 1895/1896 season and joined the school cross-country club. The rest, it is said, is history.
Even before Paterson arrived on the scene the Watsonians were a rising force in the world of "field and fen", having in 1896 supplied the winning team at the Scottish junior cross-county championship. And few Watsonian stars shone brighter than that of Hugh Welsh, who lit up the tracks of Scotland during a very short but highly successful career culminating in a brace of British one-mile titles and Scottish records.
On 27 May 1896 Paterson made a memorable debut for W.C.A.C. "Paterson," wrote The Scotsman, "led the field a merry dance" and won by 10 yards from the 65 yard mark in a time of 4:28.0. "This" Scottish Referee reported, "was Paterson's first essay on the track, and although he was known to be the second best of the Watsonian cross-country runners, he was not fancied much outside his club because he had done no training. If he sticks in, he will one of the best stayers Scotland has yet produced. His first love, however, is golf and he recently played for the Monks of the Braids in the final for the Edinburgh Despatch Trophy."
Two weeks later, during the Edinburgh Harriers Sports at Powderhall, Paterson ran another 4:28 mile, albeit off 40 yards, prompting Scottish Referee already to speculate that he "might easily be another Welsh for all the data we have to go on so far".
Paterson was not yet ready to vie for honours at the 1896 S.A.A.A. championships held at Powderhall on 26 June. Instead ran he ran in the fringe mile handicap and finished 4th from scratch in about 4:40. The spotlight was, of course, on his Watson's College alumnus Hugh Welsh, who with consummate ease scored a double in the half-mile and one-mile events.
Eager to get back to golfing, Paterson concluded his first season with a flourish at the St. Bernard's F.C. Sports at Powderhall a fortnight later. It was a two-part meeting. On the Saturday he ran 3rd in the mile handicap off 30 yards in 4:27.0 (worth 4:32 for the mile) and on the Monday evening he won the 3-mile handicap off 80 yards in 15:02.8. On the back of these performances, Paterson was already garnering accolades from the local sporting cognoscenti and being tipped as a champion in the making.
The 1896/97 cross-country season traditionally got under way in November with an Opening Run of the combined harrier clubs of Edinburgh – some 200 runners took part – at the Portobello Baths. This was followed every Saturday afternoon by smaller pack runs of 6-8 miles from various venues across the city, such as the salubrious Braid Hills Hotel.
On 13 February 1897 Paterson came of age by winning the Scottish junior cross country championship at Musselburgh after a good race with Hamilton Yuille from Motherwell. He also led the Watsonians to victory in the team championship, thanks especially to top-10 finishes from Lewis Jack (6th) and Alex Gibb (8th).
A few months later Paterson got his 1897 track season off to a good start by winning the 2-mile steeplechase at the obligatory fixture for Watsonians – the Watson's College A.C. Sports at Myreside on 1 May. However, he continued to lead a double life, for that same weekend he shot a 77 from scratch over 18 holes at Musselburgh. On 27 May he won a mile handicap at Powderhall in 4:34.4 off 15 yards and then on 5 June he took the honours in a 3-mile inter-club race at Tynecastle in 15:28.8. The weekend after that he wrapped up his preparations for the 1897 S.A.A.A. Championships at Celtic Park on 26 June by finishing second to Willie Robertson, Clydesdale Harriers, in another inter-club 3-miler at Powderhall 15:16.2. The Watsonians had entered Hugh Welsh for the half-mile and the mile, while Paterson and Alex Gibb were to run the four miles. Needless to say, Welsh had no trouble retaining his titles, notably winning the mile in a Scottish native record of 4:24.2. It had been expected that Willie Robertson and Stewart Duffus would take the honours for Clydesdale Harriers in the 4-mile championship, but the crowd's excitement turned to dismay when both favourites dropped out, paving the way for a shock Watsonian 1-2 with Paterson striding home 150 yards ahead of Gibb in 21:10.0. "The surprise of the day," the Glasgow Herald wrote, "was the defeat of W. Robertson and S. Duffus in the 4-mile event by J. Paterson, of Watsonians." Paterson's S.A.A.A. championship triumph gave him automatic selection for the 4-mile event in the international match against Ireland. Before that, he had one final outing at the St. Bernard's F.C. Sports at Powderhall, where he showed a good turn of speed to win the half-mile handicap off 15 yards in 2:00.6.
The Scotland v Ireland match was decided at Powderhall on 17 July in "magnificent weather" in front of 2500 spectators. In the four miles Willie Robertson set the pace for 2 ½ miles, when he, Bob Hay and Ireland's Barren and Faussett retired, leaving the race to Paterson and Ireland's Mick O'Neill. Paterson took the lead and made all the running but was unable to shake off O'Neill and had nothing left when the Irishman flashed past on the home straight to win by 3 yards in 20:37.2. Despite failing to win, Paterson had acquitted himself well by finishing 2nd in a new personal best of 20:37.8. Overall though, there was nothing that year for the Scots to write home about. With only the winner to count, the Irish équipe made it three wins out of three since the inauguration of the contest in 1895. The vanquished Scots would therefore have to wait another year for their next chance to turn the tables on their Celtic rivals.
As in the previous year, the "International" concluded Paterson's track season. He was the consummate amateur, a puritan, or whatever you want to call it, not in the least tempted to take part in the "games" or to run for money, let alone compete alongside professionals. He was, it was reported, also a non-smoker and teetotaller. It goes without saying these days that athletes would be clean-living, but tidbits such as that were worth a line of newsprint back in the days when sports meetings were followed by smoking concerts. 1897 had been a good second year full of promise for Paterson with two Scottish titles and a cap against Ireland.
Paterson kicked off the 1898 season by winning the Scottish senior cross-country championship on 5 March at Musselburgh after a great race with the 1894 champion Willie Robertson. Despite his victory and a 3rd-place finish from Lewis Jack, the Watsonians failed to defend the team championship against the might of the Clydesdale Harriers.
Paterson and Robertson would cross swords several more times that year: in a 3-mile inter-club team race at Powderhall on 28 May Robertson had the upper hand and won by 5 yards from Paterson in 15:14.2, but Paterson returned the favour two weeks later at the Edinburgh Harriers' Sports when he won the 2-mile invitational flat race by inches from Robertson in 9:50.2. This set the scene for the Scottish championships at Hampden Park on 25 June, where both Paterson and Robertson were to face off again in the four miles. However, Robertson, still weary from winning the mile championship earlier in the afternoon, gave up in the third mile. Even so, Paterson still had his work cut out to defend his title and only just managed to hold off Robertson's club mate James Duffus for victory in 20:47.2. Paterson and Duffus renewed their rivalry on 9 July in the mile handicap at the St. Bernard's F.C. Sports at Powderhall, where the 5000-strong crowd had already witnessed Alf Tysoe set a Scottish half-mile record of 1:57.8 in the colours of Salford Harriers. Tysoe, the 1897 A.A.A. 10-mile champion and a future Olympic gold medallist in the 800 metres, also turned out for the mile race, but was understandably running on tired legs and retired with a lap to go. Paterson took advantage of a 25-yard start to win by eight yards from Duffus (60) in a fast time of 4:25.0 (equivalent to 4:29 for the full distance). Unfortunately he was unable to reproduce this form in the Scoto-Irish match at Ballsbridge a week later and trailed home a disappointing 5th in the 4-mile event behind Ireland's Mick O'Neill (20:19.8) and anglo-Scot Dr. H.A. Munro (20:30). Both himself and Duffus, wrote the Glasgow Herald, were, quote, "run off their feet". Paterson concluded his athletics season with this and returned to his first love – golf. Despite having fallen at the last hurdle, he had enjoyed another sterling year, winning Scottish titles on and off the track and showing that he was capable of running the mile in under 4:30.
In 11 March 1899 Paterson added the next title to his resumé at Hampden Park when he annexed the Scottish senior cross-country championship from Dave Mill of Clydesdale Harriers. In addition to retaining the individual title, he captained the Watsonians to their first-ever win in the senior team championship, with club mates Alex. Gibb (4th) and Lewis Jack (6th) also finishing in the top 10.

Paterson is shown here in 1899 with the Watsonian club's silverware.
The season-opening Watson's College sports at Myreside on 6 May were, as usual, a colourful occasion – one of the highlights of the social calendar. Here Paterson demonstrated his speed and stamina by keeping the scratch man Hugh Welsh at bay to win the half-mile from the 25-yard mark in 2:02.8. Performances in a handicap race on a grass track in cold and windy conditions are hard to quantify, but Welsh was now the British Mile Champion and holder of the Scottish mile record (4:17.2). Two weeks later, he faced Welsh again in a mile handicap at Clydesdale Harriers Sports at Hampden Park. Having received a miserly start of only 20 yards on the British Champion at scratch, the best Paterson could do was finish 2nd to his club mate in 4:30.8. Later in the afternoon, Paterson showed his powers of recuperation in the half-mile handicap by getting through a large field to win off 18 yards in 2:03.0. It was reported that he accomplished this feat by running the entire race in the second lane where the track was firmer. Only three days later, on 27 May, he was back at Powderhall to contest the main event at the Watson's College Athletic Sports – the invitation mile handicap. Running in glorious weather, he managed to keep Hugh Welsh in check but still settle for 2nd to Alex Gibb (60) in 4:24.4 having been allowed 30 yards. Welsh was timed at 4:25.8 off scratch. Paterson appeared not to take the Edinburgh Harriers Sports at Powderhall on 27 May too seriously, as it was reported that he had spent the whole morning playing golf. His performances in the half mile and two miles were accordingly poor. The weekend after, however, he was back in action at a Scottish Cyclists meeting at Powderhall and won the mile in 4:26.4 off 30 yards. The S.A.A.A. championships on 24 June at Hampden Park, where he was once again entered for the four miles, was a fixture he did of course take seriously. In a race dominated by tactics he sprinted to victory, his third in a row, by 20 yards over Alex Gibb in 21:33.6. All he had to do now was to conserve his form for the international meeting against Ireland. On Monday 3 July Paterson showed further improvement over the mile at the Edinburgh Northern Harriers Sports at Powderhall where he came within a yard of catching Clement Paton (105) of Edinburgh Harriers. His time of 4:21.8 from the 35-yard mark works out at 4:27 for the full 1760 yards, if not better. A week before the Ireland match, on 8 July, he tested himself over 880 yards at the St. Bernard's F.C. Sports at Powderhall, where he finished 2nd to Bob Hay (22) and just ahead of Alf Tysoe (scratch). His time of 1:59.9 from 18 yards was equivalent to 2:02 for the full 880 yards. Fast for a long-distance specialist. Would his basic speed come to his aid in the "International"? Each country had been taking it in turns to host the event, and to enjoy home advantage. The fifth annual Scoto-Irish contest was held at Powderhall on 17 July and once again, therefore, a home affair. By the end of the afternoon it too close to call. With only one event left to be decided, the four miles, both teams were locked in an intense battle with 5 points apiece. In the early stages the runners shared the pace-making duties and were all bunched up but then started dropping off until only the Irish champion Frank Curtis and Paterson were left. When the bell rang for the last lap, Paterson, according to Scottish Referee, "went right away from" Curtis and brought the house down by winning "in great style by 40 yards" in a personal best of 20:34.0. His victory also secured, by the narrowest of margins, Scotland's first ever win in this contest. Now would have been as good a time as any to end his season, but he extended it for another week so he could run in a 3-mile inter-club race at Berwick, which he duly won in 15:40.2. He had improved in every year so far, and 1899 was no different in that respect. Like in previous years, he won a brace of national titles, but by winning the individual senior cross-country title he also led the Watsonians to their first ever victory in the team championship. That year, for the first time in the International match against Ireland, he achieved the highest distinction available at the time to a Scottish athlete aside from winning a coveted A.A.A. title. Unlike Hugh Welsh, who twice became British champion over the mile, Paterson had never made the trip south to London to compete at the A.A.A. Championships. His track times had improved to equivalents of 2:02 for the half mile and 4:27 for the mile, and to 20:34.0 for 4 miles. His one-mile and 4-mile performances put him just outside the world's top 10 for 1899. He was a winner by nature and he would have been keenly aware of the difficulty of emulating the successes of his George Watson's College alumnus. However, the stage was set for further improvement in 1900.
The winter preparations for the 1899/1900 season obviously went well, with Paterson winning the S.C.C.U. championship with ease at Musselburgh ahead of Dave Mill and Alex Gibb. His third win in a row. The Watsonians were also emphatic winners of the team championship thanks to some excellent packing, Watsonians taking five of the top seven places. Having dominated the national cross-country championships for three straight years, Paterson took the next logical step and entered the 10 mile S.A.A.A. championship at Powderhall the following month. In the past the championship had suffered from indifference among Scotland's long-distance elite, and on three occasions already since its inauguration in 1886 only one competitor had finished. Not so the 1900 championship, which saw no fewer than four runners charging up the home straight shoulder to shoulder. Needless to say, this scenario played into the hands of Paterson, who won by a clear 4 yards from Dave Mill in 57:32.2, having run the last mile in 5:07.2 and the last lap in 1:06.2.
While the indications were that he may move up in distance, Paterson did the exact opposite, and moved down! After annexing the half-mile handicap off scratch at the W.C.A.C. Sports in 2:07.4, he won the mile, again off scratch, in the Stewart's College Sports at Inverleith Park in 4:38.0. Then on 22 May he took 3rd place off scratch in the mile at the Edinburgh Pharmacy Sports, where he posted a promising 4:34.0 on a soft track in windy conditions. The handicapper had of course taken note, and four days later at the Watsonian Club meeting at Powderhall Paterson only had a 15-yard start on the British half-mile champion Alf Tysoe in the mile handicap. Scottish Referee recounts what happened next: "The mile proved the event of the day, with Tysoe essaying to concede 15 yards to our long-distance champion, J. Paterson. The Englishman ran well for three laps, "clocking" 1 min. for the first quarter, 2mins. 7secs. for half distance, and 3min. 20secs. for threequarters. But Paterson had gone equally well so Tysoe turned it up at this juncture. In the back straight Paterson strode to the front, and, holding J. Ranken, W.C.A.C. (70), and G. Hume (120) at bay in the straight, won by three yards; same between second and third, while W. Laing, E.H. (130). and J. Bartleman. W.C.A.C. (140), were close up fourth and fifth. Time, 4min. 25 1-2secs. This is the second time Paterson has shown himself a sound 4min. 28secs. man, and we need look no further than him for the one mile champion now that H. Welsh has retired."
When Hugh Welsh retired after the 1899 season to pursue a career as a factor of estates, he left a void nigh on impossible to fill, completely changing the Scottish competitive topography. The search for a successor was now in full swing, but it remained to be seen who would step up to fill Welsh's boots. Apart from Paterson there were James Macdonald, Bob Hay and John Rankin, all of whom came from Edinburgh. On the west coast, on the other hand, things looked rather grim and remained that way until the emergence of John McGough a couple of years later. Another mile handicap followed a week later in the Queen's Park F.C. Sports at Hampden Park, where 4:28.6 from 20 yards was enough to win. The Edinburgh Harriers' Sports at Powderhall on 9 June saw Paterson in action in the half-mile handicap, where he was starting from scratch for the first time at a big meeting. Only two Scottish amateurs had beaten the two-minute barrier so far: Robert Langlands, 1:59.6 in 1895; and Hugh Welsh, the record holder with 1:59.4 from the previous year. Could Paterson get anywhere near these times? That was the question. This, according to Scottish Referee, was the answer: "The event of the day was the half-mile handicap which produced a Scottish record, compiled by a brilliant performance on the part of Jack Paterson. Moving grandly from the start he reeled off the first quarter in 57 secs., and was amongst his men on entering the second and last lap. Coming through the field he lost a bit in cutting in and out of the twenty-five others, but getting clear, he pursued the veteran, Geo. Hume, on the bend, and getting him on the straight, he overtook and passed his man, winning with ease in 1 min. 59 sec. This knocks 2-5 secs. off the record made by Hugh Welsh at the same meeting a year ago. Undoubtedly Paterson was helped by the keenness of the track, but he still can do better. The time was sensational, Jack, although deservedly popular, hardly being thought quite so good in a half-mile." It was hard to believe but true. Today it would be difficult to imagine a three-time Scottish cross-country champion setting a native record in the half mile, but in these early days of Scottish amateur athletics some of the records were still "soft" enough, relatively speaking, to be accessible to such versatile a runner as Paterson. The S.A.A.A. Championships were still two weeks away but Paterson was in demand. On Saturday 16 June he competed again over the half mile in the Clydesdale Harriers' Sports at Ibrox Park. He started again from scratch but this time he was unable to weave his way through the big field and had to settle for 4th place in 2:01.8. After an interval of four years, Powderhall Grounds had once more been selected for the big event of the athletic year. Paterson entered both the half mile and the mile, but elected not to defend his four-mile crown. First up was the mile, and here he did no more than was necessary to win by 2 yards from James Macdonald in 4:37.4. He was clearly saving himself for the half mile, where he was up against fellow Edinburgh runners Clement Paton and Bob Hay. Soon after the start he took the lead and reeled off the first quarter in 60 sec. Hay stuck with him until 200 yards from home, but then he opened up and powered to an impressive win in 1:59.6, equalling the championship record of Robert Langlands. By winning the half mile Paterson brought his total tally of S.A.A.A. titles to three – a feat only Andrew Hannah and Willie Robertson among distance runners had accomplished so far. The match against Ireland took place a week later at Belfast in wet and miserable weather. The 385y cinder track at Cliftonville Park was accordingly heavy. In the mile Paterson was no match for the Irish champion James Finnegan and had to settle for 2nd place in 4:38. His best chance for victory was in the half mile but here he made the mistake of following Bob Hay's injudiciously fast pace during the first lap. As a consequence, he tied up on the home straight and was relegated from 1st to 3rd behind Ireland's James Mackenzie (2:00.8) and James Finnegan (2:01.2) in 2:01.4. According to the athletics aficionados, the times were worth at least 2 to 3 seconds faster in ideal conditions, so it wasn't that bad a run after all.
As was his custom, Paterson concluded his season at this juncture and returned to playing golf. He had achieved much in his athletic career so far, having won every national title from half-mile to 10 miles, as well as setting a native record for the half mile. Scottish Referee described him as "perhaps the finest all-round distance runner from a half to ten miles Scotland has yet produced".
At the end of 1900 Paterson intimated that the 1901 season would be his last. He skipped the "National" and the 10-mile championship, thus reliniquishing both titles without a fight, and waited until May before making his first competitive appearance of the year. Far from being rusty, however, he immediately showed himself to be in good shape. At the Watson's College A.C. Sports on 4 May, running in ideal weather, he finished 3rd from scratch in the half mile in 2:02.6 – impressive running on the grass track at Myreside. The following week, he entered the mile handicap in the Stewart's College Sports at Inverleith Park where he, according to Scottish Referee, "veritably ran a great race from scratch just failed to get placed" in a time of around 4:35 – again, a good time on turf still heavy from April rainfall. Then on 1 June he competed in the mile handicap in front of 2000 spectators at the Queen's Park F.C. Sports, which were held that year in Gilmorehill in conjunction with the 1901 Glasgow International Exhibition. The excellent quarter-mile cinder track was one of the features of the Exhibition Sports Ground, which had already been nicknamed the "X". In spite of strong winds, Paterson gave an outstanding performance, ploughing his way through a big field from scratch to take 3rd in a personal best of 4:28.3. At the Edinburgh Harriers Sports on June 8, he competed over the half mile, just like in the previous year when he had set a Scottish native record. Could he deliver another record performance? 1000 spectators had gathered at the Powderhall Ground to find out. Paterson started at scratch and covered the first quarter in 59 seconds. A trifle too slow. A great second lap brought him to the fore but it was still not quite enough to catch his fellow Watsonian George Black (18 yards) who clocked a superb 1:58.5 (worth 2:01 for the full 880y). Paterson's time of 1:59.5 was maybe not a record but it was the third sub-2-minute half mile of his career and the third fastest ever by a Scottish amateur. He was once again a strong favourite to win the half mile and the mile at the upcoming Scottish Championships at the Powderhall Ground on 22 June. In the mile Paterson had no problems defending his title, romping home 20 yards ahead of W.R. McCreath (Berwick) in 4:44.4. In the half mile, however, there was upset when he only managed to finish 2nd after being pipped at the post by John McAusland (W.S.H.) in 2:02.8 with James Cormack (London A.C.) just half a yard behind. Paterson was of course selected for both the half mile and the mile at the annual Scoto-Irish match at Gilmorehill the following weekend, but there was now a question mark over his form. It tuned out to be just a blip, a temporary malfunction. In the half mile he was beaten by the Irish champion James Finnegan, but this was expected and he only lost narrowly in 2:02.2. In the mile however he finally showed his true colours by running his Irish opponents Horan, McCreath and Finnegan into the ground and winning in a personal best of 4:25.0. Among Scots, only Hugh Welsh had run faster. It was also a very important win, as it helped Scotland to a narrow victory over Ireland by a single point. A near carbon copy of the 1899 match when he won the 4 miles and helped Scotland to their first win, the scoreline being identical on both occasions (6-5). Contrary to his usual custom, he competed twice more after the Ireland match. At the Queen's Rifle Volunteer Brigade Sports at Powderhall on 6 July he ran the mile from scratch. "J. Paterson was unquestionably the outstanding personality", Scottish Referee reported. "He won the mile with the greatest of ease in 4 min. 30 4-5 seconds." Finally on 17 July he turned out for a mile handicap at the Watson's College Sports at Powderhall and finished 3rd from scratch behind C. Jones (400) and George Black (55) in about 4:31. It was to be his track and field swansong.
On 19 July Scottish Referee eulogised: "It is with a distinct feeling of regret that we learn of the intended retiral of athlete J. Paterson from the athletic arena he has so long adorned. Overshadowed for some years by the brilliance of his club mate, Hugh Welsh, "Jacky " (as he is familiarly styled), on the retiral of Hugh, came, as it were, out of his shell both in the half-mile and mile, the championship of which he won a year ago, and one of which—the mile—he still holds. At the recent international v. Ireland he ran a great mile—in fact, his very best—doing the distance in 4 min. 25 secs. In view of this performance, we think it a pity he has resolved to retire and leave the "paths to glory" to other and, we fear, less capable feet. However, if Mr Paterson carries out his present resolution, we are certain he will have with him the heartiest good wishes for his success in life, for he was a pleasing and popular pedestrian."
After retiring from athletics, Paterson continued to excel in golf, playing for Scotland against England and Ireland. In 1907, in the first round of the British Amateur Championship, he had the distinction of defeating the U.S. amateur champion, Eben Byers.
He holed in one on four courses: Gleneagles, Kilspindie, Musselburgh and St. Andrews.
His younger brother Charles was killed during the First World War, as was his fellow Watsonian John Ranken, Scottish Cross-country Champion of 1904 and 1905.
In 1925 Paterson was appointed to the board of directors of the firm of Messrs Thomas & James Bernard. Listed on the Edinburgh Stock Exchange, T&J Bernard Limited operated the Edinburgh Brewery at Gorgie, with 10 affiliated pubs in Edinburgh. They were acquired in 1960 by Scottish Brewers Ltd. who that year merged with Newcastle Breweries Ltd. to form Scottish & Newcastle Breweries Ltd., whose UK operations are now owned by Heineken.
In 1949, as the long-serving President of the Glasgow and West of Scotland Watsonian Clubs, he donated one of his trophies to George Watson's College. It was named the Jack Paterson Bowl for the Half-Mile in his honour.
A lifelong bachelor, Paterson died in Glasgow on 15 August 1950 at the age of 77 of cardiovascular degeneration.
His record as an athlete can be best summarised in tabulated form:
| Event | Years |
| --- | --- |
| Scottish Junior cross-country champion | 1897. |
| Scottish National cross-country champion | 18981899 and 1900. |
| Scottish half-mile record holder (1:59.0) | 1900 to 1905. |
| Half-mile Champion of Scotland | 1900. |
| One-mile Champion of Scotland | 1900 and 1901. |
| Four-mile Champion of Scotland | 18981898 and 1899. |
| Ten-mile Champion of Scotland | 1900. |
| Winner of Scoto-Irish International four miles | 1899. |
| Winner of Scoto-Irish International one mile | 1901. |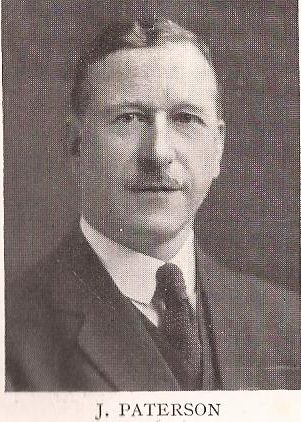 This picture of Jack Paterson appeared in Fifty Years of Athletics commemorating the 50th anniversary of the S.A.A.A. in 1933.