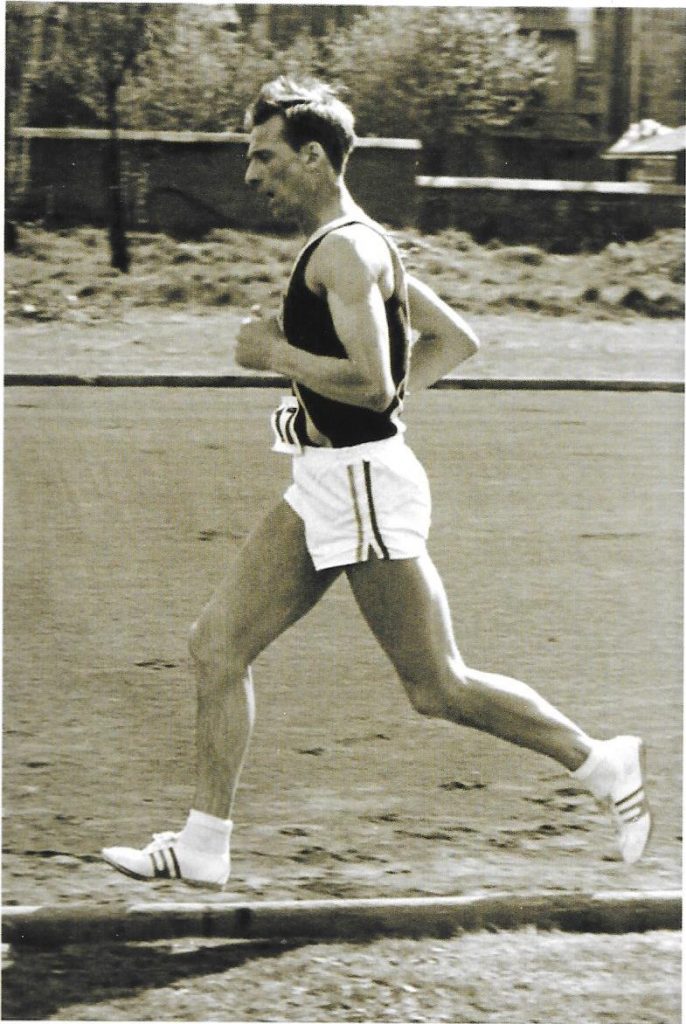 Jack racing on the track in Bellahouston Park
Jack MacLean is a well-liked, much respected athlete who has been seriously involved in middle and long distance running since the 1950's. A life member of Bellahouston Harriers, he joined the club in 1950 after his National Service was over. Jack has run all distances from 880 yards up to marathon in his career and has even won a medal, as part of an English team, for walking. Known throughout Scotland, he was a member of the Scottish Marathon Club, the British Marathon Runners' Club and a founder member of the Scottish Veteran Harriers Club. He is currently in his 68th year as a member of Bellahouston Harriers and to find out what has kept him in the sport so long we asked him to complete a short questionnaire and we can look at his responses before going on to some detail about his involvement in the sport.
Name: Jack MacLean
Date of Birth: 20th June 1929
Occupation: Newspaper printer
When did you get into the sport: In 1950 after an introduction to Davie Corbett
Personal best times: Two Miles: 10:03 Three Miles: 16:29 Six Miles: 33:20 Ten Miles 54:00
Half Marathon: 1 hour 16 minutes Marathon: 2:40:00
Has any individual or group had a marked influence on your times or attitudes: Davie Corbett, Bob Climie and Harry Fenion
What has athletics brought you that you would not have wanted to miss: Good health, good friends, camaraderie and a feeling of well being.
Have you ever been a member of a club other than Bellahouston Harriers: Scottish Marathon Club (Jack was captain and president of the club), British Marathon Club, founder member of the Scottish Veteran Harriers Club.
Have you any thoughts on the sport in Scotland at present? Generally the times are slower now with several outstanding exceptions like the Hawkins brothers and Andrew Butchart. In general terms, when I was running we had a golden period for a number of years but we did not realise it at the time. There were many runners running 2 hrs 13/2hrs 15 for the marathon or 28 min for the 10000m, These were great times and many were run in Scotland.
Jack mentioned three people as being influences on him when he joined Bellahouston Harriers. David Corbett and Harry Fenion are well known, but Bob Climie is not a name that means much to modern athletics people. Bob was a top class runner who came through the War and was a very good athlete for several years thereafter. I quote only his record in the Edinburgh to Glasgow [remember that stages two and six were the toughest of the tough]. In April '49 he ran second and moved from eleventh to sixth, in November '49 he again ran second and held on to second place and in '50 he held 7th on the sixth stage. Jim Irvine says: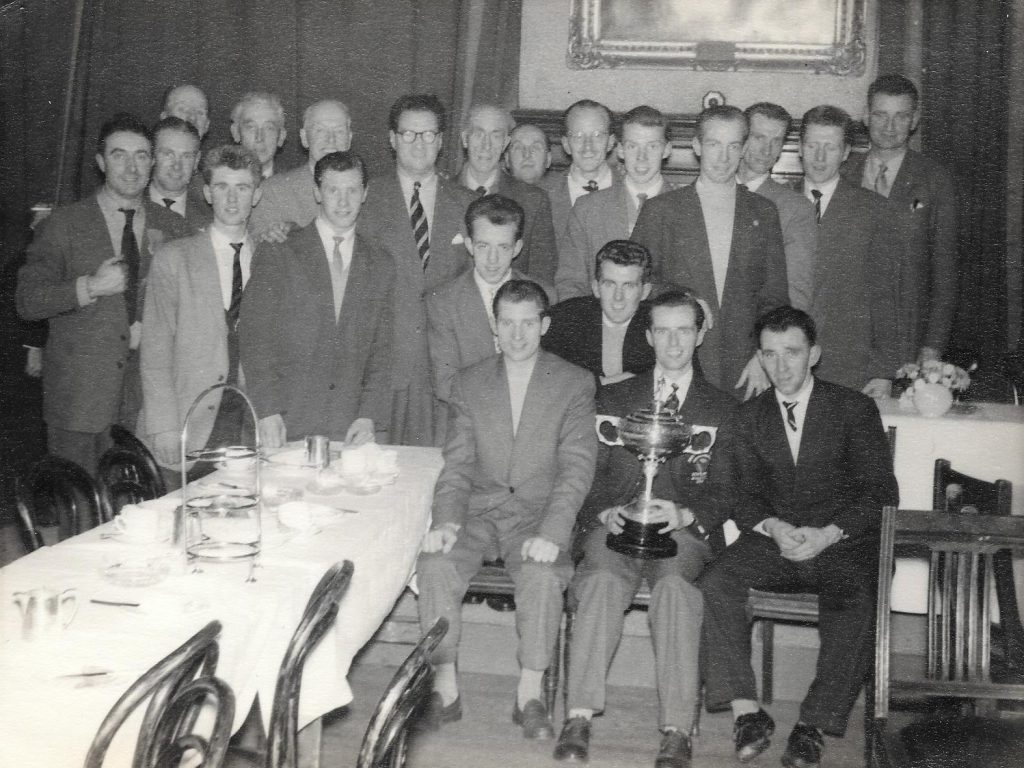 Bellahouston Harriers Club Group in 1958: the year they won the Edinburgh to Glasgow:
Jack is third from the right in the back row, half hidden.
Jack continues and says "I always loved running. Born in the Gorbals in 1929, there was little traffic on the street so all the children played outside. Being Glasgow, there was a lot of football but numerous other games whose base was running. The Co-op had a Youth Club and there were many branches in Glasgow. I joined up and played football for them. One night the committee annnounced a sports night for all the co-op clubs in Glasgow and asked for volunteers to take part in the meeting at Helenvale Park. Three hands went up – me and my two pals. But they needed four runners because there was a medley relay, so one member said he would run 220 yards but no further. The night arrived and my big pal, who was 6'2" tall, won the hop, step and jump as it was called then, and my other pal won the high jump which was stopped to allow him to run in the 440 yards where he finished second. I ran the half-mile and finished second. Then came the medley relay: I ran another half-mile and the team finished second. I then ran in the mile where I was beaten by the boy from Shettleston Youth Club: he was in fact a 'ringer'. He was the Scottish Junior champion, not a member of the youth club, and his name was Eddie Bannon. He later ran many times for Scotland. Overall our team of four boys were runners-up in the competition, all on football training. That was my introduction to track running.
The football continued and I played for a team from Kilbarchan called Glentyan Thistle. Like everyone else I went into the Army for two years National Service in 1948 and ran in cross-country races. I won a couple of these plus some three mile track races. After leaving the Army and playing a couple of games for my old club, I decided to run seriously. Having been introduced to Davie Corbett, I joined Bellahouston Harriers in 1950. Such was the standard at Bellahouston with runners like Harry Fenion and Joe Connolly that it was difficult to make the team."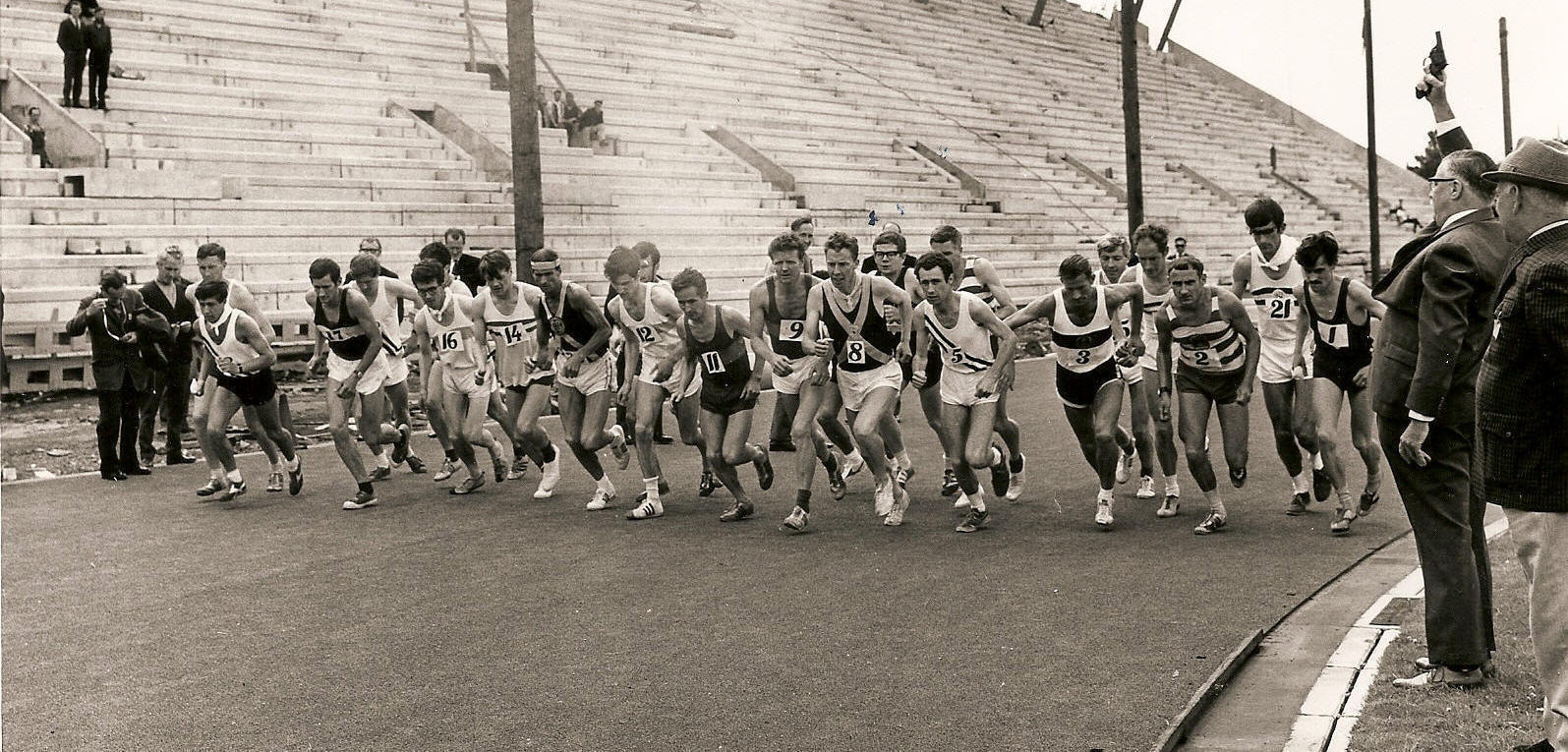 Start of the SAAA Marathon Championship in 1969: Jack is seventh from the left in the headband
When Jack mentions the standard of running at Bellahouston Harriers in the 1950's, and mentions particular runners, he was telling 100% of the truth. Scottish distance running at that time was of a high standard – a fact not realised now. The Victoria Park road running team with Scottish title holders and record breakers such as Andy Forbes, Ian Binnie and Bob Calderwood was quite superb, the Shettleston team with Eddie Bannon, Hugo Fox, Harry Howard and Clark Wallace was also at a peak and Bellahouston Harriers was always right in the mix. They had gold, silver and bronze in County, District and National events and when they won the Edinburgh to Glasgow eight man relay in 1958 it completed the set of gold, silver and bronze for that race too. Harry Fenion won the National cross-country title as well as winning the SAAA Marathon championship, Joe Connolly ran internationally on the country and in the Empire Games on the track. Nevertheless Jack ran regularly for the club in all the major championships – county, district and National relays, county, district and national championships. Given the high competitive standards at the club he only ran in one Edinburgh to Glasgow relay, but given his fitness and reliability he was always one of the runners and reserves entered on the programme. He appeared in the programme in 1958 (number B17) with such runners as Joe Connolly, Harry Fenion, Des Dickson, Gordon Nelson, Fred Cowan, Tommy Mercer and Gavin Bell; sixteen years later, in 1974, he was again in the list (C13) with runners like Jack Adair, Brian Goodwin, Campbell Joss, Iain Kerr, Alistair McAngus, Murray McNaught, Rab Marshall and Jim Russell. He was in every programme in between. The only other man in both squads was Jim Irvine. I would hazard a guess that he appeared prior to '58 and subsequent to '74 too.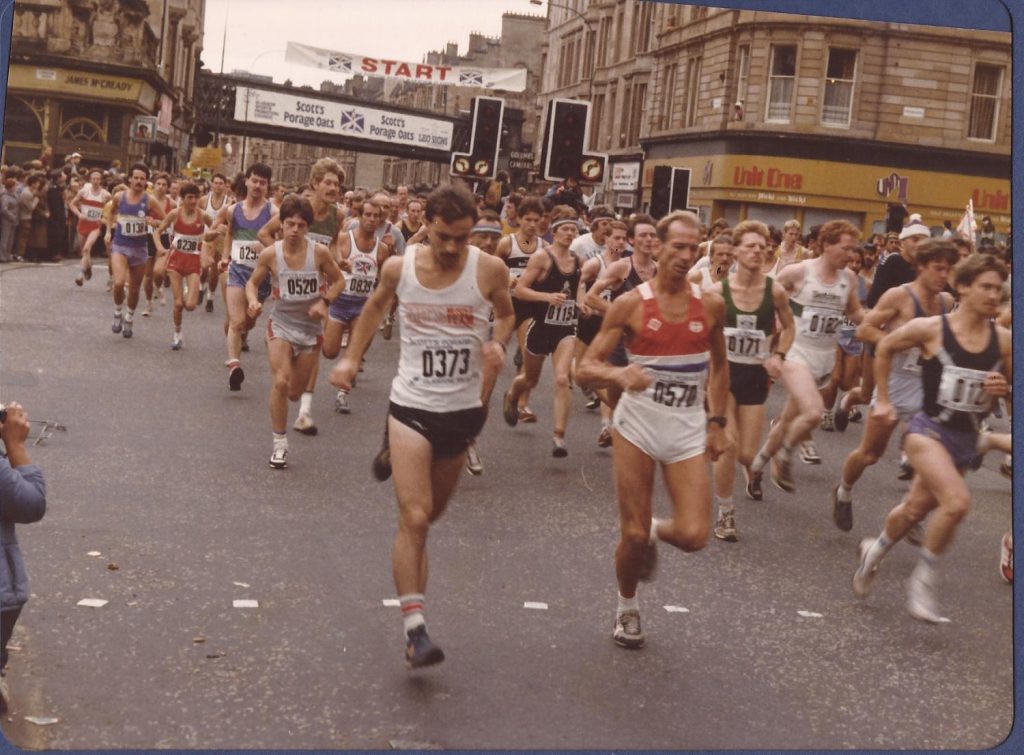 Jack in the centre of the picture (0570) in the Glasgow Marathon with club mate Jim Russell on the right.
Jack started to run in longer races and discovered that he was better on the road than on the country. His best position in the National was a commendable 44th. "I joined the Scottish Marathon Club and ran the first of many Clydebank to Helensburgh 16+ miles races. My personal best for the course was one hour and 30 minutes. I also ran in the Ben Nevis race twice – in 1956 and 1958. In the first of these, I had a bad fall descending, cutting my hand. I was in 9th position at the time and after getting a handkerchief from a walker to wrap around the wound, I continued and finished 19th out of 95 runners in 2 hours 15 minutes. I then had to go to Belford Hospital to get the wound stitched.
I ran a total of 64 marathons and two ultra marathons – the Two Bridges 36 miles race in 4 hours 11 minutes, and the Edinburgh to Glasgow 45 miles in 5 hours 20 minutes."
The Scottish Marathon Club of which Jack was a member had been set up in 1944 'to foster marathon running in Scotland'. To this end they helped organise many road races the length and breadth of Scotland. They had a club championship with points awarded for positions in three out of four races, one of which had to be the Scottish marathon championship. The races were the Springburn Harriers 12, the Clydebank to Helensburgh 16+, the Strathallan Gathering 20+ and the SAAA marathon. Jack ran in them all from time to time. He has mentioned the Clydebank to Helensburgh as one that he ran in a lot. It was a very high standard of competition. In 1960 Gordon Eadie won in 1:32:22, in 1962 Andy Brown won in 1:27:31, 1but other than that the winning time was usually in the low/mid 1:20's. The course record was under 1 hour 20 minutes set when the prevailing wind, which was usually in the runners faces almost all the way, was in the other direction and almost threw the runners to Helensburgh. Gordon Eadie's win in 1960 in a time that Jack and I could and did beat didn't mean that we could have beaten him. It was down to conditions. Jack's personal best of 90 minutes for the 16.25 miles works out at 5:57 a mile pace on that trail is not bad running at all. Jack was a good solid club runner and an almost ever present in races like that.
Jack's marathon running took him to many parts of the globe in addition to the Scottish venues, he ran in London six times, as well as in Toronto, Hanover, Cologne, Paris and Viareggio where as a vet he ran a time of 3 hours 07 minutes in a temperature of 90 degrees. Jack's wife comes from New York and they travelled there for the marathon in 1980 when he was timed at 2:55.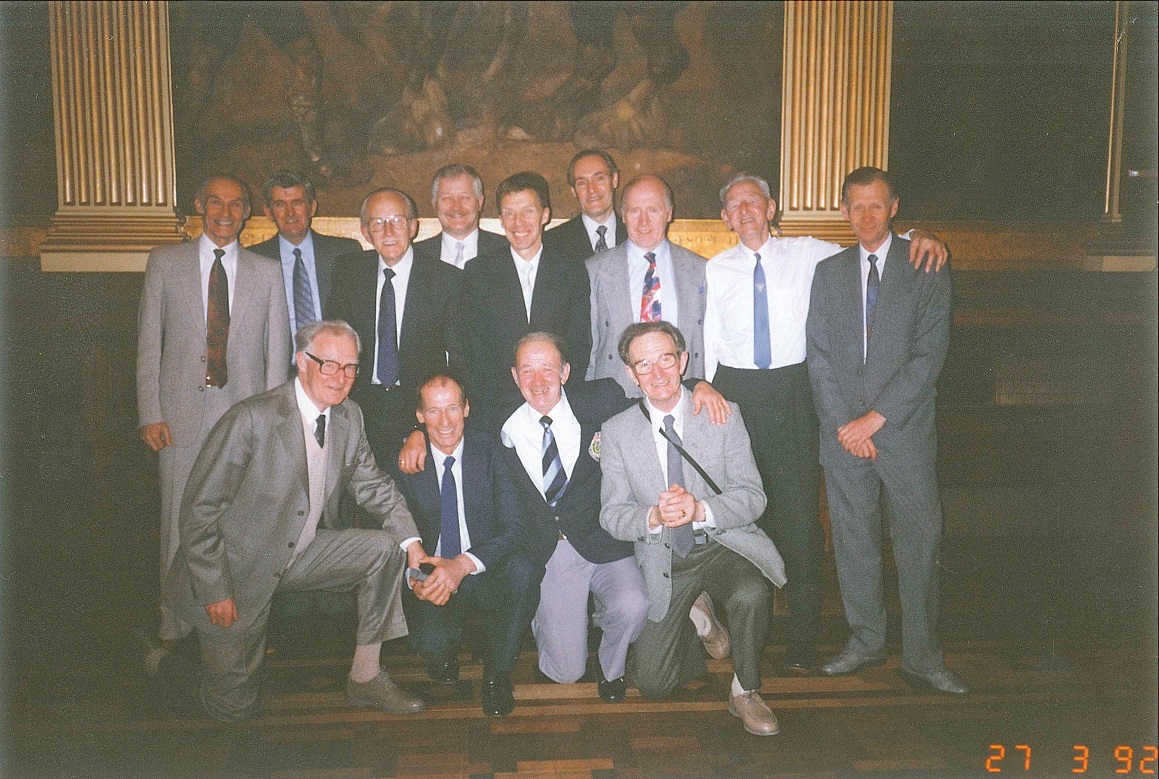 Jack, second left, front row, at the club's Centenary Dinner
Jack has been a member of three other clubs in addition to Bellahouston: we have mentioned the Scottish Marathon Club in which he filled the roles of President and Captain at various times, he was a member of the British Marathon Runners Club. On 19th October 1968, the year before he became a veteran runner, Jack ran his longest race ever – the 44 mile Edinburgh to Glasgow. Seventeen men faced the starter in Edinburgh for the eighth running of the race which featured many well known ultra-distance runners such as Bob Meadowcroft from Bolton United Harriers, Geoff Stott of Warley in the English Midlands, Hugh Mitchell (Shettleston), Bill Stoddart (Greenock Wellpark Harriers), Gordon Eadie (Cambuslang Harriers) and Don Turner (Pitreavie AAC) who were all real competitors over the longer distances. Foley and Meadowcroft from Bolton both started six minutes behind the field. The first man dropped out at 15 miles, another at 20 miles, one more at 25 and yet another at 30 miles. Among the well known runners to drop out were cross-country internationalist John Stevenson of Wellpark, Willie Russell of Shettleston and Jimmy McNeil of Shettleston. Jack worked away and finished eleventh in 6 hours 6 minutes 14 seconds: he was less than three minutes behind former winner Stott (6:13:17) and just over ten minutes behind David Anderson of Wellpark. It was a very good run over a longer distance than he had ever done.
The club in which he been most active has been the Scottish Veteran Harriers Club, of which he is the only surviving founder member. The other members of the group were Walter Ross of Garscube Harriers, Jimmy Geddes of Monkland Harriers, George Pickering, Roddy Devon of Motherwell and Johnny Girvan of Garscube. How did that come about?
After the Midland District Cross-Country Championship at Stirling University in 1970, Walter Ross spoke to me. He wanted to form a veterans club with a minimum age of 40 years, and paid me the compliment of being one of the enthusiasts of the game. The committee was formed of Walter and six others, and we held our meetings in Reid's Tea Room in Gordon Street with a regular starting time of 7:00pm. We all put forward our ideas and Walter drew up a constitution. In the beginning the age groups went up in ten year intervals.
I organised the very first Veterans race. It was in Pollock Estate on Saturday 20th March, 1971. We had very few officials at that point: Davie Corbet of Bellahouston started the race and shouted the times to George Pickering of Renfrew YMCA. I had laid the trail in the morning with markers of wee pegs with paper attached. 33 runners started and 32 finished. As I worked in the "Daily Record", I arranged for a reporter and a photographer to attend. There was a wee piece in the Daily Record about it. The race was run over about 5 miles and the winner was Willie Russell of Shettleston. He was followed by Hugh Mitchell, Willie Marshall, Tommy Stevenson, Williue Armour, Chic Forbes, Jack McLean and Andy Forbes in that order.
Within a year we had 1000 members from the whole of Scotland. Internationally we had great success as a small country. The first World Championship for the marathon was held in Toronto in 1976. I took part. There were about 750 runners. The race started at 7:30 am to avoid the heat. I started well and was twenty second at two miles. Then I started to be sick, I kept running and vomiting but I recovered at about 8 miles and finished 27th in 2 hours 43 minutes. Gordon Porteous finished not long after me, smashing the world record for the sixties age group.
After that I put it to Walter that ten year age groups were too much, so Walter put it forward at the World Committee meeting. Vets were well established by then and five year age groups were adopted. I also put forward the idea of colour coding for groups which was also adopted. In the beginning the Scottish Vets took part in all the World Championships.
In Cologne I ran the marathon, Bill Stoddart ran in the 10000m. The Australians were boasting that they had the winner in Dave Power, double gold medallist (six miles and marathon) in the Empire Games in Cardiff. Stoddart beat Power in just over 30 minutes.
Walter organised a large group to go to Paris for the World Masters Marathon in 1970. There were between 600 and 700 runners. On a day that was great for the spectators with a temperature of 88 degrees and not a cloud in the sky, Alastair Wood won the men's marathon in 2:28:40 and Dale Greig won the Ladies marathon. Charlie Greenlees of Aberdeen was 23rd and I was 33rd, We won the team race and I was 7th British runner to finish.
In 1980 the Scottish Vets staged the World Championships for 10,000m and the marathon. I, along with Willie Armour set out the course: Willie in his car with the clipboard, me walking with a surveyor's wheel measuring the course. On the day, the whole thing went off very well with the Glasgow Corporation giving a great meal to the competitors in the City Chambers.
Having been one of the founding members of the Scottish Veteran Harriers Club, I served on the Committee for 10 years before giving it up. One of the unsung pillars of the organisation was Dale Greig, She worked for Walter in his printing business and, as well as typing the newsletters, she did a tremendous amount of work behind the scenes.
I ran my last marathon in London when I was 65, and it took me three hours and twenty two minutes but I continued running until I was 80 in 2009. After that I kept on jogging. I didn't get many prizes or tangible returns for my 100 miles per week, but I got good health, great camaraderie, a feeling of well-being for years and many friends."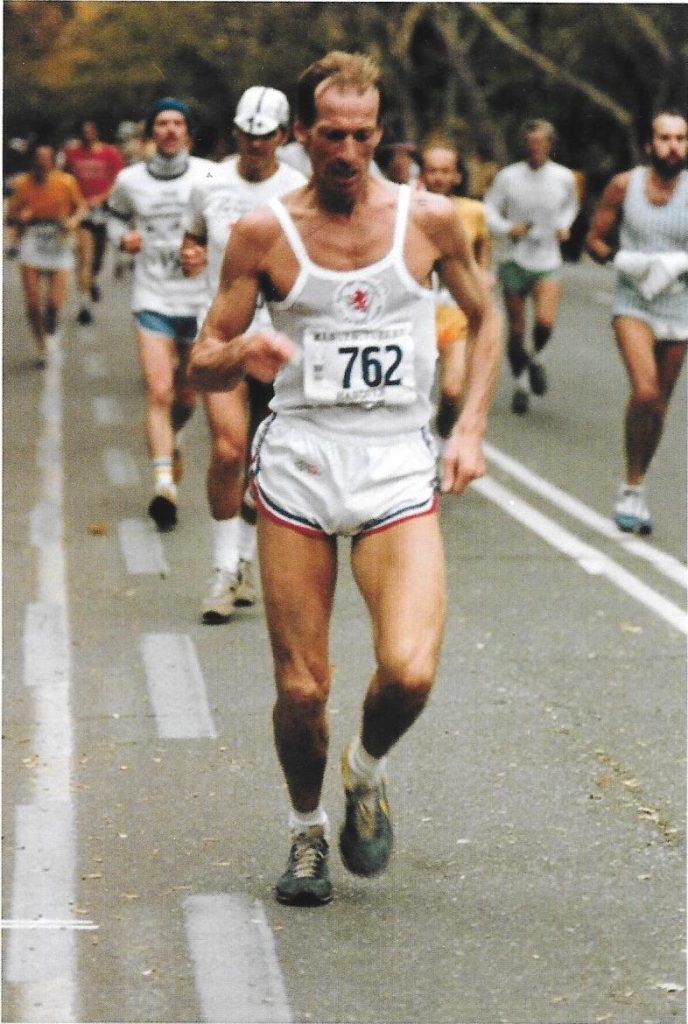 Jack with 200 yards to go in the New York Marathon where at the age of 51 he ran a time of 2:55
Jack has spoken of Cologne and Paris but there were other vets international races in which he took part. For instance in Toronto in 1975 he ran in the Marathon, in the 45-49 age grouping and was 10th in 2:47:09.
Hanover 1979 was a bigger tale altogether. At the start of the meeting he raced in the 10,000m in the 50-54 age group where he was 26th in 37:33.3. Donald Macgregor was watching and he was approached by some English race walkers who lost the 10K road walk because they only had four runners while the race rules required 'five to count'. They asked Donald if there were any Scots who could fill in as a walker at the 20 km distance! He suggested Jack. They then approached Jack and, despite his protests, entered him for the race. He was given a lesson in the car park in how to walk by English international Judy Farr and Athletics Weekly correspondent Colin Young. Warned before the race not to get disqualified, he took part and finished in the first third of the field. The team of Eade, Withers, Jacques, Goodwin and McLean finished second behind France and Jack had a silver medal. The trail was around a lake for leisure boating and a large plaque on the wall said that Hitler had opened the venue in 1936.
Of course, Jack continued to run in vets races at home and in the course of these he has beaten some notable athletes, eg he once defeated Ben Bickerton of Shettleston Harriers in the 10000m championships at Bellahouston Park. Ben was always a quality athlete and you can read about him here . Always a good advert for the sport, Jack recruited other runners to the sport. These include Hugh Currie who worked on the 'Daily Record' when Jack was there. Hugh had been a member of the Creag Dhu Mountaineering club and was very fit so that when he came into the sport as a veteran he was immediately very successful and set the M65 record for the London Marathon.
It is clear from the above that Jack has had a wonderful career in the sport. A career in which he ran hard and well for many years before putting a lot back in the form of his work with the veterans movement worldwide. Always the same to speak to, Jack was always even tempered and good natured and never had a bad word to say about anybody. Jack died in January 2020 at the age of 90.