The event took place for the third time in Edinburgh for reasons set out below in the 'Glasgow Herald' Notes on Sports column. on 18th May in 1918.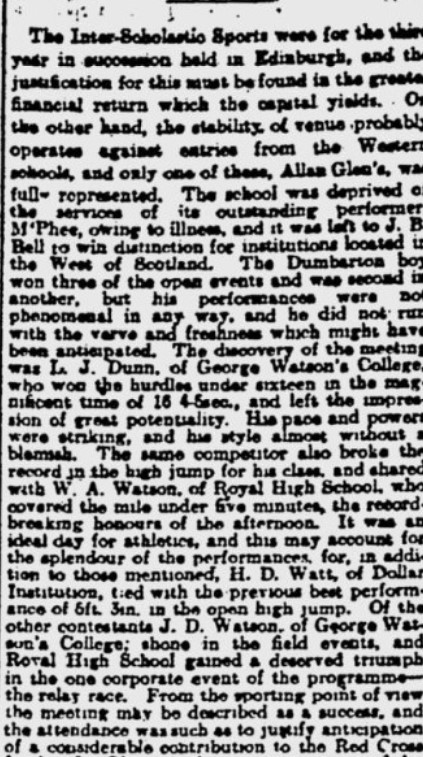 Several of the names mentioned above – Dunn, Bell McPhee will be familiar from past years but more detail is contained in the Herald's results coverage. Points to note: (1) Sixteen Sxhools took part – a record number; (2) Schools like Trinity Academy and Leith Academy were present but only one Glasgow school – had the meeting been held in Glasgow, the attendance might have been smaller but the number of competing schools might have been bigger; (3) Note too the return of Dollar Institution. (4) Introduction of Relay racing. The results:-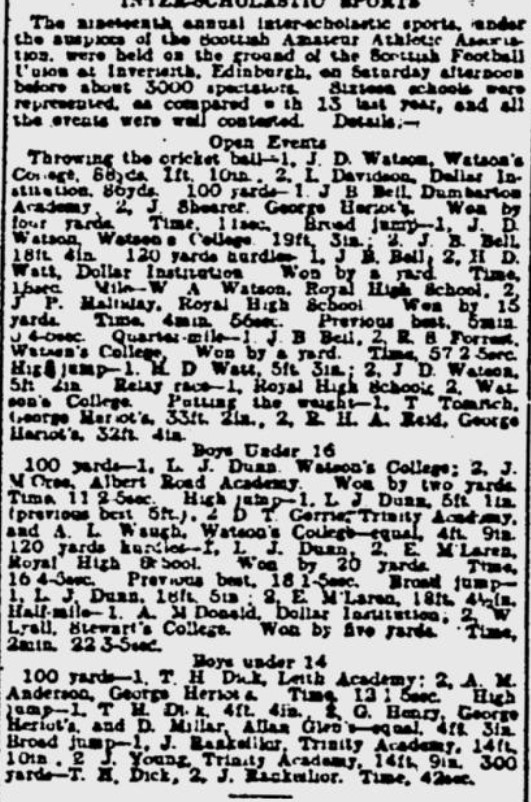 Note that 16 schools were represented three more than previously and a signal that the event was becoming more popular despite the abstinence of some of the supposed 'top' athletics schools in the country.
Summary of event winners:-.
OPEN EVENTS
| | | | |
| --- | --- | --- | --- |
| EVENT | WINNER | SCHOOL | PERFORMANCE |
| 100 Yards | JB Bell | Dumbarton Academy | 11.0 seconds |
| 440 Yards | JB Bell | Dumbarton Academy | 57.4 seconds |
| One Mile | W Watson | Royal High School | 4:56 |
| 120 Yards Hurdles | JB Bell | Dumbarton Academy | 18.0 seconds |
| High Jump | HD Watt | Dollar Institution | 5′ 3″ |
| Broad Jump | J Watson | Watson's College | 19′ 3″ |
| Throwing the Cricket Ball | J Watson | Watson's College | 88 Yards, 1 feet 10 Inches |
| Putting the Weight | T Tomitch | George Heriot's High School | 33′ 2″ |
UNDER 16
| | | | |
| --- | --- | --- | --- |
| EVENT | WINNER | SCHOOL | PERFORMANCE |
| 100 Yards | LJ Dunn | Watson's College | 11.4 seconds |
| 880 Yards | A McDonald | Dollar Academy | 2:22.6 |
| 120 yards hurdles | LJ Dunn | Watson's College | 20 seconds |
| High Jump | LJ Dunn | Watson's College | 5′ 1″ |
| Broad Jump | LJ Dunn | Watson's College | 18′ 5″ |
UNDER 14
| | | | |
| --- | --- | --- | --- |
| EVENT | WINNER | SCHOOL | PERFORMANCE |
| 100 Yards | TH Dick | Leith Academy | 12.2 seconds |
| 300 Yards | TH Dick | Leith Academy | 42 seconds |
| High Jump | TH Dick | Leith Academy | 4′ 4″ |
| Broad Jump | J Rankeillor | Trinity Academy | 14′ 10″ |