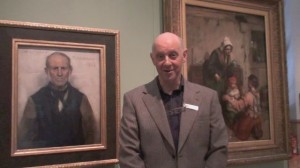 Hugh Stevenson is well known by sight to everybody whose club takes part in the Scottish Athletics League where he has been Treasurer for over 30 years,   He is always in the control room, usually as an announcer but he always helps out elsewhere if required.    At one point in the 1980's he was announcing but taking time off to run in the sprint hurdles for his club, Victoria Park AAC, before returning to the announcer's chair.   Well liked and respected, Mike Clerihew who has worked with him on the League committee says, "he was a great person to work with on the committee and a fine, extremely knowledgeable commentator at league and many other meetings."     One of the best of club men, Hugh is well known all over Scotland.    He deserves to be better known, so we should maybe start by looking at his athletics career chronologically.   Much of the information below came from his club mate and athletics journalist Doug Gillon. 
He was educated at Daniel Stewart's College in Edinburgh before it amalgamated with Melville College, Edinburgh College of Art and then at Edinburgh University where he gained an honours degree in fine art. A regular member of the University athletic club, he captained Edinburgh University AC in 1968.   He has however spent all his working life at Kelvingrove in Glasgow in the Museum and Art Gallery  where he became curator of British Art.  He also competed for Edinburgh AC, Octavians, Red Star Belgrade, Edinburgh Southern Harriers and Victoria Park.  Frequently his job involved international travel, as chaperone to works of art being exhibited abroad. He also studied for a year in Belgrade where he became fluent in Serb (of which more later).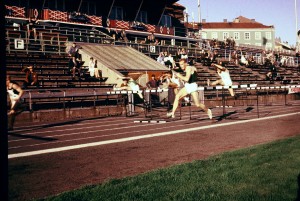 Hugh (right) running in Bislett in 1967
He competed in the hurdles in the Schools International in 1964  and as a schoolboy was ranked nationally in both high jump and sprint hurdles.    He was a very decent and stylish 110m hurdler, adept at (very exaggeratedly) aping the style of contemporaries.    His main events as an athlete were the sprint and one-lap hurdles races although he competed well in both high and long jumps.     How good was he then?   He was ranked at one time or another in all four events.   His winning time of 14.9w in the SAAA 120 yards hurdles in 1965 stood as a Championship Best Performance until the distance switched as metric.    He was eight times in the top ten and his personal best performances were:
120 yds Hurdles: 15.2 (1966, ranked 5th); 440 yds Hurdles:   56.7 (1967, ranked 5th);   110 m Hurdles:   15.6 (1969, 8th); 400m Hurdles:   55.9 (1969, 9th);  LJ: 6.60m (1966, 12th);  HJ:   1.78m (1965, 11th)
Away from the track, Hugh is also reliably reported to be an excellent vocal mimic, if not in the Rory Bremner class. Beside his gift for art, he lampooned many of his friends and colleagues. Some of his cartoons, as well as his paintings, hang on the walls of friends.   
He studied in Belgrade and joined the Red Star athletic club while he was there.   As a result, he was Yugoslav team attaché for the European Indoor Champs in Glasgow (1990) on account of his fluency (having studied in Belgrade).    He made such an impression that he was promised free accommodation if he went to the European outdoor champs and helped them that summer in Split.     However, the country was on the brink of civil war and in some disarray. Hugh's billet in the Croatian coastal town was not forthcoming, but he managed to share with a friend.   Attempting to repay hospitality with beer, he stood at the bar, but was studiously ignored for at least 10 minutes.   When asked by another guest what one had to do to get served, the barman said words to the effect that he was not serving that "Serb b*sta**".     Hugh's accent was so perfect, he had passed as a Serbian native. Suffice to say, war broke out inside a year.  
Despite his history of athletics involvement including Edinburgh and Belgrade, he has been and is a loyal member of VPAAC since 1972.   He is the type of unsung volunteer without whom the sport would not survive.   His soup teas after the Edinburgh to Glasgow were famous and he also holds open house after the McAndrew Relay hosted by his club.   The entertainment at both of these inevitably included his performance using his excellent powers as raconteur and mimic.   Always witty and mischievous but never spiteful.
He is reported by all who know him to be very gregarious, with passions for real ale and cycling.    A member of CAMRA his knowledge of pubs around Scotland is said to be prodigious and he has recently made a beer tour of Belgium by coach.   The comments by some of his friends and club mates make interesting reading.   Alistair Johnston meets him regularly on a Tuesday night at The Three Judges, at Partick Cross – one of the best real ale pubs in Scotland.   He says that Hugh is an expert (among many other things) in real ale and pubs in general and cycles many miles since his recent retirement around local areas visiting their hostelries.    This is a thread that keeps coming through when Hugh is mentioned although Colin Young gives a slightly different perspective on this fact later.  Alistair, Hugh, Albie Smith, Dave McMeekin (and various guests from athletics from time to time) of course talk a lot about their running days and how the standard has fallen and how good we were in comparison!! 
Hugh also now travels to Europe a lot – particularly to the likes of Bosnia and Croatia (where he spent time as a student) and other ex-communist USSR countries – he also speaks some of their languages!    He visits their museums and art galleries, etc – at home he worked for forty years at Kelvingrove Art Galleries as an art  curator.   He did'nt like to talk about his work and when he did it was usually something negative about the management!    However, he must have been well thought-of in his field because he appeared occasionally in TV documentaries – it was always a bit of a shock, says Alistair, seeing him on screen wearing a jacket and tie and speaking eloquently about Scottish artists, history or whatever, compared to the ragged, beer-swigging eccentric (slightly exaggerated) we see at The Three Judges!    He can still be seen in this capacity on youtube in fact.
He is still very friendly with many of his ex Edinburgh University athletic pals – Alistair Blamire, Dave Logue, Iain Hathorn, Jack McFie, etc – whom he meets regularly including going with them to big athletic meetings abroad and rugby internationals at Murrayfield. .
A former member of the club and still at heart very much a Vicky Parker, Colin Young re-inforces the convivial Hugh Stevenson image and says –
"My main memory is going with Hugh  and several others – Ian Binnie is the only one I can recall –  to some of the interesting pubs in Glasgow after training. The Old Toll Bar  at Paisley road Toll and Kai Johansens  stick in my mind. This was due to Hugh's interest in the architecture and stained glass had nothing to do with beer – the rounds were not expensive being mostly shandy! My own interest in art and antiquities was building up at the time so it was good to be with somebody like Hugh.
I was on and off the committee a few times in my later spell with VP and would guess that Hugh was too – but I am not sure! It was only relatively recently – in the last few years- that I learned from a casual conversation on a coaching course that Hugh was still very much involved with VP! "
A man of many sports, we are told by Jim Preacher of a rugby playing incident:
In 1988 on an I.A.D.S. tour to Dublin Hugh was persuaded to don his rugby boots as the team were a man short in a match against Guinness RFC. He was asked to play on the wing but told nothing was expected of him and that should he receive the ball he should boot it into touch. 
We were up against it and eventually won a line out after fifteen minutes of play. We spun the ball through the three quarters where it ended up with Hugh. His brain went back twenty years and he tucked the ball under his arm and took off down the wing. I was yelling "kick it ! kick it out ! " but Hugh ran into the covering Guinness back row, each one build like a keg of the product.
A crack pierced the air. Hugh had broken his shoulder in his first touch of a rugby ball for some years. He was taken to hospital, patched up and returned to join us in the bar where he led both teams in a rendition of Limericks that lasted over twenty minutes. The old theatre expression " the show must go on" sprung to mind.
 But Hugh always had style and class – long-time friend Alistair Blamire comments
Re the stylish Hugh, he always won the "Style Prize" at the University Sports. We often make reference to this when we see someone showing a bit of "class" in any walk of life, whether lampooning them (in the Hugh way…) or giving them a stamp of approval.