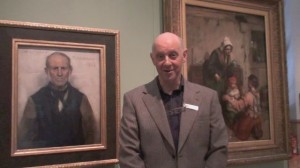 There have been several references to Hugh's stay in Belgrade but he himself wrote an article for a VPAAC magazine in June 1972.   Colin Young, the editor of the magazine, sent me a copy and I reprint it here.
ATHLETICS IN YUGOSLAVIA
During a stay of nine months in Belgrade, Yugoslavia, 1969-70, I indulged in some athletics with the Red Star club.   Members will have heard of this club in connection with European Football, but as in so many continental countries, the club is multi-sport with sections catering for football, swimming, basketball, athletics, etc.  
When I was there, Red Star (Crvena Zvezda in Serbo-Croat) had a large incomplete stadium accommodating 100,000 spectators, one reserve football pitch, one blaes training area, and a ramshackle, pre-fabricated changing hut of immediate post-war vintage.   The athletics stripping room and its lukewarm spray were shared by the men and the women but not simultaneously.   Immediately after I left Yugoslovakia everything changed.   A tartan track was laid(one of seven put down by a German firm in July-August 1970) and I imagine the changing facilities were transferred to a more suitable site in the main stadium.   So much for my luck.  
The athletics section of the club was immensely strong with many high quality athletes including several national record-holders.   In 1970 they were the Yugoslav Club Champions, and they would certainly win the British League Championship.   If you look at the following list of best performers competing for them in  1970, you will understand why.  
10.3,  20.9,  49.0,  1:51.0,  3:46.0,  13:35.0, 27:58.0,  8:52.0,  14.9,  51.8,  7'0″,  13′,  26′,  50′,  62′,  170′, 180′, 235′   and they could put out two sprint relay teams clocking 42.3.   With 56.4, I was the fourth fastest in the club in the 400m Hurdles.
Despite the impression given by my description of their dismal changing rooms, Red Star seemed to have plenty of money, enough to lay a tartan athletics track, pay for full time coaches, kit out their members, run training camps in distant localities and also to subsidise the diets of the "heavies" (to augment the usual Yugoslav diet of beans, yoghurt and sour cabbage) and to distribute direct "grants" to their very best athletes.
Dane Korica, who competed against David Bedford at last year's British Games and later came fourth in both the 5000m and 10000m in Helsinki, received about £20 per month from the club – the same amount as he earned in his job as a motor mechanic.   This is quite normal and the Yugoslavs were amazed, almosty disbelieving, when I informed them that the likes of Olympic champion David Hemery got no "grants".   Was their disbelief justified, I would note that I was accused of lying when I told them that in Scotland we had tp pay for our own kit, club membership, travelling expenses and 7/6 per event to enter our own championships.   
I trained in the stable of "Chika (uncle) Atsa", a small refined gentleman who was coach to the national team in throwing events.   I found myself among a small group consisting of some first class sprinters (10.5 men) , another 400m hurdler with whom I had great verbal battles, all in good fun, and an assortment of aspiring middle-distance runners, distance runners turned hammer throwers, sprinters turned javelin throwers, and some rather promising girls.
There was a measure of rivalry between the various coaches and their charges.
As to the aspiring athletes mentioned above, I grieved for them, as they trained all winter with us in the nearby parks and in the national Army stadium, venue of the 1962 European Championships, and got no cmpetition when the summer came around.   Only the very best athletes are adequately catered for in Yugoslavia.   There are no inter-club matches where the less gifted can get a run out.   The season for me was as follows:
6th & 13th May – Belgrade clubs meting;   26th & 27th May – Republic of Serbia Clubs Championships (best twelve in the republic in previous local meetings to compete);   30th & 31st June – Yugoslav Clubs Championships(best twelve from republic championship to compete).   There were also, after I left, another Yugoslav championship (slightly different from above) and an individual championship.   Add to these an international meeting in Belgrade , from which I had to withdraw because of illness, and you will see that the average competent athlete (stop flattering yourself boy!) can expect a total of six races a year.   So despite the amount of money poured into the sport. domestic competition is in a poor state.    
Victoria Park club members may take heart from the fact that athletics in Yugoslavia where some deal of money is available, is in a worse-off state than athletics in Scotland about whose shortcomings I could preach at length.   But I'll keep the preaching to another article and hope in the meantime that the vagaries of Red Star, Belgrade, have provided interest and amusement.
Hugh wrote that in 1972 and it is of real interest to note that in 1969 the athletes in Yugoslavia were being paid – it is even more eye-opening to see  how little competition was available to the athletes.