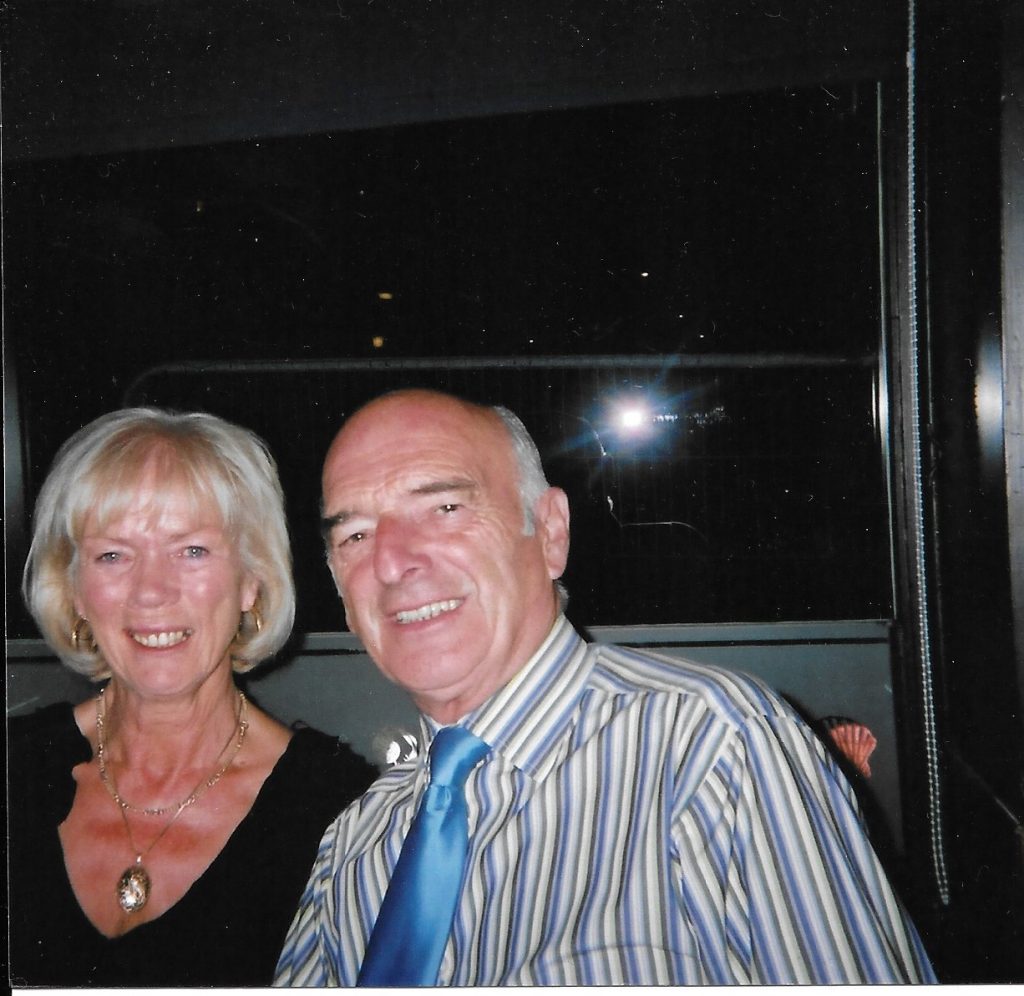 George and Beryl 2019
All successful magazines have a driving spirit whose name is synonymous with the publication – eg "The Scots Athlete" (1946 – 1958) and "The International Athlete" (November 1958 – 1961) with Walter Ross, and Scotland's Runner" (1986 – 1993) had three editors in Stewart McIntosh, Allan Campbell and Doug Gillon. George Sutherland was responsible for "Athletics in Scotland" which appeared from 1973 to 1976. George is not as well known as the others nor as well-known as he should be.
This is partly because he is not one for pushing himself forward. The other magazines mentioned above had photographs, on some occasions with the "Scotland's Runner there were cartoons, of the editors. Unlike many producers/editors George's own picture never appeared in the magazine. Nor was there a 'From the Editor' or 'The Editor Speaks' article to give a clue about his own standpoint. It was all about the sport, unfiltered, with no opinion of his own ever expressed.
Nor did he seem to have an athletics pedigree that we could relate to – no one ever talked about their rivalry or races with him. What was the man who was responsible for it like?
George describes his own involvement in the sport as modest. A pupil at Robert Gordon's College in Aberdeen, he was a member of the athletics team with the high spot possibly when the 15 – 17 years age group 4 x 220 yards relay team of which he was a member was second in the Scottish Schools relay in 1953. It had been a good day for the College with the 17 – 19 team winning the relay in their age group. There were also three more golds for them when Bobby Yuill won the 17-19 100 yards, and Bill Ferguson won both shot and discus in the 15-17 age group. He remembers that on the day he shook the hand of Eric Liddell's brother . When he got home to Aberdeen that afternoon, his Father told him the story of Eric Liddell.
The involvement in the sport continued and after leaving school he joined Aberdeen AAC. He turned out for the club in the 440 yards and the half mile where he was a sub-2 minutes runner. It should be noted that this was a good time for a club runner, running on a cinder track in the 1950's. Like many a middle distance athlete at the time his heroes included Roger Bannister and Chris Chataway, and like many others probably admired Herb Elliott and Peter Snell. It was a time when athletics featured on the black and white television screens with races such as Chataway versus Kuts under the floodlights at the White City. It was an inspirational time. He was a member of Aberdeen AAC into the early 1960's. George was not however fixated completely on athletics, he also played rugby. Of his involvement there he says: "I continued in athletics until about 1962. During that period I played mediocre rugby with Gordonians (second XV) and afterwards in Edinburgh with Bruntsfield, which merged to become Murrayfield RFC where I continued at coarse rugby until 1973."
When George was asked how the magazine came about, why did he produce it, his response was as follows: "My wife Beryl and I started the magazine to encourage as many people as possible to take part in athletics". It was produced entirely by George and Beryl, there were no other staff involved. Beryl did all the typesetting. It was a very good magazine but to think that it was run by husband and wife with no other paid or employed staff adds to the admiration. It was packed with information – see the page below from issue number 34 as an example – at a time when such information was not easily available to the ordinary club athlete.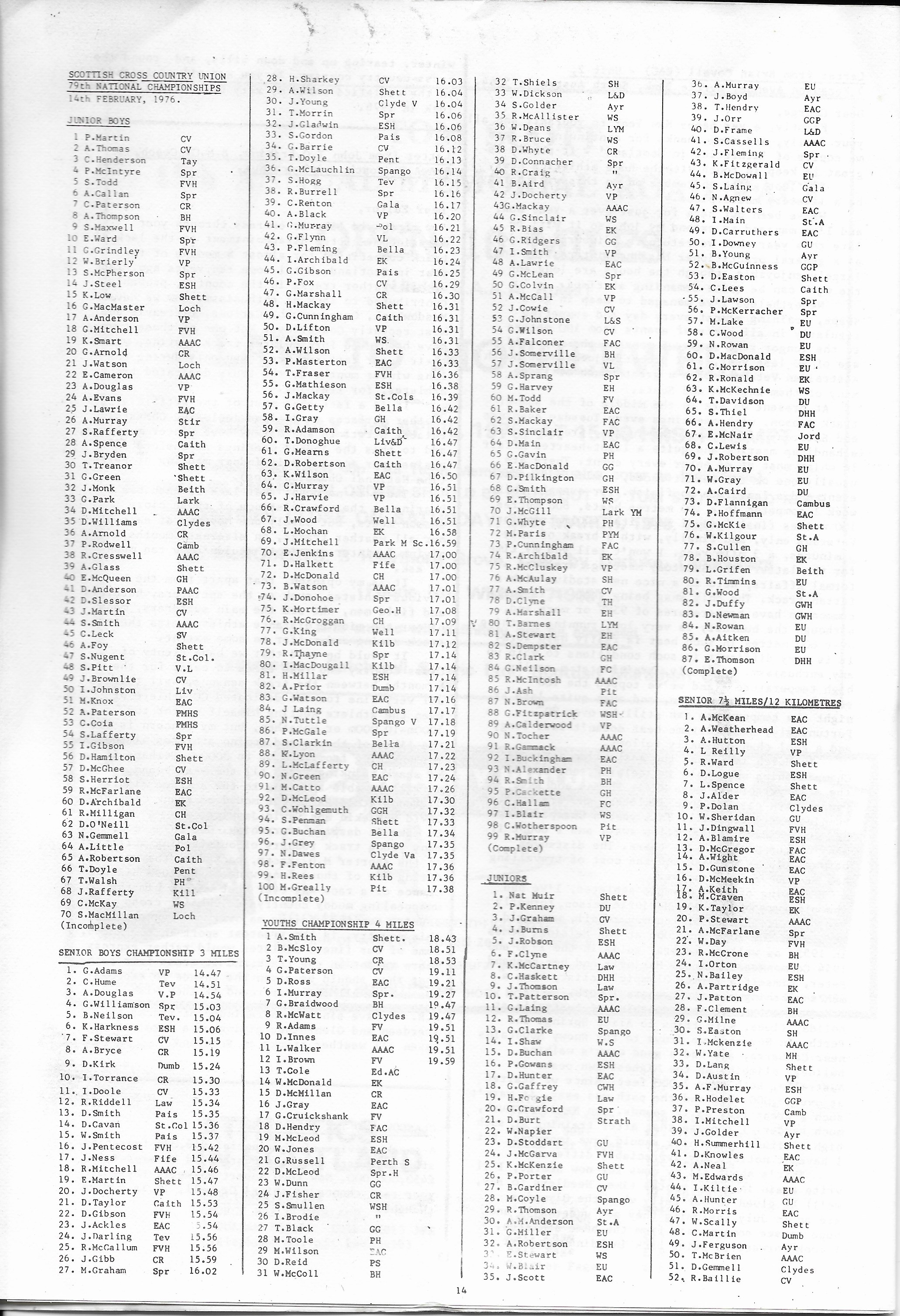 Why did it cease publication? George says, when asked, that "the reason I had to stop producing the magazine was the fact that I became Managing Director of Ivanhoe Printing Co. Ltd. of Musselburgh (he was a 50% shareholder) and had to concentrate on that."
For some further comment, we turn to Peter Hoffmann, one of the country's best 400/800m runners, who was a friend of George's and sheds some light on these questions when he says:
"George lived at Durham Square Portobello Edinburgh round the corner from me. I seem to recall he printed the magazine in his attic at home. He was a lovely chap, tall, bespectacled and balding. He lived with his wife and two daughters. I was at their house on a few occasions mainly with EAC stalwart Dougie McLean who was friendly with George. I helped to distribute and sell a few editions of the magazine. Thinking about why it stopped, I wonder whether his job and therefore home circumstances may have changed which had implications for the demise of the magazine. I mention him once or twice in my diaries."
*
Although it posed no threat to the mass circulation press, its success was noted in more than one quarter. The two major dailies the country at the time were the 'Glasgow Herald' and the 'Scotsman'. They both noted the existence and success of the periodical though. On 29th October, 1973, Ron Marshall's article appeared in the Herald.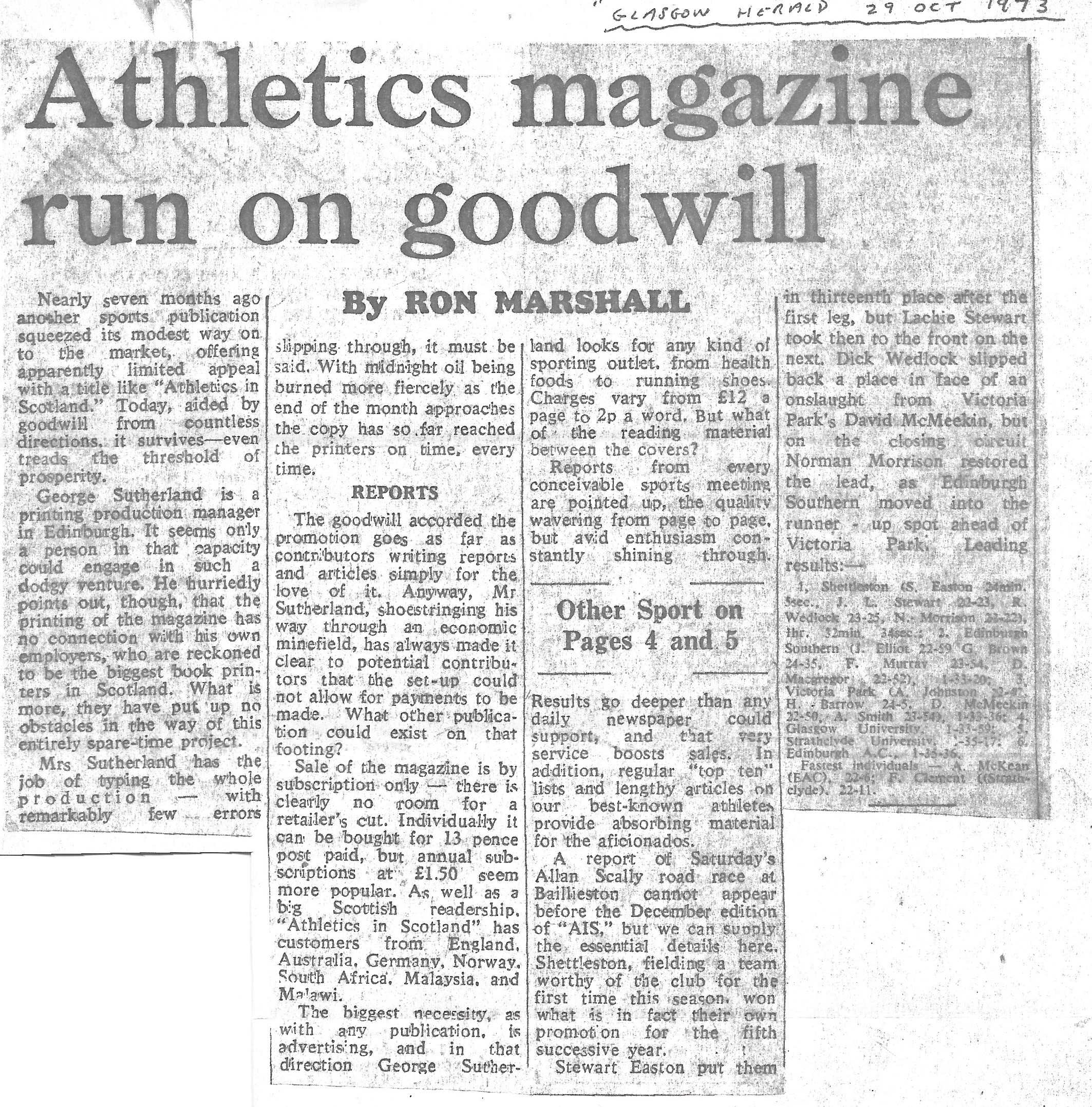 That was from the Glasgow paper, the Scotsman had a much shorter piece in April 1974. Below a mini-reproduction of the April 1974 cover featuring Ann Cherry and Ian Murray, it simply said:
Athletics in Scotland is one year old and the publisher-editor, George RF Sutherland, is to be congratulated. The 16 page publication, which in its first year has carried thousands of results, has been run on a shoe-string Budget. But it is viable, much of the work being done on a voluntary business. "The purpose of this labour of love," writes the editor, "is to encourage athletes of all ages to participate and strive for improvement in their sport." The venture is a sensible piece of self-help.
What we have said so far begs the question of whether there was any direct inspiration or model in the beginning. When asked, George says, "The format of my magazine was copied from a journal that I used to buy at the time. This was "Athletics World" published and edited by the famous McWhirter twins, Norris and Ross, later much more famous after the huge success of their "Guinness Book of Records". "Athletics World" seemed to be type-written, plus bold headlines – a format which suited me. Also they had a formidable connection with contributors world-wide. Sadly their lives came to an end far too quickly. They wrote to me once or twice." These illuminating comments add to and complete the story of the magazine
Where is George now? He still lives in Edinburgh, he and Beryl have two daughters, three grand children and two great grandchildren. His late brother was Lord Stewart Sutherland of Houndwood and was Principal of both London University and Edinburgh University.
George says, ""I still take a great interest in athletics." We all wish him well and thank him, and his wife Beryl, for the magazine which was the right magazine at the right time for Scottish athletics.