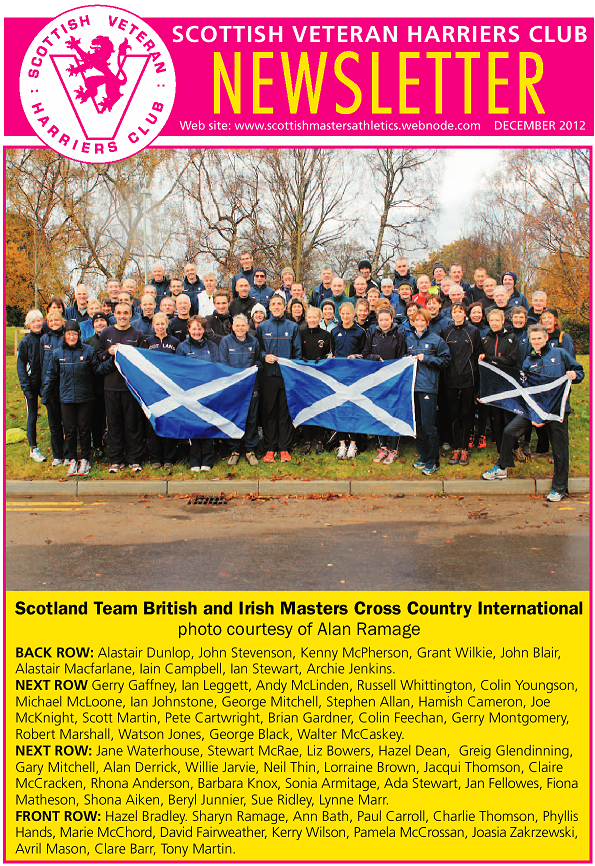 MEMBERSHIP NOTES 26th November 2012
MEMBERS
Welcome to the 12 new and 9 reinstated members who have joined or re-joined since 4 Sep 2012. 52 members have not renewed their subscriptions, and 2 members have resigned. We now have 463 paid up members.
If you have not set up a standing order, renewal subscriptions are due from the AGM date 21st October 2012. Please pay promptly. Annual subscription is still £15. Men o/65 & women o/60 £12.
NEWSLETTER
The massive increase in postal charges has forced us to change to an electronic version of the Newsletter as the preferred option. Any member who wishes to continue receiving a printed Newsletter must contact me, if they have not already done so. Please inform me if you add or change your email address.
Please send photos, news, letters, articles, etc for the next issue to: DAVID FAIRWEATHER 12 POWBURN CRESCENT, UDDINGSTON, G71 7SS e-mail: djf@dfairweather.plus.com Tel: 01698 810575
If any member would like to take over the editing of the Newsletter I would be very happy to hear from them.
SVHC EVENTS
Stewards/marshals are required for club races. The club appreciate all members & friends who volunteer to act as stewards/marshals. If you are not competing just turn up and introduce yourselves to the organisers. Thanks to all those who have already helped out.
STANDING ORDERS
Thank you to the members who have set up standing orders for membership subscriptions. Please remember to update the amount payable, & keep me informed if your membership details change (especially email addresses). If any other member wishes to set up a standing order please contact me.
Please ensure, if possible, that the next payment date is set for 10Nov2015, and annually thereafter.
CLUB VESTS
SVHC running vests can be purchased from Molly Wilmoth for £15 (Tel: 0141 7764941).
NEW MEMBERS
CHRS SURN JOINED NO. TOWN
James Burns 16-Oct-12 2104 Fairfield
Richard Davidson 13-Nov-12 2110 Greenock
Adrian Dow 25-Oct-12 2105 Kirkintilloch
Yvonne Green 07-Nov-12 2107 Bearsden
Ian Johnstone 20-Sep-12 2101 Nairn
James Lewis 04-Oct-12 2103 Bishopbriggs
Graham McGrattan 16-Nov-12 2112 Greenock
Maureen McVey 01-Oct-12 2102 Cathcart
Norrie Neilson 30-Oct-12 2106 Longton
Miriam Rennet 16-Nov-12 2111 Newport-on-Tay
William Skinner 13-Nov-12 2109 Aberdeen
Andrew Stirling 11-Nov-12 2108 BO'NESS
David Adam 04-Sep-12 1907 Leuchars
George Y Black 05-Sep-12 26 Kingskettle
Paul Carroll 09-Oct-12 1894 Whitecrook
Maureen Gallacher 08-Nov-12 302 Lambhill
Claire Gilchrist 06-Sep-12 1787 Edinburgh
Frank Hurley 21-Sep-12 167 Cambuslang
Robin Sykes 21-Oct-12 163 Pollokshields
David Thom 18-Oct-12 1460 Rutherglen
Robert Turner 16-Oct-12 1879 Musselburgh
RUN and BECOME SERIES 2012/13
The Run and Become Veterans Race Series is set to continue next year thanks to the generous sponsorship of Run and Become, the specialist running retailer in Queensferry Street, Edinburgh.
The Series is based on the International Age Graded tables and will again have 8 scoring races from 12.
The only change to last season's programme is the inclusion of the National Masters Cross Country Championships, which replaces the National Senior Championships. As last year, runners can gain merit points by completing more than 8 races, an additional point being awarded for each race beyond race 8.
There will again be a very generous prize list including the Dale Greig Trophy to the first woman and the Jackie Gourlay Trophy to the winning man. Last season's winners were Fiona Matheson and Stewart McCrae, with prizes going to the first 5 men and women and trophies to the winner of each 5 year age group. With such an attractive prize list there is plenty for everyone to aim for!
After the first race of the 2013 Series, the SVHC 10,000m at Coatbridge Track, the leading contenders are Robert Gilroy, Ian Johnston, and Russell Whittington in the Men's competition and Fiona Matheson, Pamela McCrossan and Marie McChord in the Women's competition.
The proposed races for 2013 are:
February 2 National Masters Cross Country Champs, Forres
April 7 Tom Scott Road Race Motherwell
April 14 Lochaber Marathon Fort William
May 1 Snowball Race Coatbridge
May 5 SVHC Walter Ross 10km Cartha Rugby Club
May 18 Bathgate Hill Race June ?
SAL Masters Track Champs (Men 5K, Women 3K)
June 5 Corstorphine 5 miles RR
June 26 SVHC 5K Clydebank
August 18 SVHC Glasgow 800 10K Cartha Rugby Club ( inc BMAF Champs) October 6 Half Marathon, Kirkintilloch
Some dates are provisional at this stage; further details will appear in your Newsletter and on the SVHC website.
Alastair Macfarlane
LETTERS SVHC
Name Change Proposal
Dear all, I have observed from afar the proposal and counter proposal for a re-vamp to the name of SVHC. It feels that the time is right to be heard on this matter.
Having been a master/vet athlete for only the past six years I do not have the attachment to the name SVHC that others clearly have, but fully understand that change is difficult for some, as we pride ourselves on our tradition in this country.
I have spoken at length to the master/vet athletes of Law & District AAC: Patrick Kelly, James Macdonald, Hilary McGrath. They are in agreement with myself that we should move to adopt Masters in our new title.
My own reasons are much deeper than modernising. I have been a Secondary School teacher for the past 20 years and many of my students have gone on and joined the armed forces. They have gone on to become what I would call true "Veterans" and I feel that we should do the right thing and adopt Masters as part of our new identity.
We all watched in amazement the events of London 2012, both the Olympics and the Paralympics; cheering on Mo, Jessica et al. But what amazed people more was the TRUE Veteran athletes, the men and women who served their country in Afghanistan and Iraq, and then overcame horrendous injuries and showed astonishing bravery to compete in London and make the whole country proud of their achievements.
There are lots of things that need to be changed in Scottish Athletics but let us get our own house in order first, and do the right thing and change for the right reasons.
It does not seem right that the SVHC vests have "Scottish Veterans" emblazoned on them, I do not feel we have earned the right to that name in this day and age.
"Scotland" would be more appropriate.
I am not totally against tradition as I would be happy for the SVHC badge on the vest to be retained (albeit with a much smaller V on it) as the roots of the club should not be forgotten. I hope you take the time to consider my thoughts on this subject and thank you for your time.
Stephen Allen Law & District AAC
Fellow Members, I wish to thank all those members who attended the Annual General Meeting on 21st. October and voted in favour of my motion to change the name Scottish Veteran Harriers Club to Scottish Masters Athletic Association.
I was well aware that it would be a huge ask for the proposal to obtain the necessary two thirds majority of votes cast but I was somewhat taken aback, and very disappointed, by the scale of the reverse.
It is very evident that my views on the current positioning of the club and my aspirations for its future are completely at odds with a significant majority of members, or at least of members who attend AGMs, and my fellow committee members.
I have enjoyed my time as Honorary Treasurer and my close involvement in the running of the club but have finally accepted that I will not be able to implement the changes which I feel are necessary for the organisation to become fully representative.
Under the circumstances I felt that, in all conscience, I could no longer continue to serve on the committee of the club.
Finally, I would like to wish the club and its individual members all the best for the future.
Yours in Sport, Mike Clerihew.
I would like to add my own comments to the previous letters. Up till now I have been a staunch supporter of the status quo, but I'm not a Luddite and I now think we have to move forward with the times.
Stephen's argument is the best I've heard so far, and it's a pity he couldn't attend the AGM.
As Mike pointed out at the AGM, our Club is the National Association for promoting Veteran/Masters Athletics in Scotland. Prospective members viewing the name Scottish Veteran Harriers Club might not realize this.
I also had it brought home to me at the British & Irish Masters Cross Country International. I was Scottish Veterans/Masters Team Manager at this event, and was in regular contact with the other Team Managers, who were representatives of England Athletics Masters Association, Welsh Masters Athletics Association, Northern Ireland Masters Athletics Association and Irish Masters Athletes Association.
So the name Scottish Veteran Harriers Club stuck out like a sore thumb.
Our website is www.Scottishmastersathletics.webnode.com, and I sometimes receive membership applications with cheques made payable to Scottish Masters Athletics, so the name obviously causes some confusion,
David Fairweather
Ron Hill Cambuslang Harriers
SVHC Membership Secretary
Athletics Clubs should use Sports Students as Coaches.
The News Focus section of Athletics Weekly, 6th September, reported the dearth of coaches some athletics clubs are experiencing at present due to increased numbers post Olympic Games.
Here in Scotland, 4 athletics clubs – Central AC, East Kilbride & Whitemoss AC, Kilmarnock Harriers and Pitreavie AC – have advertised through the SportScotland website for people to become volunteer coaches.
From my experience in middle/long distance running as a competitor and an endurance coach, the aforementioned clubs, and other clubs having trouble attracting volunteers, should spread their net to a larger scale, for people trained to become coaches.
For example, I am a mature student studying for an honours degree in sports coaching.
Therefore I am surprised that athletics clubs don't contact colleges and universities in their areas for their sports students to be asked if they are interested in utilizing their sport skills to coach athletes.
Sport students study courses in sport development, coaching and science. This includes practical and applied sessions to underpin the knowledge to become effective coaches; also to become able to work effectively, independently with little supervision, designing and conducting coaching programmes, showing awareness and value of ethical and cultural issues in sport and society to their own continued development in a sport coaching setting.
This form of academic sports coaching should be introduced into club coaching for post Olympic Games generation of athletes.
Peter McGregor Victoria Park City of Glasgow AC
British and Irish Masters Cross Country International
On Saturday 10th November the cream of veteran runners from Scotland, England, Wales, Ireland and Northern Ireland headed to Belfast for the annual British and Irish Cross Country International. Each of the national Masters associations takes it in turn to host the event.
Last year it was hosted in Bellahouston Park in Glasgow about four miles from my house, so this was my first taste of going on tour with the Scottish Veteran Harriers and it was a weekend to remember.
The event was originally going to be at Stormont, but the course was waterlogged so it was moved to the excellent replacement of Queen's University.
The course was a pretty flat 2 km loop, but there were a couple of small hills and some muddy stretches to make it a testing course.
There were three veterans' International races and then an open veterans' race to close proceedings for the day.
The first race was 3 loops of the course for the women's teams and the male 65-69 and 70+ teams.
This resulted in an exciting finish with Clare Martin of England and Barbara Cleary heading into the final stages sprinting shoulder to shoulder. Unfortunately, Barbara misread where the finish was and stopped a few metres short leaving Clare to successfully defend the title she won in Glasgow last year.
Fiona Matheson was the pick of the Scottish women and won the 50-54 category finishing 5th overall, Sue Ridley picked up a bronze medal in the F45 category and Liz Bowers won the F60 bronze.
In the men's 65-69 category there was another exciting finish between the England team mates Martin Ford and Peter Young being given the same with Martin edging it. They were followed by George Mitchell of Scotland who picked up the bronze medal. Les Haynes of England won the M70 category with Gordon Omrie of Wales edging Scotland's Pete Cartwright out in the battle for second place.
The next race was 4 loops of the 2 km course for M50- 54 through to M60-64. The race was won overall by Graham Saker of England 5 secs ahead of local boy Deon McNeilly of Northern Ireland. Neil Thin of Edinburgh AC was first Scot finishing in 5th place and Ian Stewart won the silver medal in the M55 category. Mike Hager of England added another gold medal to his collection in the M60 category and Scotland's Andy McLinden picked up the silver.
The final championship race was the M35 through to M45 race and my chance to test myself in a tough competition.
The field soon spread out and I found myself towards the back of the field in a race with my Bellahouston Road Runners club mate Greig Glendinning and Scott Martin of Kilmarnock. I knew that they had been getting similar results to me recently so we worked together to push each other on to the best of our abilities.
This race was won by M40 Andy Morgan- Lee of England who beat Ireland's Ciaran Doherty, who won the M35 race. First Scot was Kerry Liam Wilson with Charlie Thomson narrowly missing out on a medal in the M45 category by one second.
I finished down in 74th out of 87 finishers, but was delighted to have been given the opportunity to race in such a prestigious race.
To celebrate the event we headed out for an evening at the excellent Europa hotel where we were treated to a large slice of Irish hospitality. A three course meal was followed by the awards ceremony.
David has summarised the team medal winners in his report.
The night was finished off brilliantly by an excellent live band, who covered a wide range of music and got the dance floor jumping until the early hours of the morning. Particular mention must go to Kenny MacPherson for his unique brand of dancing. It was very entertaining and worth making the trip just to experience that. The closest similarity I could think of would be Bez from the Happy Mondays in a kilt.
Next year the event moves to Colwyn Bay, North Wales and SVHC would like to get as many runners as possible signed up to compete for places in the team to try to build on this year's success.
Russell Whittington Bellahouston Road Runners
GRAND DAY 'OOT!
Standing on the start line in Belfast amidst 70 other athletes wondering why on earth you had been selected to run for your country is a strange feeling. Unlike any other race I've participated in there was no 'banter' amongst the runners, everyone was totally focused on the race to come. This was serious running, no place to hide or have an 'easy run'.
People may think that it's an easy vest to get. But believe me seeing some of the athletes taking part, who, when I was younger were internationals & inspirational to me, standing a few yards away, brings home the reality that this is not an event to be taken lightly.
Some debate rages on why we have 'Scottish Veterans' on the vests rather than 'Scotland' due to the fact that it is SVHC who organise the Vets international selection rather than Scottish Athletics – does this demean the honour of representing your country?
Ask any of the Scottish runners at Belfast & the majority of them consider themselves as representing Scotland not Scottish Vets. As far as I was concerned when I put the vest on I was representing Scotland & felt immense pride in doing so, and I was prepared to run myself into the ground for Country & Team.
Running around the course with the spectators from all teams shouting "Come on Scotland" (not "Scottish Vets") brought a lump to the throat when you realized that it was you they were shouting at. It made you feel 10ft tall and knocked off a few seconds from the run.
After the race hostilities were suspended, we met 'old' friends we raced against years ago, met up with again in the evening & shared a few drinks with them – a fantastic weekend with a lot of warmth & humour (after the race!)
A day I'll never forget especially when we picked up team bronze. (5th vet overall, 2nd team counter) It was made even better with Lorraine & George also picking up deserved team medals. (and Hazel from the Haddies who also picked up a medal).
Tony Martin Fife AC
British & Irish Masters Cross Country International Sat 10th November 2012 Queen's University Playing Fields, Belfast – Reporter David Fairweather
The selection process for this event starts earlier every year, mainly because the hotels insist on having guest lists finalised 4-6 weeks in advance. We started selecting our team at the end of August, and aimed to complete the selection by 4th October. In reality, many runners were unavailable, and there were several call-offs, so we were still making changes a few days before the event.
Like last year there were last minute changes, but this time it entailed a complete venue change. Jim Newberry, Chairman, Northern Ireland Masters Athletics Association, and Event Co-ordinator, announced on 19th October that the course at Stormont was waterlogged. The venue was transferred to Queens University Playing Fields because they were in good condition.
I'd originally booked rooms at the Europa Hotel but, due to communication problems on both sides, the booking was cancelled! Fortunately, I managed to arrange rooms for most of the team at Jury's Inn, which is very close to the Europa.
I travelled by bus/ferry to Belfast, and met a few runners en route. Just before boarding at Cairnryan, Walter McCaskey was relieved to meet me, as he'd forgotten which hotel he was staying in!
We had a perfect crossing to Belfast, and were able to relax in preparation for Saturday's racing. Most of the team met up at Jury's Inn, and with the help of Hazel, Lynne & Archie we got most of the numbers and dinner dance tickets distributed. (though next morning 2 runners confessed that they'd mislaid their numbers!)
Russell and Tony have given good accounts of the races, so I'll just summarise the Scotland results.
The Team Managers met at 5pm after the event to check the results, but unfortunately they all failed to notice that 1 runner John Convery M50 ENG had not been recorded in Race 2 and, even worse, that 3 finishers had not been recorded in Race 3. Tim Hartley ENG and Steve Cairns NI had actually finished 3rd M40 and 3rd M45 respectively. Michael McLoone had finished 15th M45. I have amended the results in this Newsletter to include these 4 runners.
There also seemed to be discrepancies with some runners' times in these 2 races. It was unfortunate, but did not detract from an excellent day's racing. Jim Newberry and his team are to be congratulated on promoting such an excellent event after the upheaval of the previous 3 weeks. Jim even managed to take part in Race 2, finishing a creditable 10th M60.
In Race 1 Fiona Matheson gave another 1st class performance, finishing 1st W50 and 5th overall. Sue Ridley W45 and Liz Bowers W60 both won bronze medals. Joasia Zakrzewski finished 7th W35, Jacqui Thomson, made a welcome return to the team to finish 6th W45, while Pamela McCrossan, after being overlooked for the team for many years, finished 8th W50.
Hazel Bradley returned to the team after missing last year's event to finish 8th W60.
George Mitchell M65 and Pete Cartwright M70 both won bronze medals.
In Race 2, Ian Stewart M55 and Andy McLinden M60 both won silver medals; Neil Thin M50, Brian Gardner M55 and Tony Martin M60 all finished 5th in their categories.
In Race 3, Kerry Wilson M40 and Charlie Thomson M45 were the highest placed Scots, both finishing 5th. It was a relief to see Charlie finish safely as he has struggled with injuries in the last 5 years, so this was the first year he has managed to run in the event.
The Scottish results were a bit disappointing, but a lot of runners were unavailable for various reasons. However, we still won 2 silver and 6 bronze team medals, and finished 3rd in all the overall team results.
Race 1: 6km for Women (all age groups) and M65+
W35: 4 SCOTLAND, 7 Joasia Zakrzewski 22:29, 10 Avril Mason 23:50, 15 Claire McCracken 24:12, 18 Barbara Knox (W45) 26:31.
W40: 5 SCOTLAND, 15 Hazel Dean (W45) 24:58, 16 Rhona Anderson (W45) 25:02, 18 Shona Aiken 26:09, 19 Clare Barr 26:54.
W45: 3 SCOTLAND, 3 Sue Ridley 23:12, 6 Jacqui Thomson23:53, 13 Lorraine Brown 25:11, 19 Sharyn Ramage 26:22.
W50: 3 SCOTLAND, 1 Fiona Matheson 22:03, 8 Pamela McCrossan 24:58, 12 Sonia Armitage 25:25, 15 Beryl Junnier 25:49
W55: 3 SCOTLAND, 9 Jane Waterhouse 27:05, 11 Phyllis Hands 27:31, 14 Jan Fellowes 30:02.
W60: 3 SCOTLAND, 3 Liz Bowers 26:25, 8 Hazel Bradley 27:53, 15 Ann Bath 34:55. M65: 2 SCOTLAND, 3 George Mitchell 24:43, 7 Colin Youngson 25:08, 14 Stewart McCrae 26:03, 15 Hamish Cameron 26:10
M70: 3 SCOTLAND, 3 Pete Cartwright 25:32, 9 George Black 28:03. 14 Watson Jones 28:58, 16 Ian Leggett 29:49,
Race 2: 8km for M50, M55 & M60:
M50: 5 SCOTLAND, 5 Neil Thin 27:47, 12 Iain Campbell 28:08, 21 John Stevenson 29:38, 24 Colin Feechan 30:04, 25 Willie Jarvie 30:26, 28 Gerry Montgomery 31:44.
M55: 2 SCOTLAND, 2 Ian Stewart 28:31, 5 Brian Gardner 28:49, 9 Gerry Gaffney 29:39, 13 Alastair Dunlop 30:23.
M60: 3 SCOTLAND, 2 Andy McLinden 29:50, 5 Tony Martin 30:40, 15 Robert Marshall 33:11, 17 Ian Johnstone 33:46.
RACE 3: 8KM FOR M35, M40 & M45:
M35: 5 SCOTLAND, 18 John MacNamara 28:35, 23 Stephen Allan 29:33, 24 Joe McKnight 29:41, 25 Russell Whittington 29:51, 26 Paul Carroll (M40) 29:52, 27 Scott Martin (M40) 29:53.
M40: 4 SCOTLAND, 5 Kerry Wilson 27:29, 21 Greg Hastie 28:37, 22 Ian Johnston 28:48, 24 Kenny McPherson 29:12, 25 Grant Wilkie 29:29, 26 Greig Glendinning 30:00.
M45: 5 SCOTLAND, 5 Charlie Thomson 28:06, 12 John Blair 28:54, 15 Michael McLoone 29:17, 28 Alan Derrick 31:25, 29 Gary Mitchell 31:59.
With racing over, it was time to enjoy the Dinner Dance and medal presentations at the Europa Hotel. The medals and awards were very efficiently presented, and I hope future organisers took note of this.
Jan Fellowes won the raffle prize of a w/e for 2 at Slieve Donard Hotel, plus £100 spending money. A couple of hours were left for dancing, and a good time was had by all.
Some of us then adjourned to the bar at Jury's Inn, where I was unceremoniously ejected when I rashly decided to join in the singing of Molly Malone! I now know that you don't sing a Dublin song in Belfast.
Next morning after breakfast 4 of us walked over to the Bus Station to catch the bus to the ferry. Andy suddenly realised he'd forgotten his ticket! He managed to run to the hotel, retrieve his ticket, and get back in time to catch the bus. He said he would have outrun Mike Hager if he'd been there!
During the journey back we agreed that next year we should appoint a carer for the older team members! Next year the event will be held at Colwyn Bay, with hotel accommodation in Llandudno. We will be using a coach for the journey.
Running has let Wilson get ahead of his Demons – Richard Winton
The question appears innocent enough, little more than a final thought after 20 minutes of fairly inconsequential conversation about one man's spate of sporting success.
"What has running given you?" Kerry-Liam Wilson, who earlier this month completed an annual clean sweep of Scottish Masters running titles by finishing third in the Loch Ness Marathon, pauses momentarily. "My life," he says quietly. The words hang in the air as he clears his throat. "I suffer quite badly from depression but I get rid of my frustrations and anger when I'm running. Without being too dramatic about it, it gives me encouragement to get up in the morning and, if I didn't have that focus, I don't know if I'd even be here talking to you now."
The words are delivered in a matter-of-fact tone; there is no sensationalism or bombast about the 42-year-old's admission, only relief at the modicum of control he has managed to exert on an illness that has been part of his life since 1990. There were, he admits, times when he wanted to do little more than hide in bed. "And if I did get up and go to work I'd sit on the bridge outside Girvan, look at the fast-flowing river and think about jumping in," he confesses.
It was only the thought of wife Kate and sons Caine and Kalle that stopped him taking his own life during those dark days.
Having never known his own father, Wilson could not countenance his own children being in a similar situation, particularly as 11-year-old Kalle has autistic tendencies, has not spoken since he was born and suffered a stroke in January of last year.
Running, he says, helps quell the anger created by such difficult circumstances, even if there are still times when he struggles to maintain his morale.
Yet his introduction to the sport came almost entirely by chance. A decent cross country runner at school, he trained with a local football team for a while and started cycling and jogging once he became a father, but his recreational time was spent mainly following Aberdeen and Scotland home and away.
"I would get an 8am train, get there for midday, head to the Pittodrie Bar for a pint and a plate of stovies, go to the game and get the train back down to Girvan for 10pm," he recalls. "I was single, liked a drink and had money in my pocket, but once I got to 33, I realised there was more to life and needed a change of direction."
A chance conversation with an athletics coach offered just that. With Caine having recently started running after growing frustrated at his lack of opportunities at a local football club, his father was invited to join in one evening to keep an eye on the then 7-year-old and soon found himself immersed.
"I went from being told by the football coach that 'if I wasn't happy I could get my own f***** team' to athletics, where it didn't matter how good or bad you are, everyone got a number," Wilson says. "I'd enjoyed my fair share of drink so I wasn't in great shape but I stuck at it and slowly improved."
Not that slowly, as it happens. His first 10km race took just 36 minutes, his second a couple of weeks later a minute-and-a half less, and suddenly he discovered a desire to go quicker and quicker; an appetite sated when he joined Ron Hill Cambuslang Harriers.
Years of hard work has culminated this year in his most successful season yet, winning the Scottish title in the over-35 age group at 5km, 10km and 10-mile distance as well as both the half and full marathon and the National cross country.
October's Loch Ness marathon completed the set, franking a dominance of the Masters' scene that also includes taking four of the five titles last season.
"I missed the 10- mile last year because I had a marathon the same day, so it was special to do all five this year," says Wilson of a feat that has earned him a nomination for Scottish Athletics Masters Athlete of the Year award. "It's not quite sunk in yet but I'm actually quite disappointed with the marathon because I was on for a 2:27 before my legs died in the last three miles."
That upset will linger. Wilson's mindset is such he finds it difficult to accept any slip in standards, a consequence of his depression perhaps, but he insists he would much rather deal with those feelings than the ones he wrestled with during his darkest days.
"It's just the type of character I am," he explains. "The running can help me deal with the depression but it can also trigger it in some ways. "The worst times are when you get an injury or when you are slogging your guts out all week but running crap in a race. You wonder sometimes why you're doing it but I don't have anything academically to give my kids – I'm a production line operator at WM Grants – so at least this gives me something to show them now and will do when I'm still running round muddy fields on a wet February morning at the age of 65."
Originally published in The Herald, Friday 12 October, 2012
Runner Guides Addicts to a Recovery Marathon – Richard Winton
Henry Curran recounts an anecdote about a recovering drug addict and reformed criminal who had taken up running.
One day, while pounding through a Glasgow park, he spotted two familiar faces jogging the other way. "He looked at them, they looked at him and there was a moment of recognition," Curran explains. "But it was not just a couple of prison officers recognising an inmate; it was three people realising they had more in common than they thought."
For once, the addict's identity was not solely predicated on drugs. In that moment, perceptions were challenged and prejudices disabused on both sides because of sport's capacity to unify hitherto disparate individuals.
Curran tells the story in relation to September's Great Scottish Run, which will bring together around 20,000 people in Glasgow for one of Scotland's largest mass participation sporting events.
Inspired by the parable of the addict, the 60-year-old race veteran has amassed a team of over 150 users dealing with drug and alcohol abuse, who will take part under the banner of Glasgow's GRAND Recovery Runners as part of an annual city-wide initiative – Getting Real about Alcohol 'N' Drugs – to support community responses to alcohol and drug issues.
Having lobbied for funding to cover the £28 entry fee, Curran has held open training sessions at Glasgow Green in recent weeks as the race nears and can already divine a difference in the behaviour and self-esteem of those taking part.
"It's given them a sense of purpose," explains the project leader of New Horizons, a training and employment scheme based in Queenslie. "And it's brought together people from different projects, which doesn't happen too often. The stumbling block was the entry fee because, for someone who is on a giro, that is a lot of money, but now I imagine we'll be the biggest team there on the day even if we're realistic to know that not all of them will turn up."
For those who do, it carries the potential to be a life altering experience. Previously characterised only by their addiction, they will soon be able to call themselves runners, their entire identities changing and moving towards something more positive.
"A lot of these guys couldn't look in a mirror before because they didn't like what they saw," says Curran. "Once you get them clean, they start to remember all the things they did and some of it is not very nice so when they're running towards the finishing line and all these people are cheering, what a huge self esteem boost that will be, even though the noise is not necessarily for them."
Curran speaks from experience. Although never an addict himself, he has savoured the feeling of crossing the line on several occasions since taking up running a few years ago, recording a best time of just over 90 minutes for the half marathon despite being well into his 50s and completing a marathon in under 31/2 hours just four years after he first wheezed his way through 16 minutes on a treadmill at New Horizon's headquarters.
Working on the premise that you have to practise what you preach, he was soon dragging himself round 10km circuits before the project set up Team Horizon and began training.
"I just got the bug. I don't do anything for fun so I began taking it really seriously but I've got a foot condition so I've not been able to train for this one. I'll get around though," he vows, determined not to be shown up by the people he describes as his "clients".
That term chimes with the approach that New Horizon takes to helping those who want to kick their habit. Open to addicts over the age of 16, they currently have 68 in their programme which has run since 2000, with 10 of those completely drug-free and a further 9 weaned off their dependency on alcohol.
Although based on referrals, the onus is on the clients to not only get themselves clean – "we ask them what they are going to change" – but also to develop a life after addiction, through either education or employment.
Although realistic enough to know that not every member of the programme will succeed, Curran remains unrelentingly positive about the prospects of those under his guidance. "I love coming to my work because this is a unique place and people feel something when they come through the door," he says.
"Sure, I sometimes get pissed off by some of the things in the press or that politicians come away with about addiction because of a lack of knowledge or understanding but I never get frustrated, because there is always a solution. When people come in here they speak to people just like themselves, who are clean and realise they can do it too. 9 times out of 10 they know the person; in fact, there is one guy who is clean and they all know him because he used to deal to them.
"But then they'll maybe say, 'okay, you can get clean but you won't get a job' but that's blown out of the water because we have a guy here with a criminal record four pages long – serious stuff, too – and he's now been working for 18 months. They might think 'who's going to give a job to a former junkie with a criminal record?' But how do they know that the person interviewing them has not got a similar background? You just never know what you have in common with people.
Originally published in The Herald, Friday 24 August, 2012
Liz Bowers
Liz was a member of the bronze medal-winning W60 team at the British and Irish Masters Cross Country International, and also won the individual bronze medal. She now lives with husband Martin in Nancy in Northern France.
Prior to competing at Belfast Liz had run in the French National Half Marathon Championships on Oct. 7th in Nancy, where she came second in the V3 class (W60). Her time over a hilly and wet course was 95:00 minutes and put her a minute behind the winner but equally 50 seconds clear of the third lady. An excellent run over a distance that is well beyond that which she favours.
SVHC ANNUAL GENERAL MEETING 2012
Annual General Meetings are normally an unexciting and even boring part of the necessity of any club's life. I don't think that charge could be levelled at the SVHC AGM held at Coatbridge Outdoor Sports Centre on 21st October.
The major point of activity was a motion from Club Treasurer, Mike Clerihew, to change the name of the club to Scottish Masters Athletics Association. Mike had carried out a survey, via the Club Newsletter, about a year previously to gauge whether there would be an appetite for a change. The response then, although from a small number of respondents, was overwhelmingly for change.
However, an email survey is one thing, getting people out to attend a meeting and vote is quite another, and after much heated debate the proposal was heavily defeated.
A point of concern came from the treasurer's report; although the club is in a reasonably healthy financial position at the moment, largely due to hosting the Masters Cross Country International last year, we are still spending more than we are bringing in and further cost cutting will inevitably have to take place.
When it came to the election of Office Bearers and Committee Mike Clerihew stood down and Stewart McCrae was elected as Treasurer while Willie Drysdale, who has served the club in several positions over the years, did not seek re-election and Campbell Joss became Club Secretary. In addition, new faces on the committee are John Bell, Phyllis Hands, Andy Law and Paul Thompson. I know that club members will wish to join me in thanking Willie and Mike for their hard work and tireless devotion on behalf of the club over a long period of time.
The full committee is
Honorary President – Bob Donald
President – Alastair Macfarlane Immediate
Past President: – Peter Ogden
Vice President – Ada Stewart
Secretary – Campbell Joss
Treasurer – Stewart McCrae
Membership Secretary – David Fairweather
Handicapper – Peter Rudzinski
Committee – John Bell, Phyllis Hands, Andy Law, Paul Thompson
Full contact details for committee members can be found on page 15 of this Newsletter and on the club website.
Alastair Macfarlane
OFFICE BEARERS SEASON 2012-2013
Honorary President: ROBERT DONALD
President: ALASTAIR MACFARLANE 7 Andrew Avenue, Lenzie, G66 5HF Tel: 0141 5781611 almacrun@btinternet.com
Immediate Past President: PETER OGDEN 16 Springhill Road Glasgow, G69 6HH Tel: 0141 7711950
Vice-President: ADA STEWART 30 Earlsburn Road, Lenzie, G66 5PF Tel: 0141 5780526 stewart2@ntlworld.com
Honorary Secretary: CAMPBELL JOSS 25 Speirs Road Bearsden, G61 2LX Tel: 0141 9420731 cdjoss@tiscali.co.uk
Honorary Treasurer: STEWART MCCRAE 17 Woodburn Way Balloch Cumbernauld. G68 9BJ Tel: 01236 728783 stewart047@hotmail.com
Membership Secretary: DAVID FAIRWEATHER 12 Powburn Crescent Uddingston, G71 7SS Tel: 01698 810575 djf@dfairweather.plus.com
Handicapper: PETER RUDZINSKI 106 Braes Avenue Clydebank. G81 1DP Tel.0141 5623416 p.rudzinski@ntlworld.com
Committee Members:
JOHN BELL Flat 3/1, 57 Clouston Street Glasgow G20 8QW Tel. 0141 9466949
ROBERT DONALD 3 Manse Road Bearsden, G61 3PT Tel: 0141 9422971
PHYLLIS HANDS 39 Albany Drive Lanark ML11 9AF Tel. 01698 252498
ANDY LAW Euphian, Kilduskland Road Ardrishaig Argyll. PA30 8EH Tel. 01546 605336
PAUL THOMPSON Whitecroft, 5 Gareloch Brae, Shandon, Helensburgh G84 8PJ Tel. 01436 821707
BMAF Delegates Alastair Macfarlane ANO
SAL West District Delegate Willie Drysdale
SAL Delegate at AGM Ada Stewart
Auditor George Inglis
FIXTURES
DECEMBER 2012
Sun 9th Xmas h'cap. 5.3 miles 1:30pm. Cartha Rugby Club. Pre entry Pollok Park JANUARY 2013
Sun 27th Scottish Veteran Harriers Open Masters Road Relays Strathclyde Park Motherwell 11:00am Pre entry
FEBRUARY 2013
Sat 2nd SAL Masters Cross Country Champs Forres
Sun 10th SAL Masters Indoor Champs Commonwealth Arena, Glasgow
Sat 23rd SAL National Cross Country Champs Callendar Park, Falkirk
MARCH 2013
Tue/Sun 19/24 European Indoor, Cross-Country, Road Championships. San Sebastian, Spain
APRIL 2013
Sunday 7th Strathclyde Park Motherwell 10:00am www.tomscottroadraces.co.uk Sunday 14th Lochaber Marathon 11am Fort William www.lochaberac.co.uk
MAY 2013
Wed 1st [PROVISIONAL] Snowball 4.8m road race 7:30 pm. Coatbridge Outdoor Centre. Convener Ada Stewart
Sun 5th SVHC Walter Ross 10km 1:30pm Cartha Rugby Club
Sat 18th Bathgate Hill Race 2:30pm
Fri/Sun 24/26th EVAA Non-Stadia Championships – Upice, Czech Republic
JUNE 2013
Wed 5th Corstorphine 5 miles RR 7:30 pm. Turnhouse Rd, Edinburgh
Wed 26th SVHC 5km road race. 7:30pm. Playdrome, Clydebank
AUGUST 2013 Sun 18th SVHC Glasgow 800 10km road race Cartha Rugby Club ( inc BMAF Champs)