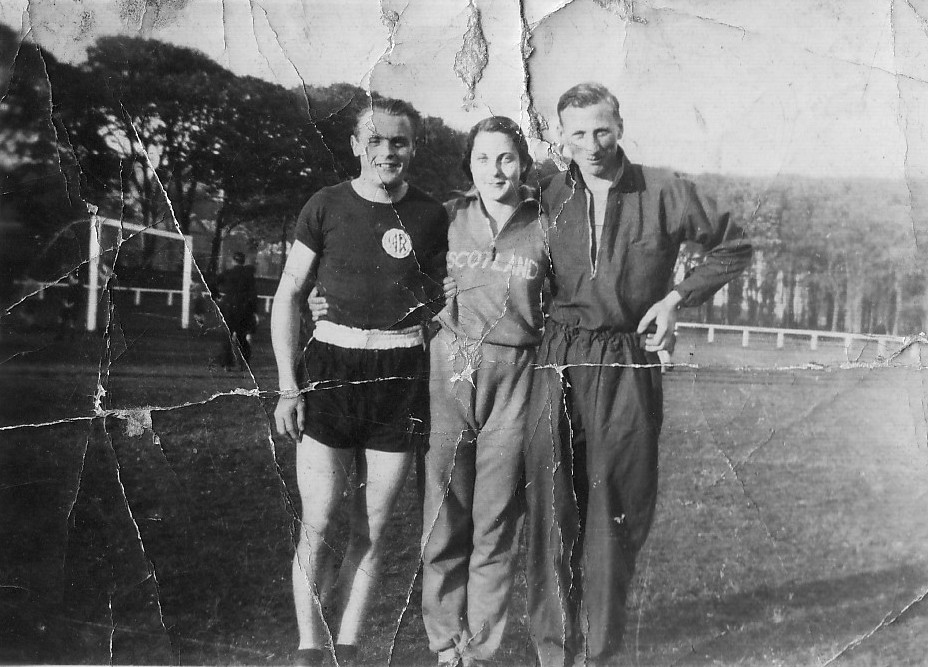 Post 2nd World War, the AHCA, collected a small group of enthusiasts to act as Officials at track meetings and to lay the trail at cross country meetings. Even when the Ayrshire Athletic Club was formed and Beith Harriers was the only club affiliated to the AHCA, this small group was encouraged to continue. Some of these are noted below.
Willie Fulton, Irvine YMCA and Irvine Athletic Club, on the left in the picture above, was a pre-war cross country runner and cyclist. Kept on coming up with new ideas for promoting sports meetings. He organised
*the annual dance for the South West cyclists, inviting Willie Ross, a personal friend and Secretary of State for Scotland,
*Annual Harriers Vs Cyclists cross country race,
*Round Arran Relay,
*Round Cumbrae 10 miles,
*Annual Marymas Sports, acted as Starter and Timekeeper buying and maintaining the expensive guns and watches which he later bequeathed to AHCA.
He would also be found raking the long jump sandpit himself, he would appoint others to get experience of being Referee, Clerk of the Course, Starter, Timekeeper, Judge at the different track & field events. This was all in addition with his wife, Annie, to fostering 30 orphans over many years and transporting them and athletes to sports meeting in his old minibus. He was also officiating at the 1986 Commonwealth Games in Edinburgh and in the 1990 SAAA official handbook, he was on the officials list as a grade 1 starter as well as having qualifications for timekeeping, starter and marks man (now known as a starter's assistant).
His favourite annual summer holiday was to the Isle of Man to see the motor cycle races. He once taught Frank McCarvel of Ayr Seaforth a lesson. Frank was a good sprinter but was in the habit of not settling down on the starting line and doing false starts to upset the other runners. Willie thought it was a waste of his expensive cartridges and, after Frank moved, Willie fired his gun once but not twice to bring the runners back. Frank, knowing that he had a false start and expecting the second gun, stopped and was going to protest but changed his mind.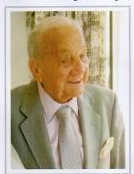 Harry was born in 1925. His father, Tom, and uncles competed in the 1920s and 30s. Harry accompanied his father to the meetings. After leaving the Navy about 1948, he joined Eglinton Harriers, who were members of AHCA and Kenny Phillips remembers him running in a cross country race at West Kilbride but I don't think that he actually raced much after that. When Eglinton Harriers disbanded he and his brothers, Steve and Willie, joined Beith Harriers. He was very active in the club but there were three times in particular in the coaching schemes:
First, in the 1940s and 50s: This was organised in Kilmarnock in conjunction with the Ayrshire Youth Organiser Walter Howie, Ayrshire Schools Physical Training Organiser Alistair Aitkenhead, the Jordanhill Teacher Training College's Physical Education Lecturer, and the top UK Coaches in specialist subjects. The Ayrshire Club coaches were taught the rules of the various events, how to record, judge, set out and administer the events and what advice to give to their athletes at the Youth Panel coaching schemes. The lectures, videos and discussions were a great boost to Ayrshire athletics and helped the confidence of the club coaches when they all received a Certificate.
Second, in 1954, Harry lobbied Councillor David Savage to build the Dirrans Ash track in Kilwinning and sponsor the Annual Dirrans Sports Meeting.
Third, in 1966 Harry Maxwell and Kenny Phillips were appointed Secretary and Treasurer of AHCA. 1967 Harry, who lived in Kilwinning at that time, organised weekly practical training of Coaches and Athletes under John Anderson, National Coach.
In the 1970's there was a fashion of clubs joining up to form bigger and stronger clubs and Ayrshire was not immune from this movement. In 1974 Ayrshire Athletic Club formed from several other clubs, the biggest of which was Ayr Seaforth AAC, leaving Beith Harriers the only Athletic Club affiliated to the AHCA. At this point, Harry and Kenny were again appointed Secretary and Treasurer of AHCA.
In 1975 National Coach Frank Dick and Senior Coach Alex Naylor were engaged by AHCA to train the club coaches for their Coaching Certificates. During the discussions, it was apparent that there was disagreement about some of the training methods. All the club coaches applied for and gained the Ordinary Coaching Certificate and Harry and Kenny were failed for the Senior Coaching Certificate.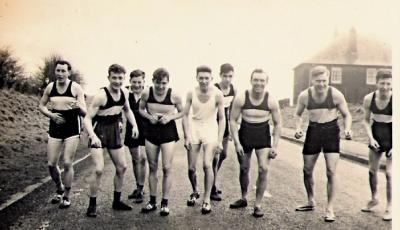 Ken Phillips, second right
Kenny Phillips, Beith Harriers, Twice Treasurer of AHCA. Kenny was a founder member of Stewarton Sports Association, and organised Stewarton Cross Country Races for 30 Years. He also helped Alex Johnston with the funnels for the famously well organised Women's 10kOK annual road race, and the Glasgow Colleges cross country races. Alex made and bent some cross country markers out of high tensile steel wire, which was light and easy to carry instead of wooden or iron markers. A piece of yellow ribbon was tied to the top of the 3' high marker and was easily seen at 10m intervals, except at Pollok Park, where the trail went through a field with a "Host of Golden Daffodils" and some students got lost. 1,000 such markers were made for the AHCA and loaned out to other clubs and some, not returned, still turn up at sports meetings. At a national event, where the trail was being laid by AHCA, it was discovered that someone at Scottish Athletics had engaged a contractor to erect an expensive balloon above the finish line without considering the danger of it being blown down in the high wind and causing injuries. SAL invited two UK Officials, a lady and a gentleman, to a meeting in Glasgow to explain the proper way to form the finishing funnels at races. They were not following Alex Johnston's approved design of 10m slowing down distance and Kenny wondered why Alex had not been invited to the talk. After the meeting, he discovered that the gentleman was one of the athletes he had trained with at Horwich Mechanics Athletic Club in Lancashire in 1960 but had not recognised after so long.
Bob Reid, as a youth, was a member of Kilmarnock Harriers but after getting pneumonia was unable to compete. He formed a youth club at his local village, Ochiltree, and attended with the members at the Youth Panel events. At one cross country event he altered the position of a few marker flags at a corner which had been laid by a tennis club member and who then wanted Bob to be banned from any further connection with the Youth Panel. Kenny Phillips managed to convince the committee to take no action and Bob and Kenny went on to receive a 40 years memento from the Youth Panel for 40 years service. Bob developed his skill at laying cross country trails and soon was pre inspecting, planning, drawing plans, laying flags and bringing them back in after the sports for the County, District and National events.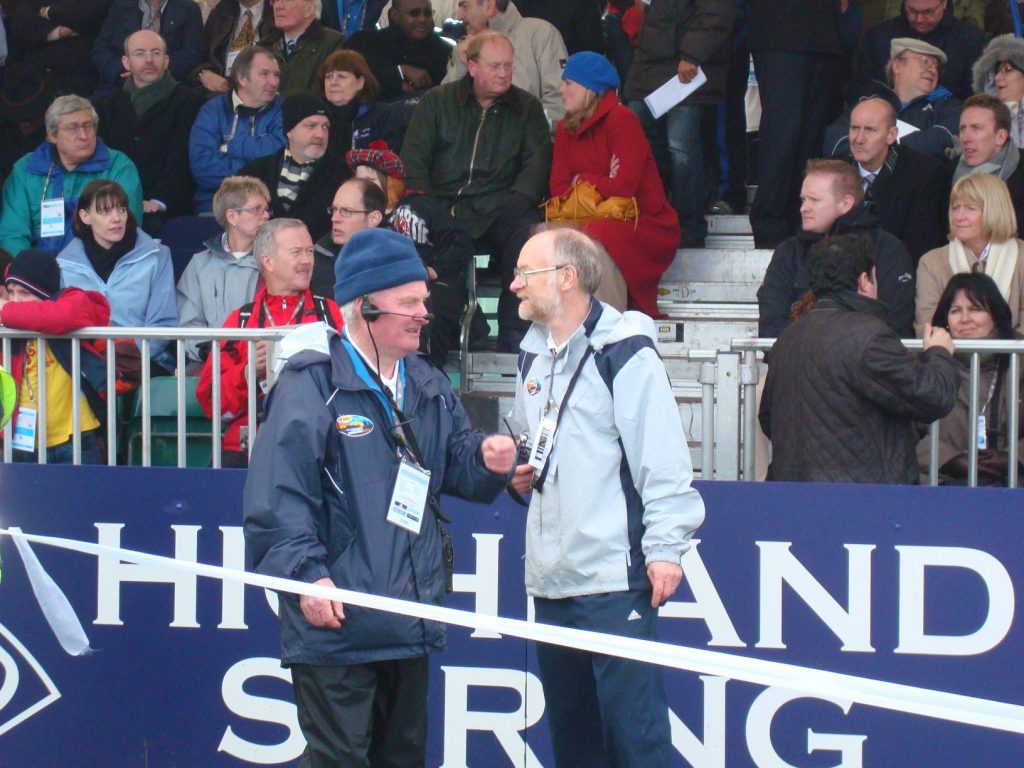 Jim Young at the World CC at Edinburgh in 2008, Alex Jackson beside him, the races had just finished and they were two relieved guys that the day had gone so well. It could not have gone otherwise with that two involved!

Jim Young was one of the best known men in Scottish Cross-Country for many years and was always identified with Irvine for the national – there were other causes for his popularity but maybe best known for the Irvine connection. We start here with an extract from his obituary by Ron Morrison, and follow that up with his friend Kenny Phillips's comments.
Jim Young was born in Tarbolton and remained an Ayrshire man all of his life. After returning from sojourns in New Zealand and Canada, Jim eventually settled down with his wife Betty in Irvine. Jim's first Club was Ayr Seaforth, where he was club champion and soon afterwards Irvine AC where he remained a loyal member for the rest of his athletic life.
However, Jim did not restrict his contribution to athletics in Scotland to one club. Locally Jim will be remembered with Betty as the driving force behind the Ayrshire Harrier Clubs Association for over 30 years.
It was there that with his constant pal Bob Reid that Jim set up a team called the Ayrshire Volunteers who specialised in building cross country courses.
Jim was also instrumental in bringing major events to the area such as the thirteen National Championships held at Beach Park and the Celtic Nations Cross Country Championship that was established by him.
Jim's skill was soon deployed nationally. He served on the General Committee of the Scottish Cross Country Union (S.C.C.U.) in the mid 1970s and continued through the RR and CC Commission until he retired in 2010 due to ill health.
During that time he held the position of Championship Convener usually working in tandem with Betty who was heavily involved in organising the championships.
For those of you who have travelled to compete in a cross–country race wondering what the course will be like and who makes sure that it goes through enough mud, water, plough etc. then the chances are that if you have run in a cross country championship (Scottish Schools, Scottish National, 4K championship, 4/3 stage XC relays, Edinburgh International Cross, District and Inter–District) in the last 30 years – then Jim Young and his team have been involved in inflicting either great joy or otherwise in setting out the course for you.
At so many of these events they laboured – always being first there to set the course and last away home after breaking it down again.
The greatest challenge for Jim's Ayrshire Volunteers was in setting the courses for the 2003 European Cross Country Championships and the 2008 World Cross Country Championships at Holyrood Park. The courses brought great praise from the I.A.A.F.
Jim served as S.C.C.U. President in 1982-3 and was awarded the Tom Stillie Trophy for services to athletics in 2008. Jim and Bob Reid were presented with long-service awards at the National Cross Country Championships in 2011 for inventing and deploying their world class course building techniques in Scotland over many years.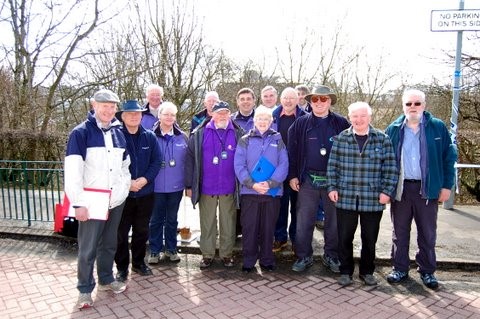 Kenny has this to say about Jim and Betty: Betty used to bake delicious cakes for the Officials at the Ayrshire Track & Field events. Jim stored heavy iron posts at his home and carried them in his car to all the sports meetings to mark off the starting points and finishing funnels, He traveled to the Irvine Valley factories at his own expense to obtain free rolls of silk to mark off on the ground the cross country trails. The silk was strong enough to withstand the wind and ensured that the athletes knew exactly where to go. The silk usually got wet and was discarded after use but was later replaced with plastic similar to that used by the public utilities. The problem with Jim was that he could not turn down any request for help. One time at the International in Edinburgh, SAL asked him and the AHCA to mark off the cross country course using 6' x 4"x 4" fencing stobs and wire. I had to complain to SAL about Health & Safety and them even considering asking a group of old age pensioners in their 70s and 80s to tackle such heavy work.
Others who really should be known – Jim Young led the team that built the courses for the European CC in 2003 and World CC in 2008 both times spending a number days in Edinburgh while they built them. Bob Reid, Kevin Martin, Matt Ferguson all part of that team.

Nat Taylor, Girvan Athletic Club, who organised Girvan Lowland Games, the Saughhill Race, the Merrick Hill Race. Lowland Games are one of several sorts of summer athletics events held across Scotland – Highland Games and Border Games are perhaps the best known but they are all community events as well as sports events and take a lot of organising; The Merrick is at 2, 766 feet the highest mountain in Scotland and as part of the Range of the Awful Hand is in territory that is wild and pretty remote, it would be a very difficult race to organise without any mishap.
Kevin Martin, Manager of Magnum Sports Centre, Irvine. The Magnum is legendary and it is source of great regret that it is now gone for good. Continued to help with trail laying even after retirement and failing eyesight. It contributed greatly to the success of the national and other cross country championships held there – the big games halls made available for changing, the theatre for the presentations, the secretarial help and the pinning up of the results for all to see, the patience of the staff in putting up with the many demands made upon them by the hordes of athletes from 11 years old to 70 years old (and older!) made for an exceptional experience for all taking part in national, veterans, schools, county championships.
Matt Ferguson, Kilmarnock Harriers. Matt Ferguson and his wife were members of a motor cycle club. His wife did a lot of baking for Kilmarnock events. Matt and his son Stewart were both counting members in Kilmarnock team events. He also organised the 'Roon the Toon Road Race' very efficiently and continued to compete and lay cross country trails even after being badly injured in a motor bike accident. Stewart was liked by the children when he was engaged as one of the four coaches for after school athletics in the primary schools of Beith, Dalry, Kilbirnie and Glengarnock. Matt's wife died when they were approaching retirement age. Despite having 2 degrees, Stewart died two weeks after being offered as job as classroom assistant. There is a memorial seat to Stewart in the Ayrshire Athletic Arena. Matt continues to soldier on.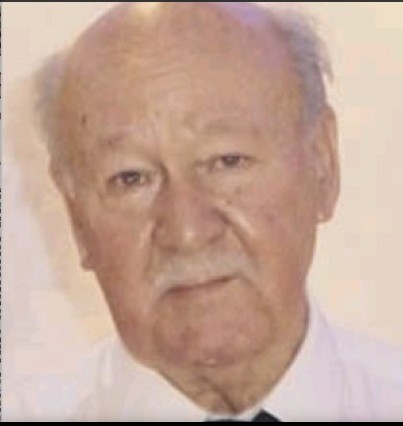 So far we have been looking at men who worked mainly, but not exclusively, in cross-country events. Glen Harrower was almost entirely track and field oriented. What follows is taken from the Obituary by Matt Vallance published in the Scotsman in August 2012.
Glen Harrower was 73 when he died on 4th August 2012 but was youthful and vital with one big passion, football and Kilmarnock FC, and one huge passion: athletics and Ayr Seaforth AAC. He was even known as "Mr Seaforth" and his huge contribution to the club and Scottish athletics was recognised when the governing body brought Lord Sebastian Coe to Glasgow to present Glen with an honorary life membership in 2009. That contribution was underlined by the packed congregation at his funeral. Ayr Crematorium staff said this was the biggest funeral there since that for Ally McLeod, like Glen a Glaswegian who claimed a very special place in the affections of Honest Men and Bonnie Lasses. Glen's family first moved from his native Glasgow to Stirling where his interest in sport and athletics was nurtured at Stirling High School where his gym teacher was then Rangers and Scotland goalkeeper Bobby Brown. Glen always cited Brown as a major influence for the way he encouraged boys in his care at school to strive for excellence on the sports field. Glen certainly was encouraged; he had trials with Stirling Albion, Falkirk and Dunfermline, but he himself admitted, while he had plenty of pace, he wasn't good enough for the professional game. In any case, his preference was always for the running track. In his youth he had run for St Modan's AC, and right up to 2011 he was competing in Masters events around Scotland. At Primary School he met Maureen, whom he was to marry in 1962. Theirs was a life long love match, sadly ending with Maureen's untimely death in 2002. They had two children, Lauren and Douglas, and it was Lauren who was to be match-maker for the other great love affair in Glen's life when she decided that she wanted to run and sought to join Ayr Seaforth.
In the early 1970's he took Lauren along to Dam Park where Ayr Seaforth consisted of long serving official Ernie Thursby and some ten athletes. The once flourishing club which had seen the road runners do their own thing and the track athletes become part of Ayrshire AC. Glen and Maureen got involved. Glen felt that the club had an independent future, if young talent was nurtured, but to do this he and Maureen had to become team managers for the boys' and girls' teams, as well as coaches. They set to work and built the club back up until in the 1980's and 1990's Seaforth began to dominate the Scottish Young Athletes League and international runners such as Brian Whittle began to appear in the white strip with the distinctive red saltire.
Numbers have dipped slightly since, but today Seaforth is still a thriving club with some 300 members, mostly young athletes, using the excellent facilities at Ayr's Dam Park. Along the way Glen and Maureen did every possible job. Glen had been President, Secretary and Treasurer and publicity officer, but his favourite job, and in his view his most important, was as a coach – something he was still doing right up to his death. His philosophy was always "the athlete comes first", and he moved heaven and earth to so his bets for his young charges. He lived and breathed athletics, only occasionally switching off to go and watch Kilmarnock FC. Early retirement gave him even more time to devote to his sport, and athletics certainly kept him going following Maureen's death."
I knew Glen slightly when we were both team managers in the Young Athletes League in the 80's and early 90's but the one incident that stands out was when he disqualified a runner in a meeting at Scotstoun. It is commonplace now for field events athletes to be given coaching advice during the actual competition between trials but it is not legal for track runners even now to get such assistance. Glen was track referee in a match when the Under 15 boys' race was being run and the coach and father of one of the runners was running a diamond shape round the infield giving his runner instructions every 100 metres or so. After the race Glen disqualified the runner (who won the race) because he received outside assistance. The coach/father rushed the infield and challenged Glen to change his ruling on the grounds that he was at fault not the runner. Glen held his ground against the chap whose face had gone from red to pale white with rage and anger. Challenged to fight like a man, he refused to give in. The incident was defused and the meeting progressed. In over 60 years in the sport, it was the only time I'd ever seen such a situation arise and Glen handled it well.
As a team manager, his team sheets were always in order and seldom changed – some team managers were in and out of the recorders box at all times during the afternoon changing runners, changing relay orders, asking what the rules were for starting heights or distances, asking how to verify a Scottish or League record and so on. Glen was seldom in that category, never flustered. A model team manager who also handled his athletes well on the day.