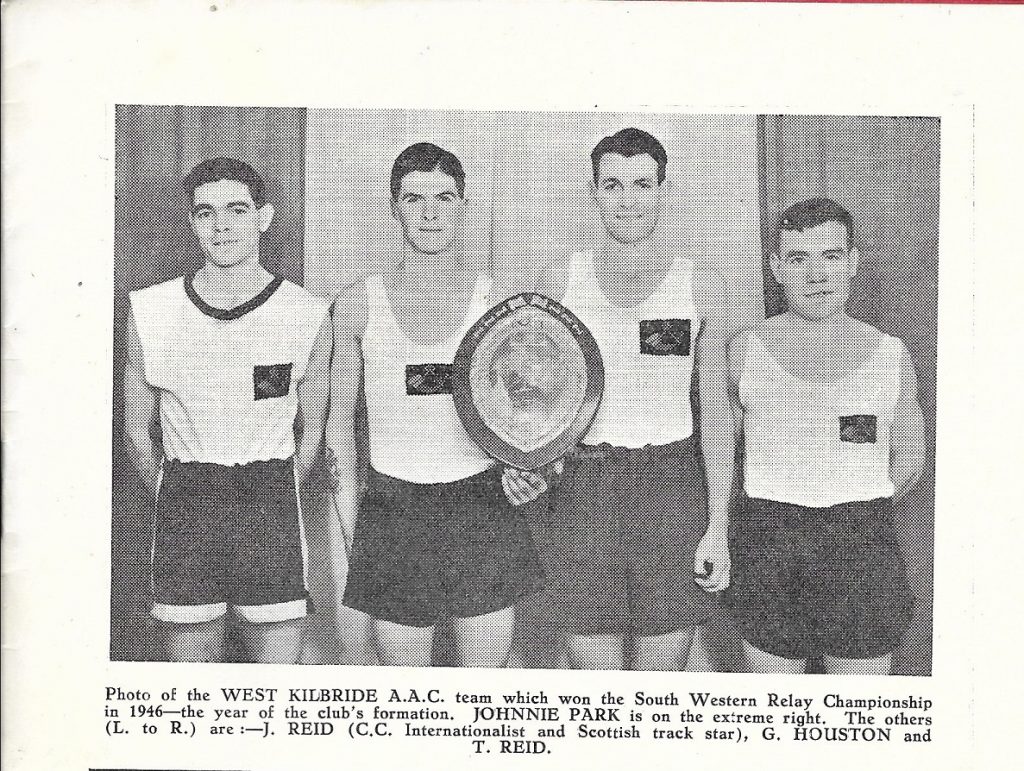 West Kilbride AAC 1948
Scottish athletics continued on a limited basis during the 1939 – 45 war. The SAAA and the NCCU suspended activities for the duration of hostilities. he sport was kept alive by servicemen posted to the area where there were large numbers of civilians engaged in war work at home. They kept the sport going with club runs and inter club competitions. There is more information on the start of this period at Peter J Allwell's profile by Alex Wilson at
http://www.anentscottishrunning.com/peter-j-allwell-the-Ayrshire-meteor/
There was therefor some club activity and in August 1943 clubs in the Midland and South Western Districts met at a meeting in the Blythswood Masonic Halls in Glasgow where the Scottish Cross-Country Association was formed with two aims:
The desire to offer cross-country competition to suit current demand for those at home who loved the sport ; for Scottish youth at school and beyond, and for all interested servicemen stationed in Scotland;
To preserve cross-country running in Scotland and present it in as healthy a state as possible to the post-war era.
The first ten years after the War will be set out in some detail to show the growth back to a fully functioning county athletics.
That first winter after the SCCA was formed saw 10 clubs in membership, but the following year with the Scottish Marathon Club formed in 1944, there were 24 member clubs in 1945. The McAndrew Relay (held throughout), the Dundee Kingsway Relay (1942) and the Nigel Barge Race (1943) formed the backbone of competition. There were also track meetings – a 2 mile winter track race at Ibrox, 'Support the Soldier' meetings were held at several venues. New clubs appeared – St Modan's FP's, Vale of Leven AAC – and the Lanarkshire Cross-Country Association was also born. The SCCA was disbanded in August 1946 and a start to normal athletics was made in season 1946/47.
In Ayrshire, the first South West District relay championships were held on 7th December 1946 at Johnstone with 18 teams from 11 clubs taking part. West Kilbride won from Auchmountain Harriers. Frank Sinclair of Greenock Wellpark had the fastest time. Clubs had been in action before that however and the Beith Harriers Minutes from 12th October '46 tell us that AF Neilson and J Calder were appointed representatives to AHCA. The inter club scene was also pretty healthy with an instruction to the secretary to contact Jimmy Reid, West Kilbride, Lochwinnoch and Johnstone for inter club run. On 1st February the District championships were held at Ayr and the individual title was won by J Reid of West Kilbride from W McLean of Greenock Glenpark. Auchmountain reversed the result of the relays when they won the team title from West Kilbride.
Track athletics were also starting up with an open meeting at Irvine in mid-June. At the Stewarton Bonnet in July, there were representatives of Kilmarnock and Beith among the prize winners, there were also Ladies events with runners from Glasgow University and Kilmarnock Harriers, but there was also a big number of unattached runners who won or were placed in several events.
The South West cross-country relays for the following winter season were held on 6th December at Beith with 15 teams from 10 clubs taking part. The result was a victory for Greenock Glenpark Harriers by 34 seconds from West Kilbride. The fastest times were by J Reid (14:22, West Kilbride AAC, W Williamson (14:31, GGH) and G Adamson (14:37, West Kilbride).
Everyone was glad to be back in action and the following notice appeared in the 'Scots Athlete' at the start of 1948.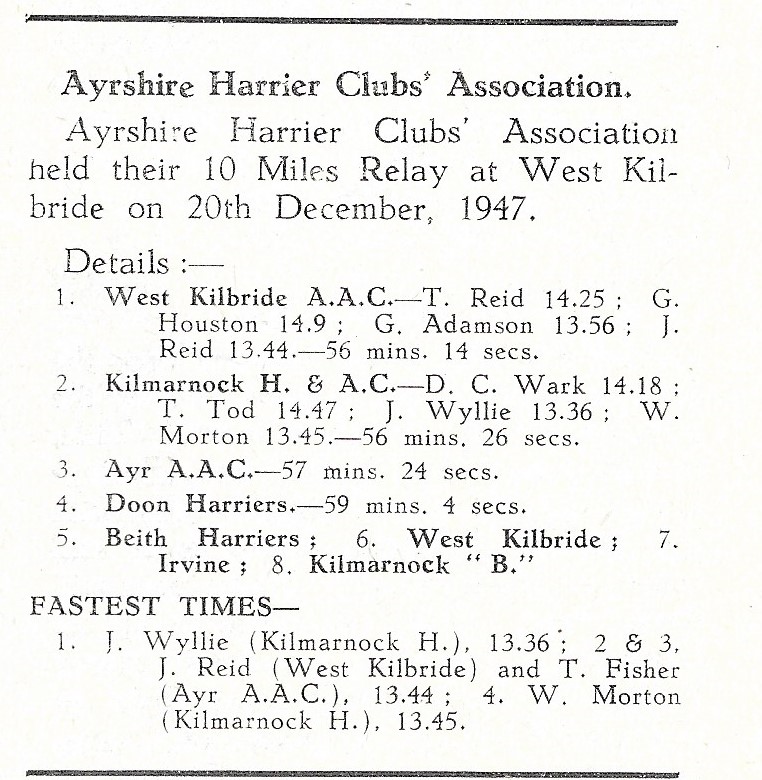 This was the first AHCA cross-country relays that were reported on with no mention in either the Glasgow or Kilmarnock Heralds, but no matter, the Association was back in action. The South West District Championships were held from the Kibble School, Paisley on 7th January, 1948 and held over a very heavy two lap course. There were 7 teams and 16 individuals running and the result was a win for J Fisher (Ayr AAC) from W Williamson (Greenock Glenpark Harriers) and W McLean (GGH). In the team race, Greenock Glenpark won with 62 points from Doon Harriers (131 pts) and Kilbarchan (143 pts). The other clubs competing were West Kilbride, Irvine YMCA, Auchmountain H and Greenock Wellpark H. There have been many really hard working, as well as talented and able, men involved in the sport over the years and it would be wrong to skip over their careers. We have already mentioned several at the start of the first page but there will be others. One who was particularly thought of at this time was John Park and we reproduce the first page of his obituary from the August 1948 issue of the Scots Athlete below.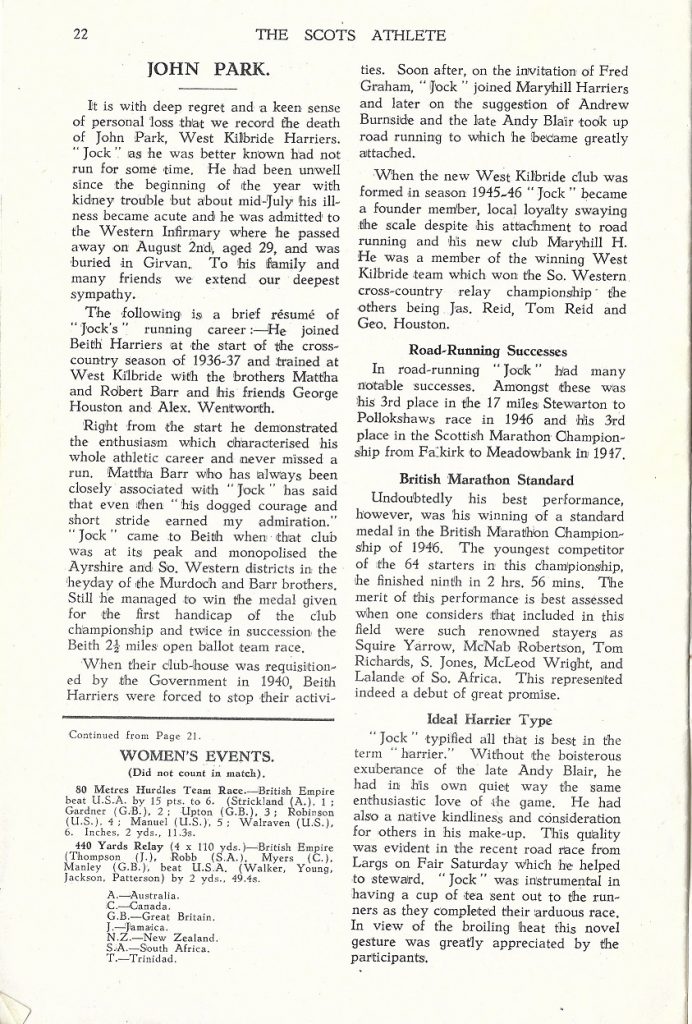 Over the summer, sports meetings had been held at Kilmarnock, Ardeer, Stewarton, West Kilbride, Dailly and Irvine, with probably more that were not listed in either the Herald or the Scots Athlete. The Ardeer Sports on the 3rd July was one of the biggest, incorporating the Ayrshire Schools Championship, cycle racing and a very full card of athletics – eg races for Youths as well as Seniors, races for Ladies as well as for men for whom there were 8 heats of both 100 and 220 yards with semi-final and finals, plus field events plus five a sides (for both seniors and for locals) and the Stevenston Pipe Band playing all afternoon. The sport seemed to be back on its feet.
The South West Relays were held on 4th December, 1948 at Greenock, where the winners were the very good Greenock Wellpark team, followed home by Greenopck Glenpark and then Doon Harriers. Fastest times were by Tom Stevenson of Wellpark (11:57) from Tom McBeish (12:00).
The South West District Championships were run from the Kilmarnock Harriers HQ on 5th February, 1949, and the winner was Tom McNeish of Irvine by 10 seconds from Tom Stevenson. The winning team was Irvine, from Kilmarnock and West Kilbride, making it an Ayrshire 1-2-3.
The team to represent Scotland in the International at Baldoyle Race course in Ireland in 1949 is pictured below where you will note three runners from Ayrshire – Tom McNeish from Irvine YMCA, James Reid from Doon Harriers and Robert Reid who had moved to England and ran for Birchfield Harriers.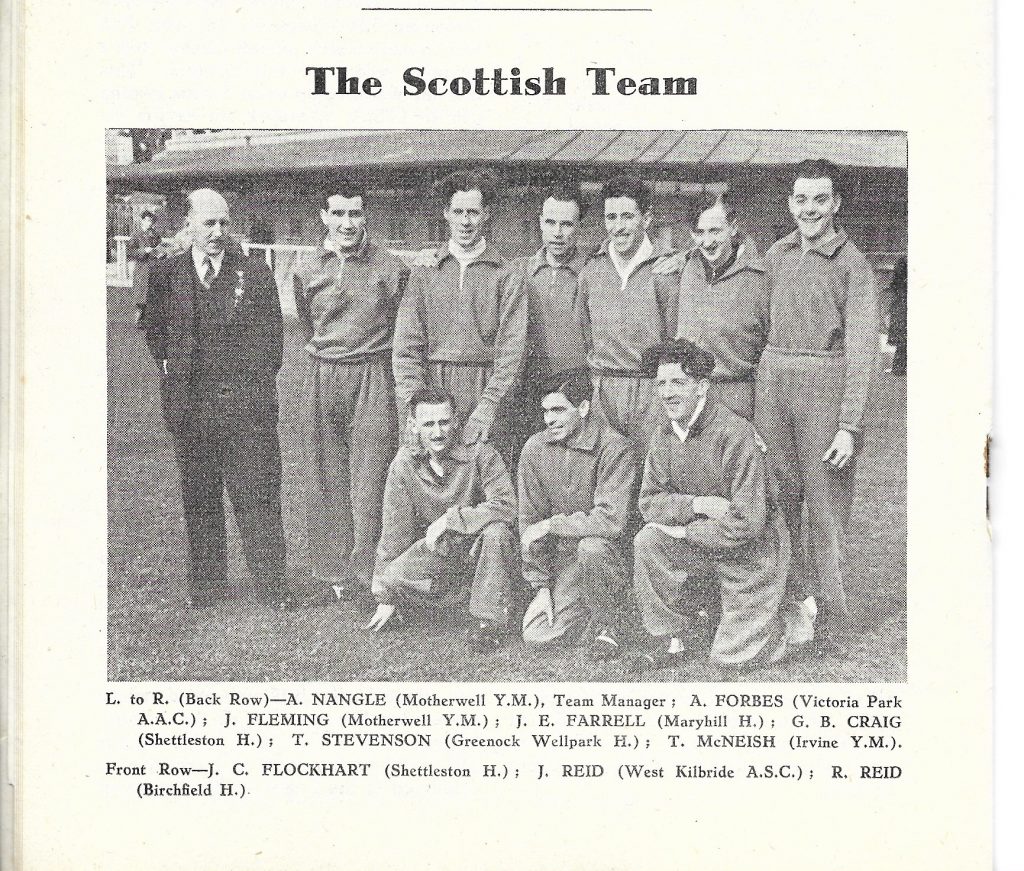 On 21st January 1950 the County 7 Miles Cross-Country Championship was held at Kilmarnock and was won by J Reid from G Adamson (both West Kilbride) with W Martin of Kilmarnock in third leading his club to team victory. Irvine was second and West Kilbride third. The District Championships were held on 4th February with J Reid first, A McLean second and W Williamson third. In the team race, Greenock Glenpark won with Kilmarnock and Paisley second and third. The following season saw 16 teams from 7 clubs start the District Relay and only 12 finish. The winning club was West Kilbride from Irvine with Glenpark third. Fastest times were by Adamson from S Cuthbert of Irvine and Frank Sinclair of Wellpark third. The Ayrshire championships were held at Kilmarnock on 20th January and were won by G Adamson from T McNeish and D Lapsley (West Kilbride). The team positions were West Kilbride with 43 points from Irvine on 61 and Kilmarnock on 81. In the District Championships at Dalmellington on 3rd February, Adamson defeated Tom Stevenson by 17 seconds and in the team race Irvine won from Glenpark and Wellpark.
In 1951/52 the District Relays were held on 3rd November with a win for Irvine YMCA from Greenock Glenpark Harriers and West Kilbride ASC. Fastest times were by A Smith, Plebeian Harriers, and Tom Stevenson of Wellpark Harriers. Plebeian Harriers was a club from the south side of Glasgow and had been established at the start of the 1920's. They had been a very good club indeed but by 1950 their best days were behind them. The Ayrshire 7 Miles Championship was held on 19th January 1952 when Danny Lapsley of West Kilbride defeated Harry Kennedy of Irvine by only one second. Trevor Coleman of West Kilbride was third. In the team race, Irvine YMCA won with 45 points (Kennedy, McNeish, Andrew, Butler, Cuthbert, Alexander) with West Kilbride second on 61 points and Kilmarnock third with 82. In the South West District event, on 2nd February, 1952, Irvine again won the team race, this time with a team of Kennedy, McNeish, Andrew, Cuthbert, Andrew, Allan and Butler, from Plebeian and Paisley Harriers. The individual title was won Tom Stevenson (Wellpark) from Harry Kennedy, and George King of Wellpark. There was also a Youths race which was won by D Lapsley from K Alexander and I Jesmond.
Season 1952/53 started with the District Relay Championships at Paisley on 1/11/52, being won by Greenock Wellpark Harriers (King, Anderson, J Stevenson, T Stevenson) with Irvine second (Dempster, Butler, Cuthbert, Kennedy) and Plebeian Harriers 3rd. John Stevenson had the day's fastest time..
The County Championships were held on 17 January 1953 at West Kilbride where the title again went to Irvine YMCA who won with 50 points from Kilmarnock (78) and Beith (83). The familiar faces were in the Irvine team – Cuthbert 2, Andrew 3, Butler 5, Alexander 11, Allan 13, Dempster 16th. The individual winner was D Lapsley who won comfortably from Cuthbert and Andrews.
On 31st January, 1953, the South Western Championships were held at West Kilbride and the winners were the Stevenson brothers with Tom defeating younger brother John by 7 seconds with A Napier of Paisley third. In the team race, Greenock Wellpark defeated Irvine YMCA by the use of a new tie-break rule, both teams having finished with 102 points. In the Youths race, Ian Harris of Beith Harriers won from J Barr of West Kilbride with Wellpark Harriers victorious in the team race from Kilbarchan.
If we stick with cross-country for a bit and tackle track and field in a separate page. we see that the 1953/54 cross-country season started for us on 7/11/53, with the South West Relay which was held at Kirkstyle, Kilmarnock where Wellpark (G King, Frank Sinclair, J Stevenson, T Stevenson) defeated Beith Harriers (Kenny Phillips, George Lightbody, JW Armstrong and Ian Harris) by 10 seconds with Kiolmarnock Harriers third. Fastest times were by Sinclair, J Stevenson and G Adamson (West Kilbride). This was an interesting race for several reasons and the entire 'Scots Athlete' report is reproduced here.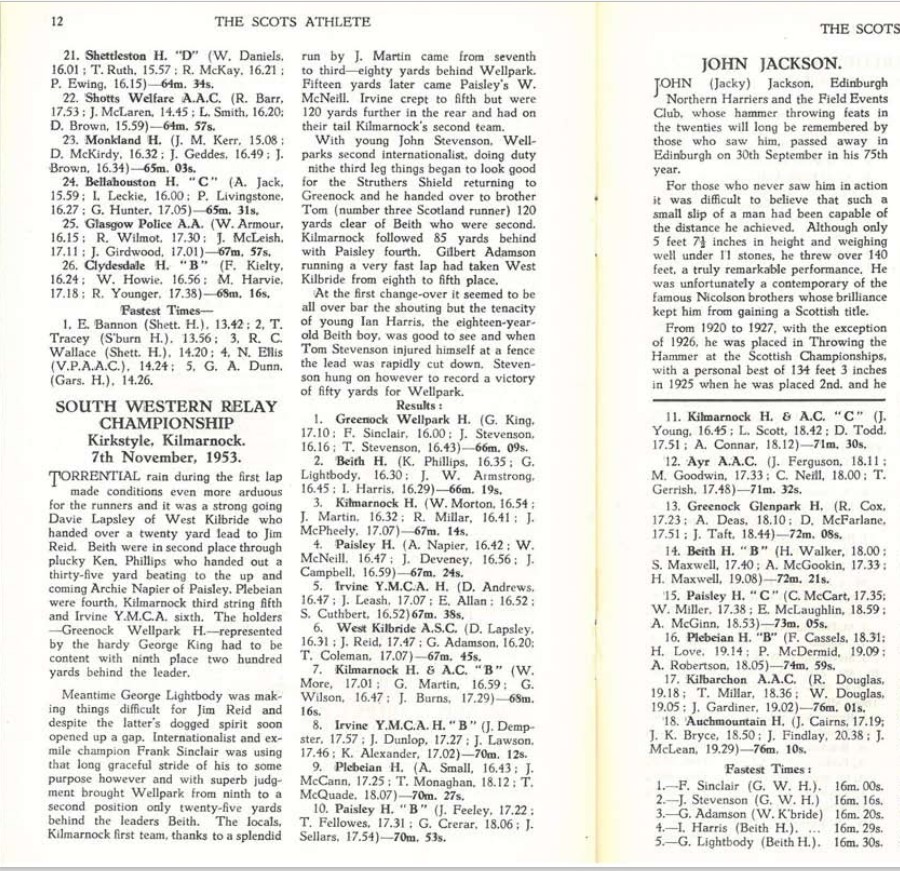 The consistency throughout the second placed Beith team was a real feature with only 16 seconds separating the fastest and slowest whereas the winning team had a 54 second difference and third placed Kilmarnock had a 35 second difference. The Ayrshire Relays were on 28th November when West Kilbride (Coleman, Barr, Lapsley and Adamson) defeated the odds-on favourites, Beith Harriers (who fielded the same quartet) by 100 yards with Irvine YMCA 70 yards further back. Fastest times were by Coleman, Harris and Lapsley. In January, 1954, the County Championships were held on the 23rd at Kilmarnock. Beith won the team race with their counting runners placed Lightbody 4th, Harris 6th, Phillips 7th. Armstrong 10th, Maxwell 10th, McGookin 19th. Irvine was second team, with 21 points more. The individual race was won by Lapsley (West Kilbride) from S Cuthbert (Irvine) and Adamson (West Kilbride). Two weeks later, 6th February, 1954, the District Championships were held at Beith and were won by John Stevenson (Wellpark Harriers) from his older brother Tom and Napier of Paisley Harriers. How did the race go? The winning team was Paisley Harriers with 84 points which was 7 less than Beith Harriers in second place. In the Youths race, Irvine won from Kilmarnock and West Kilbride. Individually, Simpson of Plebeian won the gold with Blakely of Irvine taking silver and Barr of West Kilbride the bronze. –
We finish this section with the 1954-55 winter when the South Western Relay was held on 6th November at Paisley. This time the favourites were Greenock Wellpark Harriers who won by approximately 100 yards form Beith Harriers, about 120 yards in front ot Plebeian Harriers. The winning team featured, of course, the Stevenson brothers. Fastest over the course were John Stevenson, Alec Small (Plebeian) and Tom Stevenson. 16 teams had taken part from 10 clubs. 27th November saw the Ayrshire Relay Championships held at Kilmarnock and Beith regaining their championship title. They won by 70 yards from Irvine YMCA with holders West Kilbride third. Fastest times were by Colquhoun (14:10), Harris (14:21) and Cuthbert (14:24).
The championships were held, as usual, in the New Year on 15th January and the team race was won by Beith who defeated Irvine by 29 points. Again, the packing was very good with the team being Armstrong 2nd, Harris 3rd, Lightbody 5th, Phillips 8th, Maxwell 12th and Walker 16th. Lapsley won the individual title from Armstrong and Harris. In the Youths race, Kennedy of Irvine won from T Shields of Beith and Irvine defeated Beith for the team race by the narrow margin of 2 points. The 29/1/55, South Western Championships, held on 19th January, 1955 at Deafhilloch Hotel in Johnstone, was won by John Stevenson (Wellpark) from Lapsley (West Kilbride) and Napier (Paisley) The winning margin was 37 seconds. The team race was also won by Wellpark Harriers by over 50 points from Paisley with Beith the first Ayrshire team to finish when they were placed third. In the Youths race, Irvine YMCA were again the winners, retaining their title, with R Black of Kilbarchan winning from M Thomson of Glenpark and W Davidson of Beith third.
The immediate post-war generation is often spoken of as a 'golden generation' of public spirited men and women who would work tirelessly for their fellow citizens and their community without thought of reward or public recognition. If you look through the results of the AHCA runners of the 1950s – all easily available on the net or through public libraries or back numbers of newspapers and periodicals you will see names like some of those mentioned above – Harry Maxwell, Kenny Phillips, George Lightbody, etc who continued to give back to their clubs and communities in return for what they themselves had received.