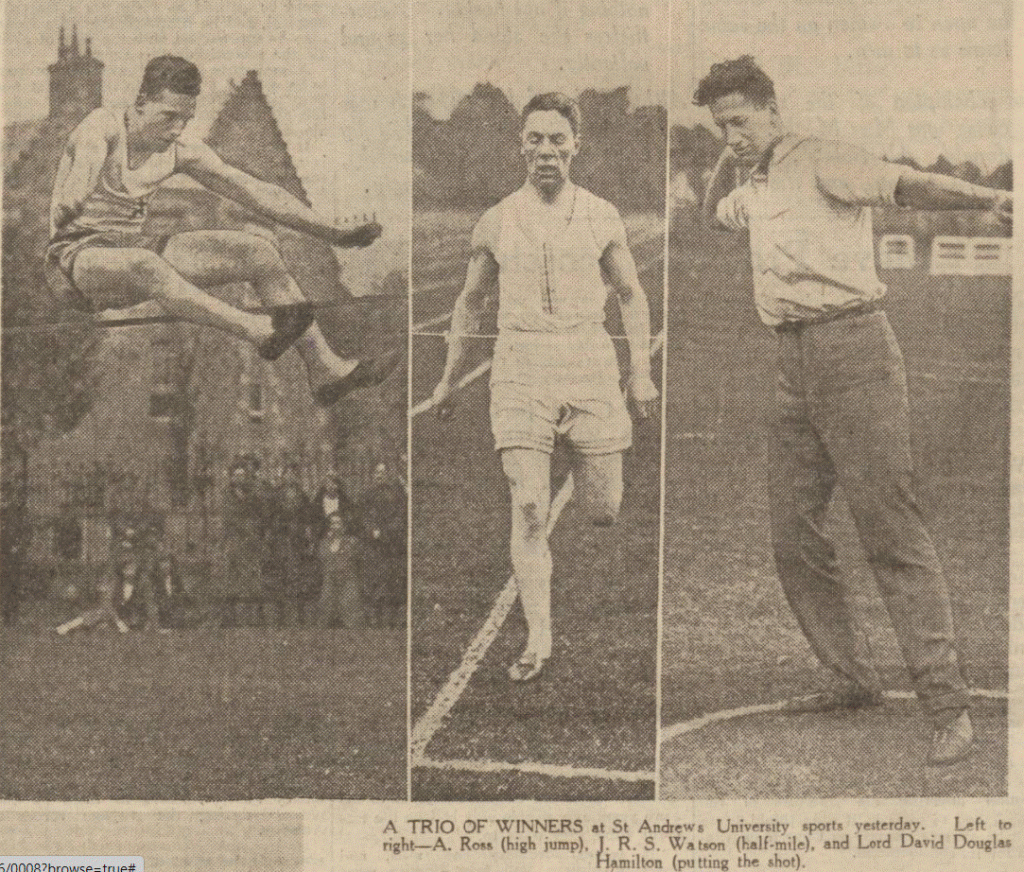 St Andrews University Sports in 1933 were held in two parts. The first was on the evening of Tuesday, 2nd May and the second on Thursday 4th May. On the Tuesday it was the 440 yards, 440 yards hurdles, Mile, long jump, throwing the hammer and the discus. Everything else was to be on the Thursday. The Tuesday results from The Courier: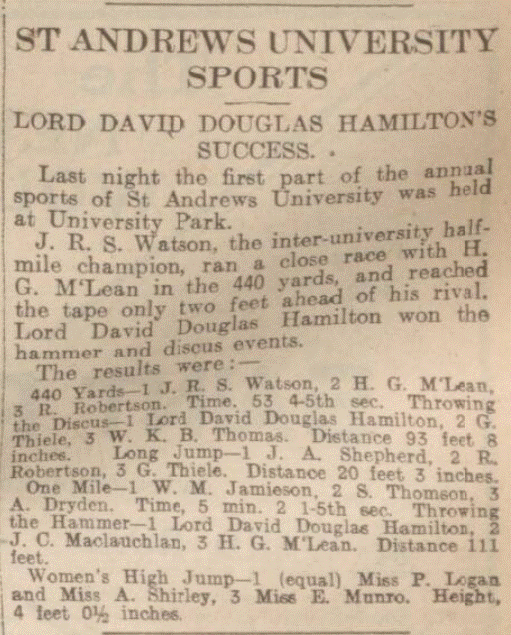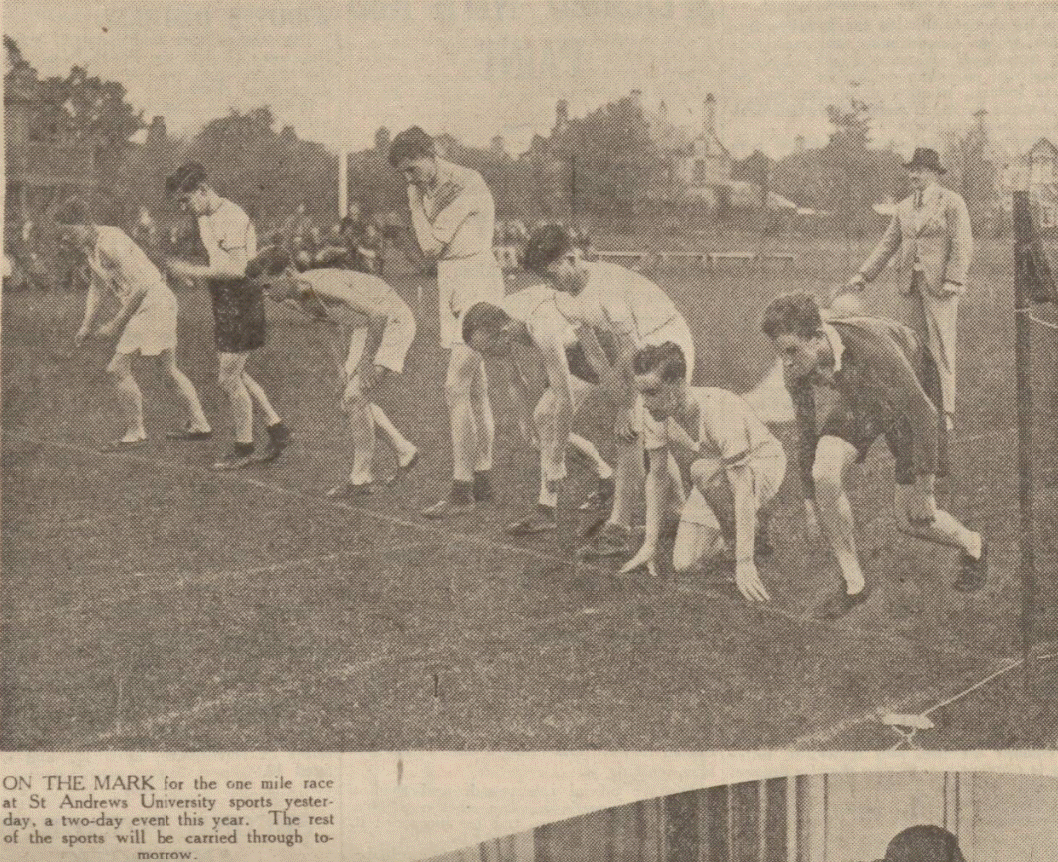 And on the Thursday, Lord James won the shot putt to complete his throws events successes, JRS Watson 'the inter-varsity half miler' won the half mile and also took first place in the 220 yards. (Photograph above) Results: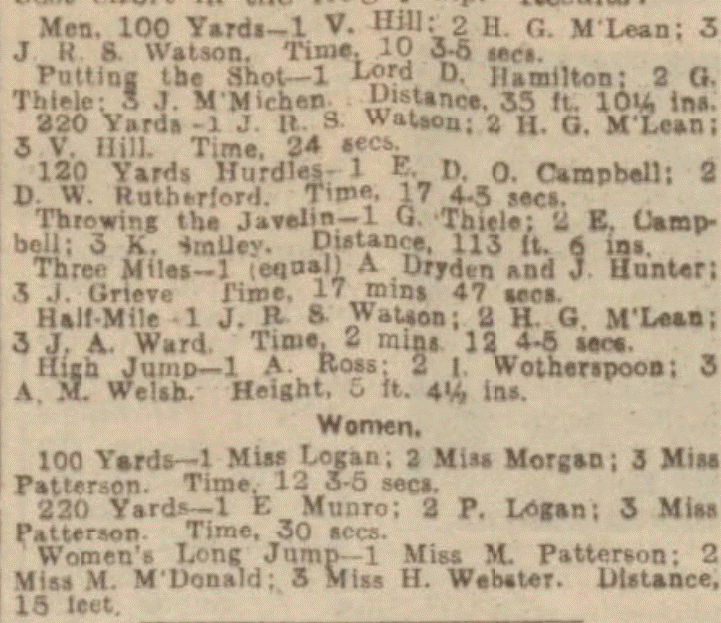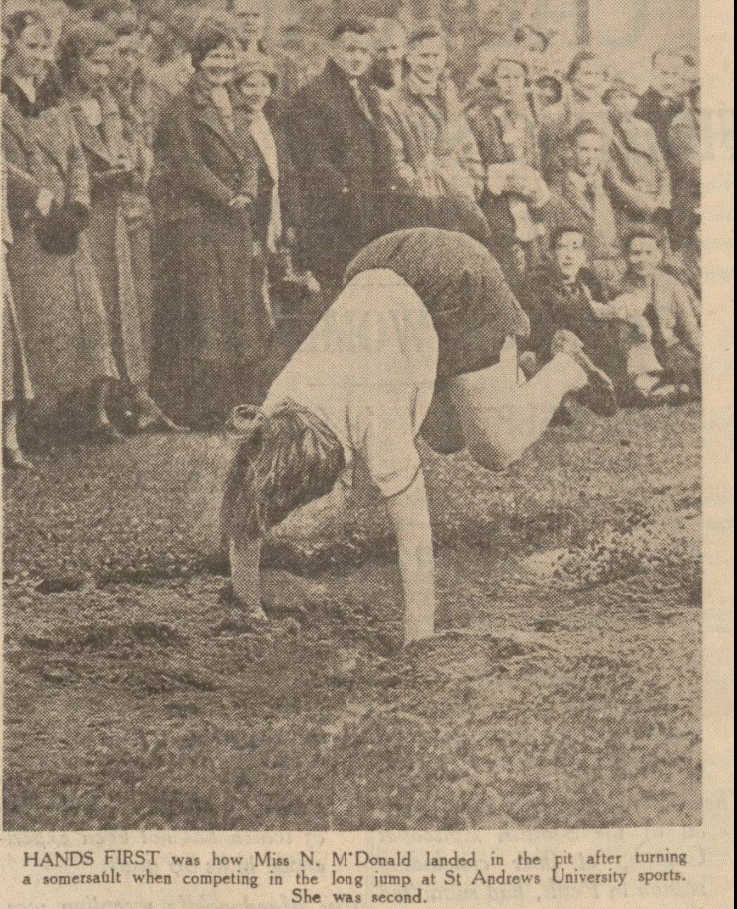 In the Glasgow Herald of 8th May, there was no report on anything but there was a comparison of the Edinburgh and Glasgow teams for the coming season with an eye on the inter-varsity championships in June. Almost all the names are there but Borland and Morison, despite having matriculated, would not be competing in the June championship as they did not want to rob younger members of their chance to win a 'blue'. The Glasgow University championships took place the following week on May 13th in fine weather with the track reported to be in good condition. The performances were as good as the previous year and "it is a question whether athletics at Gilmorehill were ever in such a healthy state as they are at present."
Winners were:
100 yards: R Murdoch 10.4 sec; 220 yards: R Murdoch: 23 seconds: 440 yards: NM Glen 53 seconds
880 yards: NM Glen 2:05; Three Miles: GB Esslemont 15 min 43 sec (new record)
120 yards Hurdles: NA Selkirk 17 seconds; 440 yards hurdles: TH Souter 60 seconds (new record)
High Jump: AN Lapsley 5′ 10″; Pole Vault: PRR Ogilvie 11′ 8″; Broad Jump: EM Robertson 21′ 5 1/2″
Putting the Weight: TR Ratciffe 40′ 10″ (new ground record); Javelin: AN Lapsley 162′ 3″
Womens 100 yards: M Baird 12.6; Womens Broad Jump: 15′ 2 1/2″; 440 yards relay: 1 GUAC; 2, EUAC 54.4 seconds.
The preliminary meeting of heats with a few finals had been held the previous Wednesday where the winners of the two finals were:
Mile: DM Brander 4:42.4; Discus: AN Lapsley 101′ 8″ (new University and ground record).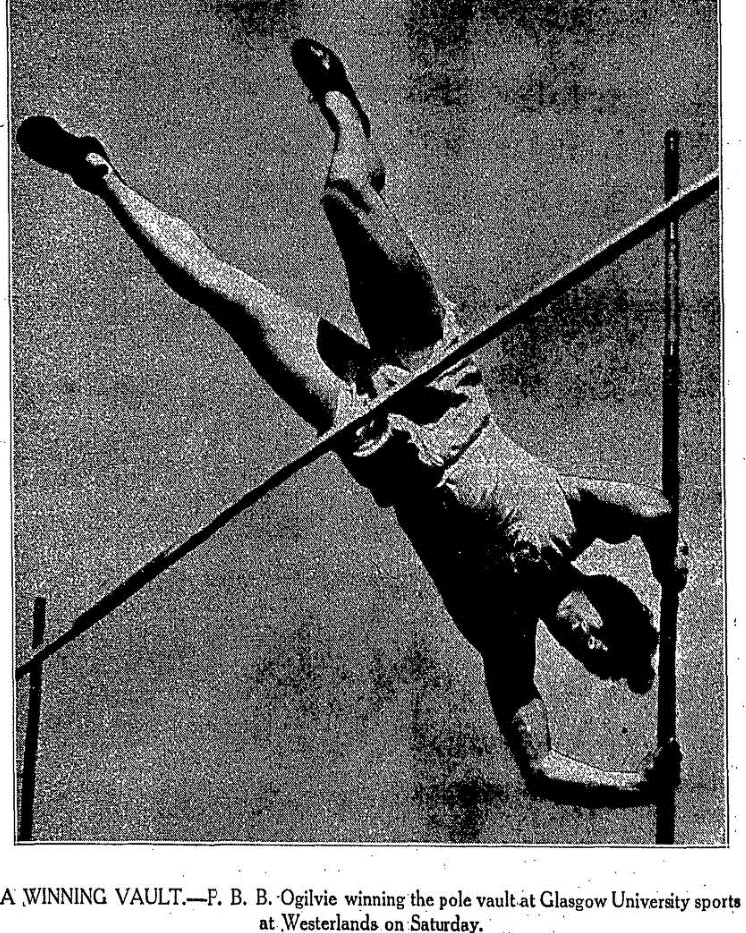 On May 20th, a group of Glasgow University students took part in the British Universities Championships. Robin Murdoch won both sprints in times of 10.2 and 22.4 seconds with another Glasgow man, ER Robertson, fourth in the final of the 100 yards. Donald Morrison won the hammer with a best of 194′ 3″ and was second in the javelin. PBB Ogilvie was third in the pole vault where the winner was an American student who cleared 12′ 6″. Lapsley took part but 'failed to touch his form in any of his events.' It had been a good weekend for the University – in the points contes they were fourth placed team.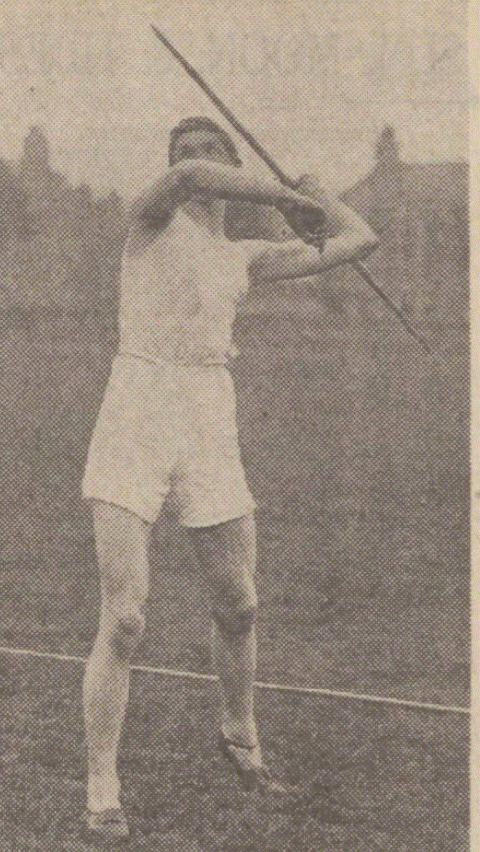 WR Garvie, winner of the javelin event at Aberdeen University Championships, 1933
While the Glasgow squad was performing so well in England, Aberdeen University held their club championships at Kings College Grounds. Top performer was West Indian whose 107′ 10 1/2″ added 11 feet to the existing discus record. WR Garvie broke his own javelin record with a best of 141′ 10″ and in the women's Lilias SF MacKenzie swept the boards with her best being a new record for the high jump of 4′ 5″. Winners:
100 yards: PS Cowan 10.4 seconds; 220 yards NS Cowan 22.6; 440 yards R McKenzie 56.4
880 yards: C Ludwig 2:09.2; Mile: AB Black and R McKenzie (dead heat) 4:44.2; Three Miles: R McKenzie 16:o2
Hurdles: NS Cowan 17.4
Javelin: W Garvie; Discus: EL Prendergast 107′ 10 1/2″; Putting Weight W Garvie 38′ 11; "Throwing Hammer: C Cockburn 98′ 8
Pole Jump: AF Murray 9′ 3″; Broad Jump: A Robbie and L Smith 19′ 6 1/2″
Women's 100 yards: LSF Mackenzie 12.2 seconds; High Jump ISF Mackenzie 4′ 6″ (new record); Broad Jump: ISF Mackenzie 17′ 1″; Hurdles ISF Mackenzie 12.4 seconds.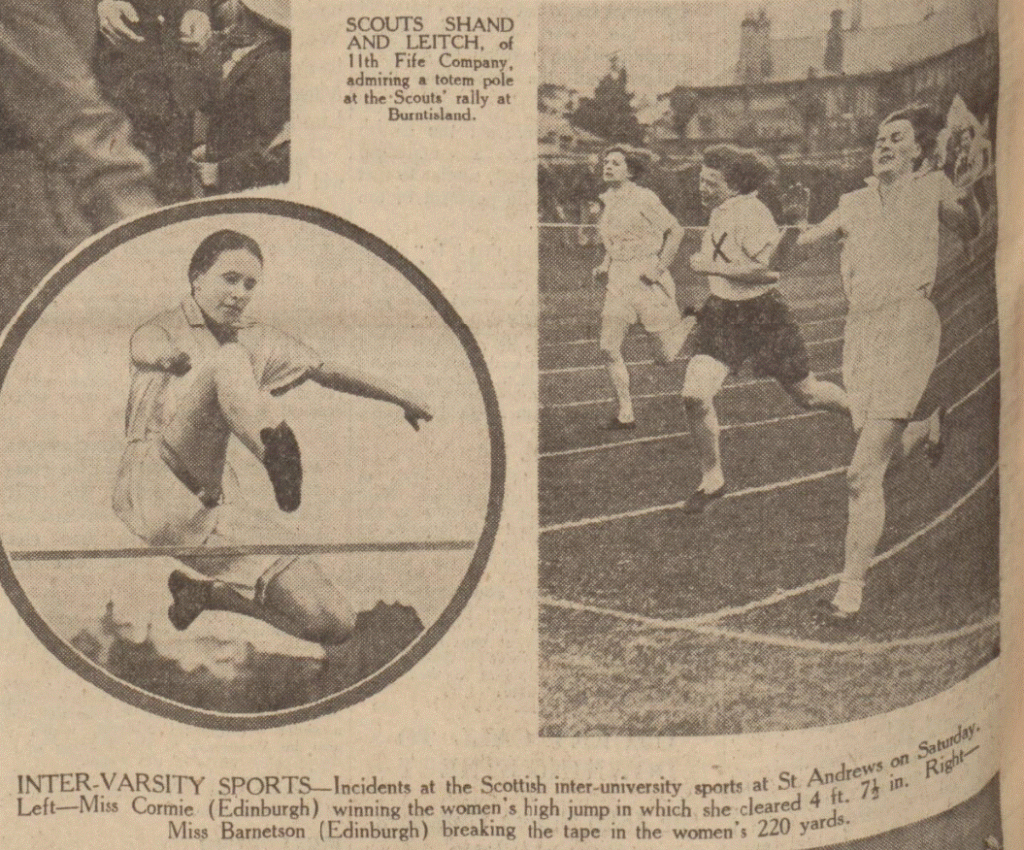 The Edinburgh Championships were held over two meetings. The first was on Wednesday 24th May at Craiglockhart and the short report in the Scotsman the following morning read: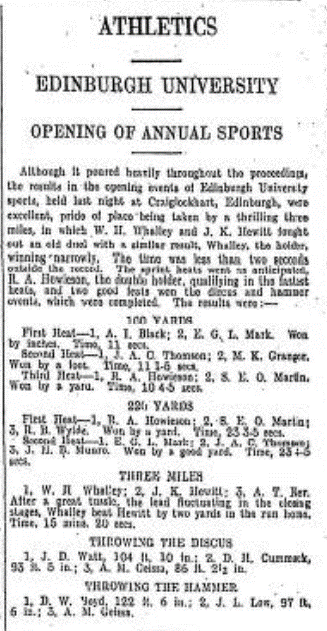 The second meeting of the championships was on 27th May with the meeting honours going to a new student: SEO Martin from Cornwall College, Jamaica, was the student in question and he won the hurdles and broad jump (creating a record in the latter), was second in the high jump and third in the furlong. For the afternoon's work he won the Rosebery Cup for the all-round championship with 11 points, the Australasia Cup for the sprints, hurdles and broad jump with 14 points and the newly presented Donovan Cup for the outstanding performance of the championship for his record in the broad jump. CM Wells won the 440 yards which was run in lanes for the first time but lost his half-mile championship title. Winners were:
100 yards: RA Howieson 10.6 seconds; 220 yards: RB Wylde 23 seconds: 440 yards: CM Wells 52.4;
880 yards: GA Smith 2:02.8; Mile: JK Hewitt 4:33.6; Three Miles: see above;
120 yards hurdles: SEO Martin 16.8; 440 yards hurdles: JHB Munro 62 sec;
Broad Jump: SEO Martin 22′ 4 1/2″; High Jump: DRS Milne 5′ 7 1/2″; Pole Vault: AM Welsh 10′ 4 1/2″;
Putting the Weight: AM Geiss 35′ 6 1/2″; Throwing the Discus: JD Watt 104′ 10″; Hammer: DW Boyd 122′ 6″; Javelin: AM Geiss 140′ 0 1/2″
Women's 100 yards: R White 12 seconds; Women's 440 yards: C Comrie 66.8 seconds; Womens Broad Jump: D Waddington 15′ 2 1/2″ Women's High Jump: C Comrie 4′ 6 1/2″
While the Edinburgh Championships were going ahead, St Andrews University beat Aberdeen by 5 events to 4 at University Park, St Andrews in a match in which two athletes contested each event with the aggregate scores to count. Results: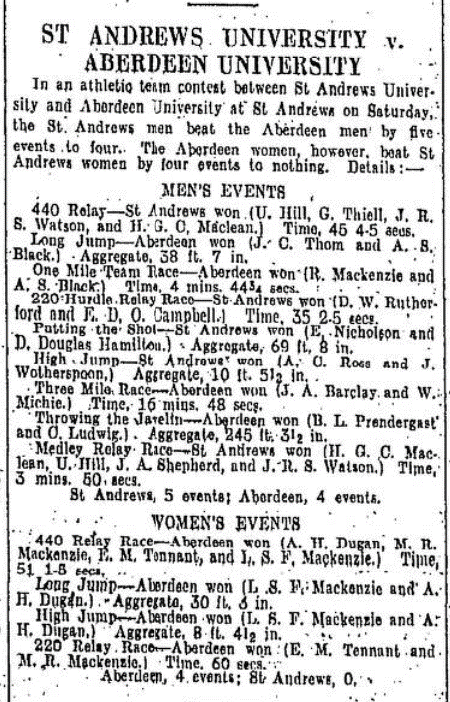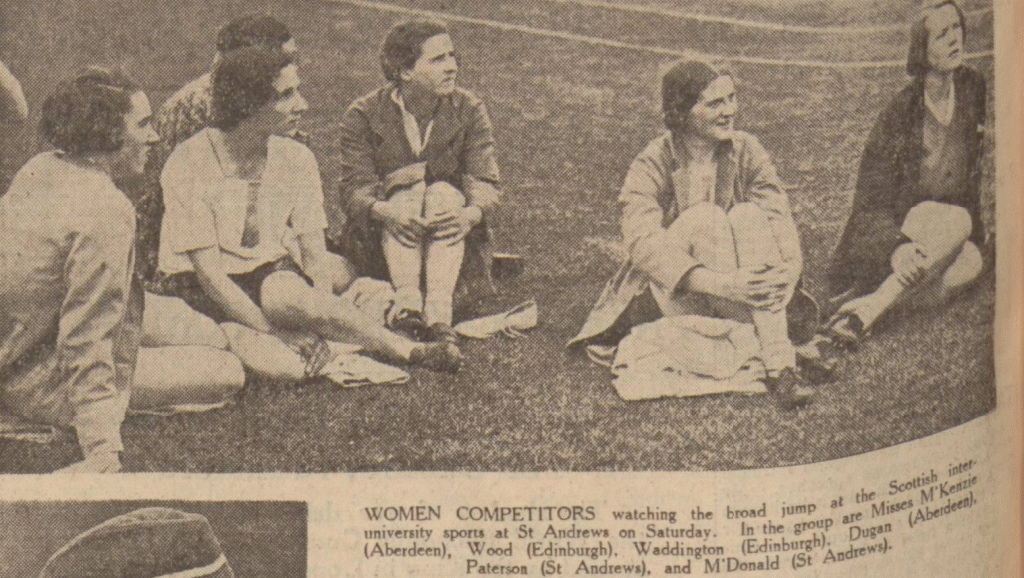 The Inter-University Sports took place on 10th June at St Andrews with the arrangements being made, the Courier tells us, by Lieut. A Stark, "the St Andrews instructor." There were 16 events on the programme with points awarded for 1st, 2nd and 3rd being 4,2 and 1. For the first time a women's championship was held. Glasgow won the men's competition with 56 1/2 points from Edinburgh (39), Aberdeen 10 1/2 and St Andrews 7. In the women's competition Edinburgh won 5 events (15 points), Glasgow 13, Aberdeen 5 and St Andrews 2. Four records were set, three by Glasgow students and Murdoch won both sprints. He was inside 10 seconds for the 100 yards for the first time but given the slight following wind and the slight downward slope of the track it was reported to be doubtful whether the time could be recognised by the Inter-University committee as a record. Results:
100 yards: 1. R Murdoch G; 2. RNM Morrison G; 3. NS Cowan A Time: 9.9 seconds
220 yards: 1. R Murdoch G; 2. RH Wylde E; 3. NS Cowan S Time: 21.8 seconds
440 yards: 1. NM Glen G; 2. EGL Mark E; 3. HM Murray G Time not given
880 yards: 1. GA Smith E; 2. JRS Watson St A; 3. AL Cram E Time 1 min 59 sec
Mile: 1. GA Smith E; 2. DM Brander G; 3. TA Murray E Time 4:36.8 Won by 3 yards
Three Miles: 1. WH Whalley E; 2. JJ Brennan G; 3. AT Kerr E 15:22.8 Won by less than a yard
One Mile Relay race: 1. Edinburgh; 2. St Andrews; 3. Aberdeen 3:45.6
120 yards hurdles: 1. SEO Martin E; 2. EDO Campbell St A; 3. AS Kitchin G Time 16.4 seconds
440 yards hurdles: 1. RB Wylde E; 2. JHR Munro E; 3. JM Burns G Time 58.6 seconds
Broad Jump: 1. RM Robertson G; 2. PRB Ogilvie G; 3. JA Shepherd St A 22′ 6 1/2″
High Jump: 1=. AN Lapsley G & DRS Milne E; 3. JA Robbie A; 5′ 7 1/2″
Pole Vault: 1. PBB Ogilvie G; 2. AM Wiesin E; 3=. AF Murray A & TH Souter G 9'6″ Ogilvie stopped as soon as he had won.
Putting the Weight: 1. R Radcliffe G; 2. JR McGibbon G; 3. DW Garvie A 41′ 1″
Throwing the Discue: 1. AN Lapsley G; 2. BL Prendergast A; 3. D Morrison G 105′ 4″
Throwing the Hammer: 1. AN Lapsley G; 2. D Morrison G; 3. DB Morten A 135′ 1 1/2″ New record.
Throwing the Javelin: 1. D Morrison G; 2. D Garvie A; 3. AN Lapsley G. 148′ 6″
Women's Events:
100 yards: 1. R White E; 2. M Baird G; 3. LSF Mackenzie A Time 11.9 seconds
220 yards: 1. B Barnetson E; 2. E Munro St A; 3. E Cowan G Time 27.6 seconds
Broad Jump: 1. M Baird G; 2. LSF Mackenzie A; 3. D Waddington E 17′ 5″ A new Scottish and Universities record
High Jump: 1. C Comrie E; 2. E McGill G; 3. LSF Mackenzie A 4′ 7 1/2″ A new meeting record
440 yards relay: 1. Glasgow; 2. Edinburgh; 3. Aberdeen 53.8 seconds.
Two weeks later in the SAAA Championships, Murdoch was third in the 100 yards but won the 220 in 21.6 with FP Reid representing the Atalanta Club winning the short sprint in 9.6 seconds. Others to feature in the championship were CM Wells, Edinburgh University, who was third in the 440 having won it the previous year and Kitchin was second in the hurdles. In the jumping events, Lapsley was second in the high jump, in the broad jump RM Robertson won with SEO Martin third and Ogilvie won the pole vault. In the throws, Radcliffe was second in the shot and Lapsley was second in the javelin and third in the discus.
With that the season for the Universities was really at an end although many of the athletes continued to enter open events over the next two or three months.