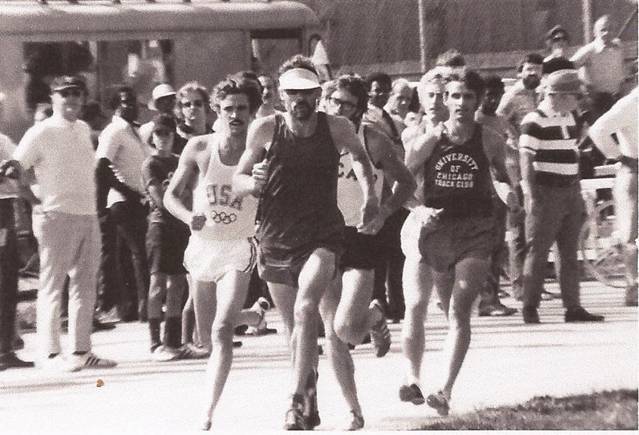 Jim leading Rick Wohlhuter (in the USA vest)
There are not too many coaches who have raced internationally, taken on the best in the world and run in tough races in Britain and America with distinction. Jim McLatchie is one. We have looked at his training at home and now we have, in his own words, how he trained in the States after had had emigrated there. We start with some of the training he did in Texas in the early 1960's.
Spring – Summer- USA- 1963
Training in Texas was a completely different as now I was having to deal with heat and humidity whereas in Scotland it was always cold, wet and windy. I arrived in Beaumont at the end of January which was not too bad for running which reminded me of our best days in Scotland. As the months progressed I had a tough time with the conditions. When it got too hot I trained around 9pm at night some days. Every morning around 6:30 am before classes I would jog to South Park High School and run for 30 minutes with a few strides in my bare feet. It was much cooler than in the afternoon which I enjoyed a great deal.
The fall was not too bad as it was much cooler and I got more running under my belt. The following is what I did when I beat Jim Ryun over a mile in Houston. Ryun went on to run in the Olympics and record 3min 51.1 sec for the mile.
Days From race
28 – Rest day
27 – 1 ½ miles of sprint jogs then 2×220 around 27 secs
26 – Warm up 6×220 ave 26 secs with 1 min rest/ jog 10 mins/440 – 53.5s
25 – 5 mile easy run
24 – Warm Up raced 880 in 1min 53.2sec cooled down
23 – 6 miles fartlek
22 – Easy run then 20×110 around bends jog back/ 5MR 440- 54.4s
21 – Rest day
20 – Warm up Time Trial ¾ mile – 3:04s/ 15 MR/ 220 – 25.3s/ 15MR/ 440-54.4s
19 – Easy run with 3 mile Fartlek
18 – Easy run with 3 mile Fartlek
17 – 6 mile run with 1 mile fartlek then 2×200 25-26/jog 440 between
16 – Travel to Brownswood, TX for Conference
15 – Temperature 107 bloody awful. Won mile in 4:23.7s and twenty minutes later had to run 880 where I finished 4th in 1:57s
14 – Travel back to Beaumont
13 – Easy 5 mile followed with 16×140 jogged 300 between/ easy 5 min then 2×220 around 27 sec
12 – Warm up – 10×220 around 30 with 220 jog between
11 – Warm up – 4x 440 around 60 with 110 jog between
10 – Easy 2 miles – 4×880 – 2:08s with 440 walk/jog between
9 – Rest day
8 – Warm up then ¾ mile Time Trial – 3min 3.3s (58/67/58.3) testing kick
7 – Easy run ran through 2 miles in 9min 41s
6 – 8x 220 29-30 with 220 jog between
5 – Easy 5 miles followed with 10×150 pick-ups jog back
4 – Jogged 3 miles with a few strides
3 – Rest day
2 – Rest Day
1 – Mile race led from start to finish first in 4min 7.9s (62,63/63/59.9)
The following week I finished first in the Texas National Championships in Dallas. I jogged easy most of the week with a few 150 and 220's. Nothing strenuous. This time I held back until the last 660 and ran 4min 10.7s (65,67,60,58.7)
It is a very interesting block of training. Many runners or coaches tell us in general principles what they did, but few are as open about what they do immediately before and after a big race. Jim is to be commended for being so open.