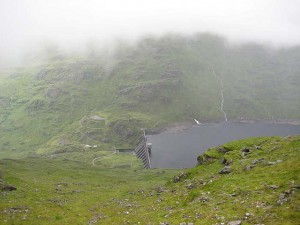 The scary plunge down to the Dam
I have twice been an official at the Arrochar Alps hill race – stationed each time with my friend Scott Govan just below Ben Narnain where the runners – or some of them – headed for the tramway.   A lot of them avoided it by picking their own way down the fairly steep grassy slope, a lot by flying down the hill steering by the seat of their pants (sometimes literally for short stretches).   It was exhilarating just to watch them and know that I could never, ever have done that.  A couple of years later Scott and I went back and did it as a two day hill walk.   We left the car at about Ardlui and walked up over the small hills to the top of Ben Vorlich and then followed the route to the finish.   Thoroughly enjoyed it.   But it took us two days when the leader was saying it could be done in under 3 hours.
* * * * *
Gifford Kerr's excellent 'Guide to the Hill Races of Scotland' had this to say about the race.
Arrochar Alps
OS Map:   56   INVERARAY & LOCH LOMOND
Category:     A     L
Climb:   7900 feet                                    Distance:   13 Miles
Start:   GR 298053   STRONAFYNE FARM, ARROCHAR,   and   FINISH
Checkpoints:
1.   GR   295123   BEN VORLICH   (M)   941m   Tr
2.   GR   289111   SLOY DAM
3.   GR   278098   BEN VANE   (M)   916 m
4.   GR   255085   BEN IME   (M)     1011  Tr
5.   GR   272067   BEN NARNAIN   (M)   926   Tr
Terrain:   Generally rough going.   Care to be taken on descent of  Ben Vorlich and Ben Narnain due to steepness of ground and outcrops of rock.   Last Mile flagged.
Notes:   Navigational Skills essential.
* * * * *
It is described on the Scottish Hill Racing website as follows:
"This race was created in 1987 by Andy Dytch and Bobby Shields. In 1988 it was used as a Scottish Championship race – where Alan Farningham (who had already won the championship) climbed The Cobbler at the end by mistake, instead of Beinn Narnain. In 1989 it was used as a British Championship race in very bad weather. The terrain is steep, wild and rough with complex navigation in places.
The race was run in 1990, 1991 and finally 1992 – won by Colin Valentine on a shortened course due to bad weather – before being abandoned for 15 years."    The description comes from 'Race You To The Top' by Suse Coon, published in 1989.
Bobby Shields himself wrote the report on the 1987 race which appeared in The Scottish Hill Runner of January 1988.   It read –
Before giving a report on the race, can I just say a big thank you to everyone who supported the event and an especially big THANK YOU to all the 'backroom boys' (and girls) as without their help the race could not have taken place.   I think it is safe to say that despite being a tough course, everyone participating enjoyed the event.  
There were 97 official starts, plus two very late entries!!   Namely Peter Brooks, Lochaber AC, and Tim Jordan, Carnethy, who started 10 and 15 minutes respectively behind the main field.   However, as can be seen from the results, they made up ground to finish well.   I should point out that the mysterious Kim shown on the results sheet is not some femme fatale but Tim Jordan – I think the computer blew a fuse when it heard Tim had started so far behind the others!
Out of the 99 starters, we had 86 finishers, and I suspect that the main reason for those 13 'drop outs' was that they had heard my father-in-law, who piped them off, was going to pipe them home.   However this did not deter Billy Bland, who finished so quickly that Angus did not have time to tune up!   (Maybe there was method in Billy's madness.)   I suppose I could issue all runners with ear plugs next year!   Billy's time of 3 hours 7 minutes 39 seconds was not only the inaugural course record but also the vet's record and, wait for it, he reckons that it could be done in less than 3 hours but that's only if people allow him to look at their maps!!
The first 'true Scot' home was Denis Bell of HELP in 3:31:39 – just goes to show what peanut butter sandwiches can do for you.   Well done, Denis.   But the first Scottish club home was Westerlands, represented by Mark Rigby, who finished in 3:21:16.
Lochaber AC were first team in 12th, 13th and 34th positions.   The respective times of John McRae, Ronnie Campbell and David O'Neil were 3:45:25,  3:46:25 and 4:08:33.   This is the official result, and in spite of the fact that some unknown club called Carnethy (who are obviously new to the game and don't get many prizes) insisted that they were due the team prize because their runners finished in 9th, 22nd and 23rd.   With great difficulty they prised what was left of the team prize from the Lochaber boys (needless to say it was liquid)   However once there was an opportunity to peruse the computer print-out, it was found that the runner whom they said had finished in 9th position was in fact running for some club called 'unattached'.   This person (I won't mention names, just give initials) JBF has been running hill races for years so should know how to complete the entry form correctly.   It is the responsibility of the runner to ensure he/she complete the entry form correctly and not for the organisers to remember who runs for whom.   I can only suggest that the SHRA organises a course on 'How to Complete Entries'.   The excuse of this nameless person (JBF) was that he was rushed and as he was registered as number 27, and we had 20 pre-entries, he must have been the first to enter.   So come on, Carnethy, you are not that desperate for prizes are you!?!   If you took the team trophies as well as the liquid I think the least you can do is give the trophies back to Lochaber.  
There were only four ladies competing this year but I hope we see more next year and the first lady home was Christine Menhennet of Bellahouston in 4:09:26.   Well done, Christine. 
Looking at the results, it was interesting to see that over 25% of the entrants were from South of the Border and I have been pondering whether this was due to the challenge of surviving the Arrochar Midges or of bagging 4 Munroes.  
Overall  the race appeared a success.  However, as with all things there is always room for improvement, and whilst I have noted areas where improvements could be made, I would be glad of any feedback from the runners themselves.  
Looking forward to seeing you all again next year at Arrochar and at a medium race which I am Christine Menhennet  Bellahouston     4:09:26.
*
After 1992 it was abandoned until Westerlands CCC gave it the kiss of life in 2007.
Now it also has its own website at www.arrocharalpshillrace.co.uk and is 22 km in distance with 2400m of ascent.   There are a few check points on the route but between them, the runners are left to their own devices.   Where does it go?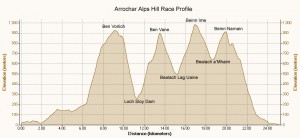 The race headquarters are in the Arrochar Community Hall and the race begins a short way up the road at the start of the track leading to Succoth Farm.    The trail goes up Glen Loin to  the bridge over Inveruglas Water where the runners head up a hydro road in the direction of Sloy Dam.   A small cairn is where runners can choose to go up the track to Ben Vorlich or go straight on to the Dam where they turn right and go up diretissima to the top and Ben Vorlich's summit cairn before turning and heading back down to the Dam.  Across the Dam and then followe the road for a bit until it doubles back  then start off up more steep grassy slopes to the summit of Ben Vane.  Down Ben Vane and get to the tops of Ben Ime and Ben Narnain before heading down to the finish on unmarked tracks.   Over the top of Ben Narnain and then head for the tramway down the hill – that's in theory but when we were there, runners took the route they fancied most down to the bottom where the way to the finish was marked with tape.
The down hill bit at the end was kind of scary – hardly anyone was running – the people at the front were leaping and bounding as fast as they could go covering huge chunks of ground with each mammoth stride.   I remember sitting at the foot of the scree at the top of Dumgoyne one year and a couple of old codgers came up well down the field, chatting away.  But when they came down what a change!    They were flying, almost literally it seemed to me: here were to genuine athletes doing what they did best and had done probably for decades – lots of runners were skirting the scree but they were revelling in it.   Wonderful to see – all the more so since I could not conceive of myself executing such a descent any more than I could play the violin to concert hall standard.   That was how many of the Arrochar Alps runners went down and I could only look and wonder.   Further down the field I could identify with those edging down crablike trying not to fall or slip a bit but they thing is that they slipped and slid much, much more than the leaders did.
Chris Upson tells me that the current men's and women's course records were set in 2012 when the race was a British Championships counter (see http://www.scottishhillracing.co.uk/RaceDetails.aspx?RaceID=RA-0202 ) .
Jasmin Paris sliced off more than 16 minutes from her 2011 time, when she was the first lady to dip under 4 hours with 3:58.    In 2012, Ben Bardsley (also of Borrowdale Fell Runners) lowered Billy Bland's record by 20 seconds over a fractionally longer course.