The SVHC Newsletter was published (three times a year) between the early 1970s and 2020. Here is a selection of articles and reports, which should provide a flavour of the publication and insight into the expanding Veteran (or Masters) Movement, which has succeeded in encouraging so many men and women to exercise, participate and compete, long after they ceased to be youngsters. The Scottish Veteran Harriers Club enables men and women (if they become fit enough) to compete for Scotland in any of the Masters five-year age-groups from 35 to 80 plus. All runners simply enjoy training, taking part in club and other events and doing their best on the day. Please not that a series of fairly complete individual Newsletters, from 2012 to Spring 2020, have separate posts on this website. Note also the selection of covers from the 80s, 90s and 2000s; and 'SVHC: Beginnings in the 1970s and 1980s'.
Unfortunately, it has proved impossible to include most tables of results; or indeed every inside-magazine photo; since the original work was pdf, which does not allow copy and paste duplication. Back and front cover colour photos have been included, however.
There are many aspects of these Newsletters to interest and give enjoyment to fans of running and athletics: not only race reports but also memories, profiles, experiences, meditations and historical reviews.
May 1970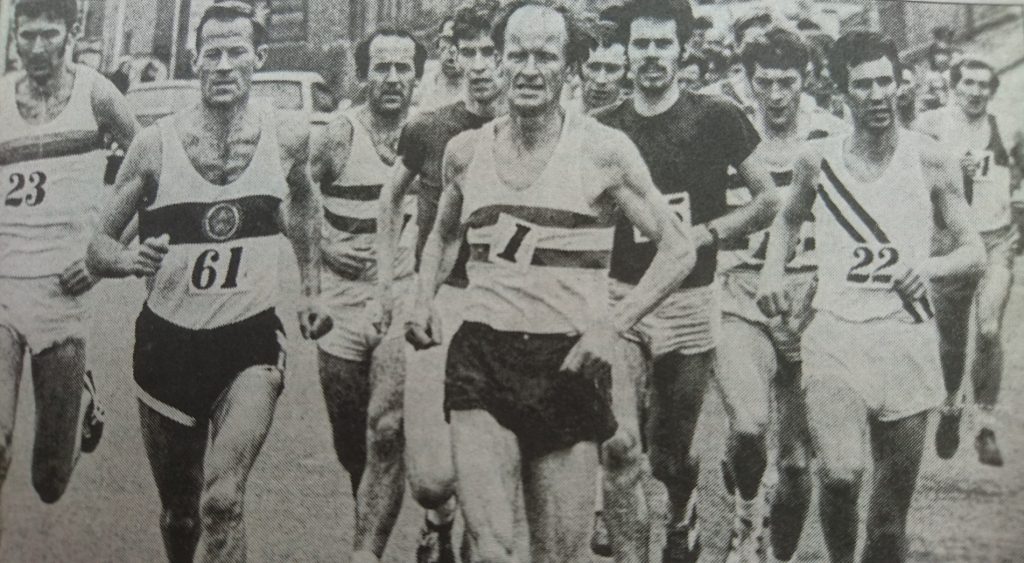 In the year that the SVHC was founded, the marvellous 1970 Commonwealth Games were held in Edinburgh. Before then, in mid-May, the Scottish Marathon took place. This was the trial for the CG team. In front early on are two athletes who both, a few years later, became World Veteran Champions: Bill Stoddart (Greenock Wellpark, number 61); and Alastair Wood (Aberdeen AAC, number 1), who was the first Scot to achieve that title, when he won the 1974 WAVA marathon. Fourth from the left is the right ear of Donald Macgregor, who won the World Vets 10,000m in 1979 and the marathon in 1980.
Autumn 1972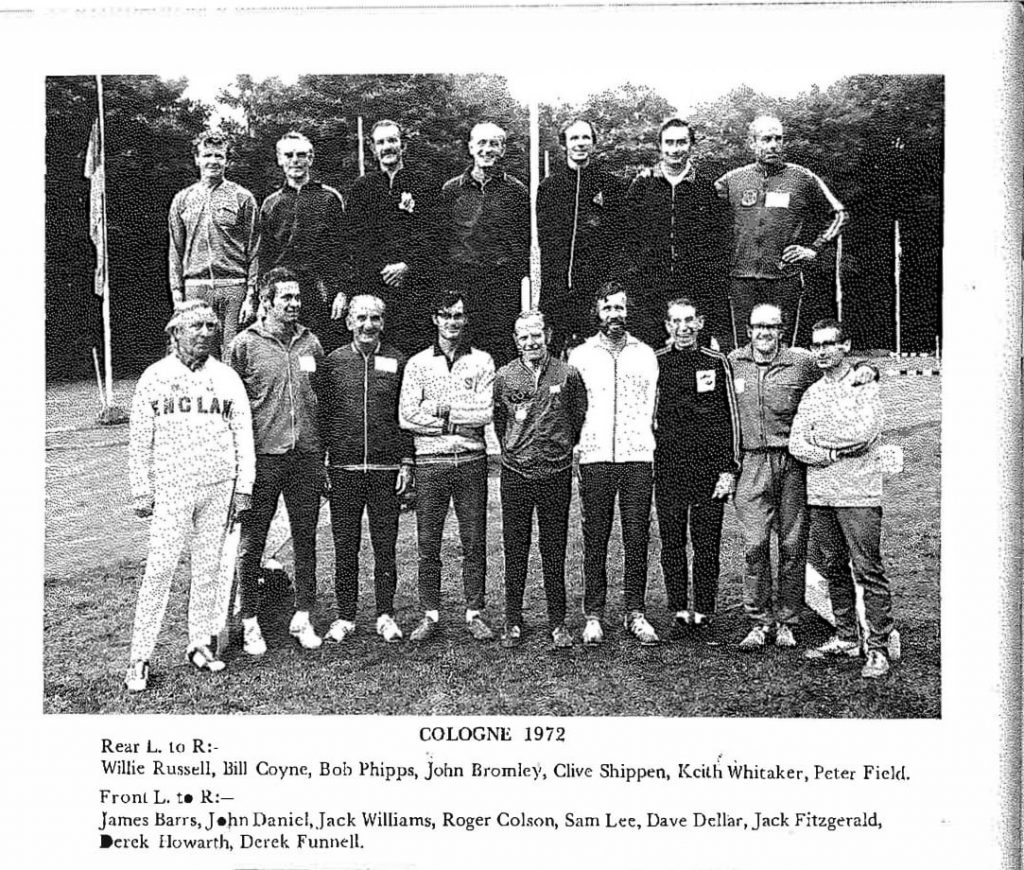 Spring 1974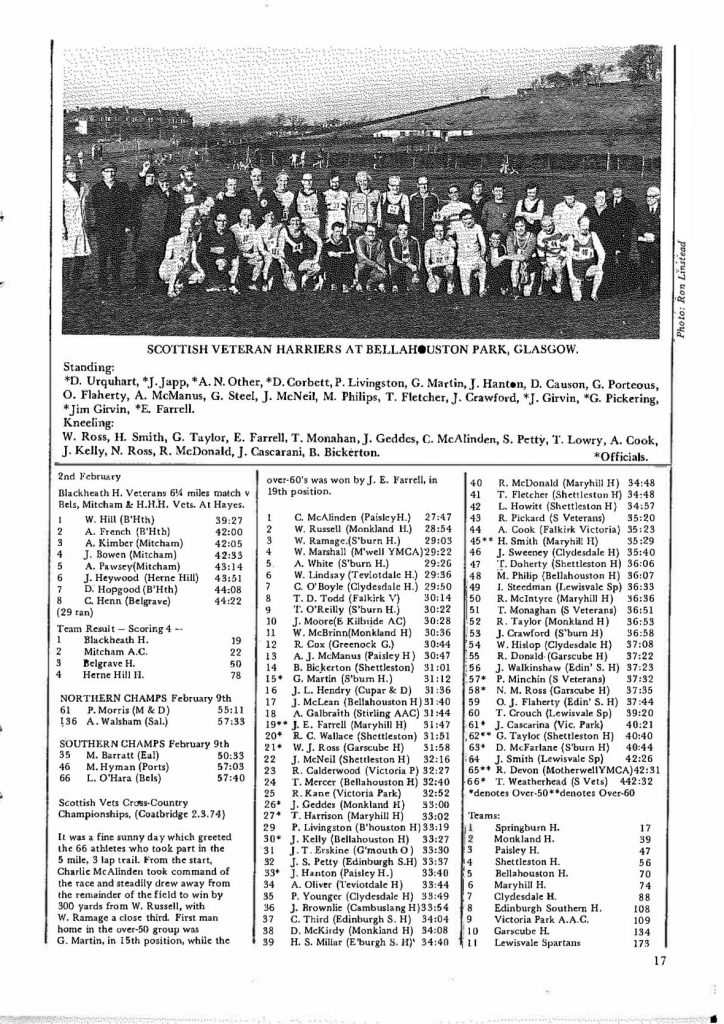 April 1979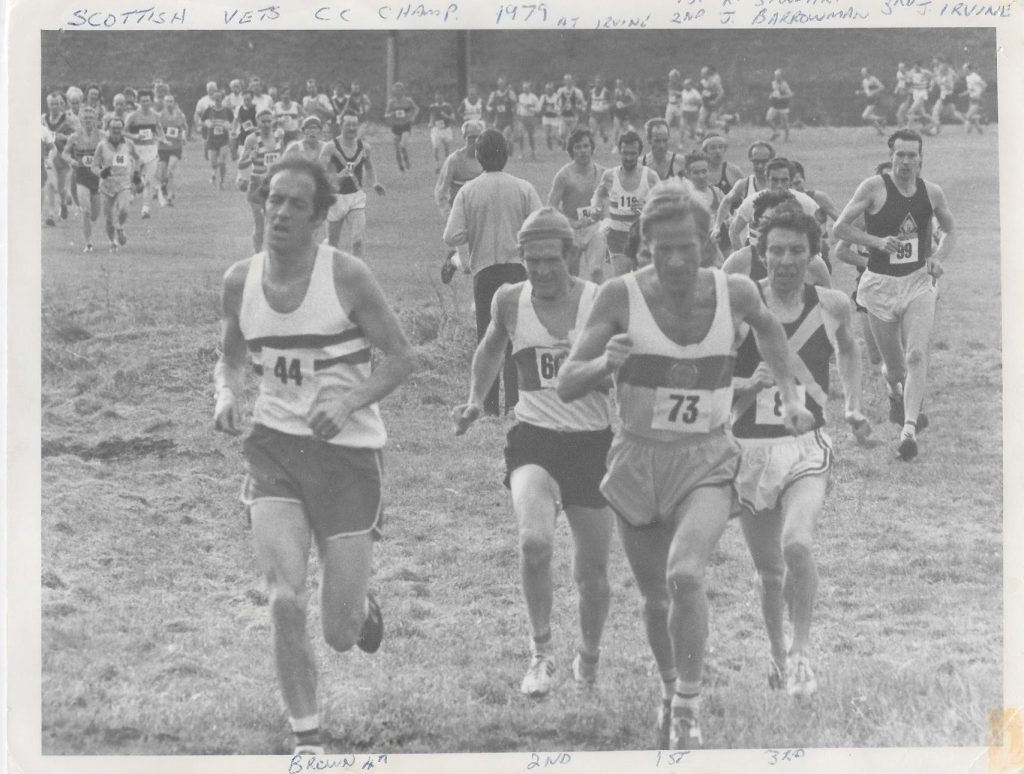 Left to right: George Brown (Edinburgh Southern Harriers) fourth; John Barrowman (Garscube) 2nd; Bill Stoddart (Greenock Wellpark) 1st; Jimmy Irvine (Bellahouston) 3rd. George Brown, who died in 2020, led his team to victory in the Scottish Veterans XC Championships in 1979, 1980 and 1983. George also played his part in ESH team victories in three Senior National XC Championships (1964, 1965 and 1970). Jimmy Irvine is still with us. A one-club man, he contributed to many Bellahouston Harriers successes, including: Scottish Junior National XC team gold (1955); Scottish Senior National XC team silver (1957 and 1958); and in the Edinburgh to Glasgow Road Relay, team gold (1958). Jimmy was Scottish Veterans XC M50 Champion in 1987; was part of the Scottish Vets gold medal winning M60 team in the 1995 British and Irish International XC; and one of our M65 team silver medallists in that prestigious event in 2000.
September 1983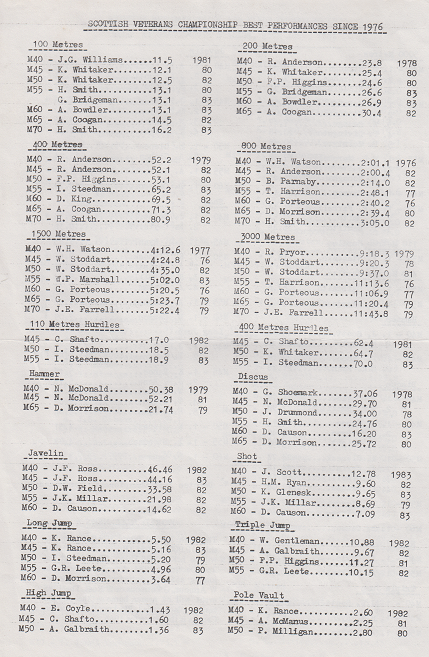 Christmas 1983: article by Ian Steedman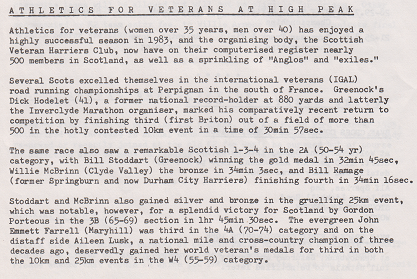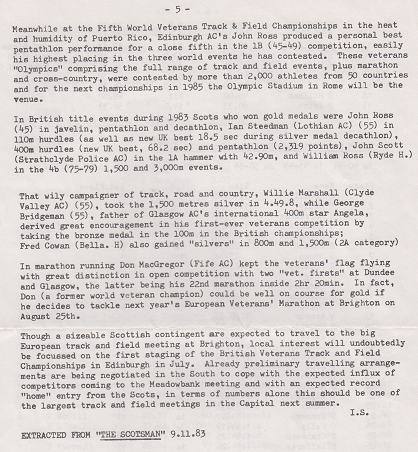 The inaugural Alloa to Bishopbriggs 8-Man Road Relay took place on Sunday 25th March 1984. Full results: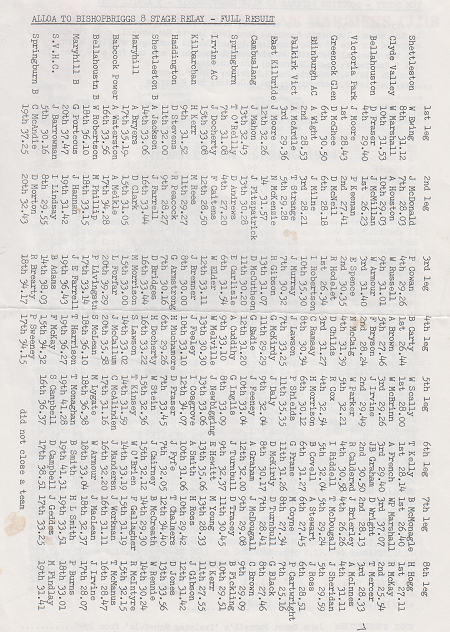 Alloa to Bishopbriggs 1985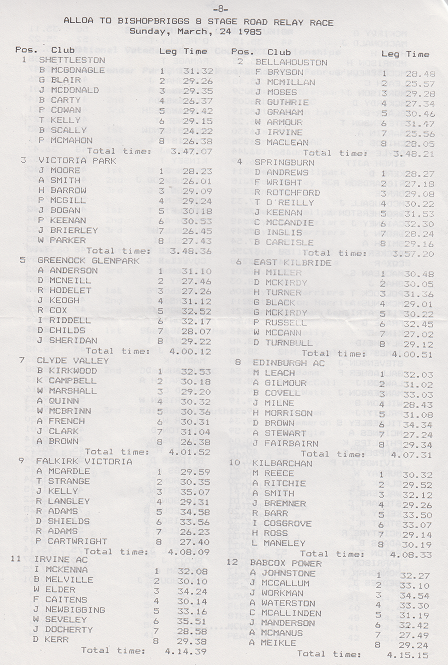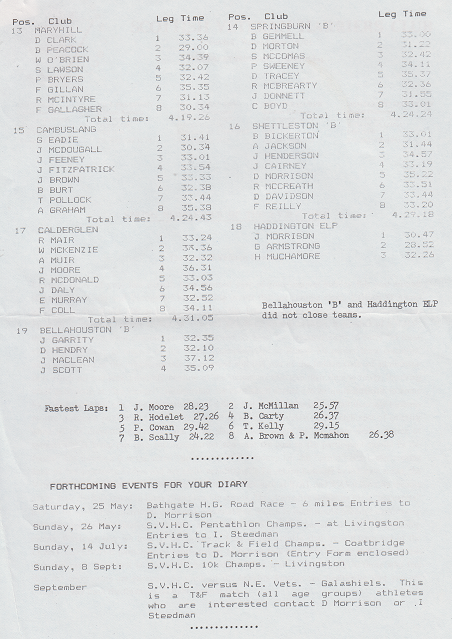 May 1986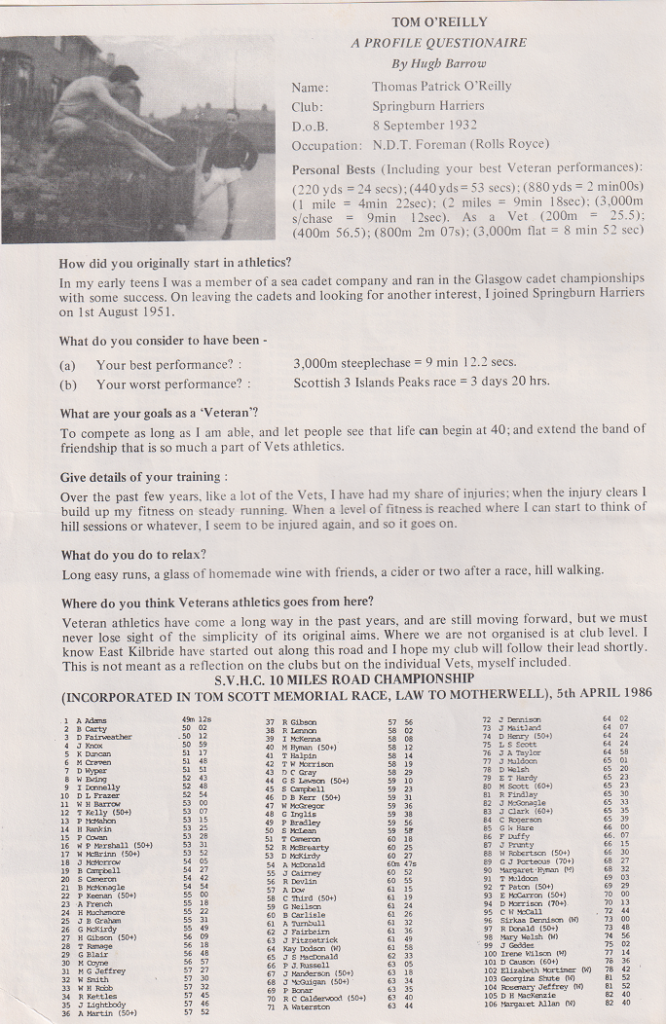 April 1987 – (Shortened) article by Henry Muchamore.
"After a testing 10 kilometres race at Musselburgh Racecourse on February 8th 1987, it was Brian Scobie of Maryhill Harriers and the Pitreavie trio of Ken (or Archie) Duncan, John Linaker and Bill Ewing who graced the winners' enclosure.
Congratulation to Brian on retaining the SCCU Veterans Cross-Country Championship title; and to Pitreavie for taking the team prize back to Fife for the second year in a row.
The sun shone brightly on the 220 runners who lined up across the course and charged in a multi-coloured mass, down the first furlong. A flat course, yes, but a very tough one as the long uneven grass took its toll on the legs.
After the first 5k circuit, defending champion Scobie had already taken charge, and was looking comfortable, 50 yards clear of Shettleston's Brian Carty and the diminutive Dave Fairweather of Law.
As Scobie went past the grandstand, where his marathon protegee, Veronique Marot, was watching, the time-keeper's watch showed 15.57 for the first 5k.
Chasing the first three at this stage were Allan Adams and Colin Martin of Dumbarton, Duncan of Pitreavie and Rod MacFarquhar of Aberdeen.
Second time round, and down that long finishing straight, it was Brian Scobie all the way in 32.32, stretching his margin to a clear 28 seconds over Carty, who bravely held off the unrelenting challenge of Fairweather, ten seconds behind in third place."
John Linaker was first M45, from Martin Craven (ESH) and John Moses of Bellahouston. Jim Irvine (Bellahouston) won M50, from Hugh Gibson (Hamilton) and Davie Fraser (Bellahouston). Bill Stoddart (Greenock Wellpark) was first M55, in front of Bill McBrinn (Shettleston) and Tom Stevenson (Greenock Wellpark).
The M60 category victor was William Temple from Galashiels, from Ben Bickerton (Shettleston) and Alex McInnes. David Morrison finished first M70 and made clear that he is back to form from injury. John Emmet Farrell was second M70.
The team contest was very close: Pitreavie's Ken Duncan finished 4th and his team-mate Linaker 10th; while Aberdeen's MacFarquhar and Don Ritchie were 6th and 9th. Bill Ewing of Pitreavie (now 44 but looking ten years younger) just made it and ensured team victory. He took 15th, beating Aberdeen's Mel Edwards (hill-runner extraordinaire) by TWO SECONDS. Dumbarton (Colin Martin 5th, Allan Adams 8th and Ian McWatt 32nd) clinched third place medals.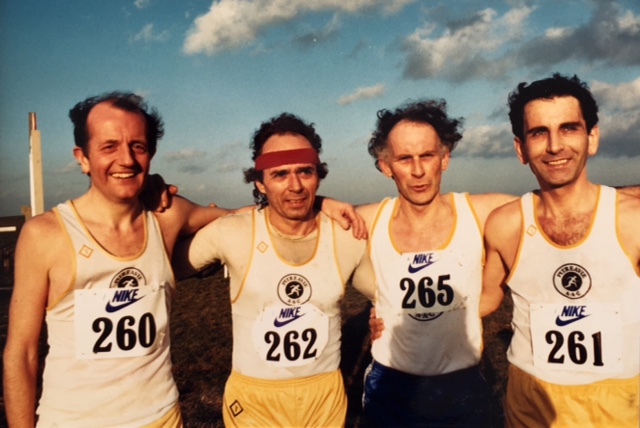 Left to right: Archie (or Ken) Duncan, Phil Shave, John Linaker, Bill Ewing.
All in all, it was a competitive and convivial afternoon. The event was jointly convened by the SVHC and the SCCU, in conjunction with East Lothian District Council."
March 1988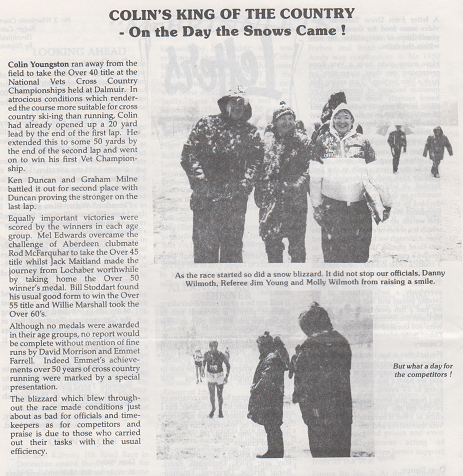 June 1988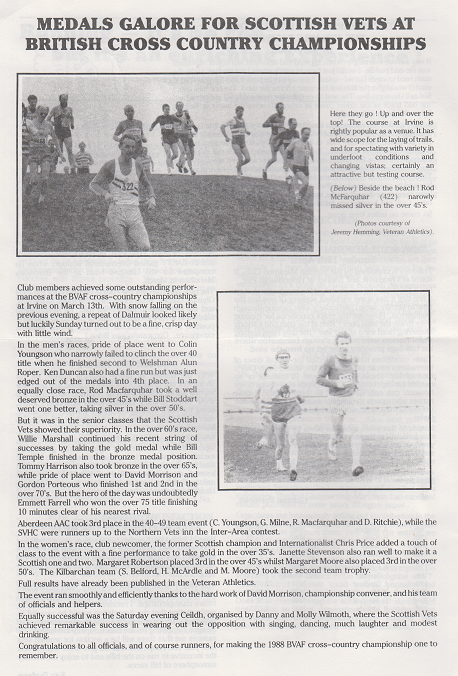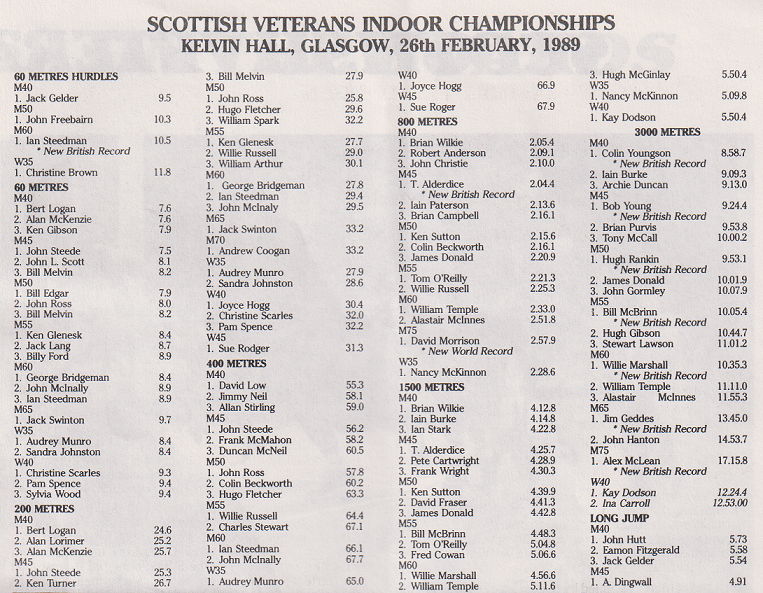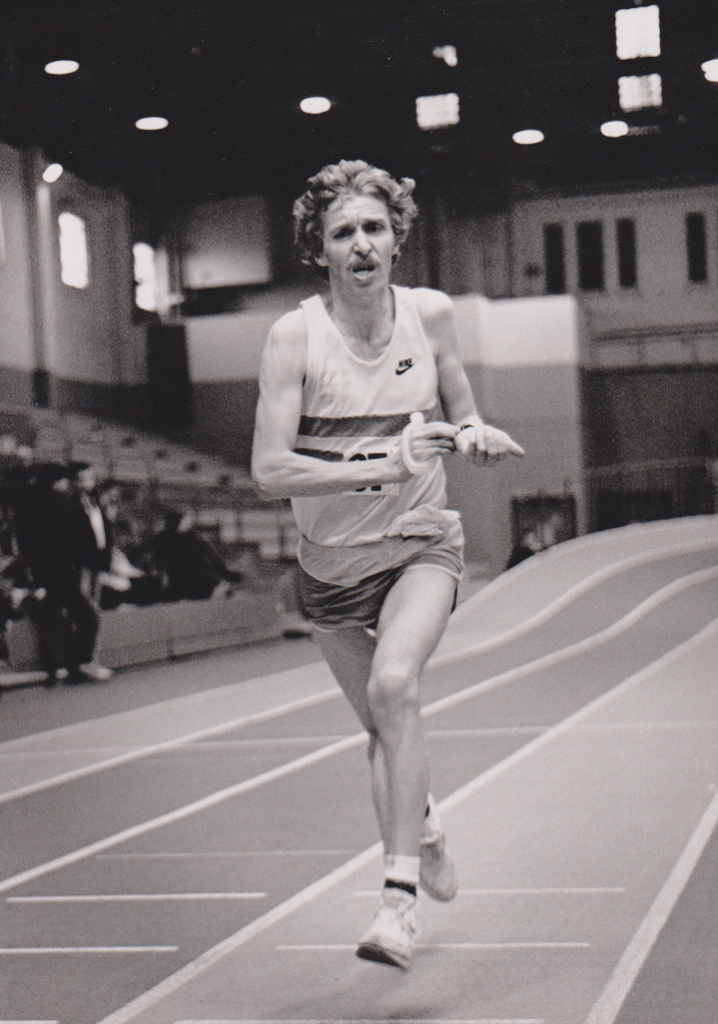 The very first SVHC Indoor Athletics Championships at the Kelvin Hall. Note how many British Veteran Records were set! One by Colin Youngson (M40). In the 800m, David Morrison (M75) set a new World Veteran Record.
March 1990
TRICIA CALDER – HILL RUNNING CHAMPION
Tricia Calder is establishing herself as one of the best all-round women distance runners in Scotland. Her recent performances on the road and at cross-country have been outstanding, but it is on the hills that Tricia really excels. She is the current Women's Hill-Running Champion, having scored the maximum possible points in the 1989 Scottish Championship races. She was also a member of the Scottish Women's team at the World Cup Hill Races in France last summer. (She contributed to GB team bronze medals in the 1988 and 1990 World Mountain Running Championships; and was also Scottish W35 XC Champion in 1989.)
Tricia tell us about herself and her running career:
"I ran a bit of cross-country and school sports, but the thing that started me running again at the age of 30 was the challenge of the marathon. A friend of mine had already completed one and I thought, like hundreds of others, that maybe I could do it. My first marathon was Edinburgh, which I finished in a time of 3 hours 25 minutes in 1983. My longest training run had been about 11 miles, which then I thought was a long way. Crossing the line after my first marathon was the greatest feeling. Mind you, an hour later I couldn't have run for my life. But I was hooked. The next year at Edinburgh the times was 3 hours 2 minutes; and my PB for the distance is 2 hours 48 minutes set in Dundee.
My training would be a coach's nightmare! I don't keep a diary. Although I can see the benefits, I just don't seem to have time. I never run with a stop-watch (don't have one). I try to keep some sort of schedule to my training, although it can be difficult between everything else. I know my fellow women athletes will know what I mean. I used to stop completely between November and February. The reason for this was a horse called 'The Divider'. My father bred him and I broke him in as a two-year-old. I have always been involved with racing, having ridden point-to-point when I was young, free and had no brains. I'm now old, married and still have no brains, so I run on the hills instead.
I have had a permit for the last 6 years to train racehorses under National Hunt rules (over jumps, not on the flat). If any of you have ever had anything to do with stock, especially racehorses, you will know that they take a lot of time to look after. They are four-legged athletes. It was quite handy being fit, particularly going to Ayr Racecourse. The odd time the horse did have a bad run, I could be found running in the opposite direction to the angry punters. Ask Danny Wilmoth about that one!
Getting back to running, Peter Marshall persuaded me to start running in the hills. I don't know whether to be grateful or not. 1988 was my first season and I found the hills very challenging and never boring. You are usually trying to stay upright in a Force 10 gale or find a checkpoint in pea-soup fog. There are a few bonuses though: great friendships and some of the best countryside to run over and enjoy.
Having never been great at planning ahead, the only think I would like for the future would be to stay injury-free, to run in the World Cup hill-running team again – and I would like to run the Everest Marathon.
March 1990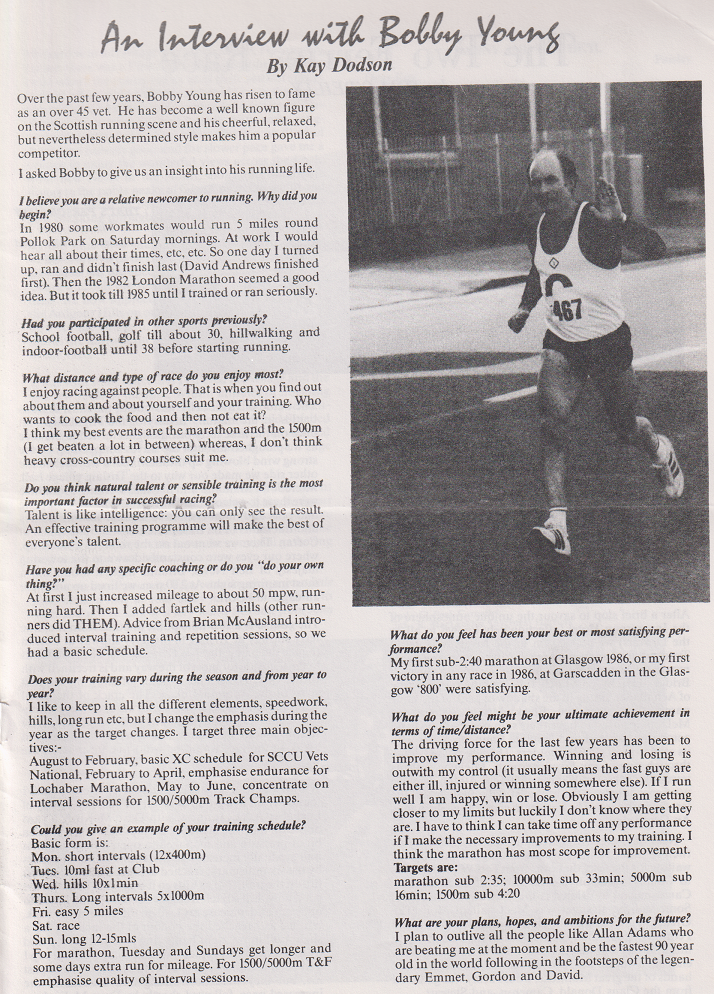 March 1991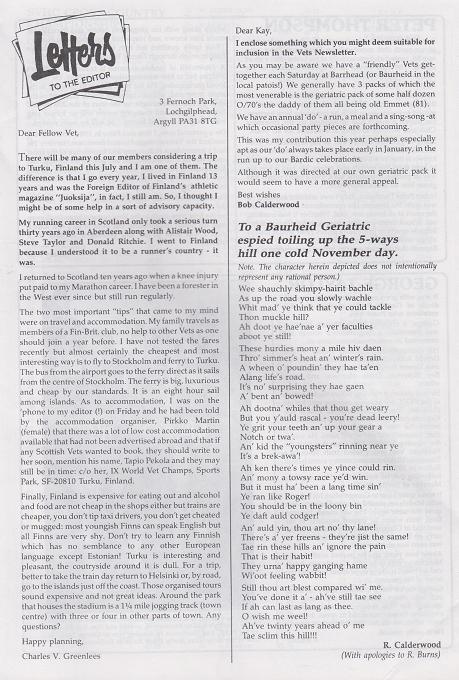 July 1992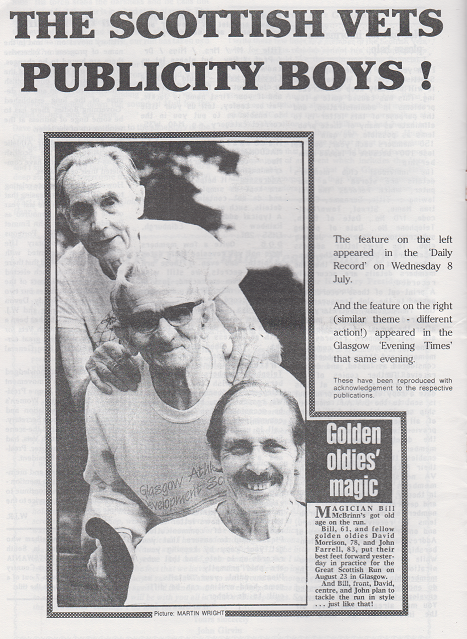 December 1992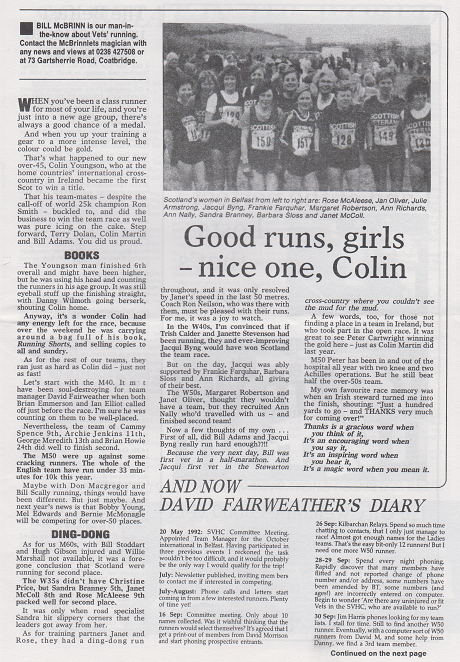 September 1994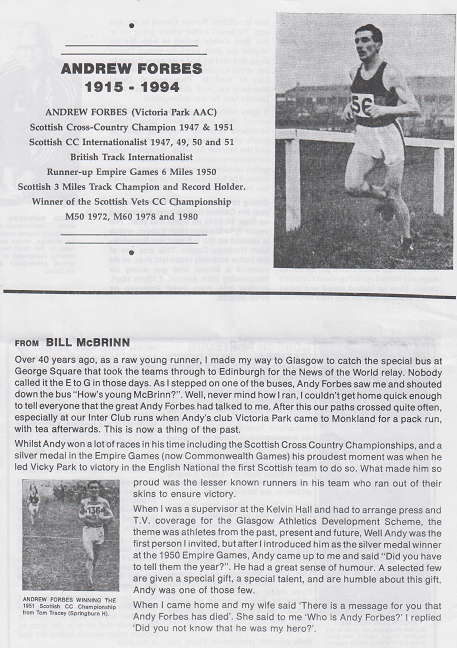 August 1995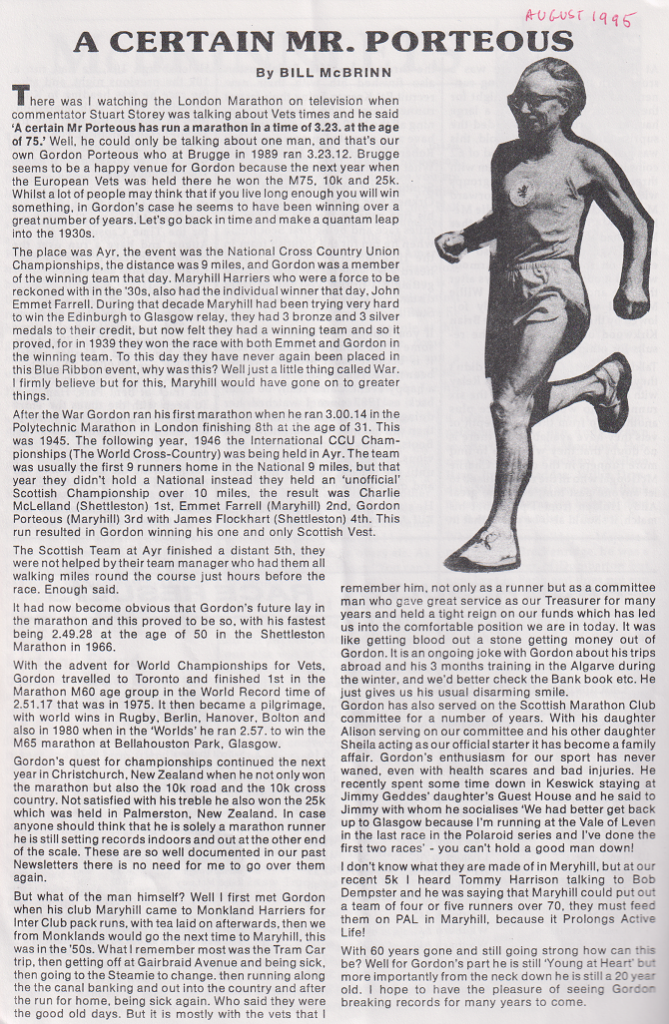 Set in 1996 THE OLD VETERAN'S TALE
In February 1996, after the refreshment stop at Perth, old Charlie Kane (the team manager) settled in the mid-bus tale-telling seat before the vehicle continued towards Glasgow.
"So far, we've heard stories mainly about the 1980s and 1990s. From my perspective, you lot have had certain advantages: training knowledge, healthy diet advice, better shoes and tracks, shorter and less difficult cross-country courses, more health and safety. I know that running is often a hard sport for anyone who takes it seriously, but let me talk about how it was when I was much younger.
From the mid-1940s I studied History at Glasgow University. The Hares and Hounds kept winning the Scottish Universities XC. They seemed a cheerful bunch so, when I was 20 in 1946, I started training and gradually became fitter, despite lacking real talent. Yes, that makes my age now 70 – not 95 as some of you think.
The Scottish National at Lanark Racecourse in 1947 was a real challenge! Until 1962 we had to run a whole ten miles – not merely seven and a half or 10km. The really bad winter made it impossible to train properly on treacherous frozen slippery surfaces. All the football fixtures were cancelled but we carried on. After an overnight snowstorm, the Youths trampled out a trail for the Seniors and Juniors, who raced together. It was heavy going but I struggled on and was pleased just to finish, with quite a few even slower. After half a mile, we never saw the leaders again. Andy Forbes of Victoria Park AAC won both Junior and Senior titles. I noted that his club was second in the team contest, having won the Youth award. They were based at Scotstoun Showgrounds, near my family home. When I graduated and became a History teacher, it seemed a good idea to join Vicky Park, even though it seemed very unlikely that I could ever make the first team.
After the Second World War, rationing continued for several years. No one could be fat then. Some had problems digesting dried egg and getting hold of enough food to sustain them. Runners lucky enough to be 'possibles' for the 1948 London Olympics received food parcels from South Africa, courtesy of the AAA.
Training was different compared to nowadays. At Vicky Park we ran together on Tuesdays and Thursdays – about seven miles a night. There might be a slow pack and a fast pack, each one with a 'Pacer and a 'Whip' – you can easily guess what their job titles meant. A good deal of wisecracking could be heard, especially when the fast pack whizzed past (with me hanging on at the back for as long as I could). Most of the session we ran steady/hard, with a 'burn-up' near the end. On Saturdays, if there was no race, a pack might cover fifteen or even eighteen miles over road and country, followed by tea, buns and a sing-song to the music of mouth organs. Sometimes we drank hot Bovril (like watery Marmite) and ate cream crackers or a pie. No pub sessions back then! For a while, VPAAC changed for Saturday sessions at the West of Scotland dry-cleaners in Milngavie. Getting the mud off our legs wasn't easy. On Sundays, some went for a long hike. Only marathon men like Dunky Wright and Donald Robertson actually ran on the day of rest. Most of us managed 30 or 40 training miles per week. Our legs suffered impact injuries from wearing thin plimsolls or tennis shoes like Dunlop Green Flash.
For most of the 1950s the battle to be top Scottish distance running club was between us and Shettleston Harriers, with Vicky Park having the edge, winning six National team awards and seven Edinburgh to Glasgow Road Relay titles. The best I did was scraping into teams that secured National and E to G silver medals in 1955. Just to train with the top men was a joy – and the club had a good social side. I remember with pleasure the free feed (sponsored by The News of the World newspaper) after the E to G at the posh Ca'd'Oro restaurant in Glasgow. Bacon and egg plus fish and chips, plus a sweet, ice-cream, coffee and a generous piece of cake. Yes, in those days, cake was more important than cash prizes!
Cross-country courses could be really tough. The National was held at Hamilton Park Racecourse, but even that flat, soggy trail had its dangers, for example steeplechase barriers with barbed wire holding them in place. VP raced in the Midland District championship, which for several years took place at Lenzie in the grounds of a Mental Hospital – ideal for mad runners. The Dunbartonshire County race featured deep mud to plod through and uphill fences to struggle over.
My club's greatest achievement was winning the team title in the 1952 English National Cross-Country Championships. We travelled by train to Birmingham and our six counters won by fourteen points from Bolton United Harriers and Manchester AC. Our stars were the first Scottish outfit to win the English event in the 76 years of its existence. I was so happy to have raced round respectably to join in the celebrations!
For a few years I increased my weekly mileage, dabbled in Highland Games Road Races over weird distances and did quite well in the 1954 Scottish Marathon Championships from Cloch Lighthouse, Gourock to Ibrox Park. However, in 1956 (from Falkirk to Meadowbank, Edinburgh) on a warm, humid day I suffered badly from blisters, slowed a lot and, after limping painfully round the track well down the field, decided to retire from racing. After all, I was 30 years old!
Yet, after moving to teach in Aberdeen, I did keep reasonably fit, just going out for a solo run twice a week, or cycling a few miles, while concentrating on work and family. In 1972 the first Scottish Veterans XC Championships took place, and since then I have enjoyed taking part with other old stagers, moving up the age-categories, while helping out at Aberdeen AAC. It's a great sport, but do try to reach a peak and set personal bests by your early thirties, because, try as you might, you will all get slower due to age and knackered limbs.
August 2001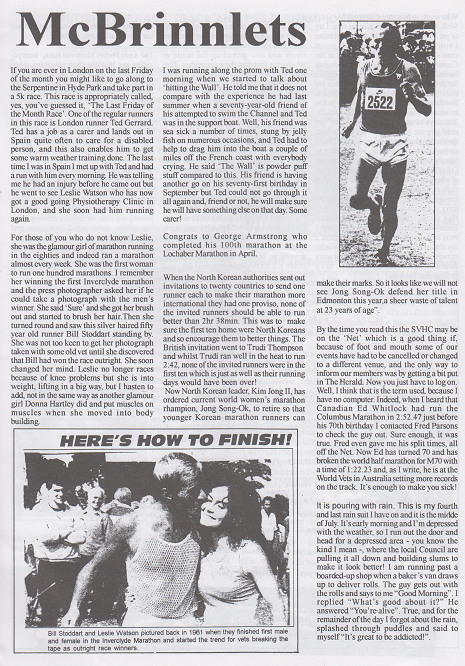 April 2002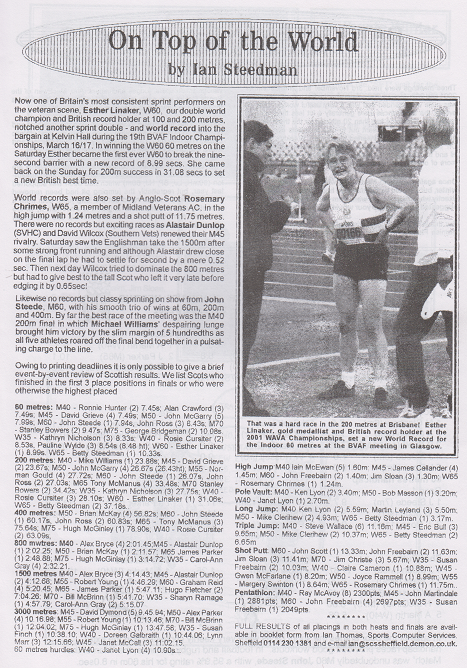 August 2002
December 2002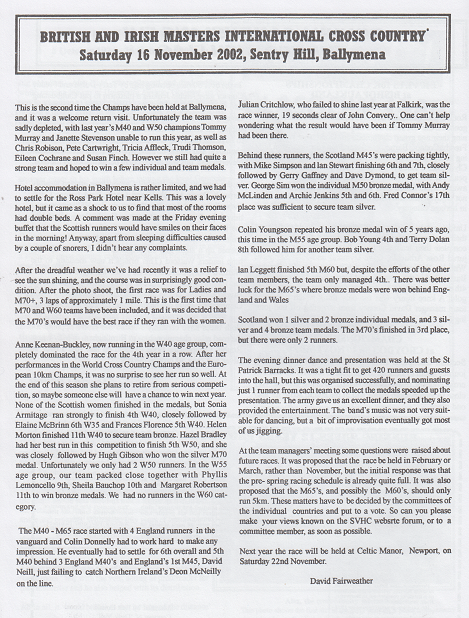 December 2002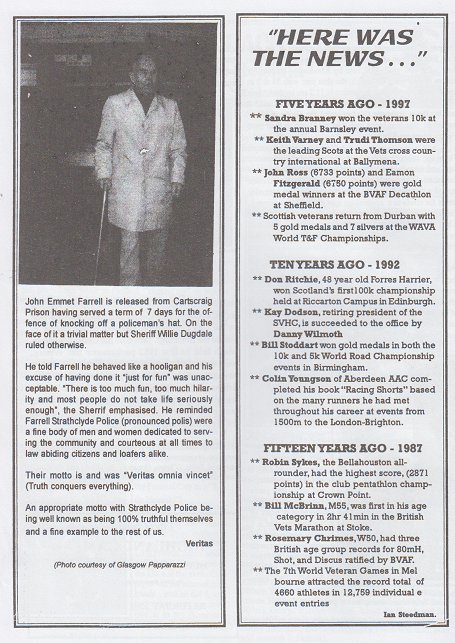 April 2003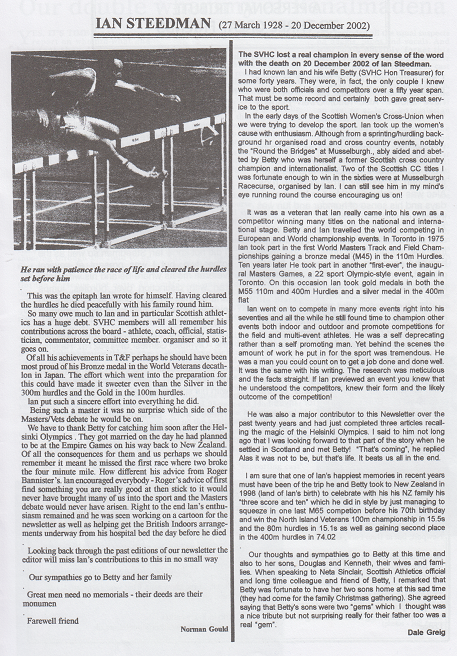 August 2005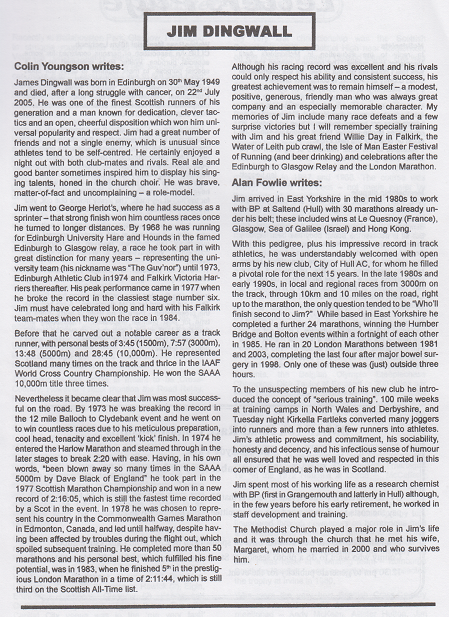 August 2005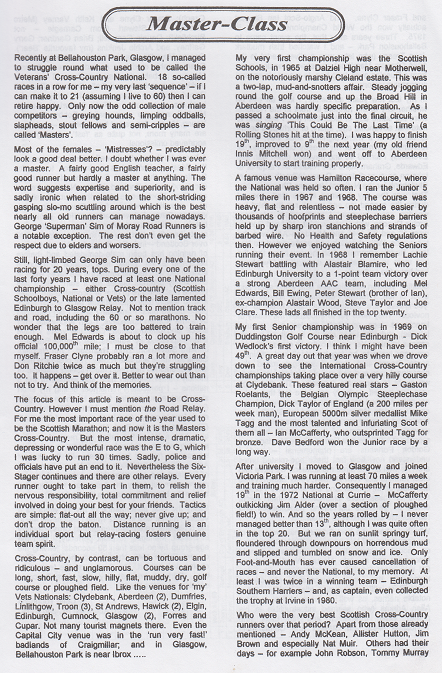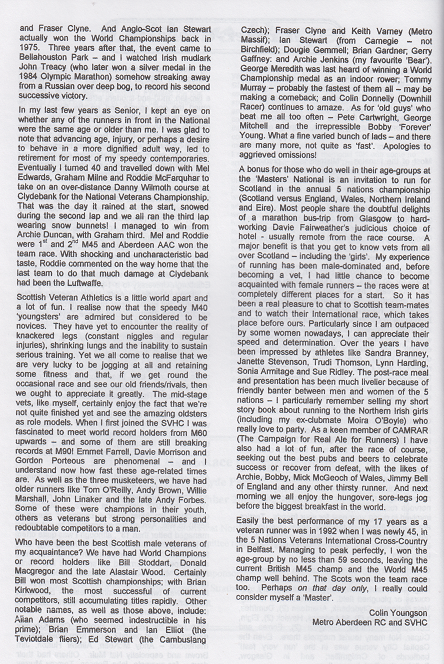 April 2006
August 2007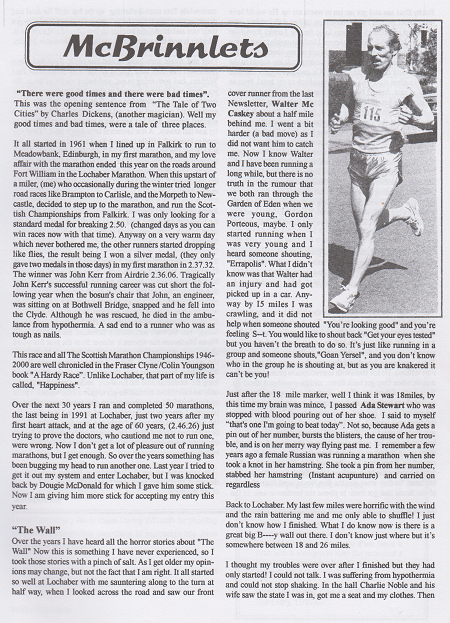 April 2011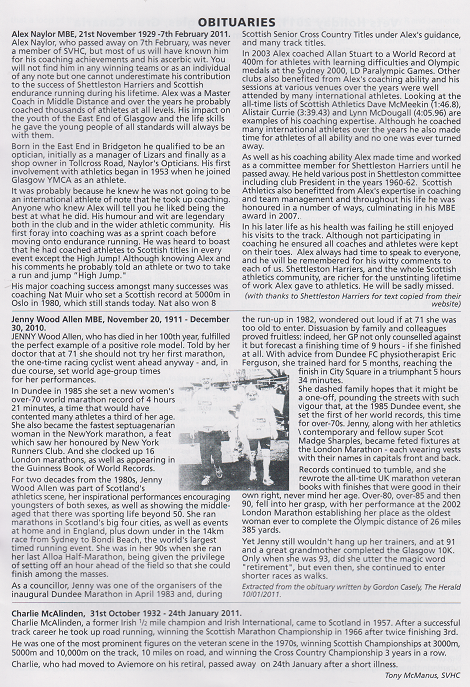 September 2011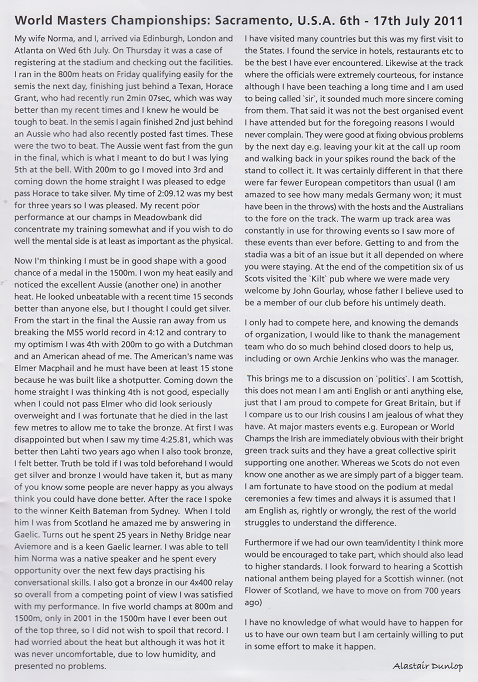 May 2019