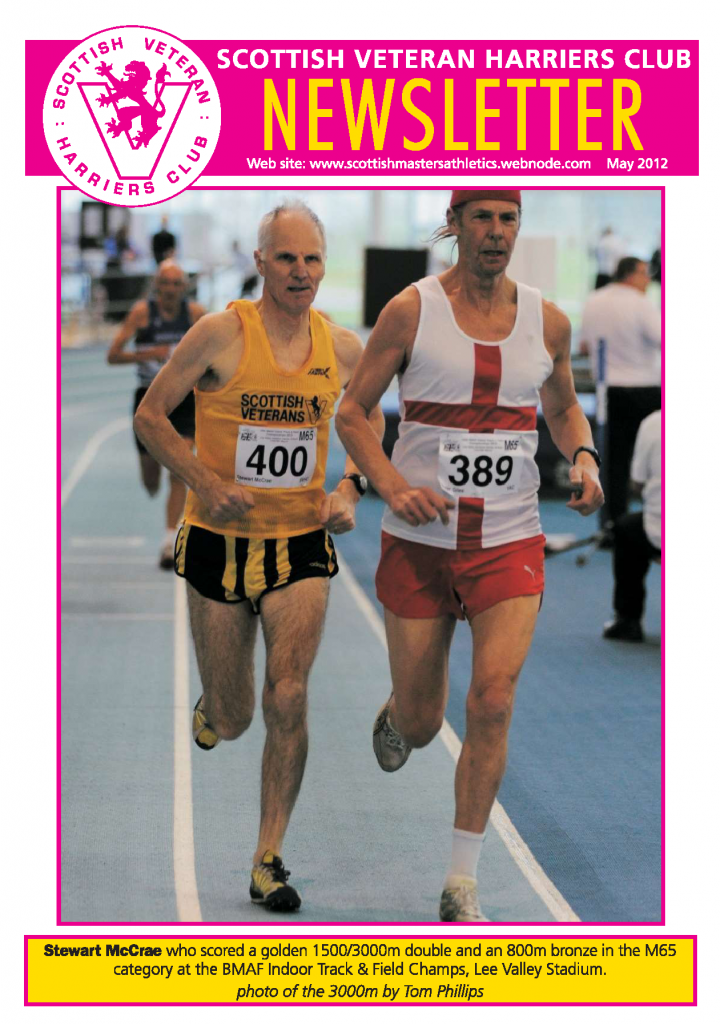 MEMBERSHIP NOTES 20th April 2012
MEMBERS
I regret to inform you that Norrie Weir has died.
Welcome to the 10 new and 5 reinstated members who have joined or re-joined since 1 Dec 2012. 13 members have resigned, and 67 have still not renewed their subscriptions, so we now have 409 paid up members.
NEWSLETTER
The massive increase in postal charges has forced us to change to an electronic version of the Newsletter as the preferred option. Any member who wishes to continue receiving a printed Newsletter must contact me, if they have not already done so. Please inform me if you add or change your email address.
Please send photos, news, letters, articles, etc for the next issue to: DAVID FAIRWEATHER 12 POWBURN CRESCENT, UDDINGSTON, G71 7SS e-mail: djf@dfairweather.plus.com Tel: 01698 810575
If any member would like to take over the editing of the Newsletter, I would be very happy to hear from them.
BRITISH & IRISH CROSS COUNTRY INTERNATIONAL I have reserved 25 twin/double rooms at the Europa Hotel for Fri/Sat 9/10 November 2012. The race will be held at Stormont.
SVHC EVENTS
Stewards/marshals are required for club races. The club appreciate all members & friends who volunteer to act as stewards/marshals. If you are not competing just turn up and introduce yourselves to the organisers. Thanks to all those who have already helped out.
STANDING ORDERS
Thank you to the members who have set up standing orders for membership subscriptions. Please remember to update the amount payable, & keep me informed if your membership details change (especially email addresses). If any other member wishes to set up a standing order please contact me.
CLUB VESTS
SVHC running vests can be purchased from Molly Wilmoth for £15 (Tel: 0141 7764941).
NEW MEMBERS
CHRS SURN JOINED NO. TOWN
Lorraine Brown 15-Mar-12 2083 Kirkcaldy
Colin Brown 15-Mar-12 2082 Kirkcaldy
James Buchanan 13-Jan-12 2078 Glencaple
Anne Howie 31-Jan-12 2080 Eskbank
Anne Noble 06-Jan-12 2077 Ayr
Mal Steel 18-Apr-12 2085 Newcastle
Stephen Wallace 03-Dec-11 2076 Dullartur
Vernon White 17-Mar-12 2084 Joppa
Grant Wilkie 14-Mar-12 2081 Edinburgh
Susan Young 28-Jan-12 2079 Dundee
Stephen Cromar 09-Feb-12 790 Dundee
John Elphinstone 02-Feb-12 108 Currie
Pat Kelly 24-Jan-12 1277 Motherwell
William Richardson 10-Jan-12 1925 Seamill
Margaret Robertson 08-Mar-12 747 Dundee
David Fairweather Membership Secreta
RUN and BECOME SERIES 2012
Fiona Matheson strengthened her leading position in the women's event after another excellent run in the Tom Scott 10 miles at Strathclyde Park, with Ada Stewart 2nd and Phyllis Hands 3rd. Ada gained more points in the Lochaber Marathon.
The men's competition is very tight with 0.2 points covering the top three competitors, Robert Gilroy, Willie Jarvie and Peter Cartwright.
Congratulations to Stuart Kerr and Megan Wright on their outstanding running in the Lochaber Marathon; as well as becoming SVHC Marathon Champions for the year they added to their points total in the Run and Become Series.
Events, with dates where known, are listed below. There will be a slight change to the scoring this year with more emphasis being placed on the Age Graded Tables element. Merit points will in future only be gained by athletes who finish more than the counting 8 races, an additional point being awarded for each race beyond race 8.
The remaining races are –
May 2 Snowball Race Coatbridge
May 6 SVHC Walter Ross 10km Cartha Rugby Club
May26 Bathgate Hill Race
June 6 Corstorphine 5 miles
June 24 SAL Masters Track Champs (Men 5K, Women 3K)
June 27 SVHC 5K Clydebank
August 19 Glasgow 800 10km, Cartha Rugby Club
October 7 BMAF Half Marathon Kirkintilloch
Further details will appear in your Newsletter and on the SVHC website.
RUN and BECOME RACE SERIES
It appears that some SVHC members are not terribly aware of the Run and Become Series and how it operates. The event carries a prize list of over £600 plus trophies and covers 12 races over various distances, disciplines and surfaces. Of the 12 races each competitor's best 8 count. Points are awarded using the International Age Graded table with 10% of each runner's age grading being awarded per race. Bonus points can be gained by running more than the required 8 races, 1 additional point being gained for completing each race over the required 8. The full list of races and the current points table can be found on the club website www.scottishmastersathletics.webnode.com . See also page 2 of this Newsletter and the results pages.
Fiona Matheson and Robert Gilroy are the current leaders, and winners over the last two years have been Ian Stewart and Marie McChord in 2010 and Andy Law and Susan Ridley last year.
Alastair Macfarlane
LETTERS
SVHC Proposed Name Change
I am writing in response to the article by Mike Clerihew in the last issue of our SVHC Newsletter. Mike is proposing, once again. to change the name of the Club.
I see he has headed his article "Scottish Masters Athletic Association. Is this his proposed new name for the Club?
The Scottish Veteran Harriers Club was founded over forty years ago and has been a strong institution for veteran runners under that banner ever since.
I do not agree that the name of the Club gives the wrong impression that we are a "small, exclusive West of Scotland Club". We have a number of East. North and South members.
As I have stated in the past, there are a large number of Clubs with Harriers in their name, but I would doubt that any of these Clubs, many who have celebrated their Centenaries, are contemplating changing their Club name.
The last time this proposal was raised (2008) I also read the Oxford Dictionary regarding Harriers and Masters, so I am not repeating the same findings again.
The Masters Athletics magazine shows that, including SVHC, there are seven area clubs out of eleven in the UK with Veterans in their title, so SVHC are in the majority.
Perhaps I am not wanting to "move with the times" but as a track runner, many years ago with Springburn Harriers, the name of the Club did not deter me from joining in 1953.
I wonder what I will do with the SVHC vests I sell, and all the members, who wear them with pride!!
So, members, it is up to you to e-mail or phone the President, Alastair, with your views. Do not wait until the A.G.M. in October, as your opinion is needed NOW.
Molly Wilmoth
10km Track Race
I appreciate the event, I can participate with complete confidence. I do not require course marking/stewards I can run against the watch irrespective of the field with complete confidence in my laps and time.
Why? Once I was denied a British medal, made to run an exra lap, saw a British gold awarded to one who had not run 25 laps. I had monitored him as I was competing against him.
So, I bought a quality stop watch, since updated. It tells the day, date, time and a flick of a switch records every lap up to 100, not on my wrist in my palm.
The last 10k my monitor was not sure of my lapping but our times matched. Get yourself a watch.
Falkirk Victoria Harriers have retained Falkirk Council's Team of the Year award, the performance across the spectrum team and individual from youngsters to veterans. Fiona Matheson was runner up in The Senior personality to a world champion karate performer, actually a professional. Scrolls were awarded across the spectrum, including Veterans Alec Bryce, Tony Devlin, David Hart, Craig Johnston, Hugh McGinlay, and Andy Ronald.
It is important that if your authority recognises such community input you take the opportunity, which gives the lie to those who say 'There is nothing for us to do.'
Nobody cares to decry the standard of Scottish sport. They participate. compete, personal best/improvement the aim. If success be gained that is the icing on the cake, The award recognises the tremendous club input across the athletic scene, the backroom staff par excellence.
Hugh McGinlay Falkirk Victoria Harriers
Competing in the Emerald Isle by Bob Douglas, Harmeny AC
Competition is the lifeblood of our sport, but as we progress through the age groups the opportunities to test ourselves against our age group peers tend to diminish, especially for those of us who, by accident or design, have taken up Track & Field disciplines.
Until a couple of years ago my own competition season was based around sprints at three events – New Year Sprints, Scottish Masters Indoors and Scottish Masters Outdoors. A good day at the New Year Sprints with heats & finals could provide half my races for the year.
More recently I've looked further afield to the British Masters and the Inter-Area match to extend the summer season beyond one (or two) races.
Last year there was to be no Inter-Area match, and feeling in pretty good nick after the Scottish in May and the British in June, I was keen to find a target to keep the summer alive. I didn't really fancy a week in Sacramento to (probably) go out in the first round, but there was somewhere not so far west: Belfast, and the Northern Ireland Masters T&F Championships.
Belfast, Sat 27August 2011:
I checked with the organisers, and yes, Scottish entries would be welcome. Courtesy of Easyjet it was possible to travel out from Edinburgh to Belfast International and back in a day. Entry fees were VERY reasonable, £7 for the first event, £3 for each additional one, so five events only cost £19.
Buses from the airport and from the city down to the Mary Peters track are frequent and quick. I met a lad up from Cork at the bus stop in the city centre, and when we saw the pavilion we hopped off the bus. Ooops, it was the University sports complex, and we still had a wee hike to the stadium.
The Mary Peters stadium is in a lovely rural setting on a hillside on the south side of the city, with a backdrop of trees at one end and open countryside at the other.
There were quite a few lads up from the Republic who'd competed in their own championships the previous week.
The M50 / M55 age groups (I'm in the latter) raced together and we filled the 6-lane track for the 200m & 400m.
I don't know whether it was the sustained summer training, the warm conditions, or the competition – probably a combination of all three – but with two 14-year pbs in the 100m and 200m and two track Golds (200m & 400m) & a Silver (100m) it turned out to be my most successful day on the track.
And there was the bonus of new, friendly rivalries. The lads from the Republic mentioned that their Championships were also open, so I thought "..why not …?"
Nenagh, RoI, Sun 15 January 2012:
Again I checked with the organiser, and yes, Brits were welcome.
The travel logistics were to be a bit more challenging as Nenagh is about 100 miles from Dublin and a couple of overnight stays looked inevitable.
The first challenge was entering, as the entry form wasn't available until 2 Jan, with entries closing 11 Jan. Not many working days to get a Euro money order sorted and posted over (online entry would have helped.) Entry fees were ¤15 for the first event and ¤10 for each subsequent event.
The track in Nenagh has been built by the local club in what appears to be a big converted barn, with just enough space between the track and the walls to squeeze in a walkway and a row of benches. There was no heating and it was very cold that day.
The other big difference from the Kelvin Hall was the shape of the 4-lane track. The bends are very tight, and the straights are quite long.
After the 60m races were finished a HJ area was set up beyond the 60m finish line. Then they set up a second HJ bed beyond that.
Another very noticeable thing was how well supported this event is in spite of the cost, the travelling distances and the short window for entering.
Where we sometimes have two or three age groups to make up a race, there were two or even three races in many age groups in the 200m & 400m. It was good to race again against lads I'd raced in Belfast.
There was no messing about with a call room. The starter used a thing which made a beeping noise rather than a starting pistol, probably as the venue is in a residential area. And they apply the "first false start and yer oot!" rule, which eliminated the lad next to me in the 60m.
I got Br in the 60m and G in the 200m, my main target, so mission accomplished.
Summer 2012:
One of the lads from the North mentioned that the Mary Peters track is being upgraded to 8-lanes, so the NI Masters will be at Bangor, Sat June 30.
This isn't far from Belfast, with regular trains from the city centre, so out and back in a day (from Edinburgh) looks possible.
It is the week after the Scottish Masters, so it's a chance to fully exploit that hard-earned fitness.
www.northernirelandmasters.co.uk/fixtures.html www.athleticsni.org/download/files/FixtureList-TrackField2012.pdf
The RoI Masters will be at Tullamore, which is about 90min drive from Dublin, on Sat Aug 18. It does clash with the European Masters, but it should still be well attended. www.athleticsireland.ie/content/?page_id=714 I hope to see some of you at one or both of these events.
SVHC Spain Holiday 2012, Hotel Palma Sol, Benalmadena.
Reporter: David Fairweather
We missed our holiday last year due to the Tunisian crisis, so we were pleased to be back in Spain, and it was pleasantly warm and sunny when we arrived in Malaga. We had our own direct hotel transfer, so it didn't take long to reach the Palma Sol.
The hotel had been partially refurbished since our last visit in 2009 and the public areas looked a lot smarter.
Our group was down to 16 this year, and none of us were particularly fit, so we decided that a 5km race would be sufficient challenge this year, and we persuaded Danny to give us a full day to prepare for it.
On Monday we played boules, which was hilarious as usual. Danny won.
The 5km race was held on Tuesday morning, by which time it was pleasantly warm. The course started at the harbour and went straight along the Torremolinos prom, with a turn at the far end, then back to finish near Burger King. Theresa was the only walker, and Alison the only female runner, so they had no competition.
Willie Drysdale was given a massive handicap, followed by Alison then Tom O'Reilly. Next off was Roy Fulton, with me chasing 2_min later.
The promenade was quite busy with walkers, cyclists, skaters, dogs etc., so it was quite difficult to avoid collisions. Thanks to Danny's generous handicapping, Willie finished in 30min dead, followed by Alison 6:45 later with Roy hot on her heels 3sec later!
We only had a few minutes recovery before the 100m sand race, which was won by Roy, with Alison 2nd again.
The weather kept warm for the rest of the week, so there was plenty of opportunity for relaxation and sunbathing by the pool. We went out most evenings, but there were very few bars open. Carlos Pub was the best of the limited choice, but one evening we decided to visit a bar in the marina.
We were given instructions to look for a building with a polar bear outside, but confusion reigned when there turned out to be 2 polar bears in the marina! Eventually we all met up in the same bar.
On Thursday we played darts. The dartboard and darts were magnetic, which provided an additional challenge. Willie nearly lost 1 dart in the hedge, but still managed to score a bull with another throw. Danny was overall winner, and Alison was 1st lady.
On Saturday afternoon all the fancy dress contestants paraded round the pool at 3pm, led by Roy providing guitar accompaniment. Danny asked 2 onlookers to judge the event, and they decided that Bob Burt was the winner, though they thought he was supposed to be Jesus!
After dinner we had our party night in a private hotel room. Willie was presented with the 5km road race trophy and also the trophy for the overall points winner. Tom and Roy provided instrumental accompaniment on bohdran & guitar. A guest, Eric, who we had met in previous years, was also persuaded to sing a couple of songs. Jack Lang was unfortunately taken ill and had to miss the party. We hope he is fully recovered now.
COLD SATURDAY!
On Saturday the streets to the west of Broxburn were deserted, the winter chill had descended and only the bravest residents scurried to the local shop to get the daily paper.
The scene was to change dramatically as the first group of youths appeared. From the direction of the Academy, slowly at first, but ever increasing in numbers, gangs of about eight to ten. The hooded appearance of the majority created a worrying situation. The dull black and grey outfits, augmented by an occasional red. suggested townies, not the brown, green or orange of country folk. Many had scarves across their faces tucked tightly into their hoods or woolly hats.
Some groups were accompanied by adults looking equally sinister and intense. They moved through the narrow streets looking serious, apprehensive, their faces chilled by the Arctic blast.
Local shopkeepers stood worriedly at the doors of their shops discouraging anyone to enter. Residents peered from behind the net curtains unsure what might be happening.
Occasional words would pass between the various groups but the tension was apparent. It was now clear that their intended destination was the hilly area to the north of the town, only accessible by a rough narrow path.
Often one individual would burst away from the group at a run, seemingly to release pent up emotion.
Bordering the tree line by the path I found a route to observe the scene from a safe distance. This was no casual occurrence; preparation had been made on the areas and surrounds of the hill. Markers had been placed to identify what seemed to be "no go areas".
As the numbers increased to several hundred, I could see that some of the groups even had graffiti like banners displaying their signatures. Others had brought rough tents which seemed to function like a gang hut or shelter.
The atmosphere was now very tense, the majority seemed to be intent on surveying the marked zones. They mostly walked in groups but the most agitated individuals would jog or run furtively ahead.
As if to some pre-agreed signal a sinister looking individual in a strange red jacket and cap appeared in the centre of proceedings. To my alarm I could see him discreetly produce a pistol from an old bag lying on the ground. In a loud voice he challenged each of the gangs to select individuals to report to the side of a large bedraggled banner which flapped just out of my eyesight.
It appeared five minutes was allowable to convene your selections. To my surprise youngsters were to be involved first.
Each gang supplied about five of their finest. With serious faces and displaying various degrees of arrogance and apprehension they gathered together in the centre of the arena. The gun was raised and fired and the first race of the East District C.C. league for under-11 boys and girls commenced.
Ricki Finlayson Masters Athlete/Coach.
The SVHC Winter Break 2012
Day 1: Here we go again to the Canaries for some warm weather training. There are a few new faces in the group this year. I'm sure they will enjoy themselves. The lucky resort is Playa Blanca in the south of Lanzarote.
We reached the 4* Iberostar Papagayo safely after a trouble-free flight & transfer.
There was to be a recce run at 5pm. Peter had already sussed out a course for the 5K race. We would start out just down the prom from the hotel and head towards the marina and the town centre, all along a nice wide walkway next to the sea. The walkway was reasonably quiet at this time of day with not that many "foreign" bodies getting in the way.
At dinner the food was excellent. The best for quite a few years. For all-inclusive the drinks were of a reasonable standard. Up in the Lobby bar after the meal the staff were very friendly and helpful. They knew what we liked and how much of it!
Day 2: Very pleasant morning for a run, sun out and hardly any wind. It was nice to see a good turnout on the first morning. It was a great day for sitting round the pool and this is where most of the company parked their butts. By late afternoon there were a lot of red lobsters crawling about.
Same every year in the Canaries, we Scots under estimate the strength of the sun down here.
The 5 pm run and walk was on. Those not contemplating exerting themselves assembled in the Lobby bar waiting for the athletes to come back to be refreshed, as was the tradition. The runners arrived back. Peter came back from his walk saying he had got a 5K trail for the race tomorrow.
Day 3: Race day. Yes another scorcher. It's a very undulating course. There will likely be a few tourists on the walkway at the marina end of the course.
The 3 walkers Marina, Helen and Janette went at 11:00, followed by the runners 5min later.
As the runners headed up the hill for the 2nd time, Jude was well clear after 800 metres. The rest followed in conga line style with big Hugh Laverty the first vet. Pamela was the leading lady with Fiona McCue not too far behind.
There were 16 runners taking part this year and by the time they reached the turn manned by Mrs Mac and ably assisted by Colin and Sheree McMillan the finishing order had been mostly sorted out.
The over 60s race looked quite interesting with Jimmy Mac, at the front with wee Hugh and myself very close behind.
The race leader, Jude, came home in 18:00. A very fast time considering the hot conditions and the toughness off the course.
Next home was "youngster" Donald with Martin King nearly a minute behind. Then it was the turn of the 1st vet, Big Hugh in 20:05.
Stuart Allison managed to hold off the fast finishing Pamela McCrossan, the 1st lady. The 2nd lady and just 26sec behind was Fiona.
Then came the battle of the 60s. Jim was leading when he went slightly off the course with about 700 m to go. I took a wee bit of an advantage. Wee Hugh was making a big push and got ahead of me with 300m to go. Once again I got a wee lift when Hugh started to go off course. I got him back on the right line only for him to go by me like a "bat out of hell". This adrenaline rush was his downfall and allowed me to sneak by him with 50m to go. It's great to be back racing after getting my pacemaker fitted last year.
Course director, Peter was next to cross the line but he was watching his back for Christine Duncanson, the 3rd lady. Coming in together were Marie Rippon and Buffalo Bill Robertson. This was Bill's first race and he was guided round by Marie. The 5th lady was Hazel Boulton who was amazed she got round the course so fast. That only left Laurie Pearson to finish.
That only left the walkers. Marina was first walker to finish in 36:39. The biggest cheer was kept for Janette and Helen who crossed the line together.
Peter read out the results. Big Hugh won the contest for the closest to the predicted time.
Time to relax by the pool in the afternoon for some. Others settled for a game of tennis.
Night-time and it was down to theatre for Mamma Mia. The ladies wanted to see it and the men were dragged along. The show wasn't that bad!
Day 4: The sun was still out but it was a bit windier. Big Hugh and Buffalo Bill were going to climb a mountain (just behind the hotel) and come back down a hill! Something like that film a few years ago. They made it back safely. Marina had joined them for part of the way, but found the underfoot conditions and the height a bit scary.
About mid-day 10 of the company hired bikes to cycle round the area. It was Market Day down at the marina. Quite a few went down for a look around.
The bike people came back at 4 o'clock. Two of the bikes had broken down. The first one was early on but managed to get it fixed. Mel 's broke down out at Punta de Papagayo, a few miles from the hotel. They phoned the bike supplier who said it would take someone 50min to get to them. She decided to walk back with partner Donald to the hotel. It took them about an hour.
The saga of the bikes continued when the bike owner came back for the bikes without telling the group. When Peter found out he had sneaked in and still charged the full amount for the faulty bikes he was raging. He was going to go down to the shop tomorrow and do battle. And get a refund.
Day 5: Says Stuart A, "I've arranged a golf tournament at the local pitch & putt course". Only 15euro per head for 2 rounds plus 1euro entry fee with the winner taking all. 12 eager souls set out in taxis for the course after lunch.
Who would win the Lanzarote Open? Well there was only one bona fide golfer in the party of 12, Peter R, so he was immediately installed as the red-hot favourite. The competition was to be a stroke play event, under the strict rules of golf, with no gimmees and all freshies to count.
The course was short and fair but quite tricky to hold the ball on the firm greens. After the first round the scores on the doors were – Peter R 34, Stuart A 36, Brian R 37, Martin K 38, Laurie P 39, Jude B 42, John B 43, Mark R 44, Donald C 47, Hugh L 47, Hugh W 48 and Bill R 56!!!
The second round commenced straight away and just as the leading four teed-off, the WAGS turned up to provide some vocal support. After which they immediately adjourned to the bar to await the completion of the championship.
We were quicker in the second round, either because we improved or we were all desperate for a beer. Interestingly all of the 4 leaders had a worse score in the second round but overall 6 improved and 6 were worse.
Best improvement was from Bill R who took a whopping 13 shots less but honourable mention to Jude B who improved by 6 to bring him up to 2nd place.
The overall champion and winner of the inaugural SVHC Open Pitch &Putt Championship was Peter R with a gross 70.
Final scores were – Peter R 70, Jude B 78, Stuart A 79, Martin K 80, John B 82, Mark R 84 Brian R 84, Laurie P 86, Donald C 91, Hugh W 92, Bill R 99 and Hugh L 102.
So Peter took the money, which was immediately spent on 4 beers for the group.
After dinner the walk down to the marina was tempting as it was turning into a lovely night. There was a Broadway Show on at the theatre in the hotel. It was the usual fare.
After the show one of the "stars" told us the reason why the sun was a bit hazy all day. The strong easterly wind, which had been blowing for most of the day, was bringing sand from the Sahara Desert. She also stated that the following day is usually very nice.
Day 6: The forecast was right. What a glorious morning. Jude was hoping to do a 4-hour run on the trails round the resort. He is in full training for the "Highland Fling" at the end of April & needs to get one long run in a week. So he headed out just after 8 o'clock with his water, isotonic and gels to keep hydrated and nourished. We were wee bit concerned about how warm it was but he was back in 3hrs 58mins and had covered 27 miles over the hilly terrain. He had pre-booked a massage to help his body recover.
3 o'clock and time for the Annual Quiz. The Quiz Master was John Bannister. Cards were drawn to select the teams. Team names were selected, as was the tradition. There was Brian's Babes & 2 Hinger Ons, Mark's Mistresses, Hey Dude Where's Jude, Three Coins in a Fountain and the Urns.
There would 5 rounds of 10 questions in each. Nothing too hard according to John. After just over an hour of hard slog of mind games, there was only 1 winner, The Urns. They got 35 out of 50 correct. The winning team consisted of Captain Peter, Janet, Bill, Mel and Donald. They were the Breakaway Quiz Champions for 2012.
The 2nd team was Mark and his Women only 5pts behind. The Wooden Spoon was one by Brian's Babes who could only manage 24pts.
Day 7: Last full day of the holiday. Good to see a good number of runners out at 8 o'clock. Peter was going to have a pack run at 11 o'clock though. They were going to head to the hills.
In the afternoon a few of the lads were getting restless. 2 hours sunbathing was enough. Someone suggested beach volleyball across the street in the area that can be used for having a bash at this sport. Four were up for it, the injured Stuart teaming up with Mark. And Brian and Donald the other team. I volunteered to act as referee or is it umpire? Anyway, I was there to see fair play!
When we arrived at the court there was a deep end and not so deep with the sand being blown to one end with the wind.
After the rules were loosely explained along with the scoring system it was agreed that bikini tops and bottoms were not compulsory! T-shirts and baggy shorts would be fine.
Brian started the 1st set with the backing of Donald and raced into a 7-0 lead. It was 15 to win the set. Mark and Stuart made a bit of a comeback and were getting ever closer to B&D. But as the set progressed Brian's serves and Donald's returns were too much for M&S. A 15-8 win for them.
The 2nd set had quite a bit of drama! Stuart playing a return shot made an impressive attempt to try and return the ball from Brian's serve. Unfortunately, he dived at the shallow end. He did manage to return the ball but hurt his knee and elbow in the process. We thought he was kidding us on. He was just lying there. I came on as the first aid man. He had a cut on his left knee and elbow. Nothing too serious.
The set continued. This seemed to upset the M&S team. After a good start they were soon behind their opponents. 15-6 for B&D. 2 sets to love. 3 sets were needed to win the match.
M&S came out fighting in the 3rd set and raced into a 4-0 lead. B&D fought back. The game was swinging back and forward. It was getting warm on the court. M&S were running out of steam, they were knackered. Brian was using all his guile and natural athleticism to let Donald do all the work. They were both on 10. But not for long. 5pts were won in quick succession. Game, set and match to Brian and Donald. The first Beach Volleyball Championship winners of the Breakaway group. There were handshakes all round and back to the hotel for some drinks.
Day 8: A beautiful summer's morning we would hope for in Greenock. It was great for running. 7 managed to get out at 8.
Bus came on time at 11:15. We were up in the air by 2:10. We had a winner on the way back. Laurie Pearson won a free drink after filling in a questionnaire about the holiday.
This had been a wonderful week in Lanzarote. The weather didn't let us down. The hotel staff and the food were excellent. Great week, great fun. Thanks to everybody who was there. You made it special. Tenerife next year?
Cameron Spence
The SVHC 5K Road Race Playa Blanca Lanzarote March 6th 2012
1st
J Boulton
18:00
CR(must be?)
2nd
D Cameron
18:42
3rd
M King
19:37
CH
4th
H Laverty
M55
20:05
5th
S Allison
M40
20:59
6th
P McCrossan
F50
21:09
7th
F McCue
F40
21:35
8th
C Spence
M60
22:51
9th
H Watson
M65
22:52
10th
J McMillan
M65
23:10
11th
P Rudzinski
M60
24:34
12th
C Duncanson
F50
25:02
13th
M Rippon
F45
27:37
14th
B Robertson
M50
27:37
15th
H Boulton
F35
28:33
16th
L Pearson
M65
29:55
The Walk 1st M McCallum F40 36:39(WR)
2nd = J Pearson F65 & H Spence F60 43:39 (4.5K)
Winter Track & Field Update from Mike Clerihew
BMAF Indoor Pentathlon: Sheffield 5th February 2012.
This was the first time the event had been held in Sheffield and three SVHC members plus three other Scots competed. SVHC's Derek Glasgow finished an excellent second of nine competitors in the M45 category with a total of 2717 points whilst Ken Moncrieff, also representing SVHC finished 6th with 2866 points in a very competitive nine man field in the M50 category. Unfortunately the other Scots, Bill Lonsdale (SVHC), Allan Leiper (SCVAC), Janice Hardcastle (EVAC) and Eddie McKenzie (no club), all retired during the competition.
DM Hall National Masters Championships: Kelvin Hall 12th February 2012.
Yet again a rather disappointing turnout but nevertheless some outstanding performances were achieved with pride of place going to John Scott from Shettleston Harriers who set a new M70 British Record with a throw of 12.24m whilst competing as a guest in the female shot competition. John later set an official Championship Best Performance of 11.62m in the male shot competition. In total twelve Championship Best Performances (CBP) were achieved or equalled, five of which equalled or bettered Scottish Masters Best Performances (SMBP). New marks were set by Willie Russell in the M80 200m, Des Fitzgerald in the M35 pole vault, Bobby Stevenson in the M55 triple jump and Jimmy Christie in the M80 shot whilst ex British International sprinter Brian Whittle equalled the M45 high jump best. Details of all new best performances are noted in the table below. Full results for the Indoor Championships can be found on the club website.
| | | | | | | | | | | |
| --- | --- | --- | --- | --- | --- | --- | --- | --- | --- | --- |
| Name | Cat. | Event | Perf. | | | Name | Cat. | Event | Perf. | |
| Leon Braithwaite | M35 | 60m | 7.28s | | | David Dixon | M50 | TJ | 11.63m | |
| Sandra MacDonald | W50 | 200m | 30.52s | | | Bobby Stevenson | M55 | TJ | 11.00m | SMBP |
| Willie Russell | M80 | 200m | 43.64s | SMBP | | Sheila Champion | W75 | Shot | 4.92m | |
| Phyllis Hands | W55 | 3000m | 13:15.96 | | | Jim Hogg | M55 | Shot | 13.18m | |
| Mary Barratt | W50 | HJ | 1.25m | =CBP | | John Scott | M70 | Shot | 11.62m | |
| Brian Whittle | M45 | HJ | 1.76m | =SMBP | | James Christie | M80 | Shot | 4.55m | SMBP |
| Des Fitzgerald | M35 | PV | 3.70 | SMBP | | | | | | |
Scottish Masters Combined Events Championships: Kelvin Hall 11th/12th February 2012.
In the heptathlon Colin Christie (M45) from Montrose & District AC won the competition and the Ian Steedman medal for first Scot with a score of 3845 points with Derek Glasgow (M45) from Inverness Harriers close behind on 3776 points. All results are on the website.
BMAF Indoor Championships & Outdoor Winter Throws: Lee Valley, London. 17th/18th March 2012.
Fourteen SVHC members were included in the 600 plus athletes who competed in this event, winning a total of 20 medals – ten gold, six silver and four bronze. Top performers were Claire Cameron in the W50 category with four golds – shot at the indoor championships and hammer, discus and weight in the outdoor throws and Stewart McCrae with a golden 1500/3000m double and an 800m bronze in the M65 category. Others to strike gold were Jim Sloan with wins in the M70 indoor shot and outdoor discus where he set a Scottish Masters Best Performance of 35.32m, John Ross with gold in the M70 200m and silver in the 60m and Susan Young with gold in the W35 400m in a Scottish Masters Best Performance of 58.6s and bronze in the 200m. Liz Bowers also bettered her own Scottish Masters Best Performance with a time of 2:48.75 in picking up a silver medal in the W55 800m. All results for SVHC members and other Scots are noted below.
SVHC Members.
| | | | | | |
| --- | --- | --- | --- | --- | --- |
| Name | Age | Event | Place | Perf. | Comments |
| John Birkett | M55 | Shot | 4th | 9.18m | |
| Liz Bowers | W55 | 800m | 2nd | 2:48.75 | Scottish Masters Best Performance |
| | | 1500m | 3rd | 5:36.53 | |
| Alex Bryce | M50 | 800m | 2nd | 2:14.32 | Heat 2:13.07. |
| | | 1500m | 5th | 4:33.86 | |
| Claire Cameron | W50 | Shot | 1st | 10.28m | |
| | | Hammer | 1st | 31.33m | |
| | | Discus | 1st | 30.19m | |
| | | Weight | 1st | 10.54m | |
| Brian Gardner | M55 | 1500m | 4th | 4:43.85 | |
| Ian Johnston | M40 | 3000m | 2nd | 9:30.23 | |
| Angela Kelly | W50 | 60m | 6th | 9.17s | |
| | | 200m | 5th | 31.24s | |
| Bill Lonsdale | M60 | HJ | =2nd | 1.30m | |
| Stewart McCrae | M65 | 800m | 3rd | 2:35.11 | |
| | | 1500m | 1st | 5:23.30 | |
| | | 3000m | 1st | 11:36.40 | |
| John McGarry | M60 | 60m | 2nd | 8.24s | |
| | | 200m | 3rd | 27.12s | |
| Grant Ramsay | M35 | 3000m | 4th | 9:24.65 | |
| John Ross | M70 | 60m | 2nd | 9.22s | |
| | | 200m | 1st | 30.33s | |
| Jim Sloan | M70 | Shot | 1st | 11.29m | |
| | | Discus | 1st | 35.32m | Scottish Masters Best Performance |
| | | Hammer | 4th | 25.24m | |
| | | Weight | 5th | 10.93m | |
| Susan Young | W35 | 200m | 3rd | 26.40s | |
| | | 400m | 1st | 58.6s | Scottish Masters Best Performance |
Scottish Athletes competing for other BMAF Clubs
| | | | | | |
| --- | --- | --- | --- | --- | --- |
| Name | Age | Event | Place | Perf. | Comments |
| Bill Gentleman | M70 | Hammer | 2nd | 44.14m | Competing for Northern Vets. |
| | | Weight | 2nd | 15.64m | |
| Allan Leiper | M50 | High Jump | 3rd | 1.50m | Competing for Southern Counties Vets. |
| | | Shot | 4th | 12.68m | |
| | | 60mH | 4th | 9.49s | |
| Will MacGee | M40 | 60m | 3rd | 7.41s | Competing for Southern Counties Vets. |
| | | 200m | 1st | 23.73s | |
| Ian Miller | M75 | Shot | 1st | 10.34m | Competing for Eastern Vets. |
| | | Hammer | 1st | 34.36m | |
| | | Weight | 1st | 13.15m | |
| Alasdair Ross | M60 | 60m | 1st | 8.09s | Competing for Southern Counties Vets. |
| | | 200m | 1st | 26.13s | |
| Steve Whyte | M45 | Hammer | 1st | 53.80m | Competing for Eastern Vets. |
| | | Weight | 1st | 16.54m | |
World Masters Athletics Indoor Championships: Jyvaskyla, Finland. 3rd – 8th April, 2012.
Only seven athletes with Scottish connections travelled to Finland as part of a relatively small British contingent but some notable performances were achieved. Of the SVHC members Andy McLinden won gold in the M60 half marathon and Sue Ridley won double silver in the W45 3000m and 8k cross country. Non SVHC members also stood out with Steve Whyte striking gold in the M45 weight throw in a new European Record of 16.70m (he actually achieved a throw of 17.38m at a meeting in Milton Keynes in 2010 and the British Record stands at 17.61m set by John Pearson last year – confusing or not) and in the hammer. Alasdair Ross won silver in the M60 60m and 200m where his time of 25.88s is a new Scottish Masters Best Performance. Janice Hardcastle won a bronze as part of the W50 4x200m relay team.
It appears that the expense of attending International Masters Championships is having a significant impact on British competitor numbers which have seen a steady decline over the past few years. Jyvaskyla not exactly being a European tourist hotspot probably didn't help either.
Results for Scottish Athletes.
| | | | | | |
| --- | --- | --- | --- | --- | --- |
| Name | Age | Event | Place | Perf. | Comments |
| Alex Bryce | M50 | 800m | 6th | 2-10.96 | |
| | | 1500m | 6th | 4-28.61 | |
| Janice Hardcastle | W50 | Pentathlon | 6th | 2336 pts | |
| | | 4x200m | 2nd | | |
| Lynne Marr | W50 | 8k XC | 15th | 48m 13s | |
| Andy McLinden | M60 | ½ Marathon | 1st | 1h 20m 43s | |
| Sue Ridley | W45 | 1500m | 4th | 5-02.73 | |
| | | 3000m | 2nd | 10-50.53 | |
| | | 8k XC | 2nd | 33m 08s | |
| Alasdair Ross | M60 | 60m | 2nd | 7.96s | |
| | | 200m | 2nd | 25.88s | Scottish Masters Best Performance |
| Steve Whyte | M45 | Shot | 4th | 14.12m | |
| | | Hammer | 1st | 54.63m | |
| | | Discus | 5th | 34.31m | |
| | | Weight | 1st | 16.70m | European Record |
My congratulations to all medal winners in competitions over the winter and to other athletes who have achieved their goals. Commiserations to those feeling that they have fallen short of their targets and my apologies to anyone I have missed.
Finally there are two points which I should mention before signing off:-
Firstly a big thank you? to Scottish Athletics for responding to my continual requests for a reduction in entry fees to Scottish Masters Track & Field Championships for actually taking some action. Unfortunately the response has been a 12% increase in the entry fee.
One of these days perhaps I'll learn to keep my mouth shut.
Secondly I wish to thank those members who took the trouble to respond to my article in the December 2011 issue of the newsletter regarding my desire to change the name of the Scottish Veteran Harriers Club to Scottish Masters Athletic Association. In total 16 members (3.5% of the total membership) actually bothered to show any interest in the matter. I do intend to put a formal proposal to the Annual General Meeting in October but I fear that overwhelming apathy will ensure that the status quo prevails.
Mike Clerihew
Scottish Masters Indoor Track & Field Best Performances
Any issues regarding best performances should be referred to Mike Clerihew
e-mail: mikeclerihew@yahoo.com telephone: 0131 331 2412
60 metres
Perf
Year
Venue
1500 metres
Perf
Year
Venue
M35
Darren Scott
7.04
2009
Manchester
M35
Stuart Campbell
4-07.28
2007
Glasgow
M40
Darren Scott
6.98
2010
Manchester
M40
Stephen Allen
4-09.31
2010
Glasgow
M45
David Grieve
7.49
2002
Glasgow
M45
Alastair Dunlop
4-12.68
2002
Glasgow
M50
Alasdair Ross
7.66
2003
Glasgow
M50
Alastair Dunlop
4-18.40
2004
Sindelfingen, Ger.
M55
Alasdair Ross
7.67
2007
Helsinki, Finland
M55
Alastair Dunlop
4-24.39
2009
Glasgow
M60
John Steede
7.94
2002
Glasgow
M60
Robert Young
4-57.78
2004
Glasgow
M65
John Steede
8.58
2008
Lee Valley, London
M65
Harry Tempan
4-53.02
1991
Glasgow
M70
John Ross
8.93
2010
Glasgow
M70
Jimmy Todd
5-13.1
1992
Glasgow
M75
Ernie Plimer
9.76
1994
Glasgow
M75
Jimmy Todd
5-42.26
1997
Birmingham
M80
Andy Coogan
11.21
1998
Glasgow
M80
Hugh McGinlay
7-52.47
2006
Glasgow
W35
Joss Kirby
7.80
1994
Glasgow
M85
J.E.Farrell
8-41.47
1997
Glasgow
W40
Joss Harwood
8.04
1998
Glasgow
W35
Susan Bevan
4-32.55
1996
Birmingham
W45
Pat MacKinnon
8.56
1997
Glasgow
W40
Sonia Armitage
4-49.66
2005
Glasgow
W50
Linda Nicholson
8.66
2011
Ghent, Belgium
W45
Sonia Armitage
4-45.85
2006
Linz, Austria
W55
Esther Linaker
9.14
2001
Cardiff
W50
Sandra Branney
5-03.82
2009
Glasgow
W60
Esther Linaker
8.98
2003
San Sebastien, Spain
W55
Jane Waterhouse
5-33.67
2009
Ancona, Italy
W65
Esther Linaker
9.43
2007
Helsinki, Finland
W60
Jocelyn Ross
5-59.7
1990
Cosford
W70
Rosemary Chrimes
10.41
2005
Cardiff
W65
Jocelyn Ross
6-56.20
1997
Birmingham
W75
Rosemary Chrimes
10.86
2010
Lee Valley, London
3000 metres
200 metres
M35
Max Colligan
8-53.84
2008
Glasgow
M35
Darren Scott
21.62
2008
Clermont-Ferrand, Fr.
M40
Eddie Stewart
8-32.6
1997
Prague, Cze.
M40
Darren Scott
21.71
2010
Birmingham
M45
Archie Jenkins
8-56.69
1999
Glasgow
M45
David Grieve
23.67
2002
Glasgow
M50
John Linaker
9-16.6
1990
Glasgow
M50
Alasdair Ross
24.05
2004
Sindelfingen, Ger.
M55
Hugh Rankin
9-37.9
1990
Glasgow
M55
Alasdair Ross
24.42
2007
Helsinki, Finland
M60
Andy Brown
9-43.9
1994
Glasgow
M60
Alasdair Ross
25.88
2012
Jyvaskyla, Finland
M65
Willie Marshall
10-32.28
1993
Glasgow
M65
John Ross
28.39
2004
Cardiff
M70
Jimmy Todd
11-08.49
1994
Glasgow
M70
John Ross
29.14
2009
Lee Valley, London
M75
Jimmy Todd
12-12.72
1997
Glasgow
M75
George Bridgeman
35.12
2002
Glasgow
M80
Gordon Porteous
14-10.79
1994
Glasgow
M80
Willie Russell
43.64
2012
Glasgow
W35
Liz McColgan
9-31.11
2004
Glasgow
W35
Joss Kirby
25.55
1994
Glasgow
W40
Sue Ridley
10-14.73
2008
Clermont-Ferrand, Fr.
W40
Joss Harwood
25.98
1998
Glasgow
W45
Susan Finch
10-22.84
2008
Glasgow
W45
Pat MacKinnon
28.60
1997
Glasgow
W50
Fiona Matheson
9-56.39
2011
Glasgow
W50
Angela Kelly
30.35
2011
Ghent, Belgium
W55
Jane Waterhouse
11-42.91
2009
Ancona, Italy
W55
Esther Linaker
31.15
2001
Cardiff
W60
Jocelyn Ross
12-33.3
1990
Cosford
W60
Esther Linaker
30.43
2003
San Sebastien. Spain
W65
Jocelyn Ross
13-09.42
1994
Glasgow
W65
Esther Linaker
32.51
2007
Helsinki, Finland
W70
Betty Steedman
39.03
2004
Cardiff
60 m hurdles
W75
Betty Steedman
46.61
2011
Glasgow
M35
Ian Paget
9.60
2011
Glasgow
M40
Roy Buchanan
9.16
1995
Glasgow
400 metres
M45
Eamon Fitzgerald
9.46
1994
Glasgow
M35
Ian McGurk
54.36
2009
Glasgow
M50
Allan Leiper
9.19
2011
Ghent, Belgium
M40
Darren Scott
49.35
2010
Birmingham
M55
Roy Buchanan
9.82
2010
Lee Valley, London
M45
Alastair Dunlop
53.72
1999
Glasgow
M60
Robin Sykes
10.54
1995
Glasgow
M50
Alasdair Ross
55.37
2004
Cardiff
M65
Ian Steedman
10.54
1994
Glasgow
M55
Alasdair Ross
57.55
2008
Lee Valley, London
M70
Ian Steedman
11.71
1999
Glasgow
M60
John Ross
59.65
2001
Glasgow
W35
Joss Harwood
8.80
1997
Glasgow
M65
John Ross
63.89
2006
Cardiff
W40
Joss Harwood
8.88
1998
Glasgow
M70
John Ross
66.08
2009
Lee Valley, London
W45
Joss Harwood
9.49
2005
Glasgow
M75
Hugh McGinlay
78.33
2001
Glasgow
W50
Joss Harwood
9.62
2008
Clermont-Ferrand, Fr.
M80
Hugh McGinlay
91.39
2006
Glasgow
W55
Rosemary Chrimes
11.10
1989
Glasgow
M85
Hugh McGinlay
1-48.81
2011
Glasgow
W35
Jane Low
59.17
1996
Glasgow
High Jump
W45
Sharyn Ramage
73.7
2011
Glasgow
M35
Ken Pearson
1.62
2011
Glasgow
W50
Laura Mahady
65.03
2009
Glasgow
M40
Jim Malcolm
1.72
2004
Glasgow
W65
Betty Steedman
93.31
2001
Cardiff
M45
Eamon Fitzgerald
1.76
Brian Whittle
1.76
2012
Glasgow
800 metres
M50
Eamon Fitzgerald
1.71
1998
Glasgow
M35
Stephen Allen
2-00.81
2006
Glasgow
M55
Eamon Fitzgerald
1.60
2002
Glasgow
M40
Alastair Dunlop
1-58.36
1995
Glasgow
M60
John Freebairn
1.50
1998
Glasgow
M45
Alastair Dunlop
2-02.02
2000
Glasgow
M65
John Freebairn
1.40
2003
Glasgow
M50
Alastair Dunlop
2-02.20
2004
Sindelfingen, Ger.
Trevor Madigan
1.40
2010
Glasgow
M55
Alastair Dunlop
2-09.99
2009
Glasgow
M70
Ian Adams
1.23
1997
Glasgow
M60
John Ross
2-20.94
2001
Glasgow
M75
Robin Sykes
1.10
2010
Glasgow
M65
Harry Tempan
2-22.28
1993
Glasgow
W35
Nikki Thompson
1.50
1990
Glasgow
M70
Jimmy Todd
2-34.2
1992
Glasgow
W40
Christine Brown
1.30
1992
Glasgow
M75
Jimmy Todd
2-43.35
1997
Birmingham
Shona McKinnon
1.30
2008
Glasgow
M80
Hugh McGinlay
3-52.47
2006
Glasgow
W45
Shona McKinnon
1.32
2009
Glasgow
M85
Hugh McGinlay
4-10.88
2011
Glasgow
W50
Janice Hardcastle
1.30
2011
Ghent, Belgium
W35
Carol Sharp
2-09.74
1993
Birmingham
W55
Rosemary Chrimes
1.36
1988-93
W40
Sonia Armitage
2-24.44
2004
Sindelfingen, Ger.
W60
Rosemary Chrimes
1.30
1997
Birmingham
W45
Sonia Armitage
2-22.77
2006
Linz, Austria
W65
Rosemary Chrimes
1.25
1999
Birmingham
W50
Laura Mahady
2-30.40
2009
Glasgow
W70
Rosemary Chrimes
1.18
2005
Cardiff
W55
Liz Bowers
2-48.75
2012
Lee Valley, London
W75
Rosemary Chrimes
1.16
2010
Lee Valley, London
W65
Jocelyn Ross
3-23.22
1997
Scottish Masters Indoor Track & Field Best Performances (contd)
Long Jump
Perf
Year
Venue
Pole Vault
Perf
Year
Venue
M35
Ian Paget
5.89
2009
Glasgow
M35
Des Fitzgerald
3.70
2012
Glasgow
M40
Robert Stevenson
6.11
1995
Glasgow
M40
Jim Johnston
3.40
1996
Glasgow
M45
Robert Stevenson
5.82
2002
Glasgow
M45
Alan Leiper
4.12
2006
Carshalton
M50
Eamon Fitzgerald
5.61
1998
Glasgow
M50
Eamon Fitzgerald
3.45
1998
Glasgow
Robert Stevenson
5.61
2004
Glasgow
Bob Masson
3.45
1998
Glasgow
M55
Robert Stevenson
5.29
2008
Glasgow
M55
Tony MacKay
3.40
1994
Glasgow
M60
Mike Clerihew
4.61
2008
Glasgow
M60
Bob Masson
3.02
2009
Grangemouth
M65
Trevor Madigan
4.03
2011
Glasgow
M65
John Freebairn
2.00
2004
Glasgow
M70
George Bridgeman
4.20
1996
Glasgow
M70
John Oulton
2.00
2003
Glasgow
W35
Jane Low
5.13
1998
Glasgow
W35
Alison Jessee
3.05
2005
Albuquerque, USA
W40
Christine Love
4.50
1995
Glasgow
W40
Janet Lyon
2.70
2004
Glasgow
W45
Sylvia Wood
4.48
1994
Glasgow
Janet Lyon
2.70
2005
Glasgow
W50
Linda Nicholson
4.66
2011
Glasgow
W45
Janet Lyon
2.50
2009
Aberdeen
4.66
2011
Ghent, Belgium
2.50
2011
Glasgow
W55
Sylvia Wood
4.07
2001
Glasgow
W60
Betty Steedman
3.80
1994
Glasgow
Shot
W65
Betty Steedman
3.42
2001
Glasgow
M35
Neil Elliott
16.56
2009
Glasgow
W70
Betty Steedman
3.88
2006
Linz, Austria
M40
Steve Whyte
16.18
2005
Eskilstuna, Sweden
M45
Steve Whyte
14.46
2010
Lee Valley, London
Triple Jump
M50
Walter Weir
13.41
1998
Glasgow
M35
Ian Paget
12.82
2010
Glasgow
M55
John A. Scott
13.45
1998
Glasgow
M40
Steve Wallace
11.89
2000
Birmingham
M60
John A. Scott
13.33
2002
Glasgow
M45
Eamon Fitzgerald
11.81
1992
Glasgow
M65
John A. Scott
12.12
2007
Lee Valley, London
M50
William Beattie
11.52
2004
Cardiff
M70
Ian Miller
11.76
2006
Cardiff
M55
Robert Stevenson
11.00
2012
Glasgow
M75
Ian Miller
11.15
2010
Lee Valley, London
M60
John Oulton
9.99
1993
Glasgow
M80
James Christie
4.55
2012
Glasgow
M65
Trevor Madigan
8.99
2010
Glasgow
W35
Claire Cameron
11.54
1997
Birmingham
W35
Fiona Davidson
10.68
2011
Glasgow
W40
Rosemary Chrimes
14.40
1973
Cosford
W40
Carolyn Smith
9.26
W45
Claire Cameron
10.74
2004
Glasgow
W45
Sylvia Wood
9.00
1994
Glasgow
W50
Rosemary Chrimes
12.48
1983-88
W50
Sylvia Wood
9.21
1995
Birmingham
W55
Rosemary Chrimes
12.04
1989
Glasgow
W55
Sylvia Wood
8.58
2001
Glasgow
W60
Rosemary Chrimes
11.66
1997
Birmingham
W60
Betty Steedman
7.98
1994
Glasgow
W65
Rosemary Chrimes
11.75
2002
Glasgow
W65
Betty Steedman
7.00
2001
Glasgow
W70
Rosemary Chrimes
9.79
2005
Cardiff
W70
Betty Steedman
6.69
2005
Cardiff
W75
Rosemary Chrimes
9.66
2011
Gent, Belgium
Multi Events
Pentathlon (Age Graded)
Points
Year
Venue
Heptathlon (Age Graded)
Points
Year
Venue
M50
John Freebairn
3756
1988
M50
Eamon Fitzgerald
5240
1998
Glasgow
W35
Carolyn Smith
3060
1997
Glasgow
Scottish Masters Indoor Track & Field Best Performances Any issues regarding best performances should be referred to Mike Clerihew e-mail: mikeclerihew@yahoo.com telephone: 0131 331 2412
OFFICE BEARERS SEASON 2011-2012
Honorary President: ROBERT DONALD
President: ALASTAIR MACFARLANE 7 Andrew Avenue, Lenzie, G66 5HF Tel: 0141 5781611 almacrun@btinternet.com
Immediate Past President: PETER OGDEN 16 Springhill Road Glasgow, G69 6HH Tel: 0141 7711950
Vice-President: ADA STEWART 30 Earlsburn Road, Lenzie, G66 5PF Tel: 0141 5780526 stewart2@ntlworld.com
Honorary Secretary: WILLIE DRYSDALE 6 Kintyre Wynd Carluke, ML8 5RW Tel: 01555 771 448
Honorary Treasurer: Honorary Treasurer: MIKE CLERIHEW 57 Society Road South Queensferry EH30 9XP Tel: 0131 331 2412
Membership Secretary: DAVID FAIRWEATHER 12 Powburn Crescent Uddingston, G71 7SS Tel: 01698 810575 djf@dfairweather.plus.com
Handicapper: PETER RUDZINSKI 106 Braes Avenue Clydebank. G81 1DP Tel.0141 5623416 p.rudzinski@ntlworld.com
Committee Members:
ROBERT DONALD 3 Manse Road Bearsden, G61 3PT Tel: 0141 9422971
JOHN FREEBAIRN Colzium, Stirling Road Kilsyth, G65 0PQ Tel: 01236 821678
CAMPBELL JOSS 25 Speirs Road Bearsden, G61 2LX Tel: 0141 942 0731
BMAF Delegates Alastair Macfarlane, Mike Clerihew
SAL West District Delegate Willie Drysdale
SAL Delegate at AGM Ada Stewart
Auditor George Inglis, Stewart McCrae
FIXTURES
APRIL 2012
Tues 3rd -Sun 8th World Masters Indoor Championships Jyvskyla, Finland
Sun 8th Tom Scott 10 miles road race. 10:30 am. Strathclyde Park
Sun 15th Lochaber marathon 11.00am. Fort William
MAY 2012
Wed 2nd Snowball 4.8m road race 7:30 pm. Coatbridge Outdoor Centre. Convener Ada Stewart
Sun 6th Walter Ross 10km. 1:30pm. Cartha Rugby Club, Pollok Park
Sat 12th BMAF Road Relay Champs, Birmingham
Sat 26th Bathgate Hill Race 2:30pm Convener H Mitchell 01506 655 397
JUNE 2012
Wed 6th Corstorphine 5 ml rd race 7:30pm Turnhouse Rd, Edinburgh
Sun 10th BMAF Marathon Champs, Tenby Sun 17th BMAF Pentathlon, Horspath Track, Oxford
Sun 17th BMAF 5k Road/Road Walk Championships, Horwich
Sun 24th SAL National Masters T&F Champs Pitreavie
Wed 27th SVHC 5km Champs Playdrome, Clydebank 7:30
JULY 2012
Sun 1st BMAF Throws Pentathlon, Copthall
Sat/Sun 21st/22nd BMAF Track & Field Championships, Moorways Stadium, Derby AUGUST 2012
Sat/Sun 4th/5th BMAF Decathlon/Heptathlon , Horspath Track, Oxford
Sun 19th Glasgow 800 10km, 1:30pm Cartha Rugby Club, Pollok Park
Thu16th -Sat 25th EVA Championships-Stadia Zittau (Ger), Bogatynia (Pol), Hradek (Cze)
SEPTEMBER 2012
Sun 9th Inter Area Track & Field Challenge – Solihull
OCTOBER 2012
Sun 7th SVHC/BMAF Half Marathon Champs, Kirkintilloch
Sun 14th BMAF 10km Champs, Ashford, Kent
Sun 21st SVHC 10km track 1:00pm. SVHC AGM 2:00 pm. Coatbridge Outdoor Centre.
Sun 28th BMAF 10 Mile Championships, Tiptree
NOVEMBER 2012
Sat 10th British & Irish Masters XC Champs, Belfast