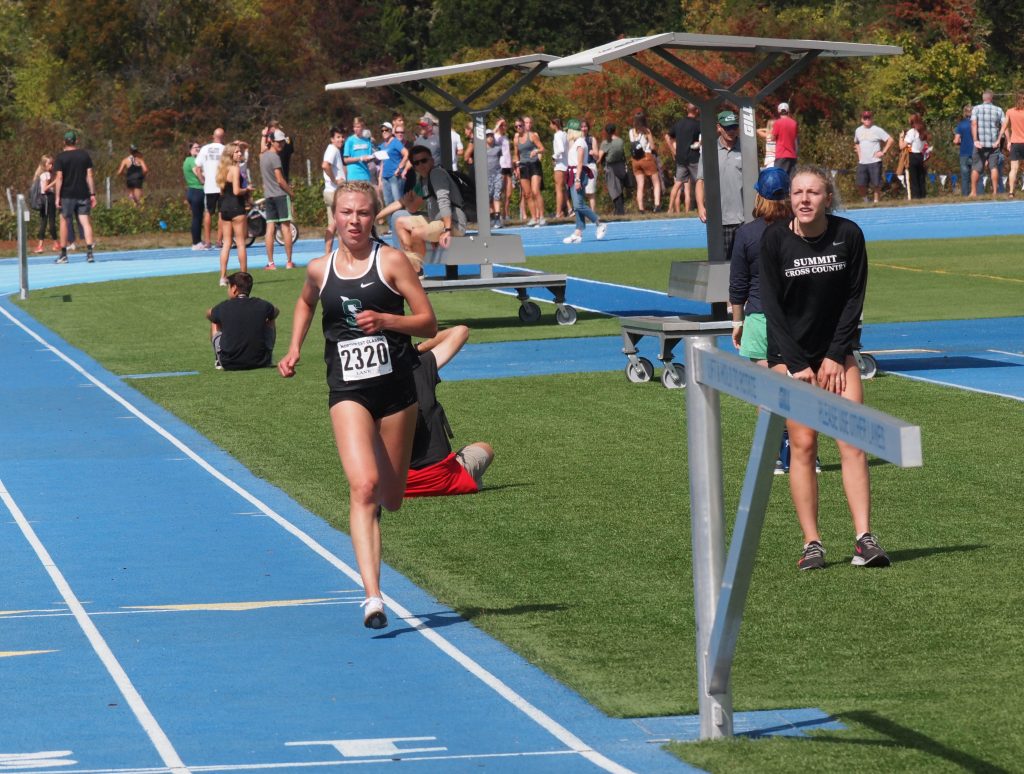 September 2019: North West Classic.
Jim's comment was a quite laconic "Won all four divisions. Fiona broke the record by 6 seconds."
JV Men and Women: Teams 1st and 1st
Name
Position
Elijah Pyle
6th
Jack Conde
7th
Charlie McCabe
8th
John Deaver
11th
Evan Grover
14th
Tobias Holme
37th
| Name | Position |
| --- | --- |
| Azza Swanson | 1st |
| Camille Broadbent | 2nd |
| Ellie Skersjaa | 3rd |
| Emilie Eichelberger | 5th |
| Jorun Downing | 9th |
| Maja Arnesen | 10th |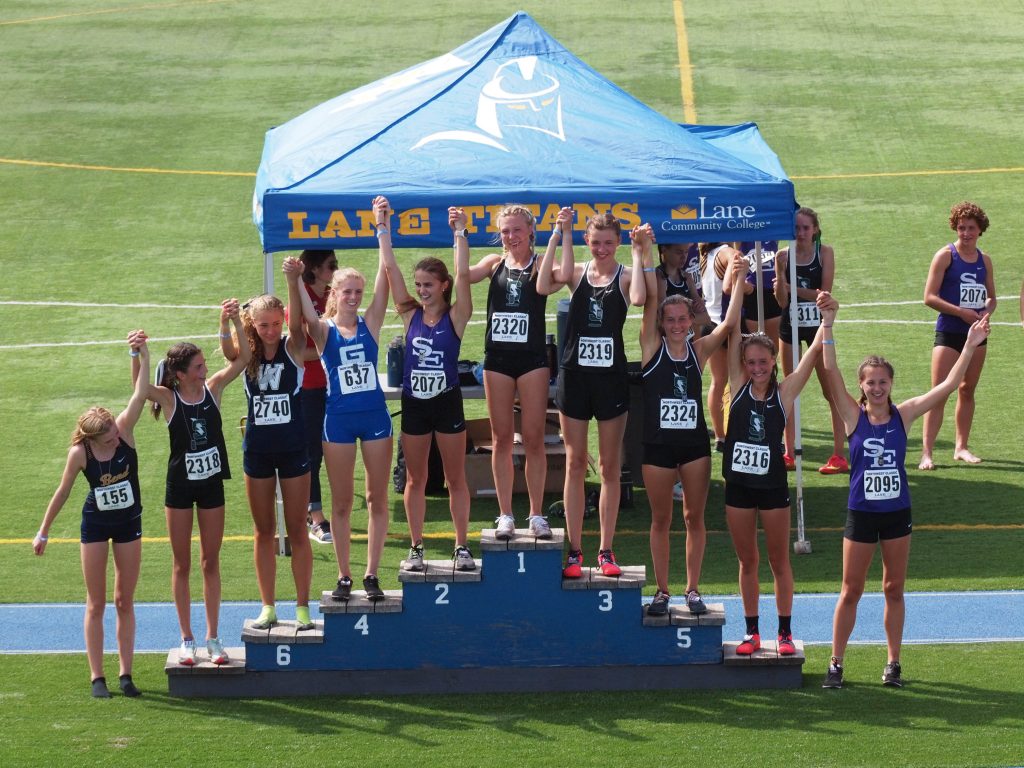 5A/6A Varsity: 5000 Metres
Again both teams won. Men on the left, women on the right
| Name | Position | Name | Position |
| --- | --- | --- | --- |
| Sam Hatfield | 9th | Fiona Max | 1st |
| Joseph Sortor | 10th | Teaghan Knox | 3rd |
| Jackson Keefer | 15th | Stella Skovborg | 7th |
| Mason Kissell | 17th | Barrett Justema | 8th |
| Parker Meredith | 69th | Magdalene Williams | 22nd |
Numbers were big – eg in the Women's 5A/6A race there were 204 and in the equivalent Meen's race there were 227. Fiona won her race by 42 seconds.
NIKE PORTLAND, 28th September
In the Women's 5000m Danner Championships, Fiona Max suffered a rare defeat but the team won their race from an entry of 23 teams competing. The runners were Fiona Max 2nd, Teaghan Knox 3rd, Jasper Fievet 20th, Barrett Justerna 25th, and Azza Swanson 34th. The Men's team was unplaced but Sam Hatfield in 27th was their first runner home. The Junior Varsity women won in a field of 22 teams with Isabel Max going one better than he sister when she won the race from team mate Camille Broadbent with the other scoring runners being Ellie Skersjaa in 4th, Ashley Boone 5th and Emilie Eichenberger 9th. The JV Men's team was 3rd out of the 33 teams that completed the course. There were 240 finishers and the Summit team runners were Robert Gorman 1st, Jack Conde 3rd, Elijah Pile 18th, Sam Timms 40th, and John Deaver 95th.
There were many good performances from the Summit teams but they were all praiseworthy given the size of the fields in every race. There was competition of the highest order – if you doubt that – look at Fiona Max finishing second with team mate Teaghan Knox in the background.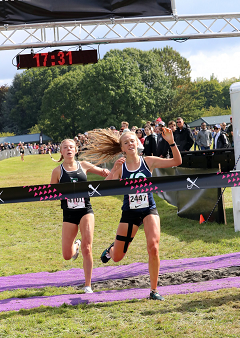 There is an excellent report on the races with dozens of photographs at this link
https://www.dyestat.com/gprofile.php?mgroup_id=44531&do=news&news_id=586210
November: the team has won the State Championships for the 12th consecutive year. Not too bad at all. There is an excellent article about it at
http://www.osaa.org/today/article/1254/view?title=Girls+cross+country%3A+Max+leads+Summit%27s+6A+domination
At the end of November, there were six inches of snow in Bend, Oregon and outdoor training was not possible, so Jim and Carol had them working just as hard – but indoors on treadmills. The Nationals, which are next up, are in Portland and the girls, parents, coaching staff are all working to get a big group of supporters through to them.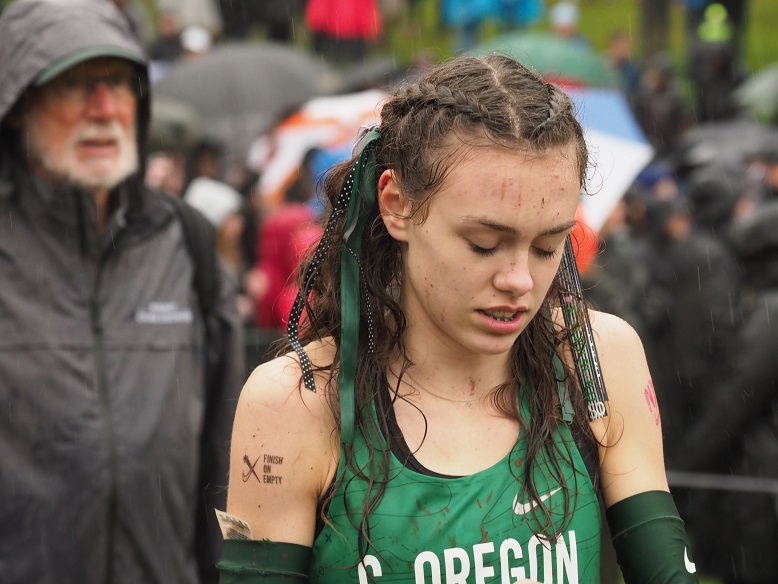 Came the Nike Cross Nationals and the Summit team, running as Central Oregon, just failed to win the title for the second year in succession. On a dreadful wet day with soggy underfoot conditions, they were beaten into second place by Kinetic who came as a surprise packet, not having any known form at the top level before the event. They were well beaten (82 points) but part of the story is the fact that the New York team had several over-age athletes. How big is the race? Well Peter Thomson describes the event as follows:
For those of you who weren't there, the NXN, NIKE Cross Nationals is simply the best organized and presented XC race in the world (just have a look at the thought and care lavished on every aspect). All the athletes are feted and treated like professional athletes with, before the race, using their own named lockers behind curtained cubicles and, surprisingly, a copious quality of NIKE shoes and apparel being gifted. This 8-minute video provides a great insight and also has some footage of the Summit girls. Well worth the price of admission, then …
https://nxn.runnerspace.com/eprofile.php?event_id=13&do=videos&video_id=286981-Girls-Race-Webcast-Replay-Nike-Cross-Nationals-2019 (Summit runners in green tops)