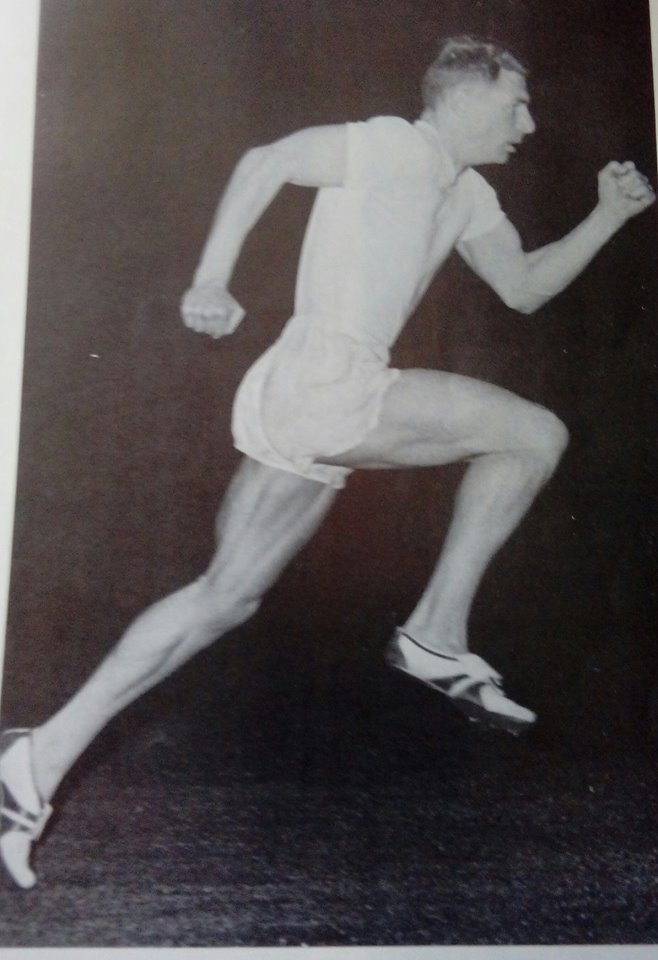 Ricky Dunbar
There was a public debate at one time in the 1960's as to who was Scotland's fastest sprinter. Some said WM (Ming) Campbell and some said Ricky Dunbar. Each runner was said to be happy to face the other but it was not to be. Why not? Because Ricky was a professional athlete and so Campbell was not permitted by the SAAA to race against him for that reason. It was a pity because they were both very good indeed: a friend who was a professional runner at the time spoke of Dunbar coming into the arena after a 'prep' looking like superman. Campbell had 'done the treble' (100/220/440 titles on the same day) at the Scottish championships. But that's the way it was.
Dunbar was trained by Jim Bradley, world famous sprints coach from Edinburgh and, as the picture above shows, he was still racing and winning races at the age of 77 in 2017. Note too the red silk vest and shorts – all Bradley's runners were said to race in that kit. Martin Flanagan wrote an article for the Sydney Morning Herald in May 2017 about Dunbar and starts by describing the man's appearance before he ran in the New Year's Day races at Burnie in Tasmania in 1967. The article is well worth reading and starts with the following description of Dunbar:
"That year the feature event in the athletics is the Australian championship, to be fought out between local runner Basil Burley and Ricky "The Flying Scotsman" Dunbar. I'm still young enough to be taken by the hype and my eye, having located Dunbar, remains on him. There is something about the man's athletic style that I find arresting. He is handsome in the Nordic manner, blond hair and brown skin. He wears a sky blue tracksuit with a big white thistle on the back. He runs in red, he ripples with athleticism. I remember his bounding starts, always from the back mark. I met Ricky Dunbar again this week after an Age reader, Patrick Ford, sent in a portrait of Dunbar – at the age of 77 and in his red running gear – for the Archibald prize. It's titled simply, Still Running. Because he is."
*
Ricky Dunbar's story begins back in Edinburgh where as a youngster he took part in every sport available to him but with his ability he was bound to be noticed. He was spotted by Jim Bradley (there is a profile of Jim on this website – just click on his name to read it. Bradley invited him to come and compete at a meeting but when he turned up, he found the number of people about quite daunting and and left.
He did go back and, like all runners, amateur as well as professionals in the early 60's, racing on all sorts of tracks – grass as well as cinder.
In 1962, Rick Dunbar was second in the 120 yards New Year Sprint, held at Newtongrange off a mark of six and a half yards to Carl Harrison who was off 7 yards. He returned in 1963 to win the race off a handicap of 4½ yards and the Glasgow Herald Report read: "RF Dunbar (Edinburgh) yesterday won the 120 yards handicap at Newtongrange. Dunbar had been favourite from the start and he was unbackable at 8 – 1 on for the final. Bookmakers concentrated on making a market without Dunbar, laying 5-4 against D Campbell (Ballingry) to finish second. In addition to taking the first prize of £250, Dunbar backed himself substantially some time ago at the long odds of 14 – 1. Dunbar who has been in strict training for three months was in the final for the third time in four years. He was second in 1960, and again last year. In a cross-tie, Dunbar beat S Hogg (Cardenden) who had returned the best time in the heats. In the final Dunbar, back marker off four and a half yards, had caught the rest of the field by half distance, and won by a yard and a half in 11.39 seconds, the fastest time of the meeting. Hogg gained consolation for his defeat when he won the 80 yards handicap."
His own memory of the race as told to Flanagan was slightly different. I quote: "In 1963, he won the biggest event on the British professional running circuit, the Powderhall. I ask him if he remembers the race. "I remember every race." He thought he came up too quickly, always a mistake, but knew he had them by the 90-yard mark. The average working man's annual wage in Scotland was then £700. He won £250. He had £50 on himself at 10 to 1. His stable won £10,000 in total. The bookies had to hand out notes saying they'd pay later. Betting on yourself was also part of the game. "Oh, yes!" he says."
The report and his own remarks tell you a lot about professional racing –
The long preparation time for a single big race, One professional athlete that I spoke to at the time described the preps that the athletes did and spoke of Dunbar coming to Newtongrange and 'he looked like superman when he stripped off – his skin glowed'.
the importance of betting and
the possibility of making seriously big money by backing yourself.
Dunbar went on to become the British professional sprint champion as did his stablemate Dave Walker. One professional athlete that I spoke to at the time described the preps that the athletes did and spoke of Dunbar coming to Newtongrange and 'he looked like superman when he stripped off – his skin glowed'. There was also talk at this time of matching Dunbar with the top British amateur sprinter WM Campbell and although Campobell was said to be willing, the SAAA put the kybosh on it and refused to sanction the contest.
In 1964 Dunbar was unplaced in the 120 yards, if he did indeed run in it, but was third in the 80 yards where he ran off a marl of only half a yard to be beaten by Farquharson of Hawick, off six and a half and Sharkey of Cowdenbeath, also from a six and a half. The report in the Glasgow Herald in 1965 said simply that he was beaten and did not mention him other than that he was not mentioned. The story is probably that he was handicapped ut of it.
How good was he? There is information that in 1964 he equalled Ming Campbell's fastest for the year – running on grass. It is a claim that does not seem to be substantiated anywhere but then how about this one? Although the track used for the annual Morebattle Games is on a grass grazing field, one of the most notable performances was the breaking of the British Native 120 yards. record on 8th August, 1965 by Ricky Dunbar. His time from scratch was recorded by three timekeepers at 11.42 seconds. There have many very good times run on that track in that field, but this one is evidence that he was indeed a top class athlete. Then there was the time when like the time Ricky ran 8 yards inside evens up the cinders at Saughton Enclosure.
Why then did he not ever run as an amateur? Flanagan tells us that as Ricky Dunbar saw it, the problem with amateur running, away from the glamour meets, is that the same person wins all the time. Professional running has handicapping. "It gives you a challenge every time you run." In Scotland, he once gave a runner 17 yards' start over 120 yards; in Australia, the biggest margin he gave away was 14 yards over 130 yards." Nevertheless, the amateur selectors were the ones who picked the teams for the big meetings: a reinstated Dunbar would have been eligible for Empire, European and Olympic selection.
Bradley was a key figure for him – from the intensely practical – eg running in winter wearing gloves with the fingertips cut out so they didn't get wet and freeze when he put his hands to the ground to take his mark – to the big career changing move to Australia. .It was after he won Powderhall that Bradley advised him to go to Australia. It was a better climate, he'd have a longer career and he'd run faster. In Australia the big money races are all called 'Gifts'. He won his first four Gifts after making the move – in Castlemaine, Daylesford, Echuca and Maryborough. By the time, he got to the really big one, Stawell, he was on scratch and chasing runners 12 yards ahead of him. In all his years, he never made the final of the Gift at Stawell. He did, however, win Australian championships and, in 1968, at Moorabbin, finished third in the Professional Championship of the World. He himself says his two biggest wins in Australia were in the 100 metres Masters' event at Stawell which he won in 1980, off a handicap of 1 ½ metres, and again in 2011, at the age of 70, off 22 and ¾ metres. He is still running – there is film of him running at the Ballarat Gift 2018 master 300m in 2018 that you can see on this one minute clip on youtube: https://www.youtube.com/watch?v=n-PhX5eXDWA
He is still a very good athlete – one that his family and his country can be justly proud of.