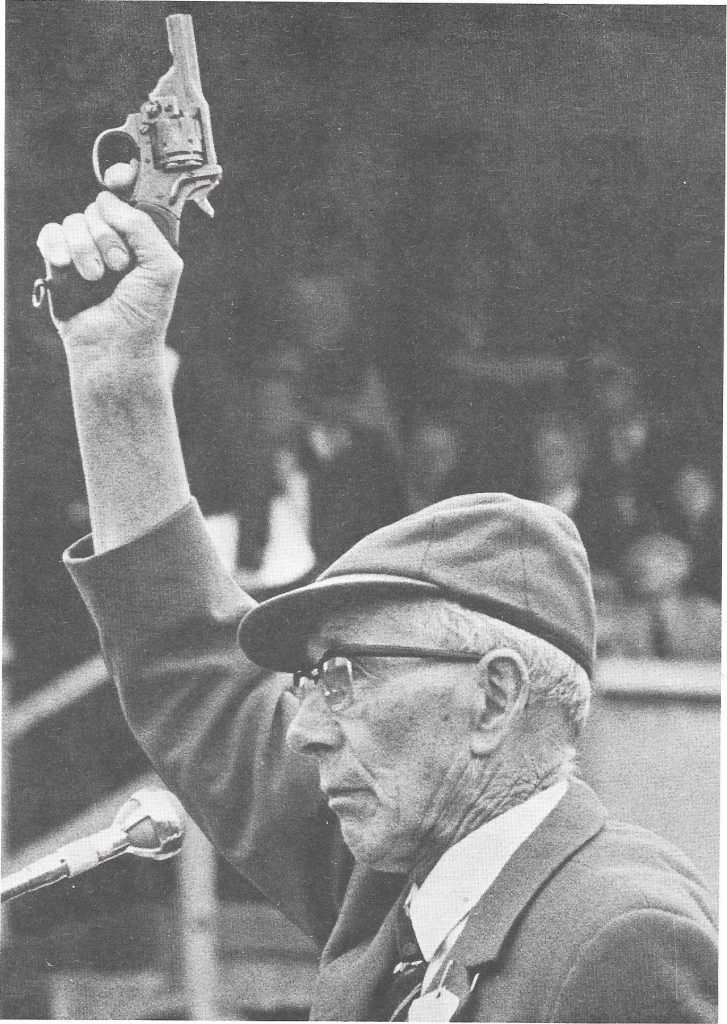 There are always particular officials that athletes know well and know well for a variety of reasons.   For instance athletes competing in handicap events in the 50's and 60's were familiar with handicappers McNeillie and Nangle for very obvious reasons.   Fred Evans however was known to several generations of athlete as a master starter, easily recognised and much respected.   Barry Craighead speaks very highly of him and his influence on his own development as he followed in Fred's footsteps.   First the facts.
Born in 1885, the year that the first open athletic clubs in Scotland were established, he did not retire as a starter until 1975 in his 90th year.  Fred was a kenspeckle figure, easily recognised  and beginning in 1929, was official starter at the SAAA Championships for over 40 years    In addition to his officiating at meetings, Fred trained up new starters including other well-known figures such as Charlie Meldrum and Barry Craighead.   When Barry  started out as a starter, Fred was 'the man' – no one argued with him and what he said was law.   There was no written component in the training of starters.   It was all intensely practical; beginning starters were told where to stand to get the best view of the runners, to make sure that they could be seen by the timekeepers and how to get everything right.   He carried on through the 1970 Commonwealth Games in Edinburgh by which time he was 85 years old and was one of the team of starters from all over the British Isles operating.   Longevity?   The Gourock Highland Games website tells us that he was for instance the starter at Gourock Highland Games from 1956 to 1975, in which year the programme announced his retirement "in his ninetieth year."
Very highly thought of, he was awarded an MBE "for services to athletics", the only Scottish starter ever to gain such an honour.
 The competition situation was very different when he was in action at tracks all over the country.   With no all-weather tracks and surfaces of grass or cinders, the scene was different scene from today if only because the starter was in complete control of events.   He, or whoever the official starter on the day was, decided if there had been a false start and took the responsibility for the decision whereas in the current situation the guns are wired to computers which tell us if there has been a false start.   And Fred was always ready to stand by his decision.   It has been said that the younger athletes were a bit frightened of him, but he was, by universal opinion, a very nice man, a man with a nice sense of humour.   Neil Donachie remembers a story about taking his guns through security at the airport on the way to an Empire Games causing some problems, even then before the whole terrorism scare.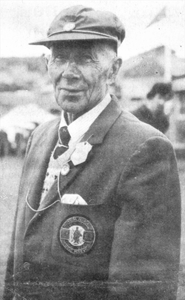 Despite a reputation for a strict, no nonsense approach to the job, and an air of authority that no one questioned, he was scrupulously fair.   Barry Craighead, who took up starting under Fred's guidance in 1959, reports that if the starter or official did not do everything they could for the benefit of the athletes under their control, he told them about it in no uncertain manner.   A testament to how highly thought of he was, is the fact that he appeared at the same meetings, many in the west of Scotland, year in and year out.   Although in great demand by championship organisers as we have noted, he officiated at highland gatherings, local sports and open meetings all over the country, including at the New Year Sprint where he officiated for many years.
Starters are not like most other officials – they need to pay from their own pocket for the firearms license, for the safe in which to store the gun and ammunition and for the ammunition.   Here again Fred led the way in demanding, and getting, £2 per meeting towards these expenses as well as travelling expenses to the meeting with the rest of the officials.   The special treatment for starters continues to this day.
 The illustration below is from the programme of the 1961 SAAA Championships and he is there among many legendary names such as Willie Carmichael, DM Duncan, Dunky Wright, Ian Ross, Gordon Cain, Tom Drever, David Keddie and Fred Graham.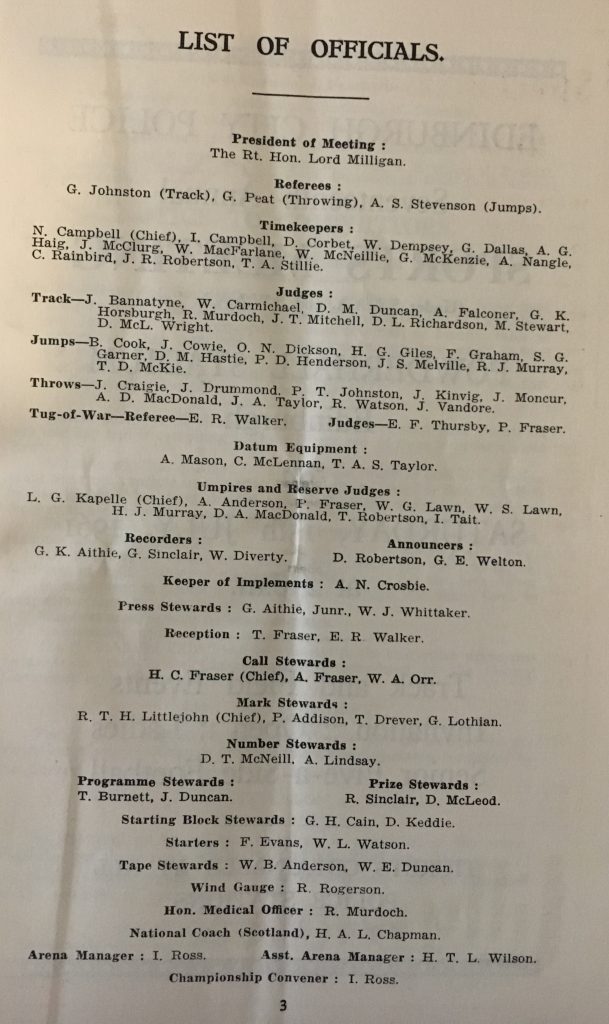 SAAA Championships, 1961, Officials
Fred often worked with Dick Littlejohn – and here he is again as Chief Mark Steward