When many of us came into the sport we took changing accommodation for granted. Not just the presence of such at every event and recreation ground (and nowadays there are many races at venues without dressing rooms) but the fact that they were more than just functional boxes but almost works of art. This page will have pictures of some of these pavilions that we took for granted.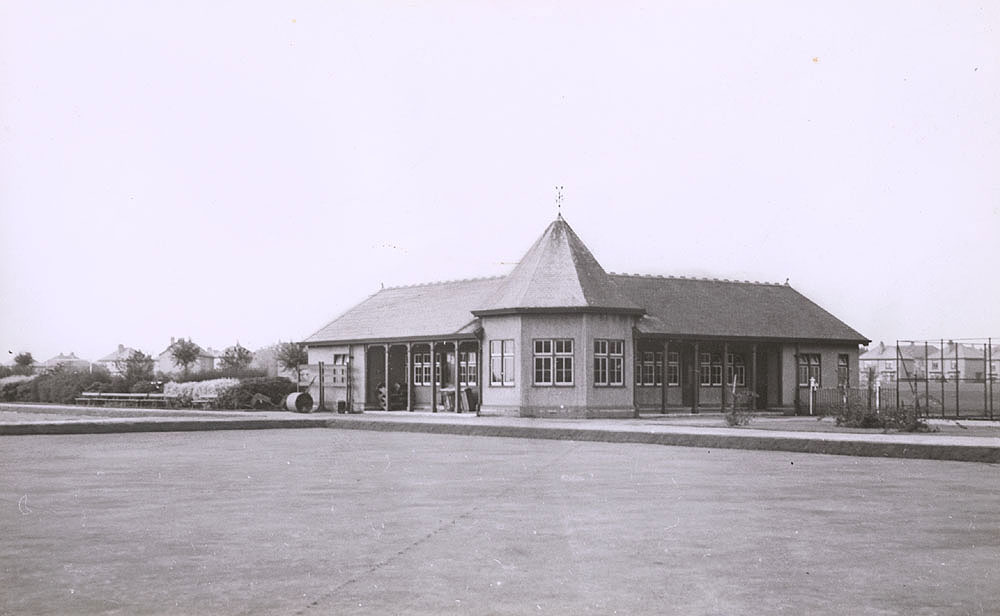 Knightswood Pavilion: Dating from 1929, it is described officially as – The pavilion at Knightswood Park, serving both the bowling green in the foreground and the tennis courts in the background, 1947. Provision of amenities for leisure and recreation often lagged behind the building of houses in Glasgow housing schemes, but Knightswood fared better than most areas. The Corporation acquired 148 acres for Knightswood Park in 1929. In addition to the two bowling greens and four tennis courts, the park included a golf course, pitch and putt course, boating pond, running track and cricket pitch.
The running track was short and almost circular but was used for sports meetings and inter club fixtures pre- and post-war.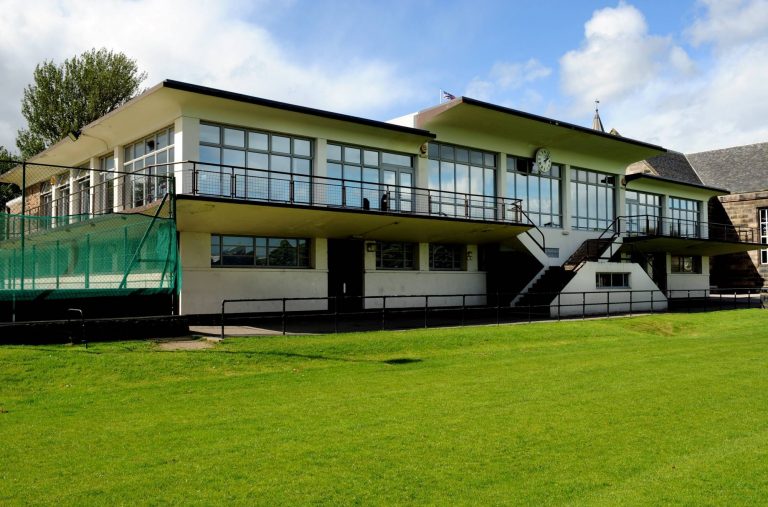 Kings College Aberdeen: You can read about it at this link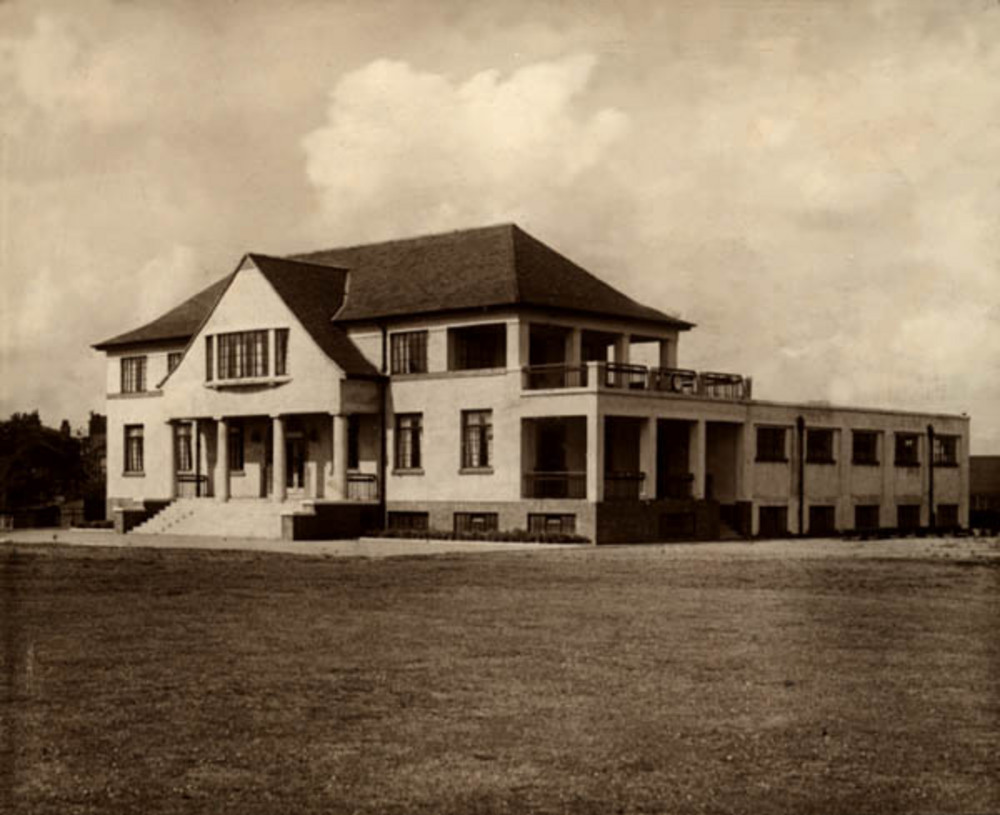 Westerlands, Glasgow: Read about it here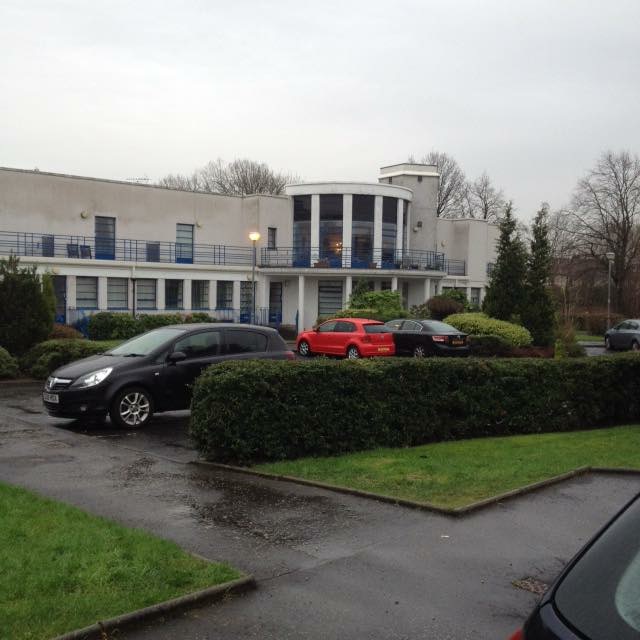 Garscadden Pavilion – In 1933 Glasgow University purchased ground at Garscadden for the construction of a sports pavilion. In 1936 the Garscadden Sports Pavilion was designed by T. Harold Hughes in an Art Deco style, the same year that he won the competition to design the University's Chemistry building (now the Joseph Black Building). The pavilion was extended in 1958 by Alexander Wright & Kay.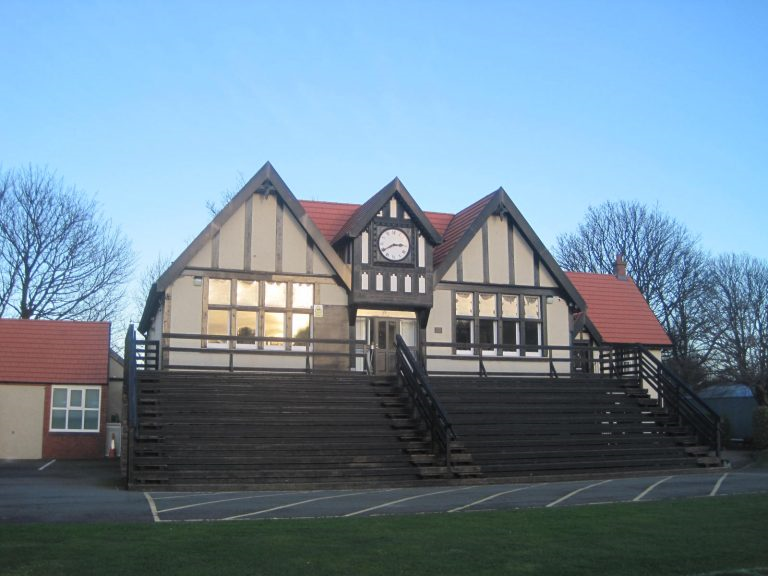 Craiglockhart, Edinburgh: read about it at this link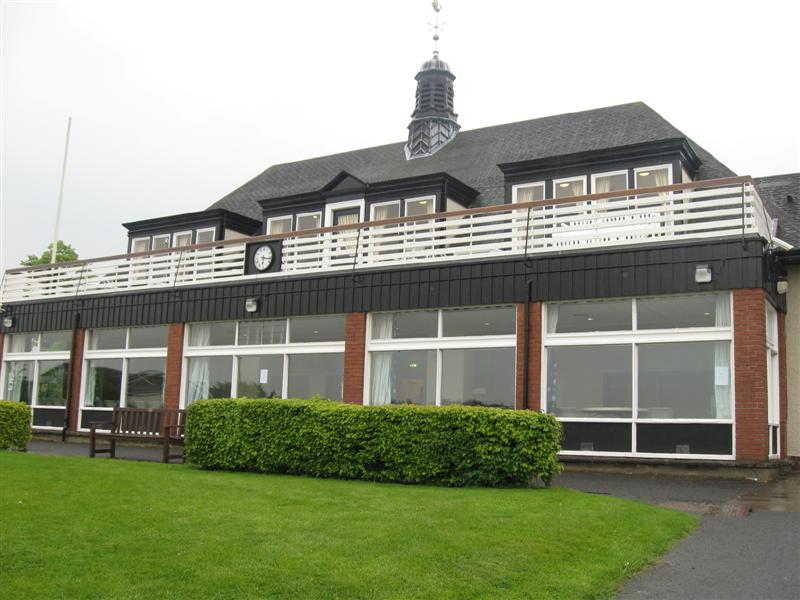 Myreside, Edinburgh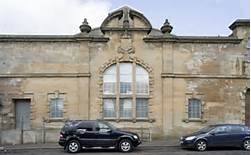 Bruce Street Baths, Clydebank
This is a good example of a now rare building type of public baths with an adjoining swimming pool complex. Once a relatively common building type in urban Scotland, public baths have become obsolete and modern leisure centres have largely replaced traditional swimming pools. It is an important streetscape feature and it was purposefully designed to match the style of the earlier, 1902 Municipal Buildings in Dumbarton Roadby the Glasgow architect James Miller. Together, the buildings form the major part of a complete block and form a coherent civic heart in Clydebank Public baths and swimming pools grew in popularity particularly in the second half of the 19th century and most of the surviving ones date from this period; some with intricately decorated interiors. Many people had no access to running water in the home and public health was becoming an increasingly important issue. In 1846, the Act to Encourage the Establishment of Public Baths was passed and the majority of public baths began to be built after this time. Built in the 1930s, this is a relatively late example and probably indicates that there were still a significant number of homes in Clydebank at this time with no bathing facilities. The Bruce Street Baths was designed to replace the nearby Hall Street Baths (now demolished) which were becoming too small. The plans were approved by the Council in 1929 and the baths were opened in 1932. It originally had a variety of facilities, including Turkish Baths, Russian Vapour Baths, a laundry and a massage room. (Historic Scotland)
The Baths are no more. The headquarters of Clydesdale Harriers from the time they opened to their closure, they were described as one of the best winter headquarters in Scotland. Many events used the Baths as their HQ. Only this side wall remains.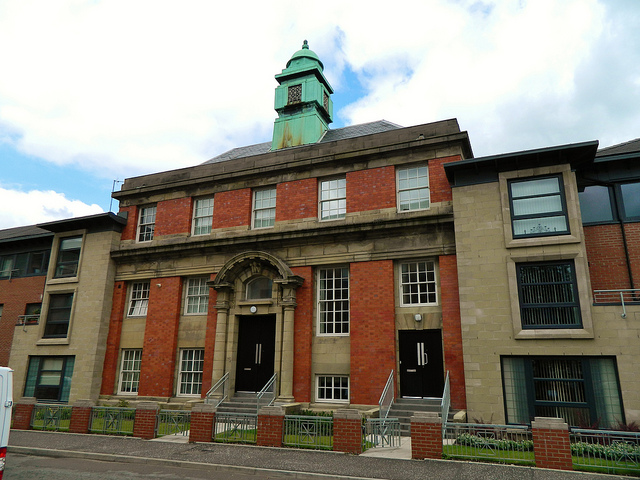 Whiteinch Baths, Glasgow – "Whiteinch Public Baths was built between 1923 and 1926 by the Office of Public Works. Currently in 1999 it is Category B listed." This page goes on to describe the smaller pool as being "in a room with arched ceiling and cubicles to either side. The doors of the cubicles are painted with cartoon characters. This is a smaller, shallower pool for learners. It has a frieze on the rear wall depicting children at a beach. This room also has a blue and white colour scheme. " Whiteinch Baths was for several decades the winter headquarters of Victoria Park Harriers and prior to that it was used by the local section of Clydesdale Harriers. The original McAndrew Relays were run from these Baths.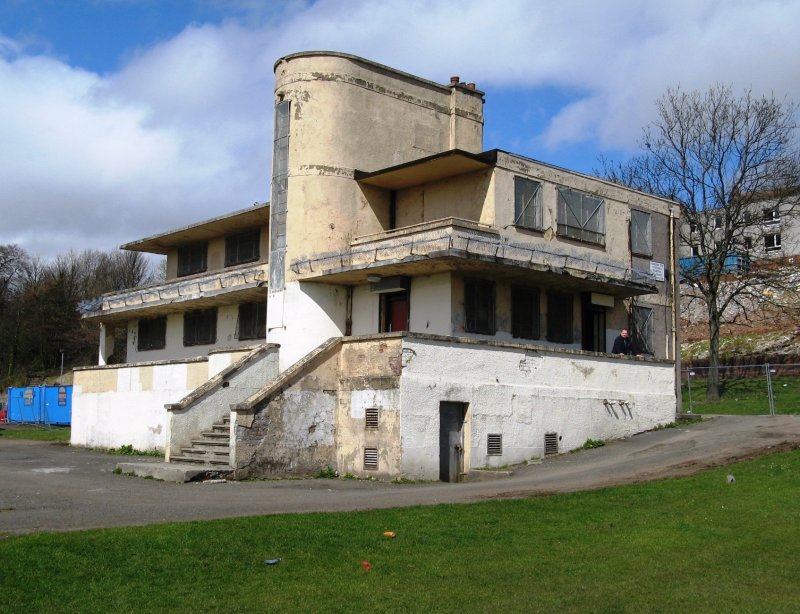 Mountblow, Clydebank: A sports pavilion that is now simply a really neglected football pavilion. It was for decades the home of Clydesdale Harriers and used by runners from many other clubs – eg the Victoria Park cross-country team of the 1950's trained there on Sundays. The Clydebank Cricket Club and the Singer Factory Cricket Club played there and it was a genuine local sports facility.
It was officially described as – A rare example of Modern Movement sports pavilion surviving largely unaltered and occupying original recreation ground setting. 2-storey and raised basement, 5-bay, rectangular-plan on sloping site with cantilevered balcony, oversailing flat roof and tall off-centre curved stair tower with vertical glazing breaking eaves. 2 flights of steps to walkway above basement. Rendered brick. Horizontal-pane glazing in metal-framed casements, predominantly tripartite and bipartite, now with later metal grilles to exterior. Later metal roller shutters to entrance doors. INTERIOR: largely intact floor plan. Ground and first floors similar with concrete floors. Changing rooms lead off central corridor, each floor with bathroom with showers. Some early timber benches and coat hooks. Stair with horizontal metal banisters.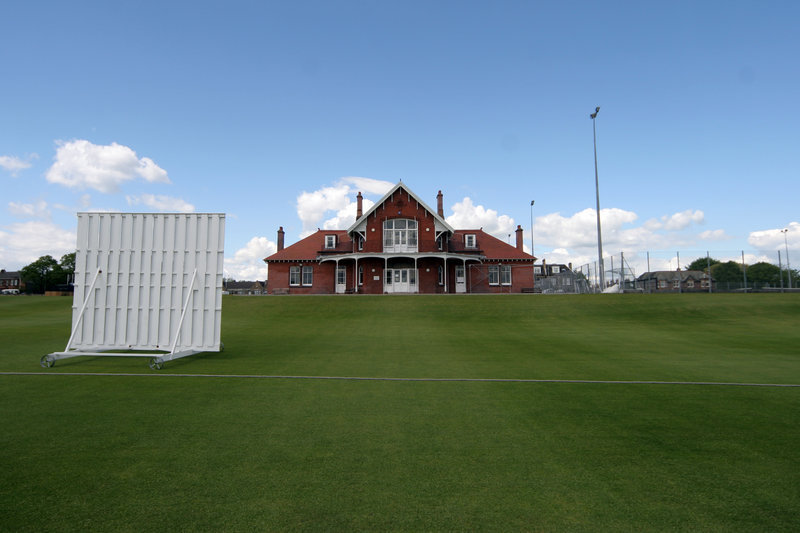 Goldenacre, Edinburgh