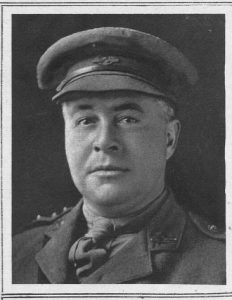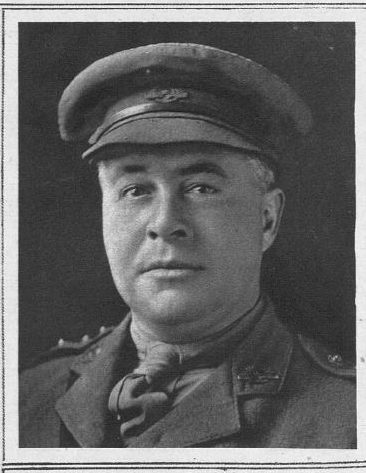 Major MCC Seton
It is usually the case that when we look at historical figures from the earliest days of athletics, we see their performances with only a cursory glance at their later life. Often not even that. If we look at the 880 yards runners from the end of the 19th century this is even more true. We might see the obituary for Walter Malcolm (SAAA half-mile champion in 1894 and runner-up in '91 and '92 and read:
"Athletics are considerably poorer by the death of Walter Malcolm of Greenock Morton FC. When he was but 19 years of age he won the Clydesdale Harriers Mile Novice handicap and three years later was the half-mile champion of Scotland. Such rapid progress has few parallels even in these days of athletic phenomenons. Though he often figured in 220 and 440 distance, sit was in longer distances that he excelled and has left his mark in the records of Scottish pedestrianism. He holds the native records for the half mile and the 1000 yards. His time for the latter is 2 min 31 sec. Both Rodger and Mitchell once or twice attempted last year to reduce it but failed. Whether Malcolm indulged too much in athletic exercise we do not care to say, but it is noteworthy that just as he was at his height, he contracted an illness which developed to such an extent that he was compelled to give up the idea of ever running again. It was thought with care he might recover, but this was not to be and he died at the age of 34. He wore his honours most unobtrusively, and his whole bearing on the track and off it was in consonance with his chivalry which is naturally associated with amateurism. He was widely popular among all connected with athletics."
Having read it we might lament the loss of a talented athlete at the age of 34. There are other tales of champions who met untimely deaths, men who would probably have been saved today.
The case of Miles Seton was different. He was born in 1874 and educated at Edinburgh High School and at Edinburgh University. He competed frequently and in June 1894 won the half mile in the Edinburgh Harriers Sports in 2:04.6. He was always a good athlete and while at University, was second in the Edinburgh Harriers Sports 880 yards, and then he won the SAAA half-mile title on 22nd June, 1895 on a day with light winds, at Ibrox in the time of 2:05.4, with J Stirton of Edinburgh Harriers second. This was at the time of the split in Scottish athletics when several clubs broke away and formed the SAAU. The result was that in 1895 there were two Scottish championships – both held in Glasgow and on the same day. In its preview of the meeting, the Glasgow Herald had said that 'MC Seton, Edinburgh University is much fancied, but Stirton, Edinburgh Harriers, after his running against Bredin at the West of Scotland meeting, cannot be passed to the one side with a mere wave of the hand. The fact is that Stirton has a great future as a runner and we are looking to his erformance on Saturday with great interest.' So – more about Stirton than about Seton. When Seton won the half-mile at Ibrox on the Saturday, the SAAU race was won at Hampden by RS Langlands of Clydesdale Harriers in 1:59.6 which was not only a Scottish record but the first time any Scot had finished inside two minutes for the half-mile. Langlands was a class act with several very good times to his name but for a check on how Seton compared to contemporary half milers we can look at other SAAA 880 yards champions:
in 1891 R Mitchell won in 2:03.4; in 1892 it was again Mitchell in 2:05.4, in 1893 W Malcolm in 2:01.2, in 1894 on a rainy afternoon at Powderhall, Mitchell again in 2:09.4 and in 1896 H Welsh in 2:04. So Seton's time stood up well
Nevertheless, Seton had won the SAAA championship title and at the close of the meeting the selectors met and chose the team to compete in the international against Ireland at Celtic Park on 20th July and the half milers were Seton and Stirton. Unfortunately Seton was unplaced in this race, the winner being Archer of Ireland from Stirton in 2:04.2.
Other than that he was fairly anonymous as an athlete. There was no note in either The Scotsman or the Glasgow Herald of him running that year other than in the races mentioned, and although he studied at Edinburgh University where he graduated MB and Cm in 1900, then again gaining the Diploma in FRCSEd in 1908, he is only mentioned in the official history of the EUAC in respect of his SAAA title.
What happened next? He went into the military and served as a Field Surgeon in South Africa, and then as a captain in the Cape Medical and Staff Corps where he won the King's and Queen's medals. He stayed in Africa, came back to Scotland and then emigrated to Australia where he had a private practice and was also employed as an anaesthetist in the Hospital there. In 1915 he joined the Australian Army Medical Corps in which he served in Egypt and England.
We are told that he was the 'representative of the male line' of the family of Seton of Cariston in Fife, and indeed his full name was Miles Charles Cariston Seton.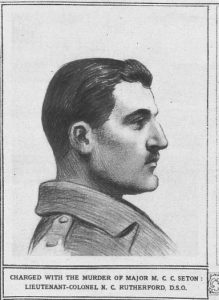 This is where the story really starts to unfold. Colonel Rutherford had served as a medical officer on the Western Front for most of the War and was commended for gallantry and was mentioned in despatches. His fellow officers testified that he was an affable, easy going and an able officer but liable to spells of extremely violent temper triggered by seemingly tiny things. These spells were short and he seemed to be dazed and tired and did not appear to have remembered them. He had been married since 1902 and had several children. A friend testified that he was at times very jealous of his wife even walking with a close family friend. He developed a painful skin condition and was sent home from the front in 1917. He was given a comfortable job back at home but asked to be sent back to France. He seemed, according to friends, to be on a downward spiral of melancholia and sinking spirits. Things got worse – after returning to France, he was kicked on the head during a rugby game and suffered a loss of memory for a time.
His wife stood by him and sent him supportive letters but in September 1918 there seems to have been some incident because her attitude to him changed dramatically. She is reported to have said that she 'went through hell' because of his treatment of her and that there was 'no atom of love for him' left in her. He returned home in January 1918 and there are several reports of him dragging her into a room by the hair while she called for help from the maid. In anticipation of his return she had told the staff to remove two pictures of Major Seton and hide them. Seton was an old family friend, former colleague of Rutherford's and godfather to their youngest child.
One night after a letter from Seton had been delivered to Mrs Rutherford, Colonel Rutherford set out to the town, obtained the address of Sir Malcolm Seton, where Major Seton was staying. He went there where Sir Malcolm, his wife and the major were in the Smoking Room. He asked to see Major Seton, they went in to another room and 10 or 15 minutes later, there were 'crackling noises' heard. Rutherford had shot the major. There were 14 entry and exit wounds.
"Lady Seton exclaimed: "You have killed Miles!" to which Colonel Rutherford replied, "Yes, I only wish I had a bullet for myself." Sir Malcolm said he appeared rigid and curiously calm and as if the situation was only gradually dawning on him.!
Sir Malcom went to find a doctor and the police while Lady Seton stayed with the Major and the Colonel who took out a letter and burned it – presumably the letter to his wfe. Before going with the policemen, after collecting his hat and walking stick, he asked to send a message to his wife: it read "I am sorry. an awful thing has happened. Seton is dead."
He was found to be guilty but insane which meant that he was admitted to Broadmoor but not hanged. His wife tried to get a divorce but murder and insanity were not acceptable grounds as far as the law was concerned. I quote Lord Birkenhead: "To some this may appear harsh and even an inhumane result, but such, my lords, is the law of England." She was granted a legal separation in 1922 and, after changes in the Divorce Bill, obtained a divorce in 1938. She remarried and lived to be 100. Rutherford co-wrote two books while in prison and was released. Re instated to the Medical Register he practised in Vienna and Persia and died in South Africa in 1951 . He asked to be buried with his tin hat from the trenches.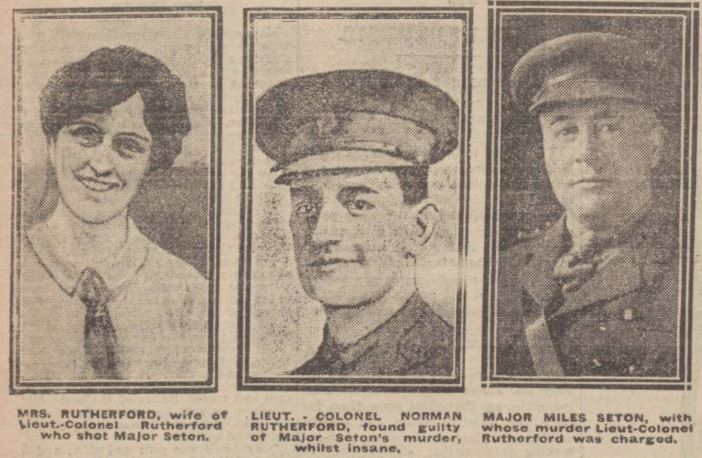 Major Miles Seton, former SAAA 880 yards champion, was shot and killed on 13th January, 1919.