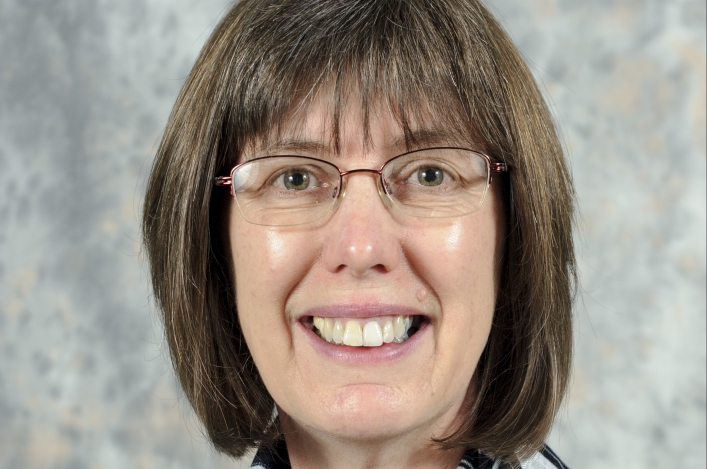 Leslie Roy is one of the best known and hardest working officials in Scottish – maybe in British – athletics.   She's always the same, always smiling and always doing her best for the athletes.   Leslie however started out in athletics as a very promising young runner, winning team and individual medals and trophies with her original club, Victoria Park AAC in the west end of Glasgow.  She went to Scotstoun one Thursday and the following Saturday she was in a team competing in Balloch Park where she finished sixth.    The following December she ran in the West District Championships at Bellahouston Park where she finished second in the Under 13 Girls race and then in the National cross-country championships she finished sixth.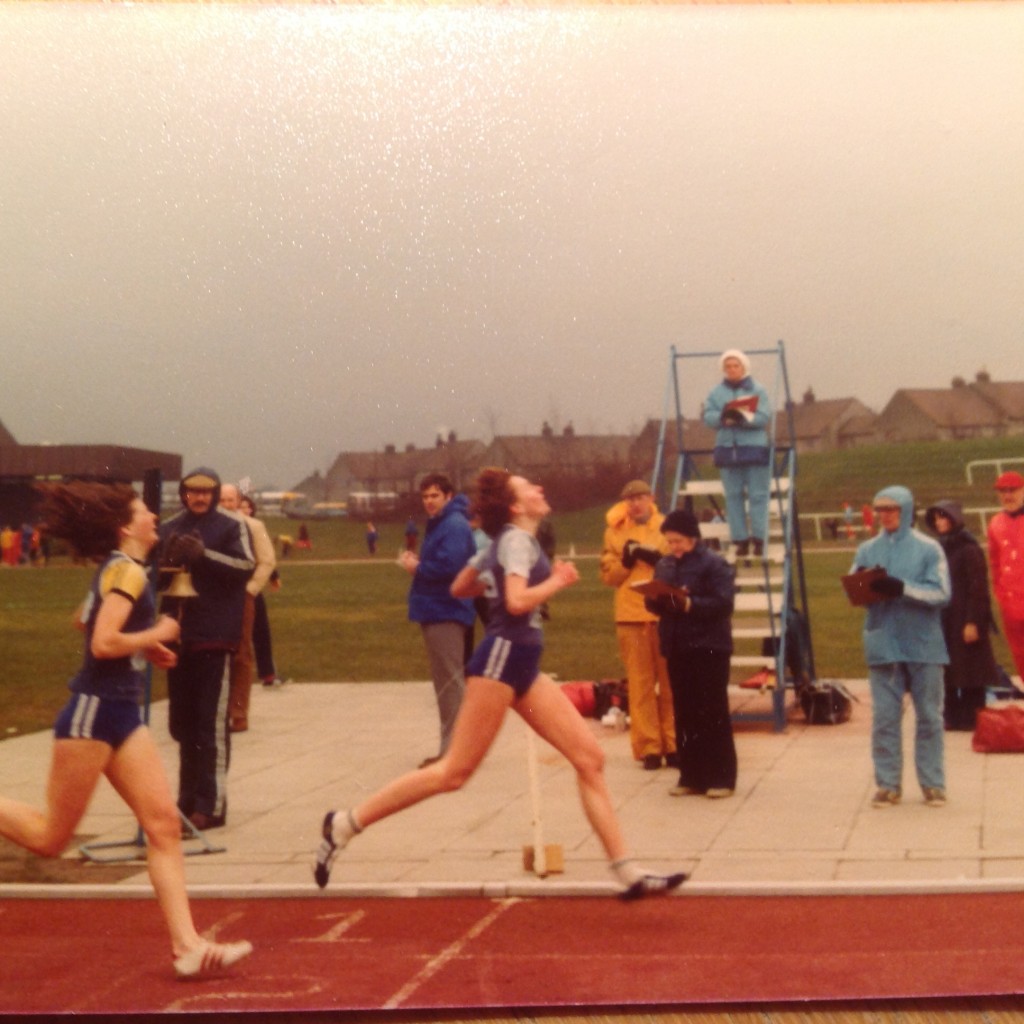 Leslie finishing behind Judith Shepherd at Coatbridge, 1978
Clearly a promising young runner she specialised in the 800m on the track where she progressed from 2:21 in summer 1974 to a best of 2:12.6.
If we start in 1974, Leslie was second in the West District Championships and shortly afterwards she was fourth in the East v West match at Meadowbank on 26th May in that pb of 2:21.   Leslie followed this up on 1st June, 1974,  in the SWAAA championships for girls, juniors and intermediates at Grangemouth where she was fourth in a 1500m 5:09.1.   In between times she won a 100m at the  Glasgow Championships in 13.8 seconds.
Her best 800m in 1975 was 2:20.0 which ranked her number 20 in Scotland.
Early in the 1976 season, on 28th April, in a match between Glasgow AC, Glasgow University and Shettleston Harriers Ladies she won the 800m in 2:24.5.  Then in the Glasgow Highland Games on 15th May, Leslie finished third in the 800m which was won by Evelyn McMeekin.   That was followed by a third in the West District Championships at Grangemouth in the 800m with 2:26.4.     At the national championships in June she was third in the Intermediate age group championship in 2:21.9.   These performances were such that she was selected for and competed in the first Celtic Games, held at Balgownie, Aberdeen, on 14th August 1976 for the 800m.   Scotland with 110 points defeated Wales (94), Republic of Ireland (84) and Northern Ireland (51).    Her best performance that year was 2:15.8 which ranked her fourteenth in the country.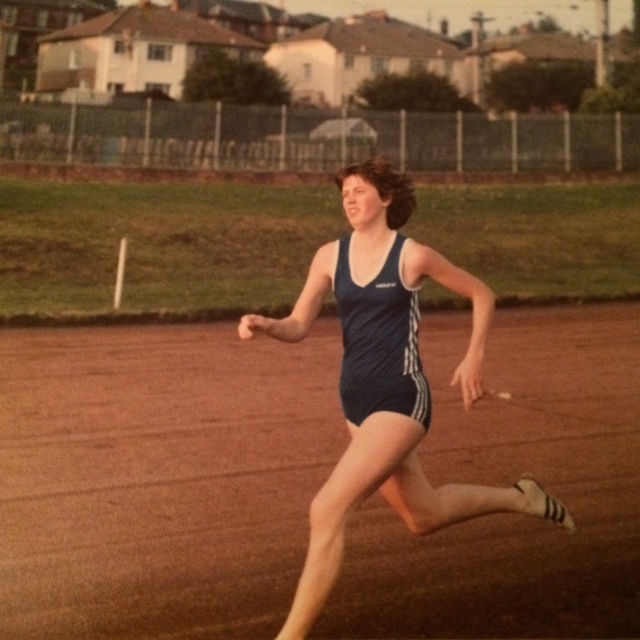 Leslie running at Scotstoun in 1980
A good club member she competed in several events in inter-club fixtures all over the country and was ranked every year from 1974 to 1983, usually in two events  with best performances of 2:12.6 for 800m,  3:01.3 for 1000m,  4:43.3 for 1500m, 10:58.3 for 3000m and 68.07 for the 400m hurdles.
 In 1977 in the SWAAA Championships Leslie ran 2:17.6.   In 1978 she ran even better: In the East v West competition she finished second in 2:14 and then on 3rd June the result for her was a 2:12.6 timing in the SWAAA Championships at Meadowbank.   This last was in a Commonwealth Games year and the standard was very high but the time ranked her eleventh among Scottish women that year: one place in front of Rosemary Wright (best of 2:14.1 with another future OIympian – young Lynne McDougall – further back again with 2:15 for the season.)
As a young senior she finished second to Christine McMeekin in the West District 1500m championship on 3rd May 1980.   Now, in the twenty first century, there are many leagues providing competition as well as demands from team managers for athletes to turn out as often as possible but there were few leagues in the 1970's and athletes ran in sports meetings and highland gatherings all over the country.   Leslie was no exception and raced at such as Shotts, Carluke, Strathallan, Glasgow and Gourock.   Leslie won various events on the circuit  e.g. she won the 400m from scratch in the Gourock Highland Games in 67 seconds in May 1981; on 5th June 1982, Leslie won the 800m at the East Kilbride Games off a mark of 28 metres.    Still running well in 1982 Leslie won the 800m in the East Kilbride Games in 2:24 and finished the year with a 68.07 for 400m Hurdles placing her eighteenth in the rankings and in 1982 she ran 3000m in 10:58.0 and 400m H in 69.5 seconds.
Clearly a good athlete, Leslie said in response to direct questions on that part of her career in the sport that her training partner in the 1970's was Alice Linton who was second in the SWAAA 800m twice and had a personal best of 2:06.   From about 1980 on she was coached by Iain Robertson and trained with Sandra Whittaker, Angela Bridgman and Yvonne Anderson.   Iain was in my estimation the best Scottish coach that I had the pleasure of knowing and working with and the athletes mentioned were all really top class runners with Sandra being a fairly successful Olympian.
Her best race, in her own opinion, was the 1978 SWAAA 800m at Meadowbank where in a top class field of Ann Clarkson, Evelyn and Christine McMeekin and Alice Linton among others, the field was bunched at the bell with Leslie right in there.   Then the athlete that she was tracking dropped out and she lost concentration.   Easily done – tactics are often keyed to another runner and when that athlete disappears from the track when you are travelling at speed there is always a temporary lapse.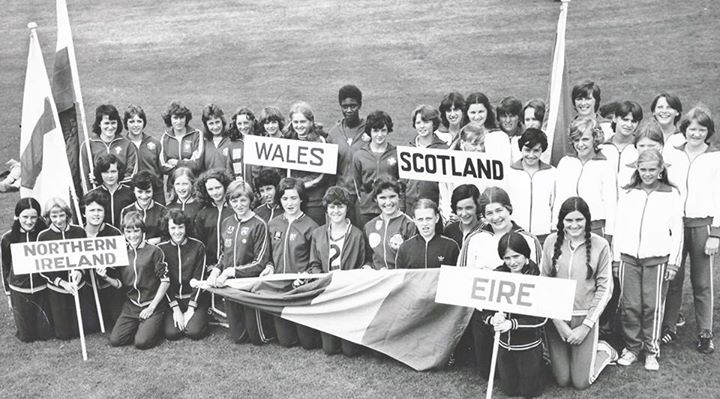 Celtic Games, 1976: Leslie is in the back row, to the right of the flag.
Leslie's athletic career came to an end because of injury problems and, having been club captain in the early 80's, she became club secretary in October 1985.    This was a post that she held in Glasgow AC and then City of Glasgow AC  until October 1999.   She had already become involved in activities outside the club and from 1982 she had been officiating in admin roles such as presentations, helping with the preparations for meetings, getting to know the officials and generally learning the ropes.   In 1984 Leslie got her qualification as a field events official: unfortunately it was just too late for her to officiate at the 1986 Meadowbank Commonwealth Games but she volunteered and got a job as a fire steward in the main stand which, she says, was a great position from which to watch all the athletics.  From that date she has officiated at meetings of all standards: open graded, league meetings, championships at all levels and at UKA TV meetings.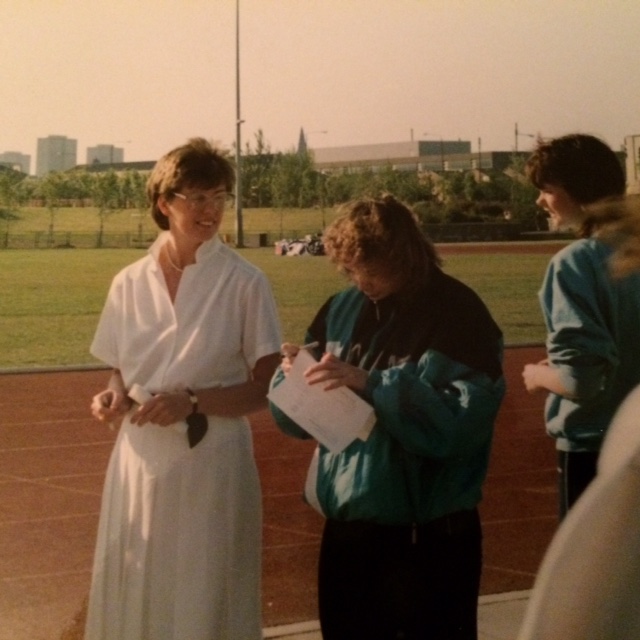 Leslie as presentations official in 1984
Like all good committee members she became a club representative.  In Leslie's case she quickly became Division 1 secretary of the Scottish Women's Athletic League (SWAL)  28th November 1989 until November 1992 when she was elected to the position of SWAL secretary.   Leslie held that post until 2008 – 16 years in all.    In addition to the club and league duties, Leslie had become the West District Representative on the SWAAA Executive Committee in 1990 and stayed there until the formation of the Scottish Athletics Federation in 1992.
   Halfway through this period Leslie's abilities and willingness to work were recognised and more roles were put in her way:
In 1996 she was elected West District Track & Field Secretary, a post held until 1999; and again from 2006 – 2011;
More importantly she was first elected to the Scottish Athletics Track & Field Selection Committee in 1996 and is still a member of that body and has been chair since 2011;
Also from 1996 Leslie has been part of the Scottish team management.
You will note the number of roles running parallel at this point with responsibilities encompassing Scottish athletics activities at club, district, national and (via team management and selection) international levels.   All this in the short period since she had stopped running and racing.    This was the point when Scottish athletics was being reorganised; when the SAAA, SWAAA, SCCU, SWCCU and Hill Runners all came under the one umbrella of the Scottish Athletics Federation.   There were problems but it was generally a period of great excitement in the sport despite the inevitable teething troubles.   In addition to the changes in Scotland, there were changes in the other governing bodies in the British Isles and in the relationship with UK Athletics.
With her prodigious appetite for hard work, her administrative experience gained since she had retired from running and her can-do attitude Leslie was a natural component of the new order.   Her appointment on the Track & Field selection committee has already been mentioned and in 1999 she became chair of the Track and Field Commission and a member of the UKA Track & Field Advisory Group.    In 2000 she became a Scottish athletics representative on the UK Athletics fixtures meetings.   At the 2003 World Indoor Championships in Birmingham, Leslie was a technical official working in the technical information centre.   New responsibilities came her way in 2011:
 President of Scottish Athletics;
Chair of the Scottish athletics Track & Field Timetabling committee;
Member of UK Members Council;
From 2011 to 2013 was a Commonwealth Games Scotland Board Member;
From 2012 to 2015 was a Commonwealth Games Scotland Selection Panel member.
A considerable range of posts with a range of skills required do any of them properly.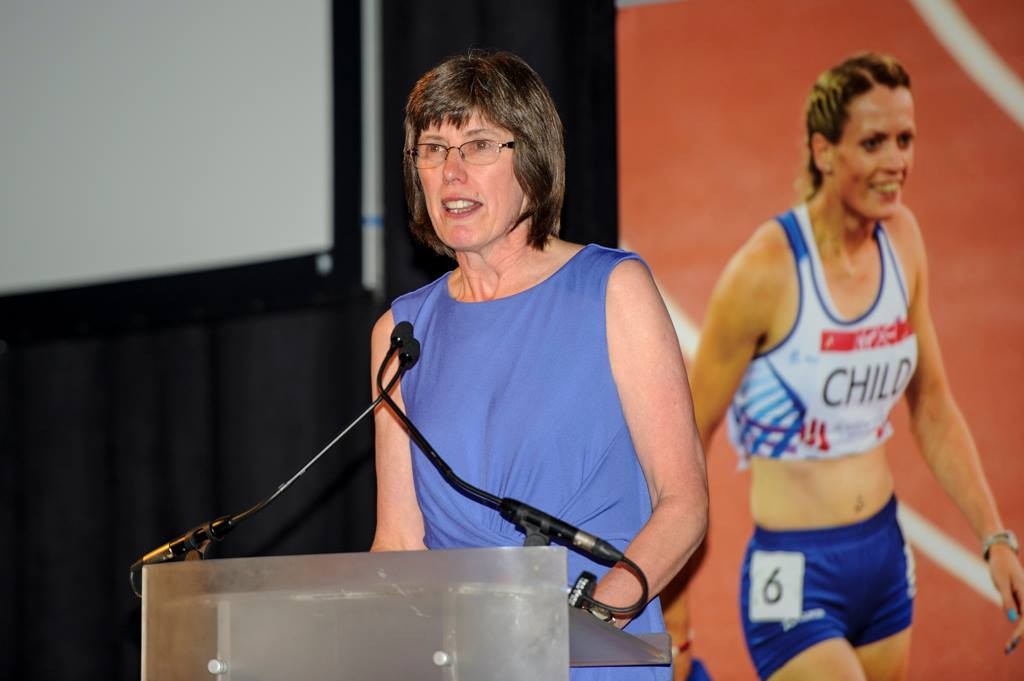 Leslie at the scottishathletics awards presentation in 2015
Just as with the athletes, officials and administrators regard being involved in any major Games as a highlight of their career.   Leslie has been involved with these since 2000.   They can be easily listed:
2000 – Commonwealth Youth Games as Assistant General Team Manager.   This was the first ever CYG and was held in Edinburgh.
2002 – Commonwealth Games in Manchester – Athletics Team Manager;
2003 – Part of the management team for the GB & NI Team for the European Under 23 team in Bydgoszcz, Poland.
2004 – Commonwealth Youth Games in Bendigo, Australia as part of the General Team Management.
2005 – Part of management team for GB & NI team for European Under 23 Championships in Erfurt in Germany.
2006 – Commonwealth Games in Melbourne – Athletics Team Manager.
2008 – Commonwealth Youth Games in Pune, Australia as part of General Team Management.
2010 – Commonwealth Games in Delhi as General Team Manager for Transport and Logistics (for all 17 sports!)
2011 – Commonwealth Youth Games at the Isle of Man as a Field Official.
2014 – Commonwealth Games in Glasgow.   General Team Manager for Transport & Logistics (again for all 17 sports).
2016 – Commonwealth Games in the Gold Coast.   General Team Manager for Transport & Logistics (All 17 sports).
Ten major events: none of these is a straightforward task: the problems of organising transport for 17 sports over several weeks in Delhi, for instance, must have been many and varied.  To be involved at that level over a 15 year period represents a considerable dedication to the job.   Many would be incapable of doing these jobs at all, some would be able to do several of the jobs, and others while competent would be unable.   Leslie has always, as far as I am aware, had a good relationship with the athletes that she is working with.   Indeed one young athlete that I spoke to after his first Commonwealth Games compared Scottish officials most favourably with the English ones and mentioned Leslie in particular as being helpful.   The Gold Coast appointment is her fifth consecutive Commonwealth Games and must surely be some kind of record.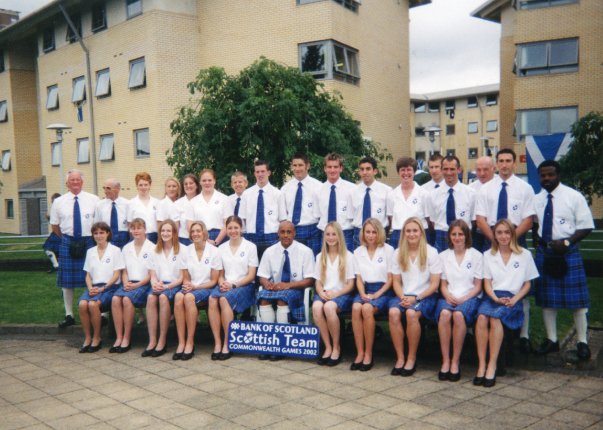 Athletics team at the Commonwealth Games, 2002
Undoubtedly Leslie has many outstanding qualities but in the beginning, and maybe for several years along the way, she would have had examples of how to do the work and when asked she said that there were three main influences.
"Isobel Dunkeld:   was club Vice President and then President in the 70's and 80's and I learned a lot about club athletics from her.
George Duncan was my mentor.   He encouraged me and helped me to recognise my own abilities.   He and I ran the SWAL together for many years and were instrumental in making changes to the league.   We recognised that clubs were struggling to field full teams so instead of small clubs turning out with a handful of athletes we encouraged clubs to get together and form a composite team thus reducing the league down to one division which created better competition for the athletes.
In fact George and I introduced this long before it ever happened at UK level.   We would say that UKA got the idea from us.
Organisation of meetings was probably Margaret Brown.   I picked up a lot of tips when she was West District Secretary and I got to know all the officials, constantly asking "Who's that?"
She has over the course of her career so far collected several honours and awards but three that mean a lot to her are the life-membership of her club City of Glasgow AC which was awarded on 25th October 2000, life membership of scottishathletics in 2008 and the Tom Stillie sword which was presented in 2002 after the Commonwealth Games in Manchester.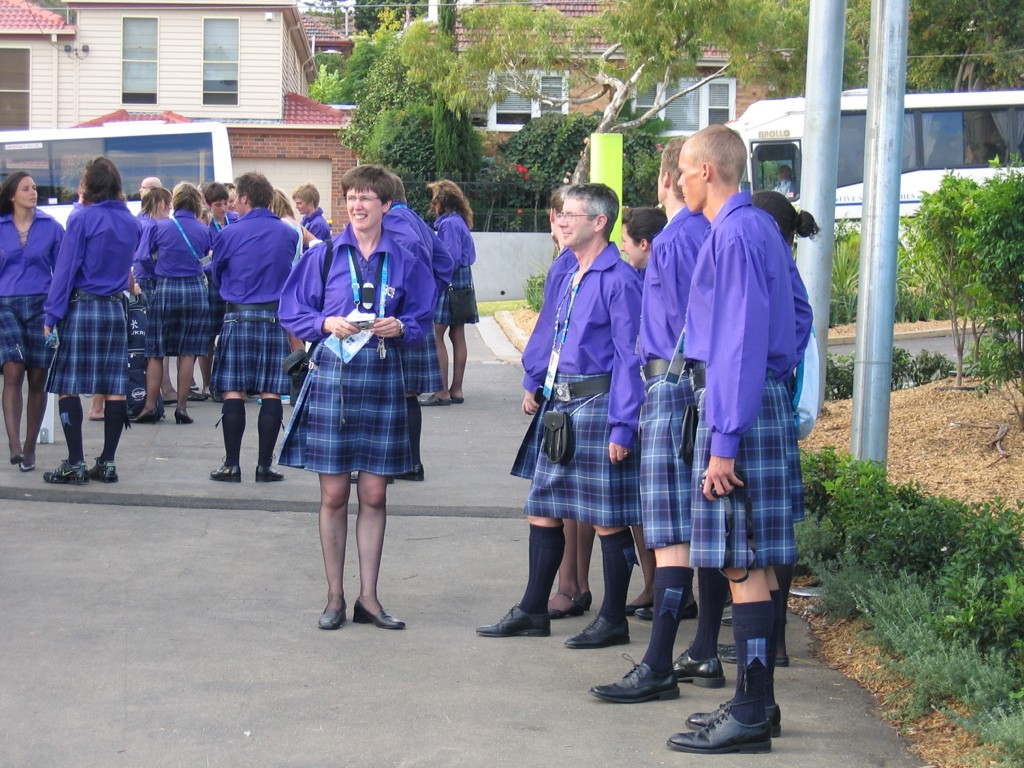 Leslie (centre) at the Commonwealth Games 2006
Leslie started out in athletics in the mid-70's  and started her officiating career in the 80's – which are 30 and 40 years ago respectively, but she doesn't seem to have lost either interest or momentum.   In fact she is probably doing more and gaining momentum with every passing year.
Rodger Harkins, Director of Coaching at Scottish athletics, said: "I have known Leslie for a number of years.   We first worked together on the Scottish Athletics Junior Commission in the early 90's, as team managers for Scottish U15/U17 teams mainly Celtic Games, U20 teams at that time with the likes of Darren Ritchie, Sinead Dudgeon, Alison Curbishley, Lee McConnell, Ross Baillie, Andy Young, Ian Mackie and many others, U23's and Senior teams.   
I have always had the utmost respect for Leslie and her ability to ensure that the right thing is done.   She is a very meticulous person in every detail and always manages to see things from various angles.   Leslie is a very passionate lover of athletics and that is probably why she has been, and still is, involved with so many aspects of our sport."
Hugh Murray, National Coach Mentor for Throws, has also worked fairly extensively with her and says this.
"I had worked with Leslie on Team trips prior to 1999. But it was round about then that circumstances  brought our athletics involvement much closer together.
 Leslie had been deputy to George Duncan who I believe saw her as his successor, and his untimely death resulted in Leslie being appointed as the Convenor of the Track and Field Commission which back then was a very important role. This coincided with an invitation to myself to take on the role of Director of Performance and Excellence (sounds more important than it was), with Scottish Athletics, as a replacement  for John Anderson who was moving down South. So we sat on the Board of Management together.  Meg Stone was still National Coach at the time. 
It was a time of change at Scottish Athletics as they were in the process of becoming a professional National Governing Body and were changing from being a Federation to a Limited company which carried its responsibilities.
After a pretty lacklustre performance in Kuala Lumpur, we had a challenge. First of all we had to put together a fair and reasonable Selection Policy and process for Manchester 2002. We had to look at what progression over the next three years looked like for our athletes. The Bank of Scotland squads had not been going long but they were starting to produce some promising prospects, Chris Baillie, Richard MacDonald, Mhari Walters, Susan Scott to mention just a few. We also had to ensure that our promising athletes had the correct level of competition in their programme to prepare them for the big occasions. Leslie was key to all these decisions and to the work that went into it. Her organisational and logistical skills never failed to surprise me.
 Our first trip to Gothenburg to the European Athletics Calendar Conference resulted in what was to become an Annual event for our Juniors of a match with Cyprus. Israel and  Greece. We also achieved small team opportunities  through to many European countries including Russia, Hungary, Belgium, France, Estonia, Lithuania and Croatia. Leslie 'Team-Managed' many of these trips and I 'Team-Coached'.
 Her organisational and management ability on these trips were second to none. I remember on one trip we had to do a transfer from one terminal to another at Heathrow airport.  One young athlete on her first trip was somewhat confused, and said to me, "Hugh how do you know your way from one terminal to another?"  As we stepped on an escalator I said to her, "I don't – but don't worry dear, when we think we are lost just look in front of you and you will find Leslie pointing you in the right direction." We stepped off the escalator at the top and to her surprise, not mine, there was the smiling Leslie pointing in the right direction.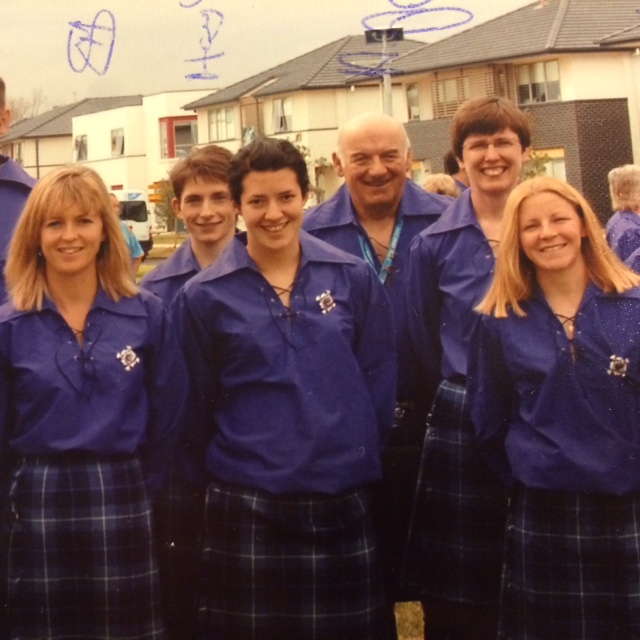 Leslie with Hugh and team members in 2006
Whenever we did trips together Leslie was always the tour rep. In our down time, and that could be substantial after competitions abroad  Leslie could always be guaranteed to fix up a sight seeing trip to places of interest be it Red Square in Moscow, the old own of Tallin in Estonia or Reykjavik in Iceland and she was so well informed she could give you a guided tour without a tourist booklet.
 Her dedication to Team Manager responsibilities is also an example to others. In 2002 after 2 gruelling days of competition in Manchester at the test event 2 weeks prior to the Commonwealth Games it was 7 pm and I had just escaped the Manchester traffic and was about to hit the M6 for the long drive home. I had on board Leslie and the Team Physio when her mobile phone rang. The call was from one of our more experienced Senior athletes who had been pulled for a drugs test after the last competition of the day. "Do you want a chaperone" says Leslie.  I was already turning the car around by the time she told me we were going back. At 10 pm that evening the athlete finally peed. We were all grateful. She went on to team manage her first Commonwealth Games team two weeks later.
 Our next big adventure together came with her appointment as Team Manager and mine as Head Coach to the Commonwealth Games Team for Melbourne in 2006. Her Team preparation from 2 years out was meticulous. Melbourne unlike Manchester was an early Spring Games on the other side of the World. Preparing the Team was the biggest challenge either of us had ever faced. We had  had a practice with the Commonwealth Youth Games in 2004 in Australia and we drew upon that experience but this was something else. Together with Mary Anderson at Scottish Athletics Leslie spent hundreds of hours in advance looking after all the details such a trip requires. She worked closely with Commonwealth Games Scotland, Sports Scotland the Scottish Institute of Sport, our kit sponsors to mention just a few.
We had athletes leaving Scotland at different times to prepare for the Games in several different locations including Melbourne, Brisbane, and Johannesburg. I went out with the advance party but she made all the arrangements, and "Kept me right" until her arrival with the main party.
 In 2010 I was not working for Scottish Athletics and so made my own way to Delhi for the Games as I had athletes taking part. Quite a challenge. Imagine my surprise when clearing Customs at the airport  to look up and see Who?  That's right – Leslie Roy, the first person I saw on my arrival in a country with a population of 1.4 Billion. She  gave me a hearty welcome and then guided me  to the area where my driver was waiting. It turned out she was at the airport as part of her role as Transport Manager for Commonwealth Games Scotland. For anyone who has ever visited the capital city of India you will be aware of the nightmare of travelling across the city. Who better then to have in charge than Leslie Roy. No sacred cow is going to stand in her way as she moves athletes from the Village to the Competition venues.
 I could give you so many more instances when Leslie has gone beyond the call of duty in the interests of our sport. The last one will be the cabaret act she put on for us at the Glasgow Games. At Major Championships like the Commonwealth Games there are often time when there is  lot of waiting around  especially at opening and closing ceremonies, and Glasgow was no different. About one and a half hours for each. To alleviate the boredom Leslie decided to single handedly entertain the troops. and what a great job she made of it. It included, singing, dancing and climbing high structures much to the delight of the Boxers and Rugby Sevens whose chant of " Go Leslie" echoed in all our ears.
 I have known Leslie for almost 30 years I have accompanied her on numerous trips including Team Duties, Warm Weather Training and Official Meetings. Her contribution to athletics is immeasurable she has served the sport as Administrator, Manager with Scottish and GB Athletics as well as Commonwealth Games Scotland, as well as Official and Athlete. She is currently President of Scottish Athletics. But I think if you were to ask her which part of these duties is closest to her heart it would be the Celtic Games. Leslie competed as an athlete in the very first Celtic Games when it used to be an all female event. I don't think she has missed one since.
 As the youngsters would say today  –   " Leslie Roy" athletics legend."
That's where Hugh's comments end but I should add that he knows whereof he speaks: his wife is a constant worrier when he travels without her to look after him.   He is quite forgetful and she knows better than anyone.   When she knows he is going on an athletics trip she asks who is going with him.   When he says it's Leslie, she breathes a sigh of relief and says, "You'll be OK then."   They've never met but they have spoken many times on the phone.   That, for me, sums up Leslie's reliability and reputation.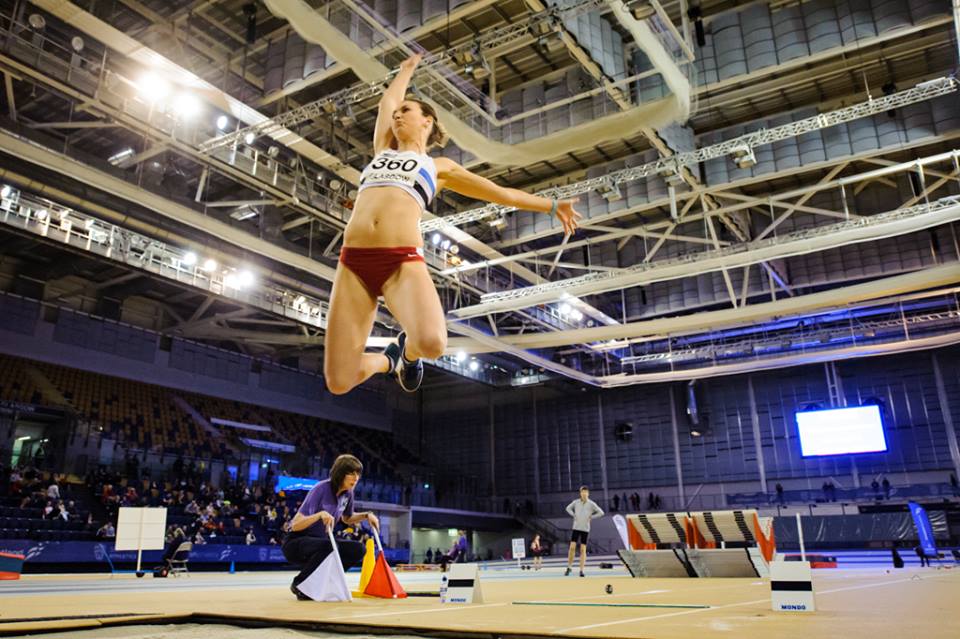 Leslie officiating at the scottishathletics Indoor Open, 2015
Several contractors say on their business cards and advertisements  "No job too big, no job too small" and despite all the committees, despite all the Games, despite all the honours Leslie could in all honesty say the same.   I have known coaches and officials say that they had outgrown working with young athletes, or with athletes who were not of international class: that could never be said of any really good official or coach and it certainly is not true of Leslie.   Two examples, the picture above shows her working in an open meeting in Glasgow in 2015 and until it ceased publication, Leslie could be seen walking round arenas selling copies of the Scottish Athletics Yearbook.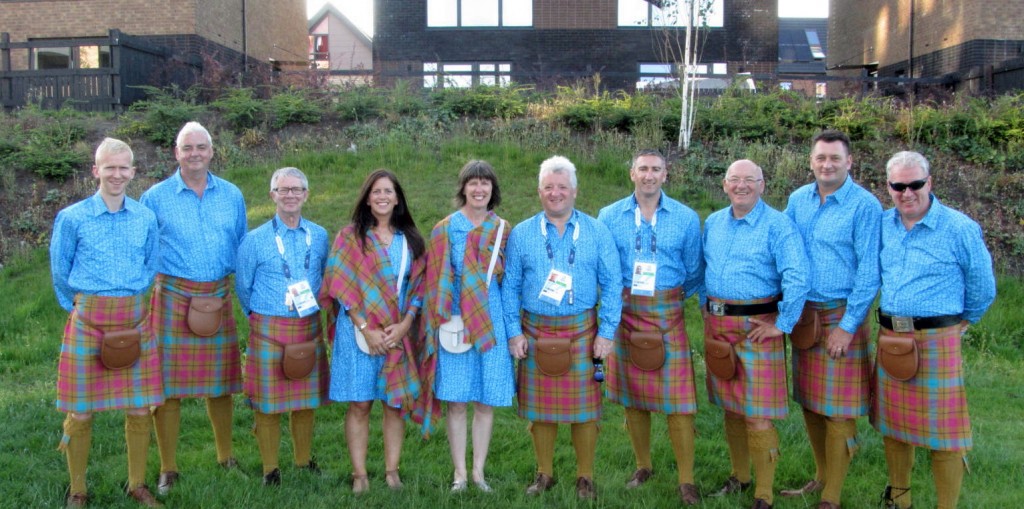 Leslie with athletics team staff, Glasgow 2014
Looking over this amazing career in the sport Leslie replied when asked what her biggest challenge so far had been:
"In some respects taking over from George Duncan as chair of the Track & Field Commission.    George was very respected within the sport and was extremely knowledgeable, not just from a Scottish perspective but on any athletic subject UK wide.   Due to ill health George was standing down so it was pretty daunting to take over from him."   
"The Commonwealth Games – every Games has been different with different challenges.  From purchasing and arranging for 24 fridges to be delivered through security into the Glasgow 2014 village, making arrangements for 300 team Scotland members to get from the closing ceremony to the team party and not leave anyone behind in India and Glasgow and managing the athletics team on the other side of the world in Melbourne at the 2006 Games."
What was her most rewarding experience as an administrator?
"Probably two things.   
The Celtic Games have always been close to my heart, probably because I competed in the very first back in 1976!   However it is always great to see the enthusiasm of youngsters starting out on their international journey.  
The Commonwealth Games – there have been many great memories, many challenges, lots of hard work and friendships made from the Games I have been involved in but overall it is one of the most rewarding experiences I have ever had.
 It has been a wonderful career in the sport – so far.   Who knows what the future will bring for Leslie Roy?