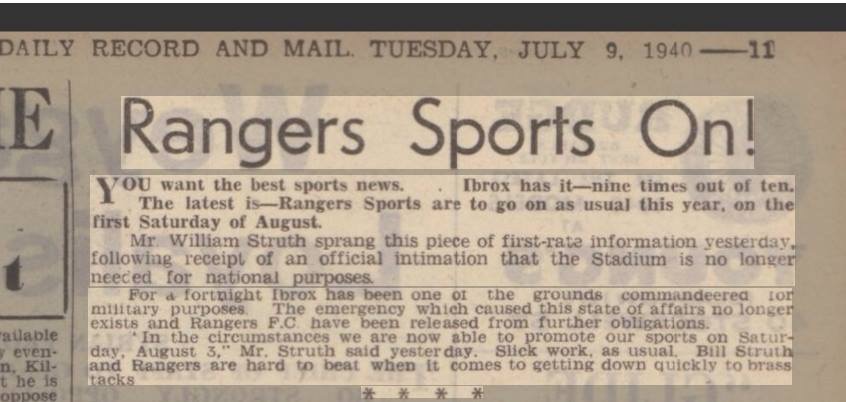 Rangers Sports had always been on the first Saturday in August and for many years there was also a supplementary meeting on the following Monday.   When the second world war started many things were closed down 'for the duration' including sports meetings and even league football was suspended.   The news above came as a real boost to public morale just as the war was starting for real.    The meeting when it came on 3rd August was well worth waiting for.   I will simply reproduce the Glasgow Herald report in full.
WOODERSON KNOCKS 1 SEC OFF SCOTTISH
ALL-COMERS RECORD
SC Wooderson, the famous runner, realised expectations at Ibrox Stadium at Ibrox on Saturday, when, before a large crowd, he broke the Scottish all-comers record for the mile by 1 sec.   His time was 4 min 11 sec.   The occasion was the Rangers FC Annual Sports Meeting.
Wooderson , who holds the world's record of 4 min 5 4-10th sec for the distance, showed that he had lost little of the pace which gave him the honour over a year ago.    Over the first two laps he was paced by F Cross (Surrey), R Graham (whose record he was out to beat), GM Carstairs (Edinburgh University) and M Bingham (Finchley).   His time for the half-mile was 2 min 5 sec, and by then he was comfortably placed with A Coogan (Maryhill) and L Stoker (Edinburgh University) still forging well ahead from the 130 yards and 115 yard marks respectively.  
Covering three-quarters of the distance in 3 min 10 sec, Wooderson had to do the remainder in 61 sec to get under the 4 min 12 sec.   So well did he progress over the final lap that when he entered the home straight he had the field beaten.    
The other performance of note in a really fine programme of athletics was was the sprint victory of JAM Robertson (Glasgow University) in the 120 yards short limit handicap.   From the three yards mark he won well despite the determined challenge by RM Smith (Dundee Hawkhill), and HT Mumme the powerful Uddingston youth.   Robertson's time of 11.5 sec was very creditable from this mark.  
Rangers won their own five-a-side tournament but t was the virile Queens Park side that caught the eye in the early stages.   Craft and not speed beat the amateurs at the finish." 
There were eight track events plus three cycle races and the five-a-side included all the Glasgow teams – Rangers, Celtic, Clyde, Third Lanark, Queens Park, Partick Thistle plus Hearts and St Mirren.
It would have been a good meeting at any time but to have it when the war was already being fought made it special.