Scots such as Mike Ryan (New Zealand) and Paul Bannon (Canada) have run wonderfully well in colours other than the blue of Scotland, they were not the first to do so and the photograph above is of another earlier Scot who built on domestic success to go on to success at a higher level.
On April 23 1915 Scotland lost one of its greatest distance running exports with the death of Private James Duffy. Jimmy Duffy, as he was known, was born James McNiff in Liscoghil in County Leitrim, Ireland, on 1 May 1890 and came to Scotland with his family in 1897 and settled in Edinburgh. They lived in the Cowgate district, an area known as Little Ireland and home to some 14,000 Irish people living in mostly overcrowded slum tenements. Later, for reasons unknown, the McNiffs changed their name to Duffy. A stonecutter by trade, Jimmy Duffy made his first public appearance in the 16 Miles Edinburgh Exhibition Marathon Race from Linlithgow to Edinburgh on 24 October 1908. He was then only a youth of 18, and, although not on the prize list, succeeded in gaining a standard medal. Duffy was spotted by a local talent scout and asked to join Edinburgh Harriers, where under the auspices of the club's trainers he rose through the ranks with meteoric speed.
Within a few months of taking up serious training he finished tenth in the 1909 Scottish Cross Country Championship held on 13th March at Scotstoun Showgrounds over a distance of ten miles. There he won the special medal awarded to the first junior. He was also the only runner from outwith Glasgow to finish in the first ten. Selected to run for Scotland in the International Cross Country Championship at Derby one week later, he acquitted himself well to finish seventeenth, third counter in the bronze medal-winning Scottish team. During that first season with Edinburgh Harriers Duffy won the club's challenge cup for 10 miles cross country, a trophy which he held for three years in succession.
The following year (1910), he was runner-up to Alex McPhee, of Clydesdale Harriers, in the National at Scotstoun and the 'Glasgow Herald' reported it as a good race with about 50 yards between the two and "Duffy is to be complimented on his very excellent appearance." Selected for the international – held that year in Belfast, he was fifteenth and second Scot to finish after GCL Wallach had failed to finish: looking every inch a winner, Wallach tore his shorts on a barbed wire fence, was tackled and taken out of the race by a policeman because he was offending public decency! During the summer season, his most notable success on the track was gained at Powderhall on 4th June , when, in a five mile team race, he set a Scottish native record of 25.52.0. A man of light build, he stood 5' 1/2" and ran with a "free swinging stride". Also in 1910 , Duffy gained his first and only S.A.A.A. track medal when he finished a close third behind Alex McPhee and Tom Jack in the SAAA 4 miles championship in 20.40.0. With seven runners in the race, Duffy actually led until the penultimate lap when "McPhee went to the front. Duffy made a dash and led for 100 yards only, however to be dropped by McPhee and Jack, both of whom were running for position and it was just at the crucial point that the Paisley man shot to the front, warmly pursued by Jack. Reaching the finishing straight both nerved themselves for a great effort, and some idea of the intensity of the contest will be gained when it is stated that McPhee only won by a yard. Jack in the last five yards, when he saw that the task was impossible, slackening pace somewhat. The first mile was done in 4 min 57 2-5th sec, the second in 10 min 06 sec, the third in 15 min 26 2-5th sec and the full distance in 20 min 35 sec. Duffy finished third in 20 min 40 sec, the others being outside standard time." The standard time for the distance was 21 minutes.
The 1910/11 cross country season again saw him finish runner-up in the National at Pollokshaws. 100 runners from eight clubs made up the field for the race at Sheep Farm Park and it was won by Sam S Watt of Clydesdale Harriers by 50 yards from Duffy – second year in second place for him but he did lead the Edinburgh Harriers club to victory in the team race. Selected again for the Five Nations International at Newport, Wales, he could finish no higher than thirty fifth and was not a scoring runner for the Scottish team.
Duffy's promising running career in the colours of the thistle ended in the summer of 1911 when he emigrated to Canada, settling in Toronto, Ontario. Here, he found work as a tinsmith and continued his running career by joining the Central Y.M.C.A. Athletic Club. Emigration at that time was not at all unusual. Canada was a favoured destination, and those leaving included a fair number of athletes. Just two examples of this:
"Local athletes will be sorry in one sense and pleased in another to hear that A Stephen of the West of Scotland Harriers sailed for Canada a few days ago – sorry because a genial and high minded sportsman has left the city … "
"William Hamilton of Maryhill Harriers leaves shortly for Canada. One of the most promising of the younger school of runner, Hamilton's departure is a distinct loss to Scottish athletics."
These appeared within a fortnight in March 1910 and there were many more in the years leading to the First Great War but Duffy was to have one of the best athletics careers in his new home. When he left Scotland, his departure was also noted in the Press but at slightly greater length than most and the following extract is relevant here:
"During his first season with Edinburgh Harriers Club he won the Edinburgh Harriers Challenge Cup (10 miles cross-country), a trophy which he has held for three years in succession, viz: 1909, 1910 and 1911. His most notable success however was gained at Powderhall on 4th June last year when, in the five miles team race, he established the Scottish native record for the distance of 25 minutes 52 seconds. On 13th June, 1910, Duffy was first in the one mile open handicap held in connection with Falkirk Victoria Harriers Sports, and followed up this success the following week in the invitation team race at Queen's Park FC Sports. With youth on his side, Duffy should gain further honours in the new country."
In October 1911, not long after his arrival in Canada, he made a name for himself by finishing second in the "J.J. Ward Marathon" of 19 ¼ miles in Toronto. The following month he finished third in the prestigious Around the Bay Race at Burlington, completing the 19 mile 168 yard course in a fast time of 1h 51m 16s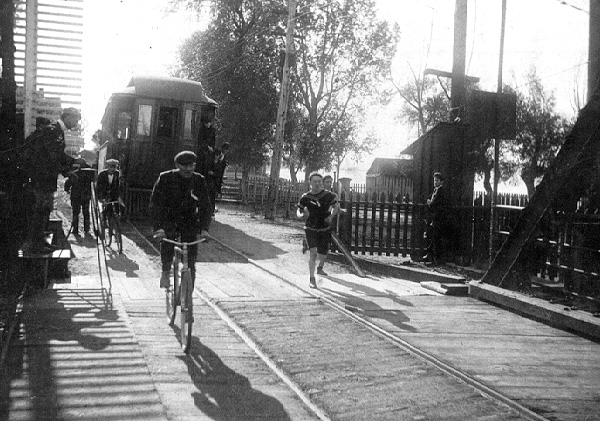 Duffy in the 1912 Round the Bay race
Duffy switched allegiances to the Eaton Athletic Club in the spring of 1912 and came under the expert guidance of star Canadian coach Billy Cumming. In that year's Olympic try-out over the Hamilton Bay course in the Spectator Bay Marathon he finished second to Harry Jensen of New York in a race with 25 starters but only eight finishers. This fine run earned a place in the Canadian team for the 1912 Olympic Marathon in Stockholm. The fierce Swedish midsummer heat claimed a string of victims, including the life of Portuguese runner Lazaro, but Duffy was unfazed and ran a beautifully judged race to finish fifth in 2h 42m 18.8s What a shame he wasn't wearing a British vest because the best Briton, Harry Green, finished well down the order in fourteenth.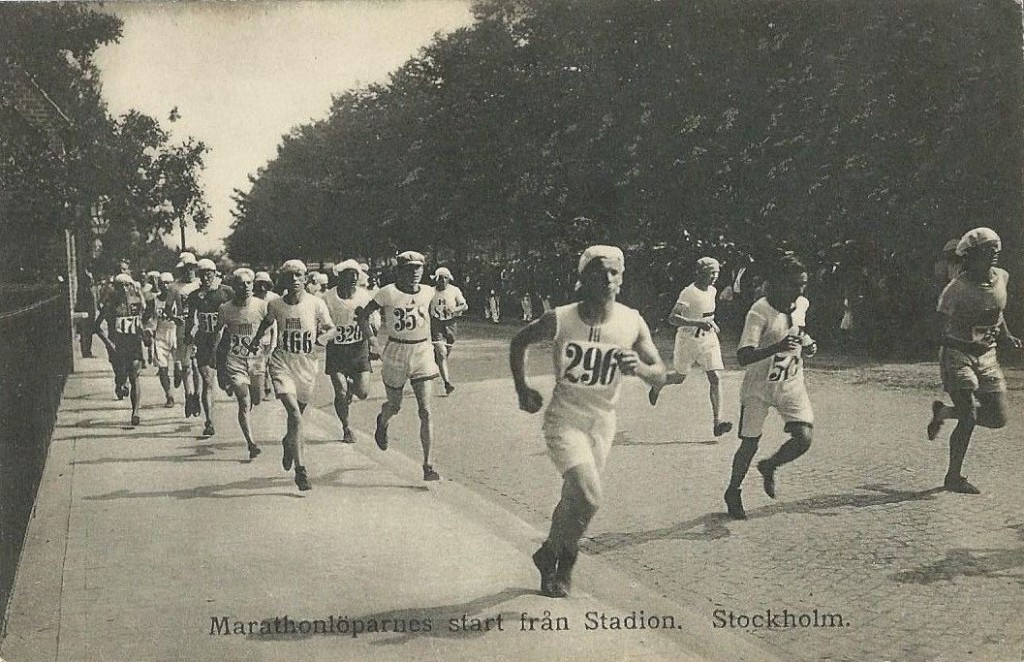 1912 Olympic Marathon: Duffy is 358
Later that season Duffy won the J.J. Ward Marathon and was a run-away winner of the Around the Bay Race in a fantastic time of 1h 46m 15s – a course record destined to remain unbeaten until 1936, when the course was shortened. 1913 saw Duffy lead home a quality field in the Yonkers Marathon, completing the 25 mile course in 2h 39m 29s, while also making a successful defence of his Around the Bay title in 1h 48m 38s. The Yonkers Marathon, held in October each year, is the second oldest marathon in the USA after the Boston race and is known for being a tough and hilly course.
After the Hamilton Bay race, Duffy joined the Hamilton Ramblers Bicycle Club where he received full-time coaching from Tommy Thomson. Subsequently Duffy won no fewer than seven consecutive marathons including Yonkers. Boston was probably to be his greatest triumph when he defeated French-Canadian runner Ed Fabre by 15 seconds to win the 1914 race in 2h 25m 1sec. He was so well known before the event that he was not only the favourite to win, but Boston bookmakers would not take bets on him. Fabre matched his pace all the way to the final mile when Duffy edged ahead to win by the slight margin.
Duffy was not your clean living type; he was an inveterate cigarette smoker and loved his pint of Bass. After the Boston race his first request was for a cigarette and after his post-race medical he asked for a bottle of beer! His amateur career ended only month after his Boston triumph when he was suspended by the Canadian AAU on allegations of professionalism. He kept running and in his first race as a pro he was beaten by Fabre.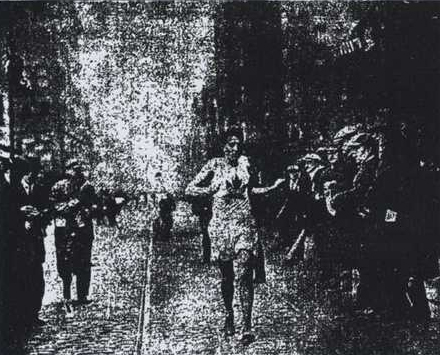 Duffy winning the 1914 Boston Marathon
When the WW1 broke out, Duffy ditched his plans to meet the big pro runners and joined the Canadian contingent with the 16th (Canadian Scottish) Battalion. Three months after joining the war effort news came that he had died of wounds received in the Canadian offensive at Ypres and Langemarck on April 15th, 1915. At the time of his death Duffy was the fifth Scottish athletics international to be killed in active service. An obituary in the Toronto Daily Star described him as a "hard man to train and handle", concluding: "If Jimmy Duffy fought the Germans as he fought out his many bitter road races then more than one Hun preceded him to the happy hunting grounds."
His death was noted in Scotland under the heading "Scoto-Canadian Athlete Dead" and read "The death is reported to his mother in Edinburgh of Private James Duffy, 16th Battalion Canadians, who has died of wounds. Private Duffy, who went to Canada three or four years ago, joined the first Canadian contingent on the outbreak of war, and went to the front in January. He is the fifth Scottish athletic international to die in active service. He never had the good fortune to win a Scottish championship but was runner-up in the Scottish Cross-Country Championship to A McPhee in 1910, and SS Watt in 1911. There was no denying his pluck and stamina but his lack of speed in finishing barred him from gaining the highest honours in this country and it was only when he essayed the marathon distance in America that he showed what was really in him."
Wikipedia points out that his death came eight days before his twenty fifth birthday and four days after Edouard Fabre had won the 1915 Boston Marathon.
There is a short clip of the 1912 Olympic Marathon at http://player.bfi.org.uk/film/watch-stockholm-the-olympic-games-1912-1912/ in which Jimmy can be seen: he's the Canadian in the Tam O'Shanter.
All photographs are from Alex Wilson.