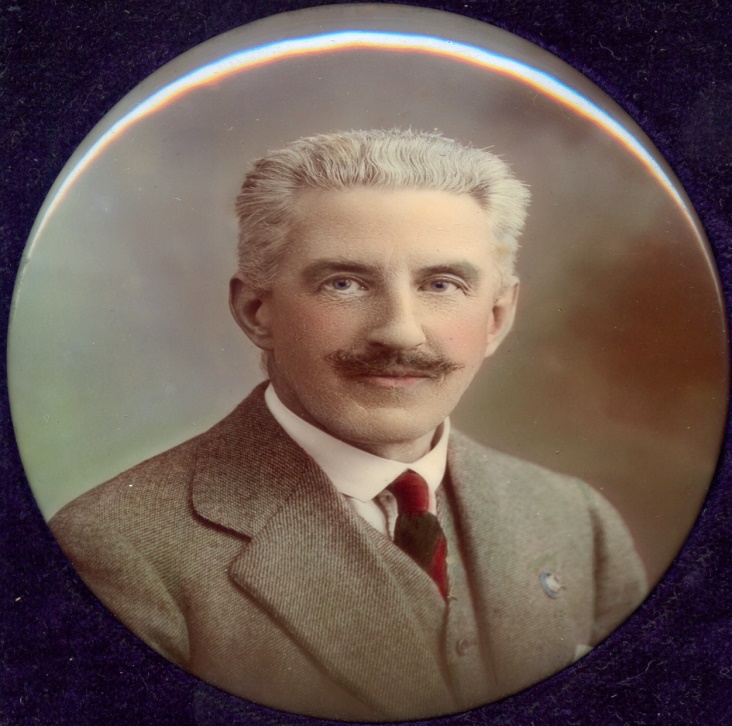 James Erskine
James Erskine grew up in Glasgow and by the age of 16 was working as a stockbroker's clerk. In 1887 he married Janet Barrie, the 4th of 11 children of Thomas Barrie and Margaret Strachan. Thomas Barrie worked as an iron forgeman and managed to acquire several properties in Glasgow which were still bringing Nancy Erskine a small income as recently as the 1950s.
James and Jenny (pictured above) had 5 children. Their first child, also called James, was born in 1888 six months (!) after their marriage but tragically died of pneumonia and peritonitis in 1894 a few days before what would have been his 6th birthday. There followed two more boys, Thomas Barrie Erskine (born 1889) and Ralph (born 1893) before in 1895, they had a daughter, Margaret Strachan Erskine. Sadly, as was commonplace then, Margaret too became an infant mortality statistic, dying of tubercular meningitis the following year.
James and Jenny's final child Nancy was born in 1897, but there was another tragedy to follow. When Nancy was only four, her mother Jenny died of consumption. James was now a widower with three surviving children,– Tommy, Ralph and Nancy.
Thomas Barrie Erskine was born at 96 Gray Street, Glasgow on 16 December 1889. By that time his father was in Clydesdale Harriers – he had been a founder member of the club – and had a business as an insurance salesman doing well enough to advertise via a full page in the Harriers Handbook.
As far as Clydesdale Harriers was concerned, James was on the club committee from the start and in 1888/89 was club secretary and also a District Leader for Number One District (Dennistoun, Camlachie Rutherglen), as well as being on several sub-committees: Business Committee, Advising Board, and Headquarters Representative to the South Lanarkshire Section. He remained secretary until 1890/91 when Andrew Dick took over the position. He did some track running and won prizes – 4 in 1989. He took a step back at this point, probably because of the family situation. James had been born in 1888, Ralph in 1893, Margaret in 1895 and Nancy in 1897. Two of them, James and Margaret died in infancy.
There was no sign of James at the Clydesdale Harriers as a runner or as a Committee man until both boys became club members and were on the committee, he came back and was himself again on the Committee when war broke out in 1914.
James had lost his wife and two of his five children before the War and then to lose the two boys must have been heart breaking for him . He came back to the club again where he had been contemporary with Andrew Hannah and Alex Honeyman and when the patrons included Sir Otto Trevelyan and Cameron Corbett. There were many friends there and he had enjoyed good times with them for many years.