The numbers of participating schools in the inter-scholastics had been gradually increasing but the entry in 1920 was outstanding – the previous best of 18 establishments was well below this year's 23 schools taking part. It was a very good mix of schools too. The 'Scotsman' comments on the meeting read:
For the twenty first annual inter-scholastic sports held on Saturday at the Scottish Football Union Field, Inverleith, the weather was of a highly favourable character. A large gathering was present and as the proceeds were in aid of the funds of the Edinburgh Royal Infirmary, this institution should as a result benefit greatly. There was an unprecedented entry of twenty-three schools, and all through the events were keenly contested. LJ Dunn of Watson's College, the Scottish hurdles champion, set up a new record for the inter-scholastic hurdle race (his time of 15 4-5th seconds equals the Scottish all-comers record set in 1905 by RS Stronach); GAD Young, who a fortnight ago created a new record for the mile at Dollar Academy games, had no difficulty in setting up a new record for the inter-scholastic mile; GA MacKenzie, Whitehill, added half an inch to the under 16 high jump record; while A Bradley, Dollar, and JS Boyd, Leith, both tied for the under 14 high jump, created a new record for this event.
C Watt of Dollar failed to reproduce his own games form for the high jump and in consequence had to be content with an equal first with LJ Dunn. The relay races which brought the meeting to a close proved exceedingly popular and exciting. Mr T Jack was referee; Mr TS McKerchar was starter; and Messrs J Bartleman, G Hume, D Taylor and DS Duncan were timekeepers. The pipe bands of George Heriot's School and George Watson's College were in attendance.
The comments on LJ Dunn (Watson's) were interesting – his career highlights, competing for Watson's and then Edinburgh University, were as follows:
*won the SAAA 120 yards hurdles championship in 1919 [while still at school],
*been second in 1920, first again in 1921,
*won both hurdles and long jump in 1922,
*in 1923 was second in the hurdles and first in the long jump, and
*second in both events in 1924 and was clearly an outstanding athlete.
The 'Scotsman' report on the 1919 SAAA Championships read as follows: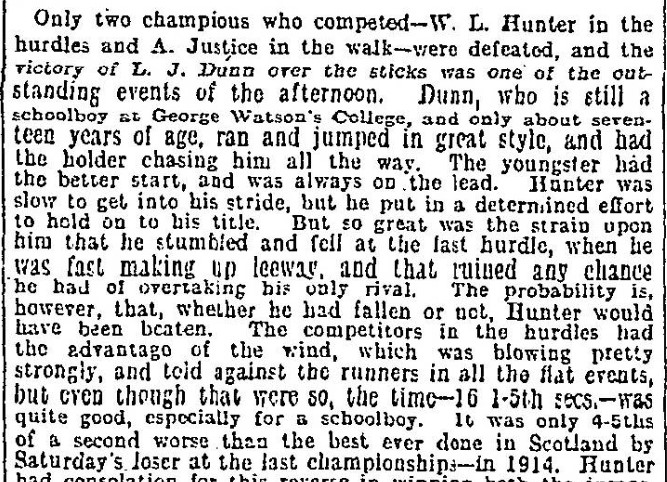 He also competed for Scotland in the triangular international with Ireland and England being second in the hurdles and third in the long jump.
Results:-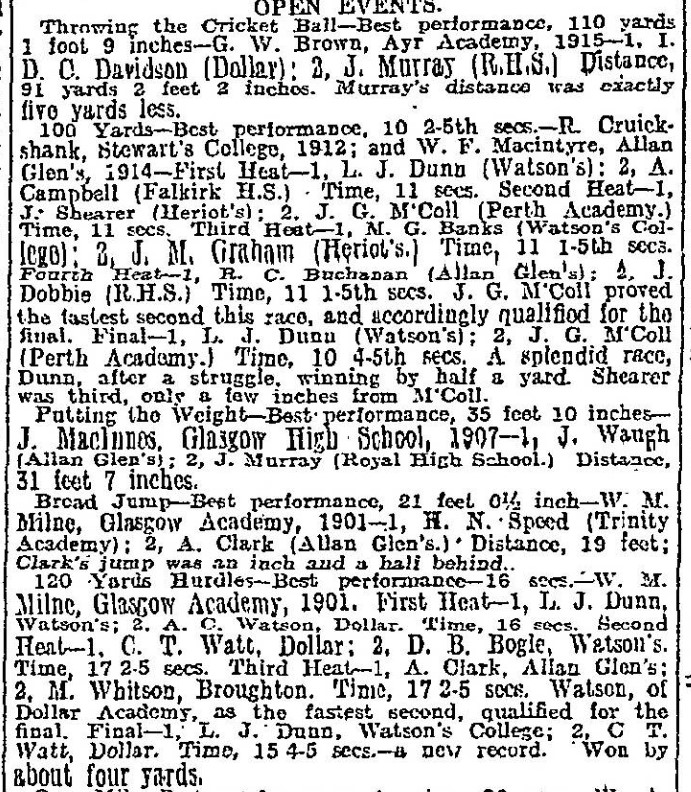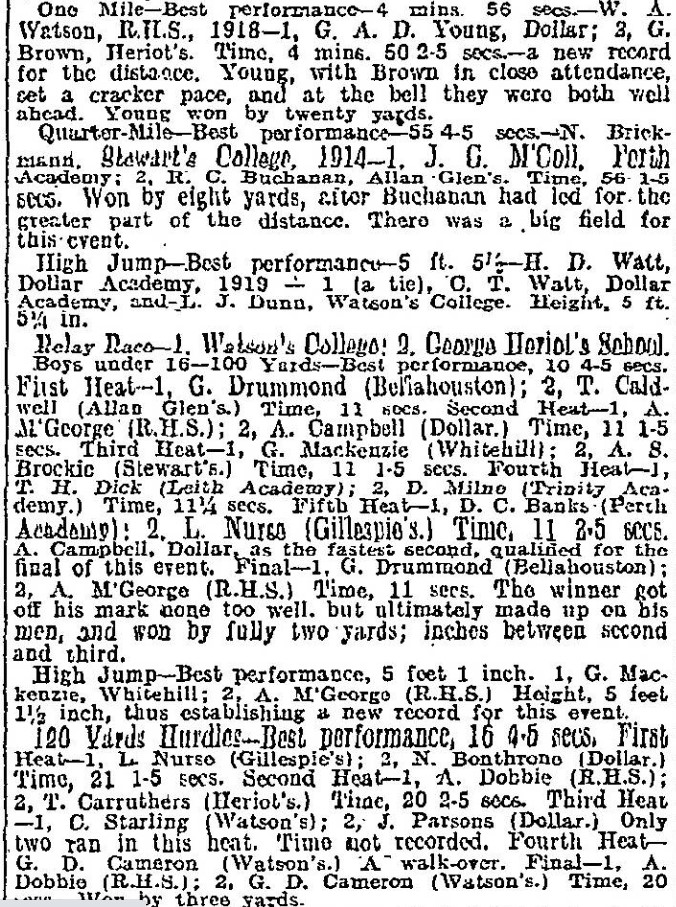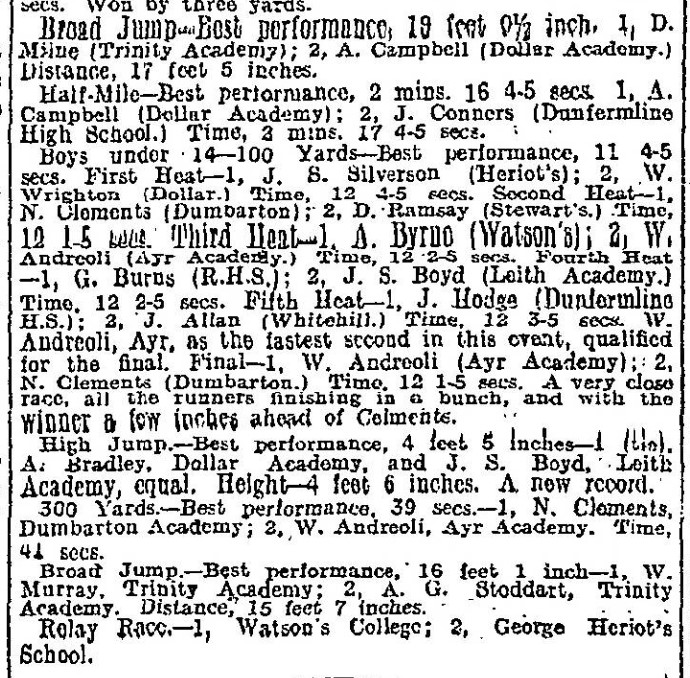 The summary of the winners, schools and times follows.
OPEN EVENTS
EVENT
WINNER
SCHOOL
PERFORMANCE
100 Yards
LJ Dunn
Watson's College
10.8 seconds
440 Yards
JG McColl
Perth Academy
56.2 seconds
One Mile
GA Young
Dollar Institution
4:50.4*
120 Yards Hurdles
LJ Dunn
Watson's College
15.8 seconds *
High Jump
C Watt

LJ Dunn

Dollar Institution

Watson's College

5′ 5 1/4″
Broad Jump
H Speed
Trinity Academy
19′ 0″
Throwing the Cricket Ball
I Davidson
Dollar Academy
91 Yards 2 Feet 2 Inches
Putting the Weight
J Waugh
Allan Glen's High School
32′ 7″
Relay
1408 Yards
Watson's College
3 min 08.2 seconds
UNDER 16
| | | | |
| --- | --- | --- | --- |
| EVENT | WINNER | SCHOOL | PERFORMANCE |
| 100 Yards | G Drummond | Bellahouston Academy | 11 seconds |
| 880 Yards | A Campbell | Dollar Academy | 2:17.8 |
| 120 Yards Hurdles | A Dobbie | Royal High School | 20 seconds |
| High Jump | G MacKenzie | Whitehill | 5′ 1 1/2″ |
| Broad Jump | D Milne | Trinity Academy | 17′ 5″ |
UNDER 14
EVENT
WINNER
SCHOOL
PERFORMANCE
100 Yards
W Andreoli
Ayr Academy
12.2 seconds
300 Yards
N Clements
Dumbarton Academy
41 seconds
High Jump
A Bradley

J Boyd

Dollar Academy

Leith Academy

4′ 6″
Broad Jump
W Murray
Trinity Academy
15′ 7″
Relay
704 Yards
Watson's College
1 min 36.2 sec
The table above is interesting in the number of schools named, ie the scatter of results indicates that no school had a monopoly. The Open winners came from 6 schools (9 events), Under 16 had 5 schools represented (from 5 events) and the Under 14's had 6 winners (6 events). A total of eleven schools were represented among the winners: Allan Glen's, Ayr, Bellahouston, Dollar, Dumbarton, Leith, Perth, Royal High School, Trinity, Whitehill and Watson's. Other schools again were among the second and third places – Broughton, Dunfermline, Falkirk HS, Gillespie's Heriot's, Stewart's – and this spread of awards indicates a very healthy state of affairs. 17 schools were represented in the prize lists.